Cook Charred Brussels Sprouts with the cut side down in a hot cast iron skillet to create a buttery, toasty sear, then toss them with bacon and drizzle with zesty garlic aioli for an irresistible hot appetizer.
Quicker than oven-roasted Brussels sprouts, these Brussels get a jump start by steaming them in the microwave for a couple of minutes first. Then, they are seared quickly in melted butter until charred, resulting in a rich caramelization without burning.
For even more amazing favor, use a smoked thick-cut bacon. My favorite bacon for this recipe is Benton's Hickory Smoked Bacon — there's just no comparison!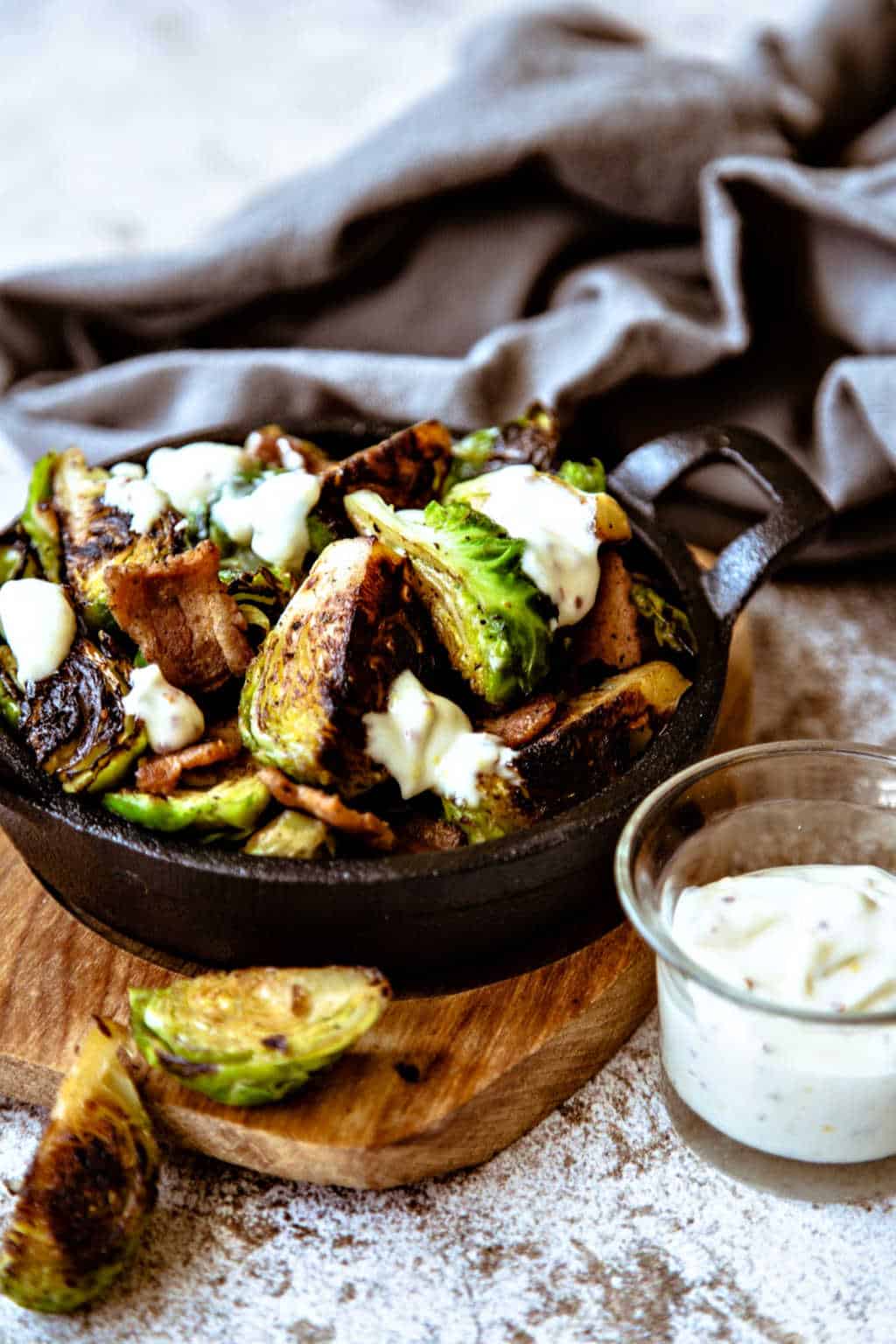 Charred Brussels Sprouts with Garlic Aioli
This past week our family was in the charming town of Franklin, Tennessee, for our daughter's wedding. Before heading home, we stopped in for dinner at Gray's on Main, a trendy restaurant housed in an historic building circa 1876.
Gray's was once a pharmacy, but now "honors the heritage of Tennessee's culture through soulful sounds, traditional flavors and vintage spirits". I had the Southern Chop with jalapeño cornbread stuffing and peach chutney — it was excellent, by the way — but I was particularly impressed with the Brussels Sprouts appetizer we shared. I almost ordered a second one just for myself!
I was so impressed, I set out to create my own version of Charred Brussel Sprouts with Garlic Aioli. Although I'm pretty sure the Gray's Brussels sprouts were deep-fried, I opted for searing my Brussels in butter and I must say they turned out pretty darn delicious!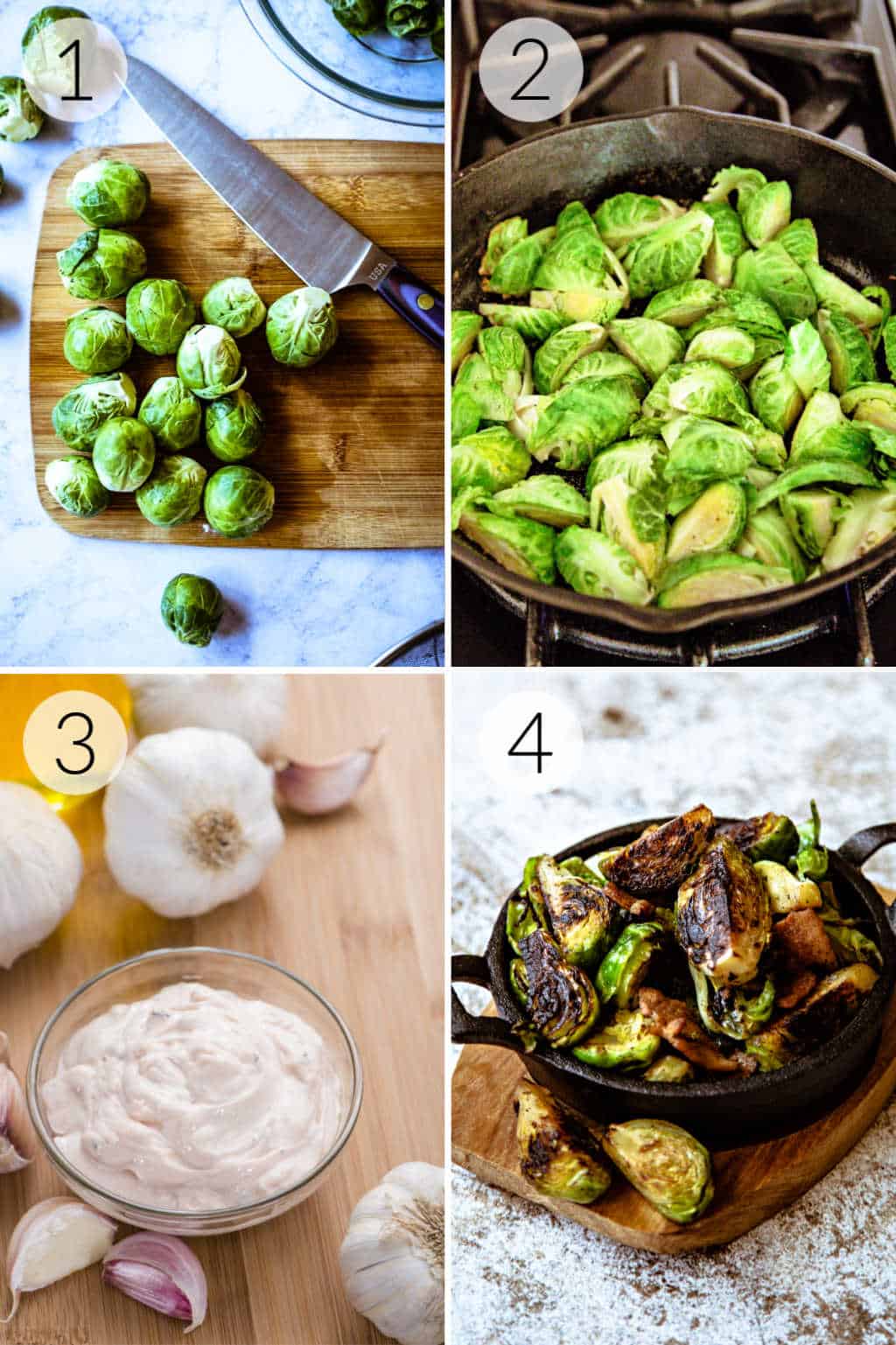 How to make charred Brussels sprouts
Prep the sprouts. Place the Brussels sprouts in a colander and rinse with cool water, then pat dry with paper towels, removing any of the loose leaves. If the sprouts are small, cut them in half through the core. For larger sprout heads, cut them into quarters.
Cook the sprouts. To jump start the cooking, steam the Brussels in a microwave basket for two minutes. While the sprouts are steaming, melt the butter in a cast iron skillet. Add cracked black pepper and sauté until sizzling. Place the steamed Brussels in the hot skillet cut side down and cook for about 5 minutes without turning. Stir and cook another 4 to 5 minutes, adding in crumbled bacon.
Prepare the aioli. Do this ahead of time and store it in the refrigerator until ready to serve or whisk it up while the Brussels sprouts cook. You may use either fresh garlic or the jarred minced garlic and both are delicious.
Serve! I can't decide if this recipe should be categorized as an appetizer, a side dish, or even the whole meal!
How to make garlic aioli
Aioli is a fancy name for a very simple dipping sauce that's so quick and easy to whisk together — literally!
To make garlic aioli from scratch, simply add the mayonnaise, a bit of whole grain Dijon mustard, and lemon juice with minced garlic (fresh or jarred) to a small bowl. Whisk together until combined or all ingredients are emulsified into the mayo for a smooth sauce. Season with kosher salt and refrigerate until ready to use.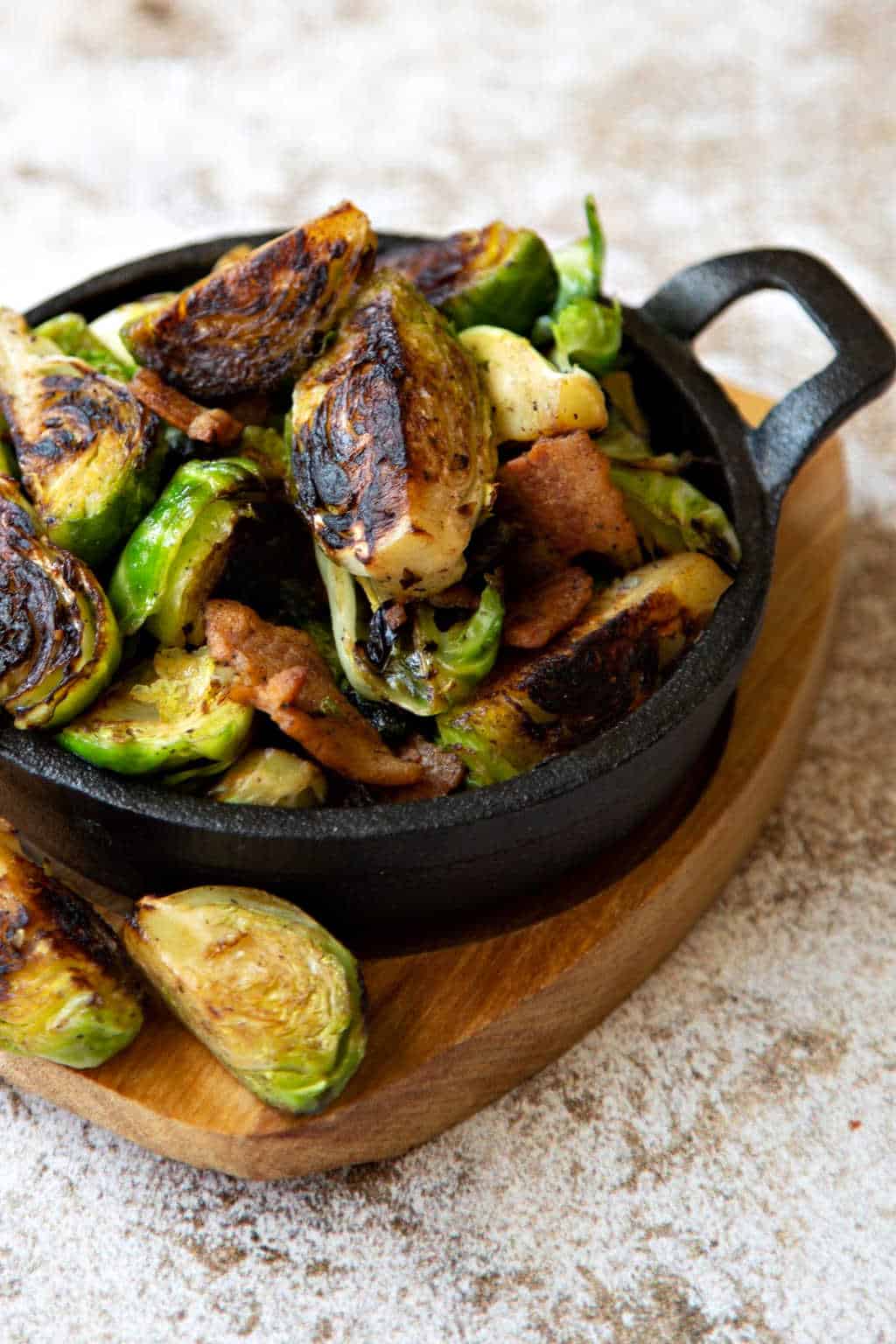 To make this recipe, you may need…
As a Southern cook, my Lodge cast iron skillet literally stays on top of my stove twenty-four seven. There's no use putting it away between meals since I most likely will be using it again the next time I cook anyway!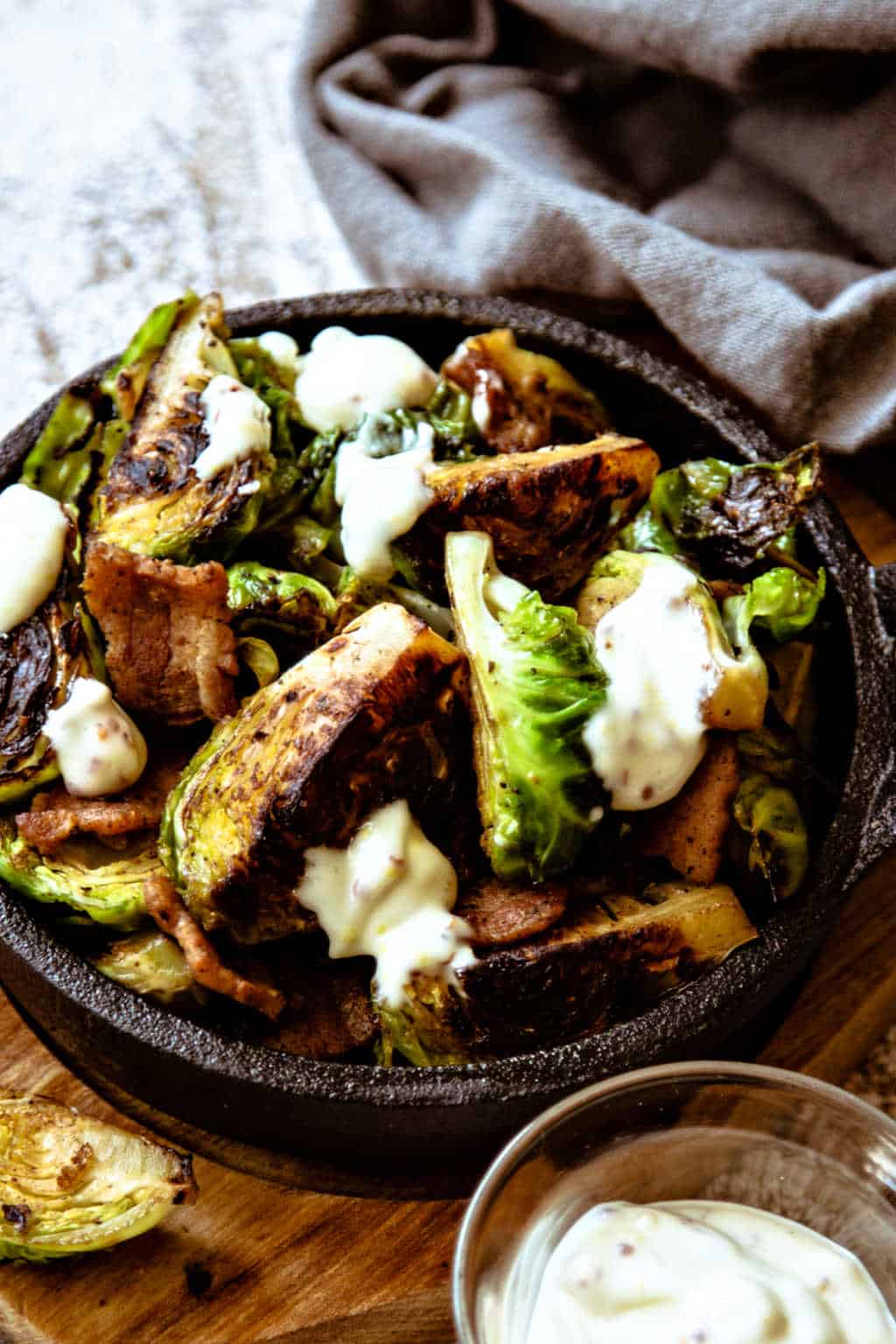 Related recipes
As a Southern cook, my cast iron skillet literally stays on top of my stove twenty-four seven. There's no use putting it away between meals since I most likely will be using it again the next time I cook anyway! That being said, here are a few of my favorite recipes made in a cast iron skillet — I hope you enjoy them as much as I do!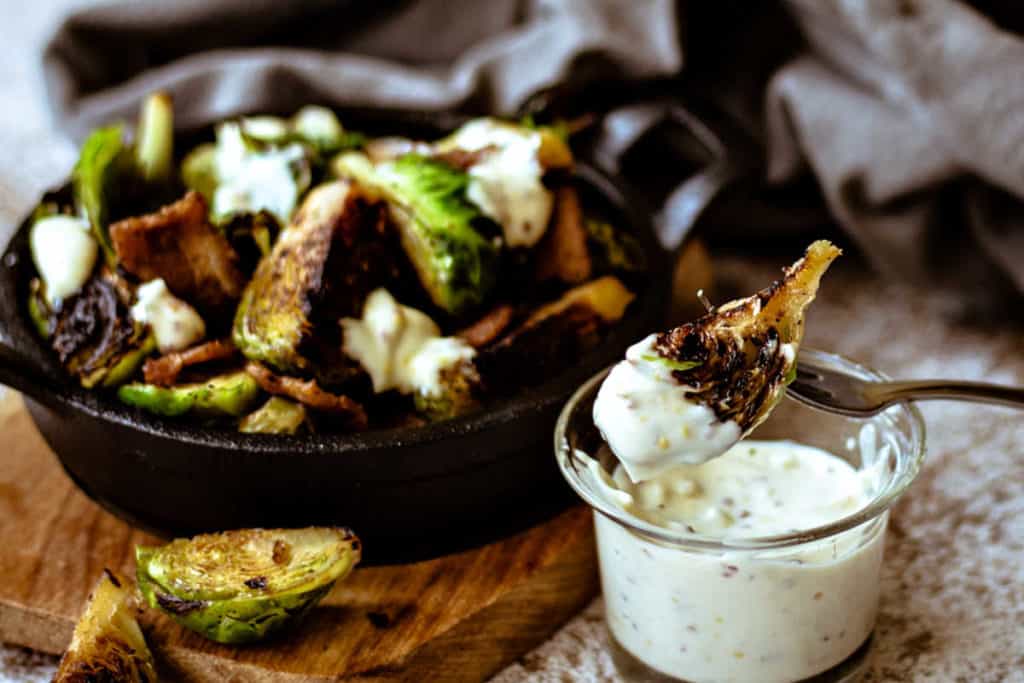 Let's cook!
When serving these, you might want to reserve a little aioli for extra dipping on the side because it is just that good!
And, if you're ever in Franklin, I highly recommend that you stop by Gray's on Main. The atmosphere is both historic and trendy, the service is great, and the food is absolutely delicious. Check out Gray's Facebook page for their menu and live music schedule.
Please share!
Your shares are how this site grows and I appreciate each one. Do you know someone who would enjoy this recipe? I'd love it if you would share it on Facebook or on your favorite Pinterest board!
First Published: July 1, 2016. Last Updated: June 03, 2020.
Yield: 4 servings
Charred Brussels Sprouts with Garlic Aioli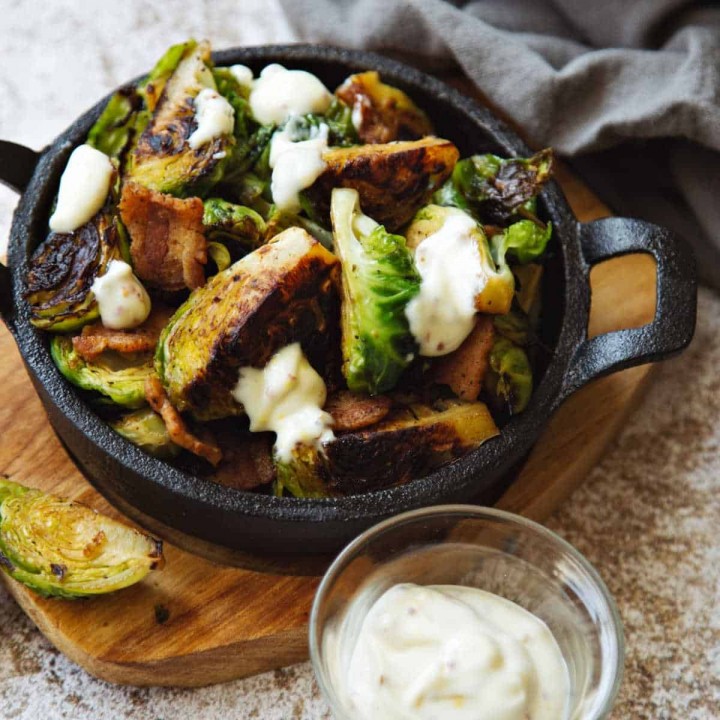 An appetizer of charred Brussel Sprouts seasoned with bacon bits and drizzled with a zesty garlic aioli.
Ingredients
1 lb. Brussels sprouts, trimmed and cut in half or quarters
2 tablespoons butter
1/2 teaspoon freshly ground black pepper
sea salt, to taste
2 slices thick-cut bacon, fried and crumbled
Garlie Aioli
1/4 cup mayonnaise
1/2 tablespoon whole grain Dijon mustard
1/2 teaspoon fresh lemon juice
1 clove garlic, minced
1 pinch salt
Instructions
Rinse Brussels sprouts and pat dry. Trim stems and cut each in half lengthwise.
Place into the basket of a microwave steamer with 2 tablespoons of water. Microwave for 2 minutes. Remove from steamer to stop the cooking.
While the Brussels are steaming, melt the butter in a cast iron skillet over medium heat. Add freshly ground pepper and stir until just sizzling.
Add the Brussels to the skillet in a single layer, cut side down as much as possible. and sprinkle with salt. Cover without turning for 4 to 5 minutes. Flip the Brussels over and continue cooking for another 3 to 4 minutes, or until soft and lightly charred. Add the crumbled bacon and stir.
To serve, drizzle with half the aioli, reserving the rest for extra dipping, if desired.
Garlic Aioli
Prepare the aioli by combining the mayo, Dijon mustard, lemon juice, and garlic in a small bowl. Add salt to taste and refrigerate.
Recommended Products
As an Amazon Associate and member of other affiliate programs, I earn from qualifying purchases.
Nutrition Information:
Yield:
4
Serving Size:
4 Servings
Amount Per Serving:
Calories:

216
Total Fat:

19g
Saturated Fat:

6g
Trans Fat:

0g
Unsaturated Fat:

12g
Cholesterol:

27mg
Sodium:

487mg
Carbohydrates:

9g
Fiber:

3g
Sugar:

2g
Protein:

5g