Perfectly grilled salmon with a slightly sweet and smoky flavor.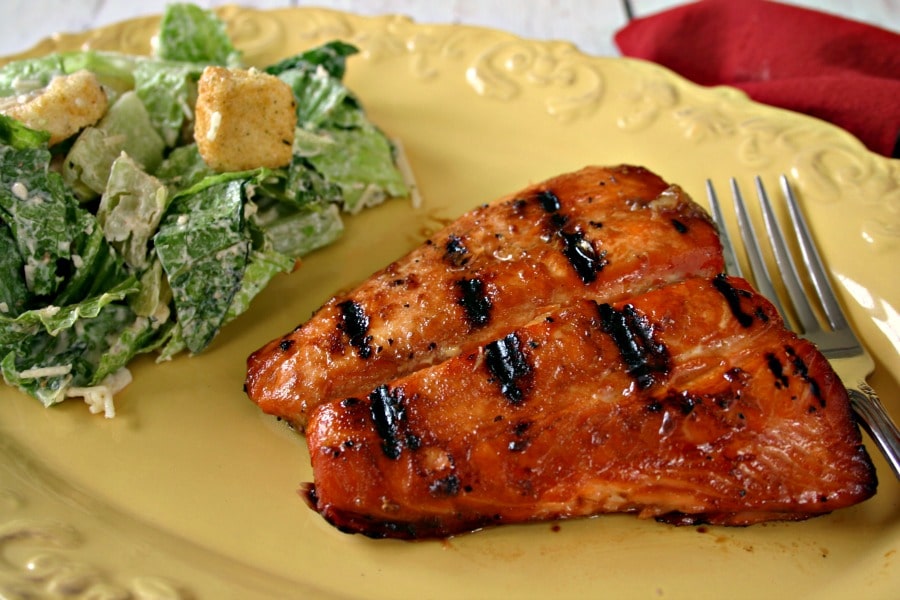 Grilling is a year-round thing at our house, so when I found this recipe for Best Grilled Salmon on the Honey Bear Lane blog, I wanted to see if that claim was indeed true. This recipe is not only delicious, but it is extremely easy to prepare.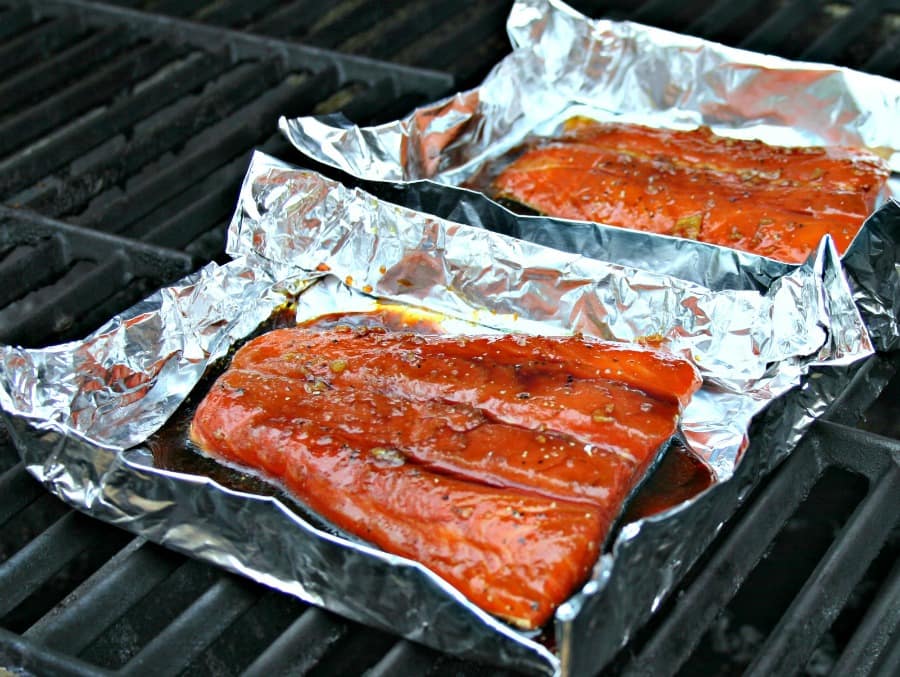 Combine the marinade ingredients in a single gallon-size ziplock bag (no need to dirty up a bowl) and refrigerate for at least an hour. After soaking up all that flavorful marinade, the salmon fillets are grilled in little aluminum foil "boats". I used heavy duty non-stick aluminum foil and just folded up the sides a couple of times to make a lip. Remember folding your homework to make a paper airplane?!
Making these aluminum foil boats won't get you into trouble and make you stay after class..haha! The best part is that after grilling, you just toss the foil — there is literally no clean-up required for this recipe!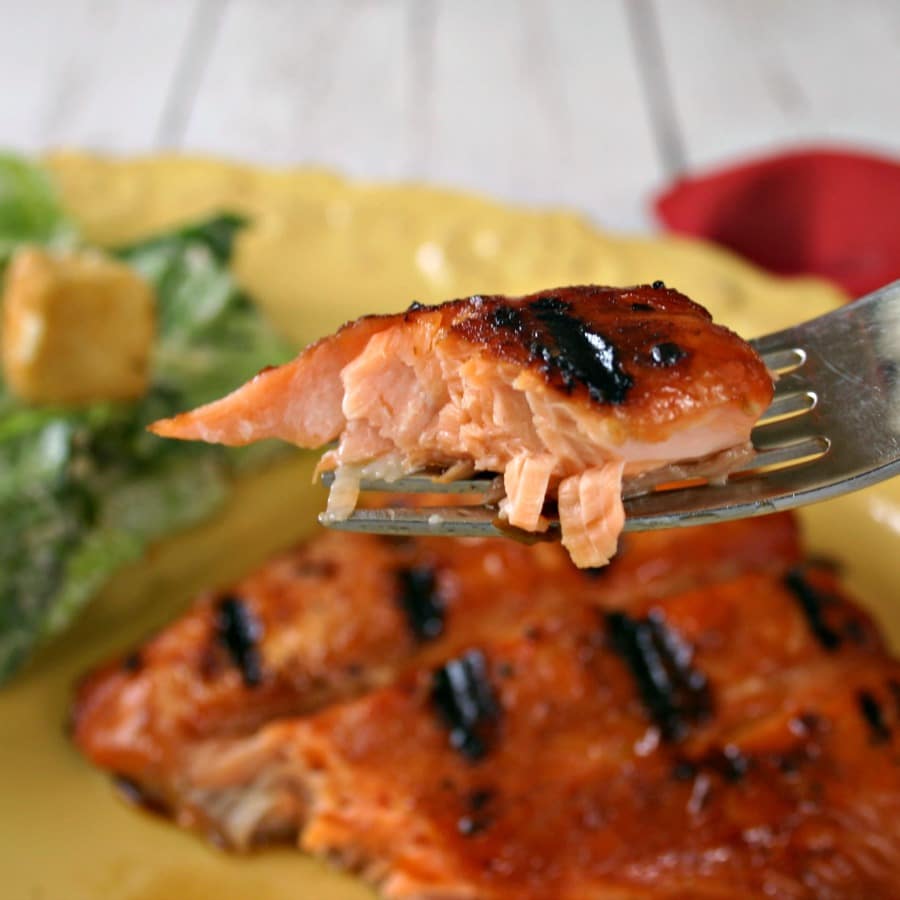 The salmon is perfectly cooked after just 18-20 minutes on the grill — very flaky and moist with a slightly sweet and smoky flavor. You'll want to avoid overcooking or the salmon or it will become too dry. The marinade creates a nice glaze during cooking so that the salmon filets have a very slightly crisp outside and light flakiness inside.
I served our grilled salmon with a fresh Caesar salad and my husband who normally doesn't like salmon, loved it! Who knew that after 30+ years of marriage I could finally convince him to actually try salmon?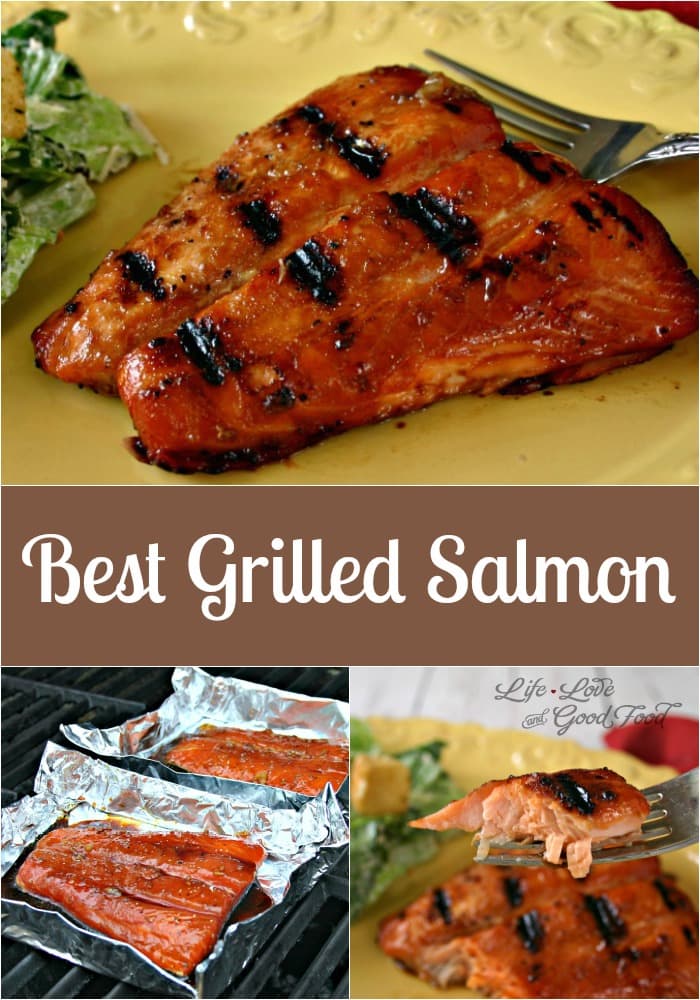 I guess this really is the BEST Grilled Salmon recipe! Enjoy!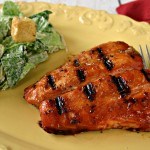 Best Grilled Salmon
Perfectly grilled salmon with a slightly sweet and smoky flavor.
Ingredients
Marinade
1/4

cup

brown sugar

2

tablespoons

lemon juice

1/2 to 1

teaspoon

black pepper

1

teaspoon

salt

1/4

cup

lite soy sauce

1/4

cup

olive oil

2

tablespoons

water

1-2

cloves

minced garlic
Instructions
Place all marinade ingredients into a gallon size zip lock bag and seal. Squeeze gently to combine ingredients, then add salmon fillets. Seal and refrigerate for 1 to 3 hours to allow flavors to penetrate the fish.

Preheat grill to medium high heat. For each salmon fillet, take a piece of heavy duty aluminum foil and fold into a "dish" with sides. Place a salmon fillet into each dish skin side down. Add a little of the marinade on top and place the entire dish on the grill.

Grill for 18-20 minutes with the lid closed. Flip the salmon onto the grill to sear the top, about 1-2 minutes. Carefully scrape off the skin (it should lift right off) and serve.