This post may contain affiliate links. Please read my disclosure policy.
Tender and thinly sliced steak smothered in gooey cheese and topped with caramelized onions all held together between two soft and fluffy hoagie buns — I honestly don't know if you're ready for this Philly Cheesesteak recipe!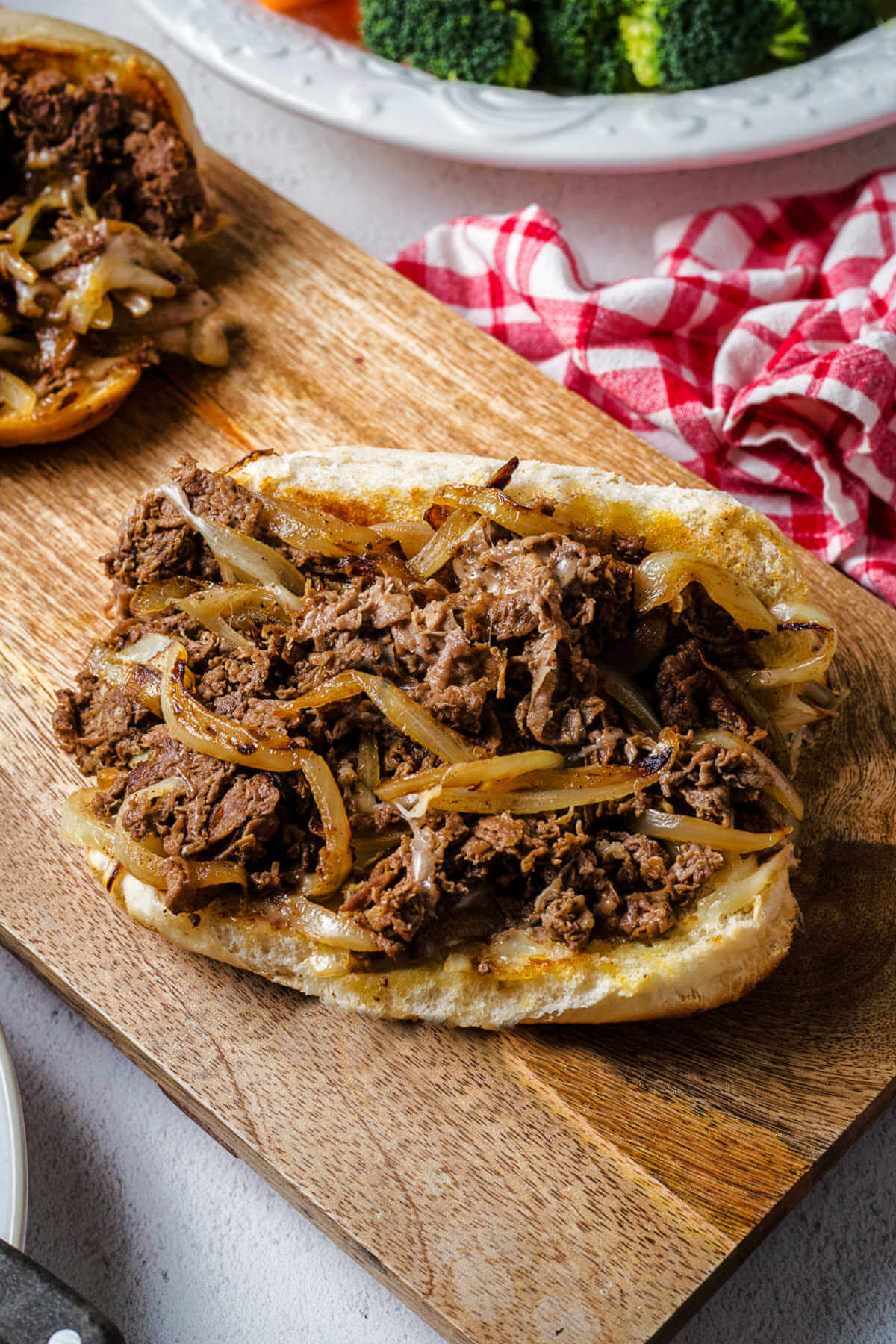 Get ready to make this delicious and classic cheesesteak sandwich TONIGHT! After reading through this easy recipe, the cheesesteak purist in you will be craving homemade Philly Cheesesteaks all day long!
So, take out the grocery list, make a quick trip to the store, and collect the simple ingredients to throw together these irresistible cheesy sandwiches!
Philly cheesesteaks are perfect for serving at all your game-day events this time of year. Plus, they make for an easy and comforting dinner for those busy weeknights.
Looking for some more crave-worthy sandwiches? You MUST try my saucy Sloppy Joe Sandwiches, easy Italian Meatball Subs, and these irresistible Roast Beef Sliders.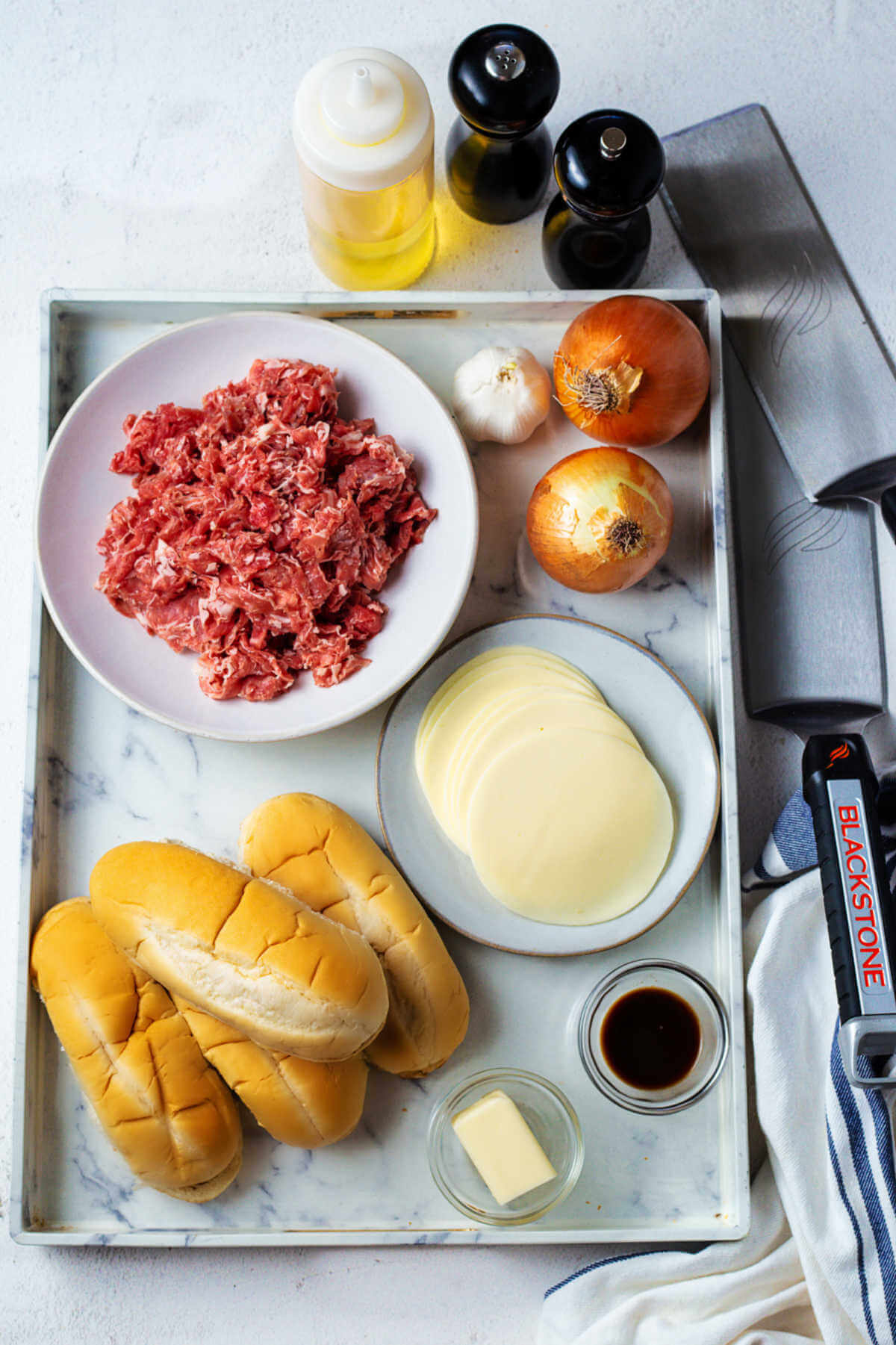 Key ingredients & substitutions for Great Cheesesteak Sandwiches
Canola oil and butter| Just a spoonful of canola oil and a bit of butter is all you need to caramelize the onions. Later, use more unsalted butter to cook the beef.
Sweet onions | Caramelize thinly sliced sweet onions to mix into the shaved steak. If necessary, Vidalia or white onions will also do the trick.
Beef | For a classic Philly, you'll need shaved beef or a round-tip steak sliced wafer thin. Other cuts of meat also work well for a cheesesteak sandwich. Check out the FAQ section to see which are best.
Salt and pepper | As always, a little kosher salt and freshly ground black pepper go a long way!
Garlic | Use freshly minced garlic cloves to bring more delicious flavor to this sandwich. However, use garlic powder or jarred minced garlic if you're in a pinch.
Worcestershire sauce | Worcestershire sauce brings a unique savory taste to the shaved beef.
Provolone cheese | For the most authentic cheesesteak, top it with provolone cheese. Some different cheeses are acceptable for Phillys, like White American cheese or cheese whiz.
Hoagie rolls | Hoagie rolls have the perfect texture and taste for this flavor-packed and cheesy sandwich. You may also use an Italian roll, seeded or crusty roll for this recipe.
Equipment needed
How to make Authentic Philly Cheesesteaks
To make the best Philly cheesesteak, I suggest using a hot griddle, like the incredible Blackstone griddle. Besides that, all you need is a dome and a long spatula, and you're good to go!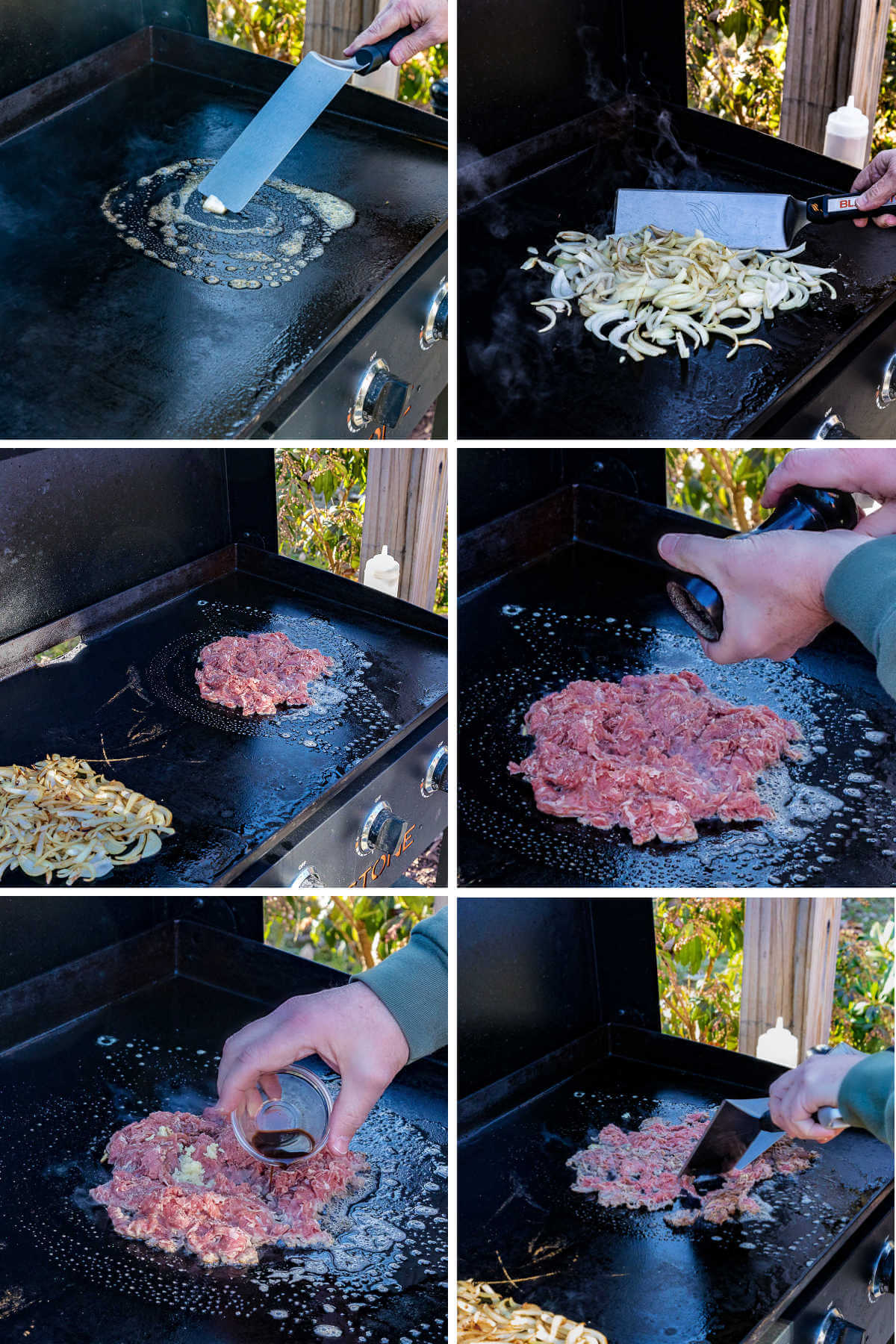 STEP 1 | Preheat the griddle and sauté
A Blackstone griddle makes the most delicious cheesesteaks!
First, preheat the griddle to medium-high heat, or around 400 degrees F. While the griddle heats up, save some time by slicing the sweet onions into thin pieces. This is also a good time for dicing the fresh garlic cloves.
Next, add the canola oil and spread it around with a spatula to coat the entire surface. Then, add half of the unsalted butter and let it melt, careful not to allow any burning. Once melted, add the onions.
STEP 2 | Caramelize the onions.
Cook the onions until they are just about clear and tender. Remember to stir the onions and butter often. After 4 to 5 minutes, the onions should start caramelizing. As soon as this happens, push the cooked onions to the cool side of your Blackstone griddle.
tips
One of the most vital parts of this recipe is to ensure you do not overcook the beef. So, keep a close eye on it and never let the griddle get too hot. If it helps, you can cook the meat on medium heat rather than medium-high.
To make the process easier, ask the meat department at your grocery store to slice the beef for you. Or visit a local butcher shop for high-quality meat perfectly cut.
If you don't have a dome for your griddle, use a metal mixing bowl or something similar to cover the meat and melty cheese.
STEP 3 | Add and season the beef
Now, add the remaining butter to the hot surface. Once it's melted, add the shaved beef, spreading it out slightly, so it cooks evenly.
Next, season the meat with salt and freshly ground black pepper. Finally, complete the flavor of the steak by sprinkling it with minced garlic cloves and yummy Worcestershire sauce.
STEP 4 | Cook the meat
Then, sear the beef for a couple of minutes, flipping it to cook on the other side for another couple of minutes. When you turn the meat over, you should chop it up for the best results.
You'll cook the meat for about four to six minutes total or until the meat is no longer pink. Try your best not to overcook the beef! Because it's so thin, it will quickly dry out, which is certainly NOT what you want for a traditional cheesesteak.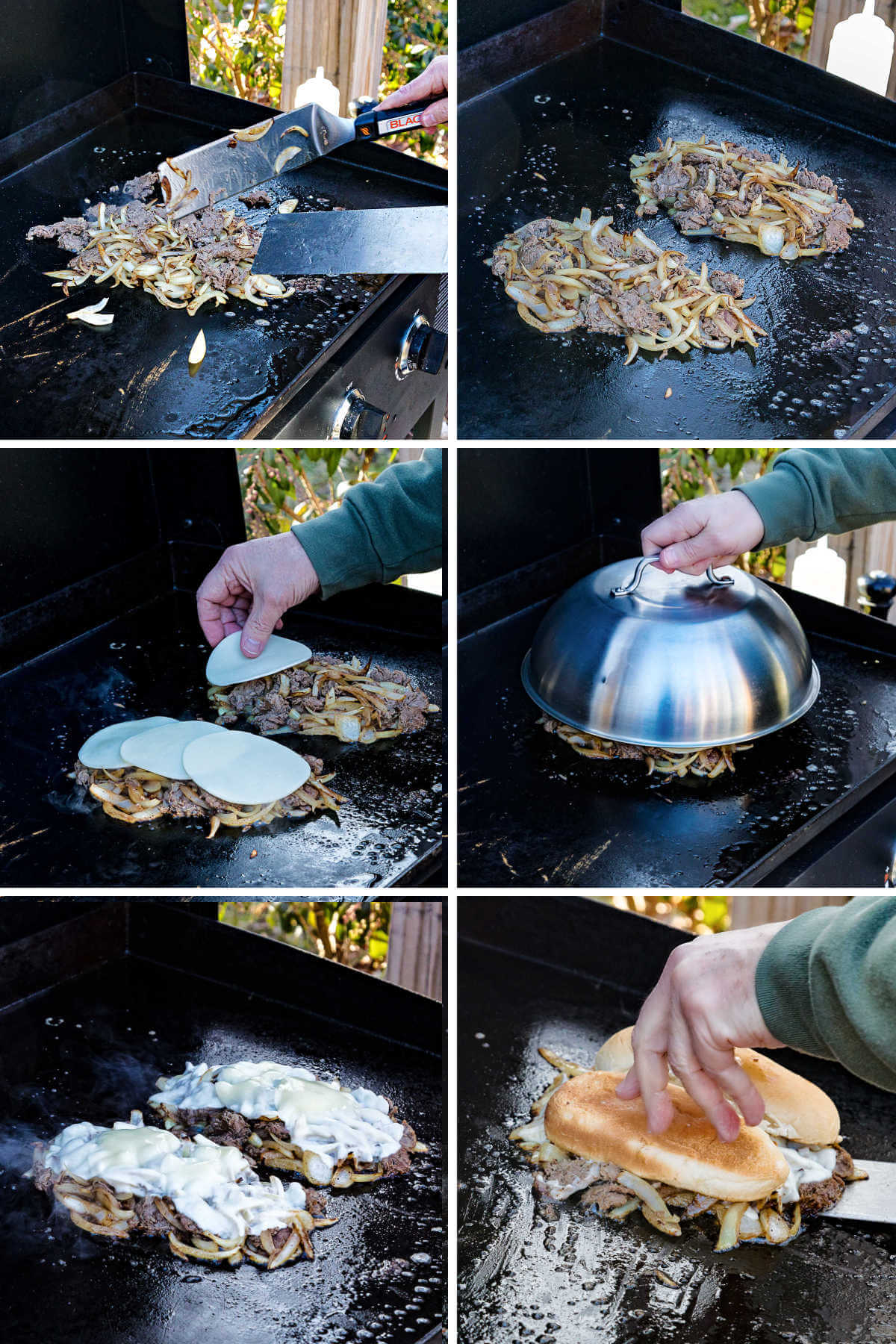 STEP 5 | Prepare and toast the rolls
As you keep a close eye on the cooking beef, split open the buns so they are ready to be filled! If you'd like, spread a pat of butter on the insides of each roll and lay it face down on the griddle to get nice and toasty!
Trust me. It makes a BIG difference when you bite into this work of art!
STEP 6 | Combine the meat, onions, and cheese
Next, slide the onions you set to the side to the cooked beef and mix the two together. Separate the meat into four piles about the size of the buns and top each with two slices of delicious provolone cheese. Then, place a dome on top to steam and melt the cheese for around a minute.
STEP 7 | Fill the rolls and serve!
Have your plates ready and the table set — your Blackstone Philly cheesesteak is best served fresh off the griddle!
Remove the dome lid and use a long spatula to flip each pile onto a toasted bun. Drop the sandwiches onto the plates and dig into this deliciousness with a side of salty potato chips!
Personalize your delicious Philly sandwich with your favorite toppings, like bell peppers, hot peppers, crispy fried onions, or sautéed mushrooms.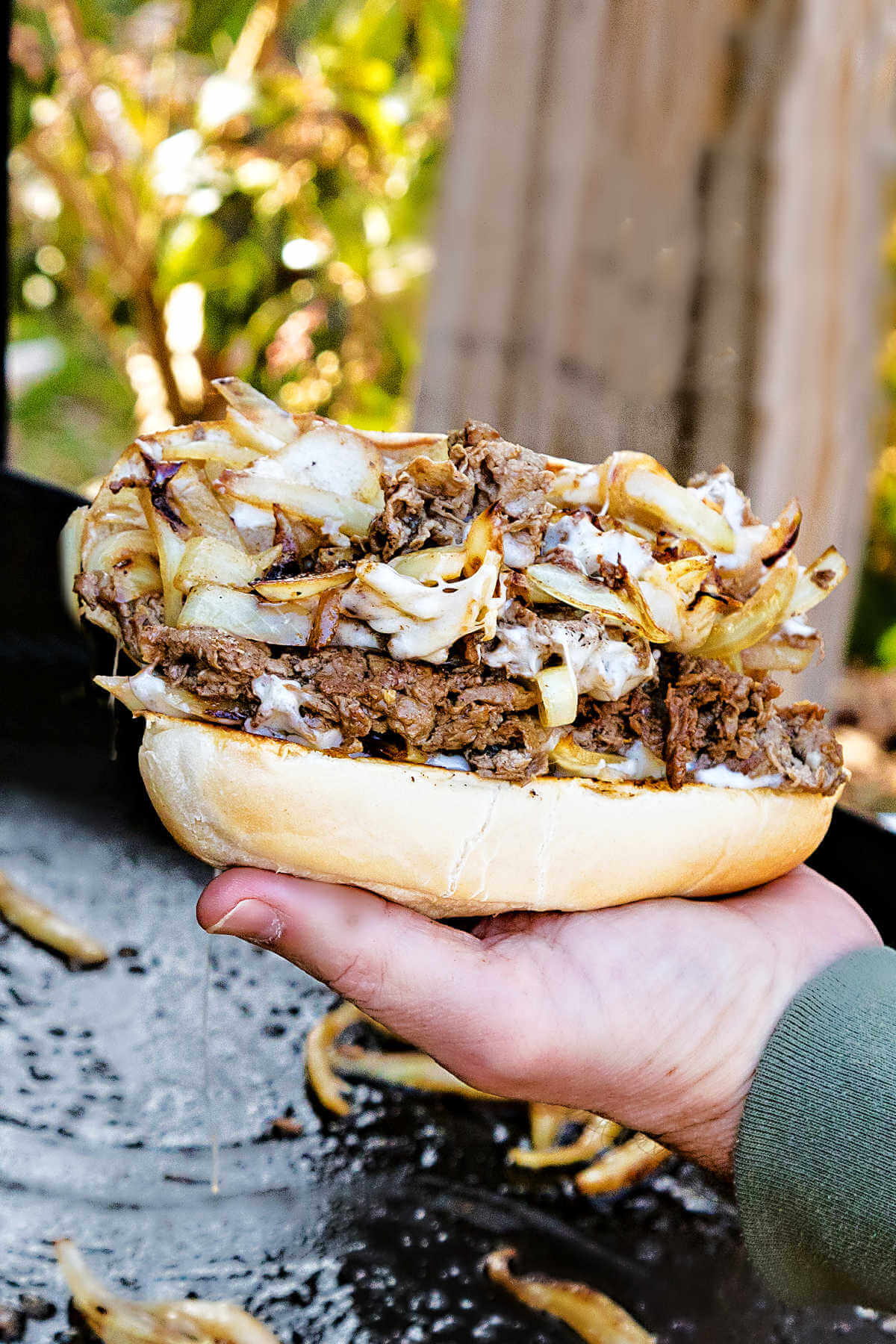 Frequently asked questions
Can you cook Philly Cheesesteak on the stove?
Sure! If you don't have a griddle, cook the recipe on the stovetop using a large skillet. First, cook the onions with the canola oil and remove them to a plate once they are caramelized. Next, cook the beef with melted butter, then combine the onions and meat. Place the cheese slices on top to melt and divide the Philly filling onto toasted buns.
What is the best meat for a Philly Cheesesteak?
The "best" meat for this sandwich differs depending on who you ask. Some people prefer thinly sliced ribeye steak, while others like sirloin steak. Also excellent for cheesesteaks is shaved beef, a round tip, or a top round. As long as it is sliced wafer thin, you are good to go! That is, unless it's flank steak or brisket. These two cuts usually turn out too chewy to be properly enjoyed in a cheesesteak.

OR, you can even make a chicken cheesesteak using sliced or chopped chicken breasts, which is perfect for those who do not prefer red meat.

How do you thinly slice beef for Philly Cheesesteaks?
If you couldn't get your local store or butcher to thinly slice the steak for you, here are some tips for cutting wafer-thin beef pieces. To make this task as easy as it can be, freeze the beef for a little over half an hour. Next, chop off the excess fat and other unwanted areas. Then, use a sharp knife to slice the steak against the grain, making each piece as thin as possible.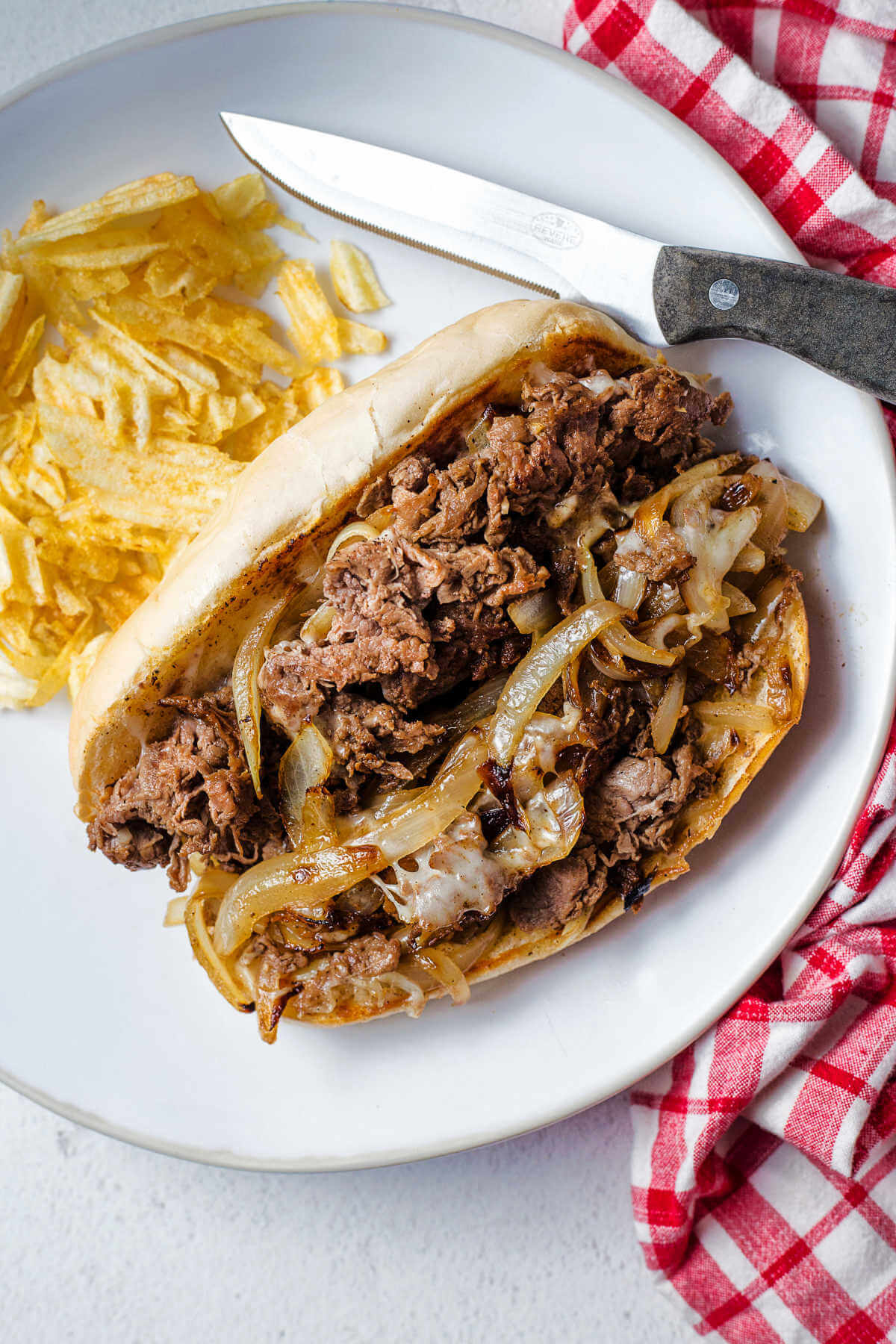 Serving suggestions
These Philly cheesesteaks go perfectly with my easy Grilled French Fries with Spicy Ketchup. However, if you're craving a French-fry-like side but want to switch things up, check out my crispy Air Fryer Asparagus Fries or hassle-free Oven Baked Onion Rings!
Or perhaps you're searching for a lighter side to serve with your filling Philly cheesesteaks. In that case, try out my two favorite slaw recipes, this Tangy No-Mayo Coleslaw and my superfood-packed Kale Slaw.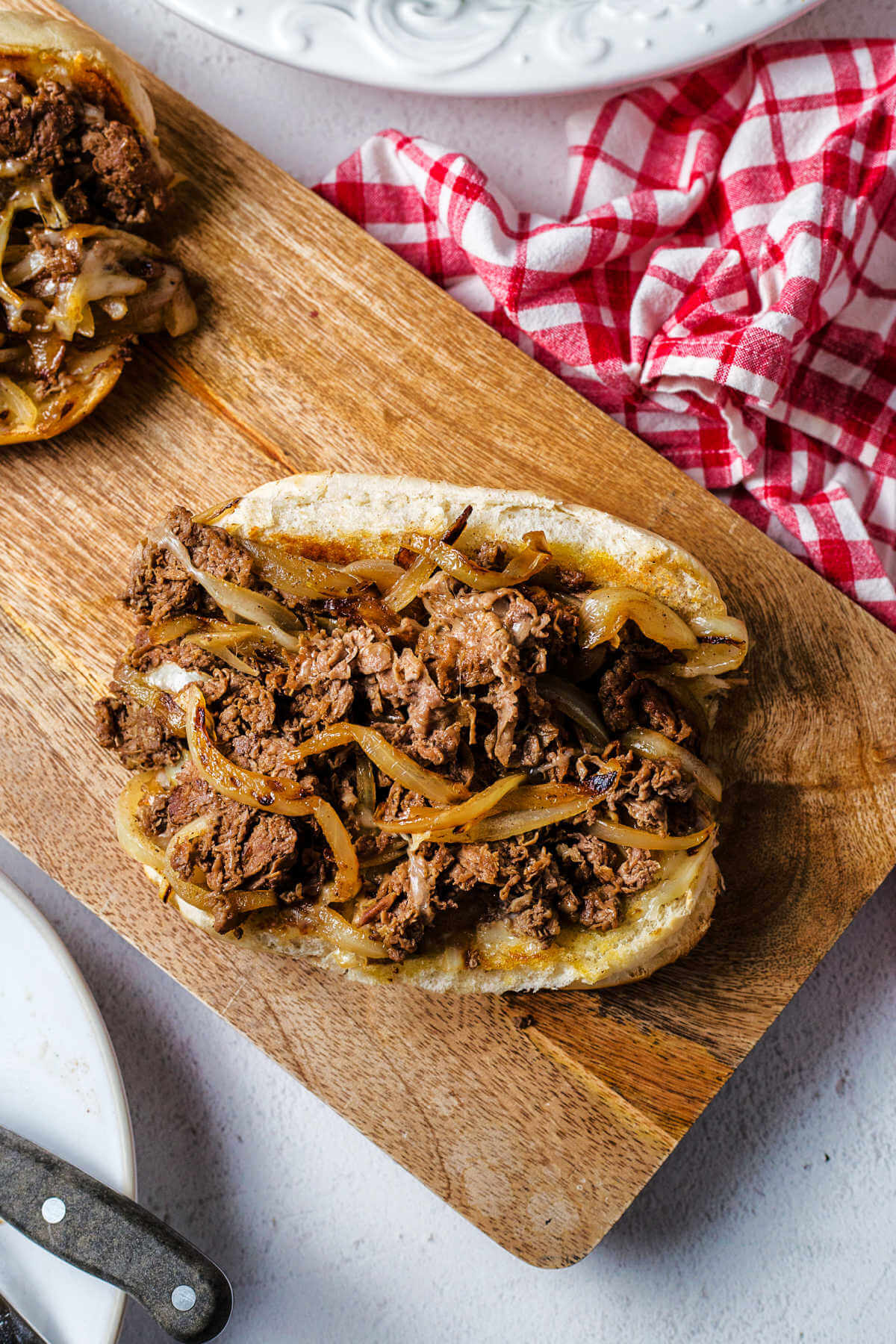 Behind the recipe: Best Philly Cheesesteaks
You probably wouldn't guess that the Philly cheesesteak is a beloved recipe that has been around for almost an entire century.
The original sandwich was made by brothers Pat and Harry, who ran a hot dog stand in Philadelphia. When they were ready to expand their menu from classic hot dogs and burgers, they created a sandwich filled with grilled steak and sauteed onions held between a toasted bun.
The first 1930s variation did not include any cheese. By the 40s the sandwiches had gained so much popularity, the brothers thought adding provolone cheese would boost it even further. And the cheesesteak was born!
When in Philly, order like true cheesesteak purists!
Those born and raised in Philadelphia take their Philly Cheesesteaks pretty seriously. If you plan on taking a trip to the birthplace of this delicious and cheesy steak sandwich, you'll want to know how to order one like the locals.
That way, you don't stick out like a sore thumb as a tourist when visiting a cheesesteak place or food truck.
That's right — there's even a RIGHT and WRONG way to order this Philly classic, especially at the world-famous Geno's Steaks, founded by the king of Phillys, himself, Joey Vento.
Here's what you need to know. When ordering a Philly cheesesteak sandwich, it's all about using the correct terminology. For instance, rather than saying you want a sandwich with onions, you ask for "a cheesesteak wit." For no added onions, ask the cook for "a cheesesteak witout."
And yes. That's not a typo. To fit in with the locals, be sure to say "wit" and "witout," not "with" or "without." However, you can properly pronounce these words if you'd like — it won't offend anyone.
There are a couple more things you should remember. DO NOT ask for Swiss cheese! Some places will ask what cheese you want, and it's best to assume their only options are the traditional ones—American cheese, provolone, or cheese whiz.
Similarly, never specify how you want your steak done. Authentic Philly cheesesteaks are always made with well-done beef.
Please share!
Your shares are how this site grows, and I appreciate each one. Do you know someone who would enjoy this recipe? I'd love it if you would share it on Facebook or Pinterest!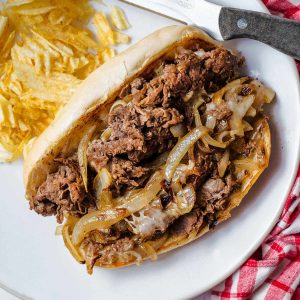 Best Philly Cheesesteak
Tender and thinly sliced steak smothered in gooey cheese and topped with caramelized onions all held together between two soft and fluffy hoagie buns—I don't know if you're ready for this Philly Cheesesteak recipe!
Ingredients
1

tablespoon

canola oil

2

tablespoons

unsalted butter

2

large

sweet onions

thinly sliced

1 1/2

pounds

shaved beef or round tip steak

sliced wafer thin

1/2

teaspoon

kosher salt

1/2

teaspoon

black pepper

1

clove

garlic

minced

1

tablespoon

worcestershire sauce

8

slices

provolone cheese

4

hoagie rolls
Instructions
Preheat the Blackstone griddle to medium-high heat, about 400 degrees and add the canola oil, spreading with a spatula. Add half the butter and let it melt, then add the onions.

Cook the onions, stirring frequently, until they are tender and start to caramelize, 4 to 5 minutes. Once done, push the onions to the cool side of the griddle.

Melt the remaining butter on the griddle, then add the shaved beef and spread it out slightly. Season the beef with salt and pepper, then add the garlic and Worcestershire sauce.

Sear the beef for 2 – 3 minutes, then flip and cook on the other side for another couple of minutes, chopping the meat slightly, until the meat is no longer pink. Don't overcook or the meat will become dry.

In the meantime, split open the buns (spread with butter if you like, and lay face down on the griddle to toast.

Return the onions to the side of the griddle with the beef and mix them in. Separate the meat into 4 piles the size of the buns, then top each with 2 slices of provolone cheese. Place a dome on top to steam and melt the cheese, for about a minute.

Remove the lid and use a long spatula to flip each pile onto a toasted bun. Serve immediately.
Notes
This recipe may be cooked on top of the stove or griddle. To cook on top of the stove, use a large skillet. Cook the onions and remove to a plate, then cook the beef. Return the onions to the skillet and stir. Add the cheese slices and melt, then divide onto buns to serve.
Be careful that the griddle doesn't get too hot or the beef may cook too quickly and become dry.
Nutrition
Calories:
665
kcal
Carbohydrates:
47
g
Protein:
56
g
Fat:
27
g
Saturated Fat:
12
g
Polyunsaturated Fat:
2
g
Monounsaturated Fat:
9
g
Trans Fat:
0.2
g
Cholesterol:
145
mg
Sodium:
1038
mg
Potassium:
926
mg
Fiber:
3
g
Sugar:
13
g
Vitamin A:
516
IU
Vitamin C:
9
mg
Calcium:
373
mg
Iron:
15
mg
Life Love and Good Food does not claim to be a registered dietician or nutritionist. Nutritional information shared on this site is only an estimate. We recommend running the ingredients through an online nutritional calculator if you need to verify any information.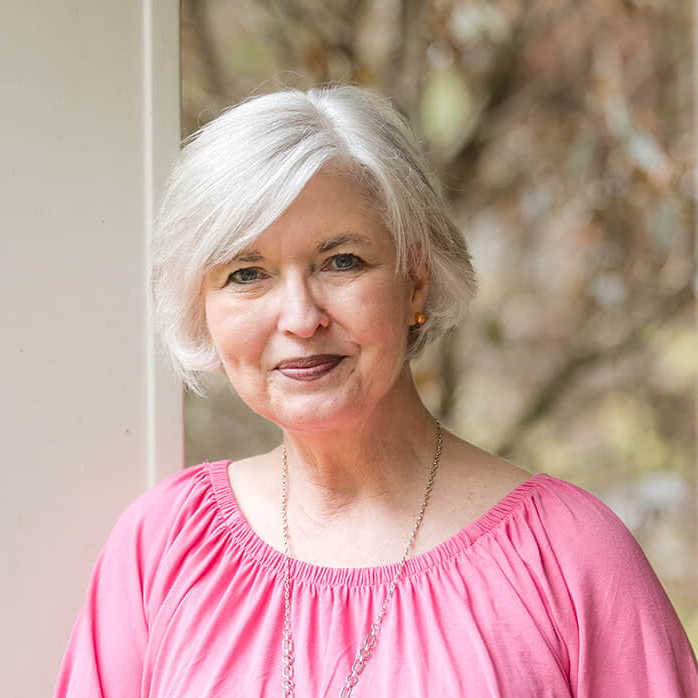 About Sheila Thigpen
Recipe Developer, Food Photographer, Food Writer
Sheila Thigpen is the publisher of Life, Love, and Good Food — a Southern food blog — and the author of Easy Chicken Cookbook and The 5-Ingredient Fresh and Easy Cookbook. After 20+ years in the publishing industry, she retired in 2018 to focus on her own creative endeavors full time. She and her husband live near the beautiful Smoky Mountains and have a precious little granddaughter who has stolen their hearts. As an influencer, Sheila has collaborated with brands like Creamette, Kroger, HERSHEY'S, Hamilton Beach, Garafalo Pasta, OXO, Smithfield, Valley Fig Growers, and more.