This post may contain affiliate links. Please read my disclosure policy.
With this Chick-fil-A Nuggets Recipe, now you can have your favorite chicken nuggets at home on any given Sunday you please!
Just imagine dipping deliciously tender and juicy bite-size chicken with a light, crispy coating in a zesty knock-off honey mustard barbecue sauce… are you drooling yet?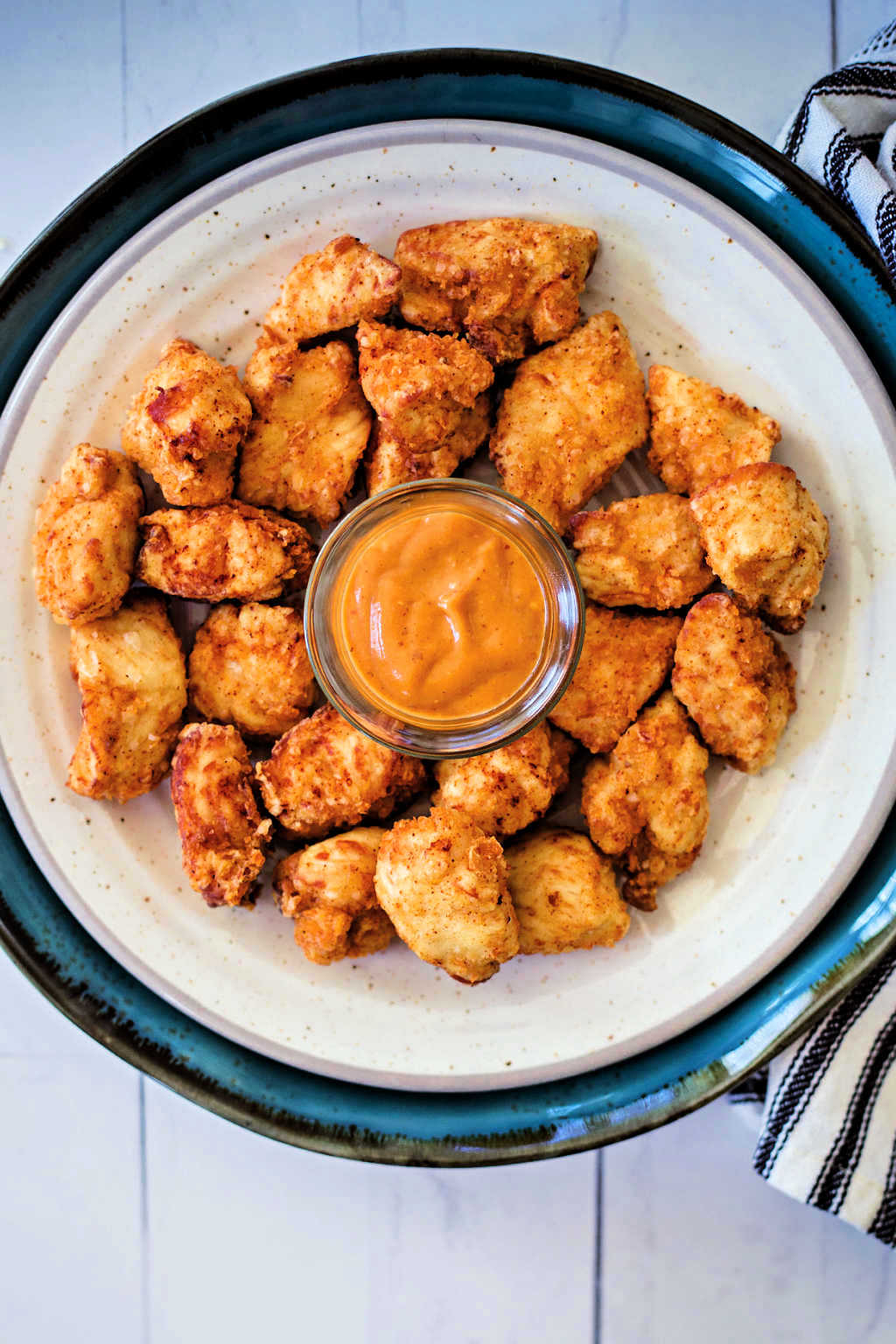 My family is a big supporter of our local Chick-fil-A® restaurant — we average hitting the drive-thru at least once a week — and Chick-fil-A is a regular stop on road trips, too.
Why is this our favorite fast food? Because Chick-fil-A knows how to do chicken right. It's always fresh, meaty, and delicious.
The only problem is you can't get chicken there on Sundays, although I do applaud them for sticking to their no service on Sunday schedule.
So, what's a chicken-lovin' blogger to do? Create a copycat Chick-fil-A chicken nuggets recipe, of course!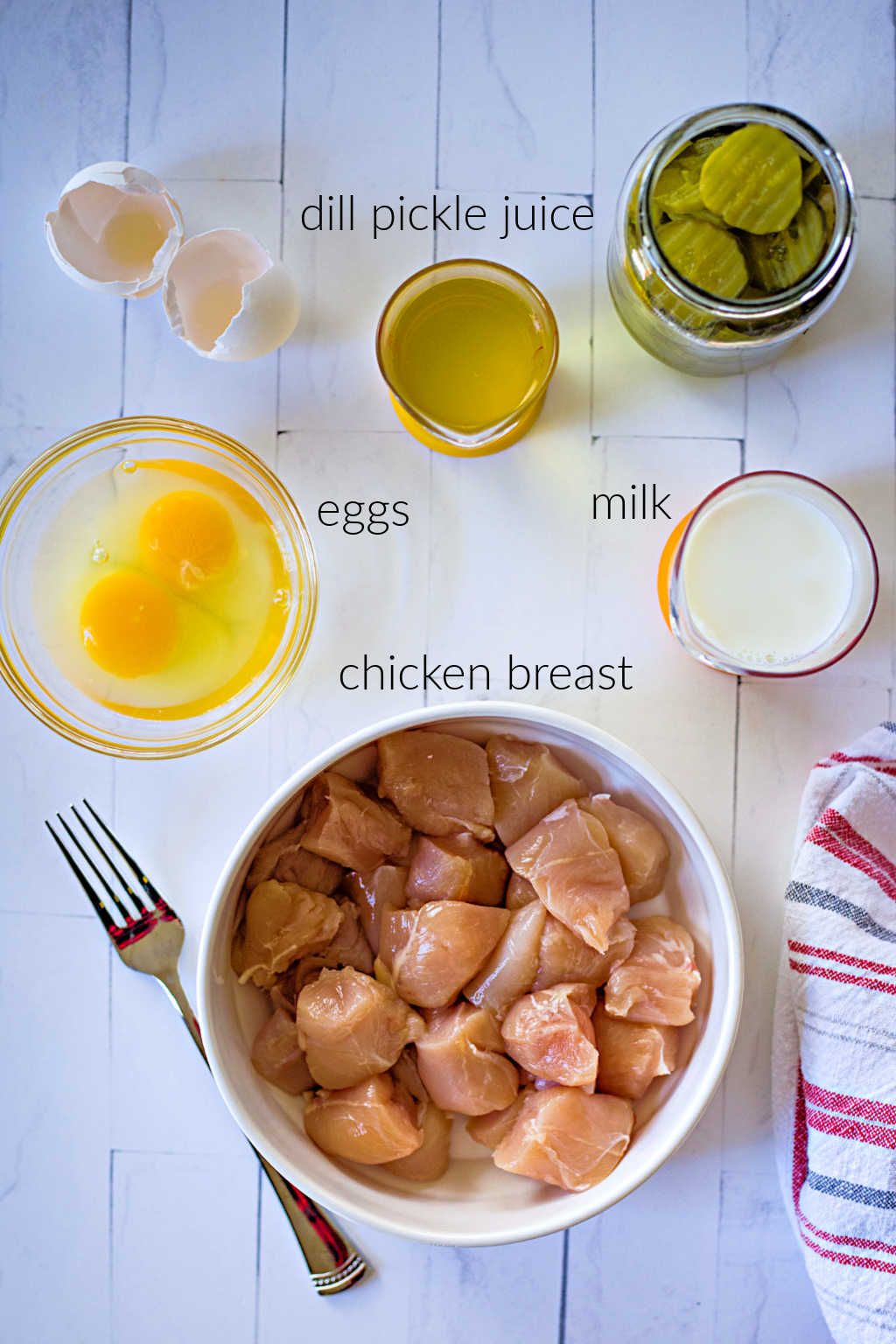 Start with a dill pickle brine
The first step is to let the chicken soak in a buttermilk and egg mixture infused with dill pickle juice. Technically, it's not a real brine, but the dill pickle juice helps tenderize the chicken without making it taste like the pickles.
Some of the recipes I reviewed called for soaking the chicken for hours, but that seemed to result in a pickle taste which is not what we're after.
If you were frying a whole chicken, you'd want to soak for a longer time, but I found that you only need to soak these small chicken pieces for 30 minutes to an hour.
For the chicken, use either skinless, boneless chicken breasts (or even chicken tenders) that you cut into bite-size pieces, about 1 -1/2 inches.
I recommend that you definitely use buttermilk, but you can always substitute regular milk or make your own buttermilk with this easy hack!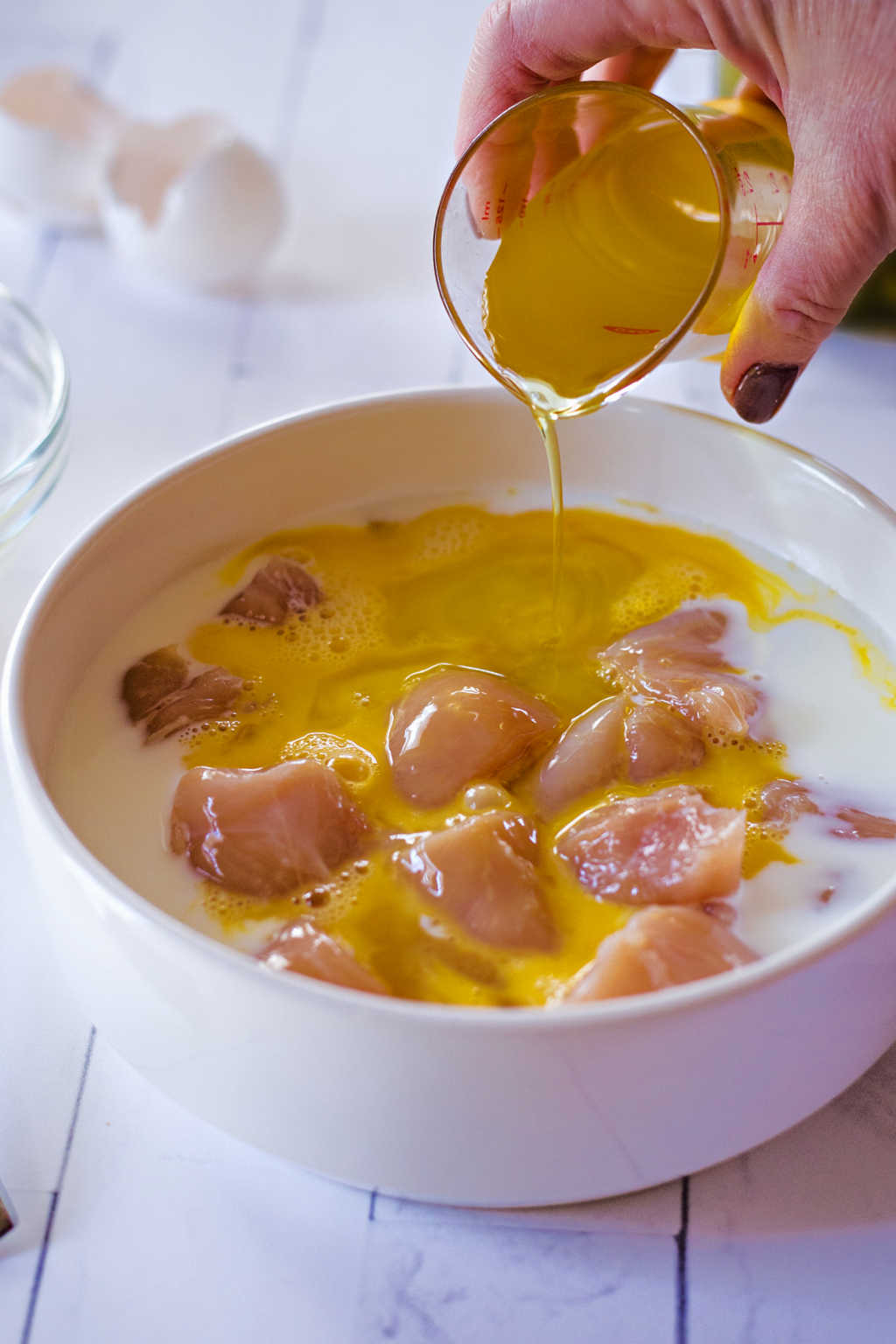 tips
Place the chicken in a bowl or a large resealable plastic bag with the brine ingredients, making sure all the pieces are covered, and refrigerate while you prep the dry ingredients and heat up the oil for frying.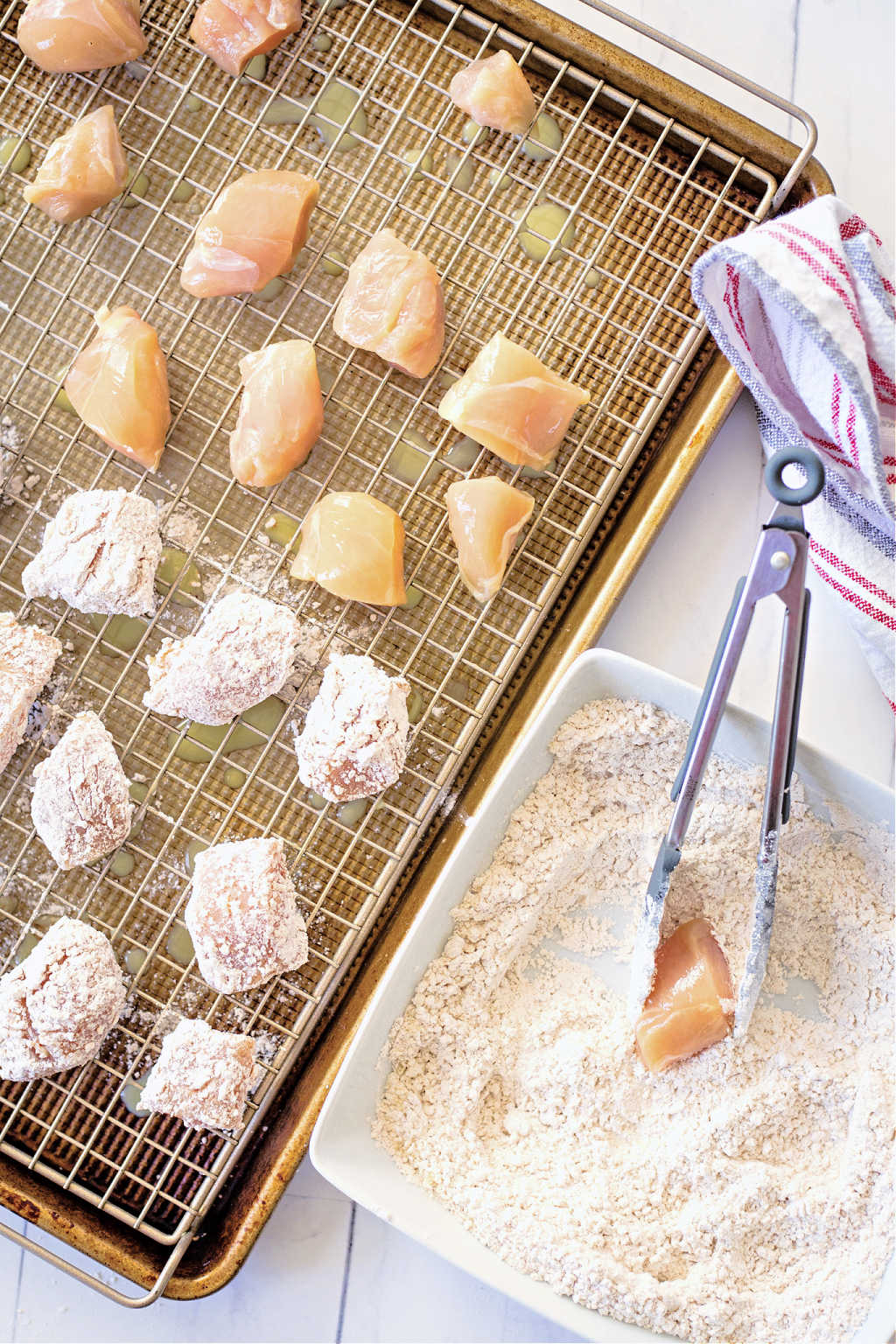 What's in the chicken nugget breading?
Another thing I learned as I was researching this recipe is that there is a lot of disagreement about whether or not to add powdered sugar to the breading mixture. Some people think the original Chick-fil-A nuggets are a little sweet, but I've never really noticed that myself.
What I did learn is that powdered sugar (or confectioner's sugar) is not listed on Chick-fil-A's published ingredients list, however sugar is. Apparently there is a little sweetness added, but I opted to leave it out entirely and still thought my replica was pretty darn close.
Here's my own breading combination:
all-purpose flour
kosher salt
white pepper
smoked paprika
panko bread crumbs — for more crispy nuggets
cornstarch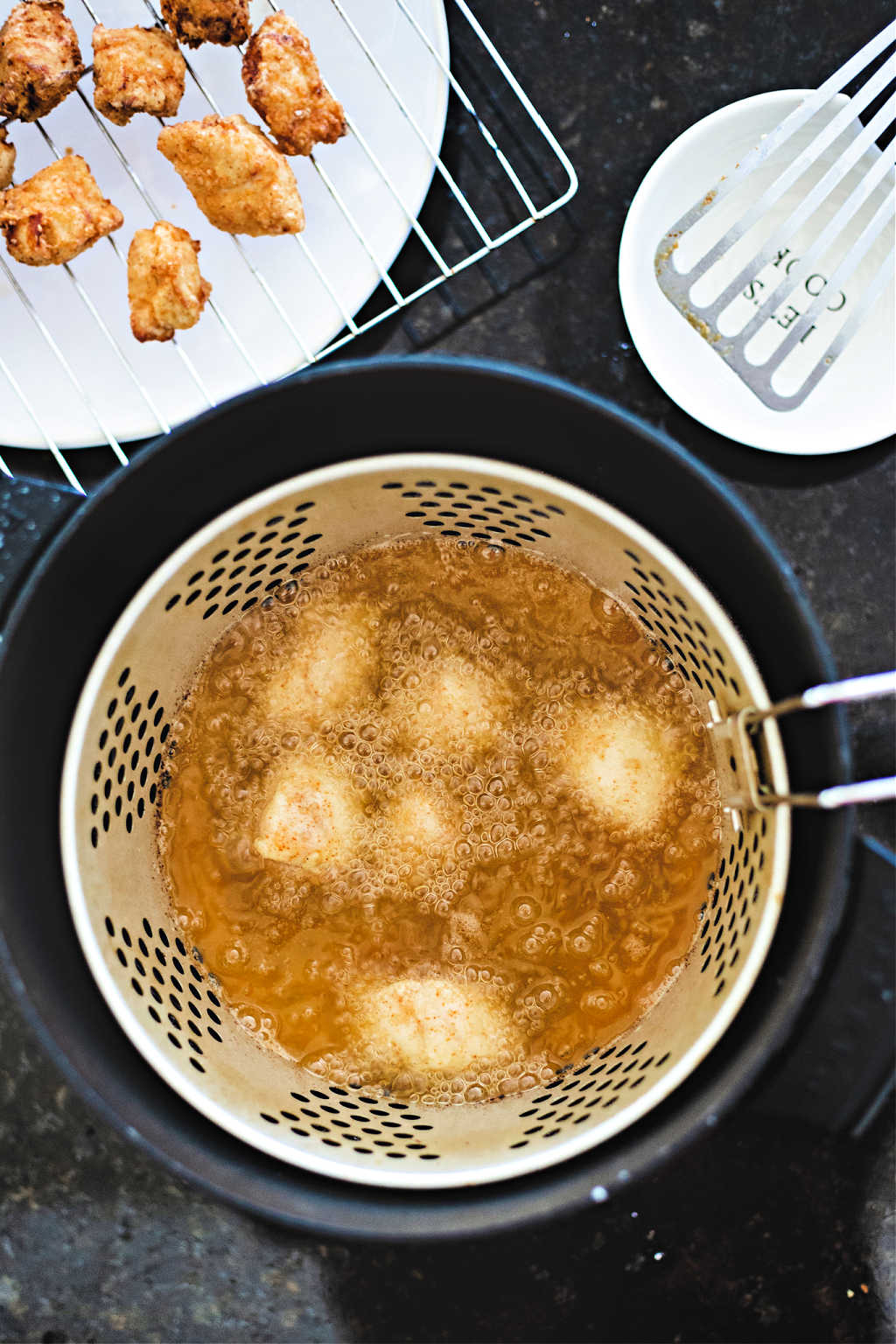 Another side note on the debate for or against brining in dill pickle juice: Dill pickle juice isn't listed on the published list of ingredients either, but of course Chick-fil-A can't be expected to share all their secrets, so who knows?!
Tips for frying this Chick-fil-A nuggets recipe
Fry in peanut oil. Peanut oil has a high smoke point (and is the oil that Chick-fil-A uses) so it is best for deep frying. However, if you have a peanut allergy, use canola oil instead.
Make sure the oil is hot before you start frying. Heat the oil to between 350 and 375 degrees so that the breading immediately begins to crisp up.
Make sure the oil is a depth of at least 2 inches.
Fry in batches. Don't overcrowd the nuggets for more even frying.
Use the right equipment. Although you may use a deep skillet to cook the nuggets, I personally think a deep fryer is safer. With a deep fryer, you don't have to worry about grease splatter like you can experience when using a skillet. I've owned this Presto Deep Fryer for years and it works perfectly.
Drain the fried nuggets on a wire rack on top of a plate instead of on paper towels will help keep the breading from coming off the nuggets.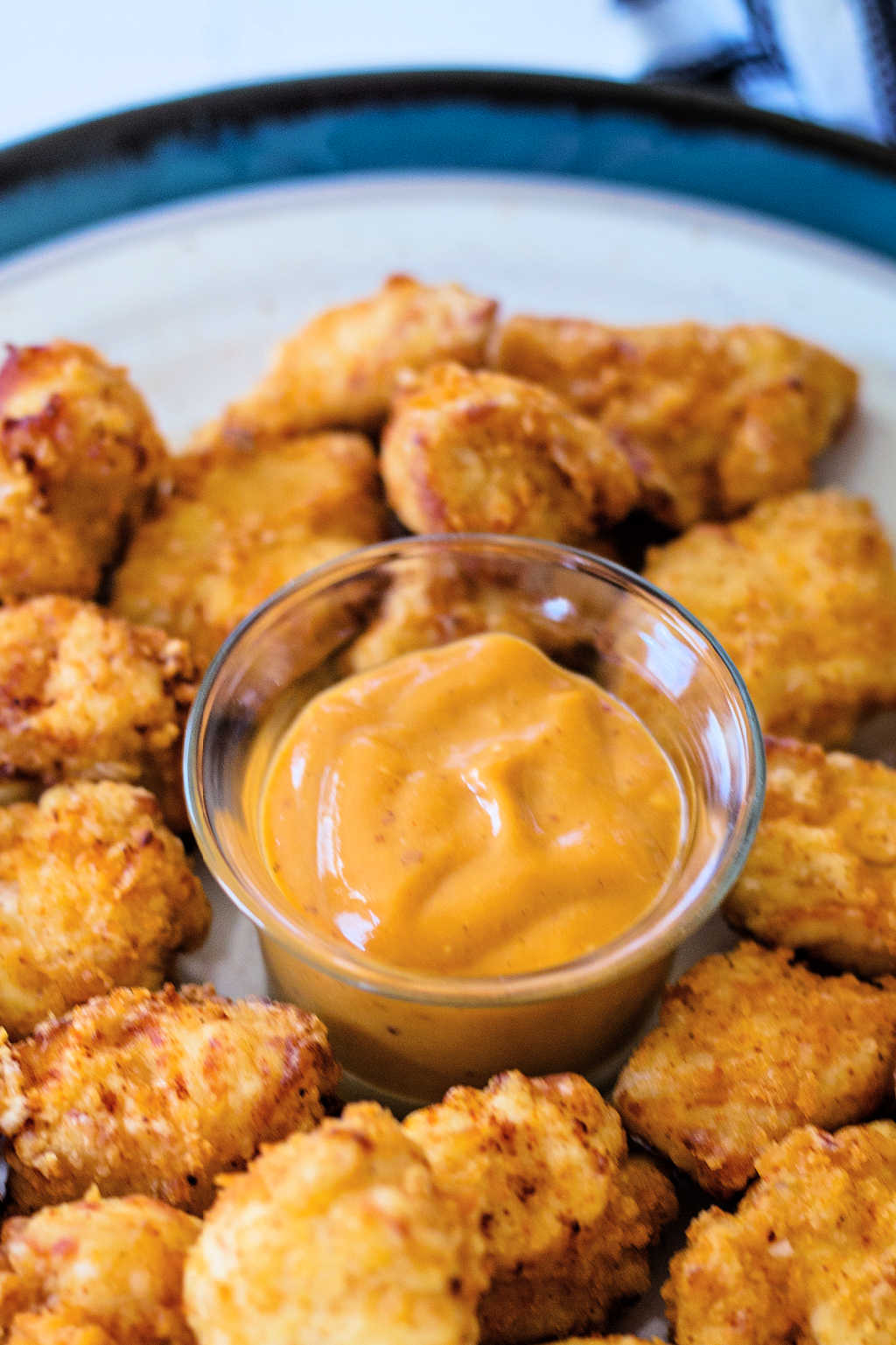 You gotta have sauce!
If you're going to make copycat Chick-fil-A nuggets at home, you might as well make a copycat Chick-fil-A sauce. Am I right?!
Well, you're in luck! I have created what I think is a good replica for the original Chick-fil-A sauce recipe. A cross between honey mustard and barbecue sauce, this delicious dipping sauce gets a little twang from mayonnaise.
Simply whisk mayo together with your favorite barbecue sauce, yellow mustard, Dijon mustard, and honey. It's quick, easy, and one of the best tasting dipping sauces ever!
Related recipes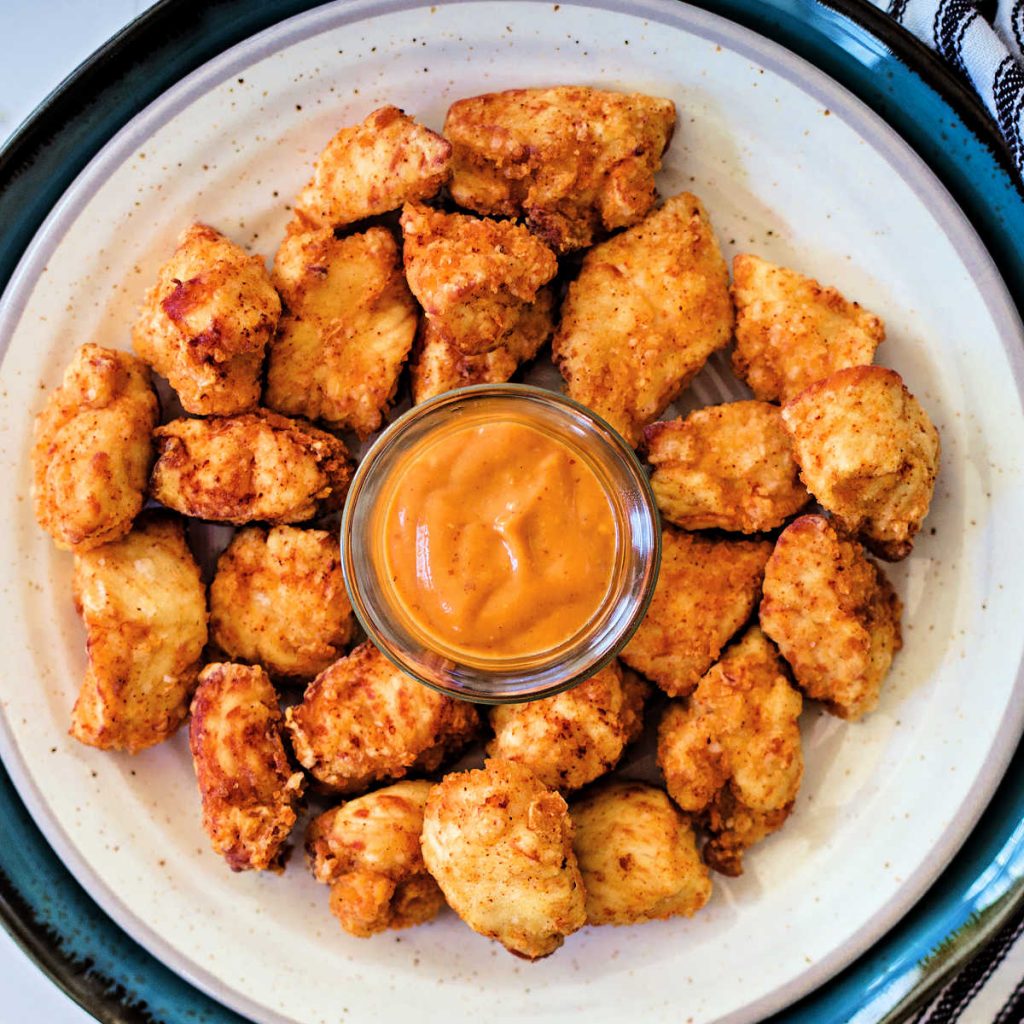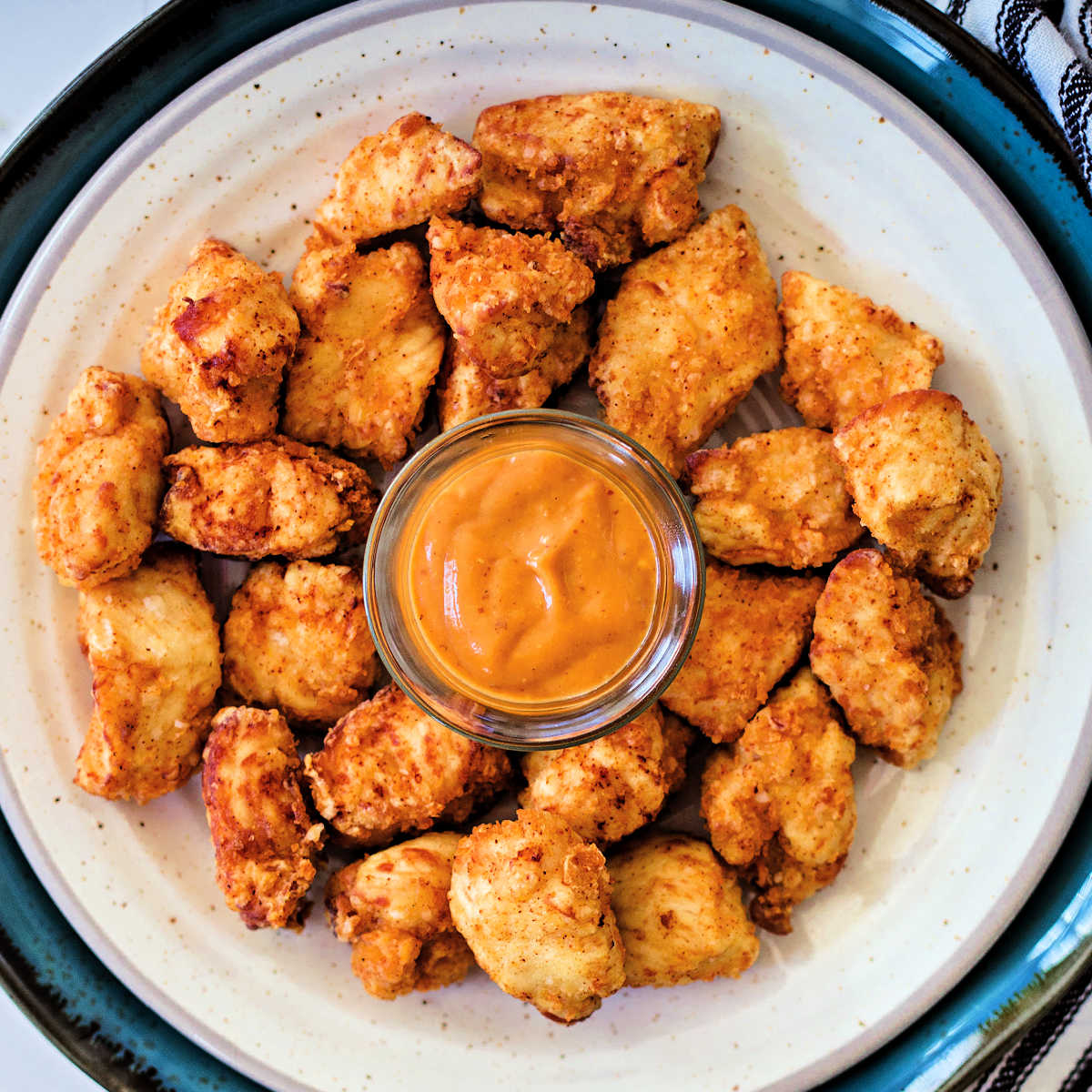 Behind the recipe: Copycat Chick-fil-A Nuggets
A light crispy coating and tender real chicken — not the pressed meat found in other fast food versions — have made Chick-fil-A nuggets my family's favorite fast food choice.
In fact, almost every Friday at noon my daughter (who became a devout Chick-fil-A fan during college) and son-in-law leave their home office and head for the Chick-fil-A drive-thru for their weekly nugget fix.
They are both accomplished home cooks and during quarantine last year, enjoyed experimenting and recreating some of their favorite restaurant meals — like Stock and Barrel's Blueberry Blue Cheese Bacon Burger and Dame's Fried Chicken and Waffles) at home.
However, Chick-fil-A nuggets remained the sacred cow so to speak — pun intended — until now.
Today's copycat recipe was created after reviewing many others online. The final version was adapted to make it as simple, quick, and easy as possible to make yummy chicken nuggets at home.
Please share!
Your shares are how this site grows, and I appreciate each one. Do you know someone who would enjoy this recipe? I'd love it if you would share it on Facebook or Pinterest!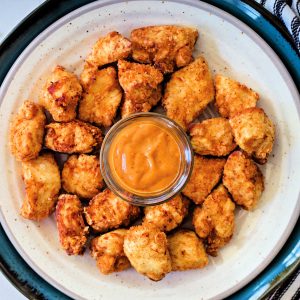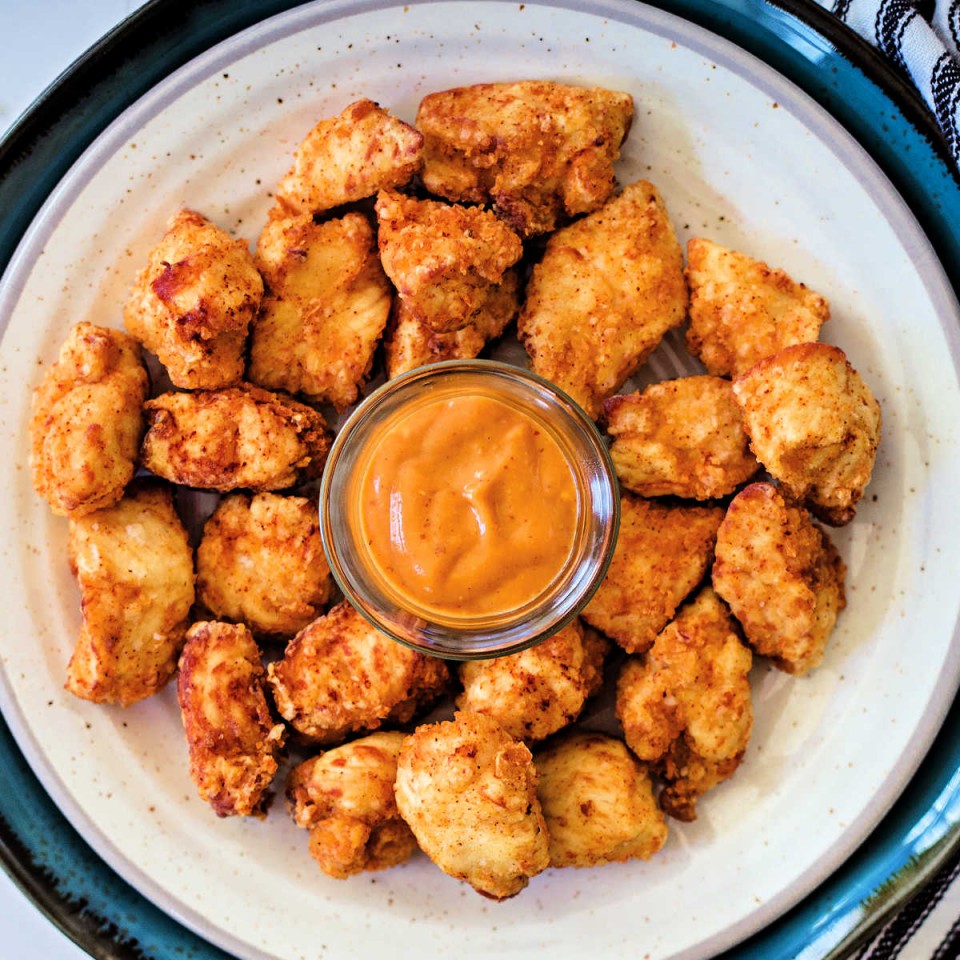 Chick-fil-A Chicken Nuggets
Deliciously tender and juicy bite-size chicken nuggets with a light, crispy coating at home just like you get at the Chick-fil-A drive-thru!
Ingredients
1

lb.

skinless

boneless chicken breast, cut into bite-size pieces, about 1 -1/2 inches.

1/2

cup

dill pickle juice

1/2

cup

buttermilk

2

eggs

1 1/4

cups

all-purpose flour

1 1/2

teaspoons

kosher salt

1

teaspoon

white pepper

1

teaspoon

smoked paprika

1/2

tablespoon

cornstarch

1/2

cup

panko bread crumbs

peanut oil or canola oil

for frying
Dipping Sauce
1/2

cup

mayonnaise

1/3

cup

barbecue sauce

1 1/2

teaspoons

yellow mustard

1

teaspoon

Dijon mustard

2

teaspoons

honey
Instructions
Pat the chicken dry with paper towels, then cut into bite-size pieces, about 1 1/2 inches, and place in a bowl or large resealable plastic bag.

Whisk

together the dill pickle juice, buttermilk, and eggs and pour over the chicken. Refrigerate for at least 30 minutes, but no longer than 1 hour.

While the chicken brines, prepare the breading, heat the oil, and whip up the sauce.

In a shallow bowl, stir together the flour, salt, white pepper, paprika, cornstarch, and panko bread crumbs. You may also add the breading ingredients to a resealable gallon-size bag and shake the chicken before frying.

Pour peanut oil into a deep skillet or deep fryer to a depth of 2 inches. Heat the oil to a temperature of 350 to 375 degrees.

Transfer the chicken from the brine to a wire rack over a baking sheet or plate so that the excess liquid drains off.

Working in batches, dredge the chicken in the breading, shaking off the excess, and carefully drop into the hot oil. Cook for 3 to 5 minutes until the coating is lightly golden and the chicken is cooked through.

Place the fried nuggets on a wire rack positioned over a plate to drain until all the nuggets have been fried.
Dipping Sauce
In a small bowl,

whisk

together the mayonnaise, barbecue sauce, yellow mustard Dijon mustard, and honey until smooth. Refrigerate until ready to serve.
Notes
I recommend that you definitely use buttermilk, but you can always substitute regular milk.
Nutrition
Serving:
1
g
Calories:
763
kcal
Carbohydrates:
61
g
Protein:
46
g
Fat:
36
g
Saturated Fat:
6
g
Polyunsaturated Fat:
27
g
Cholesterol:
202
mg
Sodium:
2417
mg
Fiber:
2
g
Sugar:
19
g
Life Love and Good Food does not claim to be a registered dietician or nutritionist. Nutritional information shared on this site is only an estimate. We recommend running the ingredients through an online nutritional calculator if you need to verify any information.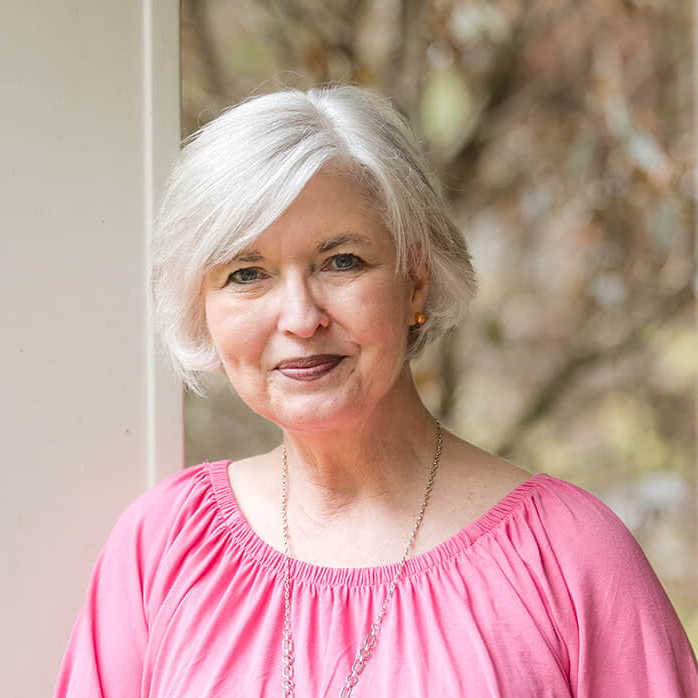 About Sheila Thigpen
Recipe Developer, Food Photographer, Food Writer
Sheila Thigpen is the publisher of Life, Love, and Good Food — a Southern food blog — and the author of Easy Chicken Cookbook and The 5-Ingredient Fresh and Easy Cookbook. After 20+ years in the publishing industry, she retired in 2018 to focus on her own creative endeavors full time. She and her husband live near the beautiful Smoky Mountains and have a precious little granddaughter who has stolen their hearts. As an influencer, Sheila has collaborated with brands like Creamette, Kroger, HERSHEY'S, Hamilton Beach, Garafalo Pasta, OXO, Smithfield, Valley Fig Growers, and more.