Making your final plans to host a New Year's Eve celebration? Here's a suggestion for the menu that's sure to impress everyone at your party! Baked Brie Cheese with Fig Spread is not only easy to prepare, it's absolutely delicious!
Black Mission figs, toasted walnuts, and fresh thyme are baked together resulting in a sweet-savory spread with an earthy tone. Serve warm from the oven with slices of crusty bread, crackers, or crostini, and garnish with honey, fresh chives, and another sprinkle of toasted walnuts.
A big thank you goes out to Valley Fig for today's amazing recipe. It's an elegant take on classic baked Brie!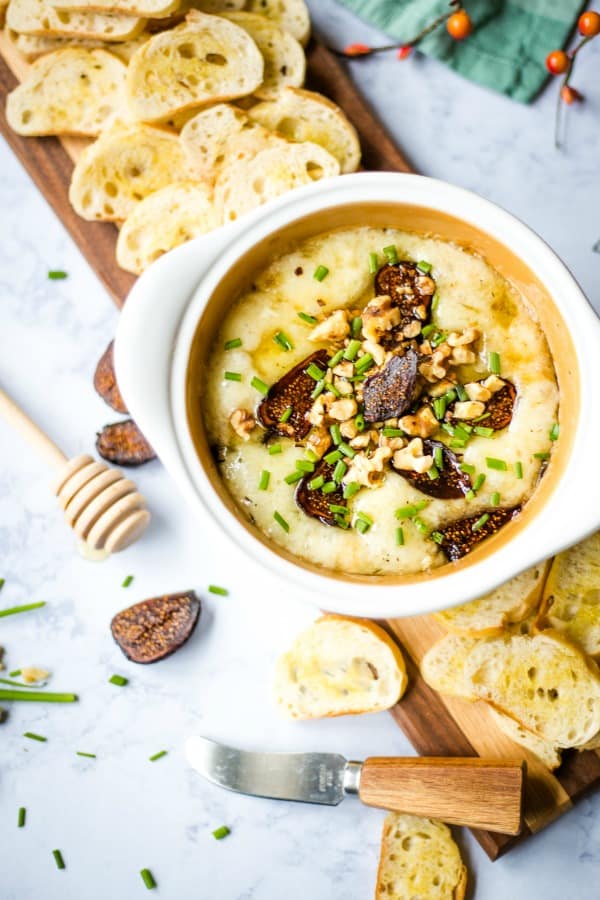 Baked Brie Cheese and Fig Spread
I don't know about you, but 2018 seems like a blur to me! This has been a busy year for John and me. For starters, we took a dream vacation to the Mediterranean and were able to experience first-hand so much history,
incredible architecture, surreal coastal beauty, and amazing foods. There was so much to taste and see that given the opportunity, we'd do it again in a heartbeat!
The last three months have been particularly eventful. In September, I resigned from my full-time career to focus on my family and passions (like cooking!).
In October, I attended The Foodie Bootcamp in Salt Lake City (awesome experience!) and also had eye surgery to repair a macular hole (not so awesome experience!).
I've spent the entire month of December in St. Louis getting to know my new granddaughter, Jyothika Claire, who made her arrival on December 7—the very best gift of 2018!
I don't usually make New Year's resolutions, but I do like to reflect back on the previous year and learn from my journey. As I do that now, I see how God has prepared my path and blessed me every step along the way.
I pray that 2019 will be a year of blessings for each of you!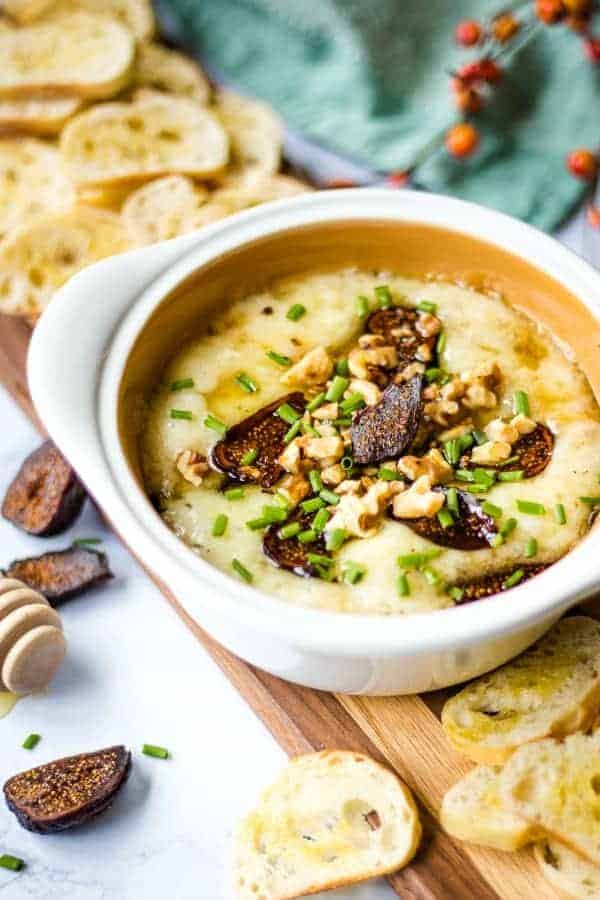 How to bake Brie
Brie is a soft French cheese made from cow's milk with an edible rind. Brie can be served at room temperature, but often the cheese round is baked until it is melty and creamy to spread on bread or crackers. Brie can be baked in various ways:
On parchment paper (with the rind) and baked at 350 degrees until it starts to ooze. Serve drizzled with honey.
Wrapped in a sheet of thawed puff pastry dough with an egg wash and baked at 400 degrees for 35-40 minutes.
In a baking dish or soufflé dish, with the rind removed, covered in foil and baked at 300 degrees for 45 minutes until melty and creamy. See the recipe below for more on this option.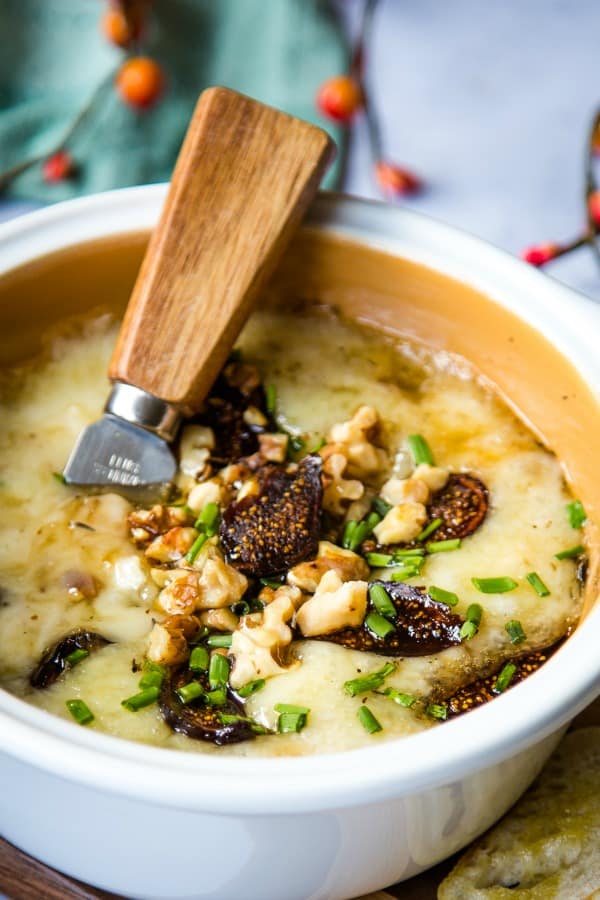 You may also enjoy these other favorite appetizer dips:
To make this recipe, you may need…
The following are affiliate links. We are a participant in the Amazon Services LLC Associates Program, an affiliate advertising program designed to provide a means for us to earn fees by linking to Amazon.com and affiliate sites.
You may bake this dip in a souffle dish, an oven-safe baking dish, or a special brie baking dish. like the one I own from Pampered Chef. I bought it years ago and love using it!
What else is new? Check out my Life, Love, and Good Food Store on Amazon! Thanks so much for being a part of our community!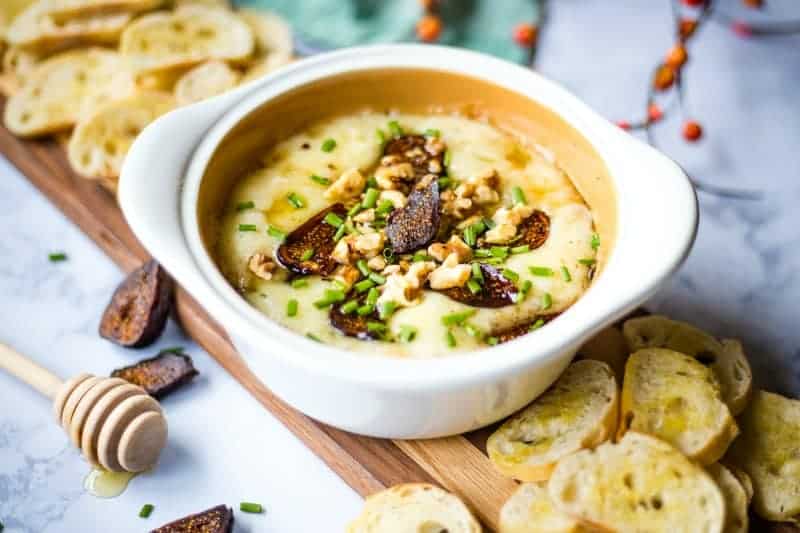 Baked Brie Cheese Spread Recipe
Be sure to handle carefully when removing from the oven and place on a trivet or heat-safe board. Use cheese spreaders for easy serving.
Please share!
Your shares are how this site grows and I appreciate each one. Do you know someone who would enjoy this recipe? I'd love it if you would share it on Facebook or on your favorite Pinterest board!
Yield: 10 servings
Baked Brie Cheese and Fig Spread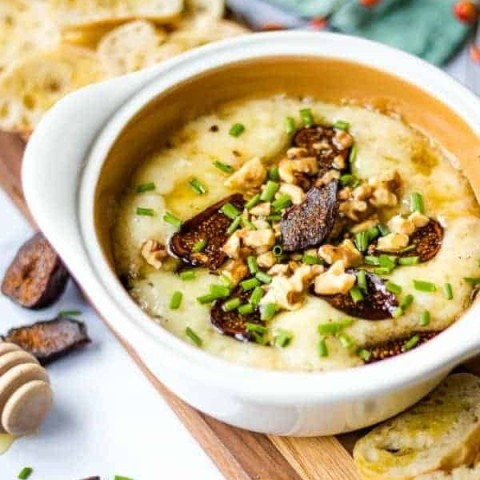 A creamy Brie appetizer with figs, toasted walnuts, and a drizzle of honey that's both sweet and savory.
Ingredients
1-1/2 lbs. firm Brie cheese
1 cup Sun-Maid California Figs
1 tsp. fresh thyme leaves, minced
1/2 tsp. black pepper
1 Tbsp. honey
1/4 cup walnuts, toasted and chopped
1 Tbsp. fresh chives, minced
Instructions
Preheat oven to 300 degrees. Remove rind from the Brie and cut into 1-inch pieces. Cut stems from the figs and slice into halves.
Lightly coat a 1½-quart baking dish with cooking spray. Place the cubed Brie, figs, thyme, and pepper in prepared dish and cover dish with aluminum foil. Bake for 45 minutes to 1 hour, until Brie is heated through and is soft around the edges.
Remove foil and drizzle with honey. Sprinkle with walnuts and minced chives. Serve warm with toasted baguette slices or crostini.
Notes
Original recipe by Valley Fig
You may bake this dip in a souffle dish, an oven-safe baking dish, or a special brie baking dish.
Be sure to handle carefully when removing from the oven and place on a trivet or heat-safe board.
Use cheese spreaders for easy serving.
Recommended Products
As an Amazon Associate and member of other affiliate programs, I earn from qualifying purchases.
Nutrition Information:
Yield:
10
Serving Size:
10 servings
Amount Per Serving:
Calories:

268
Total Fat:

21g
Saturated Fat:

12g
Trans Fat:

0g
Unsaturated Fat:

8g
Cholesterol:

68mg
Sodium:

428mg
Carbohydrates:

7g
Fiber:

1g
Sugar:

6g
Protein:

15g