Fried Chicken and Waffles—Southern-fried tender and crunchy chicken thighs served on top of light and crispy waffles and drizzled with warm sriracha honey sauce—is the ultimate comfort food and perfect for a special Sunday brunch or dinner.
Made with boneless chicken thighs, this fried chicken is crispy on the outside, juicy on the inside, and full of delicious flavor. Have mercy, it's just good eating!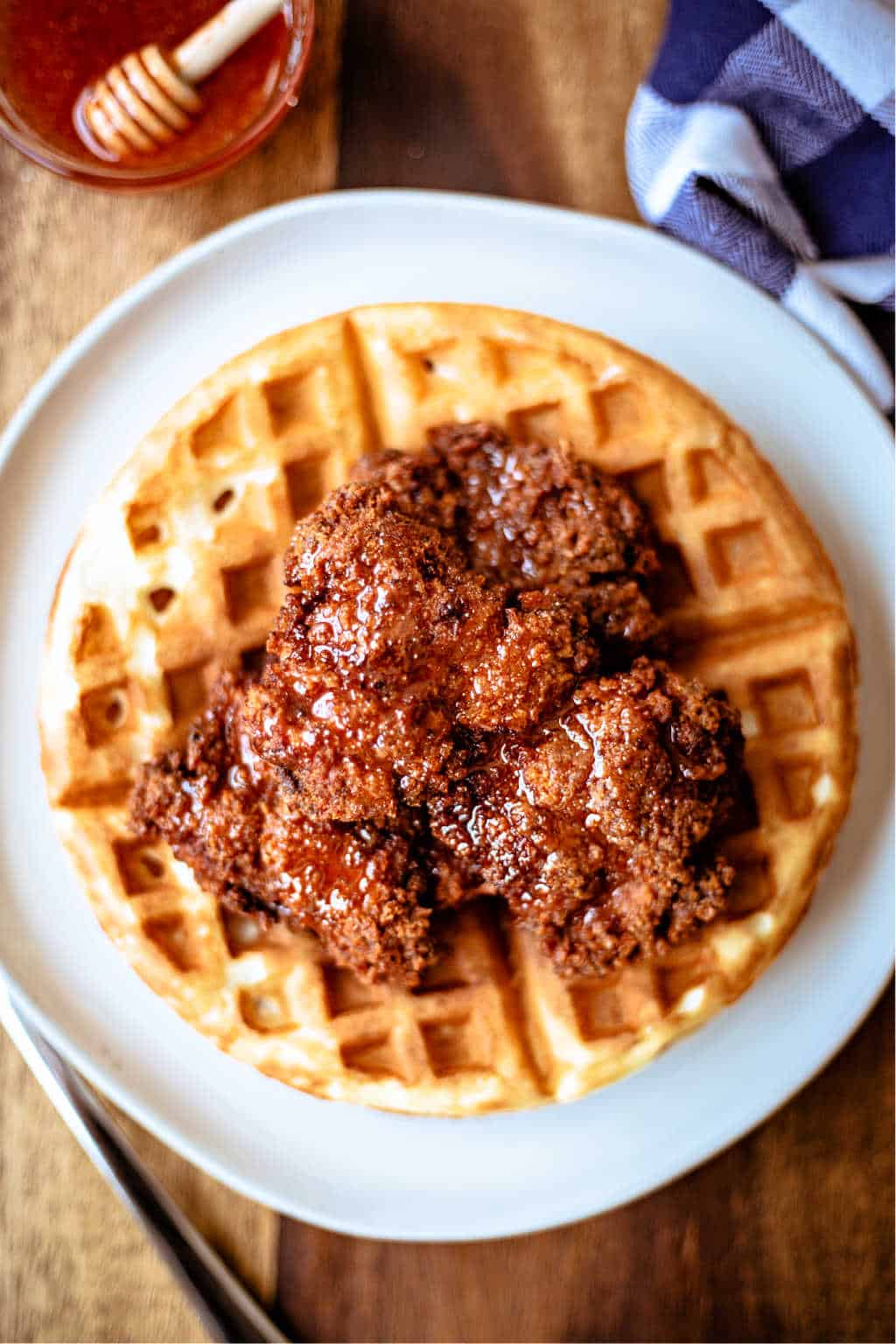 Fried Chicken and Waffles with Sriracha Honey
Our youngest daughter snagged her first job after college in Greensboro, North Carolina, and lived there for a couple of years. Being a foodie like myself, she always sought out the trendy places to eat when we'd come to visit.
It was at Dame's Chicken and Waffles in Greensboro when I first experienced the amazing flavor combination of fried chicken with waffles. Wow. Just. Wow. It was nothing short of amazing!
My family loves homemade waffles. Most of the time, I keep it simple and serve waffles with fruit and maple syrup. Sometimes, I even make these Apple Fritter Waffles, but last weekend I decided it was time to branch out and make chicken and waffles at home. Let me tell you, we'll be making these bad boys again, and soon!
About this chicken and waffles recipe, it does take some time, but it is entirely worth the effort. There's not anything particularly difficult about the recipe, so let me encourage you to try making waffles and chicken for your next weekend brunch. You can thank me later!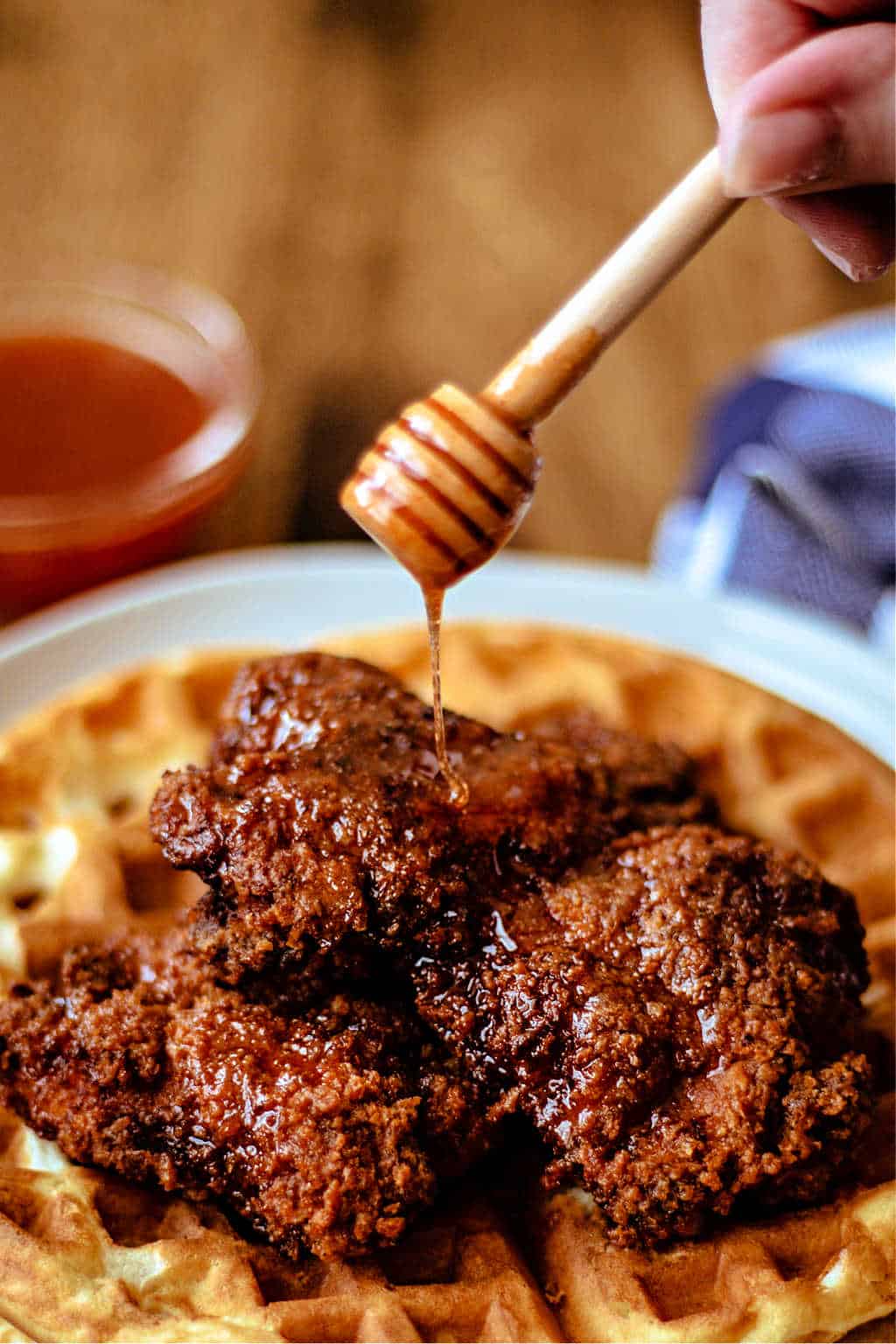 Where did chicken and waffles originate?
Contrary to popular belief, waffles and chicken is not a Southern dish. Despite fried chicken being so popular in the South, this tasty combination actually originated in the 1930s at the Wells Supper Club in Harlem.
What kind of chicken do you use for chicken waffles?
Personally, I prefer skinless, boneless chicken thighs instead of chicken tenders for this chicken and waffles recipe. Chicken thighs have darker and firmer meat and are especially nice when breaded and fried. Boneless thighs cook much quicker than bone-in, but you can use bone-in and skin-on instead if you like.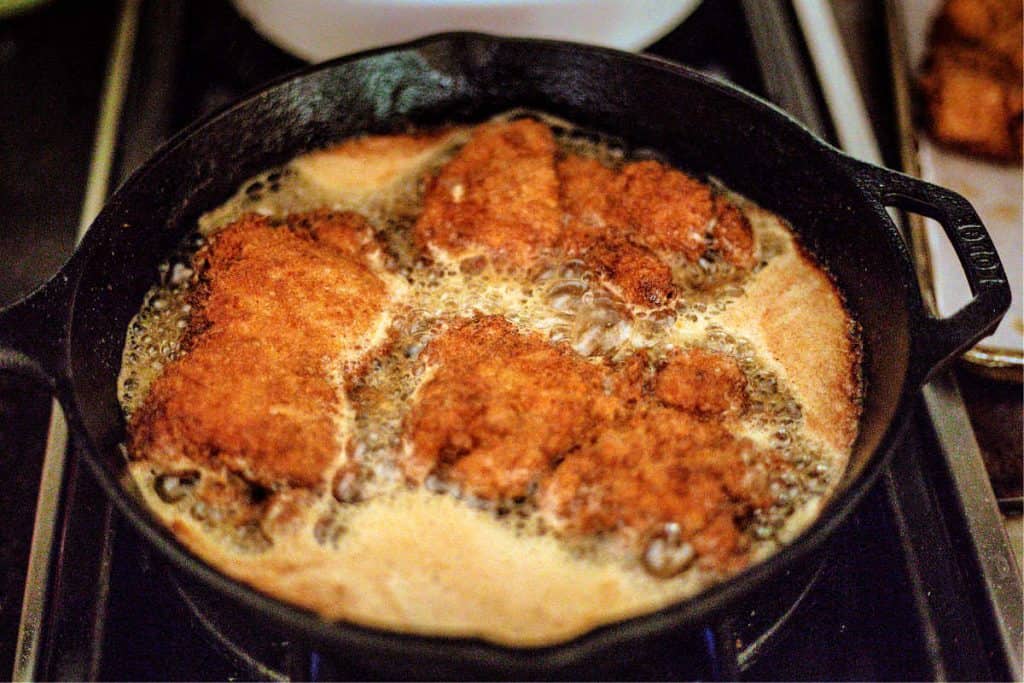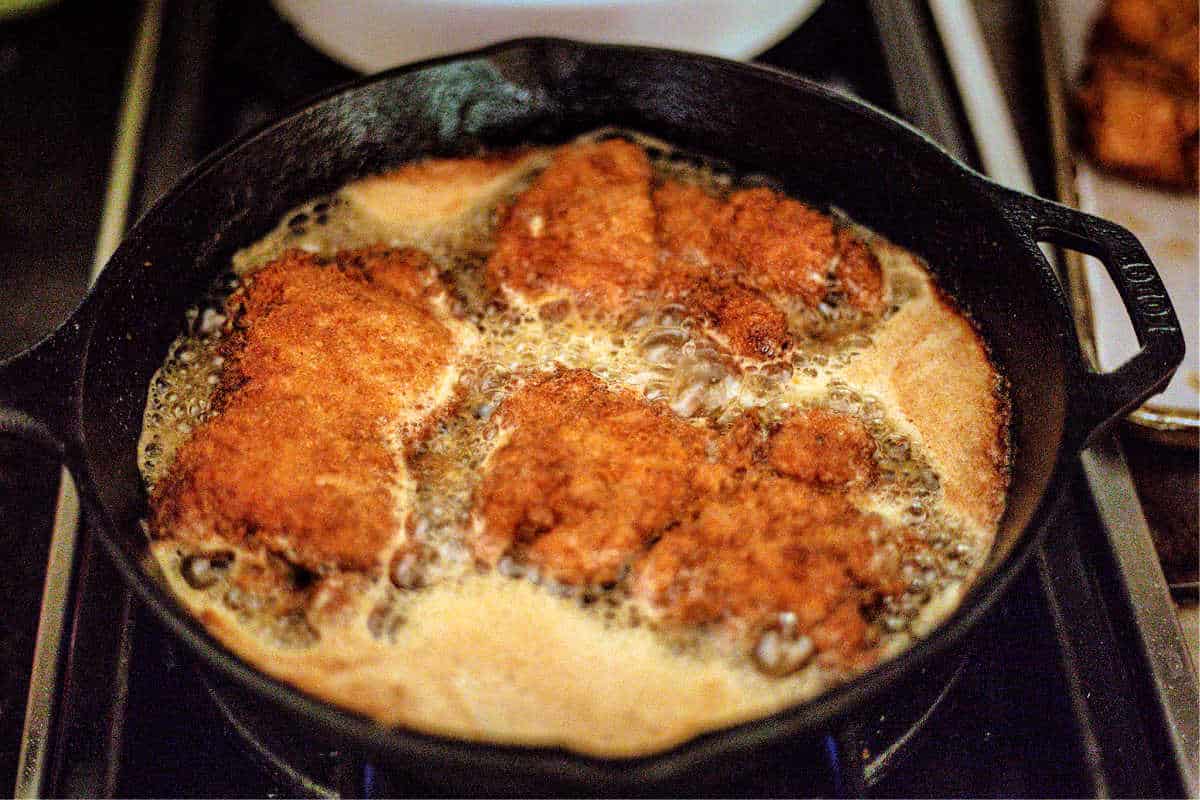 How to make fried chicken for waffles
First, marinate the chicken in buttermilk for a minimum of 2 hours (or up to 24 hours or overnight). The buttermilk helps break down the protein in the chicken so that it is less chewy and remains tender and juicy when cooked.
Bread the chicken in a mixture of seasoned flour (common pantry spices) and panko breadcrumbs. After the chicken has marinated, whisk an egg into the reserved buttermilk. Dip the chicken in the egg-buttermilk mixture and dredge in the flour mixture, shaking off the excess. Lay the breaded pieces on a baking sheet lined with parchment paper as you go.
Heat up the oil. For frying the chicken, I like to use peanut oil because it has a high smoke point. I also like to fry my chicken in a cast iron skillet, but any heavy deep skillet will work. The oil is hot enough when a pinch of flour dropped into the pan immediately sizzles.
Fry in batches. Cook the chicken a few at a time, being sure not to overcrowd the pan, then lay them on a parchment paper lined baking sheet to keep warm in the oven.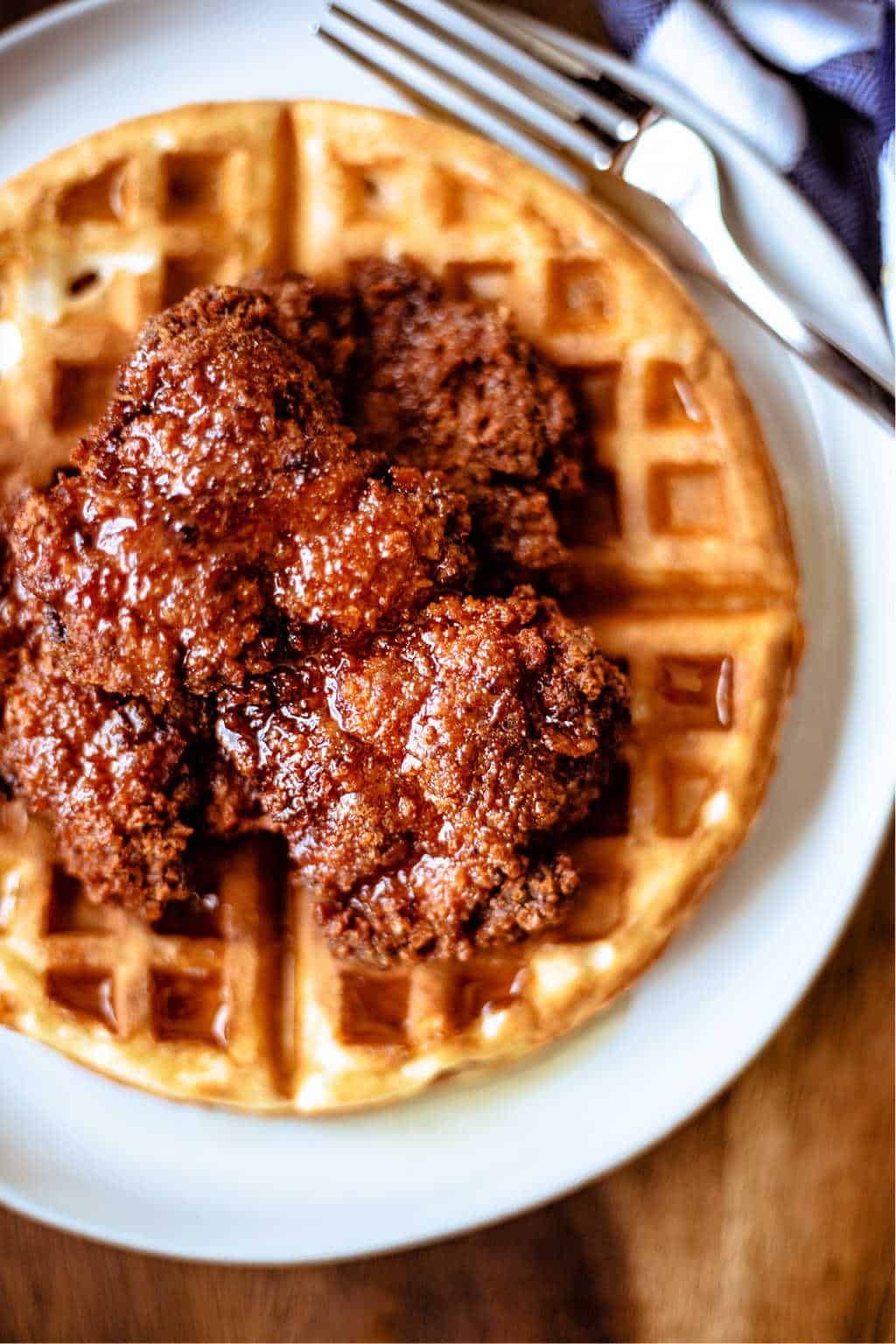 What goes with chicken and waffles?
If you're serving chicken and waffles for brunch, pair them with a fresh fruit salad or these amazing Blackberry Grits by Julia's Simply Southern. If you're serving chicken and waffles for dinner, side dish suggestions include tangy coleslaw, a classic wedge salad, or oven roasted red potatoes,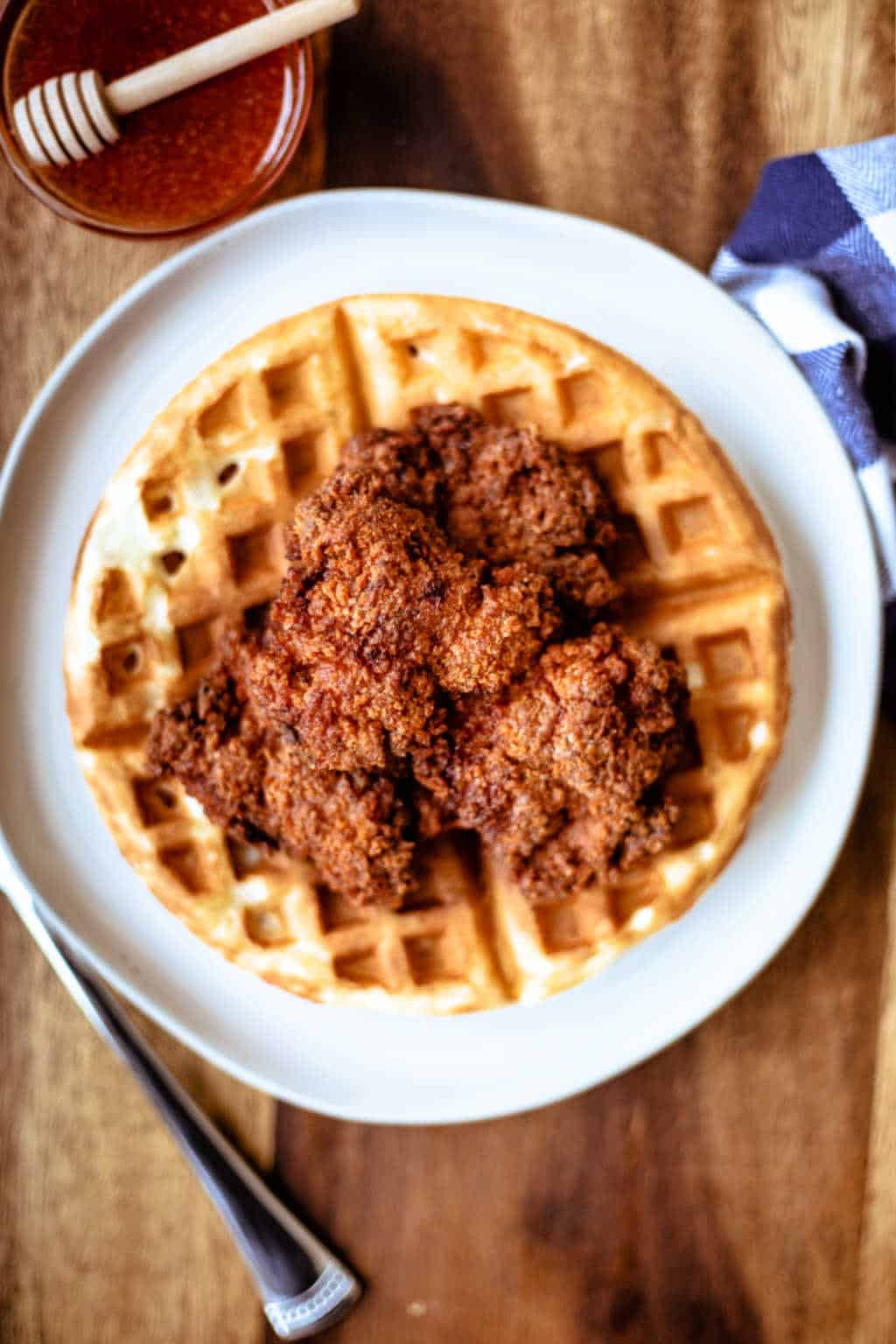 Recipe variations
The recipe card below includes instructions for making a sweet and spicy sauce to drizzle on top of the chicken and waffles, but there are many other tasty options you may want to try, like:
maple syrup or plain honey — you can't go wrong with simply sweet!
warm honey dijon dressing
spun honey butter
maple syrup and your favorite hot sauce
fruit salsa—like peach habanero!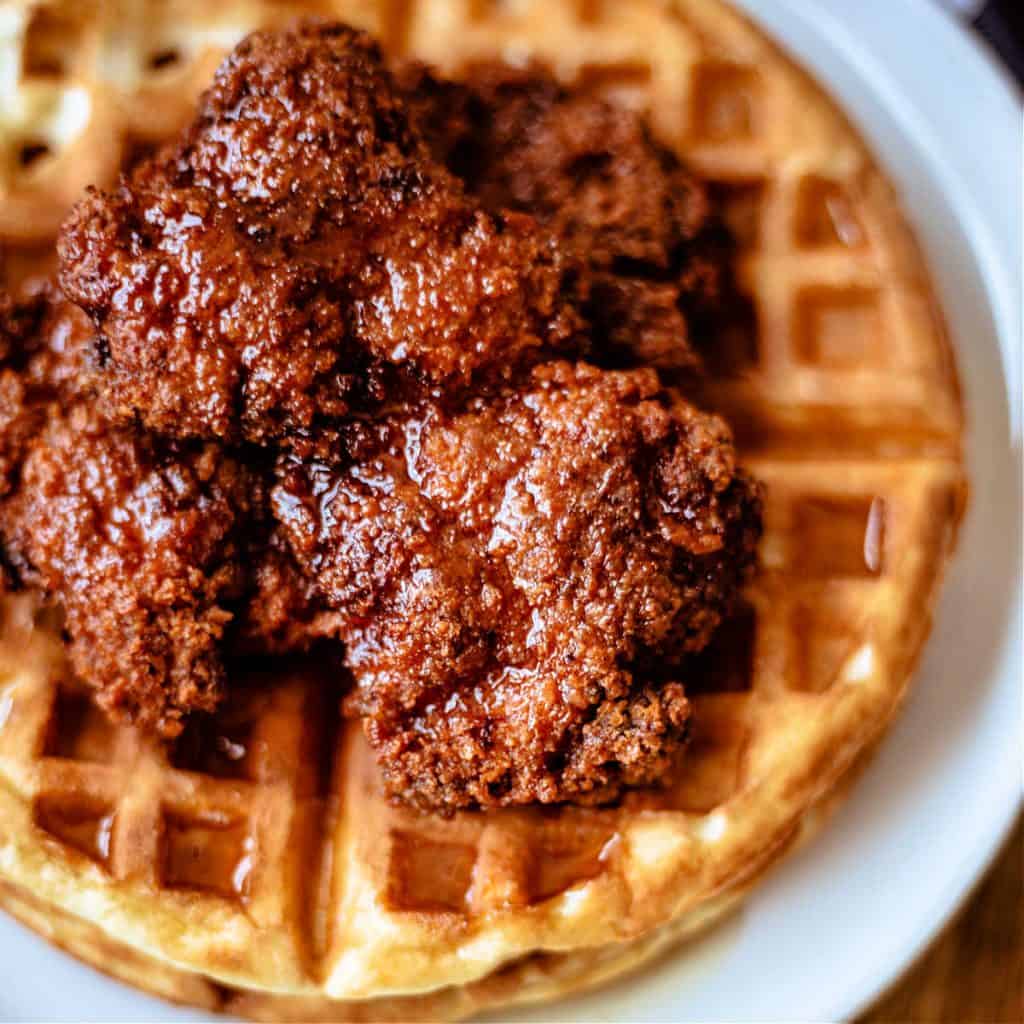 Related recipes
To make this recipe you may need…
The following are affiliate links. We are a participant in the Amazon Services LLC Associates Program, an affiliate advertising program designed to provide a means for us to earn fees by linking to Amazon.com and affiliate sites.
I've had my Oster non-stick waffle iron since John and I got married eons ago and it's still going strong—just like us! Waffles release easily and clean-up is a breeze!
What else is new? Check out my Life, Love, and Good Food Store on Amazon! Thanks so much for being a part of our community!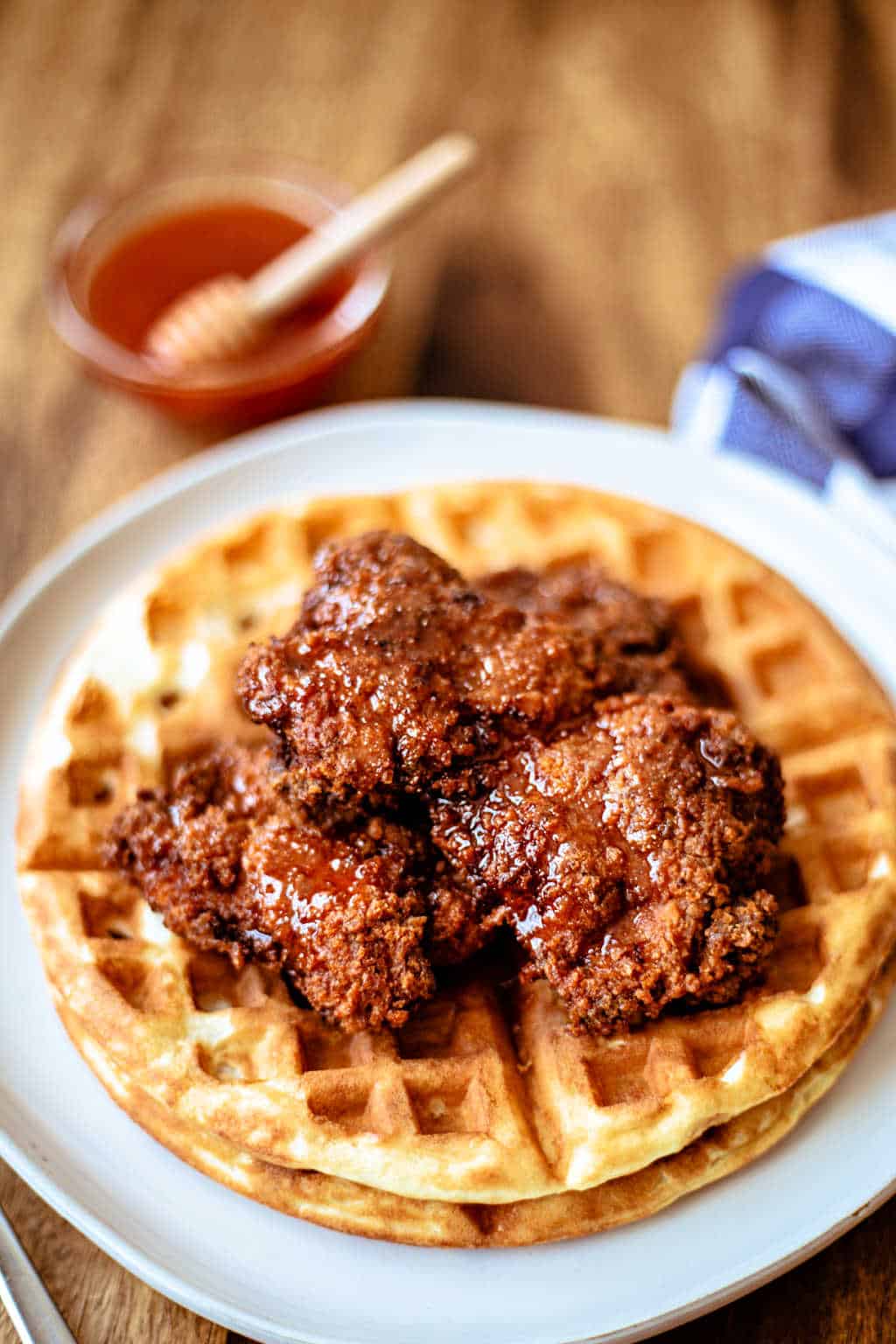 Let's cook!
For this waffles and fried chicken you do need to do a little multi-tasking so everything is served warm at the same time. Fry the chicken then keep it warm in the oven while you whip up the hot sriracha honey and make the waffle batter.
You'll also want to keep the waffles warm, so cook them in batches then place the waffles in a single layer on a separate baking sheet and place in the oven along with the chicken. Everything will be hot and ready when you are!
Please share!
Your shares are how this site grows and I appreciate each one. Do you know someone who would enjoy this recipe? I'd love it if you would share it on Facebook or on your favorite Pinterest board!
First Published: February 25, 2015. Last Updated: August 31, 2020.
Yield: 8 servings
Fried Chicken and Waffles with Hot Sriracha Honey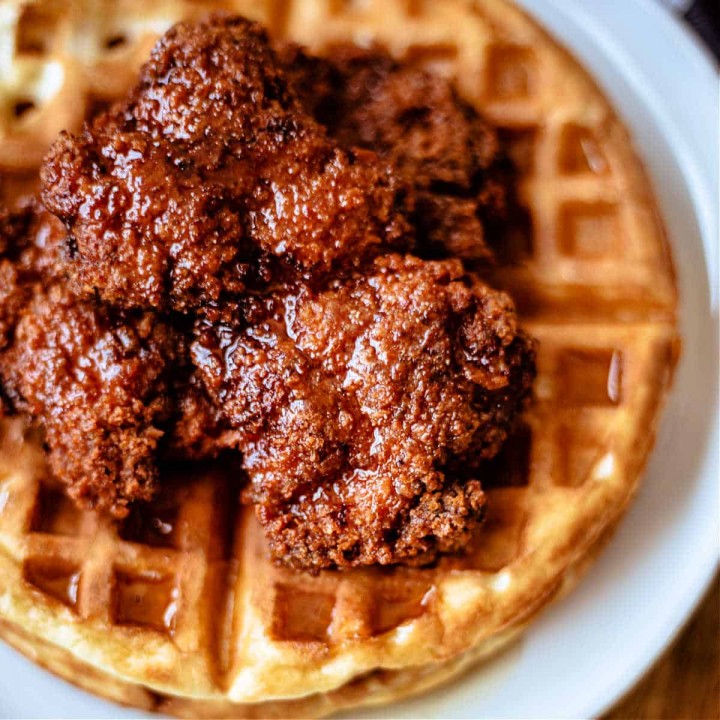 Hot Honey Chicken and Waffles. Light and crispy waffles topped with tasty fried chicken and drizzled with a spicy warm honey. Have mercy!
Ingredients
Chicken
8 skinless, boneless chicken thighs
1 1/2 cups buttermilk
1 egg
1 cup flour, either all-purpose or self-rising
1 1/2 cups panko bread crumbs
1 teaspoon garlic salt
1 teaspoon onion powder
1 teaspoon paprika
1/2 teaspoon kosher salt
1/2 teaspoon black pepper
peanut oil, for frying
Hot Honey Sauce
1/2 cup honey
1 tablespoon Sriracha chile paste
1/2 teaspoon garlic powder
1/2 teaspoon onion powder
Waffles
2 eggs
2 cups self-rising flour
2 cups milk
1/3 cup canola oil
cooking spray
Instructions
Chicken
Rinse the chicken thighs and pat them dry with paper towels. Place the chicken in a gallon-size ziplock bag and pour the buttermilk on top. Seal and refrigerate for at least 2 hours.
When ready to cook, preheat the oven to 275 degrees. Line 2 rimmed baking sheets with parchment paper. Drain the buttermilk into a shallow bowl and whisk in the egg.
In another shallow dish, combine the flour, panko breadcrumbs, garlic salt, onion powder, paprika, kosher salt, and pepper.
Dip each piece of chicken into the buttermilk mixture, shaking off the excess, then dredge in the flour mixture, again shaking off the excess. Place the chicken on one of the prepared baking sheets until all the chicken is coated.
In a heavy cast iron skillet over medium high heat, pour the peanut oil to to come up to a depth of 1 inch. Heat the oil until it is hot enough so that a pinch of flour dropped into the oil immediately sizzles.
Fry the chicken in batches (don't overcrowd the pan!). Cook on each size for 5 to 6 minutes, until the chicken is crispy and the desired brown color. Place the chicken on the clean baking sheet lined with parchment paper and place in the oven to keep warm while you prepare the waffles.
Hot Honey Sauce
In a small sauce pan over medium heat, stir together the honey, sriracha sauce, garlic powder, and onion powder. Bring to a boil, then immediately reduce the heat to low. Keep warm until ready to serve.
Waffles
Preheat the waffle maker, first coating the irons with baking spray.
Separate the eggs. Beat the egg whites until stiff peaks form and set aside
In a large bowl, add the flour, milk, canola oil, and egg yolks. With an electric mixer mix at low speed, combine the ingredients until moistened. Increase the speed to medium and mix until smooth. Gently fold in the beaten egg whites.
Cook the waffles on the hot irons, using about 1/2 cup batter per waffle (or the recommended amount for your waffle iron) until golden, approximately 3 to 4 minutes.
Serve waffles topped with 2 fried chicken thighs and drizzled with the warm sriracha honey sauce.
Notes
If you want to prepare the waffle batter ahead of time, it can be mixed up and kept in the fridge until you're ready to cook. Just give it a gentle stir when you're ready to start the waffle cooking.
Keep cooked waffles warm by placing them in a single layer on a baking sheet in a 275-degree oven.
Recommended Products
As an Amazon Associate and member of other affiliate programs, I earn from qualifying purchases.
Nutrition Information:
Yield:
8
Serving Size:
1
Amount Per Serving:
Calories:

675
Total Fat:

24g
Saturated Fat:

6g
Trans Fat:

0g
Unsaturated Fat:

18g
Cholesterol:

213mg
Sodium:

1249mg
Carbohydrates:

74g
Fiber:

3g
Sugar:

22g
Protein:

41g
ABOUT SHEILA
Sheila Thigpen, author of Easy Chicken Cookbook and The 5-Ingredient Fresh and Easy Cookbook, is a recipe developer, food photographer, and food writer. She spent 20+ years as a business manager in the publishing industry before she retired in 2018 to focus on her passions — cooking, photography, and writing. Living near the beautiful Smoky Mountains, Sheila and her husband have two adult daughters and two fine sons-in-law, are active in their church, love to travel, and have a precious little granddaughter who has stolen their hearts. Follow Sheila on YouTube, Pinterest, Instagram, Facebook, and Twitter!