This post may contain affiliate links. Please read my disclosure policy.
Sweet Basil Roasted Chicken is moist, juicy, and the ultimate Sunday supper. This chicken recipe starts with a basil rub that is made with simple blend of spices found in the pantry including basil, of course, along with paprika, onion powder, and garlic powder.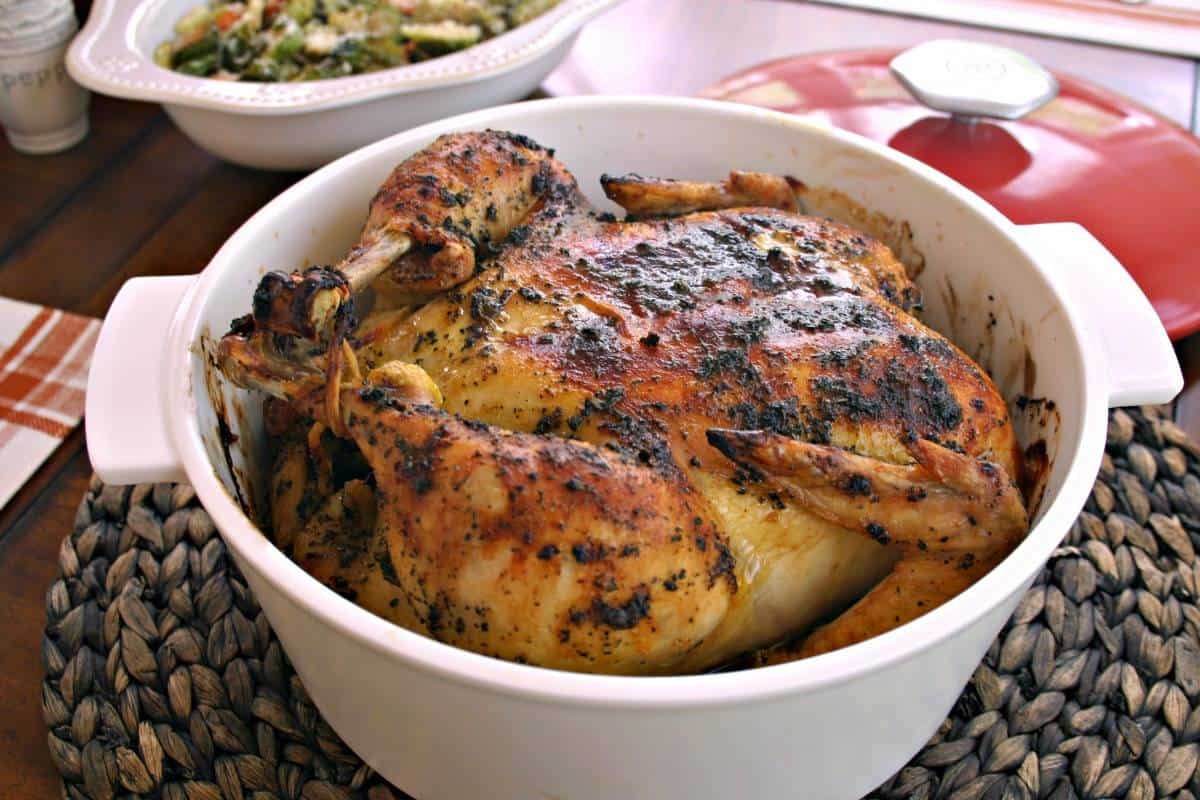 Sweet Basil Roasted Chicken
Here's one chicken that is worthy of a being the main event at your next Sunday supper without causing too much fuss for the cook. I have to admit I was a little intimidated the first time I roasted a whole chicken.
After trying this recipe several years ago, though, I learned that making roast chicken is actually one of the easiest home cooked meals to prepare. All you need is a little time.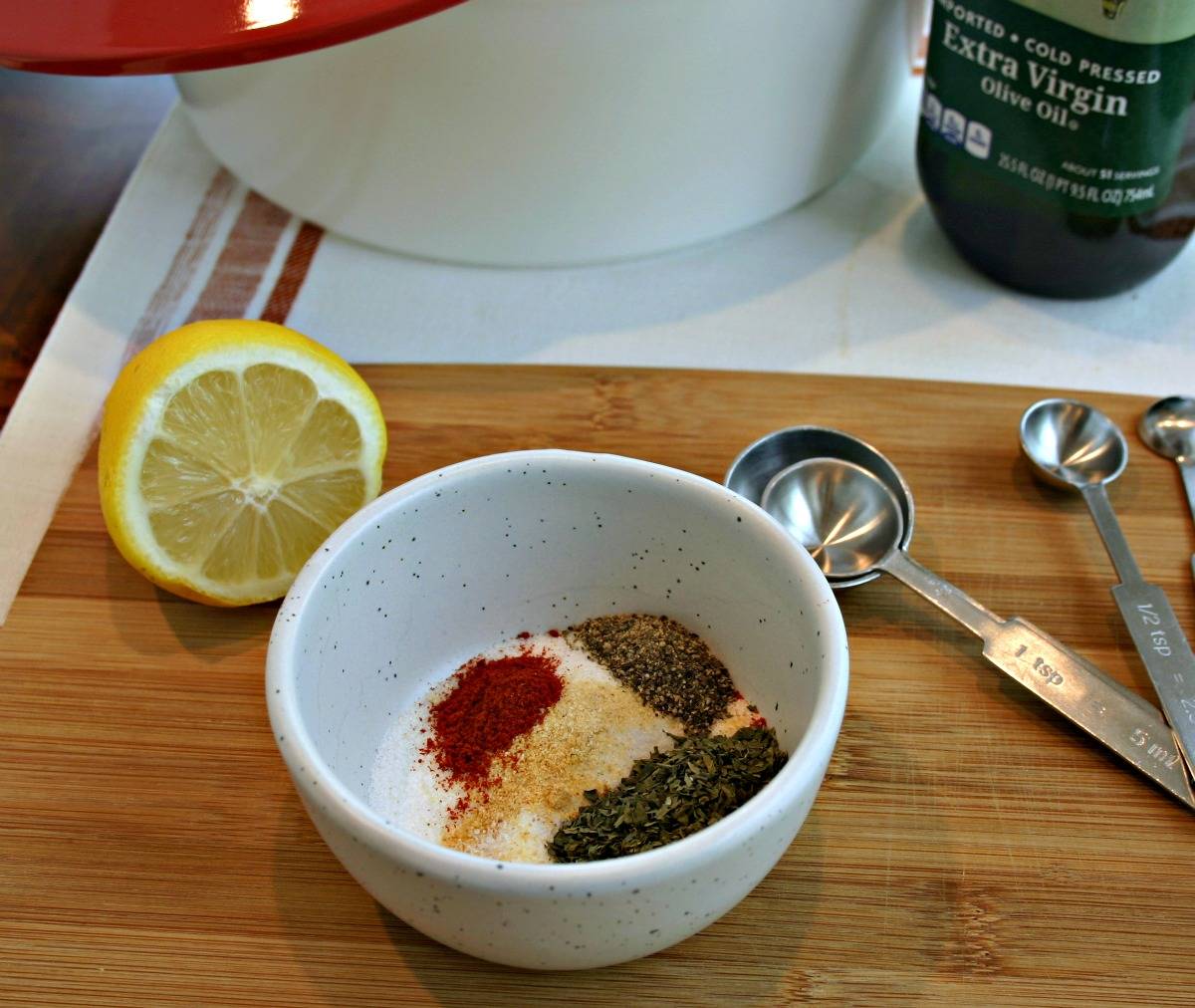 Ingredients
A whole roasting chicken — choose a 6 to 7 pound whole chicken or hen. Some brands come with their own pop-up thermometer for convenience.
Extra-virgin olive oil — helps promote a crispy skin
 Kosher salt — enhances flavor and also acts as a tenderizer
Granulated sugar — for just a touch of sweetness
Dried basil — in this recipe dried herbs are preferred over fresh
Garlic powder — do not use garlic salt
Onion powder — do not use onion salt
Sweet paprika — or use smoked paprika
Lemon juice — to brighten and enhance the rub
Black pepper — for seasoning
Instructions
Do the prep work, start baking, and then take a Sunday nap until dinner is ready!
Start with a 6-7 pound roasting hen. Remove all the parts from the cavity, and dry thoroughly with paper towels. Truss, or tie the chicken legs together.
Place the hen in a dutch oven or roasting pan.
Combine the olive oil, spices, sugar and lemon juice to make a rub.
Use your hands and rub the spice blend all over the chicken.
Bake uncovered for two hours in a 350-degree oven.
How to truss a chicken
With the chicken breast side up and the legs facing you, tuck the wing tips behind the breasts.
Grab a long length (about 3 feet) of kitchen twine, slide it under the chicken, and pull it up to snug up the sides of the legs.
Cross it over and form a figure eight around the legs.
Tighten the twine to squeeze the legs in, then wrap the twine around the side of the chicken and tie a double knot with the twine at the back of the bird.
How do you know when the chicken is done?
The United States Department of Agriculture recommends cooking all poultry (breasts, whole bird, legs, thighs, wings, ground poultry, giblets, and stuffing) to an internal temperature of 165°F to kill bacteria.
The most accurate way to measure the internal temperature of cooked chicken is with a meat thermometer, an instant read thermometer (or digital thermocouple thermometer).
Always test for doneness by checking to make sure the juices run clear or that a thermometer inserted into the inner thigh reads 165°F degrees.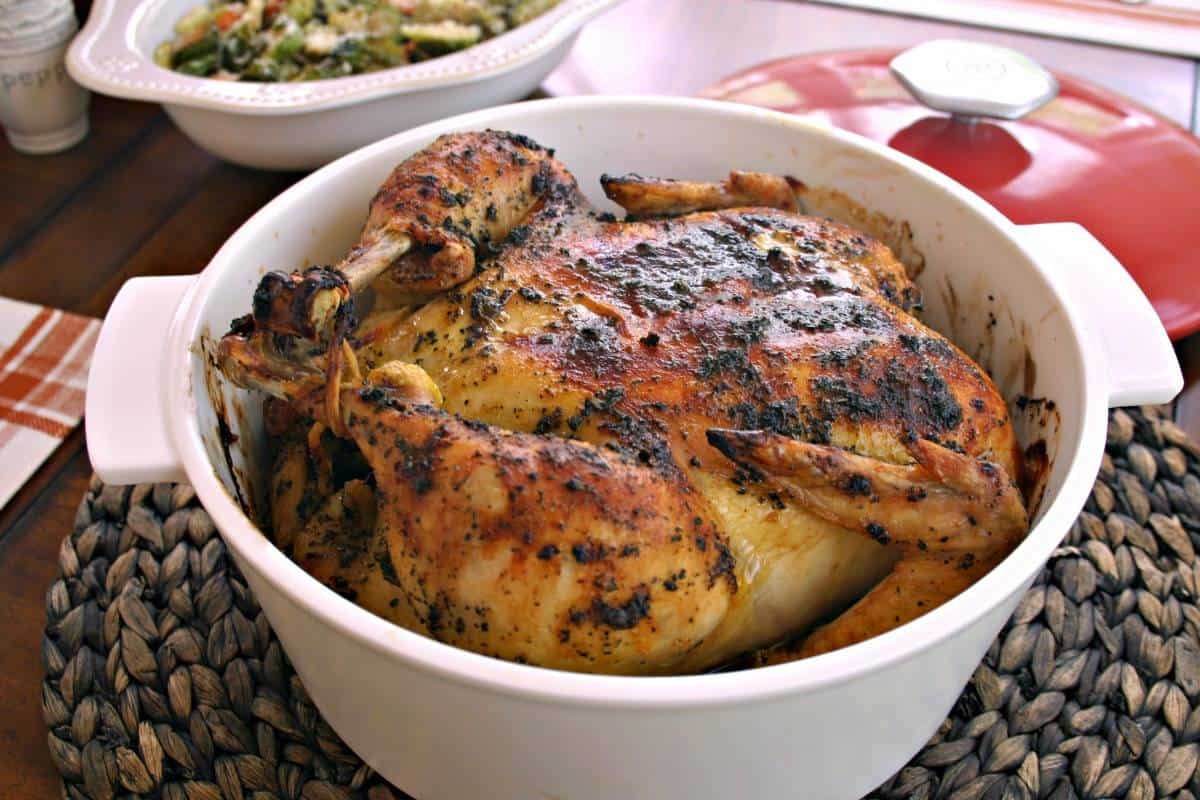 Should you roast a chicken covered or uncovered?
With roasting, the chicken is left uncovered while cooking so the skin gets crisp and brown.
This is achieved by preheating to the proper temperature for the recipe before placing the food in the oven. Although it may seem elementary, the secret to properly roasting chicken is making sure there is consistent heat surrounding the poultry in the oven.
Slow cooker instructions
Although this recipe for roasted chicken is for conventional roasting in the oven, it can easily be adapted for a slow cooker. Keep in mind in order to get a crispy golden skin, stick with roasting it in the oven.
For the slow cooker, cook on high for 4 – 5 hours or on low for 8- 10 hours until the juices run clear.
More easy chicken recipes
Here are a few of my favorite ways to serve chicken for dinner at our house:
Let's cook!
Make it a complete meal by roasting vegetables at the same time and in the same pan along with the chicken.
Toss in potatoes, carrots, onion, even sweet potatoes, for a complete no-fuss home-cooked meal your family will love.
First Published: November 25, 2016.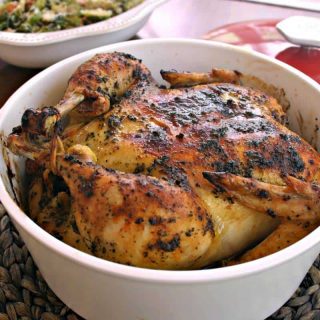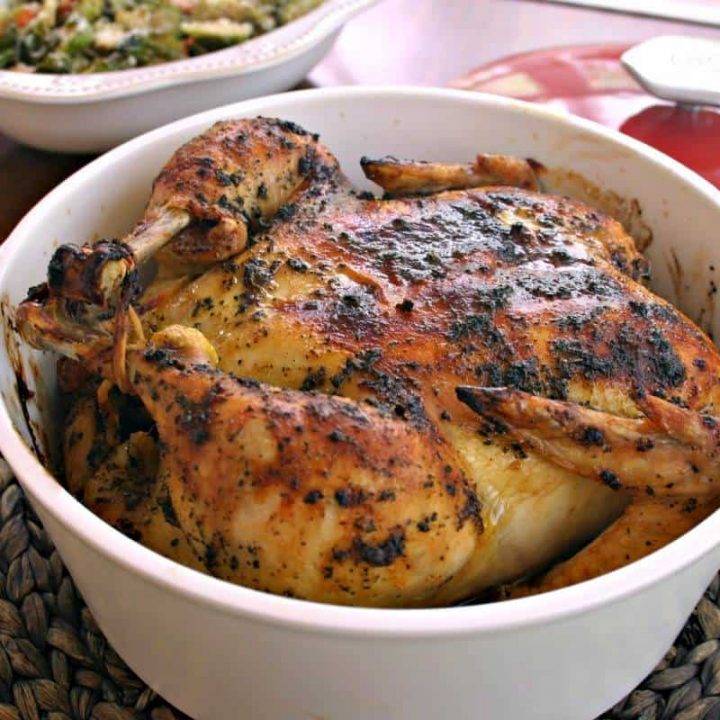 Sweet Basil Roasted Chicken
Getting back to the basics in the kitchen with Sweet Basil Roasted Chicken— moist, juicy, and the ultimate Sunday supper!
Ingredients
6 – 7

lb.

roasting chicken

1

tablespoon

salt

2

teaspoons

sugar

1/4

teaspoon

garlic powder

1/4

teaspoon

onion powder

1/4

teaspoon

paprika

1/2

teaspoon

lemon juice

1/2

teaspoon

pepper

1

tablespoon

dried basil

2

tablespoons

olive oil
Instructions
Preheat the oven to 350 degrees.

Remove all parts from the chicken cavity. Pat the chicken dry with paper towels inside the cavity and out.

Pull the legs together and tie them together with cooking twine.

Place the chicken in a

roasting pan

or large Dutch oven breast side up. You may place on a rack in the pan, but not entirely necessary.

In a small bowl, combine the spices, lemon juice, and olive oil to make the rub. Massage the rub liberally all over chicken.

Bake uncovered for 2 hours. Test to make sure the chicken registers 165 degrees, or that the juices run clear.

Remove the chicken from the pot to a

cutting board

and tent with aluminum foil. Let rest for 10 to 15 minutes before carving or removing the meat from the bone.
Notes
This recipe was originally clipped from packaging on a fresh hen. Sorry, no idea what poultry company to give credit!
Nutrition
Serving:
8
Servings
Calories:
985
kcal
Carbohydrates:
2
g
Protein:
108
g
Fat:
57
g
Saturated Fat:
16
g
Polyunsaturated Fat:
36
g
Cholesterol:
349
mg
Sodium:
1119
mg
Sugar:
1
g
Life Love and Good Food does not claim to be a registered dietician or nutritionist. Nutritional information shared on this site is only an estimate. We recommend running the ingredients through an online nutritional calculator if you need to verify any information.