This post may contain affiliate links. Please read my disclosure policy.
Make Chicken Fried Rice at home that's as good as Chinese take-out! It's easy and delicious when you know about the "secret" ingredient.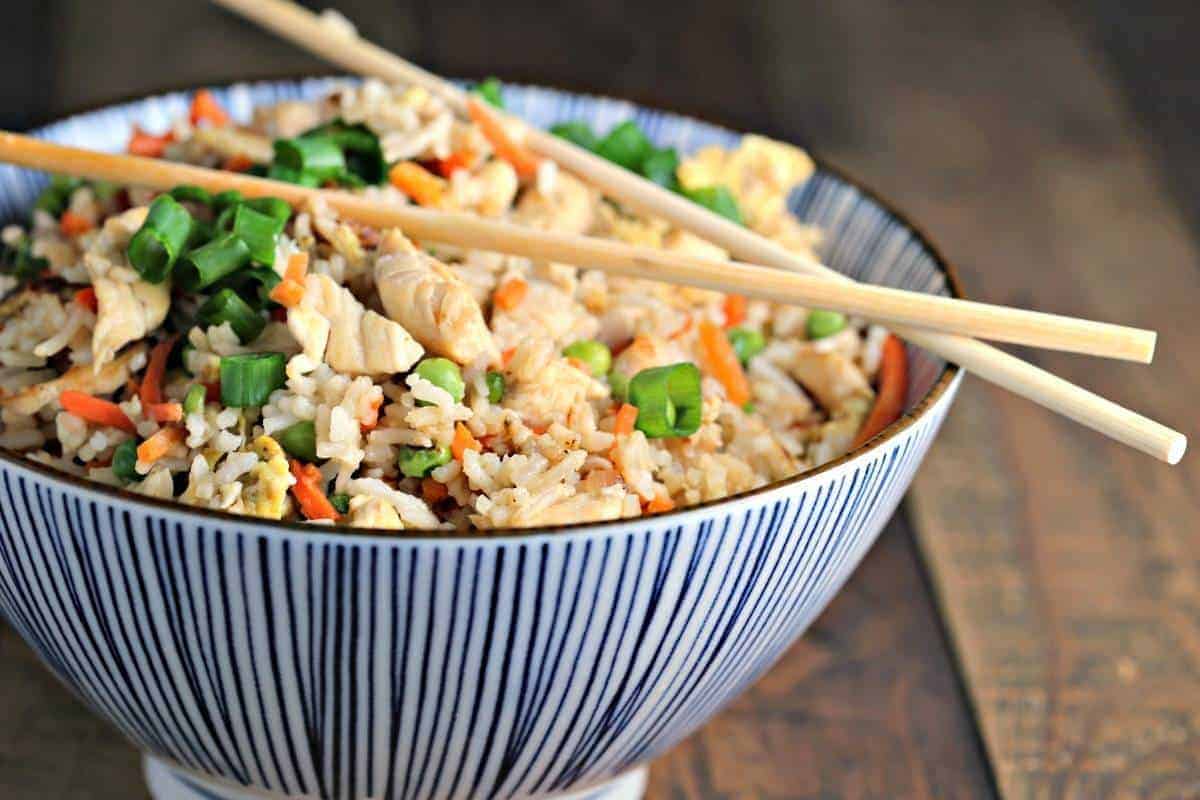 Chicken Fried Rice
I overheard a very interesting conversation about Asian cuisine at my yoga class this week.
A lady had just returned from a trip and was describing some of the authentic Asian food she'd experienced and how in some restaurants they brought out the head of a duck with the meal—as proof that it was duck in the dish!
I guess you have to admit that sometimes with stir fry it's a little difficult to identify the protein included!
Although I haven't had the pleasure of dining on authentic Asian food, I do enjoy our American-ized Asian restaurants, and especially enjoy a really good, well-seasoned fried rice.
The recipe that I'm sharing with you for Chicken Fried Rice is pretty versatile. Instead of chicken, feel free to substitute pork, shrimp, or even tofu to make it a vegetarian meal.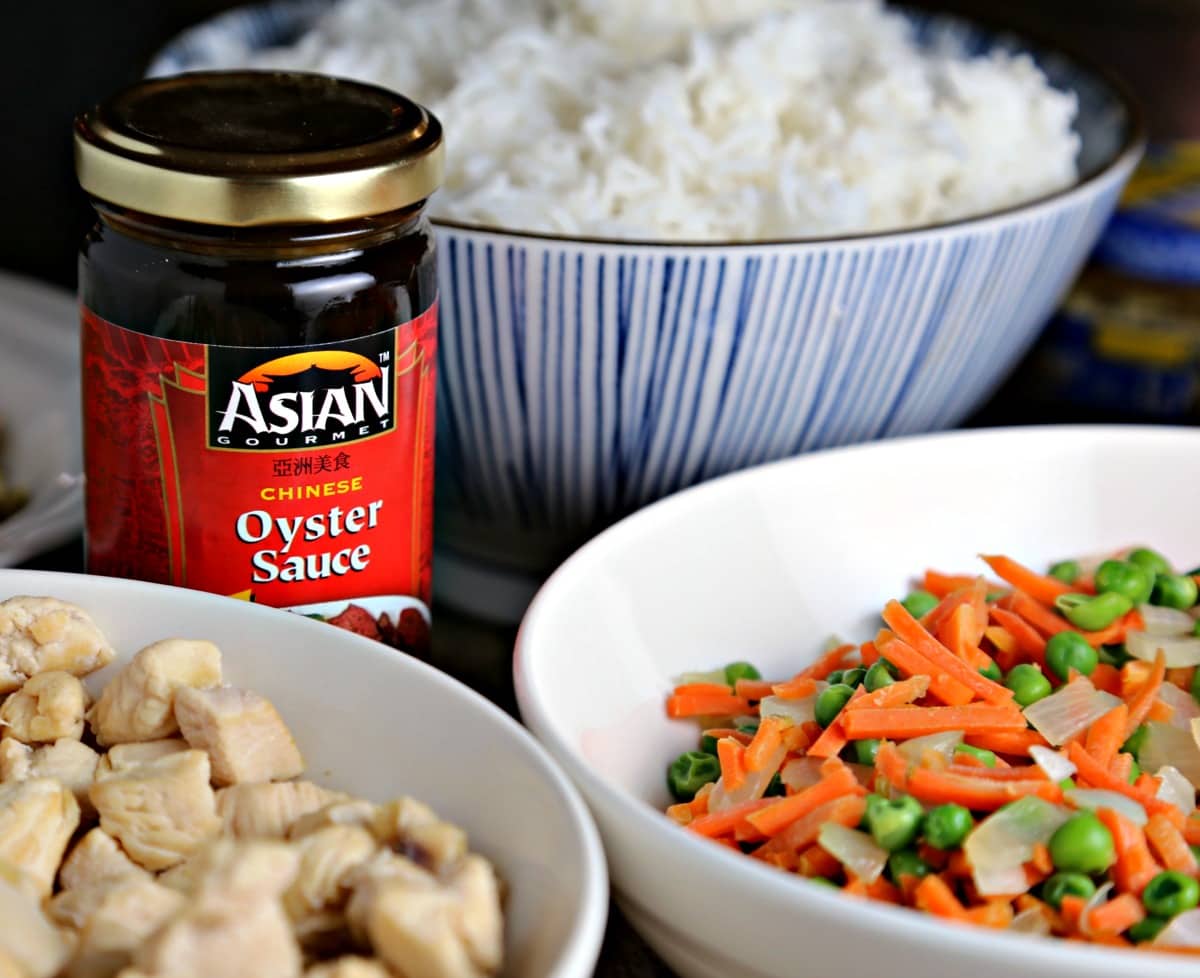 So what's the secret ingredient? Over New Year's weekend, we visited with our daughter and new son-in-law and she made a phenomenal fried rice for lunch.
I was so proud because this is the daughter who never liked to cook! She shared her secret ingredient for fried rice with me—FISH SAUCE.
I wasn't able to find this ingredient at my normal grocery store, so instead I substituted OYSTER SAUCE and the results were pretty darn close.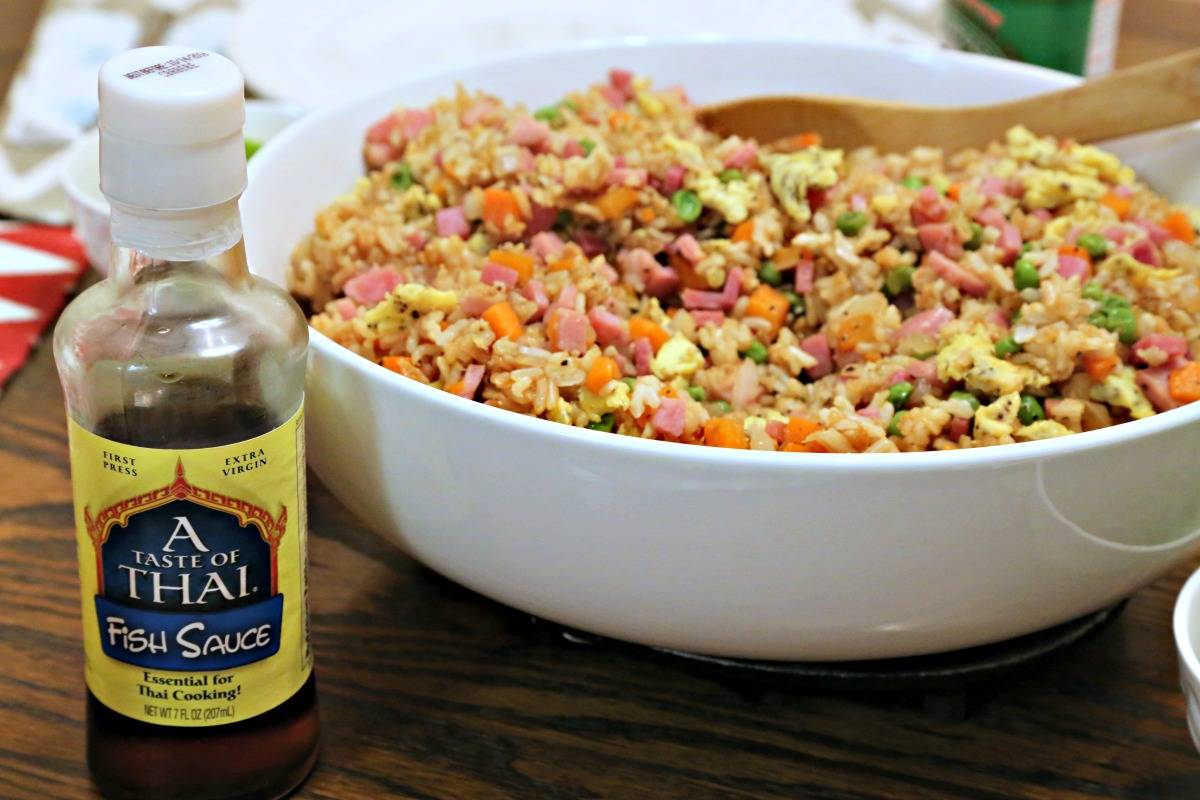 In Nashville, my daughter sometimes shops at international food markets for authentic spices. She's learning to cook curry recipes from her Sri Lankan in-laws, and is discovering new techniques and ingredients—other than those she grew up on with her Mom's Southern-style cooking.
Allison's version of fried rice included diced ham—another delicious way to enjoy this dish! She also likes to serves fried rice with a dish of lime slices, sliced scallions, and soy sauce as toppings.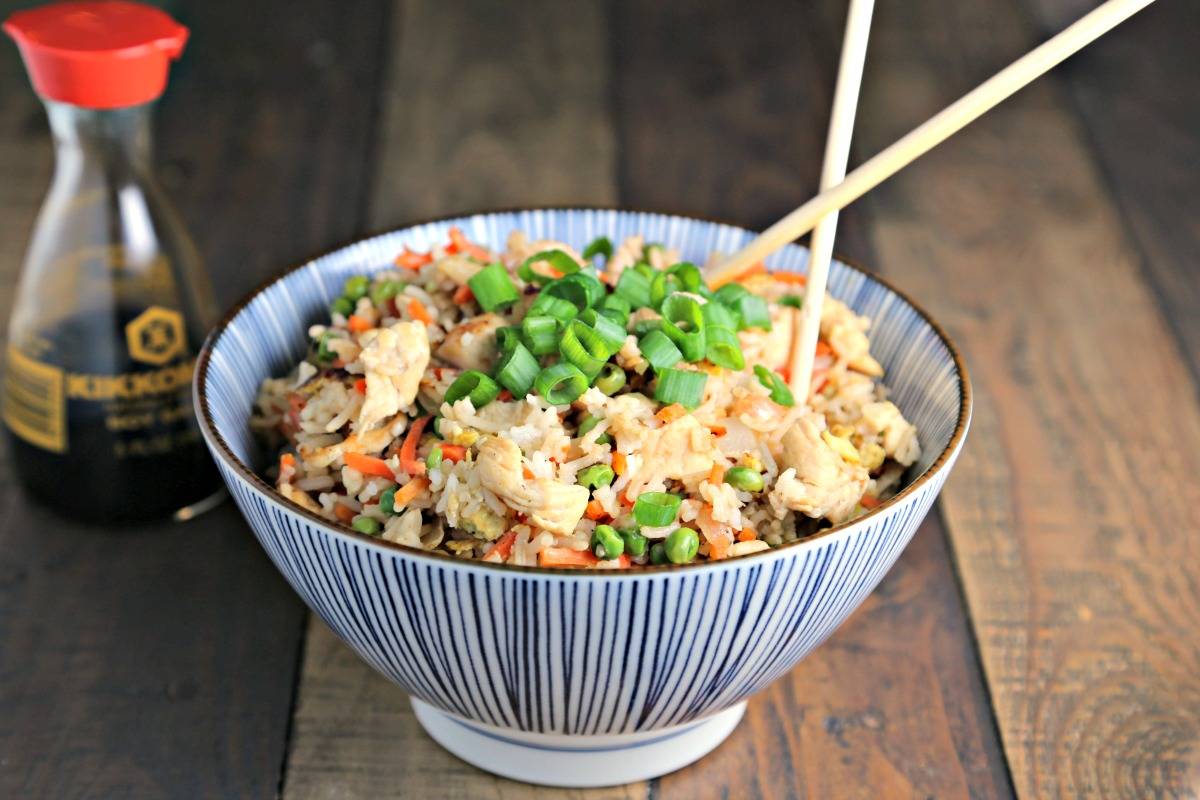 This recipe makes enough for six to eight people, so it's perfect for a large group or for having leftovers for lunch the next day.
Related recipes
Please share!
Your shares are how this site grows and I appreciate each one. Do you know someone who would enjoy this recipe? I'd love it if you would share it on Facebook or on your favorite Pinterest board!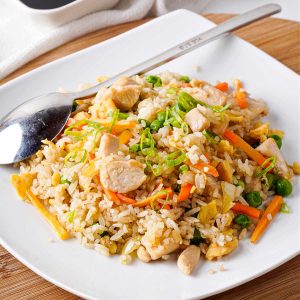 Restaurant Style Chicken Fried Rice
Make Chicken Fried Rice at home that's as good as Chinese take-out! It's easy and delicious when you know about the "secret" ingredient.
Ingredients
4

cups

cooked and chilled jasmine rice

1

skinless boneless chicken breast

cut into small bite-size pieces

1/2

cup

sweet onion

diced

1

cup

frozen peas

1

cup

carrot matchsticks

roughly chopped

3

large

eggs

3

tablespoons

oyster sauce

3

tablespoons

soy sauce

2

tablespoons

unsalted butter

2-1/2

tablespoons

olive oil

divided

1/2

teaspoon

salt

1/2

teaspoon

pepper

1/4

teaspoon

cayenne pepper

green onions

chopped for garnish
Instructions
Prepare jasmine rice according to package directions and chill for at least two hours.

Preheat a large wok or non-stock skillet over medium high heat. Add 1 tablespoon olive oil and diced chicken. Stir fry until meat is cooked through, about 5-7 minutes. Remove from wok and set aside.

Add another tablespoon olive oil to the hot wok or skillet. Add onion, peas, and carrots and stir fry until crisp tender, about 4-5 minutes. Remove from wok and set aside.

In a small bowl, whisk together the eggs, salt, pepper, and cayenne. Add 1/2 tablespoon olive oil to the hot wok or skillet and pour in the egg mixture. Allow eggs to cook for a few seconds, then scramble gently until cooked through. Again, remove from the wok and set aside.

Add butter to the wok and heat until melted, swirling to coat all sides. Add cold rice to the wok or skillet and allow to cook over medium high heat for 3-4 minutes, or until the bottom layer begins to brown lightly and start to crisp, before stirring. Watch carefully, and do not burn!

Stir fry the rice for 3-4 minutes, then add the cooked chicken, veggies, and egg. Continue to stir fry until incorporated into the rice. Add the oyster sauce and soy sauce and stir fry until all ingredients are heated through. Serve immediately with additional soy sauce, if desired, and garnish with chopped green onions.
Notes
Besides the sliced scallions and extra soy sauce, consider serving the recipe with a dish of lime wedges to squeeze fresh lime juice on top– YUM!
To stir fry successfully, use a non-stick pan. If you don't have a non-stick skillet or wok, use plenty of oil for your ingredients to cook evenly.
Stick to the suggested measurements of the oyster and soy sauce. When there is too much liquid in fried rice, it can result in a heavy and lumpy texture.
If preferred, add the meat to the bowl of rice before serving without mixing it in.
Nutrition
Serving:
1
Servings
Calories:
334
kcal
Carbohydrates:
39
g
Protein:
15
g
Fat:
13
g
Saturated Fat:
4
g
Polyunsaturated Fat:
8
g
Cholesterol:
120
mg
Sodium:
948
mg
Fiber:
3
g
Sugar:
3
g