This Sriracha Chicken Stir Fry with Brussels Sprouts boasts a mouthful of flavor in every single bite. Heat up the wok to quickly cook tender chicken and caramelized Brussels sprouts in a spicy sweet honey sriracha sauce. Prep to finished meal, this dish can be on your dinner table in just 30 minutes.
Combined with honey, soy sauce, and the fish sauce, spicy sriracha adds a splash of heat in this easy stir fry recipe.
If spicy chicken recipes are your thing, then you don't want to miss out on this sriracha chicken!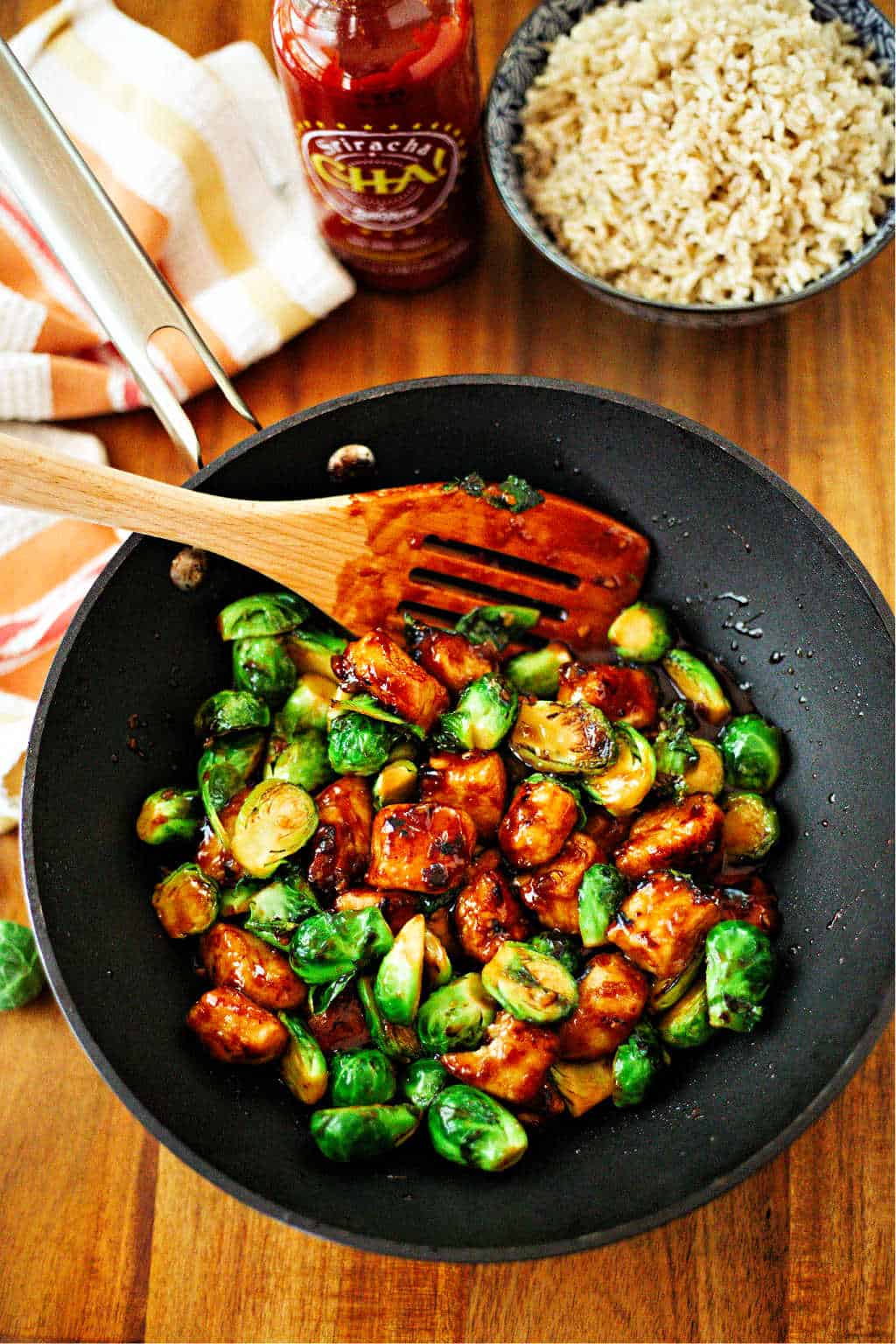 Sriracha Chicken Stir Fry with Brussels Sprouts
I love stir fry meals. They cook quickly and they are a great way to clean out the fridge. Toss in a few random vegetables and whatever protein you have on hand, and you can whip up a quick and healthy meal in minutes.
Normally, I wouldn't have thought about using Brussels Sprouts in a stir fry, but they were sitting in my refrigerator and begging to be used. Often I'll roast Brussels sprouts to go with a meat dish, but I had stir fry on my mind. Why not toss them in?
One of the unsung super foods, low-calorie Brussels sprouts are high in fiber, promote good digestion, are packed with more vitamin C than oranges, and can help reduce cholesterol levels.
More importantly, Brussels sprouts are delicious, especially when cooked properly. The key is to avoid cooking them until they are mush and start to release a pungent smell. Does that bring back childhood memories of Mom boiling Brussels sprouts? YUCK!
Like roasting, stir frying Brussels sprouts until they start to caramelize brings out a nutty, earthy flavor. Brussels sprouts were a great addition to my quick Sriracha chicken recipe, and adding a splash of fish sauce only enhanced their savory umami taste even more. YUM!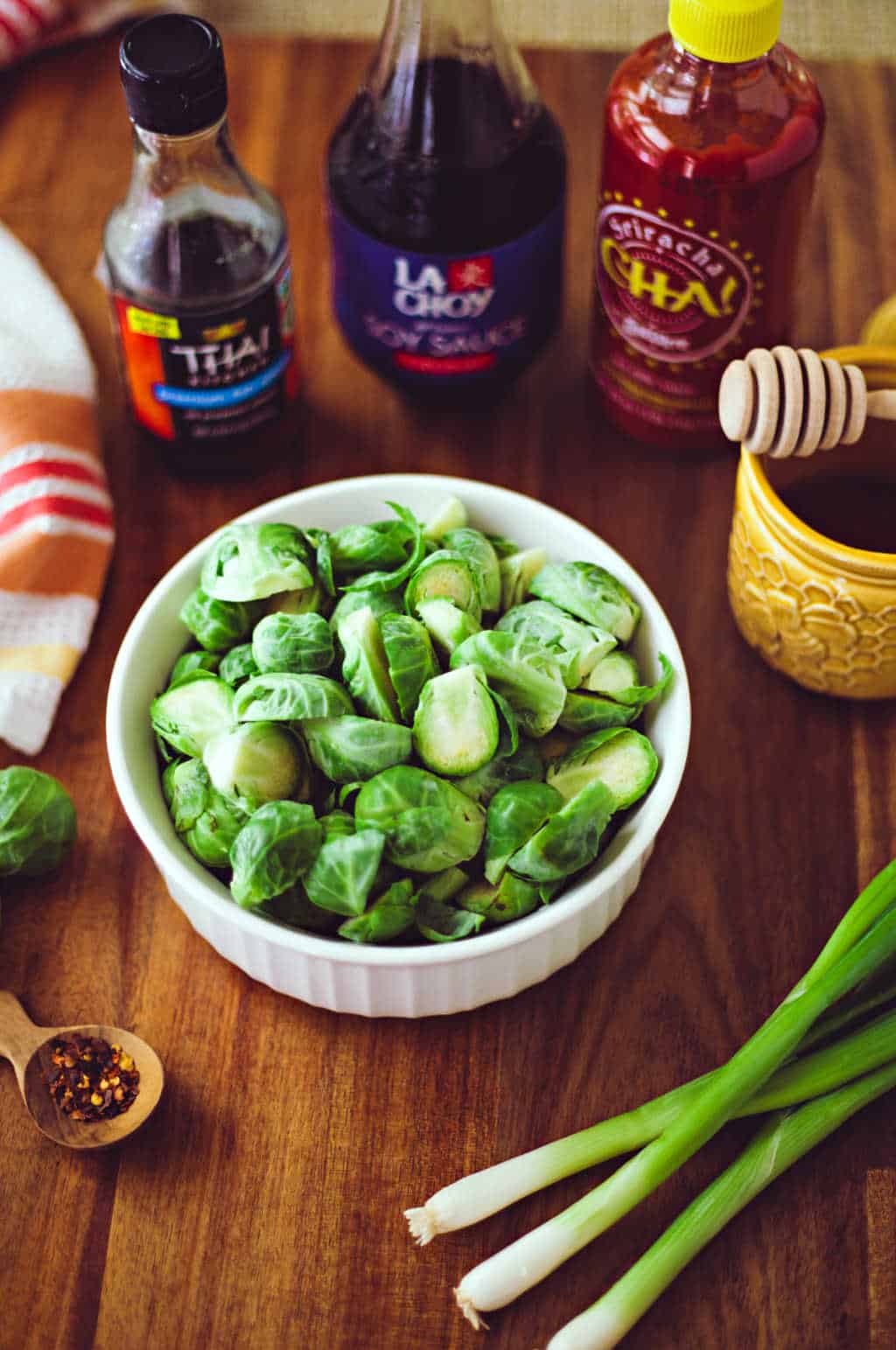 Ingredients
Chicken—boneless, skinless breasts or tenders, cut into bite-size pieces
Cornstarch—for coating the chicken and thickening the sauce
Honey—for sweetness
Sriracha—for spicy heat
Soy sauce, fish sauce, and sesame oil—add the fifth savory taste, or umami
Rice wine vinegar—adds acidity
Garlic—fresh or minced in a jar
Ginger—use the puree for a time saver
Brussels sprouts—earthy and perfect for this sauce
Scallions, sesame seeds, and crushed red pepper flakes—for garnish
Long grain brown or white rice—for serving
What is Sriracha seasoning?
Sriracha is a hot sauce that is made with red jalapeño peppers, sugar, garlic, distilled vinegar, and salt.
What can I use if I don't have Sriracha?
The best substitute for Sriracha is Sambal Oelek Chile Paste, however to add spicy heat to this stir fry you can also use another type of red chile paste or add a few more crushed red pepper flakes.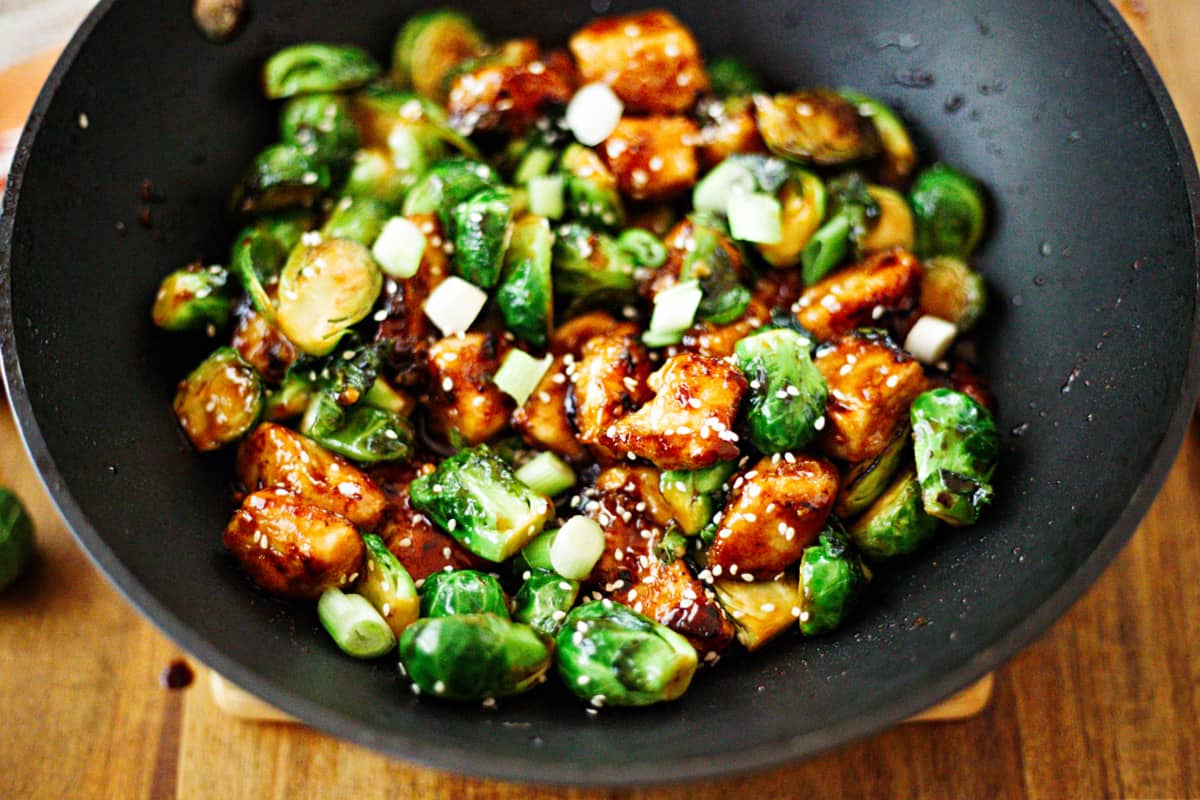 Instructions
Dredge the chicken in cornstarch and let rest while you prepare the sauce ingredients.
To make the sauce, whisk together honey, soy sauce, fish sauce, sesame oil, sriracha, and rice wine vinegar.
Heat a wok and add canola oil. Stir fry minced garlic and the ginger to season the oil, then add the chicken and fry until crispy. Remove the chicken to a plate and set aside.
Heat more canola oil in the wok and stir fry more minced garlic until fragrant. Add the Brussels sprouts and cook undisturbed a couple of minutes to let them start to caramelize. Cook and stir a couple more minutes until slightly golden.
Add the chicken with the sauce and cook another minute until the sauce thickens.
Serve over rice and garnish with scallions, sesame seeds, and red pepper flakes.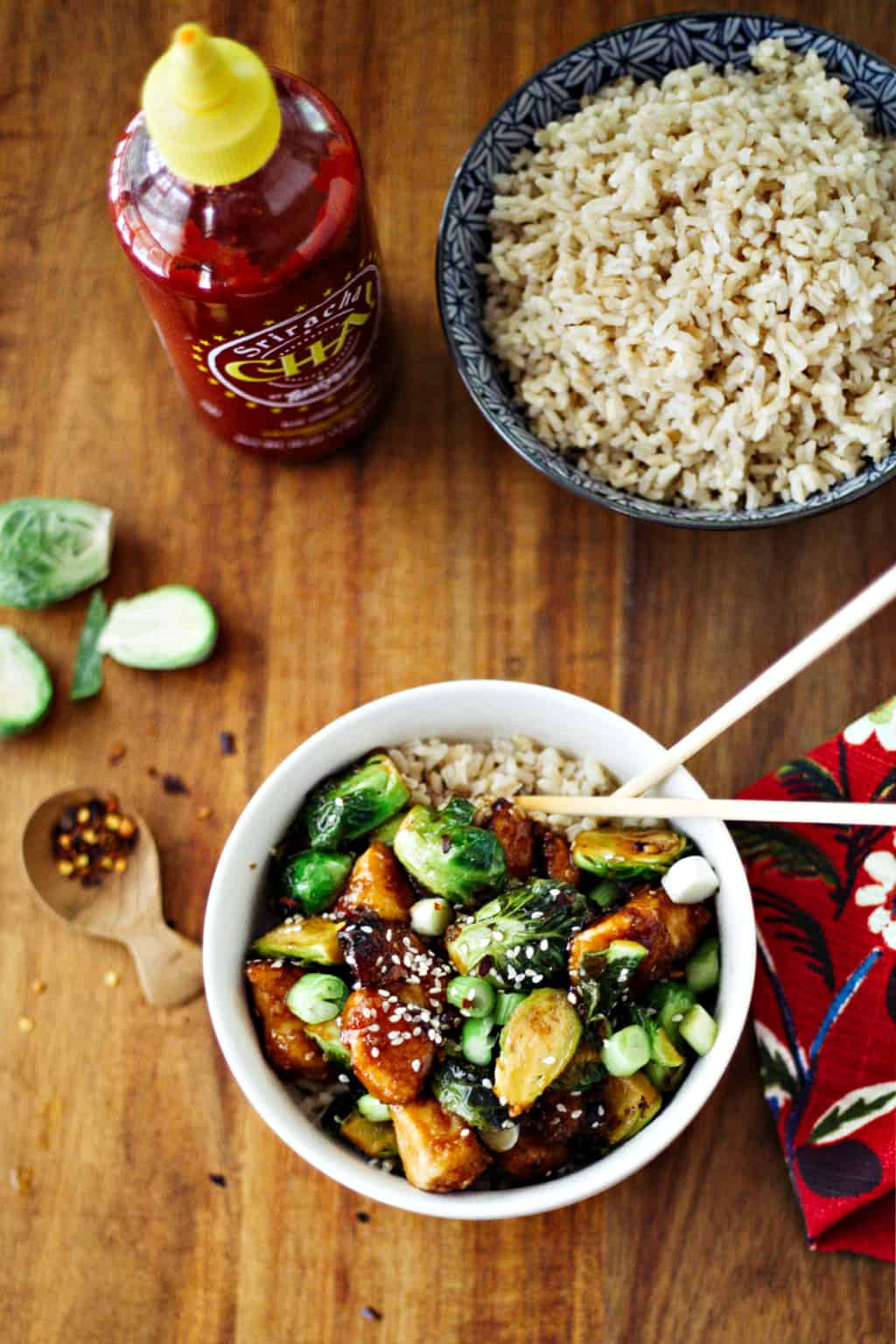 Related recipes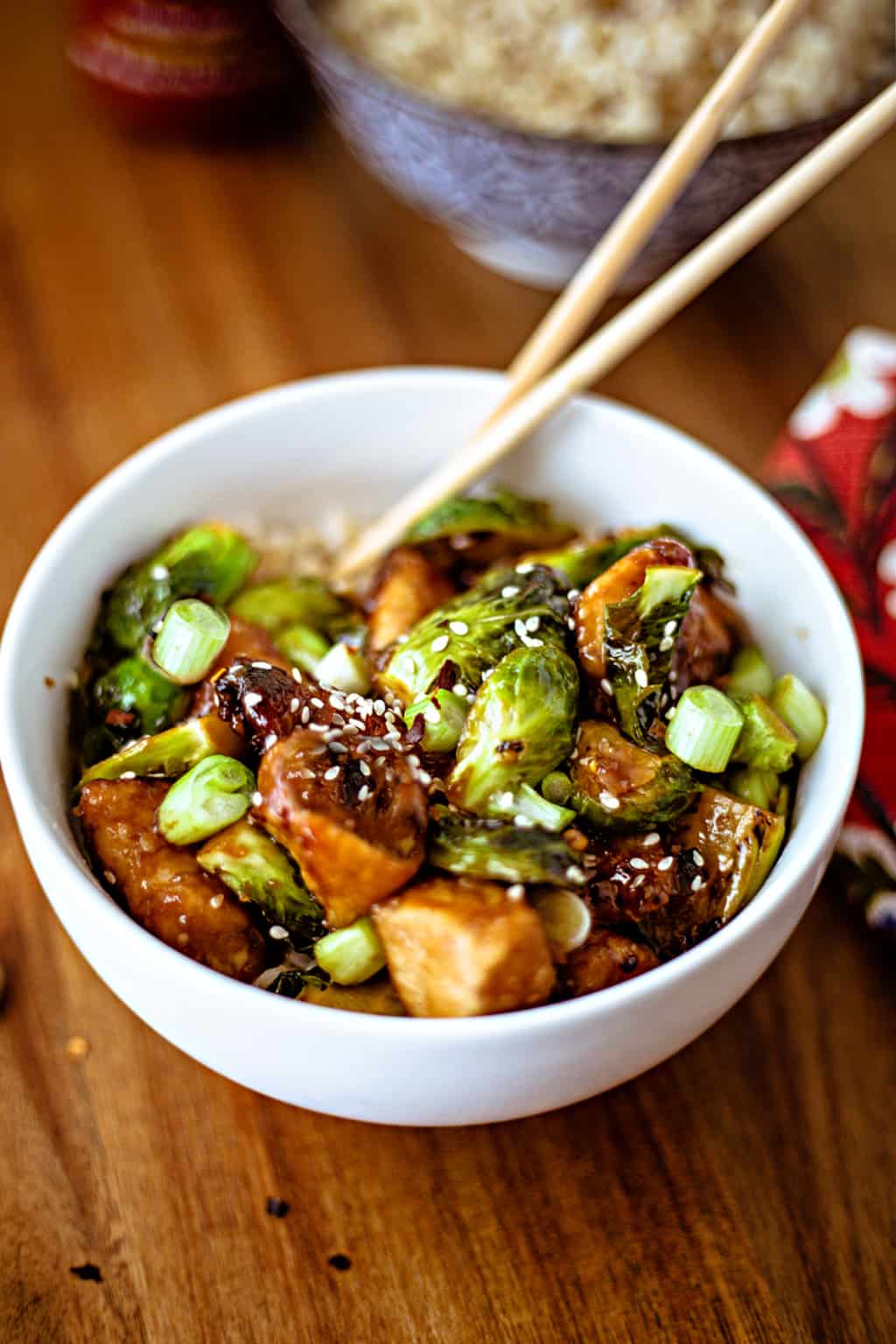 Let's cook!

Want to make this dish vegetarian? Leave out the chicken, and add baby carrots and spinach to the Brussels sprouts and the sauce for a quick and easy, filling vegetarian meal.
Please share!
Your shares are how this site grows and I appreciate each one. Do you know someone who would enjoy this recipe? I'd love it if you would share it on Facebook or on your favorite Pinterest board!
Yield: 4 servings
Sriracha Chicken Stir Fry with Brussels Sprouts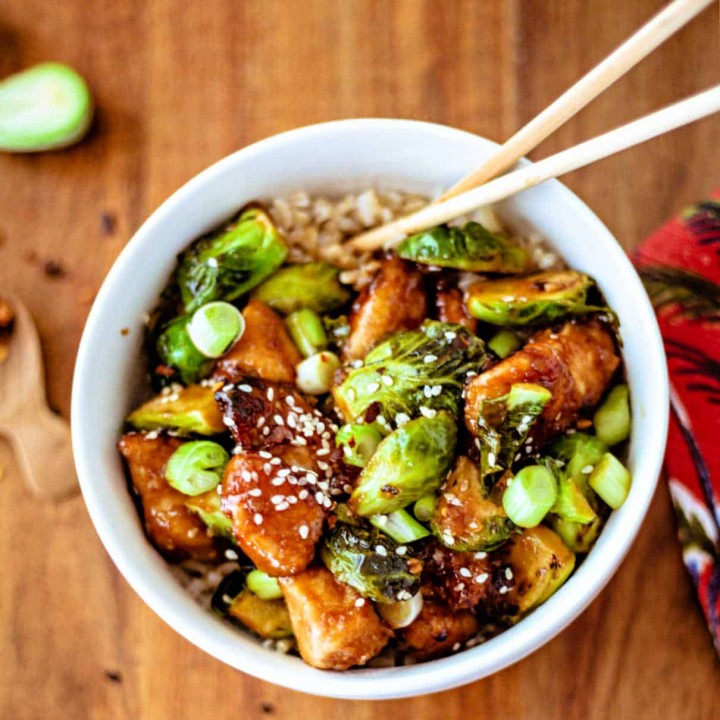 Stir frying Brussels sprouts until they begin to caramelize brings out their nutty, earthy flavor and the splash of fish sauce enhances their savory umami taste.
Ingredients
1 cup long grain rice
1 pound chicken tenders, cut into bite-size pieces
¼ cup cornstarch plus 1 tablespoon, divided
¼ cup honey
¼ cup soy sauce
1 teaspoon fish sauce
1 teaspoon sesame oil
2 teaspoons sriracha
1 tablespoon rice wine vinegar
4 tablespoons canola oil, divided
2 tablespoons minced garlic, divided
1 tablespoon minced ginger
2 cups Brussels sprouts, outer leaves removed and halved
1 teaspoon kosher salt
½ teaspoon freshly ground black pepper
3 scallions, thinly sliced, white and green parts
2 teaspoons sesame seeds
¼ teaspoon crushed red pepper flakes, optional
Instructions
In a large saucepan over high heat, bring 2 cups water to a boil. Prepare the rice per the package directions.
In a large resealable plastic bag, toss the chicken with ¼ cup cornstarch. Set aside.
In a small bowl, whisk together the honey, soy sauce, fish sauce, sesame oil, sriracha, rice wine vinegar, and remaining 1 tablespoon cornstarch until smooth.
In a large wok over medium high heat, heat 2 tablespoons of the canola oil. Add 1 tablespoon minced garlic and the ginger and stir fry 30 seconds. Add the chicken shaking off any excess cornstarch and fry until crispy, about 6 minutes. Remove to a plate.
Add the remaining 2 tablespoons canola oil to the wok with the remaining tablespoon of garlic. Stir fry 30 seconds, then add the Brussels sprouts. Season with the salt and pepper. Do not stir for a minute or two, until the edges begin to caramelize, then cook and stir for a couple more minutes, until slightly golden.
Return the chicken to the pan and toss, then pour in the sauce. Cook and stir until thickened, about a minute. Serve over rice and garnish with the scallions, sesame seeds, and red pepper flakes, if desired.
Notes
Want to make this dish vegetarian? Skip steps 2 and 4, leaving out the chicken. Instead, stir fry a cup of petite baby carrots along with the Brussels sprouts. Then add 2 cups of baby spinach with the sauce and stir fry until the spinach is wilted.
Recommended Products
As an Amazon Associate and member of other affiliate programs, I earn from qualifying purchases.
Nutrition Information:
Yield:
4
Serving Size:
1
Amount Per Serving:
Calories:

680
Total Fat:

35g
Saturated Fat:

5g
Trans Fat:

0g
Unsaturated Fat:

28g
Cholesterol:

52mg
Sodium:

2520mg
Carbohydrates:

68g
Fiber:

4g
Sugar:

20g
Protein:

27g