This post may contain affiliate links. Please read my disclosure policy.
Nothing will put you in the holiday mood quite like a refreshing, bubbly, and bright Cranberry White Grape Christmas Punch! Delight your family and loved ones with little effort by throwing this fizzy and fruity classic punch together for your next holiday gathering.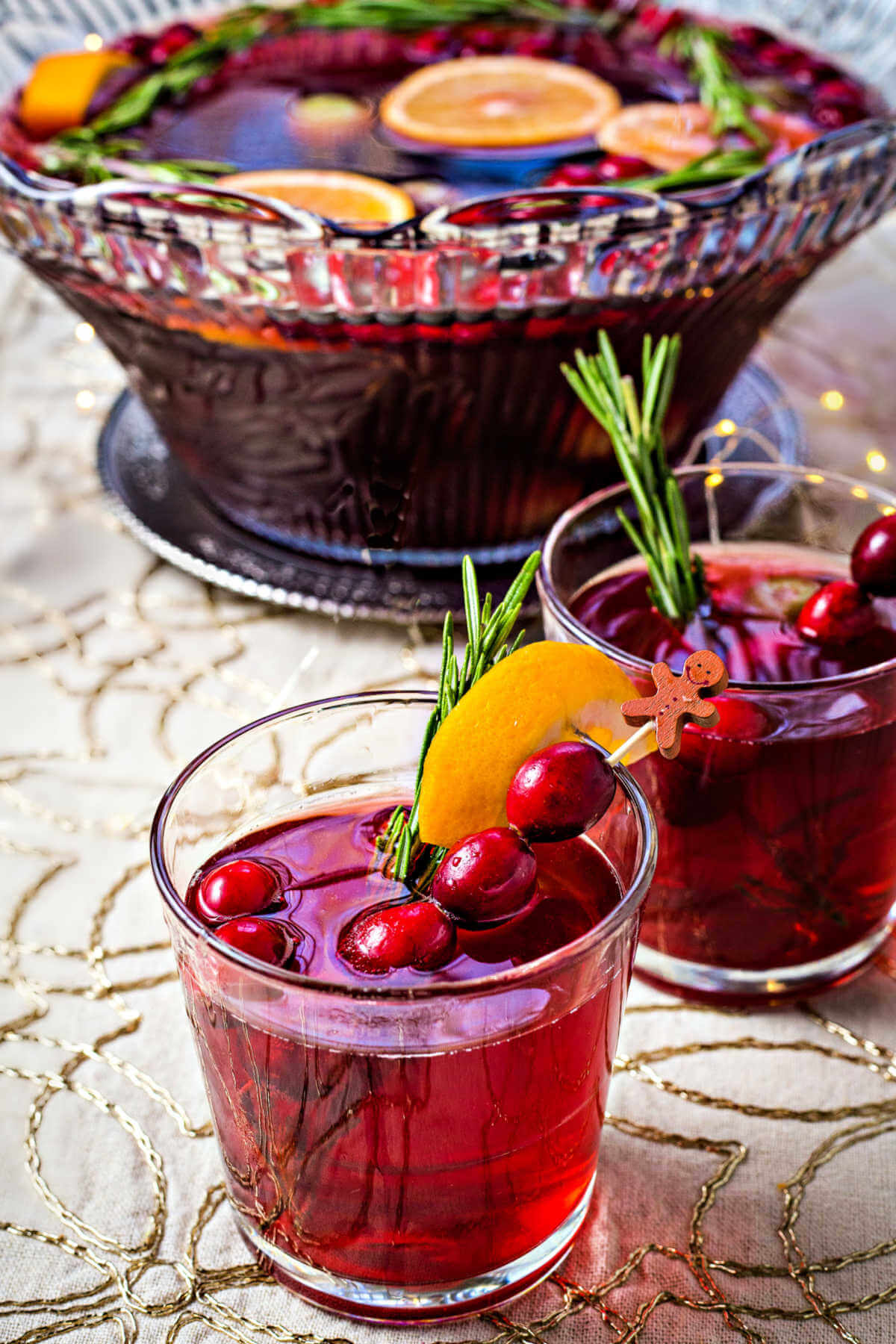 Everyone looks forward to the festive dishes and desserts when this special time of year rolls around. But, the beverages can often be forgotten.
There's just something about sugary punch that makes an event feel extra special. Maybe it's the bright and fruity flavor or the bubbly fizz. Whatever it is, it certainly has a way of putting a smile on your guests' faces.
I love that this white grape punch recipe is simple and EASY — we can all use less stress during the holidays, right? If you agree, you'll also love these other holiday drink recipes: Easy Wassail Hot Cider and Easy Homemade Egg Nog — both are delicious party pleasers!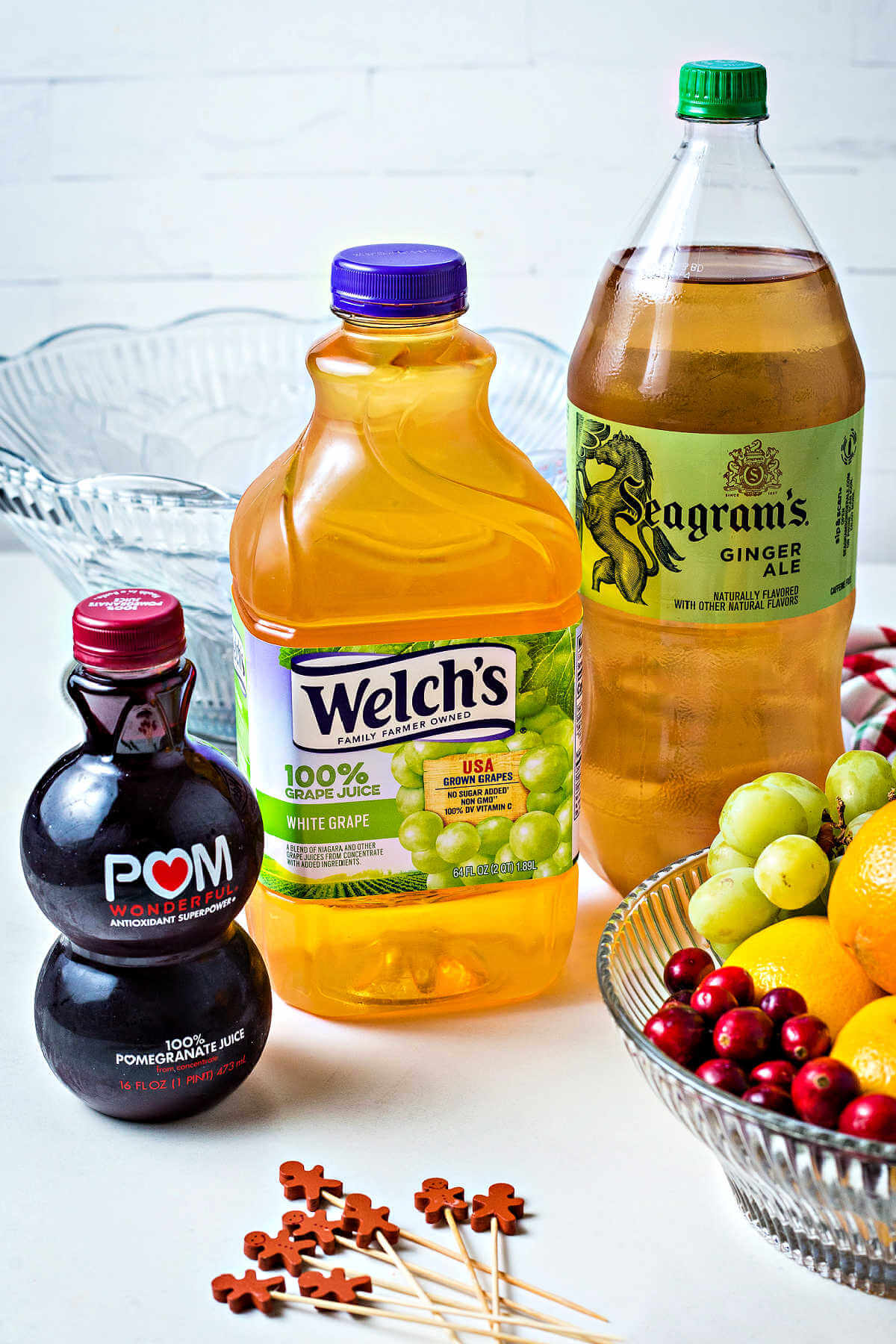 Key ingredients & substitutions for White Grape Punch
Grapes | Fresh green seedless grapes add color and sweetness to the punch. While you could use red grapes instead, the green grapes bring a dash of sour flavor to the recipe.
Cranberries | Fresh cranberries bring vibrant color and a burst of sugary-tart flavor. If preferred, use cherries instead.
Oranges | You'll need two medium oranges thinly sliced to add refreshing citrus notes to the punch.
White grape juice | Pour white grape juice for a sweet and mildly fruity base.
Pomegranate or cranberry juice | Pomegranate juice or cranberry juice will complement the mild white grape juice with a more robust and rich fruity flavor. For a more sugary taste, use cranberry juice. Or use pomegranate juice for deeper and more tart notes. If desired, use a combination of the two.
Ginger ale | Ginger ale cuts the sweetness of the punch and adds festive fizz.
Garnish | I like to use fresh rosemary or mint leaves to garnish the drinks. However, you can try something different or omit the garnish altogether.
Equipment options
Punch Bowl
Fancy Glasses
Garnishing Picks
How to make Cranberry and White Grape Punch
Making Christmas punch is oh-so-easy. There's hardly any way to go wrong with this recipe. Just prep the fruit, mix all the ingredients, and serve!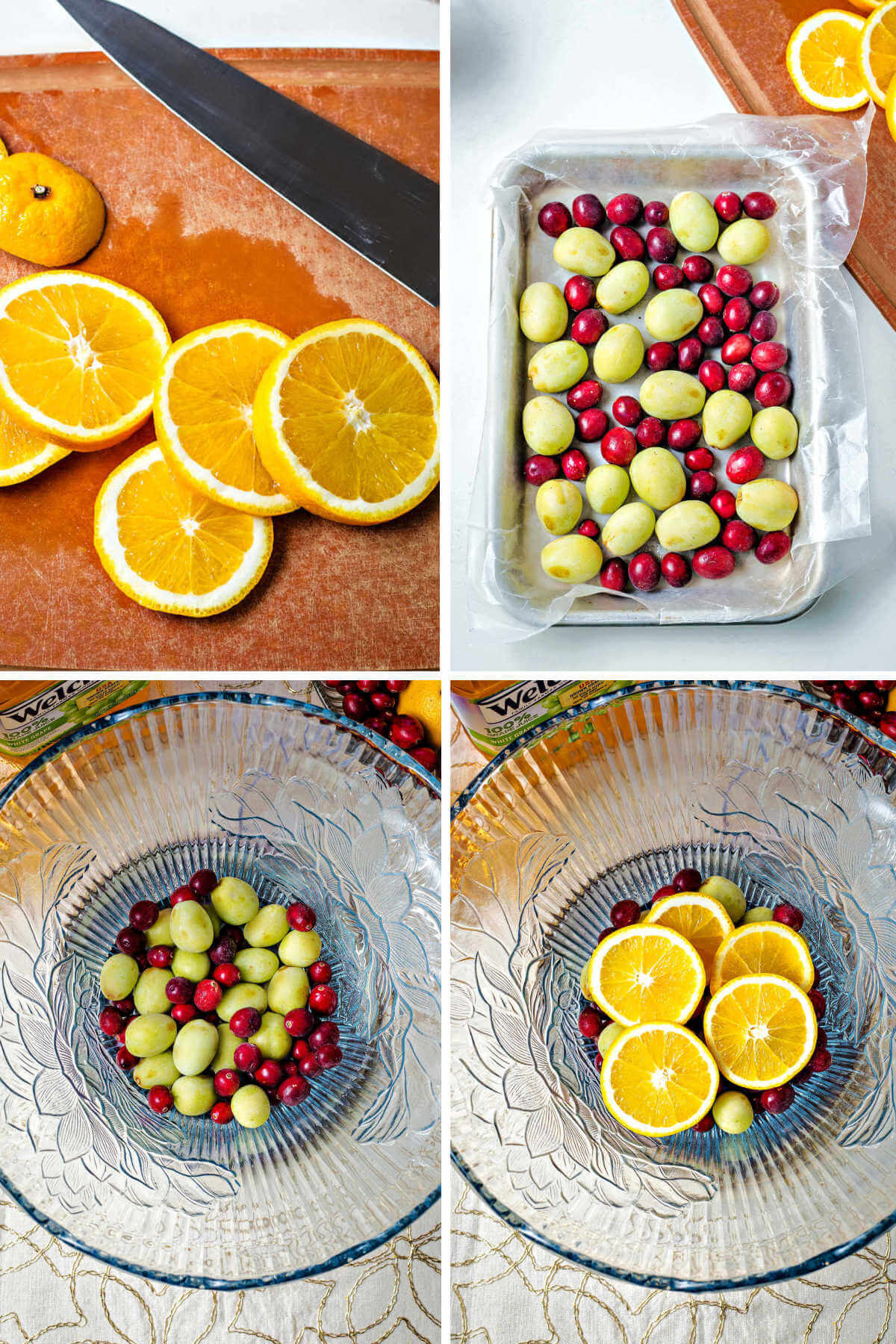 STEP 1 |Freeze the fruit and slice the oranges
To get this recipe started, first freeze the fresh grapes and cranberries- yes, freeze them. Begin with thoroughly rinsing and drying them with paper towels. Next, line a rimmed baking sheet with wax or parchment paper, and lay the fruit in a single layer so they do not freeze in one big clump. Place the baking sheet of fruit in the freezer for 2 to 3 hours.
Step away to check some other chores off your list and return to the kitchen once the cranberries and grapes are completely frozen. Then, thinly slice the oranges with a well-sharpened knife.
Choose a punch bowl or pitcher fit for the occasion and add the frozen grapes and cranberries. Then, layer the vibrant orange slices on top.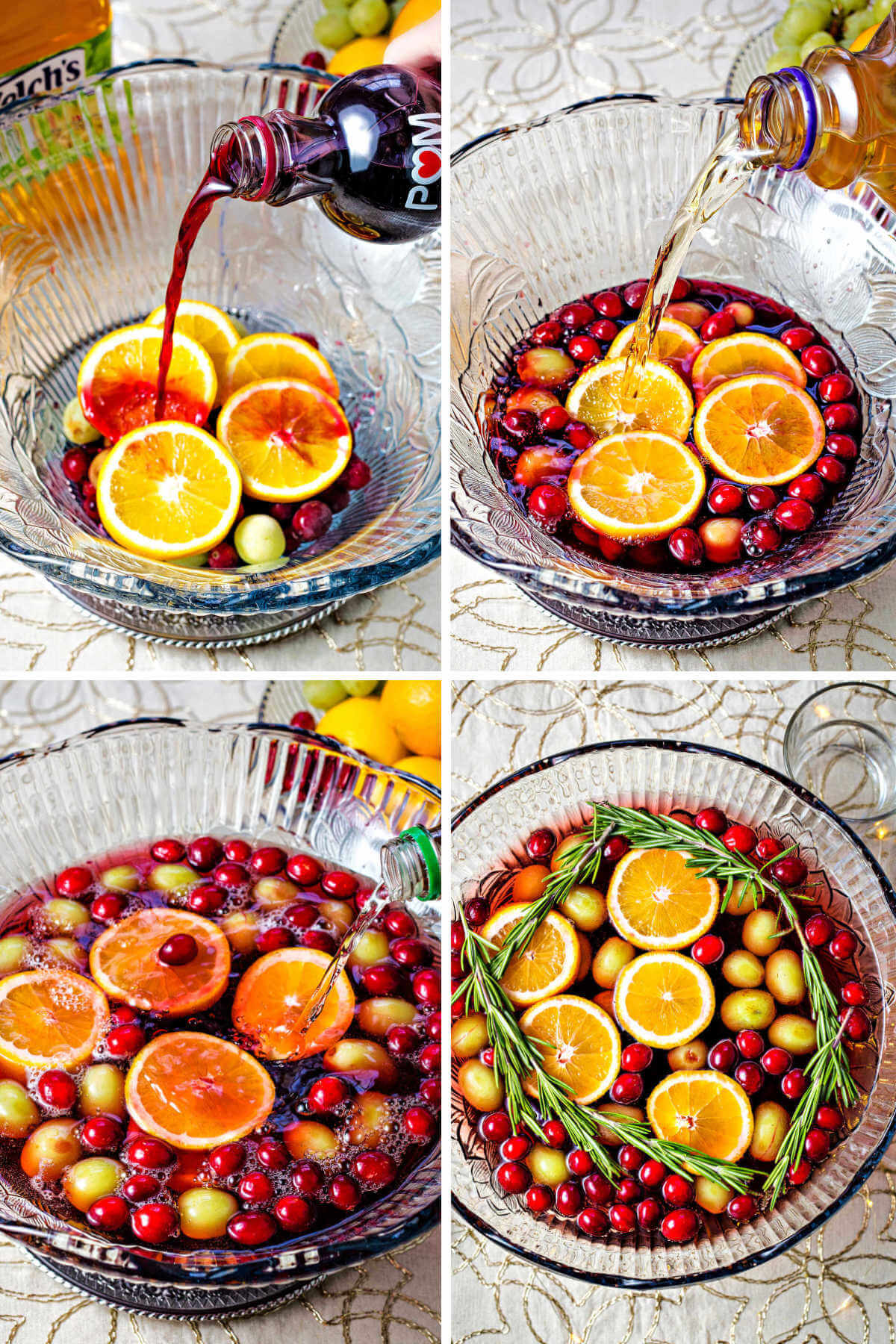 tips
Be sure all the ingredients are well chilled before assembling the punch. This beverage is best enjoyed when it's cool and crisp.
If you like your punch a little sweeter, add 1/2 to 3/4 cup of simple syrup.
STEP 2 | Stir in the juice
Next, grab the pomegranate and white grape juice and gently stir them into the punch bowl or pitcher with the fruit.
STEP 3 | Add the ginger ale
This festive drink is almost complete! Before serving, add the ginger ale and stir it into the juices and fruit.
STEP 4 | Garnish and serve!
Lastly, create a beautiful holiday display by garnishing the glasses with rosemary sprigs or fresh mint leaves. Then, serve the Christmas punch to all your holiday guests! Enjoy!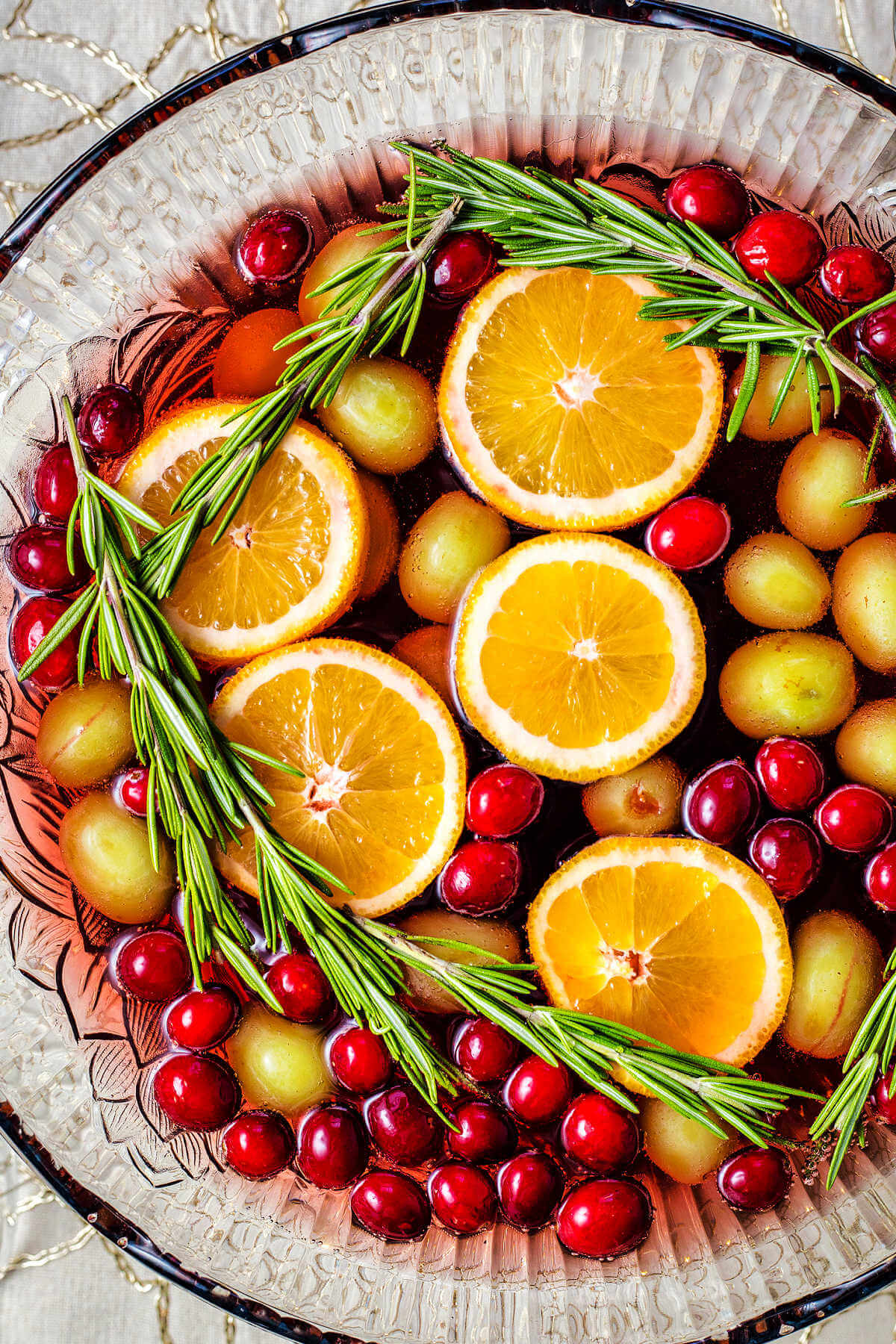 Frequently asked questions
Can you make this Christmas punch spiked?
Absolutely! Make a spiked Christmas punch by adding your favorite white wine or rum.

How can you keep this punch cold while serving it at a party or family gathering?
There are a couple of tips for keeping the punch chilly. First, you can store the pitcher in the fridge or an ice bucket. You can also freeze cubes of water, cranberries, and mint leaves and add the ice cubes to each glass as you pour. You can replace the water with ginger ale to avoid watering down the drinks.

One of the most beautiful and creative ways to keep the punch cool is to make an ice ring with fruit and small amounts of water or ginger ale in a Bundt pan. Fill the decorative Bundt pan halfway with ginger ale or water and sprinkle in some fresh cranberries and mint leaves. Then, allow it to freeze and place the ice ring in the punch bowl or pitcher. It's easy and makes for a stunning display!

How do you serve holiday punch?
If you want to keep it traditional, serve this Christmas white grape punch in a glass or crystal punch bowl surrounded by small punch glasses. However, the punch will taste just as delicious if you serve it from a pitcher in plastic cups. 

What helps this Christmas punch stay bubbly?
Like any carbonated beverage, this punch is best served fresh and bubbly. Avoid losing some carbonation by leaving the ginger ale out of the punch mixture and providing cans of ginger ale for the guest or host to top off the drink with a fresh pour each time.

Furthermore, you can split the recipe into two smaller batches. Have the first batch completed and ready to pour, and have the second prepared to throw together as soon as the other begins to run low. That way, the bubbly ginger ale isn't sitting out, losing its fizz.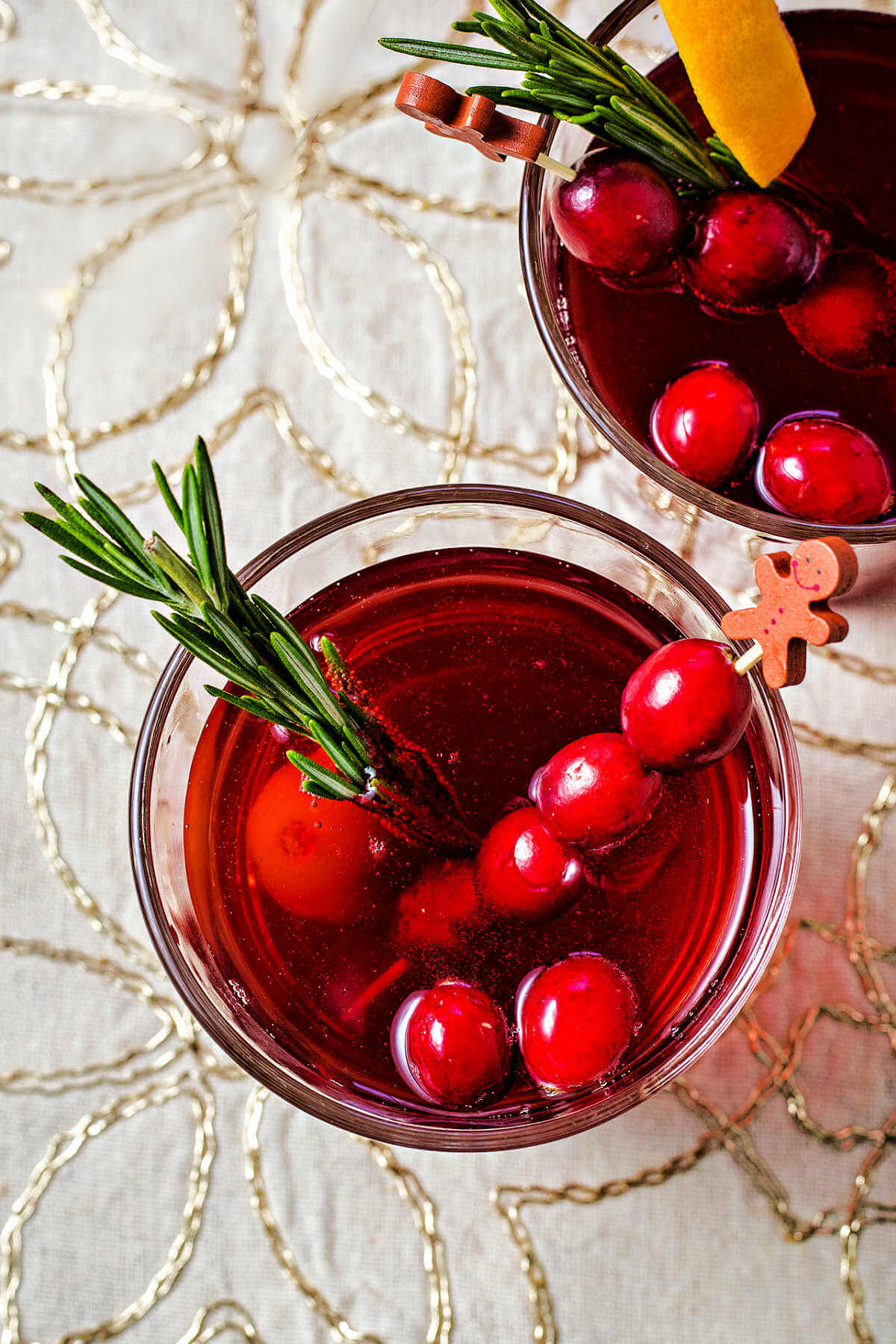 Toppings
While you don't have to garnish this beverage, it certainly makes it feel more festive for the holidays. Top the punch with fresh mint or rosemary springs, a freshly cut orange wedge, or cranberries on a skewer.
Serving suggestions
This white grape punch is perfect for sipping through dinner, presents, and quality family time. However, it's never more complete than when paired with a delightfully sweet dessert.
After a filling holiday feast, serve a chilled glass of this cranberry white grape punch with one or more of these delicious recipes: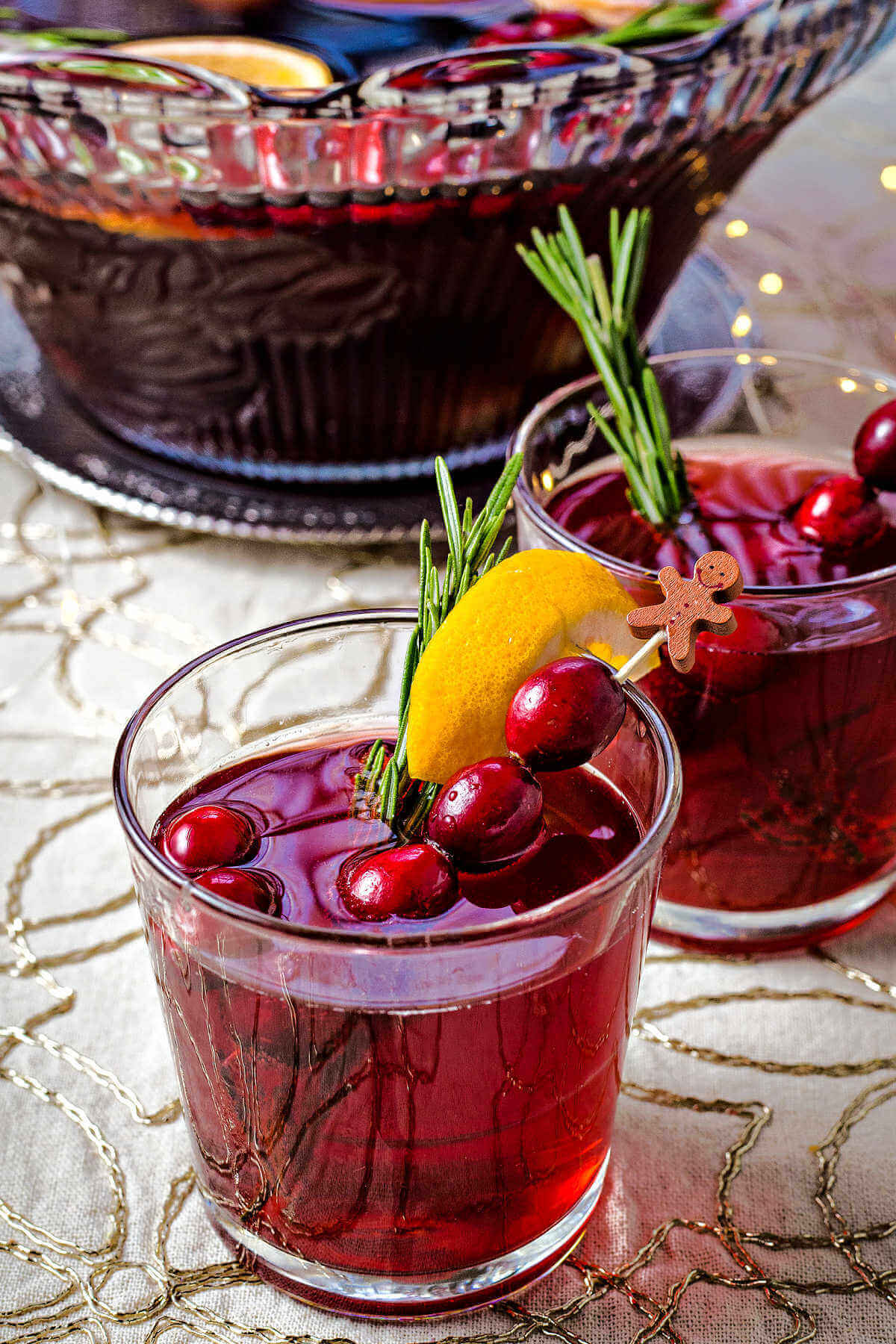 For the perfect holiday beverages to serve at your next festive event, explore my many drink recipes, including classic Hot Apple Cider, this Refreshing Blueberry-Mint Tea, or a steaming mug of my sweet Dark Chocolate Peppermint Mocha.
Behind the recipe: Christmas Punch
Classic party punch has a fascinating and lengthy history. While the exact origins are unknown, it is agreed that punch was made popular by sailors on long voyages in the 17th century. They would drink their way through the travels, beer being their choice. However, when the crew would reach warmer water, the beer often became rancid.
Therefore, the sailors would create new drinks from what they had available at the shores they reached. Explorers made their way to many tropical lands during this period, so the local ingredients were typically spices, citrus, and rum.
From this combination of ingredients came punch. Sailors would bring the goods back home with them. Because they were rare at home, punch remained a luxurious beverage for some time until mixers became popular among the middle class.
Soon enough, punch was served at most formal gatherings. In fact, the founding fathers guzzled down 76 bowls of punch as they celebrated the signing of the Declaration of Independence!
And now you know!
Please share!
Your shares are how this site grows and I appreciate each one. Do you know someone who would enjoy this recipe? I'd love it if you would share it on Facebook or on your favorite Pinterest board!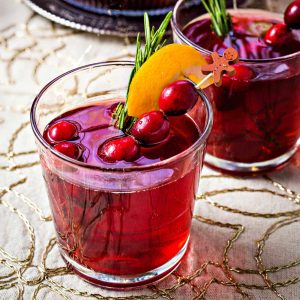 Cranberry White Grape Christmas Punch
Nothing will put you in the holiday mood quite like a refreshing, bubbly, and bright Cranberry White Grape Christmas Punch!
Ingredients
1

cup

green, seedless grapes

frozen for 3 hours

1

cup

fresh cranberries

frozen for 3 hours

2

medium

oranges

sliced

4

cups

white grape juice

2

cups

pomegranate juice

or cranberry juice

4

cups

ginger ale

fresh rosemary or mint

for garnish
Instructions
Add frozen grapes and cranberries to a punch bowl or pitcher. Layer the orange slices on top.

Pour in the pomegranate juice and white grape juice and stir gently.

Just before you are ready to serve, add the ginger ale and stir.

Garnish drinks with rosemary sprigs or fresh mint.
Notes
Be sure all the ingredients are well chilled before assembling the punch. This beverage is best enjoyed when it's cool and crisp.
If you like your punch a little sweeter, add 1/2 to 3/4 cup of simple syrup. 
To freeze grapes and cranberries: Rinse and dry well with paper towels. Place in a single layer on a wax paper or parchment lined rimmed baking sheet and place in the freezer for 2 to 3 hours.
Nutrition
Calories:
123
kcal
Carbohydrates:
31
g
Protein:
1
g
Fat:
0.3
g
Saturated Fat:
0.1
g
Polyunsaturated Fat:
0.1
g
Monounsaturated Fat:
0.03
g
Sodium:
14
mg
Potassium:
248
mg
Fiber:
1
g
Sugar:
29
g
Vitamin A:
69
IU
Vitamin C:
13
mg
Calcium:
27
mg
Iron:
0.5
mg
Life Love and Good Food does not claim to be a registered dietician or nutritionist. Nutritional information shared on this site is only an estimate. We recommend running the ingredients through an online nutritional calculator if you need to verify any information.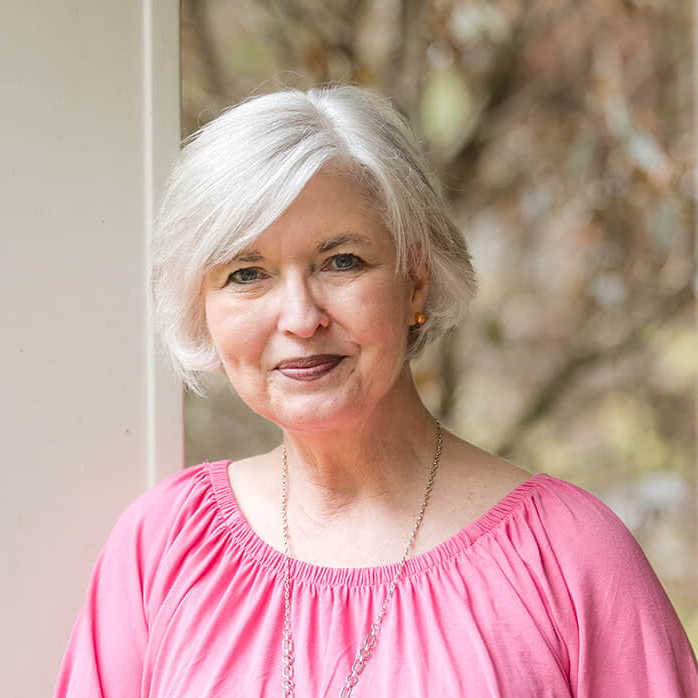 About Sheila Thigpen
Recipe Developer, Food Photographer, Food Writer
Sheila Thigpen is the publisher of Life, Love, and Good Food — a Southern food blog — and the author of Easy Chicken Cookbook and The 5-Ingredient Fresh and Easy Cookbook. After 20+ years in the publishing industry, she retired in 2018 to focus on her own creative endeavors full time. She and her husband live near the beautiful Smoky Mountains and have a precious little granddaughter who has stolen their hearts. As an influencer, Sheila has collaborated with brands like Creamette, Kroger, HERSHEY'S, Hamilton Beach, Garafalo Pasta, OXO, Smithfield, Valley Fig Growers, and more.