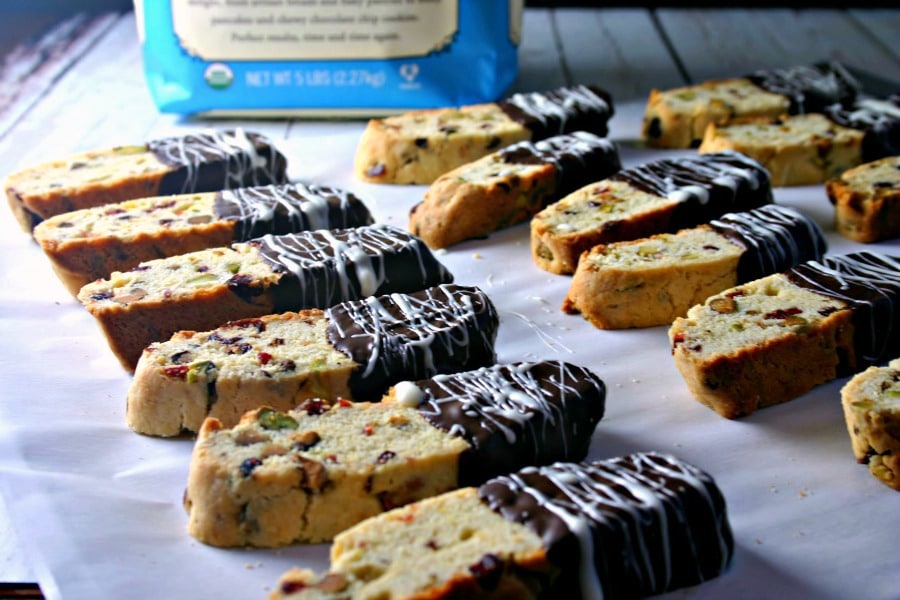 Disclosure: This is a sponsored post, but as always my opinions are 100% my own.
This week's Cookie Month assignment was to share a recipe that ships well, one that stays fresh and doesn't end up as crumbs during its journey. After some thought, it occurred to me that a traditional biscotti would be perfect. After all, biscotti, or twice-baked cookies, in ancient Rome was used as a convenience food for travelers because of its long-shelf life. Properly stored, Cranberry Pistachio Biscotti will stay fresh for up to a couple of weeks. But, you'd better not plan on them sticking around for that long as they tend to disappear quickly–at least that's the case around my house!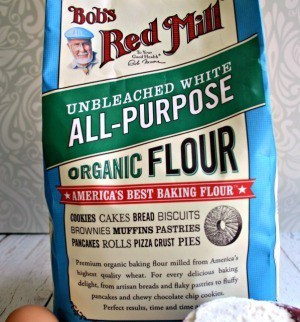 I've tried several biscotti recipes, but this one by Giada is my absolute favorite.  I think the combination of cranberries and pistachio just works, but also believe that the recipe could be easily adapted by substituting other nuts or dried fruit. (Maybe next time I'll try almonds and dried cherries!). This time I chose to stick to the original recipe, except I did opt for dark instead of white chocolate for dipping just because I like it best. I also made this batch with Bob's Red Mill All-Purpose Organic Flour, one of our Cookie Month sponsors, and was very pleased with the results!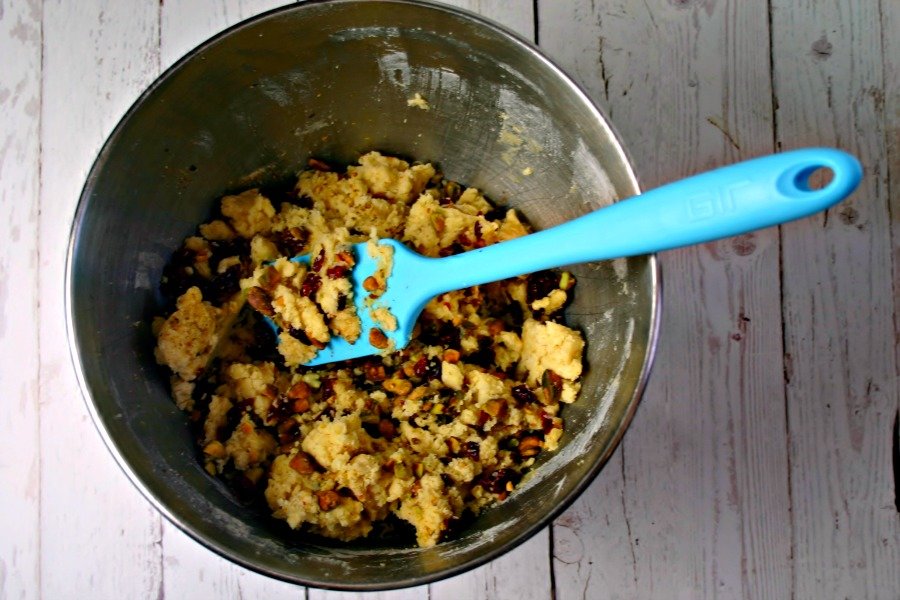 If you've never attempted biscotti, here are a few tips that I've learned from my experience:
1. You probably know this already, but if the recipe says soften butter at room temperature, don't try to soften it in the microwave. Trust me on this.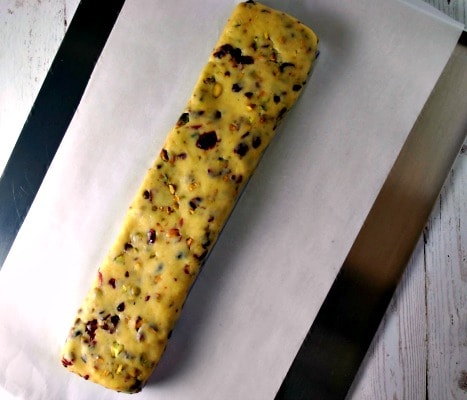 2. Don't overmix the dough. I love using my KitchenAid stand mixer–that machine is powerful–but don't walk away and leave the dough spinning.
3. STIR in the fruit and nuts by hand (not with your mixer). A GIR Pro Spatula makes this step super easy! (Bonus: GIR Spatulas are available in a dozen different colors!)
4. Draw an outline on the back side of the parchment paper to get the perfect size log which will result in a nice size and shape of the finished biscotti.
Once the dough is prepared, the hardest part is done! Just be sure to follow the recipe steps for baking, cooling time, slicing, and baking again which will result in a dry and crunchy biscotti perfect for dipping in coffee if you like it that way.
Now for the shipping of these goodies…I stacked the biscotti in quart size zip lock bags with the chocolate ends opposite each other and was able to fit ten pieces snugly inside the bag. The number may be different depending on the size of your slices. I also used a priority mail carton from the post office with some tissue paper added to make sure there was no sliding around.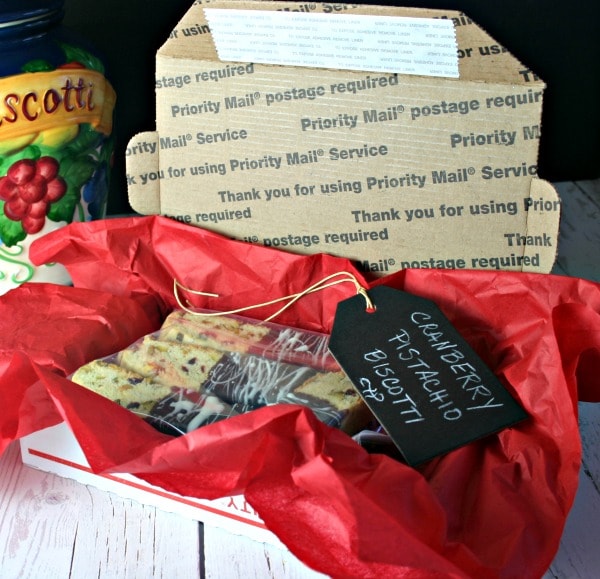 This particular package was sent to my daughter who reported it arrived safely with no broken biscotti, even after going through security and x-ray in her government office!
Be sure to check out my cookie month partners and their amazing recipes: Jess at The 104 Homestead – Kathie at Homespun Seasonal Living – Tessa at Homestead Lady – Chris at Joybilee Farm – Wendy at The Monday Box – Nikki at Nik Snacks – Shari at Pure Grace Farms – Angi at Schneiderpeeps – Lauren at Wicked Spatula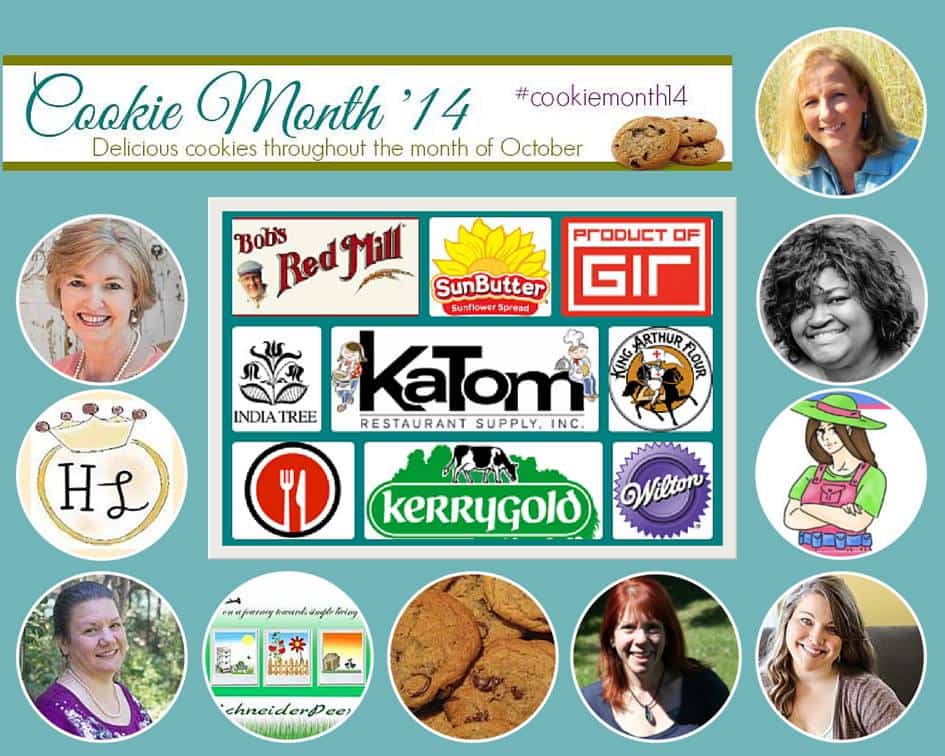 The following companies generously sponsored various cookie month projects. I may not have used all of them in my recipes, but this project is in no small part thanks to them and their incredible contributions: Bob's Red Mill, The Daily Meal, India Tree, KerryGold, King Arthur Flour, Product of GIR, KaTom, SunButter & Wilton.

Cranberry-Pistachio Biscotti
Ingredients
2

cups

all-purpose flour

1 1/2

teaspoons

baking powder

3/4

cup

sugar

1/2

cup

1 stick unsalted butter, room temperature

1

teaspoon

grated lemon zest

1/4

teaspoon

salt

2

large eggs

3/4

cup

pistachios

coarsely chopped

2/3

cup

dried cranberries

12

ounces

good-quality white or dark chocolate

chopped
Instructions
Preheat the oven to 350 degrees F.

Line a heavy large baking sheet with parchment paper. Whisk the flour and baking powder in a medium bowl to blend. Using an electric mixer, beat the sugar, butter, lemon zest, and salt in a large bowl to blend. Beat in the eggs 1 at a time. Add the flour mixture and beat just until blended. Stir in the pistachios and cranberries.

Form the dough into a 13-inch long, 3-inch wide log on the prepared baking sheet. Bake until light golden, about 40 minutes. Cool for 30 minutes.

Place the log on the cutting board. Using a sharp serrated knife, cut the log on a diagonal into 1/2 to 3/4-inch-thick slices. Arrange the biscotti, cut side down, on the baking sheet. Bake the biscotti until they are pale golden, about 15 minutes. Transfer the biscotti to a rack and cool completely.

Stir the chocolate in a bowl set over a saucepan of simmering water until the chocolate melts. Dip half of the biscotti into the melted chocolate. Gently shake off the excess chocolate. Place the biscotti on the baking sheet for the chocolate to set. Refrigerate until the chocolate is firm, about 35 minutes.

The biscotti can be made ahead. Store them in an airtight container up to 2 weeks, or wrap them in foil and freeze in resealable plastic bags up to 4 weeks.
Recipe Notes
Recipe by
Giada