This post may contain affiliate links. Please read my disclosure policy.
Perfect for the holidays, this festive Cranberry Pistachio Biscotti dipped in creamy white chocolate has a delicate vanilla cookie flavor. Dried cranberries and pistachios pair deliciously in this twice-baked cookie recipe, however there are three more delicious flavor swaps that may better suit your personal taste.
Cranberry Pistachio Biscotti are perfect for holiday gifting. Not only do these Italian cookies look festive and taste delicious, Cranberry Pistachio Biscotti hold up well for shipping and will stay fresh for up to a couple of weeks.
You'd better not plan on biscotti sticking around for that long, however, as they tend to disappear quickly — at least that's always the case around my house!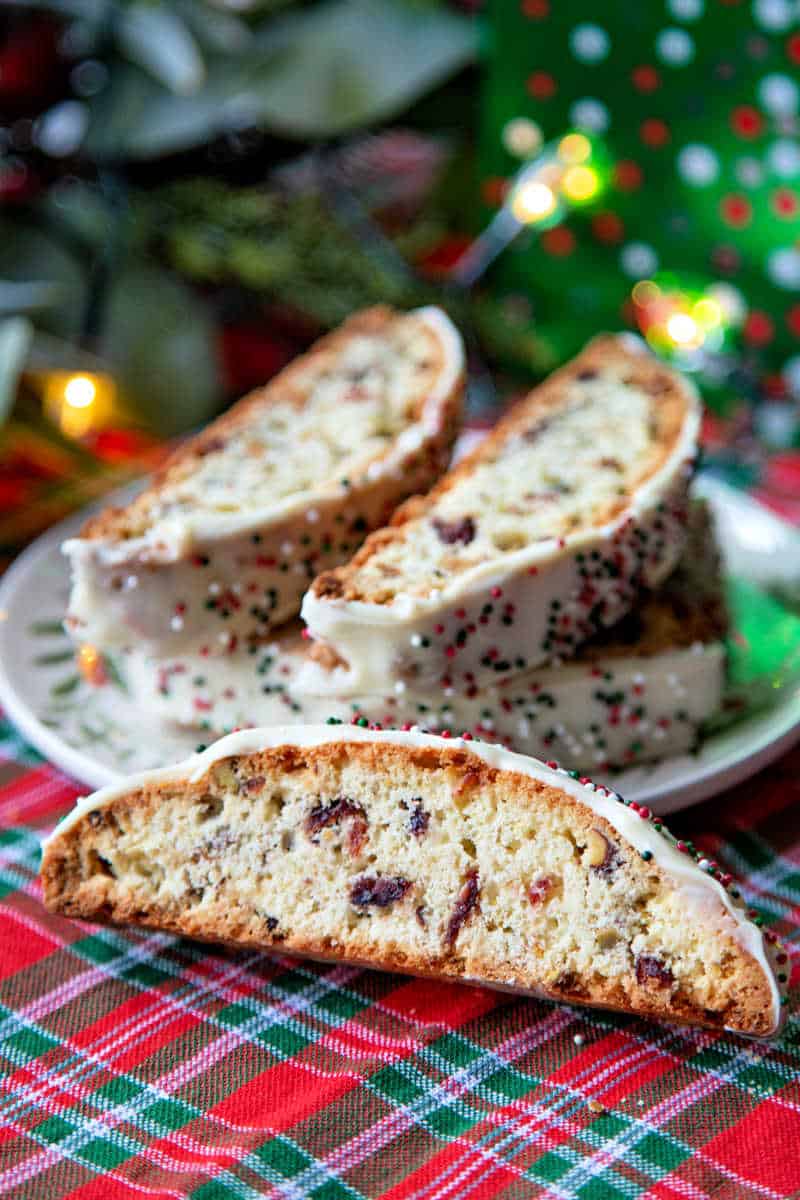 Cranberry Pistachio Biscotti
A few years ago, I tried a Giada recipe for Holiday Biscotti and it was so popular with my family that I've been making it every year since. Not only is the dough easy to prepare, it is easy to make flavor swaps by substituting just a couple of the ingredients.
Perhaps you'd prefer one of these biscotti flavor options: Chocolate Chip Pistachio Biscotti, Orange Pistachio Biscotti, or even Cherry Almond Biscotti! (For your convenience, flavor swap details are included in the recipe card below .)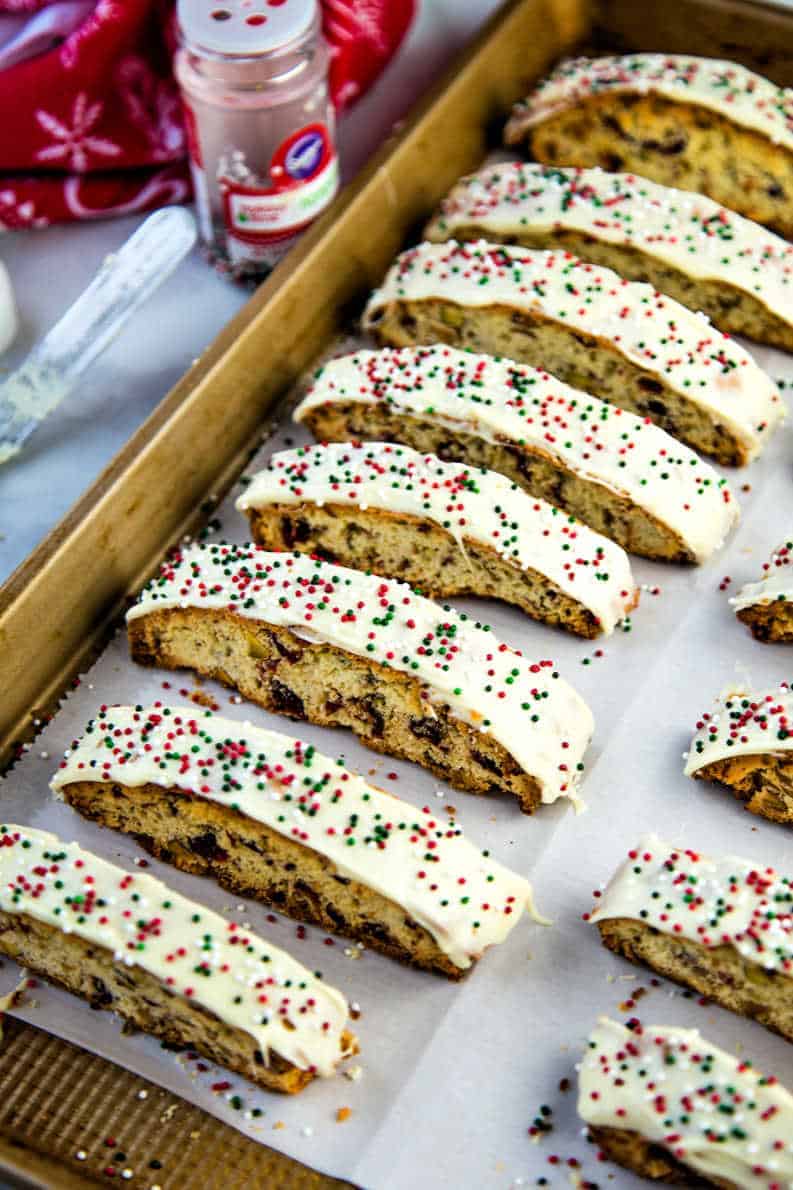 Biscotti Making FAQs
If you've never attempted making biscotti before, here are a few tips that I've learned from my experience:
Soften the butter at room temperature, never in the microwave
Don't over mix the dough
Stir in fruit and nuts with a wooden spoon, not the mixer.
How do you shape a biscotti?
One trick to shaping the perfect biscotti log is to start by drawing an outline on the back side of the parchment paper you use to line the baking sheet. Use the outline as a guide and you'll get the perfect size log (based on the dimensions in the recipe).
Biscotti dough is sticky, so you can either use wet hands to press the dough into shape or lightly dust your hands with flour. I often use a dough scraper to help even up the sides and ends of the log.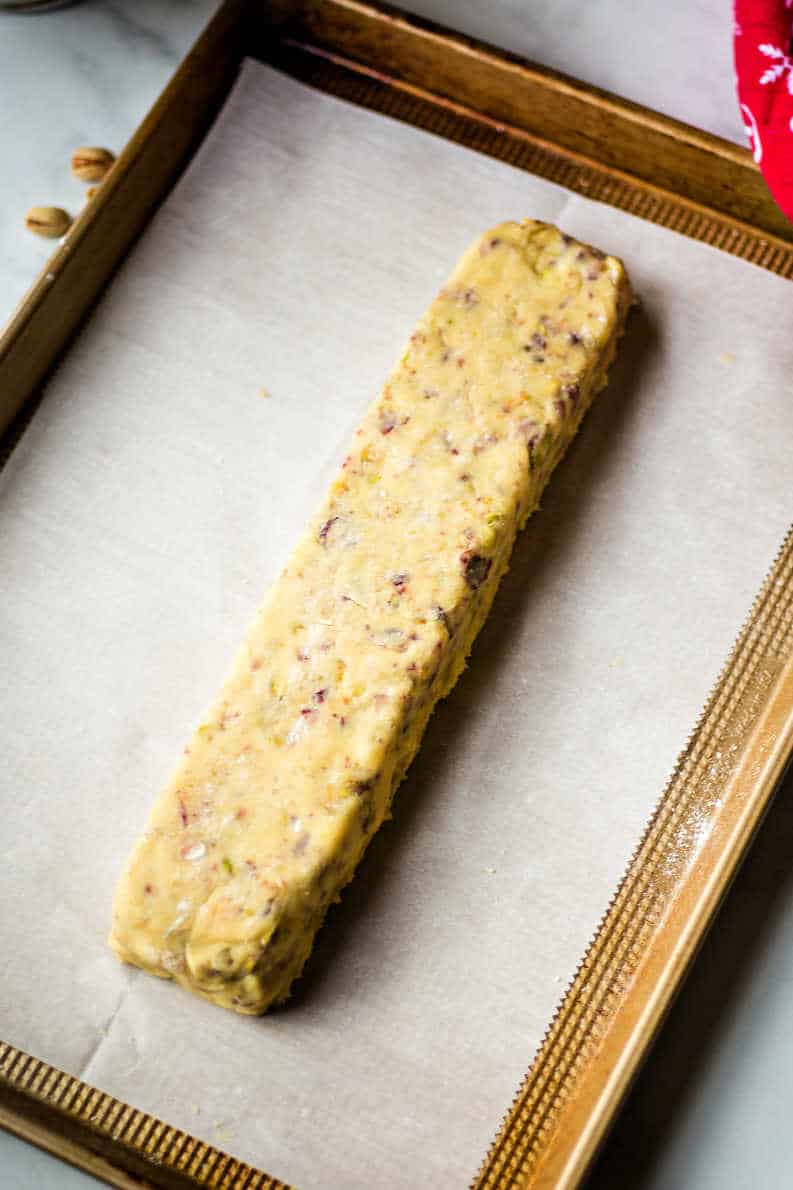 Why are biscotti so hard?
If your biscotti cookies are hard, that's good! Biscotti are intentionally baked until they dry out and become crunchy. This extends their shelf-life and makes them perfect for dipping in a hot drink.
Are you supposed to dip biscotti in coffee?
Dunking biscotti in coffee (or a cup of espresso in Italy) is a delicious way to enjoy these cookies. I've also been known to dunk my biscotti in a steaming cup of hot cocoa…YUM!
Why does my biscotti crumble when I slice it?
After the biscotti log bakes, you want to let it cool on the pan for 30 minutes before you slice it into pieces for the second baking. If you leave it to cool much longer than that, it will become too hard and will be more difficult to slice. Use a long serrated bread knife for this task.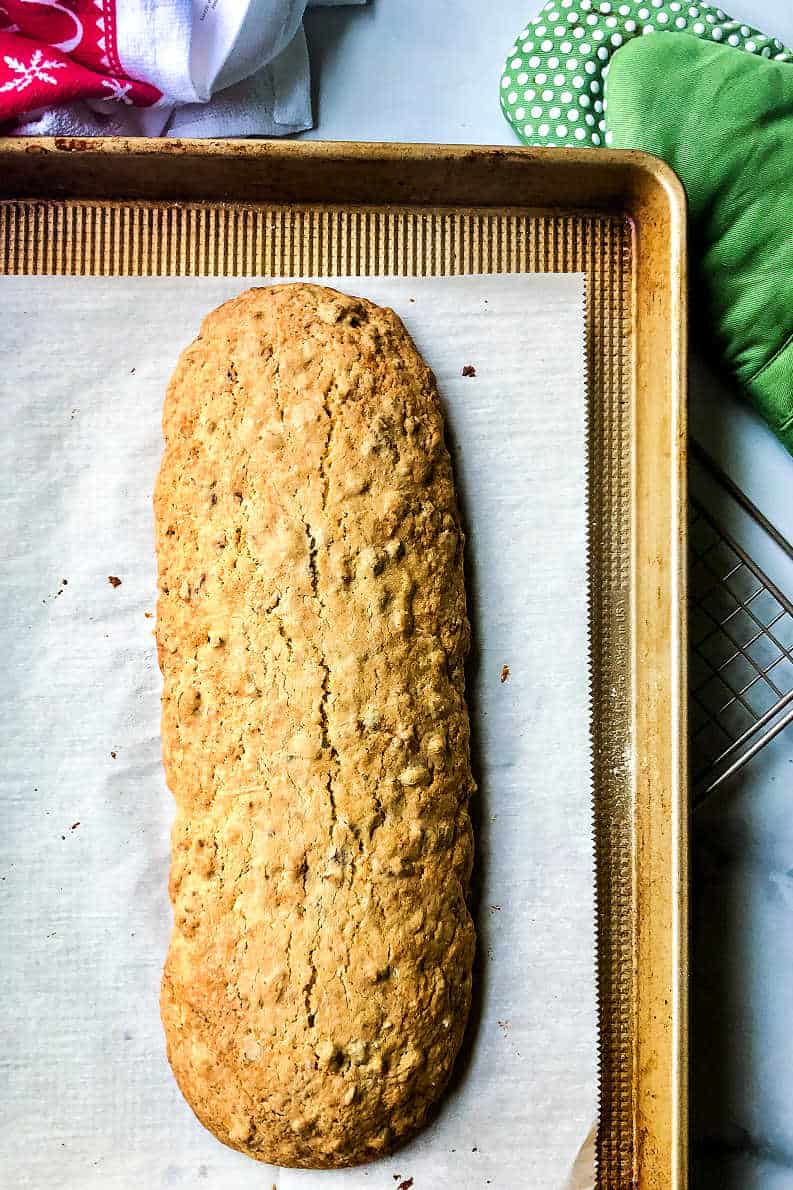 Why is my biscotti soft?
Biscotti that is too soft could be due to not baking the cookies long enough during the second bake. Thicker slices may take a few minutes longer to dry out in the oven.
Instead of placing the biscotti cut side down on the pan, try standing them up on the flat bottom side. This way the cookies will bake evenly on both sides.
Can you freeze baked biscotti?
You can certainly freeze baked biscotti in a resealable freezer bag for up to a month. However, you shouldn't freeze biscotti that has been dipped in chocolate or decorated.
How long does biscotti stay fresh?
Stored in an airtight container, biscotti will stay crisp and last for about 2 weeks.
Can you use fresh cranberries in biscotti?
My Cranberry Pistachio Biscotti recipe actually calls for dried cranberries (I like to use Craisins), but you could certainly substitute fresh cranberries. They will not be as sweet and they should be coarsely chopped before adding them to the dough.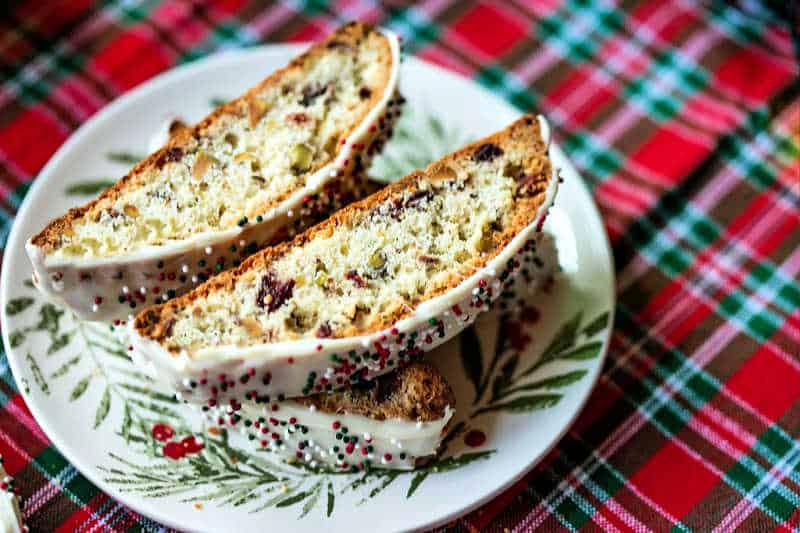 More biscotti recipes!
To make this recipe, you may need…
I love my OXO half sheet pan. It's a good, heavy-duty baking sheet that comes with a wire rack that can be used for cooling or even for baking items that need more air flow underneath, like oven-baked bacon or chicken fingers.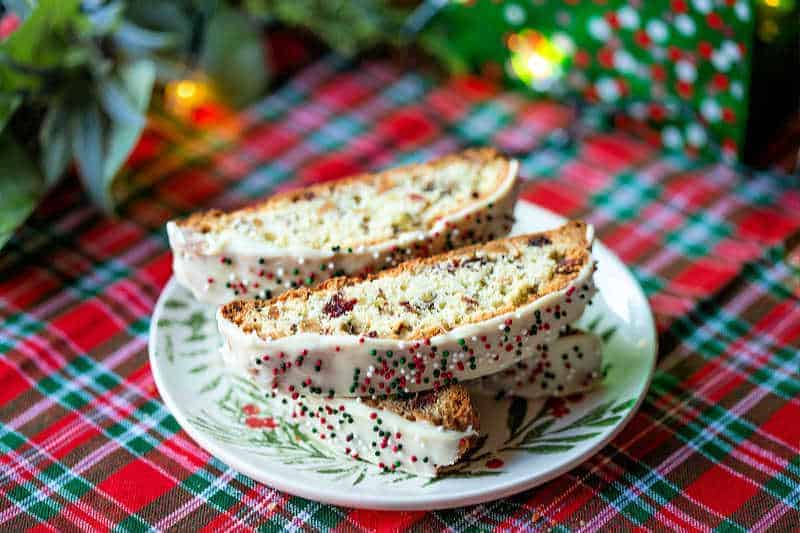 Cranberry Pistachio Biscotti Recipe
Always follow the recipe instructions for baking, cooling time, slicing, and the second bake cycle to ensure you get dry, crunchy biscotti—the perfect kind for coffee dipping!
Please share!
Your shares are how this site grows and I appreciate each one. Do you know someone who would enjoy this recipe? I'd love it if you would share it on Facebook or on your favorite Pinterest board!
This recipe was originally posted on October 15, 2014, and was updated on November 14, 2019.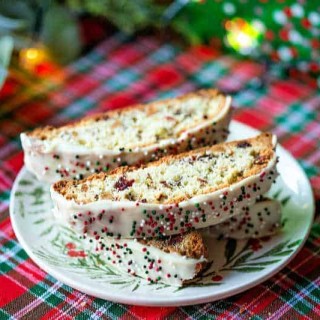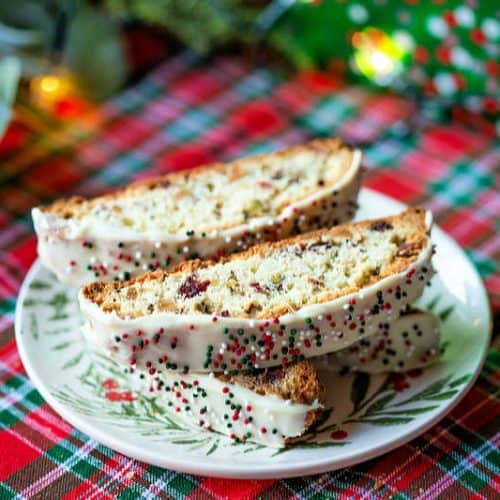 Cranberry-Pistachio Biscotti
Perfect for the holidays, this festive Cranberry Pistachio Biscotti dipped in creamy white chocolate has a delicate vanilla cookie flavor. The recipe also includes three more delicious flavor swaps!
Ingredients
2

cups

all-purpose flour

1 1/2

teaspoons

baking powder

3/4

cup

sugar

8

tablespoons

unsalted butter

room temperature

1

teaspoon

grated lemon zest

1/4

teaspoon

salt

2

large

eggs

3/4

cup

pistachios

coarsely chopped

2/3

cup

dried cranberries

1

12 oz. pkg.

white chocolate chips

Colored sprinkles or jimmies

if desired
Instructions
Preheat the oven to 350 degrees. Line a large baking sheet with parchment paper.

Whisk together the flour and baking powder in a medium bowl.

Add sugar, butter, lemon zest, and salt to the bowl of a stand mixer. Mix on medium speed until light and fluffy.

Add the eggs one at a time, scraping down the sides between additions. Next, add the flour and mix on low speed just until incorporated.

Use a wooden spoon to stir in the pistachios and cranberries. Empty the dough onto the parchment paper lined baking sheet.

Form the dough into a 15-inch long, 3-inch wide log.

Bake for 40 minutes, or until golden. Cool on the pan for 30 minutes.

Carefully place the biscotti log onto a cutting board. Using a serrated bread knife, cut into 1/2 to 3/4-inch slices.

Place the slices back on the baking sheet and return to the oven for 15 minutes.

Carefully transfer  the biscotti to a wire rack and cool completely before dipping in chocolate.

Melt chocolate chips per the package directions, stirring until smooth.

Dip one half of cookie into the melted chocolate and gently shake off the excess. Place the biscotti on wax paper and sprinkle with jimmies, if desired. Refrigerate the cookies until the chocolate is firm before storing.
Notes
Original recipe by Giada; flavor swaps by Life, Love, and Good Food.
For Chocolate Chip Pistachio Biscotti: Substitute 2/3 cup semi-sweet chocolate chips (or white chocolate chips) for the dried cranberries AND substitute orange zest for the lemon zest. If using dark chocolate chips, dip the baked biscotti in melted dark chocolate as well.
For Orange Pistachio Biscotti: Substitute 2/3 cup candied orange peel for the dried cranberries AND substitute orange zest for the lemon zest. Dip in melted dark chocolate chips instead of white chocolate.
For Cherry Almond Biscotti: Substitute 2/3 cup dried cherries for the dried cranberries, sliced almonds for the pistachios, AND orange zest for the lemon zest. Dip in melted white chocolate.
Nutrition
Serving:
1
g
Calories:
324
kcal
Carbohydrates:
42
g
Protein:
5
g
Fat:
16
g
Saturated Fat:
8
g
Polyunsaturated Fat:
7
g
Cholesterol:
43
mg
Sodium:
133
mg
Fiber:
1
g
Sugar:
28
g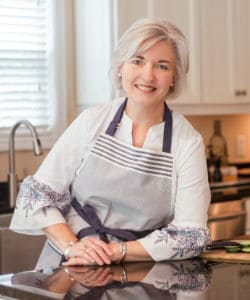 About Sheila Thigpen
Recipe Developer, Food Photographer, Food Writer
Sheila Thigpen is the publisher of Life, Love, and Good Food — a Southern food blog — and the author of Easy Chicken Cookbook and The 5-Ingredient Fresh and Easy Cookbook. After 20+ years in the publishing industry, she retired in 2018 to focus on her own creative endeavors full time. She and her husband live near the beautiful Smoky Mountains and have a precious little granddaughter who has stolen their hearts. As an influencer, Sheila has collaborated with brands like Creamette, Kroger, HERSHEY'S, Hamilton Beach, Garafalo Pasta, OXO, Smithfield, Valley Fig Growers, and more.