Lemon Raspberry Thumbprint Cookies are delicious buttery shortbread-like gems filled with tart raspberry jam and drizzled with a sweet powdered sugar almond-flavored glaze.
A delicate, bite-size treat, these raspberry jam thumbprint cookies are so pretty, so yummy, and so addictive!
This Raspberry Thumbprint Cookie recipe makes plenty to share with your special Valentines, for holiday cookie swaps, or to just enjoy any time of year!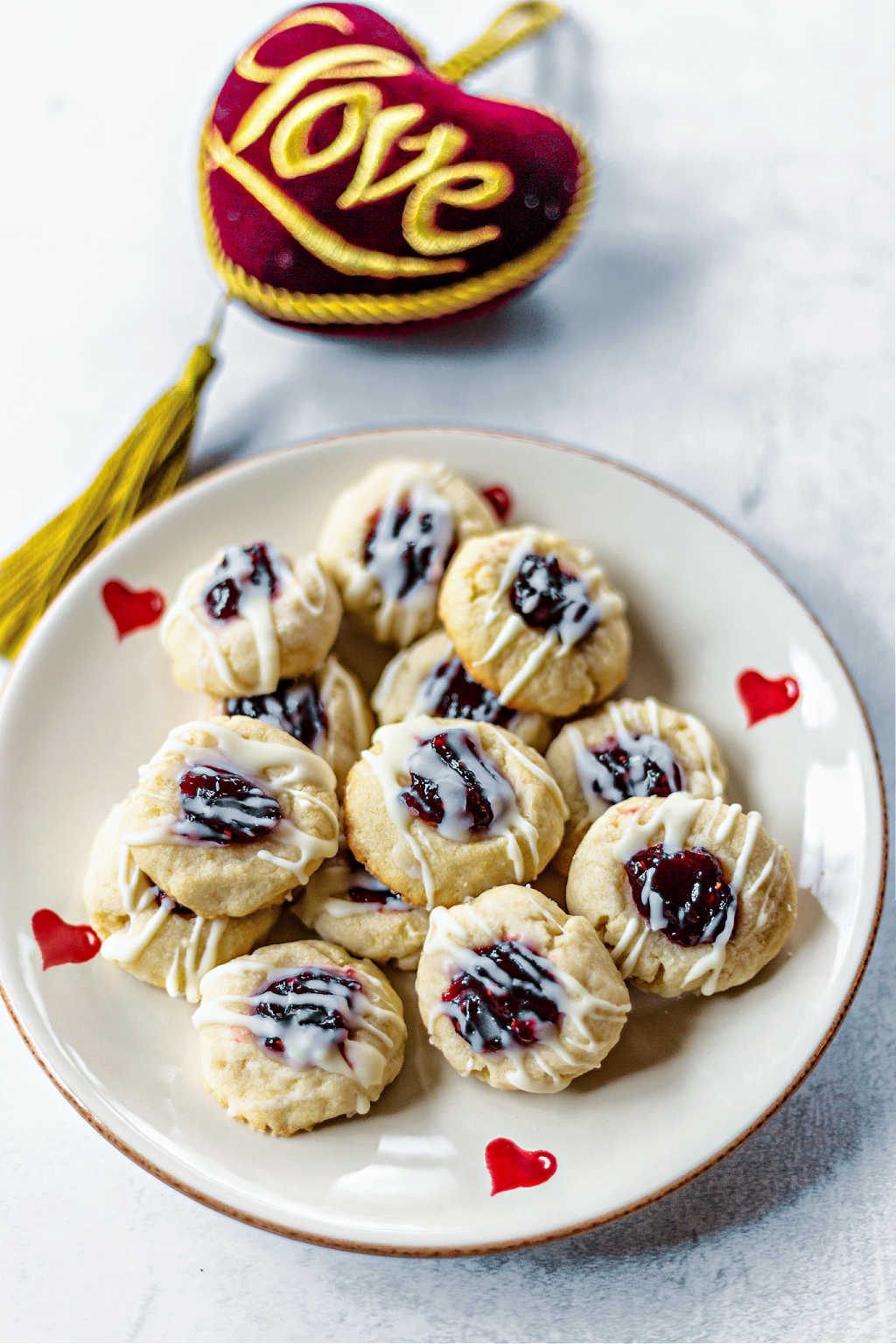 Raspberry Thumbprint Cookies
Jam thumbprint cookies have always been one of my all-time favorites. So much so, you'll also find Caramel Pecan Thumbprint Cookies, Peanut Butter Toffee Turtle Thumbprints, and Gingerbread Gems (Gingerbread KISS Cookies) on my blog as well!
Shortbread versus butter cookies
I'm having an internal battle over here trying to decide if the texture of Lemon Raspberry Thumbprint Cookies are better described as shortbread or as butter cookies. So, I did a little research to see what made more sense.
I learned that shortbread is a traditional Scottish biscuit (cookie for us Americans) that is made with one part sugar, two parts butter, and three parts flour.
Butter cookies, on the other hand, are made with one part sugar, one part butter, and three parts flour.
With all that butter in the shortbread recipe, it seems to me they should be called butter cookies. Don't you agree? Anyway, based on this scenario, today's raspberry thumbprint cookies are more akin to butter cookies.
Ingredients
Unsalted butter — Don't be tempted to use margarine as you will not get the same taste or baking results.
Sugar
Grated lemon rind — added to the cookie dough for a burst of fresh lemon flavor
Vanilla extract
Kosher salt
Egg — to add moisture to the dough and bind it all together
All-purpose flour — do not use self-rising flour as you do not want these cookies to rise or spread too much
Raspberry jam — homemade or jarred. I also like to use the low-sugar spreadable fruit in place of the jam.
Powdered sugar — for the glaze
Almond extract — to flavor the glaze. You can also substitute vanilla extract or lemon extract.
Milk — just enough to thin out the glaze to the desired consistency.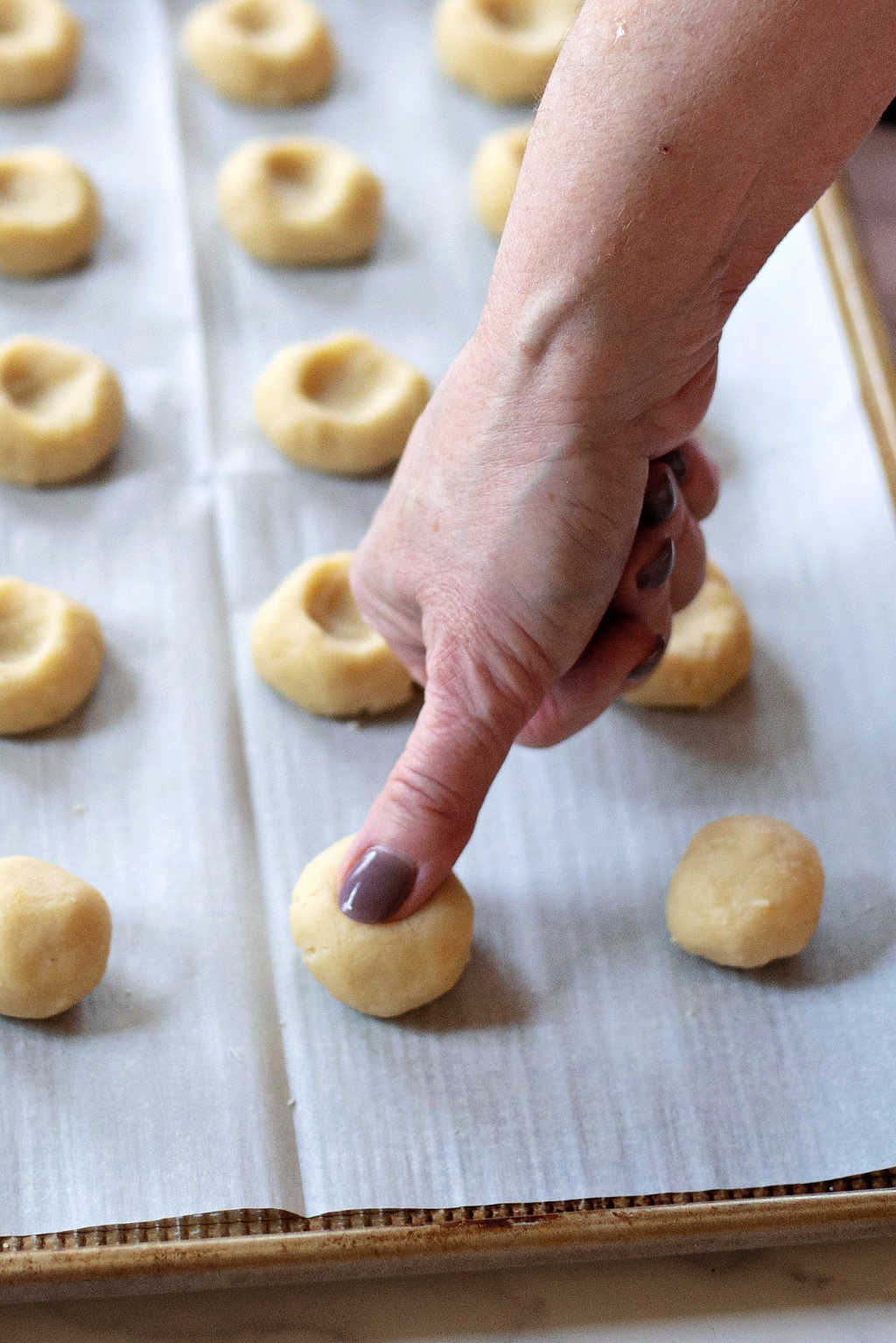 Tip for shaping thumbprint cookies
Chill the dough. You can use the dough right after you mix it up, but for the best results I recommend first chilling the dough in the refrigerator for 30 minutes. This will give the cookies a smoother edge.
Use a round cookie scoop. Measure out the cookie dough with a small round cookie or ice cream scoop to ensure the cookies are uniform size.
Make an impression right away. As you roll each cookie dough ball, place it on the baking sheet and immediately make the thumbprint — before rolling out the next cookie.
All thumbs? Depending on the size of your cookie dough balls, use either your forefinger (for smaller cookies) or your thumb (for larger cookies) to gently press an indention into the cookie balls.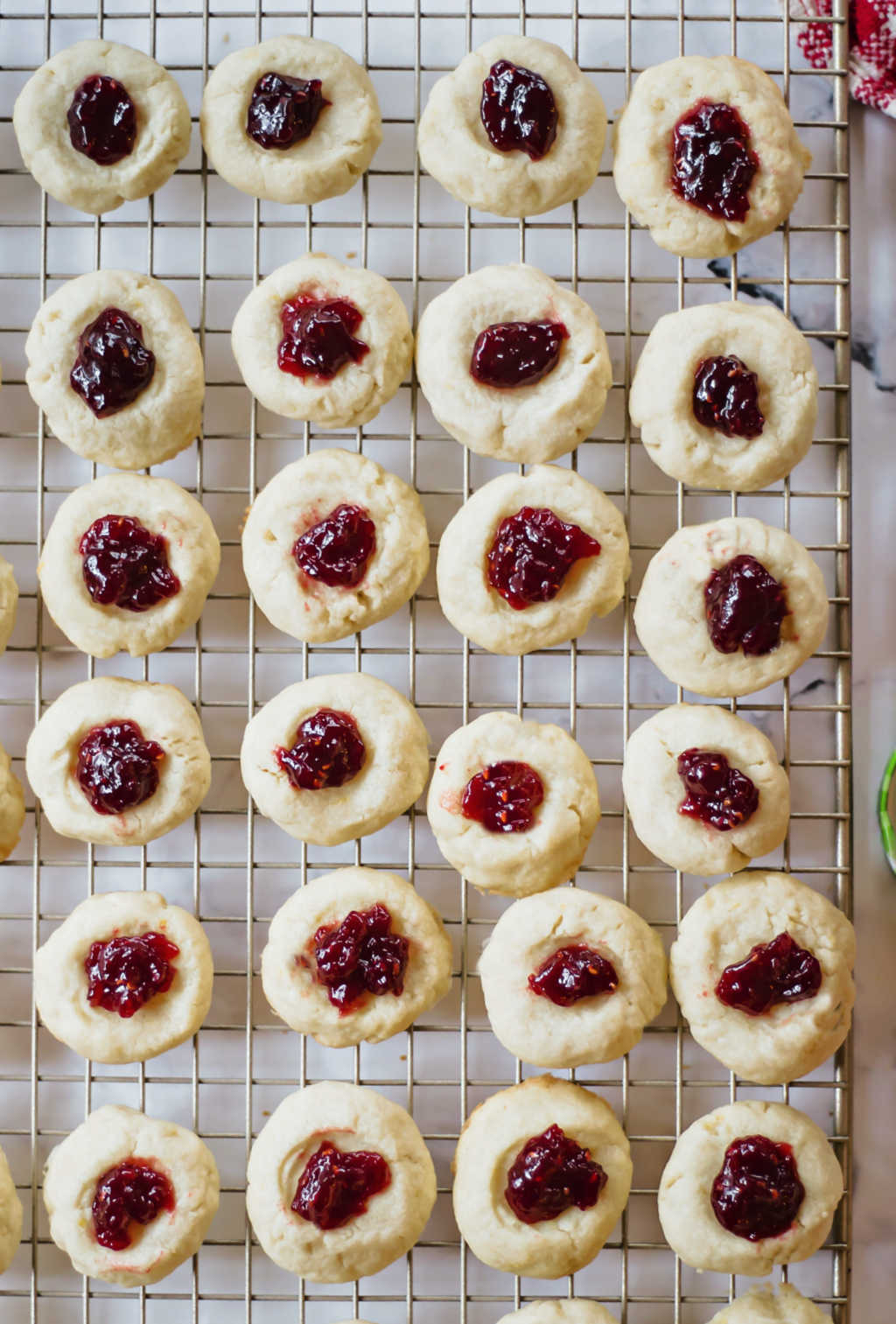 FAQs
Should you fill the thumbprints with jam before or after baking?
Actually, you can make them either way. If you choose to fill the thumbprints with jam before baking, keep in mind the jam will melt during baking, so be careful not to overfill the middles. It's perfectly fine to just fill the cookies after baking, too.
Can you freeze thumbprint cookies?
You can freeze thumbprint cookies. To freeze baked cookies, wait until you are ready to serve them before filling with the jam and drizzling with the glaze. To freeze unbaked cookies, shape the cookie dough and place in a resealable freezer bag for up to a month.
How do you store thumbprint cookies?
Thumbprint cookies will stay fresh for up to a week when stored in an airtight container at room temperature.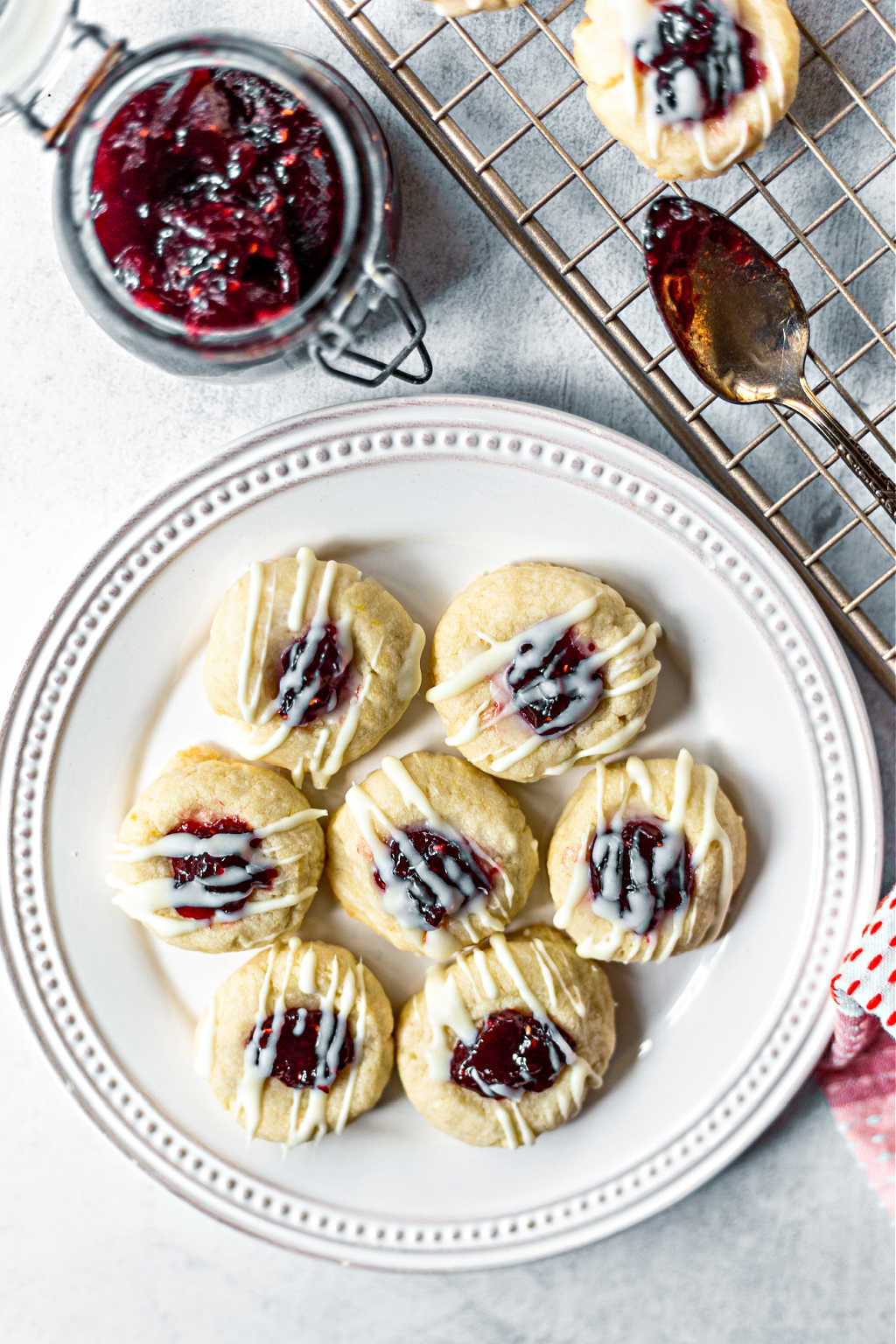 More dessert recipes for Valentine's Day!
Let's bake cookies!
Thumbprint cookies have their name because you make an indention into the dough before baking, usually with your thumb, and then fill each cookie with jam once they come out of the oven.
Depending on the size you roll your cookie dough balls, you may want to make the thumbprint with the tip of your finger if the cookies are smaller.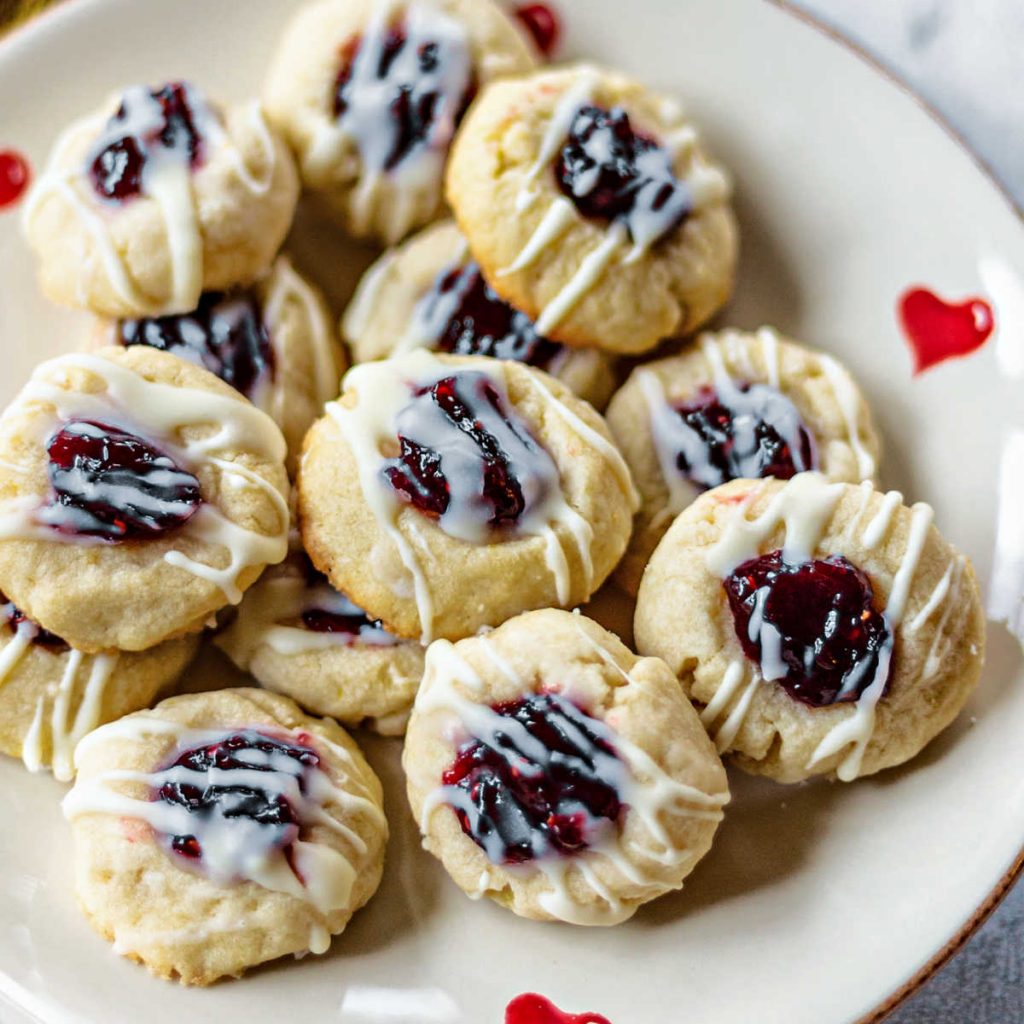 Please share!
Your shares are how this site grows and I appreciate each one. Do you know someone who would enjoy this recipe? I'd love it if you would share it on Facebook or on your favorite Pinterest board!
This recipe was originally posted on February 10, 2016, and was updated on February 8, 2021.
Yield: 3 dozen
Lemon Raspberry Thumbprint Cookies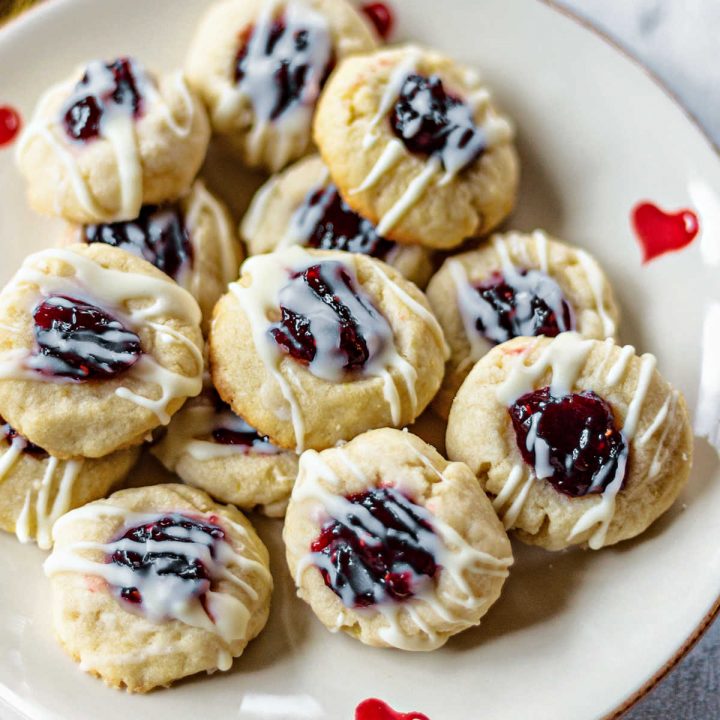 A delicious buttery lemon cookie with a sweet raspberry jam thumbprint, drizzled with an almond glaze
Ingredients
Cookies
1 cup unsalted butter
1 cup sugar
1 tablespoon grated lemon rind
1 teaspoon vanilla extract
1/2 teaspoon salt
1 large egg
2 3/4 cups all-purpose flour
1/2 cup raspberry jam
Almond Glaze
1 cup powdered sugar
1 teaspoon almond extract
1-2 tablespoons milk
Instructions
Cookies
Preheat the oven to 350 degrees. Line baking sheets with parchment paper and set aside.
In the bowl of a stand mixer fitted with a paddle attachment, beat the butter, sugar, lemon rind, vanilla, and salt together until very light. Add in the egg and mix well.
Stir in the flour until well blended and the dough begins to hold together.
Using a cookie scoop, measure out the cookies, roll the cookie dough into a smooth ball, and place onto the baking sheets 2 inches apart. Use your fingertip (for smaller cookies) or thumb (for larger cookies) to put an indentation into the center of each.
Bake for 12 to 14 minutes. Remove from the oven and let cool for 5 minutes before moving from baking sheet to a wire rack to finish cooling.
Fill each cookie indentation with raspberry jam, using about 1/4 teaspoon for smaller cookies or 1/2 teaspoon for larger cookies.
Almond Glaze
In a small bowl, stir together the powdered sugar, almond extract, and milk until smooth and the desired consistency. Drizzle over the jam-filled cooled cookies. Allow the glaze to set before storing the cookies in an air-tight container.
Notes
Original cookie recipe by King Arthur Flour
To make shaping the cookies easier, place the dough in the refrigerator for 30 minutes before rolling out the cookie balls in your hands.
Thumbprint cookies will stay fresh for up to a week when stored in an airtight container at room temperature.
You can freeze thumbprint cookies either after they are baked or after you shape the cookie dough for up to a month in a resealable freezer bag. If you do freeze the baked cookies, wait until you are ready to serve them to fill with jam and to drizzle with the glaze.
Recommended Products
As an Amazon Associate and member of other affiliate programs, I earn from qualifying purchases.
Nutrition Information:
Yield:
36
Serving Size:
1 Servings
Amount Per Serving:
Calories:

132
Total Fat:

6g
Saturated Fat:

3g
Trans Fat:

0g
Unsaturated Fat:

2g
Cholesterol:

20mg
Sodium:

35mg
Carbohydrates:

19g
Fiber:

0g
Sugar:

11g
Protein:

1g
Did you make this recipe?
Please leave a comment on the blog or share a photo on Instagram
ABOUT SHEILA
Sheila Thigpen, author of Easy Chicken Cookbook and The 5-Ingredient Fresh and Easy Cookbook, is a recipe developer, food photographer, and food writer. She spent 20+ years as a business manager in the publishing industry before she retired in 2018 to focus on her passions — cooking, photography, and writing. Living near the beautiful Smoky Mountains, Sheila and her husband have two adult daughters and two fine sons-in-law, are active in their church, love to travel, and have a precious little granddaughter who has stolen their hearts. Follow Sheila on YouTube, Pinterest, Instagram, Facebook, and Twitter!