This post may contain affiliate links. Please read my disclosure policy.
Honey Cornbread with Fresh Sage bakes in a hot cast iron skillet until it has a beautiful golden crust speckled with whole sage leaves. Honey, more fresh sage, and a bit of minced green onion in the batter give this delicious skillet cornbread hints of both savory and sweet flavors that make this quick dinner bread extra special.
Serve Honey Cornbread with Fresh Sage warm from the oven sliced into wedges with pats of butter and a drizzle of honey. Have mercy—this Southern cornbread is just so darn good!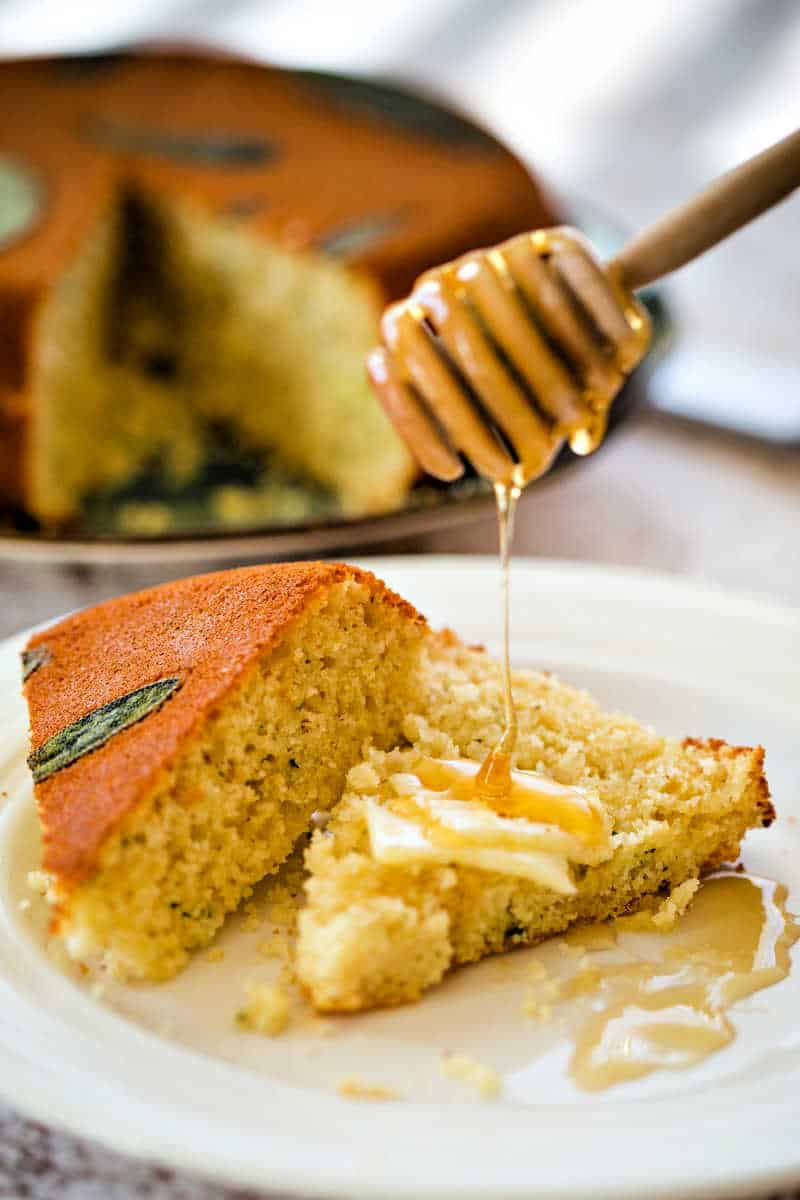 Honey Cornbread with Fresh Sage
Back on the farm, my grandmother baked a skillet of Southern buttermilk cornbread to serve with our supper at least twice a week. It was always one of my very favorite things on the dinner table.
Depending on what was on the menu that night, I'd split open a wedge and ladle on slow-cooked pinto soup beans or drizzle my cornbread with the pot roast juices. That was good eatin'!
My Dad would crumble up a piece of cornbread into a tall glass of buttermilk and eat it with a spoon. Now, that I could not do! No drinking buttermilk for me, but I do love baking with it!
These days, making cornbread for dinner is a real treat. We like to limit breads to cut a few carbs during the week, but I had some fresh honey from my husband's bee-keeping cousin. So, I decided it was a good time to splurge and bring out the cast iron for some cornbread.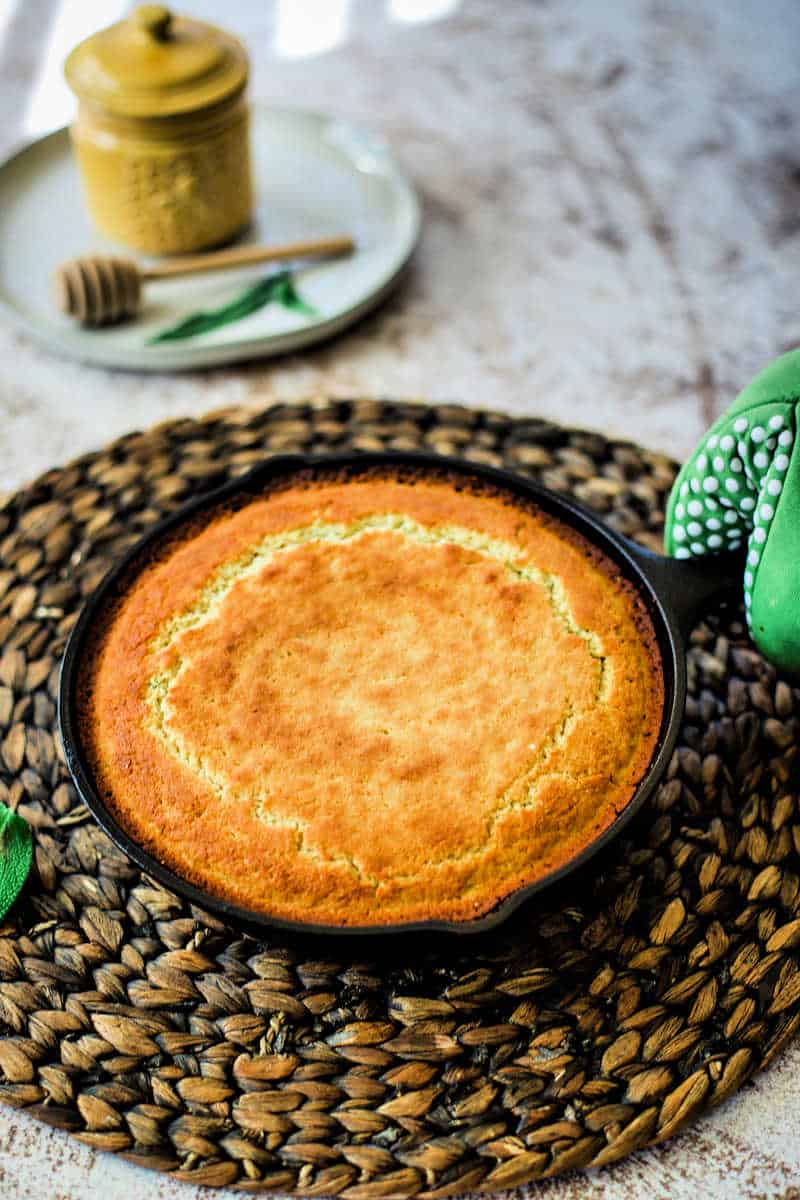 Why baking cornbread in cast iron is the only way to go!
Unless I'm baking Mexican Cornbread Muffins in a muffin tin, I always choose my cast iron skillet when making cornbread. That's because the hot cast iron creates a crispy, golden crust while the cornbread stays moist on the inside.
It's important to heat a cast iron skillet until it is really hot before pouring in the batter to get the desired crust.
How do you season a cast iron skillet?
Before you use a cast iron skillet for the first time, it needs to be seasoned. Over time, the seasoning bakes right into the pores of the skillet to achieve a smooth cooking surface.
To season the skillet, wash it with warm soapy water and dry thoroughly. Rub vegetable shorting or canola oil all over the inside and place it in a 375-degree oven for an hour.
After seasoning the cast iron the first time, clean the skillet with warm water then rub a thin layer of oil inside after every use before storing it away.
Do you grease the cast iron skillet for cornbread?
Even though your cast iron skillet is seasoned and stored with a thin coat of oil, always grease it first before pouring in cornbread batter. The grease (or butter) not only aides in the release after baking, but bakes into the crust for more flavor and crispness.
Should you let it cool before removing from the pan?
If your skillet is well-seasoned, the cornbread will slide out quite easily. Usually, though, I like to let it rest for about 5 minutes before inverting onto a plate to avoid any cracks.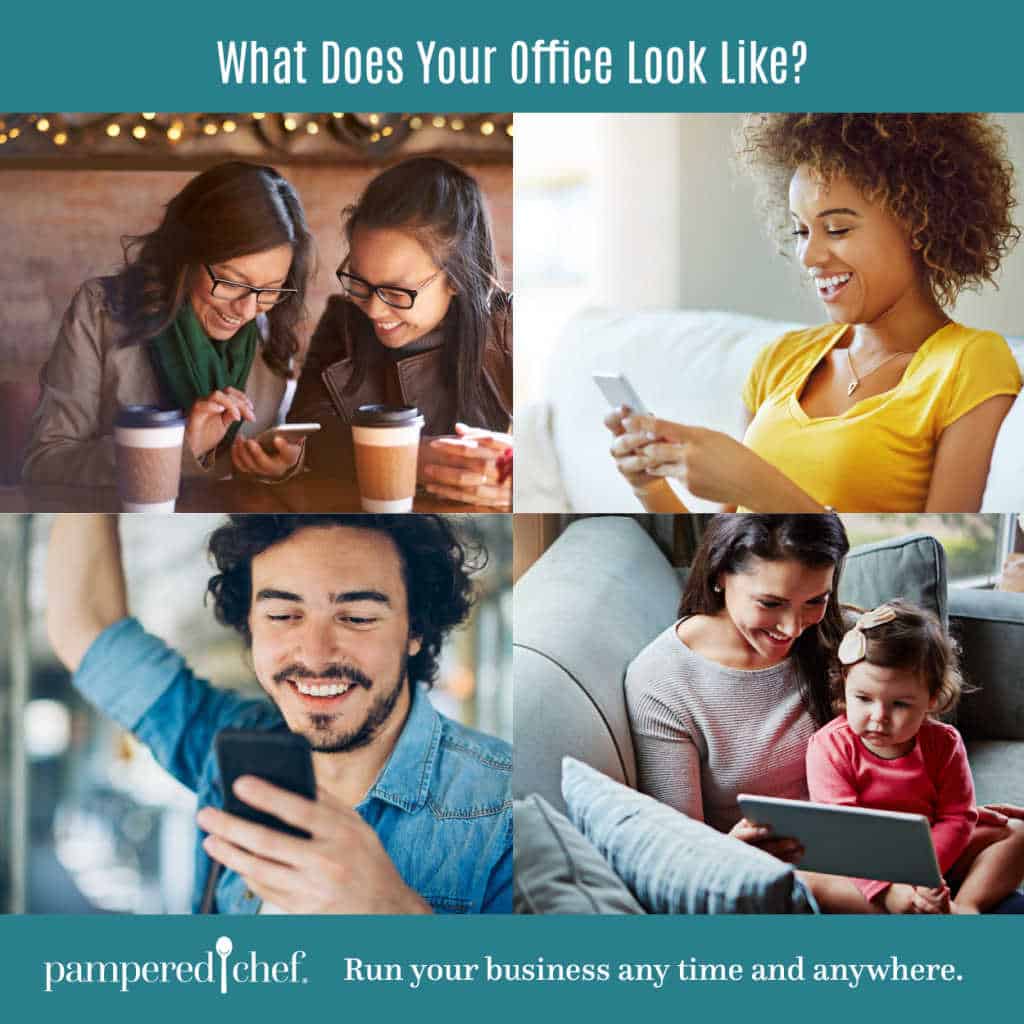 How do you know when it is ready?
Cornbread is ready when the edges start to brown and a toothpick inserted in the center comes out clean. If you are making cornbread with buttermilk, however, moist crumbs may stick to the toothpick so make sure it is lightly golden on top and brown around the edges.
Is the batter supposed to be thick?
Cornbread batter is actually supposed to be runny. If your batter is thick, add more milk.
Do you have to use baking powder?
A lot of recipes for cornbread are made with self-rising cornmeal, in which case you do not need to add baking powder. If your recipe uses a mix of cornmeal and flour, use self-rising flour and you won't need to add baking powder and salt.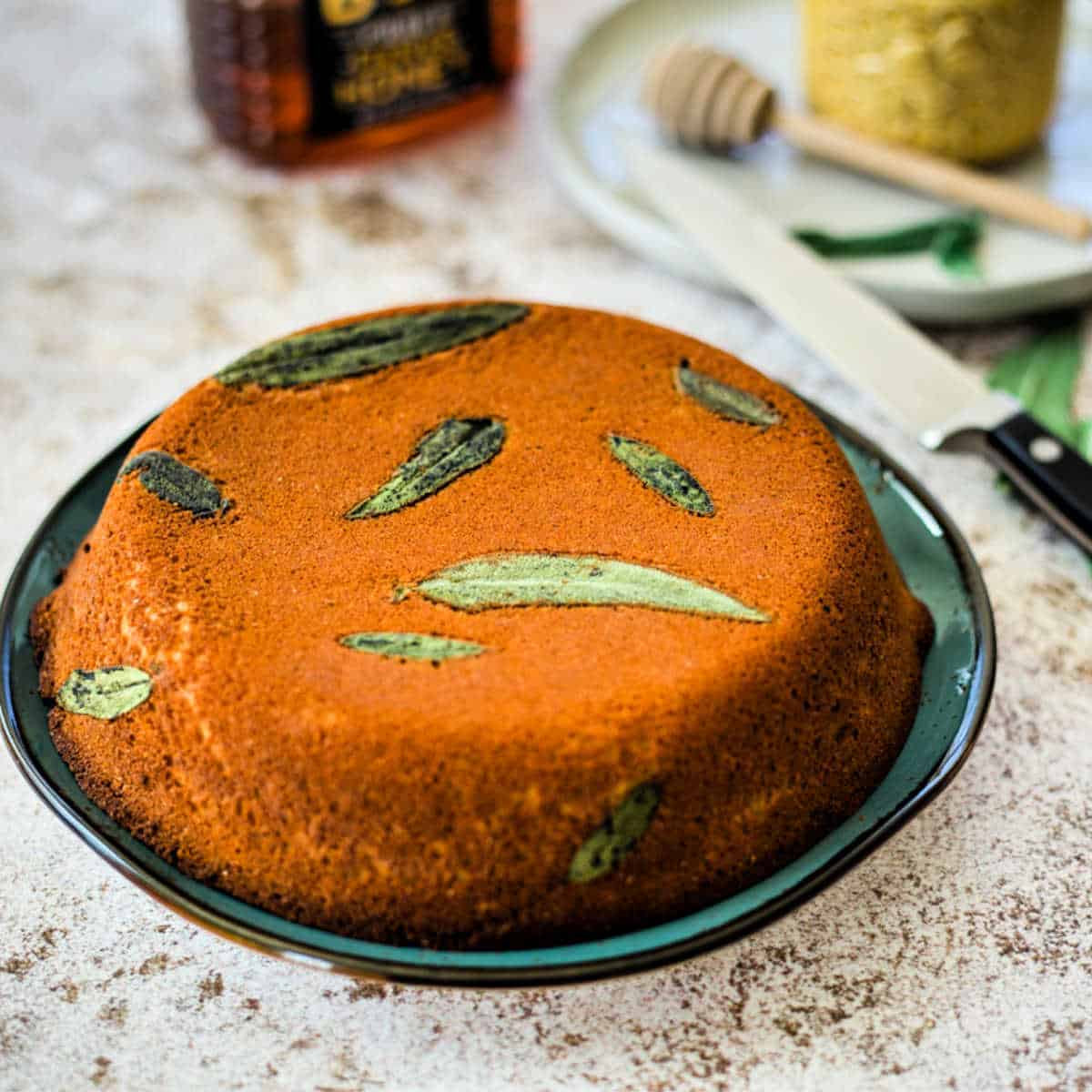 To make this recipe, you may need…
If you don't own a cast iron skillet, then I recommend getting a set of Lodge Cast Iron Skillets. I have multiple sizes myself and not only do I love them for cornbread, it is perfect for foods that you want to fry up crisp or for adding a good sear to steaks.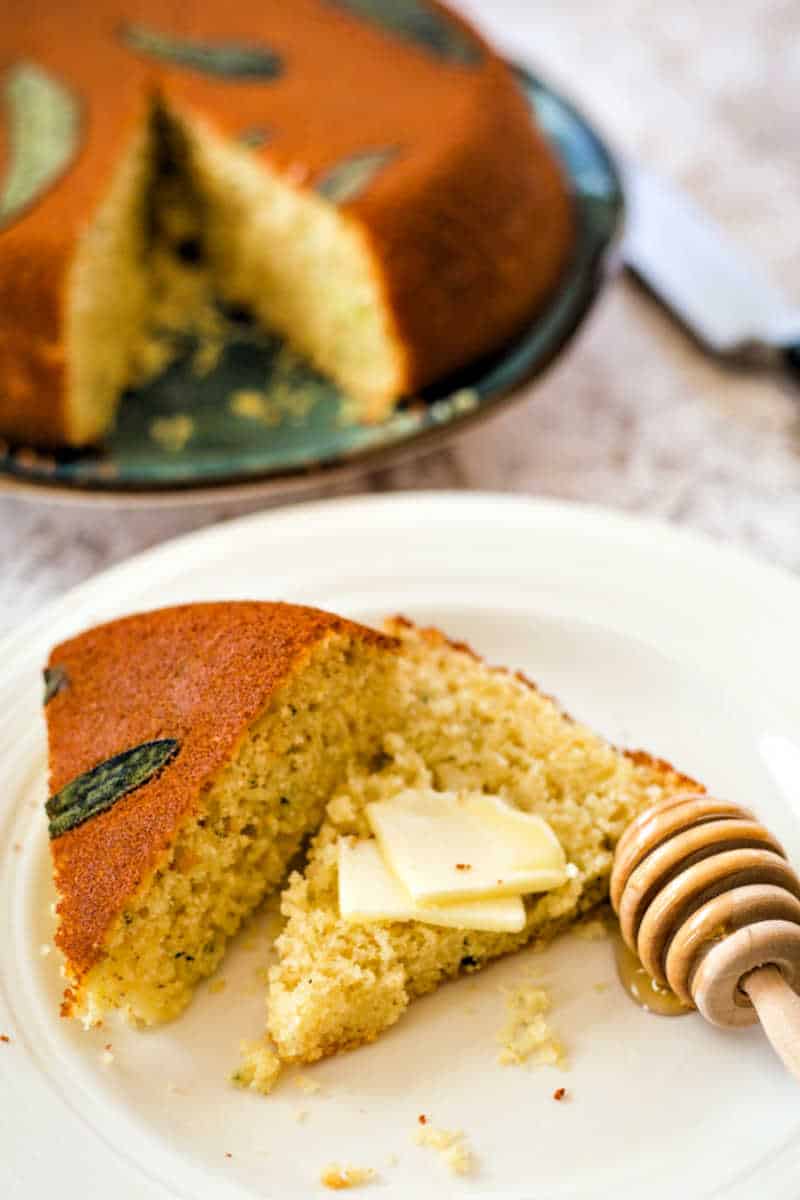 More cornbread inspired recipes!
One last baking tip
When making Honey Cornbread with Fresh Sage you may need to reposition the sage leaves after inverting the baked cornbread onto a platter.
Just use your fingers to gently slide them into place and you'll have a beautiful "pone of cornbread", as my grandmother used to say.
Please share!
Your shares are how this site grows, and I appreciate each one. Do you know someone who would enjoy this recipe? I'd love it if you would share it on Facebook or Pinterest!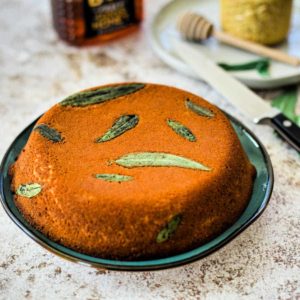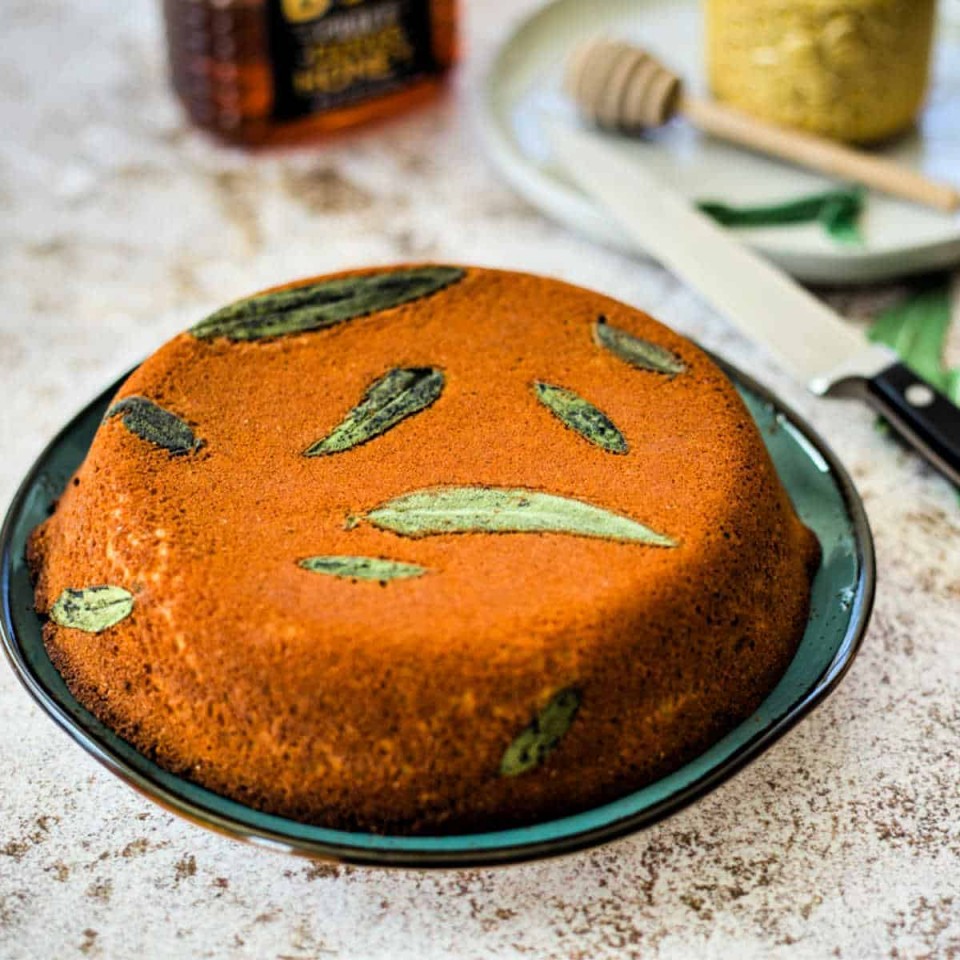 Honey Cornbread with Fresh Sage
Honey Cornbread with Fresh Sage bakes in a hot cast iron skillet until it has a beautiful golden crust speckled with whole sage leaves. 
Ingredients
1-1/4

cup

self-rising cornmeal

1/2

cup

self-rising flour

1-1/2

tablespoons

chopped fresh sage plus 8 – 10 whole fresh sage leaves

1

tablespoon

minced green onion

optional

1

cup

milk

1/3

cup

honey

1

large

egg

lightly beaten

6

tablespoons

unsalted butter

melted
Instructions
Preheat the oven to 400 degrees. While you mix up the batter, place the cast iron skillet in the oven and allow it to heat for about 10 minutes.

In a

large bowl

,

whisk

together the cornmeal, flour, fresh chopped sage, and minced green onion (if using). Make a well and pour in the milk, honey, and beaten egg. Stir with a fork until well blended.

Remove the cast iron skillet from oven and pour in the melted butter (or add cold butter to the hot pan and swirl until melted). Swirl the skillet to coat all sides.

Pour all but about a tablespoon of the melted butter into the cornbread batter and stir just until incorporated. The batter will be runny.

Arrange sage leaves over bottom of the skillet and turn to coat both sides with butter.

Pour batter over sage leaves in skillet. Bake for 25 to 30 minutes, or until browned around edges and a toothpick inserted in center comes out clean.

Cool in skillet 5 minutes before inverting onto a platter. Cut into 8 wedges and serve each with a pat of butter and a drizzle of honey, if desired.
Notes
If using all-purpose flour, also add 1/2 teaspoon baking powder and 1/2 teaspoon salt to the batter.
After inverting baked cornbread onto a platter, reposition sage leaves, if needed.
Nutrition
Serving:
1
g
Calories:
375
kcal
Carbohydrates:
62
g
Protein:
8
g
Fat:
12
g
Saturated Fat:
6
g
Polyunsaturated Fat:
5
g
Cholesterol:
49
mg
Sodium:
881
mg
Fiber:
4
g
Sugar:
12
g
Life Love and Good Food does not claim to be a registered dietician or nutritionist. Nutritional information shared on this site is only an estimate. We recommend running the ingredients through an online nutritional calculator if you need to verify any information.