Today's Chocolate Soufflé Recipe with a dollop of fresh Kahlua whipped cream is the perfect Valentine's Day dessert for two. Light and luscious, these tasty chocolate souffle cakes made with Dutch process cocoa powder and egg whites come out of the oven with a slightly gooey center.
Dust them immediately with powdered sugar and serve with whipped cream and even a few fresh raspberries, if you like.
Baked in individual ramekins, this classic French dessert may sound fancy, but it's actually a very quick and simple recipe. Keep reading for my tips and instructions for making this delicious mini dessert.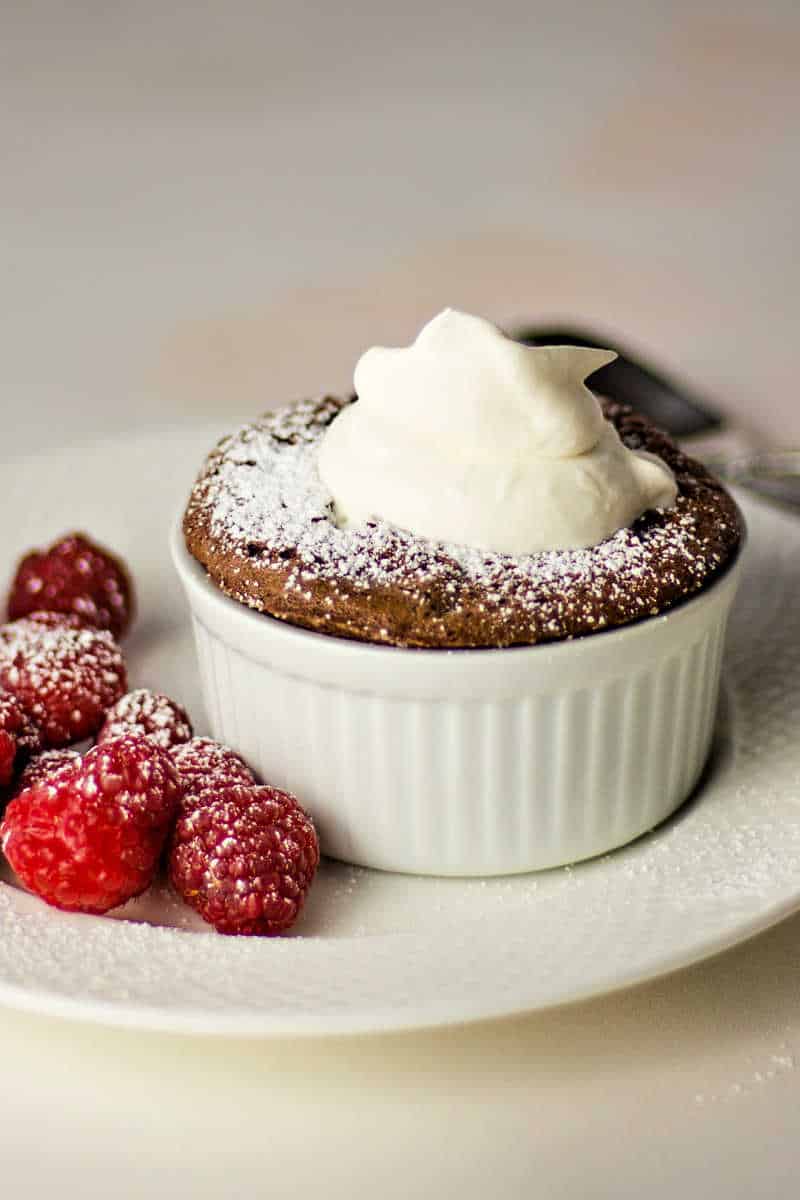 Chocolate Soufflé Recipe for Two
I first served individual Chocolate Soufflés with Kahlua whipped cream for our Valentine date night a couple of years ago. About this time last year, John asked if I would be making those chocolate desserts again. It seems my ChocolateSoufflé were indeed pretty tasty and memorable enough to become a new Valentine tradition!
Believe it or not, this decadent dessert can be easily prepared in just thirty minutes. This lighter chocolate soufflé recipe only uses egg whites, saving a few calories. If you want to save even more, skip the whipped cream and serve them only with a dusting of powdered sugar and garnish with fresh raspberries — even served this way is still a really special treat!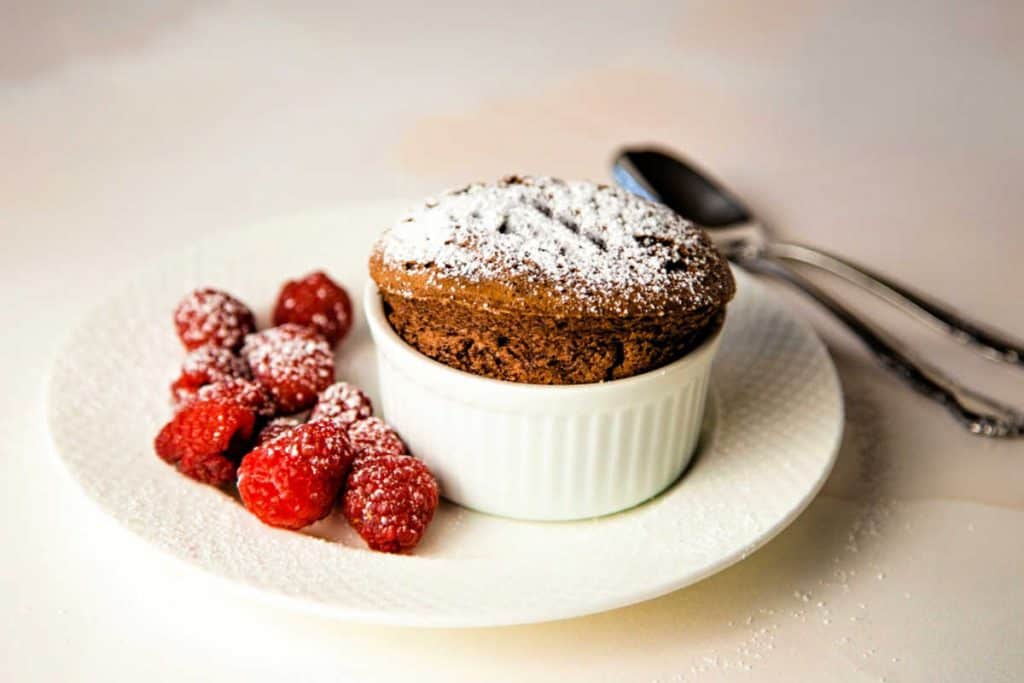 How to Make Chocolate Soufflés for Two
STEP 1 | Prepare the ramekins
If you bake cakes, you're familiar with greasing and flouring the pan so that the cake rises in the pan and releases easily. The same goes for a soufflé, only you use sugar instead of flour. Lightly coat 6-ounce ramekins with cooking spray, then sprinkle the insides with a teaspoon of sugar, turning to coat completely.
STEP 2 | Make the chocolate base
Use can use regular unsweetened cocoa powder in this recipe, but I like to use Dutch process cocoa powder because it results in a richer, dark chocolate flavor. The chocolate base consists of sugar, flour, cocoa powder, and milk — seriously, that's it! Add these ingredients to a saucepan. Cook until the sugar melts and the mixture is smooth.
STEP 3 | Beat egg white
Beat the egg white until soft peaks begin to form. Start to gradually add sugar and continue beating JUST until stiff peaks form. Do not over beat.
Add about half the beaten egg white into the chocolate mixture, gently and slowly folding them in with a rubber spatula. Then, add the rest of the egg white in the same manner.
STEP 4 | Bake until set.
Add the mixture to the ramekins and give them a gentle tap to level the batter. Place the ramekins on a baking sheet and bake in the preheated oven for 15 minutes. The soufflés should rise above the lip of the ramekins and be set on top.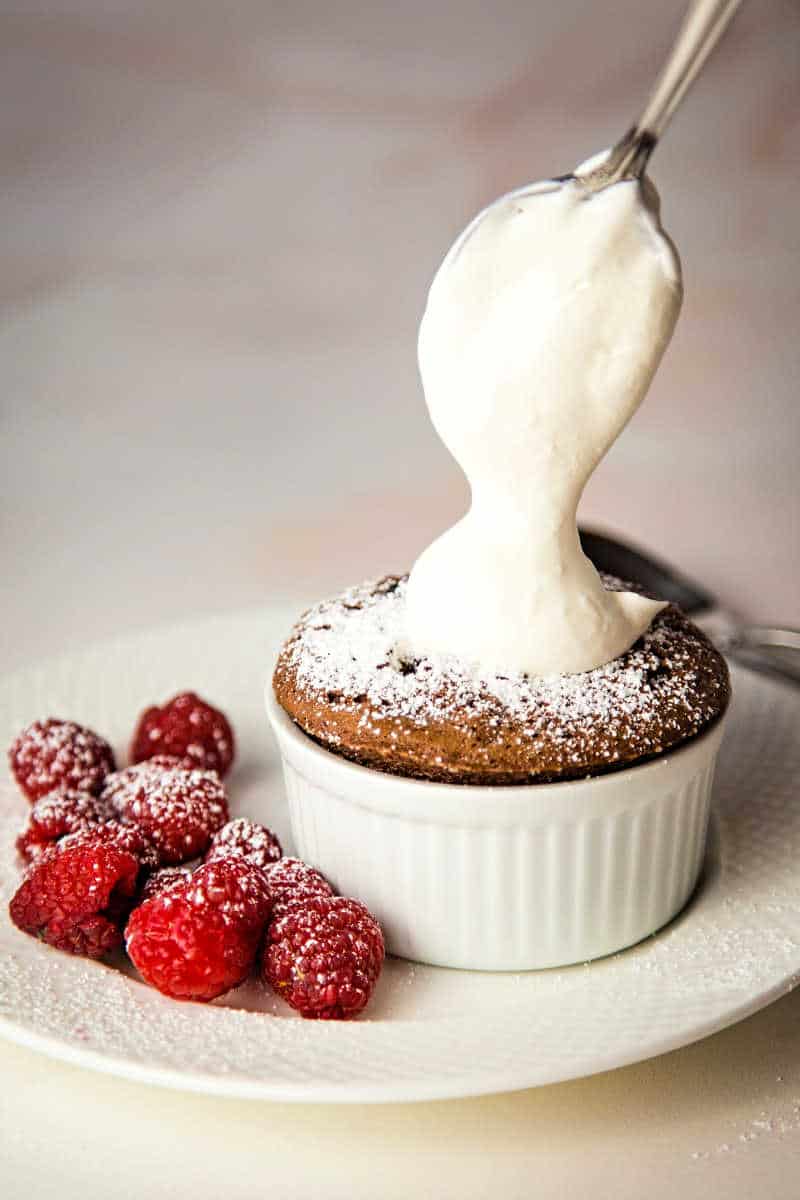 How to Make Kahlua Whipped Cream
The secret to making fresh whipped cream at home is starting with cold ingredients as well as a cold metal bowl and beaters.
Place the bowl and beaters for your electric mixer in the freezer for 5 to 10 minutes.
Add heavy whipping cream and powdered sugar to the bowl and begin mixing at high speed until stiff peaks begin to form.
Slowly add in a tablespoon of Kahlua and continue mixing a few more seconds until it is incorporated. Use immediately or refrigerate.
More Valentine's Day Desserts!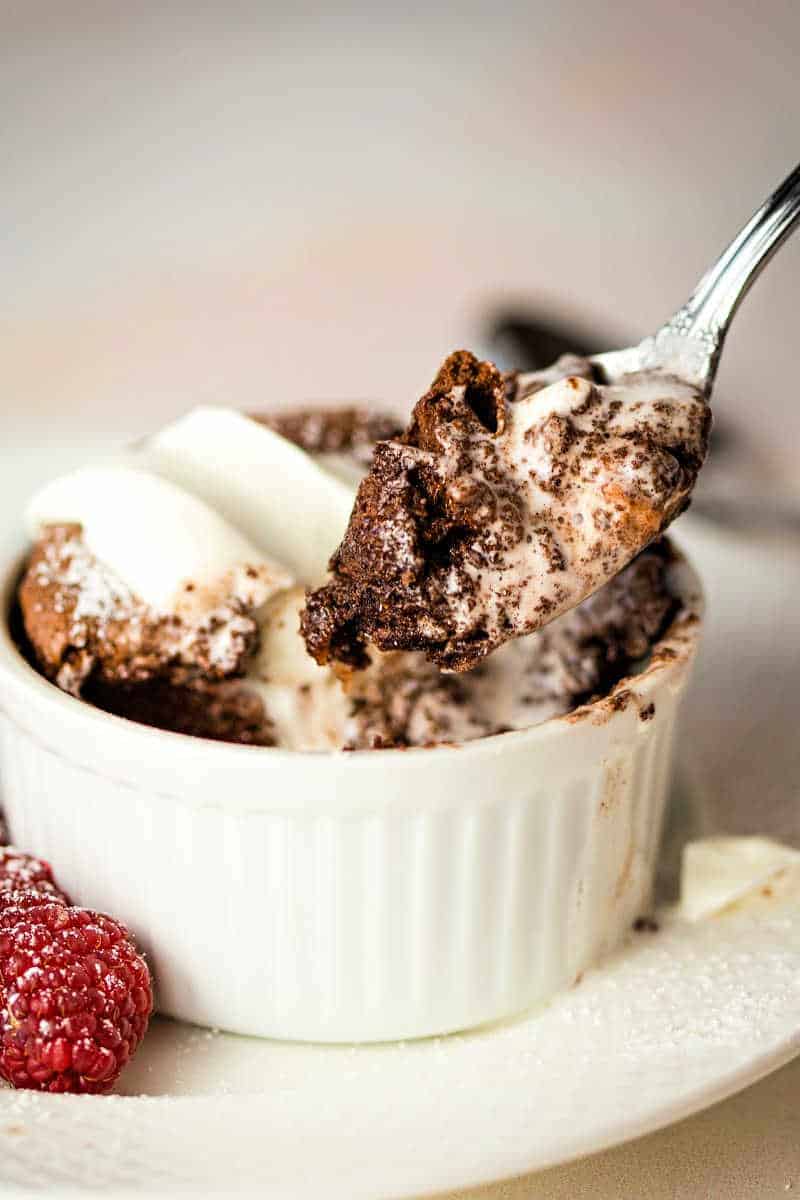 Chocolate Soufflés for Two with Kahlua Whipped Cream Recipe
I like this chocolate dessert because it is not overly sweet, but still feels indulgent! Keep in mind that this dessert is best served immediately, as the soufflés will start to slightly deflate once they are removed from the oven.
Please share!
Your shares are how this site grows and I appreciate each one. Do you know someone who would enjoy this recipe? I'd love it if you would share it on Facebook or on your favorite Pinterest board!
Last Updated: 03 Feb 2020
Yield: 2 servings
Chocolate Soufflés for Two with Kahlua Whipped Cream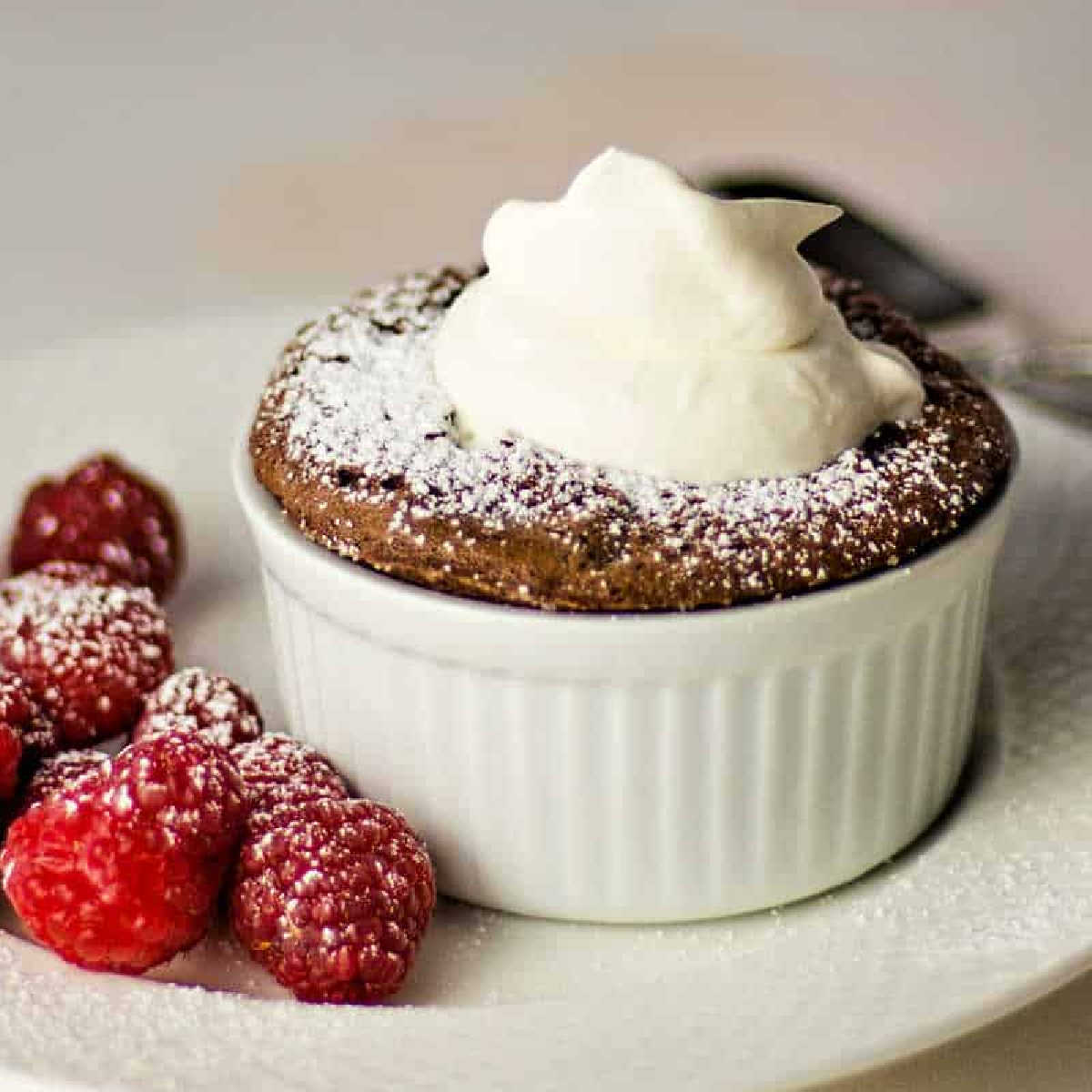 Light and luscious, these tasty chocolate soufflé cakes made with Dutch process cocoa powder and egg whites come out of the oven with a slightly gooey center that melts in your mouth.
Ingredients
Soufflés
Cooking spray
4-5 tablespoons sugar, divided
1 tablespoon all-purpose flour
1 1/2 tablespoons Dutch process cocoa powder (or unsweetened cocoa powder)
2 tablespoons milk
1/4 teaspoon vanilla
1 egg white
Kahlua Whipped Cream
1/2 cup heavy whipping cream
2 tablespoons powdered sugar
1 tablespoon Kahlua
Instructions
Preheat the oven to 350°.
Lightly coat two 6-ounce ramekins with cooking spray. Sprinkle each with 1 teaspoon sugar, turning to coat all sides.
Whisk together 2 tablespoons sugar, flour, cocoa powder, and milk in a small saucepan over medium heat. Cook and stir for a couple of minutes until the sugar has melted and the mixture is smooth. Remove from heat and cool for 4 minutes, then stir in the vanilla.
While the mixture cools, beat the egg white at high speed until soft peaks form. Add 2 tablespoons sugar, 1 teaspoon at a time, and beat until there are stiff peaks (do not over beat).
Gently fold half the beaten egg whites into the chocolate mixture; then gently fold in remaining egg whites.
Spoon the batter into the prepared ramekins. The ramekins should be filled at least three-quarters full. Tap them gently a couple of times to level the batter.
Place the ramekins on a baking sheet and bake in for 15 minutes or until puffy and set.
Remove from the oven and dust lightly with powdered sugar. Serve immediately with whipped cream and fresh raspberries, if desired.
Whipped Cream
While you prepare the batter, place a metal mixing bowl and beaters into the freezer (about 10 minutes).
Remove the bowl and whisk from the freezer. Add the powdered sugar and heavy whipping cream to the bowl.
Beat on high with an electric mixer until stiff peaks form. Slowly add the Kahlua until incorporated. Refrigerate until ready to serve.
Notes
Cooking Light, 2007
You make substitute 1 teaspoon vanilla extract for the Kahlua in the whipped cream.
Recommended Products
As an Amazon Associate and member of other affiliate programs, I earn from qualifying purchases.
Nutrition Information:
Yield:
2
Serving Size:
1
Amount Per Serving:
Calories:

428
Total Fat:

22g
Saturated Fat:

14g
Trans Fat:

1g
Unsaturated Fat:

7g
Cholesterol:

68mg
Sodium:

53mg
Carbohydrates:

49g
Fiber:

1g
Sugar:

43g
Protein:

5g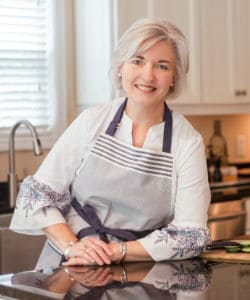 About Sheila Thigpen
Recipe Developer, Food Photographer, Food Writer
Sheila Thigpen is the publisher of Life, Love, and Good Food — a Southern food blog — and the author of Easy Chicken Cookbook and The 5-Ingredient Fresh and Easy Cookbook. After 20+ years in the publishing industry, she retired in 2018 to focus on her own creative endeavors full time. She and her husband live near the beautiful Smoky Mountains and have a precious little granddaughter who has stolen their hearts. As an influencer, Sheila has collaborated with brands like Creamette, Kroger, HERSHEY'S, Hamilton Beach, Garafalo Pasta, OXO, Smithfield, Valley Fig Growers, and more.