Beefy BBQ Spuds are hearty, delicious, and best of all, no-fuss! Prepared completely in your slow cooker, in my opinion this is a great Super Bowl party recipe.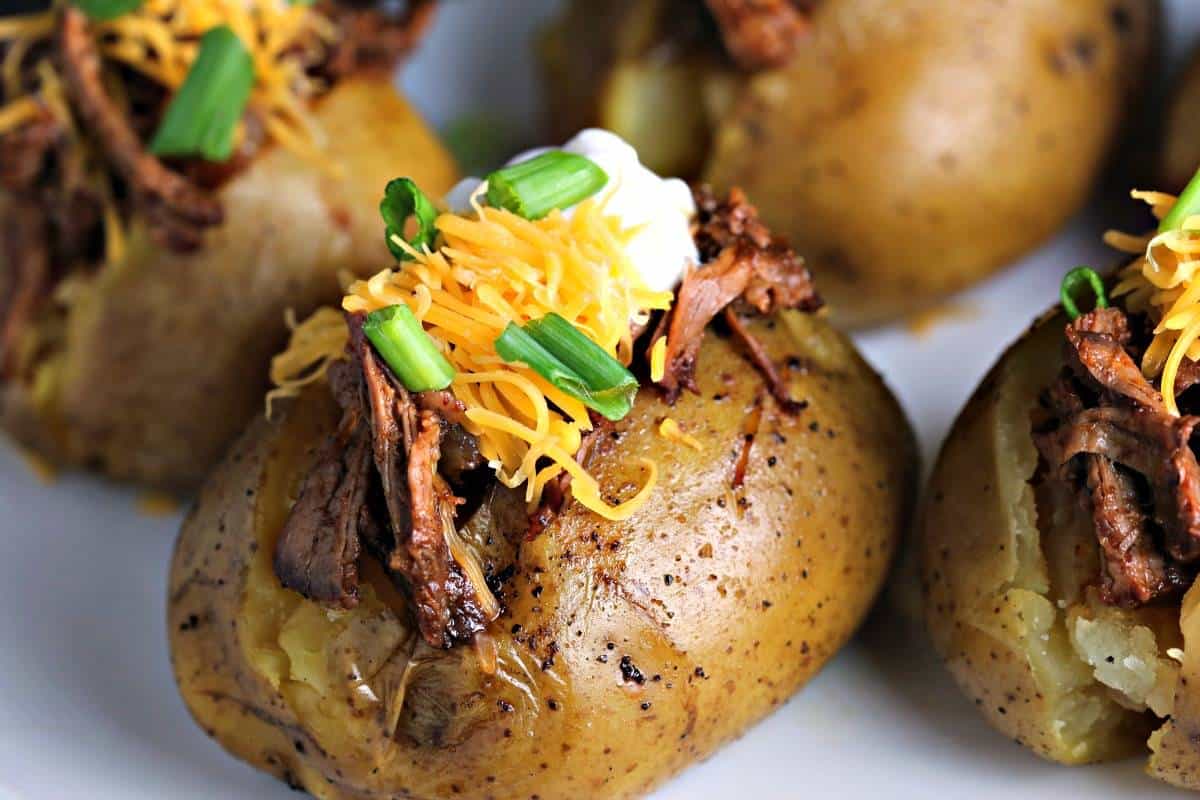 Super Bowl LI with a match-up between the Patriots and Falcons will kick-off on Sunday, February 5 in Houston and millions of Americans will be hosting football watching parties with tons of drink, chicken wings, burgers, chili, and of course, pizza all across the nation.
Sounds like all favorite man-pleasing snacks, right?
Well, I think these Slow Cooker Beefy BBQ Spuds would be perfect for any Super Bowl party—good ole' meat and potatoes, what could be heartier and more man-pleasing than that?
Just for the record, I'm not trying to be sexist here because believe me, I can put down my fair share of meat and potatoes and love doing it!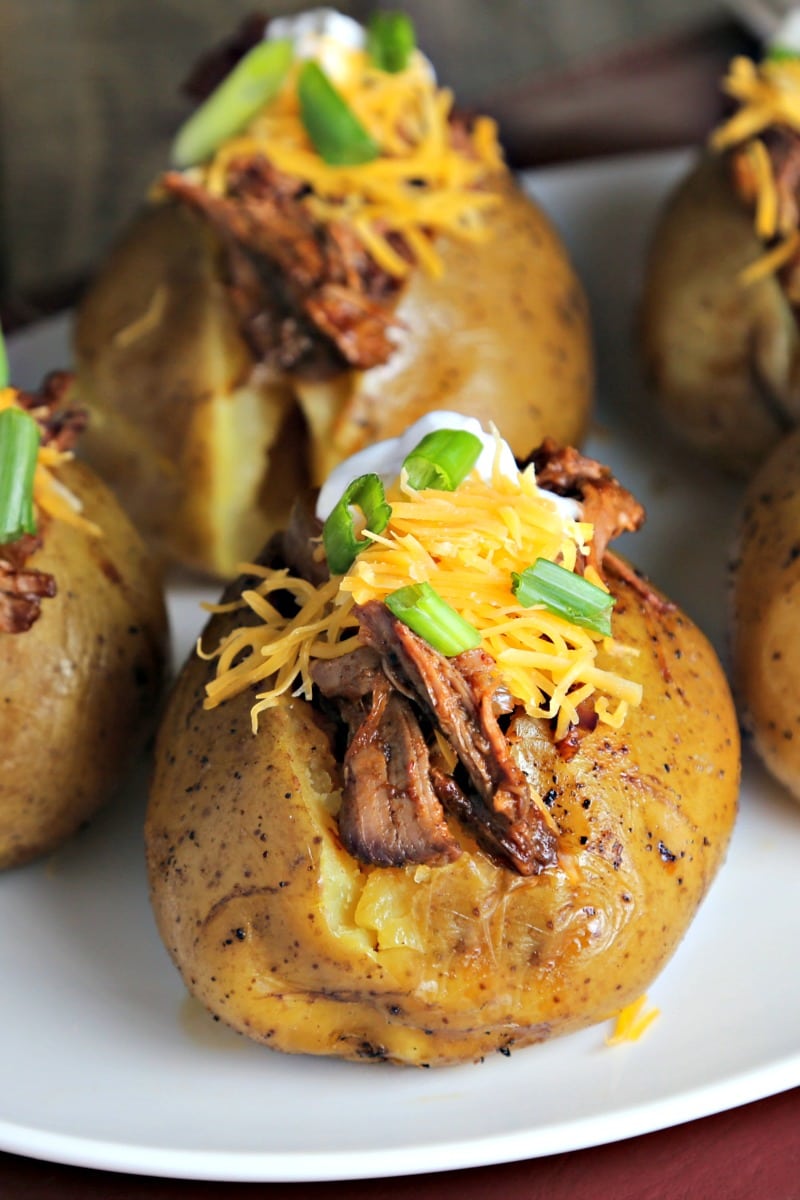 Meat and Taters!
Why is this recipe so great for a Super Bowl—or for any other football watching—party? It takes just 15 minutes to prep and everything cooks in a slow cooker, including the "baked" potatoes!
I've adapted this recipe slightly from Cooking Light, but must pass along their suggestion about "baking" potatoes in the slow cooker.
For the barbecue beef, layer sliced red onions and a chuck roast (with the homemade barbecue rub) in the slow cooker, then top with the potatoes wrapped in PARCHMENT paper, not aluminum foil.
This prevents the potatoes from taking on a metallic taste from the foil or becoming a weird color on the inside.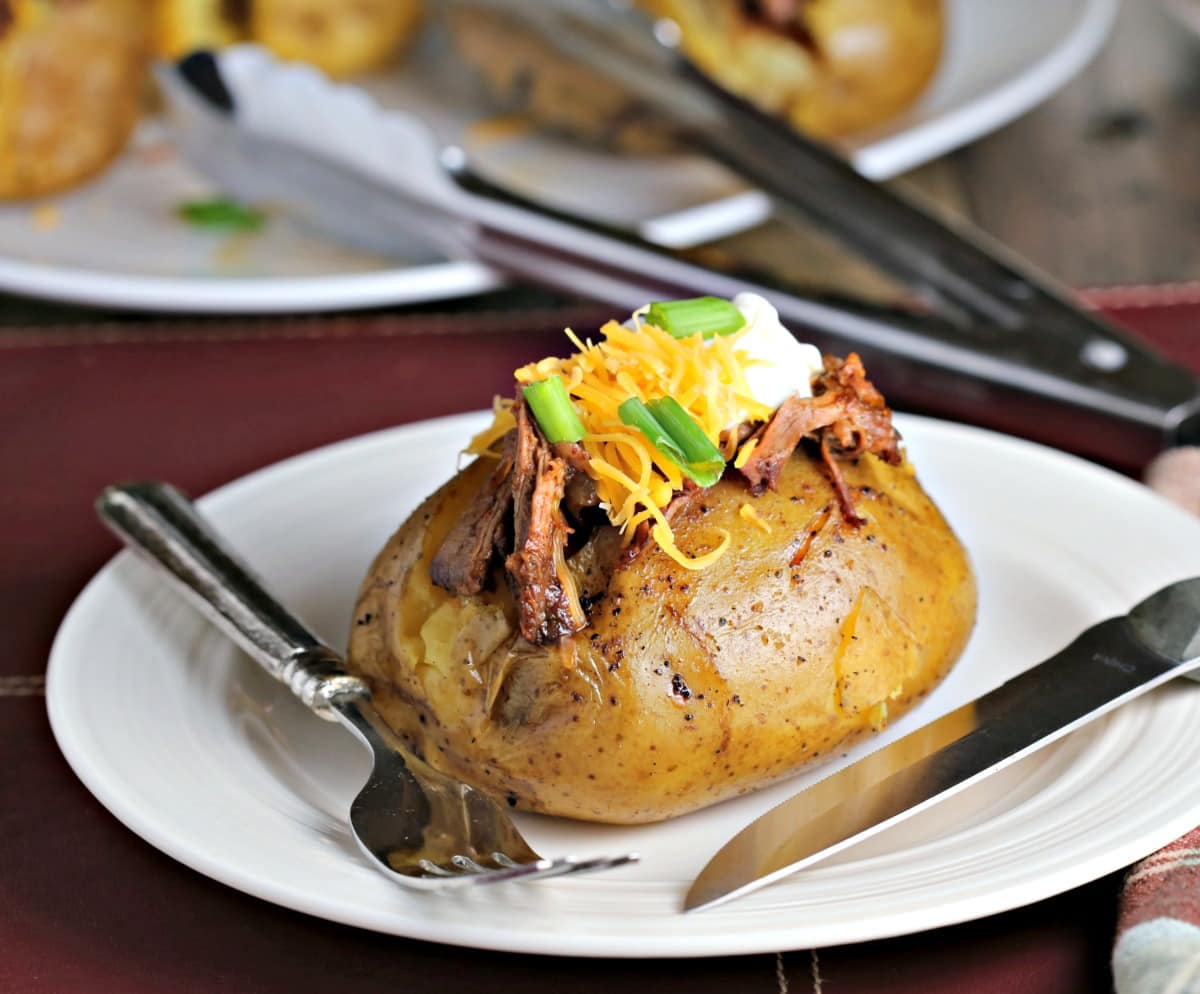 You can fit six medium or eight small potatoes in a large crockpot with the roast. I think this BBQ beef could also be a fun appetizer if served in scooped out baby red potatoes—that's what I plan to do for my next party!
More football party menu ideas
Please share!
Your shares are how this site grows and I appreciate each one. Do you know someone who would enjoy this recipe? I'd love it if you would share it on Facebook or on your favorite Pinterest board!
Yield: 8 servings
Slow Cooker Beefy BBQ Spuds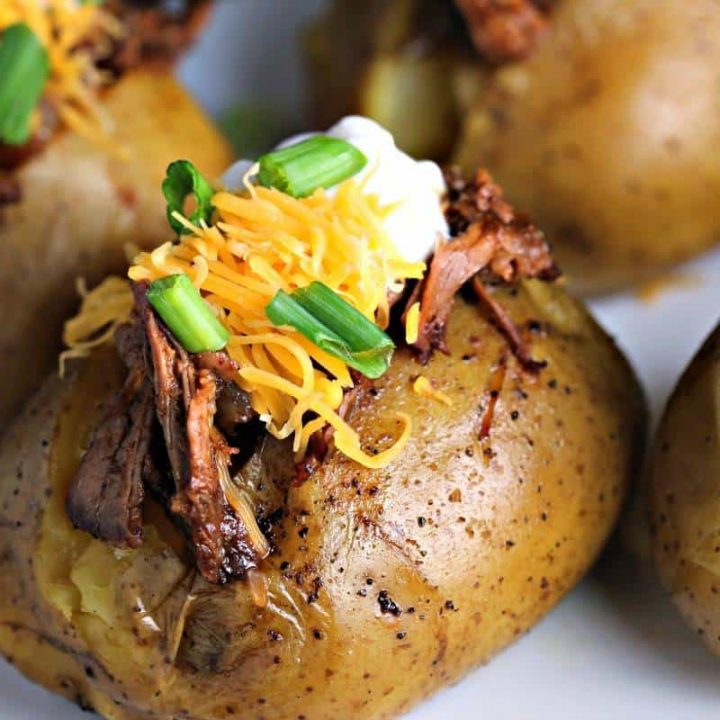 Beefy BBQ Spuds are hearty, delicious, and best of all, no-fuss! Prepared completely in your slow cooker, in my opinion this is a great Super Bowl party recipe.
Total Time
5 hours
15 minutes
Ingredients
1/2 cup dark brown sugar
6 tablespoons unsalted tomato paste
5 tablespoons reduced-sodium Worcestershire sauce
2 tablespoon chili powder
1-1/2 teaspoons kosher salt, divided
1-1/4 teaspoons black pepper, divided
2-1.2 to 3 pounds boneless chuck roast, trimmed
1 vertically sliced red onion
Cooking spray
8 medium size russet potatoes
2 teaspoons olive oil
1 cup sharp cheddar cheese, shredded
1/2 cup light sour cream
3 sliced green onions
Instructions
Wash and scrub potatoes and dry thoroughly with a paper towel. Rub each potato with olive oil and sprinkle with 1/2 teaspoon salt and 1/2 teaspoon pepper. Wrap each potato in a piece of parchment paper and set aside.
Place the sliced red onions in a 6 - 7 quart slow cooker that has been coated lightly with cooking spray.
Prepare the barbecue rub by combining the brown sugar, tomato paste, Worcestershire sauce, chili powder, 1 teaspoon salt, and 3/4 teaspoon pepper. Spread half the rub on top of the roast.
Place the roast on top of the onions in the slow cooker with the coated side down. Pour the rest of the barbecue rub on top of the roast and spread until covered completely.
Place the wrapped potatoes on top of roast. Cover and cook on HIGH 5 hours or until tender. (Or may cook on LOW for 8 hours.)
Unwrap potatoes; cut a slit in each potato and fluff with a fork.
Shred the roast with 2 forks, and stir to combine with onion mixture.
Top each potato with the BBQ beef mixture, cheese, sour cream, and green onions.
Recommended Products
As an Amazon Associate and member of other affiliate programs, I earn from qualifying purchases.
Nutrition Information:
Yield:
8
Serving Size:
1
Amount Per Serving:
Calories:

795
Total Fat:

39g
Saturated Fat:

18g
Trans Fat:

2g
Unsaturated Fat:

18g
Cholesterol:

174mg
Sodium:

895mg
Carbohydrates:

57g
Fiber:

6g
Sugar:

16g
Protein:

55g