This mouth-watering steak sandwich piled high with tender grilled flank steak is dressed with a zesty horseradish aioli, fresh sliced tomatoes, and red onions served up on a grilled hoagie bun.
Season the steak with a homemade coffee rub made with pantry spices, then grill it to your desired doneness, and cut into thin slices. In just 30 minutes, you've got a hot gourmet sandwich that's full of flavor, tender, and juicy. Grab the napkins and be sure to use two hands!
The BEST steak sandwich recipe
Don't get me wrong, I love a good Philly cheesesteak sandwich loaded with grilled peppers and onions, but I must say this grilled flank steak sandwich is the absolute BEST!
The recipe is so simple, so flavorful, and definitely worth repeating often. In case you're also looking for a good steak dinner recipe, let me recommend you check out this Cast Iron New York Strip.
The two secrets to the BEST steak sandwich? The coffee dry rub for the steak and the super easy homemade horseradish aioli. Talk about intense flavor!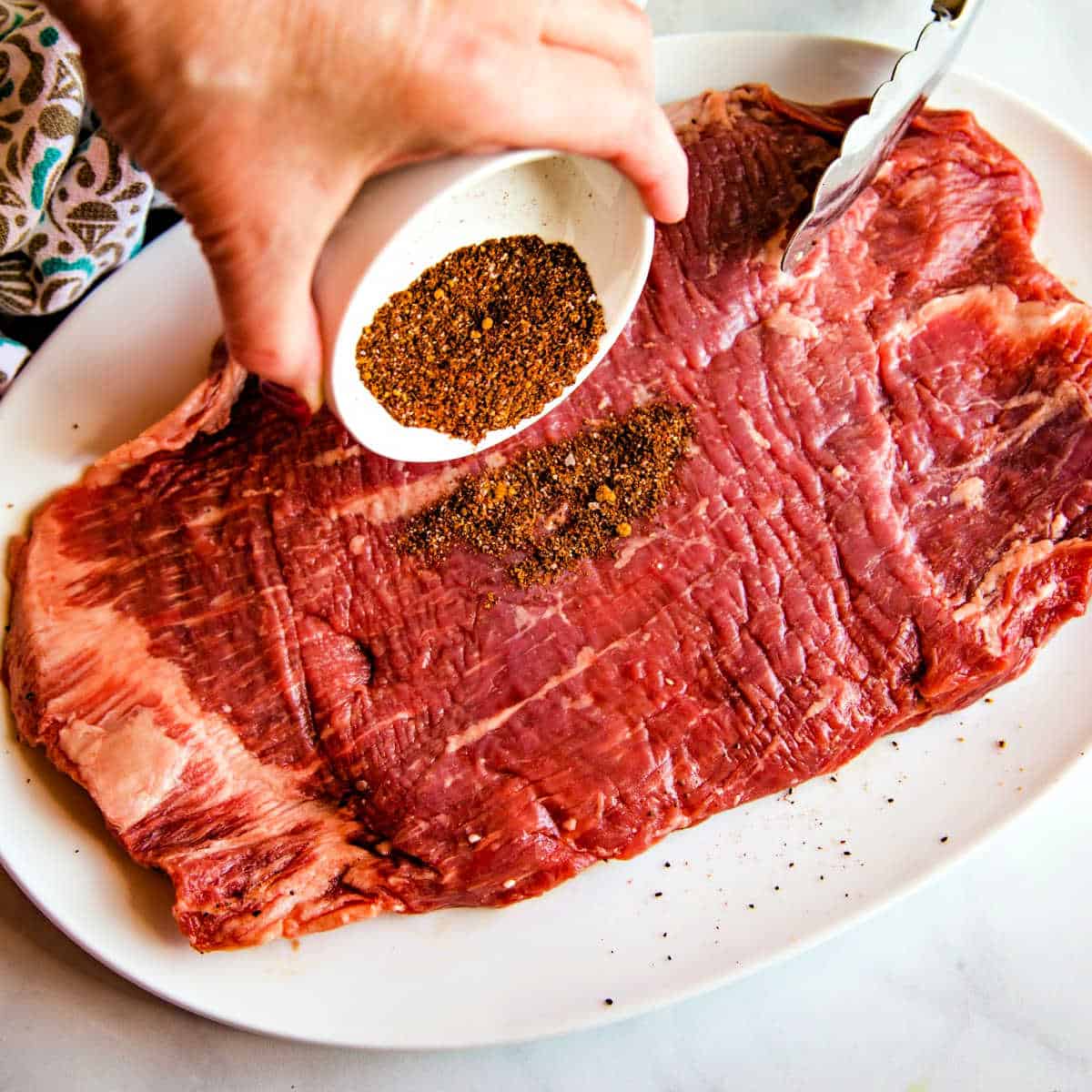 What is flank steak?
Also commonly known as London Broil, this cut of beef comes from the cow's underside below the loin. Lean and flavorful, flank steak is normally marinated for maximum tenderness. In today's recipe, however, the coffee-flavored dry rub infused the meat with plenty of flavor and the cut remained extremely tender.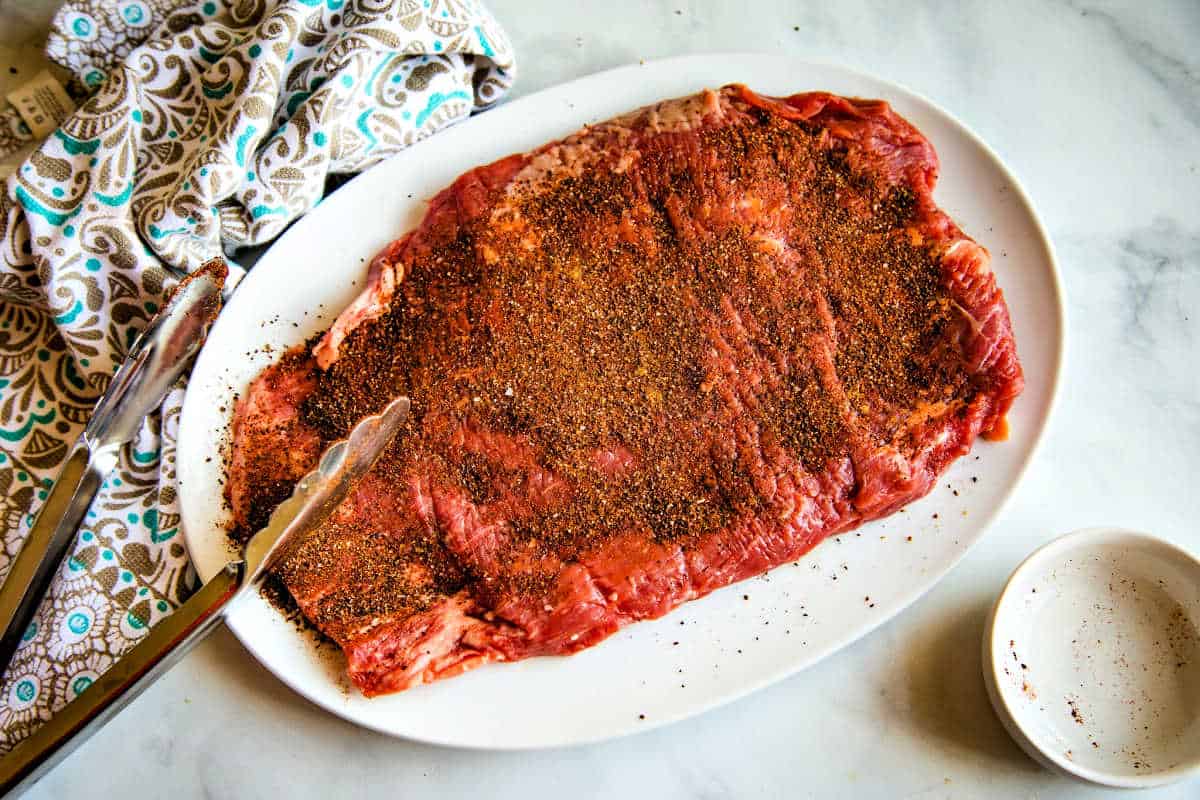 How do I make my steak juicy and tender?
Let the meat set at room temperature a minimum of 15 minutes before tossing it on the hot grill. This ensures the meat cooks evenly.
Don't overcook the beef. Leave it on the grill too long and it will dry out. You want to preserve those flavorful juices! The perfect temperature for medium steak is 160 degrees.
Let it rest before you slice it up. Remove the flank steak from the grill and loosely tent it with aluminum foil to rest for at least 5 minutes before you slice into it. This allows the juices to soak back into the meat for maximum juicy flavor.
Slice the flank steak thinly and against the grain. Cut crosswise against the muscle fibers so they come apart easily and effortlessly as you chew.
Condiments
Besides a smear of the horseradish aioli, here are my suggestions for dressing a steak sandwich:
Arugula
Sliced tomatoes
Thinly sliced red onions
Pickled red onions
Caramelized onions or onion straws
Pepperoncini peppers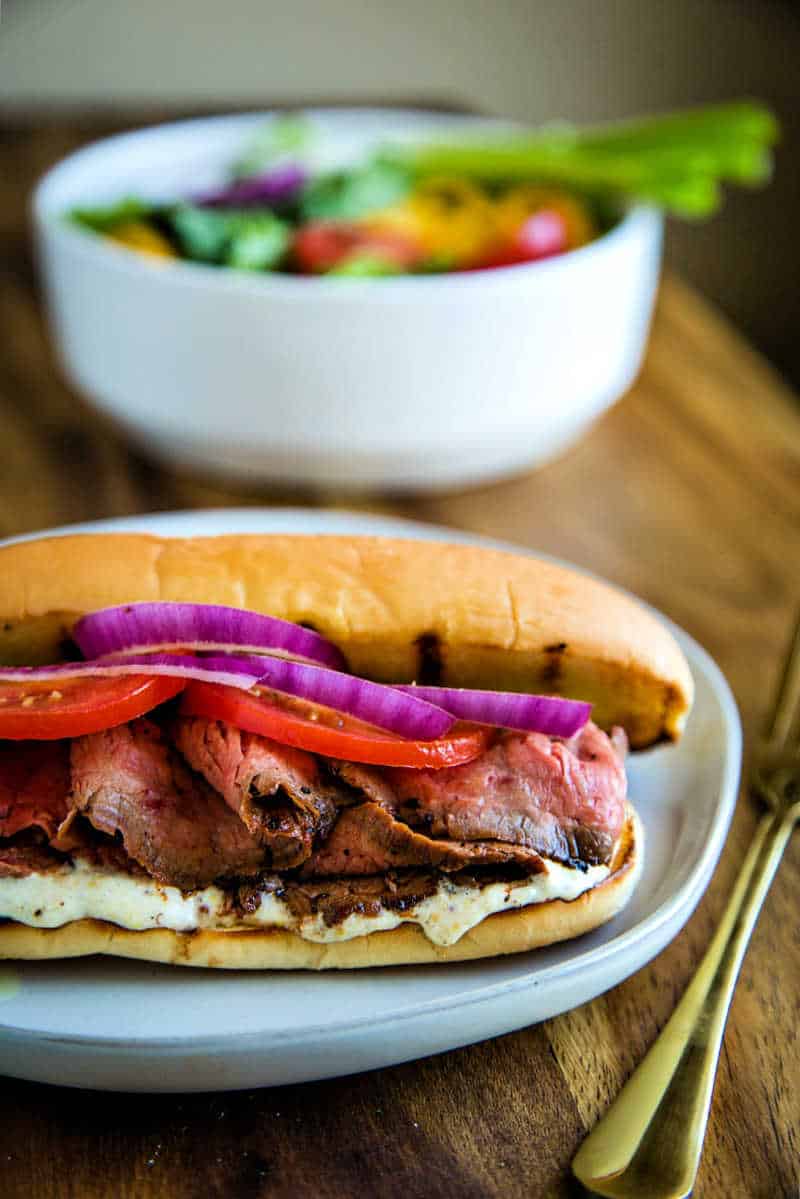 What goes good with steak sandwiches?
What could be more perfect than steak and potatoes?! Here are a few of my favorite potato side dishes to serve with steak sandwiches. Oh, and I threw in a delicious onion ring suggestion, too!
To make this recipe, you may need…
The following are affiliate links. We are a participant in the Amazon Services LLC Associates Program, an affiliate advertising program designed to provide a means for us to earn fees by linking to Amazon.com and affiliate sites.
You can gently press tongs into the cooked steak to determine its doneness with this touch test guide found with my Pan-Seared NY Strip recipe. To be totally accurate, however, use a quick read digital thermometer. I love my OXO Instant Read Thermocouple and use it for any kind of meat that I'm grilling or cooking indoors.
What else is new? Check out my Life, Love, and Good Food Store on Amazon! Thanks so much for being a part of our community!
Let's grill!
When grilling steaks, use tongs instead of a fork to turn the meat. Pierce the meat with a fork and you'll run the risk of losing all the flavorful juices, so stick with a set of long-handled tongs.
Also, I like my steak prepared medium (about 160 degrees). Since steak continues to cook a little after it's tented with aluminum foil to rest, I like to pull it off the grill at about 155 degrees.
Please share!
Your shares are how this site grows and I appreciate each one. Do you know someone who would enjoy this recipe? I'd love it if you would share it on Facebook or on your favorite Pinterest board!
Yield: 6 servings
Steak Sandwich with Horseradish Aioli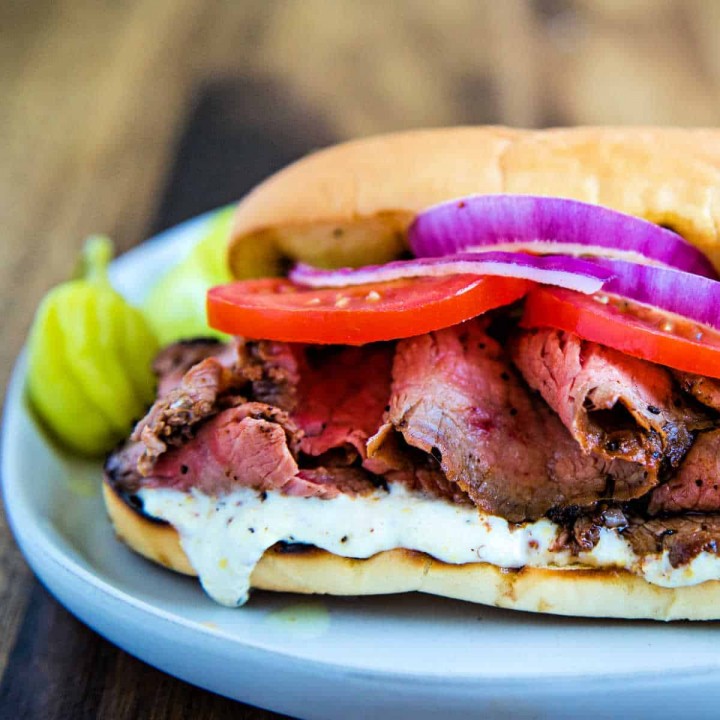 This mouth-watering steak sandwich recipe is piled high with tender grilled flank steak and dressed with horseradish aioli, sliced tomatoes, and red onions.
Additional Time
5 minutes
Ingredients
1 1/2 pounds flank steak
6 soft hoagie buns
2 tablespoons extra-virgin olive oil
1 tomato, thinly sliced (optional)
1 small red onion, thinly sliced (optional)
Coffee Rub
1 1/2 tablespoons ground dark roast coffee
3/4 teaspoon chili powder
1/2 teaspoon ground cumin
1/4 teaspoon sweet paprika
1/4 teaspoon kosher salt
1/4 teaspoon black pepper
Horseradish Aioli
2 tablespoons horseradish
2 tablespoons mayonnaise
1 tablespoon Dijon mustard
1/4 teaspoon kosher salt
1/8 teaspoon black pepper
Instructions
Horseradish Aioli
In a small bowl, stir together the horseradish, mayonnaise, Dijon mustard, salt, and pepper. Cover and refrigerate until ready to serve.
Steak Sandwiches
In another small bowl, combine the coffee, chili powder, cumin, paprika, salt, and pepper to make the steak rub. Evenly sprinkle the rub mixture on both sides of the flank steak. Allow the teak to stand at room temperature for 15 (or up to 30) minutes before grilling.
Preheat the grill to medium high heat, about 400 degrees. Brush the cooking grates clean, then brush with oil. Grill the steak over direct heat with the lid closed, turning once or twice, until cooked to your desired doneness — about 8 to 10 minutes for medium.
Remove the steak from the grill and let rest for 5 minutes. While the meat rests, brush the cut sides of the bread with a light coating of olive oil. Place the buns cut side down over direct heat and cook a minute or two until lighted browned.
Slice the steak across the grain into thin slices. Build the sandwich by spreading the horseradish aioli on one bun, then topping it with slices of steak, arugula, tomatoes, and red onions. Top with the remaining half of the bun and serve.
Notes
When grilling steaks, use tongs instead of a fork to turn the meat. Pierce the meat with a fork and you'll run the risk of losing all the flavorful juices, so stick with a set of long-handled tongs.
Recommended Products
As an Amazon Associate and member of other affiliate programs, I earn from qualifying purchases.
Nutrition Information:
Yield:
6
Serving Size:
1
Amount Per Serving:
Calories:

601
Total Fat:

22g
Saturated Fat:

5g
Trans Fat:

0g
Unsaturated Fat:

14g
Cholesterol:

96mg
Sodium:

954mg
Carbohydrates:

56g
Fiber:

4g
Sugar:

5g
Protein:

42g
ABOUT SHEILA
Sheila Thigpen, author of Easy Chicken Cookbook and The 5-Ingredient Fresh and Easy Cookbook, is a recipe developer, food photographer, and food writer. She spent 20+ years as a business manager in the publishing industry before she retired in 2018 to focus on her passions — cooking, photography, and writing. Living near the beautiful Smoky Mountains, Sheila and her husband have two adult daughters and two fine sons-in-law, are active in their church, love to travel, and have a precious little granddaughter who has stolen their hearts. Follow Sheila on YouTube, Pinterest, Instagram, Facebook, and Twitter!