This post may contain affiliate links. Please read my disclosure policy.
Whether you are new to cooking or have made these dozens of times, you can't go wrong with this easy recipe!
Southern deviled eggs with relish are a staple at any get together or holiday celebration. Make some today with a few simple ingredients.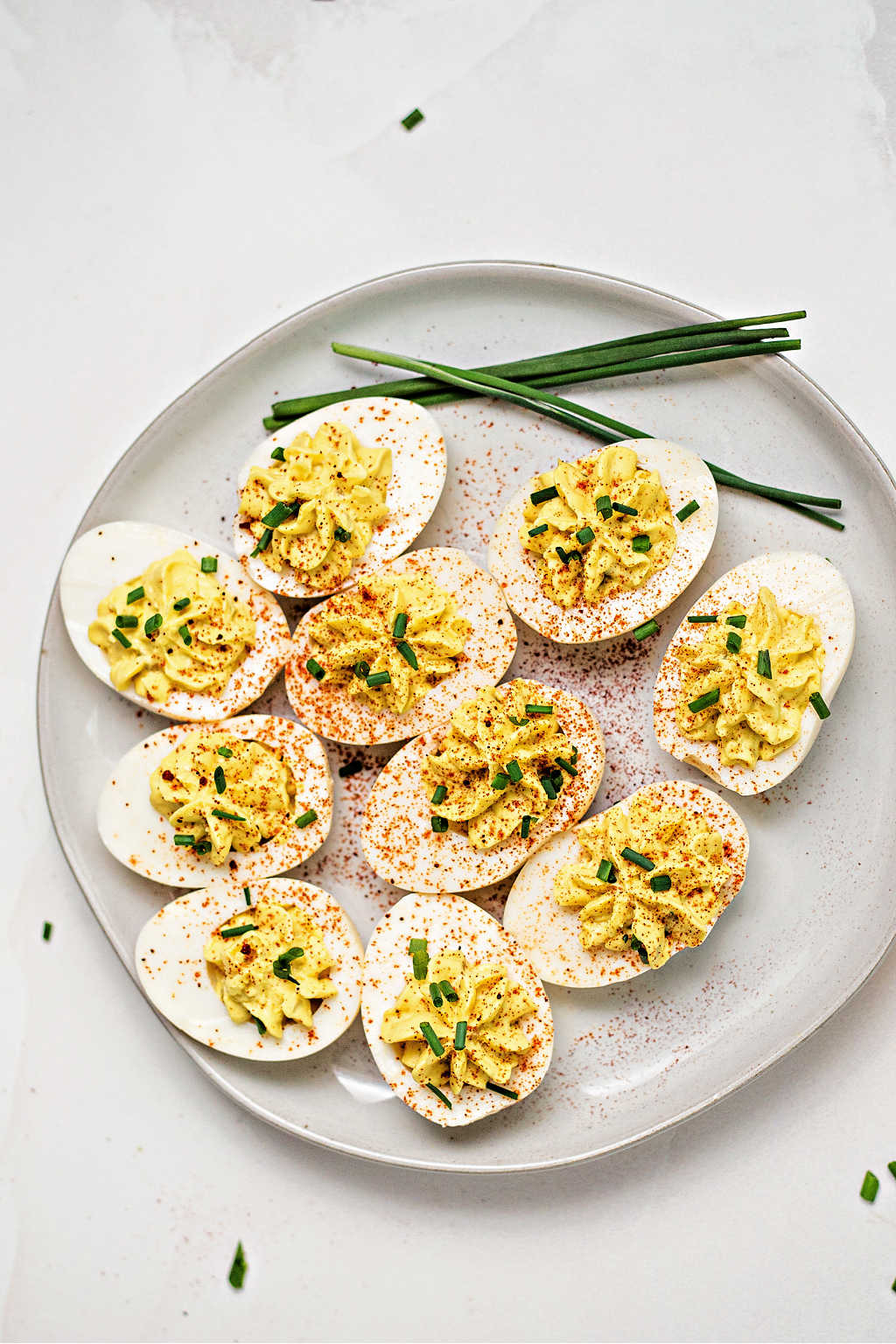 Tangy, creamy filling is speckled with little bits of crunchy pickle relish to create a symphony of flavors in every bite!
Pair these Southern style deviled eggs with your favorite finger foods such as smoked wings, chips and salsa, or my famous buffalo hummus.
Have a craving that just can't wait? Enjoy a few of these with a green salad as a light and easy meal, then save the rest for lunch the next day.
Why you're going to love it!
Contrasting textures. The filling has a balance of creamy and crunchy ingredients.
Easy to prepare. They're ready in a few simple steps.
Amounts can be adjusted. Simply double or triple the recipe to feed a crowd.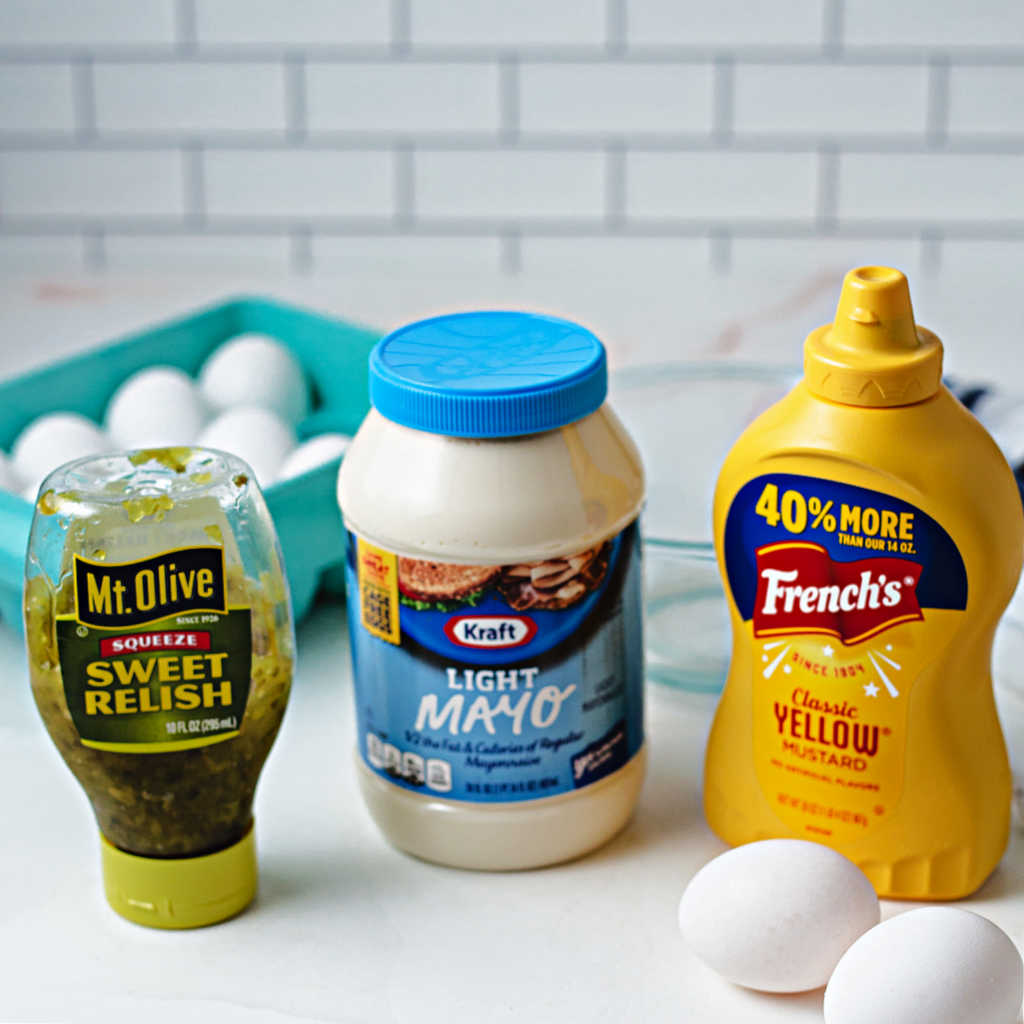 Key ingredients and substitutions
Mayonnaise — Use real mayo instead of a dressing like Miracle Whip for the best flavor. The latter has a lot of added sugar and spices, so it won't taste the same in this Southern deviled eggs recipe.
Pickle relish — This is the secret ingredient! Use your favorite brand of sweet relish or make your own from scratch.
Sweet paprika — While entirely optional, this spice adds a subtle flavor to round out each bite. It is typically labelled as just "paprika" so you probably already have it in your pantry.
Special supplies needed
Instant Pot — Using this handy appliance means you can set it and (mostly) forget it!
Mixing bowls — You will need one for the ice bath and another to mix the Southern deviled eggs filling.
Serving suggestions
These are the perfect party appetizer for any occasion! Guests love them at a variety of events, from bridal and baby showers to backyard barbecues and game day on the weekends.
You can even serve these Southern style deviled eggs for all of your favorite holidays – Easter, Mother's Day, the 4th of July, and even Thanksgiving.
How to make Southern style deviled eggs
STEP 1 | Cook the eggs
Be sure to use the trivet or a specially-designed basket so the eggs don't scald on the surface.
Follow the 5-5-5 rule so you never forget the cooking time. Five minutes on the timer, another five for a natural pressure release, then the final five in the ice bath once you've removed them from the pot.
tips
I like to add an extra egg or two to the pot in case any of the shells crack during boiling. That way, the ones you serve are all perfectly shaped and smooth.
Adding a teaspoon of vinegar to the water can help prevent the whites from seeping out if any of the shells do end up cracking.
STEP 2 | Peel and slice
Tap the base of the egg (the more rounded end) firmly against a hard surface to separate the inner membrane from the shell.
Peel back the broken section and the whole thing should come off in several large sections or one whole piece.
Once peeled, slice them all in half and transfer the yolks to your mixing bowl.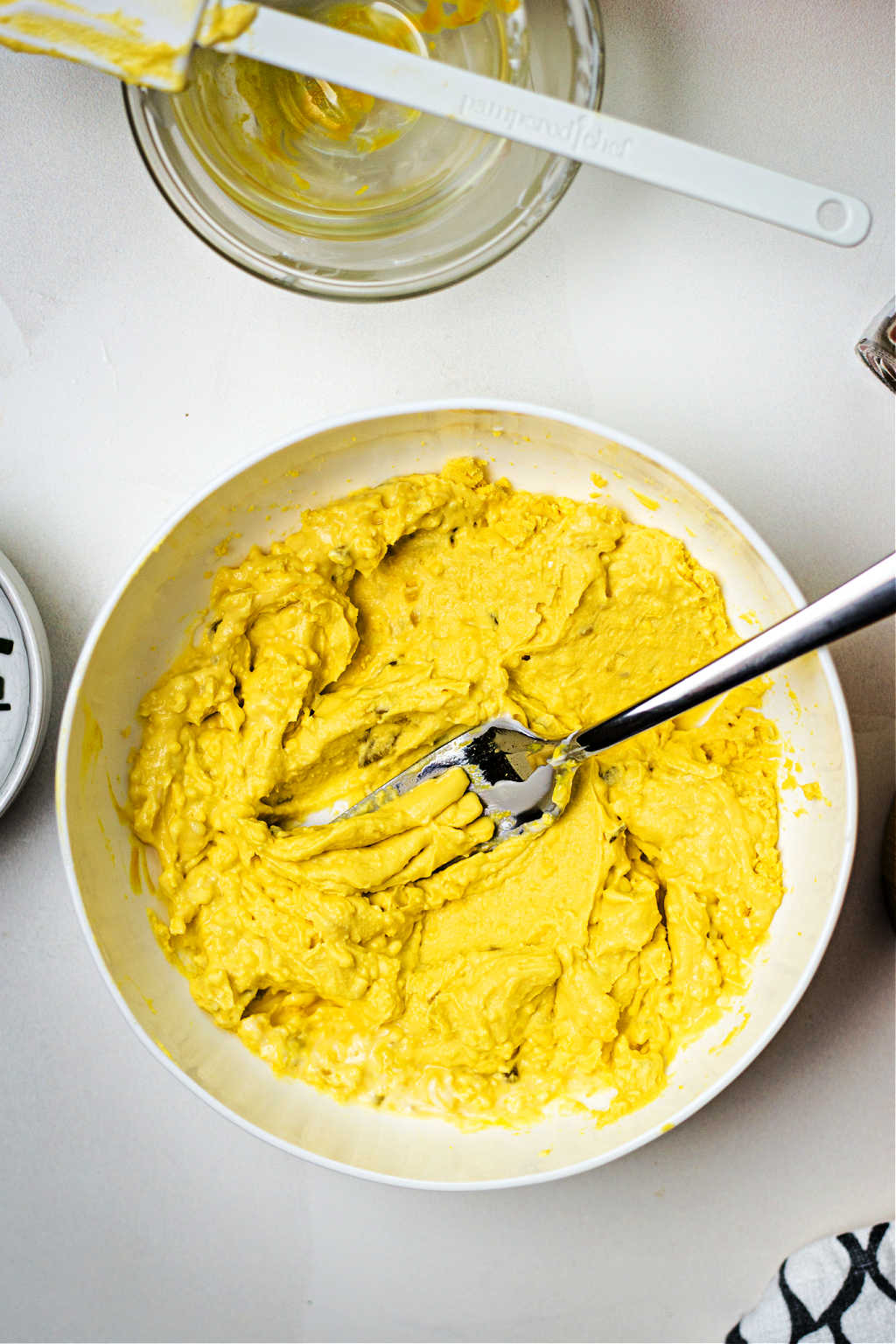 STEP 3 | Mix the filling
Mash the yolks with a fork, then add in the remaining ingredients. Stir until well combined.
Always taste a little bit of the filling once mixed. You may need to add a little extra of certain ingredients to get it just right.
STEP 4 | Pipe and garnish
Transfer the filling to a piping bag fitted with a star tip. If needed, you can create one out of a ziploc bag with the bottom corner snipped off.
Pipe the filling into the well of each egg half, then add a dash of paprika and a sprinkle of fresh chives.
Cover with plastic and refrigerate until you are ready to serve.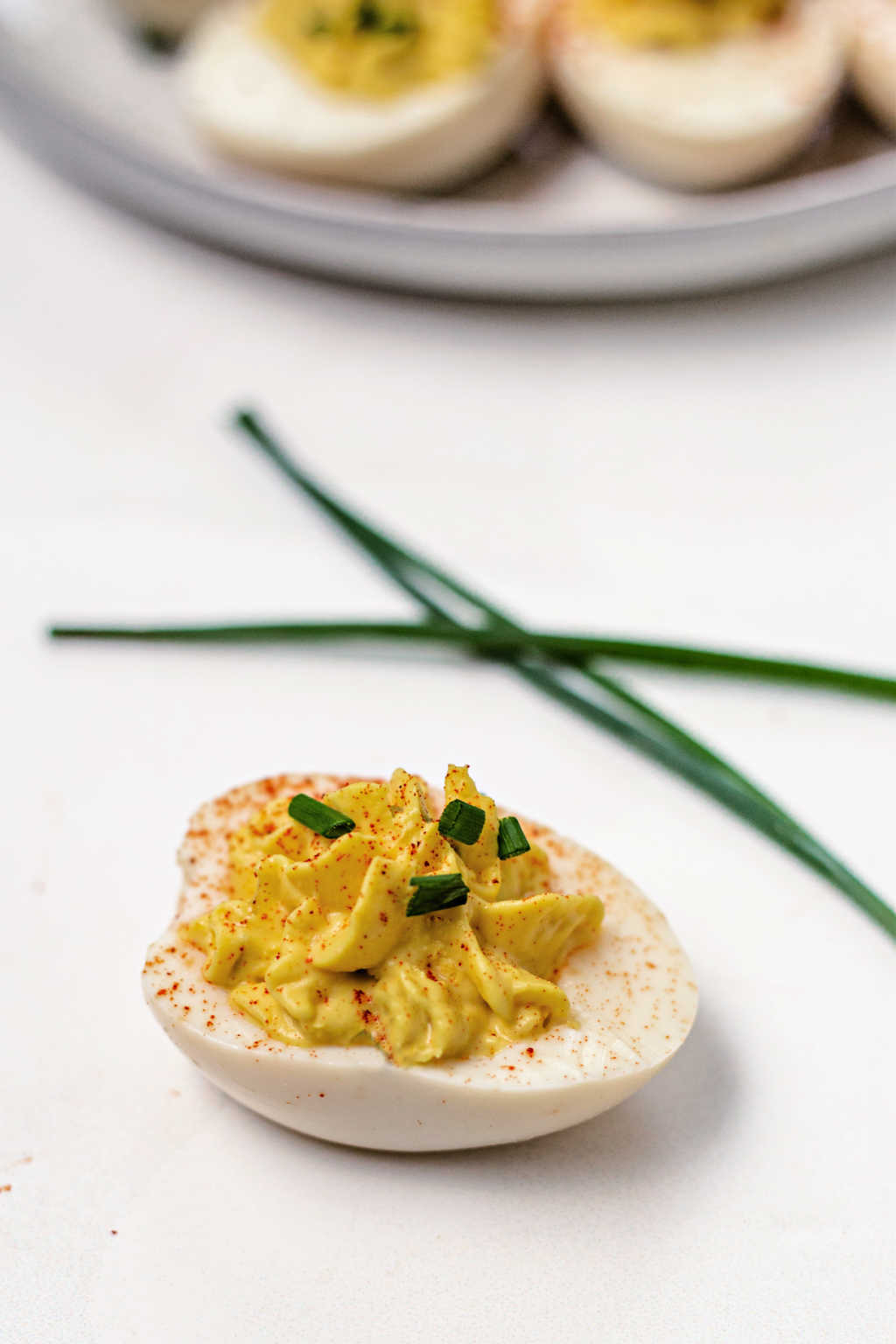 Frequently asked questions
I don't have an Instant Pot — how do I boil eggs on the stove?
It's very easy to do and doesn't take much longer, you'll just need to keep an eye on the stove and the timer.

Place the eggs into a large saucepan and cover with cool water — it should be about an inch over the tops.

Then, place the pan on a burner and bring to a boil over medium heat. Once the water is rolling, turn off the heat and cover the saucepan with a lid. Set a timer for 12 minutes, then drain and transfer to an ice bath before peeling.
How far in advance can I make Southern style deviled eggs?
Hard boiled eggs will last up to 1 week in the refrigerator, and that's always the most time-consuming part.

According to food safety guidelines, it doesn't seem to mater if they are peeled or not, but I find that they tend to do better inn the shell until prepared. Plus, they can become misshapen once they are peeled and resting in a container.

If you need to make a large batch for a party, you can slice the eggs and prepare the filling a day or two in advance. Store them separately and assemble just before serving for best results.
What makes Southern deviled eggs different from regular ones?
It's all in the pickles! Most recipes, including this one, use sweet pickle relish in the filling for a little extra tang and crunch.

Others may prefer to chop up whole sweet pickles instead and add a splash of juice from the jar to the bowl instead.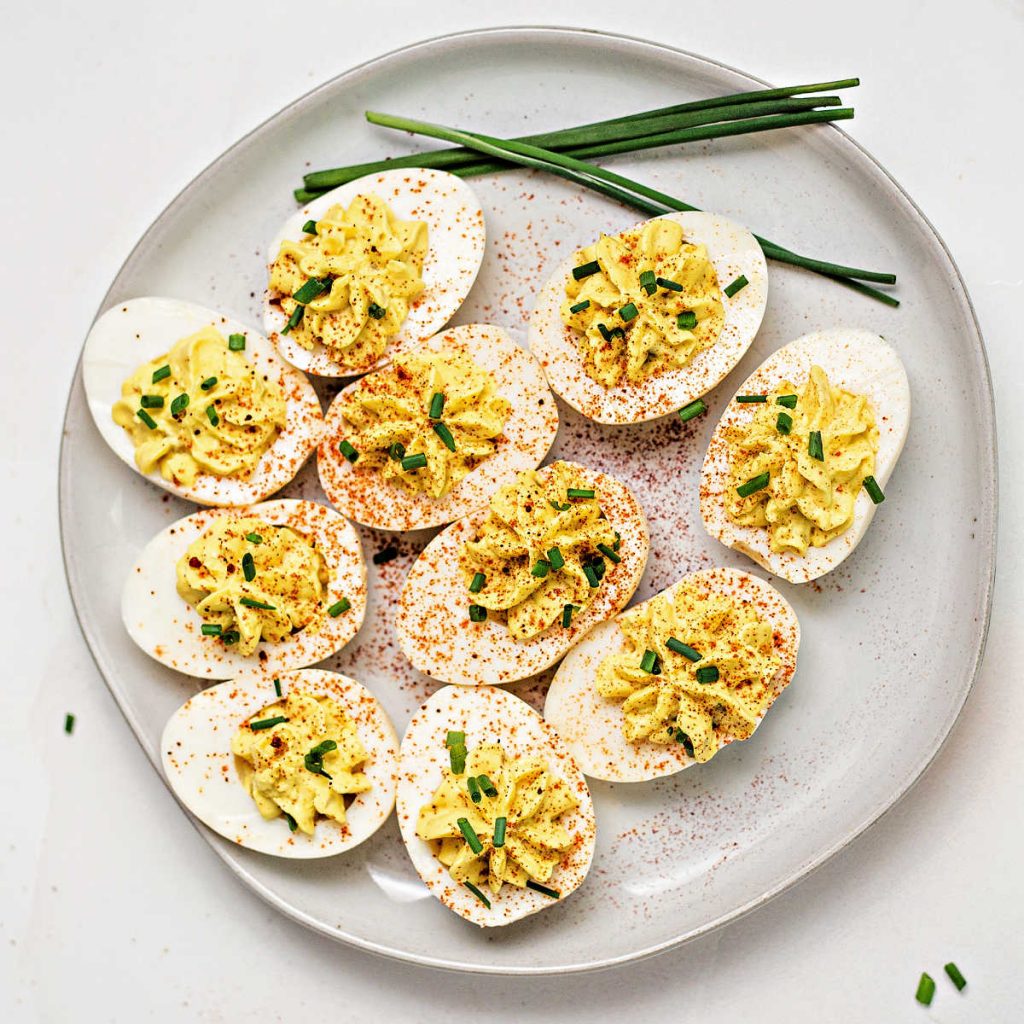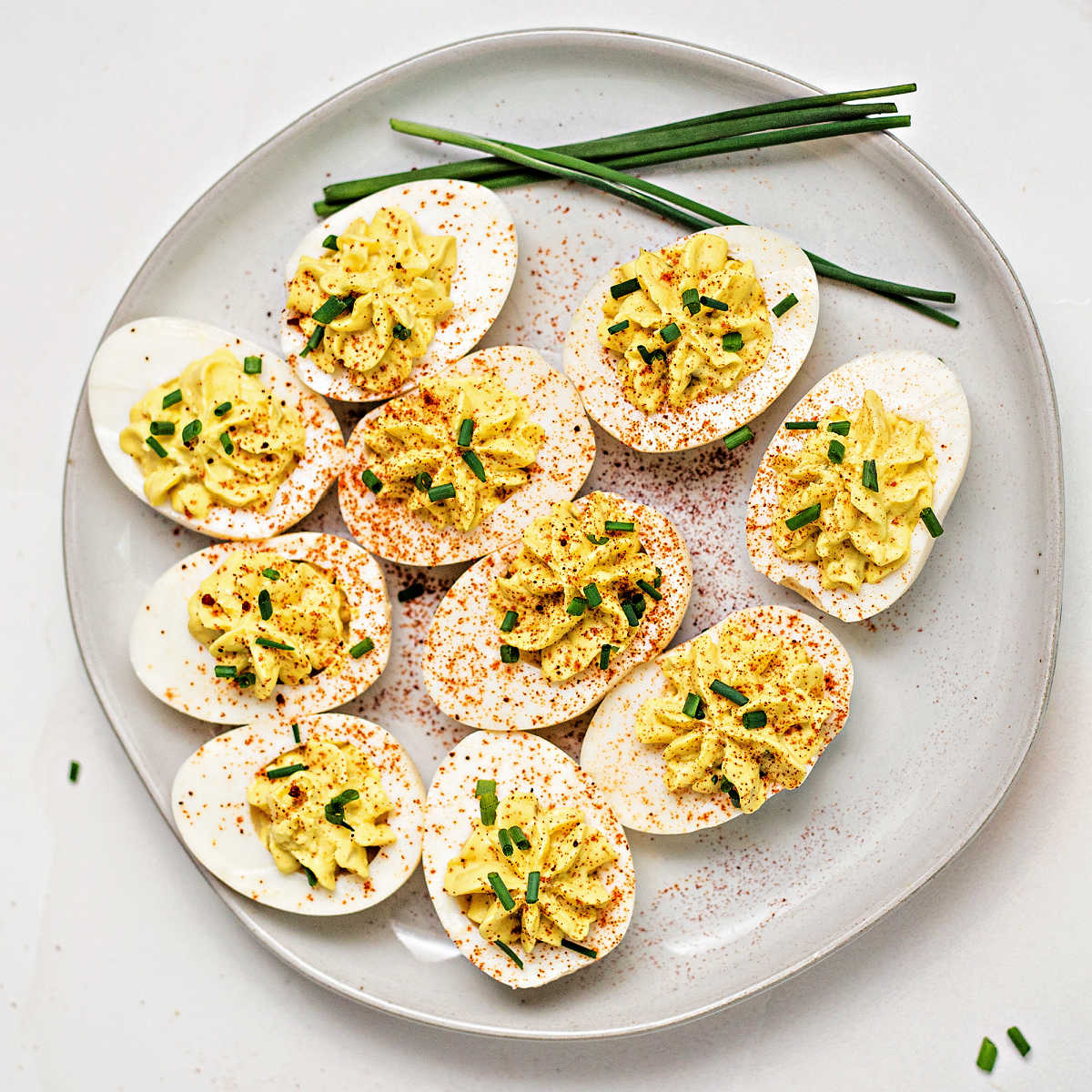 Southern Deviled Eggs: behind the recipe
If you're anything like me, you grew up with this tasty snack at every major event. Sometimes the dish was assigned to one person, and other times a few different versions would show up and create a secret competition!
After plenty of experiments, I've come up with the perfect Southern deviled eggs recipe. The ratio of mayo to mustard is just right, and a sprinkle of fresh chives creates a gourmet flair in seconds.
Don't forget the secret ingredient! Sweet pickle relish is what sets these apart from all of the other recipes out there. This simple addition adds both flavor and texture to an otherwise simple creation.
Please share!
Your shares are how this site grows, and I appreciate each one. Do you know someone who would enjoy this recipe? I'd love it if you would share it on Facebook or Pinterest!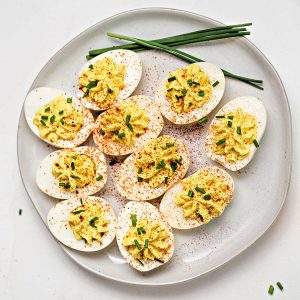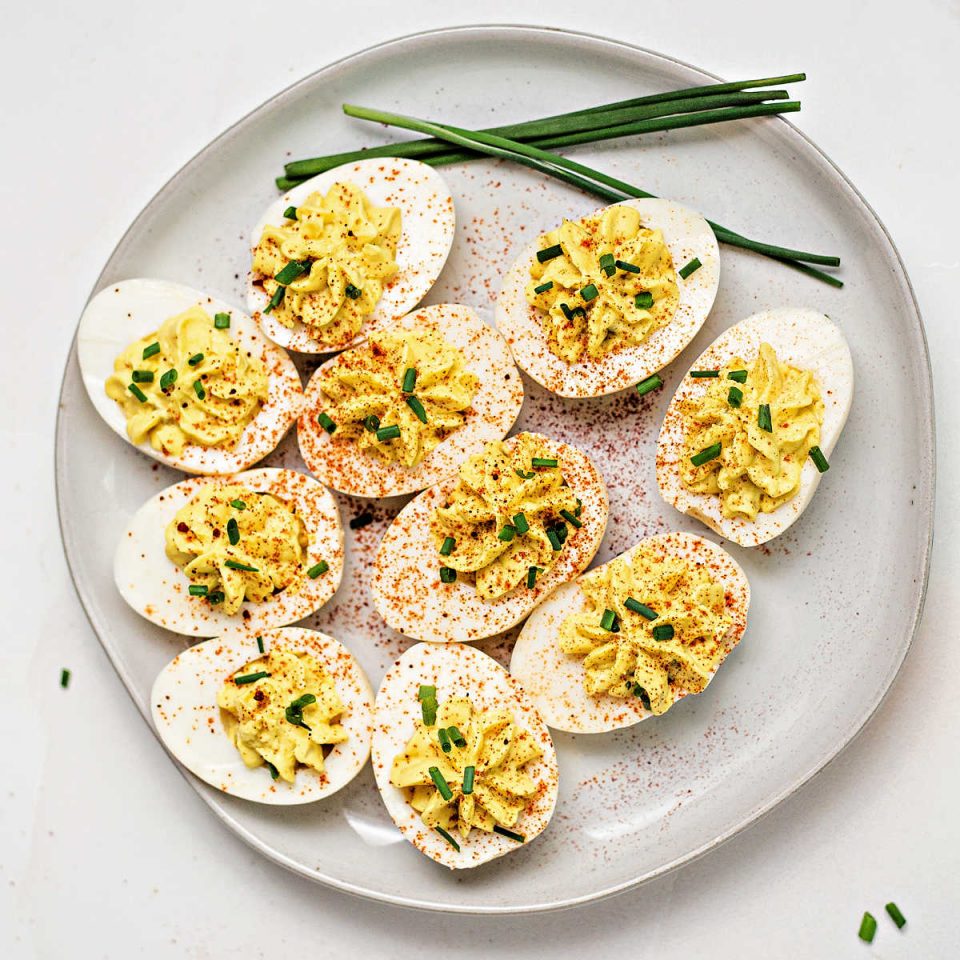 Southern Deviled Eggs
Southern deviled eggs with relish are a staple at any get together or holiday celebration. Make some today with a few simple ingredients.
Ingredients
6

large

eggs

1/4

cup

mayonnaise

1

teaspoon

yellow mustard

1

tablespoon

sweet pickle relish

1/4

teaspoon

kosher salt

1/4

teaspoon

sweet paprika

for garnish

fresh chives

for garnish
Instructions
Boiling eggs in an Instant Pot
Place the rack inside the

Instant Pot

and place the eggs on top, spacing them out evenly.

Pour in 1 cup of water and lock the lid with the vent in the sealed position.

Select the EGG setting or HIGH PRESSURE and set the timer to 5 minutes. It will take about 10 minutes for the

Instant Pot

to come to pressure.

Natural release the pressure for 5 minutes, then manually release the remaining pressure.
Boiling eggs on the stove
Place the eggs in a large saucepan and cover by at least an inch with cool water. Bring the pot to a boil over high heat.

Cover with a lid and turn off the heat. Let the eggs sit on the burner for 12 minutes.
Finishing the eggs
In a

large bowl

, prepare an ice bath. With a slotted spoon, transfer the cooked eggs to the ice bath and let rest for 5 minutes.

After 5 minutes, crack the egg against the bottom of the bowl and peel off the shells.

Slice the eggs in half and empty the yolks into a bowl. Using a fork, mash the yolks.

Add the mayo, mustard, pickle relish, and salt and stir with the fork until well combined.

Spoon or pipe the yolk mixture into the center of the eggs. Sprinkle with paprika and chives, if desired. Store in the refrigerator.
Notes
I like to boil an extra egg or two just in case one of the eggs cracks during boiling.
Adding a teaspoon of vinegar to the water can help prevent the whites from seeping out if any of the shells do end up cracking.
Store deviled eggs in the refrigerator for up to 2 days.
Nutrition
Serving:
1
g
Calories:
69
kcal
Carbohydrates:
1
g
Protein:
3
g
Fat:
6
g
Saturated Fat:
1
g
Polyunsaturated Fat:
4
g
Cholesterol:
95
mg
Sodium:
124
mg
Life Love and Good Food does not claim to be a registered dietician or nutritionist. Nutritional information shared on this site is only an estimate. We recommend running the ingredients through an online nutritional calculator if you need to verify any information.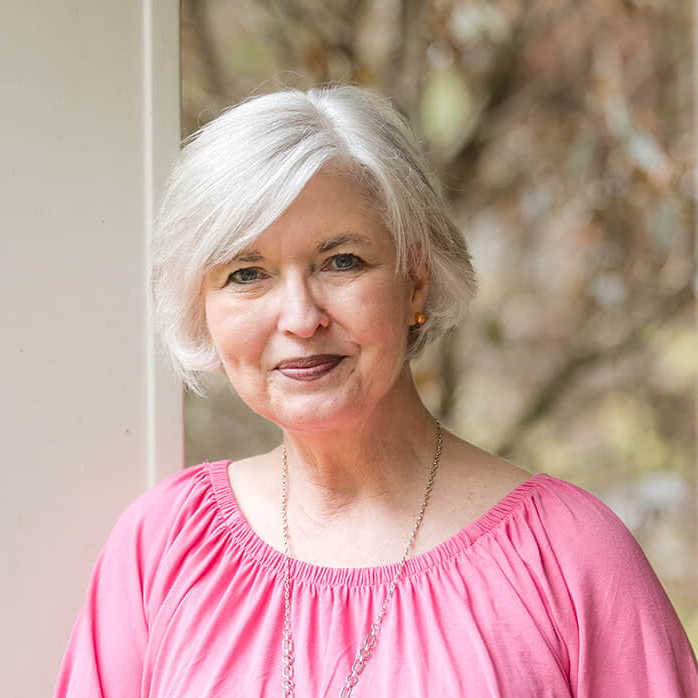 About Sheila Thigpen
Recipe Developer, Food Photographer, Food Writer
Sheila Thigpen is the publisher of Life, Love, and Good Food — a Southern food blog — and the author of Easy Chicken Cookbook and The 5-Ingredient Fresh and Easy Cookbook. After 20+ years in the publishing industry, she retired in 2018 to focus on her own creative endeavors full time. She and her husband live near the beautiful Smoky Mountains and have a precious little granddaughter who has stolen their hearts. As an influencer, Sheila has collaborated with brands like Creamette, Kroger, HERSHEY'S, Hamilton Beach, Garafalo Pasta, OXO, Smithfield, Valley Fig Growers, and more.