This post may contain affiliate links. Please read my disclosure policy.
My favorite go-to recipe for a quick and delicious picnic side without sacrificing flavor. This red potato salad combines roasted spuds with crispy bacon, green onions, and hard-boiled eggs for a creamy and delicious side in just 30 minutes!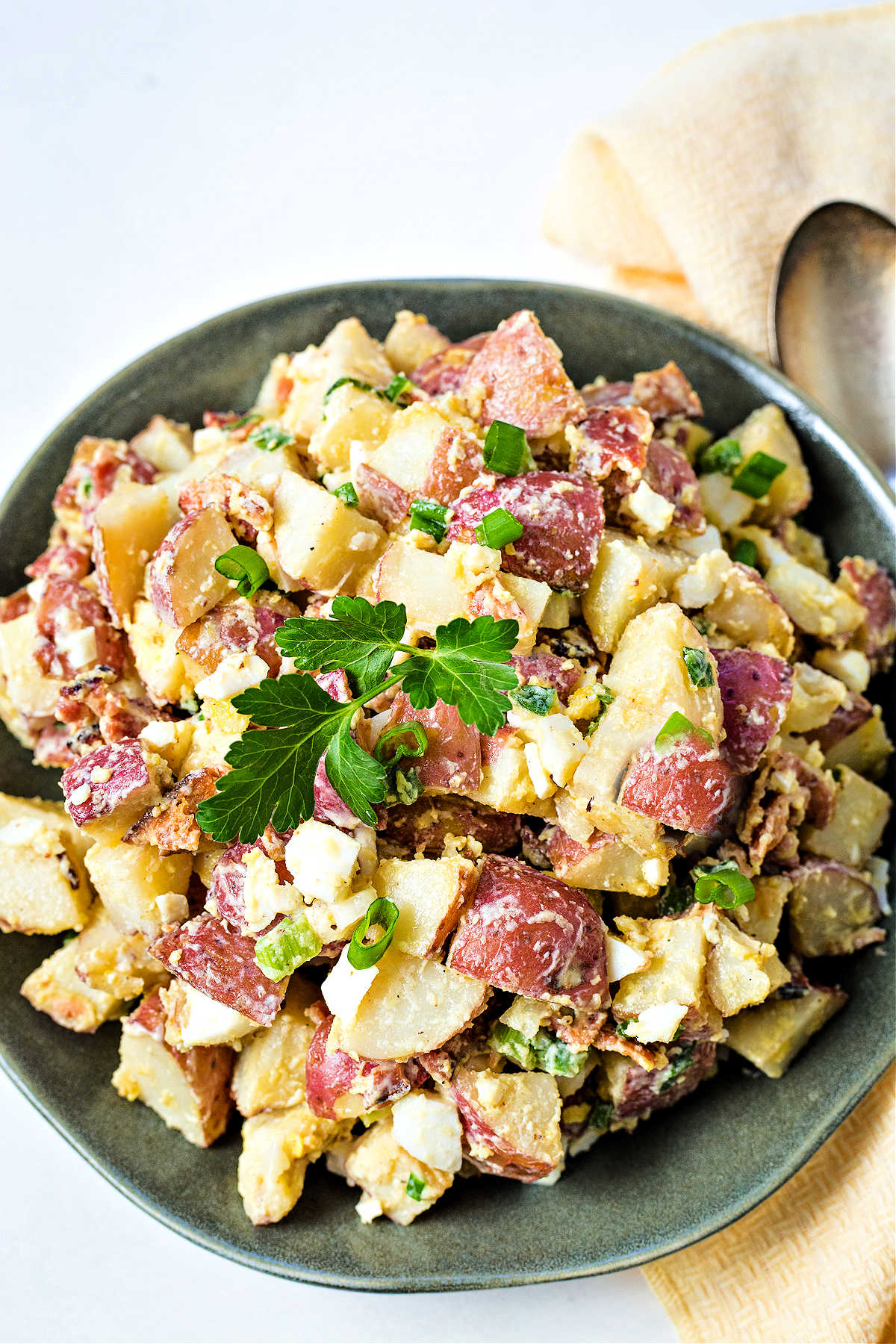 At almost every Southern potluck or picnic during the summer months, you'll find a big bowl of someone's famous potato salad proudly displayed on the table.
And rightfully so — do you know how long it takes to prepare traditional homemade potato salad?
When I make my Fresh Herb Potato Salad, I can easily plan on several hours to boil, peel, dice, and mix those spuds — not to mention the cleanup! It's delicious, of course, but it does require a lot of time.
Not the case with this roasted potato salad recipe. It's quick and easy, and it tastes just as delicious alongside burgers and barbecue. Even better, it only requires a handful of simple ingredients to make!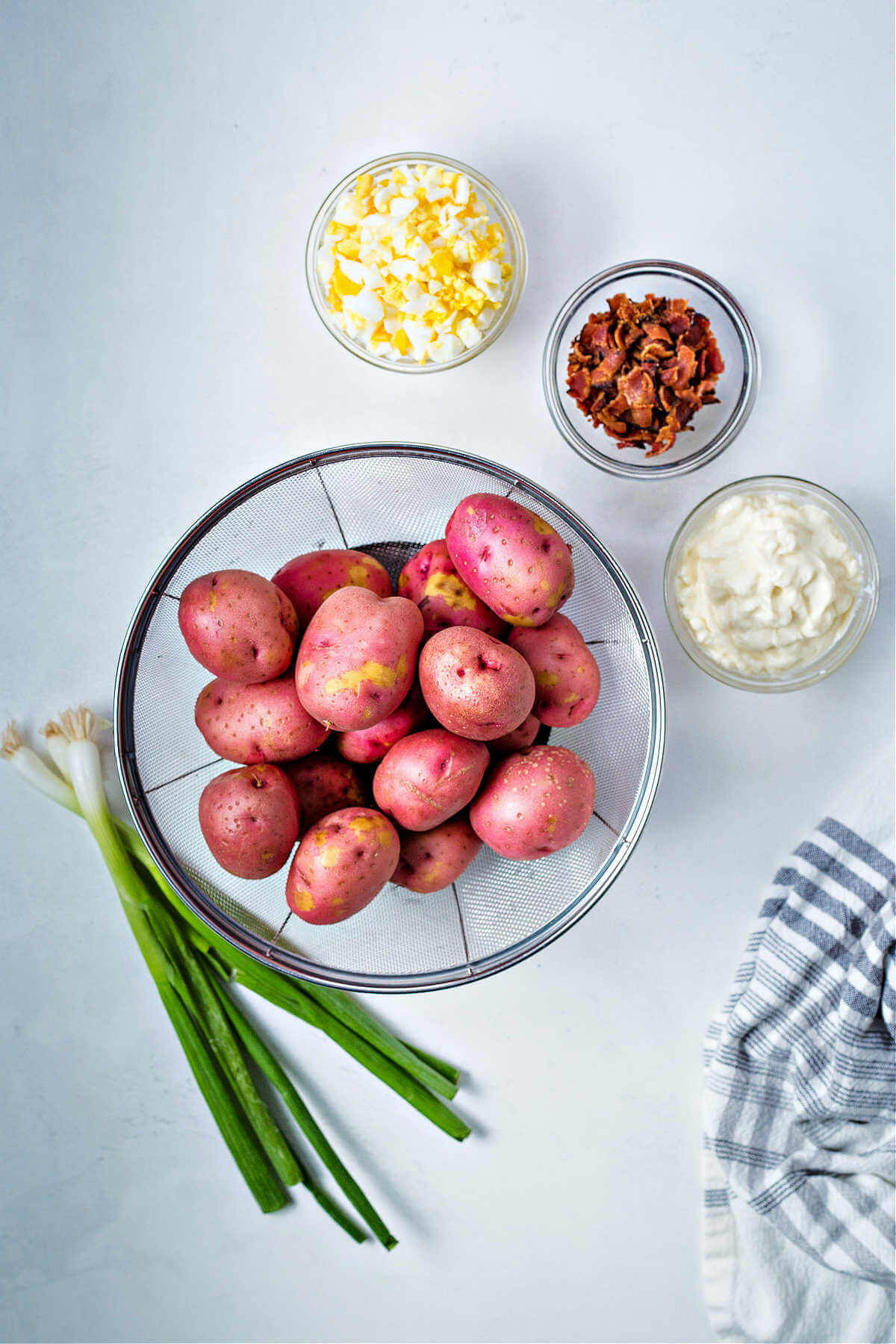 Key ingredients & substitutions for Red Potato Salad
Red potatoes — These have a more subtle sweet flavor than Russets, plus they don't need to be peeled! The skins are nice and thin, and packed with nutrients. Plus, this waxy variety holds its shape when cooked so the pieces won't turn to mush when stirred.
Hard boiled eggs — Chop these up into tiny pieces for best results. The yolks will blend nicely with the mayonnaise, and the whites will add another layer of texture (and protein!) to the dish.
Green onions — These add a fresh, earthy flavor and subtle crunch to your red potato salad. Chives or shallots would be a tasty substitute.
Bacon — Reduce the amount of dishes you have to clean and use the same pan for cooking the bacon and roasting the potatoes! Bake the strips for about 20 minutes at 400 degrees, then drain. Just be sure to change out the foil before cooking the potatoes.
Mayonnaise — This creamy ingredient brings everything together and really lets the flavors shine. If you prefer a lighter option, replace half of the mayo with sour cream or plain Greek yogurt.
How to make roasted potato salad?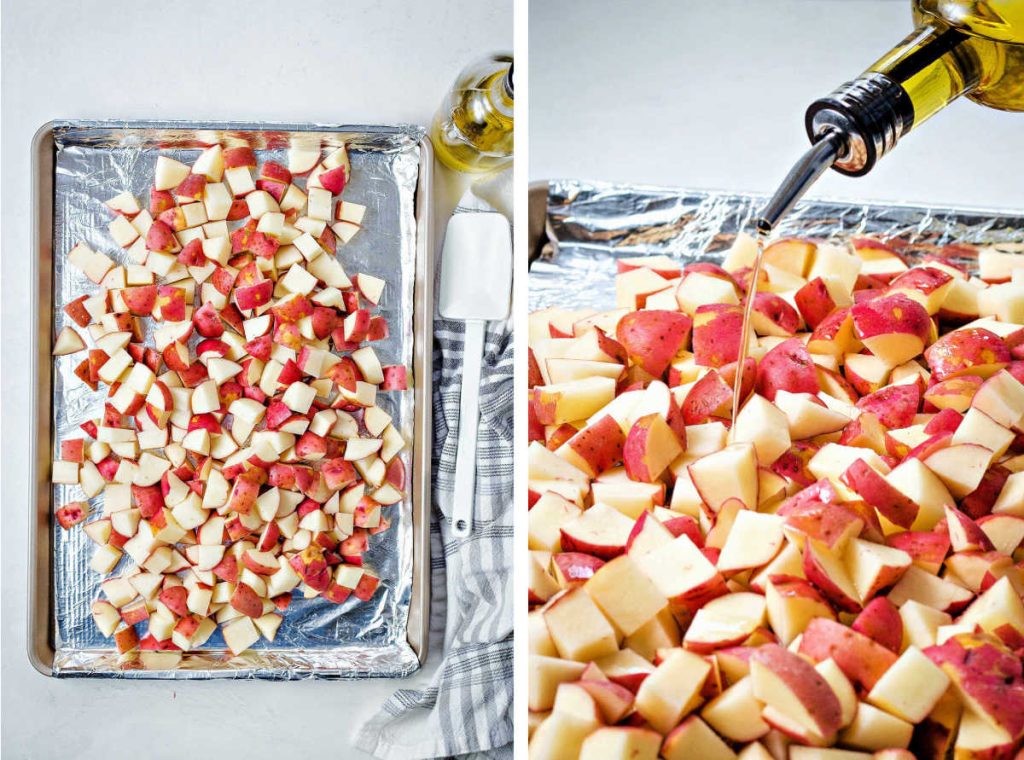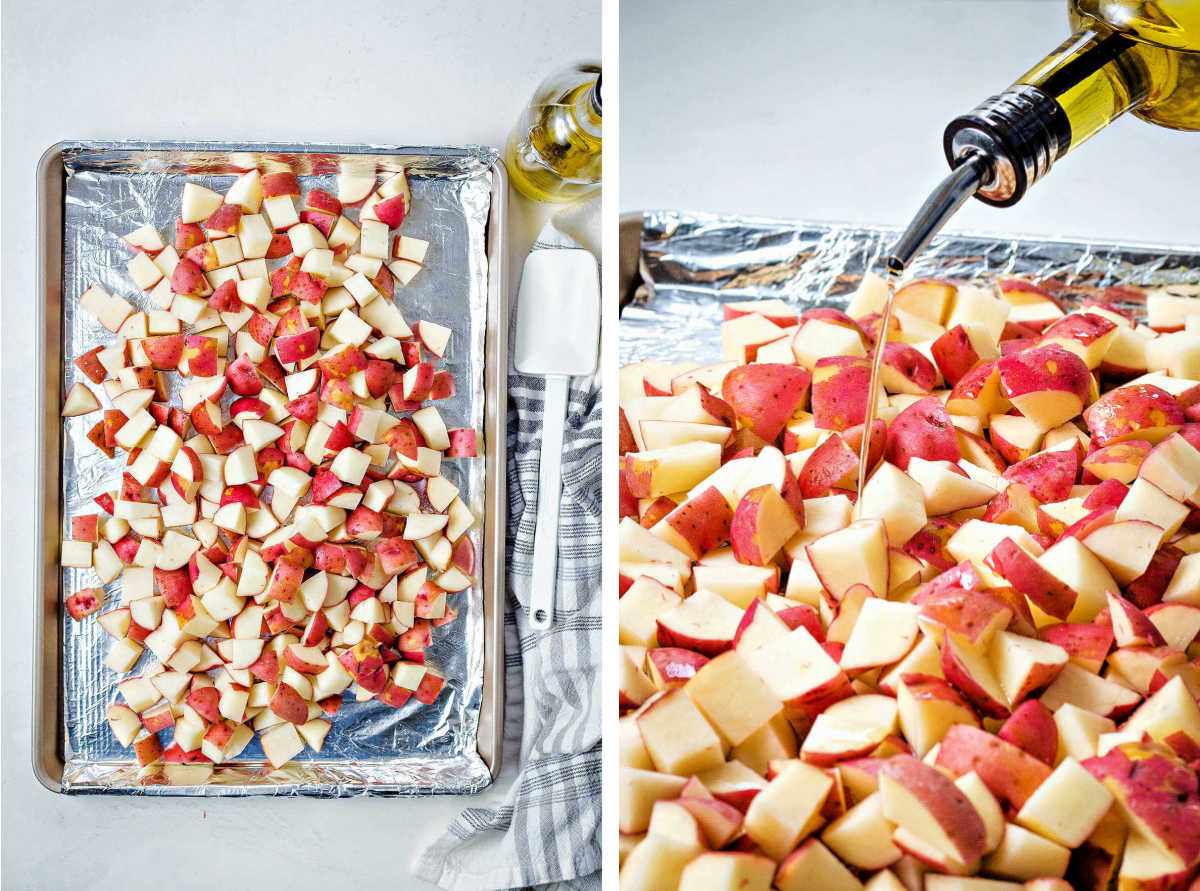 STEP 1 | Prep the potatoes
Chop the spuds into bite-sized pieces but don't remove the peel. Toss with olive oil until well coated, then spread into a single layer on a baking sheet.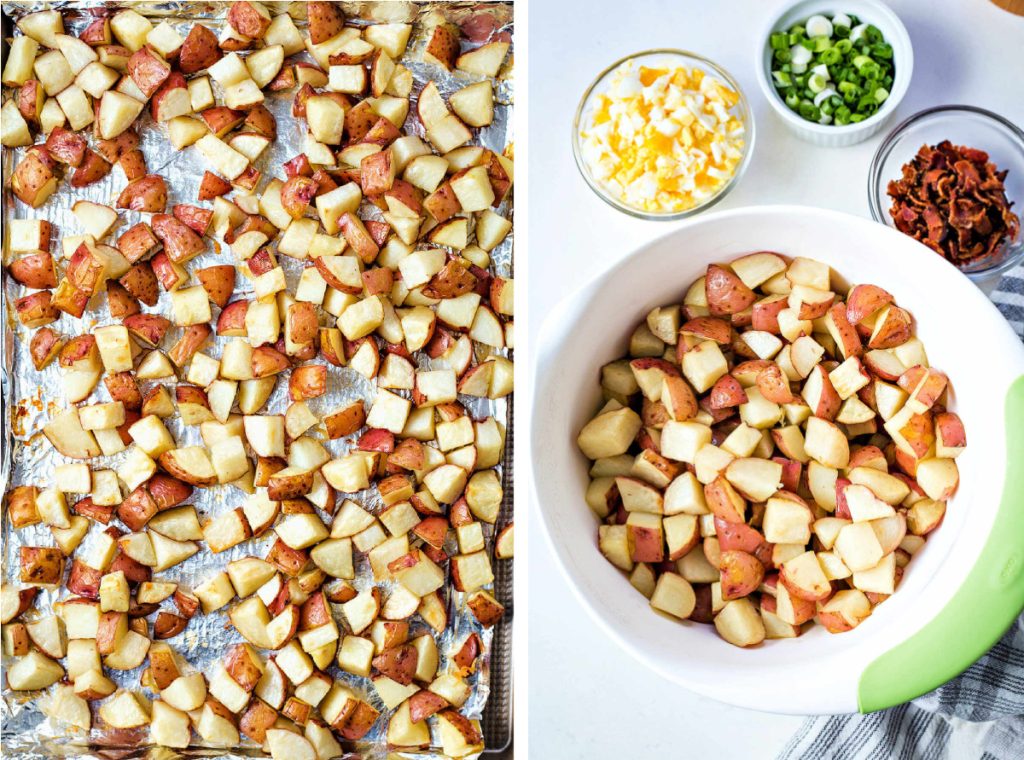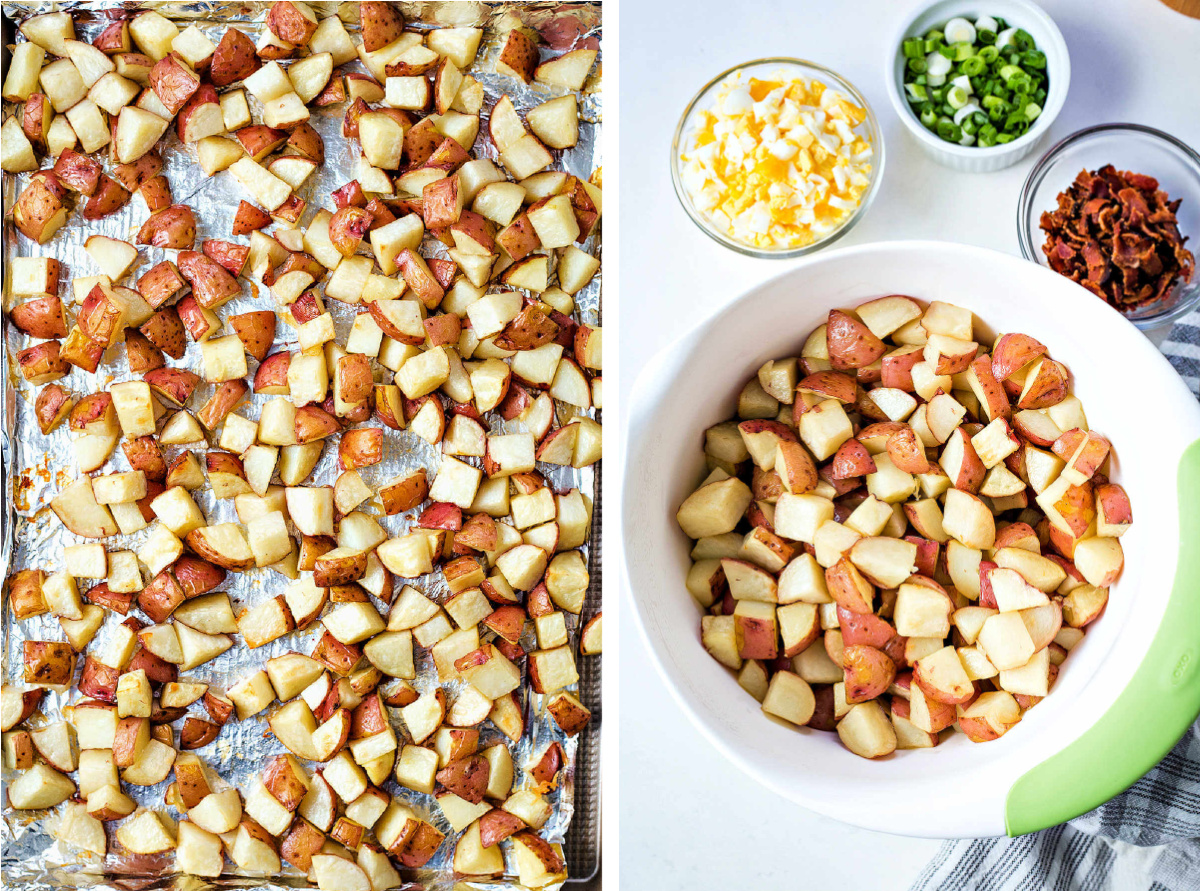 STEP 2 | Roast until softened and browned
Cook in the oven for about 15 minutes at 400 degrees until they are soft enough to poke with a fork. Be sure to stir and flip the pieces once or twice so they brown evenly.
Meanwhile, crumble the cooked strips of bacon and chop the hard-boiled eggs and green onions.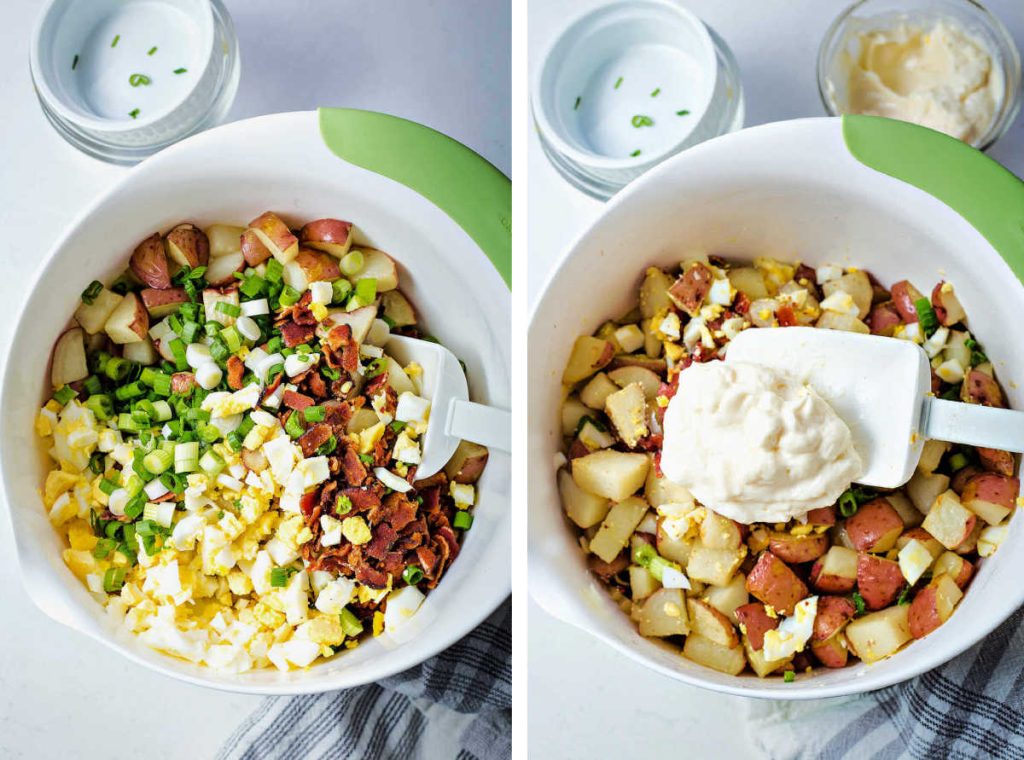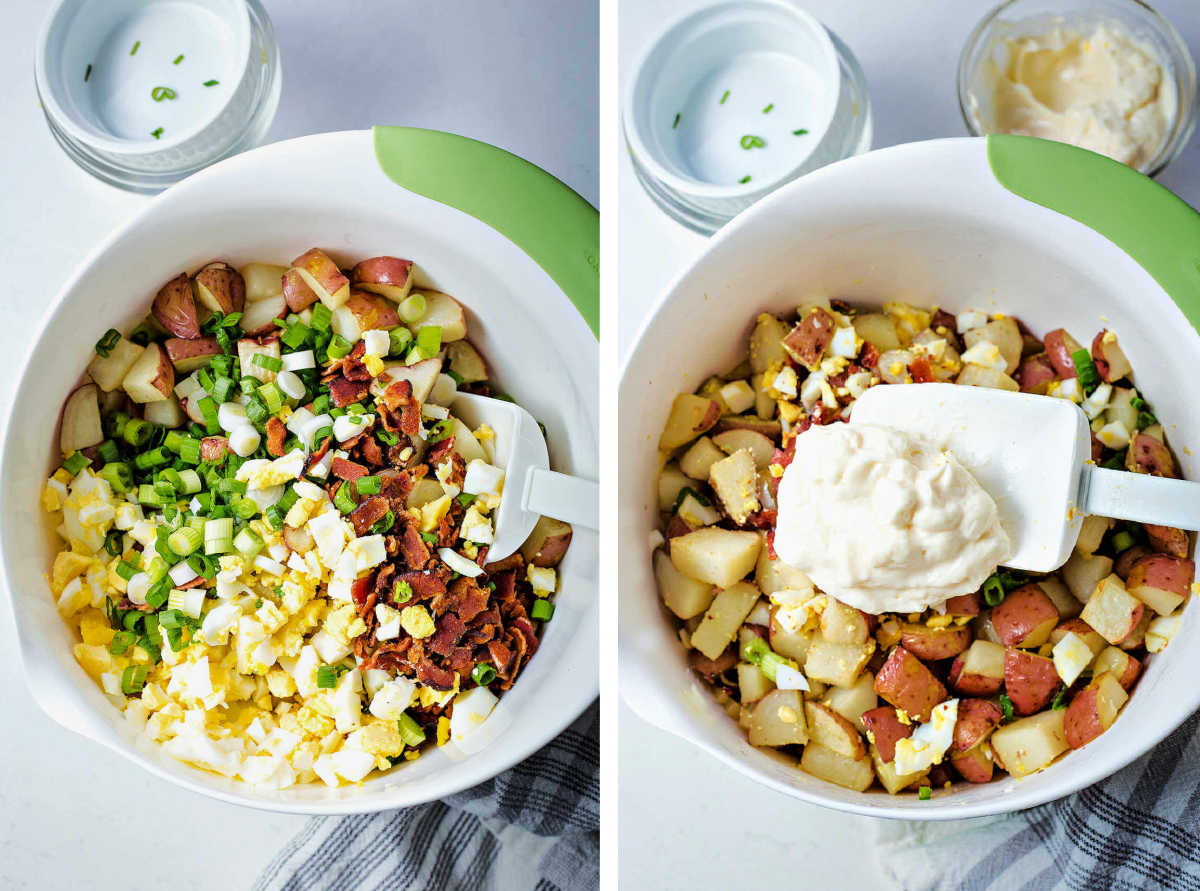 STEP 3 | Stir it all together
Once the potatoes are done, add them to a large bowl with the prepped ingredients. Gently stir in the mayonnaise until everything is well coated. Season with salt and pepper to taste and add more mayo if needed.
STEP 4 | Serve or chill
This roasted potato salad can be served immediately or chilled first, depending on your preference. If serving warm, be sure to refrigerate within two hours so it doesn't spoil. Otherwise, it will keep in the refrigerator for 2 to 3 days.
tips
Line your baking sheet with aluminum foil for easy cleanup.
If you're in a real pinch for time, substitute a package (or two) of Hormel Real Bacon Pieces instead of frying the bacon yourself.
Drop boiled eggs into ice water for a few minutes for easier peeling.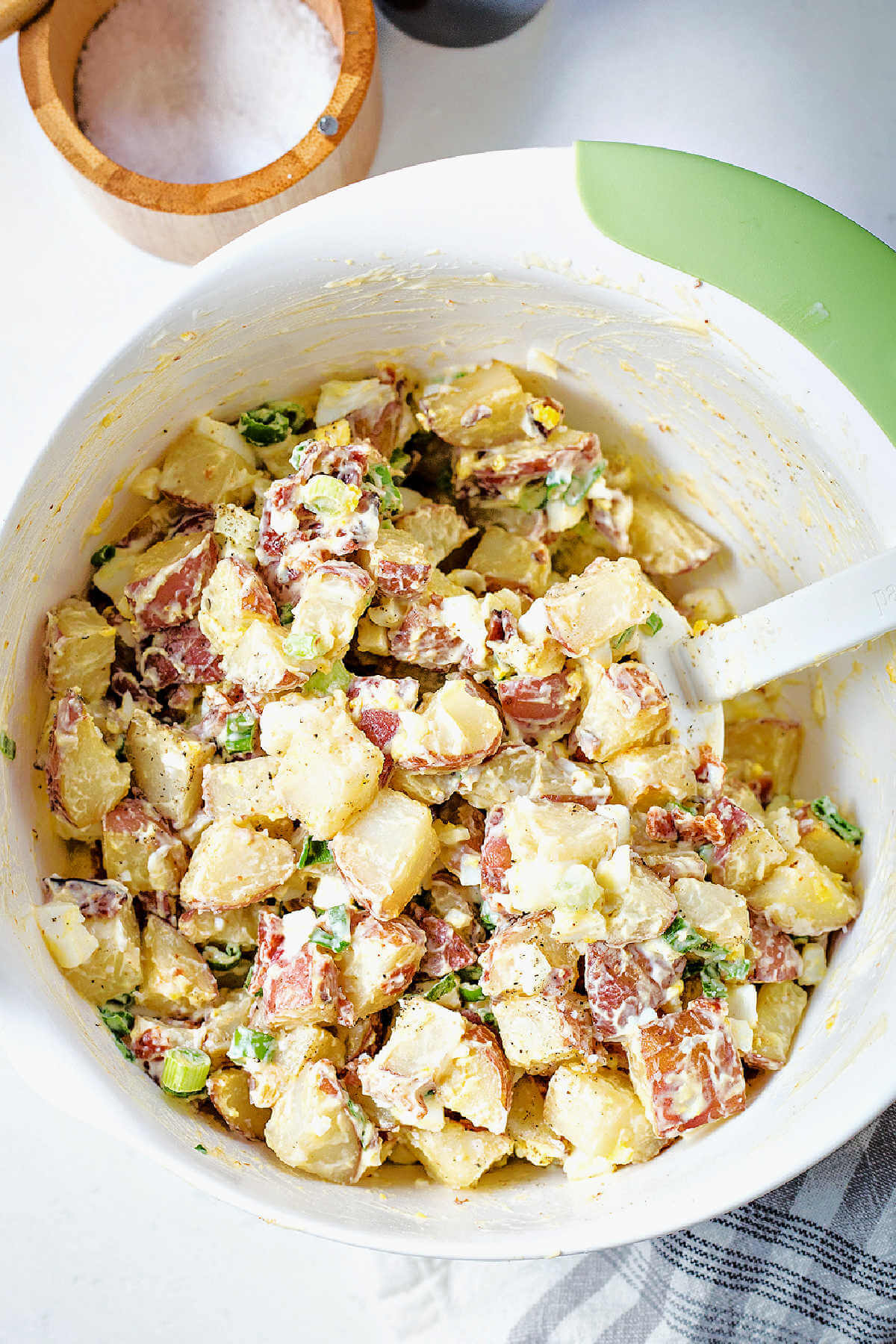 Frequently asked questions
What is the secret to making the best potato salad?
Regardless of the recipe, there is one trick that will guarantee the best results every time. Always combine the potatoes with the other ingredients while the potatoes are still WARM. This creates a creamier dressing and guarantees that the flavors will blend together nicely.
Is it better to boil potatoes before roasting?
No need, especially with red varieties. Boiling first may reduce the time in the oven with Russets, but these cook up fast enough as is. 

Trying to chop them after they've been boiled will also result in a bit of a mess! You'll get perfectly tender and browned spuds for your red potato salad just by baking them with a little olive oil.
How do you keep roasted potato salad cool outside?
It's simple — fill a large bowl halfway with ice, then nestle the bowl of red potato salad inside. This is especially helpful with mayo-based salads that can spoil quickly in hot weather.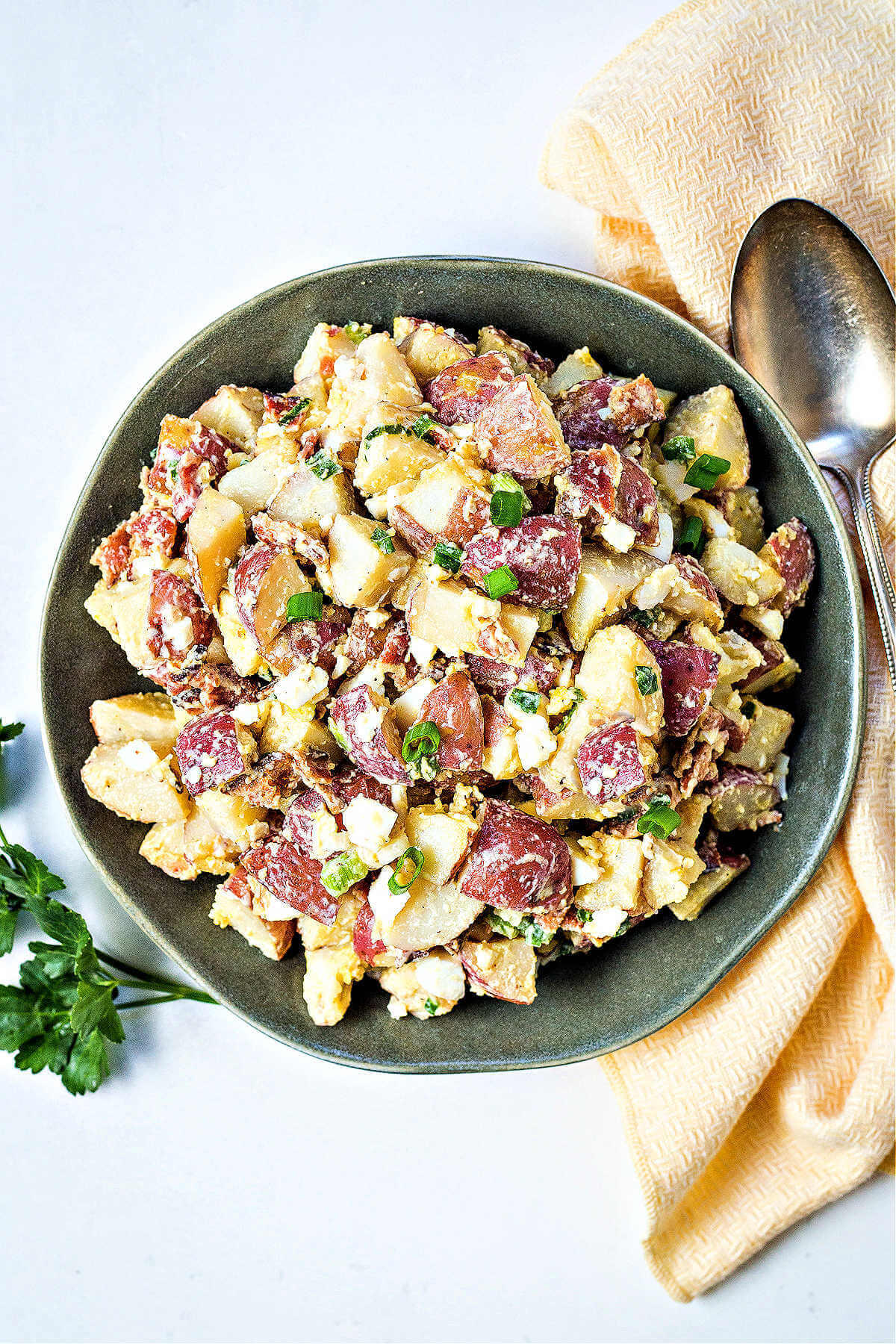 Serving suggestions
Because my red potato salad is a delicious blend of savory and sweet with a hint of tang, it goes well with all of your cookout favorites!
From finger-lickin chicken wings to juicy, fall-off-the-bone smoked ribs, you can't go wrong with this roasted potato salad recipe as a side. You could even serve it with grilled pork chops for an easy weeknight meal.
Please share!
Your shares are how this site grows, and I appreciate each one. Do you know someone who would enjoy this recipe? I'd love it if you would share it on Facebook or Pinterest!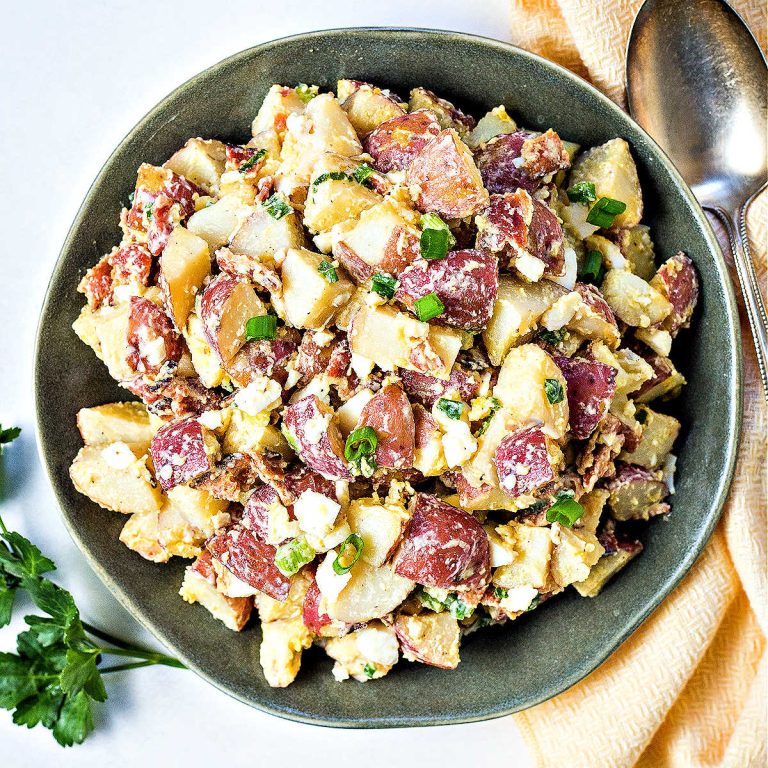 Red Potato Salad
This red potato salad combines roasted spuds with crispy bacon, green onions, and hard-boiled eggs for a creamy and delicious side in just 30 minutes!
Ingredients
3

pounds

red potatoes

scrubbed and cut into bite size pieces (do not peel)

2

tablespoons

olive oil

3

hard boiled eggs

chopped

3

green onions

sliced

6-8

slices

bacon

fried and crumbled

1/2

cup

lite mayonnaise

1/2

teaspoon

kosher salt

1/2

teaspoon

freshly ground black pepper
Instructions
Preheat oven to 400 degrees.

Toss diced red potatoes (do not peel) with olive oil and spread in a single layer on a baking sheet. Roast for 15-18 minutes, turning once or twice, or until fork-tender and lightly browned.

Transfer the potatoes to a large bowl. While still warm, gently stir in the eggs, onion, and bacon. Add the mayonnaise, salt, and pepper, stirring just until all the potatoes are coated. Adjust the amount of mayo, if desired.

Serve immediately or chill and serve cold.
Notes
Always combine the potatoes with the other salad ingredients while the potatoes are still WARM. This creates a creamier dressing and guarantees that the flavors will blend together nicely.
Nutrition
Serving:
1
Servings
Calories:
302
kcal
Carbohydrates:
36
g
Protein:
10
g
Fat:
13
g
Saturated Fat:
3
g
Polyunsaturated Fat:
9
g
Cholesterol:
84
mg
Sodium:
399
mg
Fiber:
3
g
Sugar:
3
g
Life Love and Good Food does not claim to be a registered dietician or nutritionist. Nutritional information shared on this site is only an estimate. We recommend running the ingredients through an online nutritional calculator if you need to verify any information.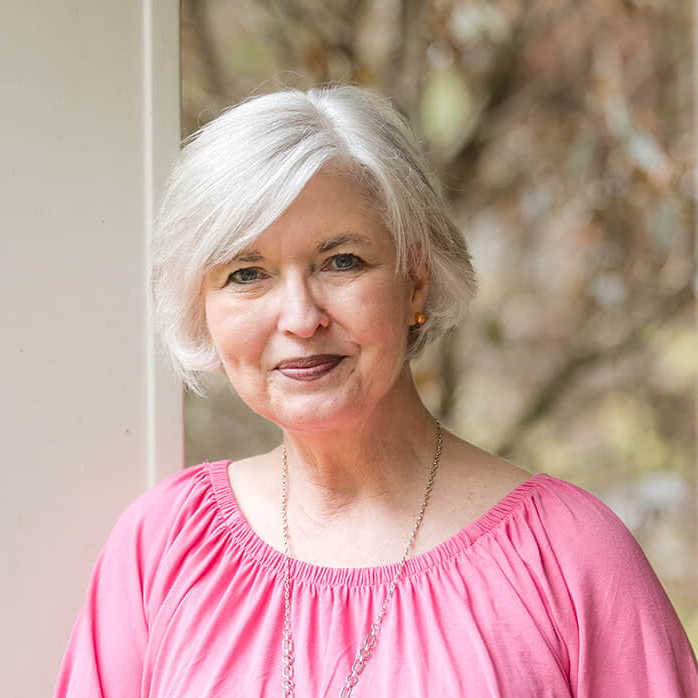 About Sheila Thigpen
Recipe Developer, Food Photographer, Food Writer
Sheila Thigpen is the publisher of Life, Love, and Good Food — a Southern food blog — and the author of Easy Chicken Cookbook and The 5-Ingredient Fresh and Easy Cookbook. After 20+ years in the publishing industry, she retired in 2018 to focus on her own creative endeavors full time. She and her husband live near the beautiful Smoky Mountains and have a precious little granddaughter who has stolen their hearts. As an influencer, Sheila has collaborated with brands like Creamette, Kroger, HERSHEY'S, Hamilton Beach, Garafalo Pasta, OXO, Smithfield, Valley Fig Growers, and more.