This post may contain affiliate links. Please read my disclosure policy.
No need to peel the potatoes when you make this easy Oven Roasted Red Potatoes recipe. Seasoned with pantry spices like rosemary, thyme, and garlic, these crispy potatoes are finished at the end with a drizzle of quality aged balsamic vinegar. Easy. Crispy. Tasty. Enough said!
I regularly use balsamic vinegar —one of my favorite cooking ingredients, by the way — in salad dressings and marinades. It's no surprise I love the elevated taste that simply adding balsamic vinegar gives these roasted red potatoes. They are amazing!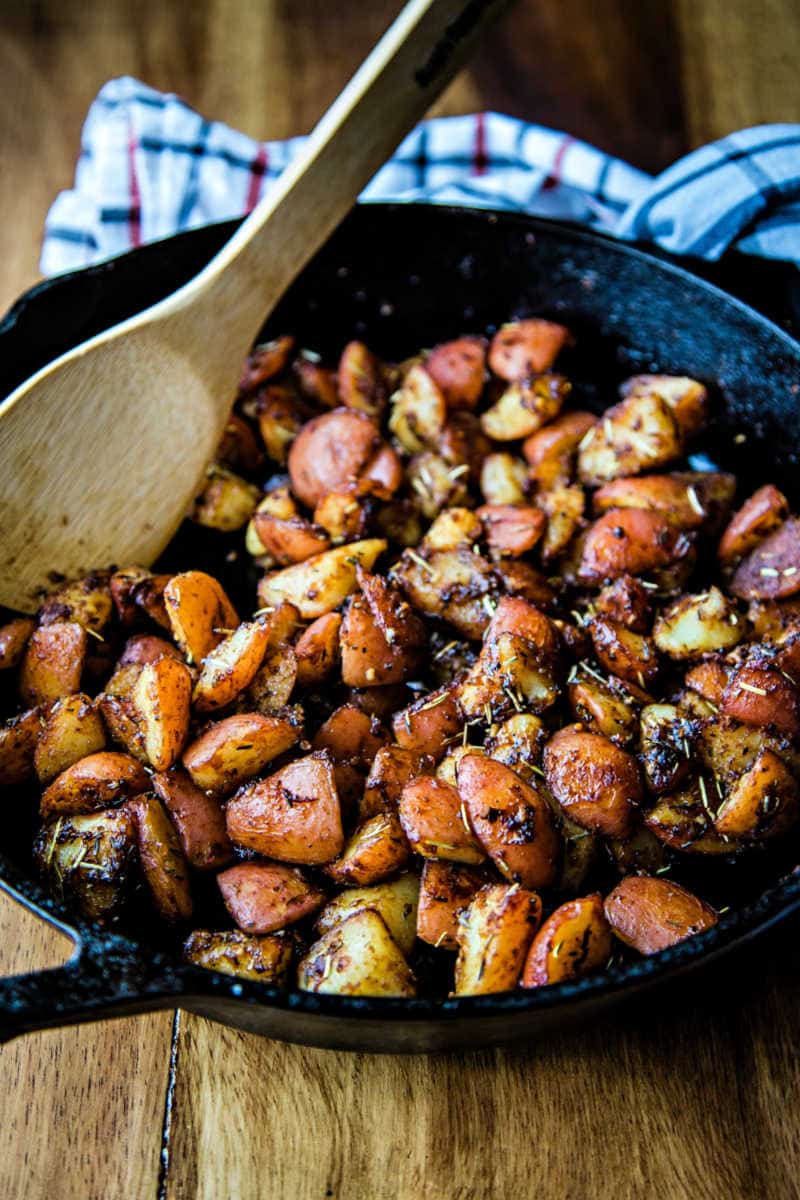 Oven Roasted Red Potatoes
Being a country girl, I often use my cast iron skillet from stove-to-table, especially for casual dinners at home. Who wants to wash up another bowl anyway?
You don't absolutely have to make this recipe in a cast iron skillet, but if you do there are a couple of things to keep in mind:
Preheating the cast iron skillet first will help veggies crisp up and brown nicely.
Make sure your cast iron skillet is well-seasoned.
When using balsamic vinegar, your cookware should be non-reactive. Although cast-iron is considered reactive, if it is an extremely well-seasoned pan it seems to do fine in this recipe since the balsamic is added at the end of cooking for only a very few minutes.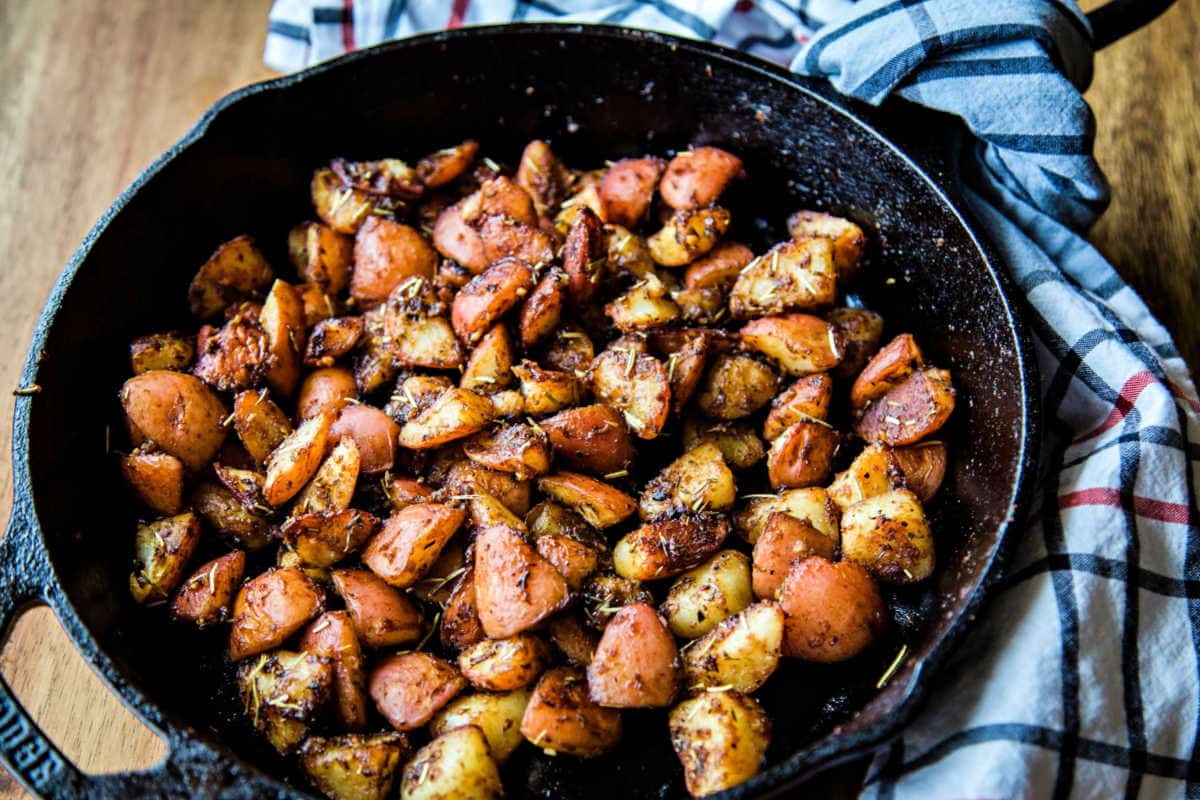 Parboiling
What's the secret for extra-crispy oven-roasted potatoes? Parboiling. Before roasting the potatoes, parboil them with baking powder in the water. And secret number two? Don't overcrowd the roasting pan or skillet.
Boiling potatoes with a little baking powder in the water will remove a lot of starch from the potatoes so they get even crispier during roasting. To parboil, cut the potatoes into one-inch cubes and cook them in boiling water for about five minutes. If you cut larger chunks, you'll need to cook them longer.
Drain the potatoes very well, season them, and bake in a skillet or pan large enough to spread out the potatoes. The more space, the crispier the potatoes will get when roasting.
About red potatoes
When buying potatoes, you want to look for firm, smooth potatoes, preferably of uniform size. Avoid buying potatoes with wrinkled skin, decayed areas, cuts or bruises.
Store the potatoes in a cool dark place, like your pantry. If they come in a plastic bag, make sure the bag has ventilation holes or remove them to an open bin to store. Don't wash potatoes before storing them as that can cause them to rot quicker. When ready to cook, clean the potatoes under cool running water with a potato or vegetable scrubber to remove any dirt and dry with paper towels.
Related recipes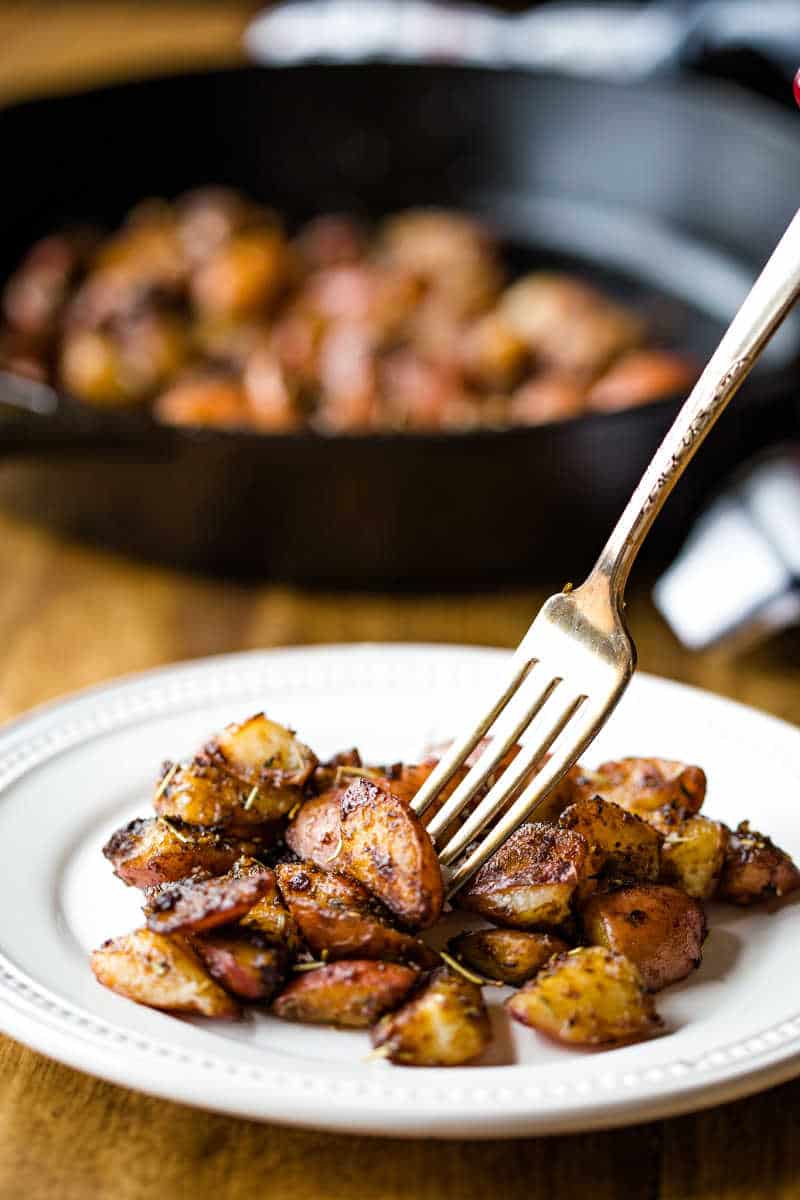 Serving suggestions
Oven Roasted Red Potatoes pair well with grilled burgers or chicken and even make a tasty breakfast side dish.
If you're a real balsamic vinegar fan like me, drizzle a little extra on top of the potatoes just before serving.
Please share!
Your shares are how this site grows, and I appreciate each one. Do you know someone who would enjoy this recipe? I'd love it if you would share it on Facebook or Pinterest!
First Published: February 5, 2014. Last Updated: March 19, 2020.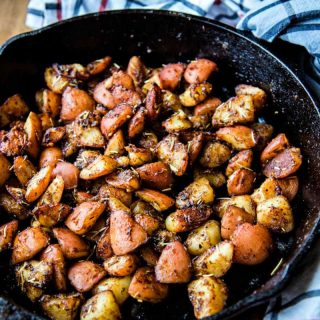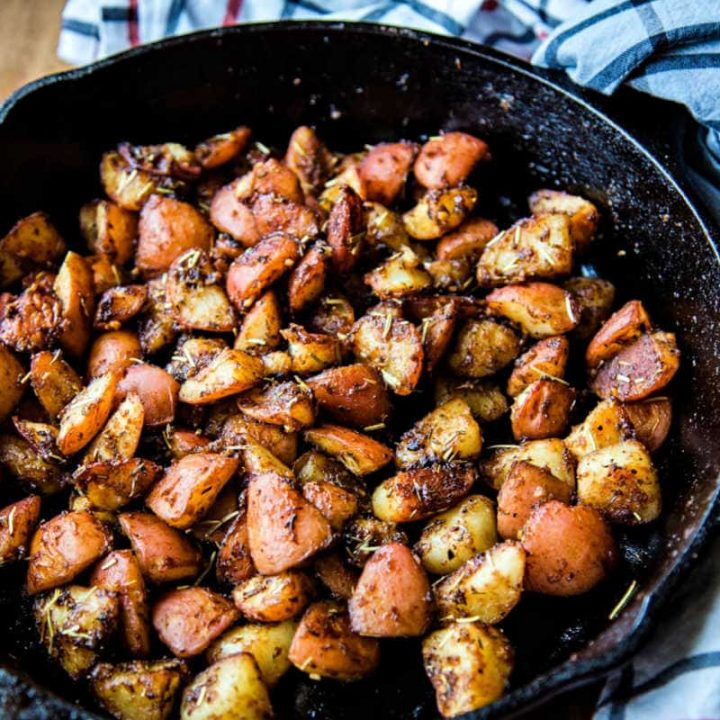 Crispy Oven Roasted Red Potatoes with Balsamic Vinegar
Seasoned with pantry spices like rosemary, thyme, and garlic, these Oven Roasted Red Potatoes are finished at the end with a drizzle of quality aged balsamic vinegar.
Ingredients
2

tablespoons

unsalted butter

1-1/2

pounds

red potatoes

unpeeled and cut into 1-inch cubes

1/2

teaspoon

baking soda

1

teaspoon

kosher salt

divided

1

tablespoon

minced garlic

1/2

teaspoon

thyme

1/2

teaspoon

rosemary

1/2

teaspoon

pepper

3

Tablespoons

balsamic vinegar
Instructions
Preheat the oven to 425 degrees. Melt 2 tablespoons unsalted butter in a large cast iron skillet in the oven as it preheats.

Boil the potatoes in a pot of water with 1/2 teaspoon baking soda and 1/2 teaspoon salt for 5 minutes; drain.

Remove the cast iron skillet from the oven and add the potatoes to the hot pan. Sprinkle with the remaining salt, minced garlic, thyme, rosemary, and pepper. Stir gently until the potatoes are well coated.

Return the skillet to the oven and roast for 15 to 20 minutes. Stir in the balsamic vinegar and continue baking another 5 to 6 minutes, until the potatoes are browned and crispy.

Notes
If you cut the potatoes in larger chunks, you'll need to parboil them a bit longer until they are just beginning to get tender.
Use leftover potatoes within three days.
Nutrition
Serving:
1
g
Calories:
178
kcal
Carbohydrates:
32
g
Protein:
4
g
Fat:
4
g
Saturated Fat:
2
g
Polyunsaturated Fat:
1
g
Cholesterol:
10
mg
Sodium:
478
mg
Fiber:
3
g
Sugar:
3
g
Life Love and Good Food does not claim to be a registered dietician or nutritionist. Nutritional information shared on this site is only an estimate. We recommend running the ingredients through an online nutritional calculator if you need to verify any information.