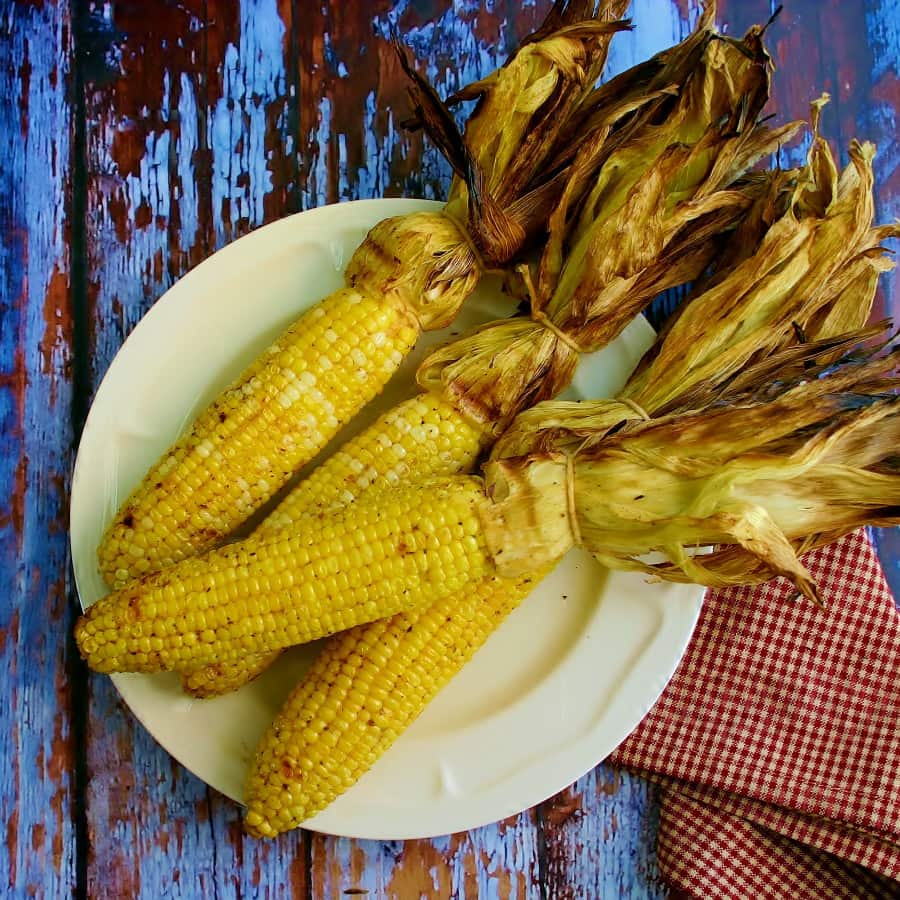 The absolute BEST corn is fresh, sweet corn straight from the garden to the dinner table, and one of the absolute best summertime corn cooking methods  is on the grill. We've tried several recipes — you can't really go wrong if you start with good corn — but this Spicy Grilled Corn is one of my all-time faves!
The secret — besides spiced butter — is grilling in the husks. If you haven't tried this method before, you must! Start by carefully peeling back the husks and remove the silks. Close the husks back around the corn and soak in cold water for about an hour. After this prep time, you're ready to start grilling some really flavorful corn on the cob.
While the corn is soaking, make the garlic-infused, spicy butter concoction (see the recipe below). Once the corn has soaked for an hour, drain the water off and shake each ear gently to remove any extra moisture. Peel back the husks to brush on the butter mixture, then recover the ears with their husks — pressing gently to wrap them back around the kernels.
Cook on low heat for about 15 minutes with the grill lid down, turning often. Now for the tricky part…remove the corn to a platter or cutting board and very carefully peel back the husks and tie together with a piece of kitchen twine, snipping off the extra string. Turn the grill up to medium heat. Place the corn on the grates, and brush on the remaining butter mixture and cook until tender.
Be warned — this corn is addictive! Enjoy!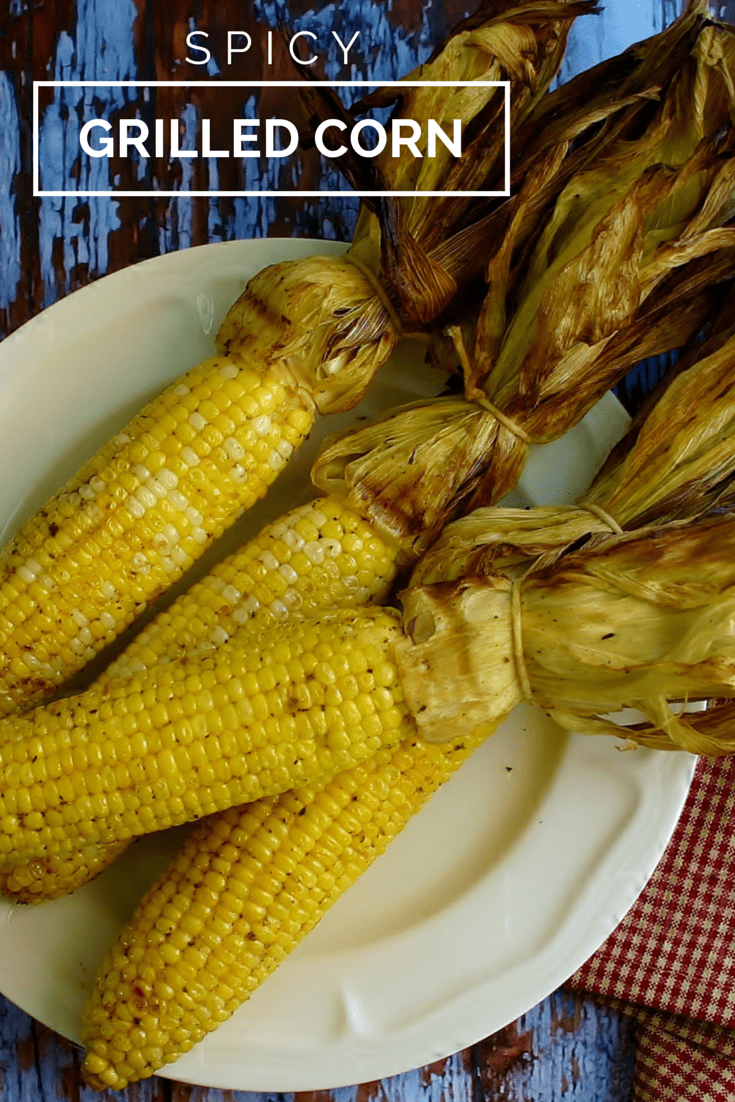 sheilathigpen
Yields 6
Spicy Grilled Corn
1 hrPrep Time
30 minCook Time
1 hr, 30 Total Time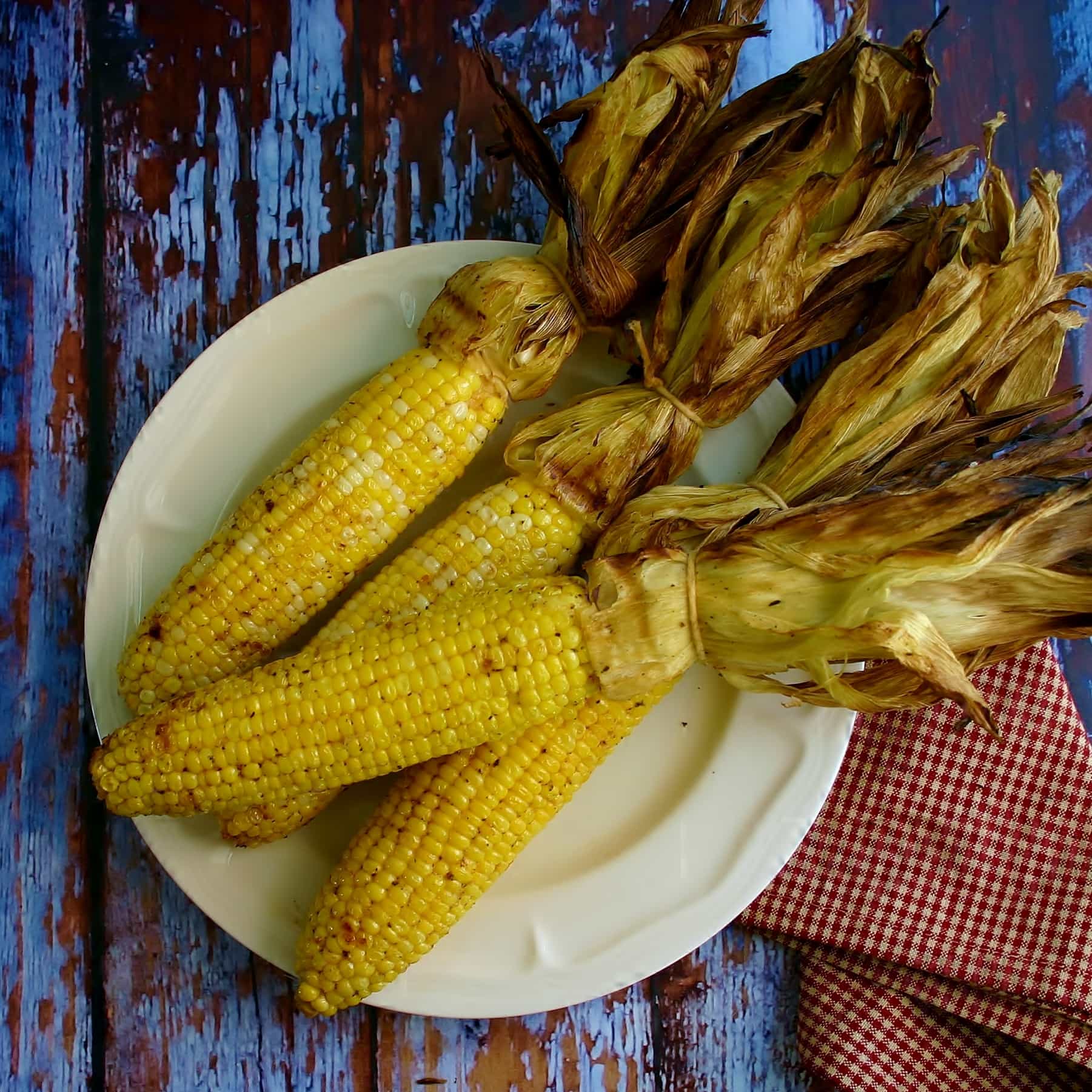 Ingredients
5 cloves garlic, minced, or more to taste
1/2 cup butter
1 tablespoon white sugar
1 teaspoon salt
1 teaspoon ground cumin
1 teaspoon ground black pepper
2 tablespoons hot pepper sauce
6 ears fresh corn
Instructions
Peel back husks and remove silks from corn. Recover ears with the husks and soak in water for one hour.
Preheat an outdoor grill for low heat.
Heat the garlic and butter in a small saucepan over low heat for 5 minutes to infuse the butter with the flavor of garlic. Do not let the butter simmer. Stir together the sugar, salt, black pepper, and cumin in a small dish. Stir into the butter mixture along with the hot sauce until evenly blended.
Remove corn from soaking water and shake to remove excess moisture. Gently peel back husks and brush the ears of corn generously with the garlic butter; reserve remaining butter. Recover ears with husks.
Cook the corn on the preheated grill, rotating often, 10 to 15 minutes.
Remove corn from grill, peel back husks, and secure with kitchen twine.
Increase grill heat to medium heat. Place corn on grates and brush with the remaining butter and cook for another 10 to 12 minutes.
Notes
7.6.2
84
http://lifeloveandgoodfood.com/spicy-grilled-corn/