This post may contain affiliate links. Please read my disclosure policy.
Simple ingredients like marinated veggies, fresh herbs, and tangy cheese come together to create a truly amazing flavor.
Mediterranean cucumber tomato salad combines farm fresh vegetables with herbs, seasoning, and a simple dressing. Mix up a bowl in minutes!
Crisp cucumbers, ripe sweet tomatoes, red onion, and tangy Feta cheese get tossed with a splash of extra-virgin olive oil and red wine vinegar in this yummy 15-minute summer side.
This recipe is so easy, you can even prepare it table-side! Have everything prepped ahead of time, toss together in a pretty bowl, and allow it to sit for just a few minutes before dishing it out.
Enjoy more Mediterranean flavor with this heirloom tomato salad or my chicken kabobs with cucumber sauce. Both are a great way to use up any extra vegetables while they're still ripe.
Looking for something a little more kid friendly? This Catalina salad made with crispy corn chips is always a hit at every potluck and picnic.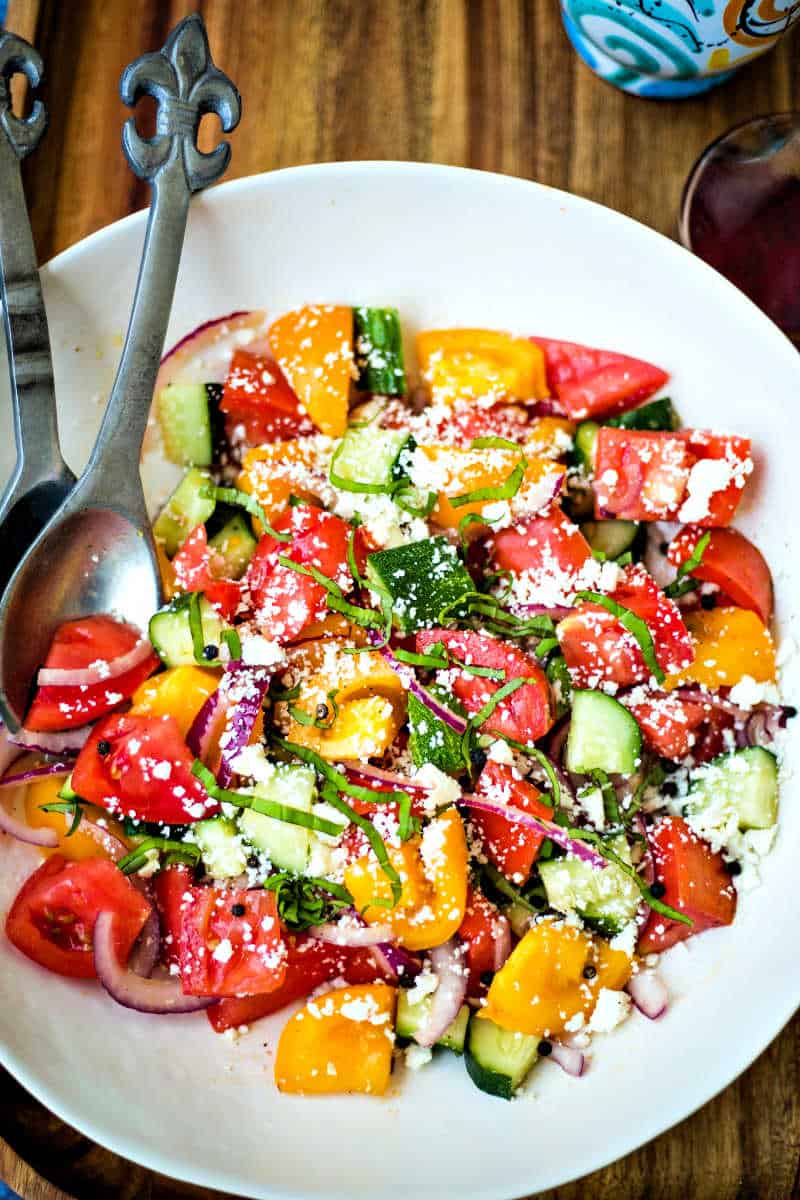 Why you're going to love it!
Light and refreshing. Perfect on those extra hot days.
Bold flavors. Simple ingredients can still pack a punch.
Goes with just about everything. Tastes great with all kinds of meat and seafood.
Mediterranean Cucumber Tomato Salad: behind the recipe
Growing up as a farm girl, fresh tomatoes and cucumbers were served at almost every meal during the summer harvest.
I love a good tomato in any form, and I've developed a taste for Greek flavors which means I add a little Feta cheese wherever I can manage.
So, there's no way I could resist a good cucumber tomato feta salad! It has the best of both worlds — fresh vegetables and Greek-inspired flavor. I think you'll love it, too.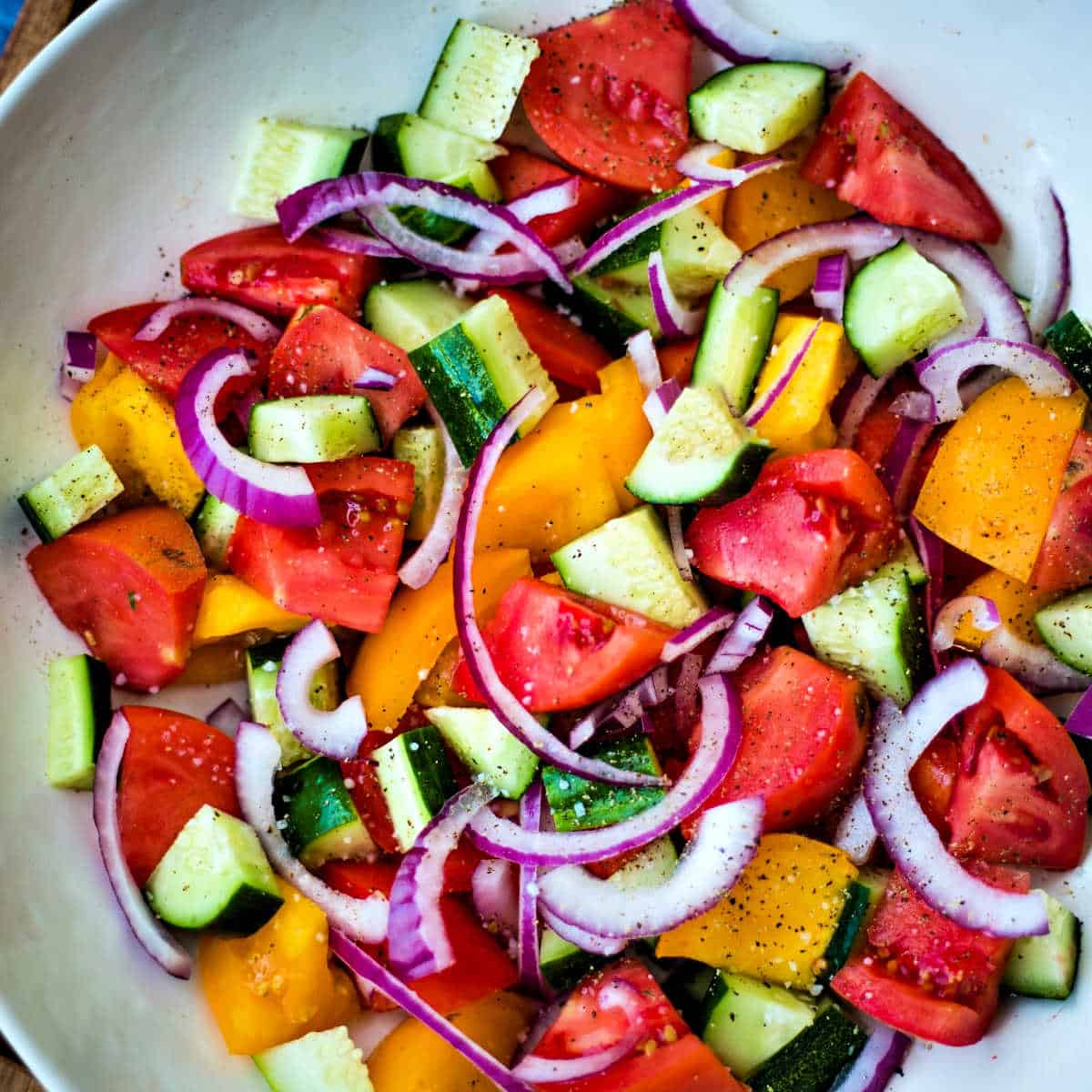 Key ingredients and substitutions
Cucumbers — Avoid big, thick cucumbers for this recipe and choose small to medium-sized ones instead. English cucumbers are another great option, especially if you prefer your vegetables peeled. The skin is a lot more delicate and can be left on, saving you extra prep!
Tomatoes — Look for the ripest, sweetest tomatoes you can find. In my area, I opt for Grainger Country homegrown tomatoes when they are available. Other times, I'll substitute Campari or cherry tomatoes. Heirloom tomatoes will add a lovely range of colors to your plate as well.
Olive oil — With simple recipes like this, it's important to use a high-quality oil for the marinated veggies for the best flavor. Extra virgin olive oil is perfect for dressings and dips because it has a more pleasant taste than other grades that have undergone more processing.
Serving suggestions
Perfect for picnics, outdoor barbecues, or whenever you want something fresh and delicious. Enjoy this side dish with all of your warm weather favorites.
There's plenty of acidity in every bite, so pair this Mediterranean cucumber tomato salad with something savory and sweet for a nice contrast.
Red meat and chicken are always popular choices, but don't forget about seafood! Want something lighter? Add a platter of pita bread and hummus and graze until you are full.
How to make cucumber tomato feta salad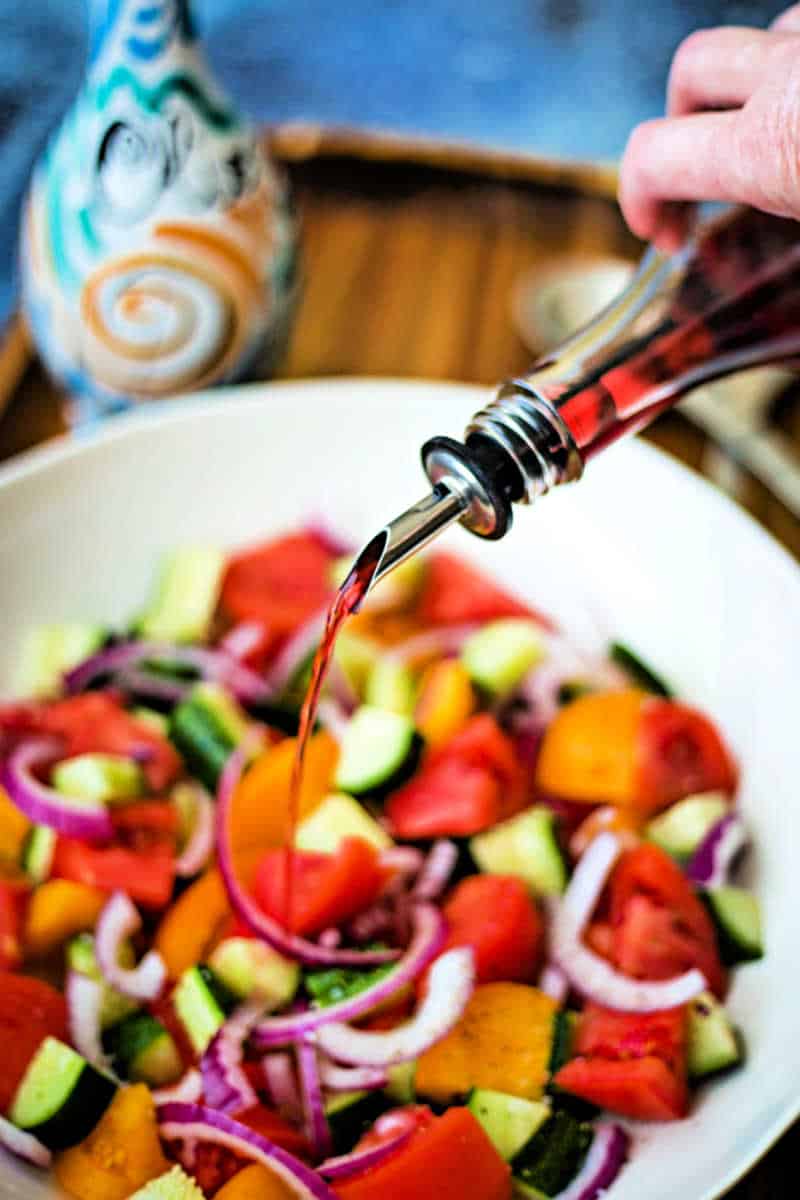 STEP 1 | Combine the vegetables
Cut everything into bite-sized pieces and season with salt and pepper.
If your red onion seems particularly strong, put it in a colander and pour a cup of boiling water over the top to tame the flavor a bit.
STEP 2 | Toss with dressing
Pour oil and red wine vinegar right over the top of everything, then stir until well coated.
To avoid clumping, add the basil and cheese after mixing or sprinkle it over the marinated veggies once plated.
STEP 3 | Marinate and serve
Allow the cucumber tomato feta salad to marinate for a few minutes before serving. Then, be sure to soak up all the goodness at the bottom of the bowl with slices of crusty bread or my easy focaccia.
Garnishing the salad with some basil chiffonade and whole black peppercorns adds a little more visual interest to the plate.
Recipe variations
Not only is this Mediterranean cucumber tomato salad wonderful as written, but it's a good base for creating other delicious dishes!
I love to transform it into a panzanella by tossing in about 3 cups of toasted bread cubes. Slice an Italian loaf into 2-inch chunks and pop them in the oven until they turn golden brown. Add to the marinated veggies just before serving and sprinkle with freshly grated Parmesan cheese.
Make it extra Greek. Add a couple handfuls of kalamata olives and capers.
Turn it into pasta salad. Stir in about 2 cups of cooked pasta like bowties or corkscrews.
Mix up the cheese. Not a fan of Feta? Try cubes of mozzarella instead.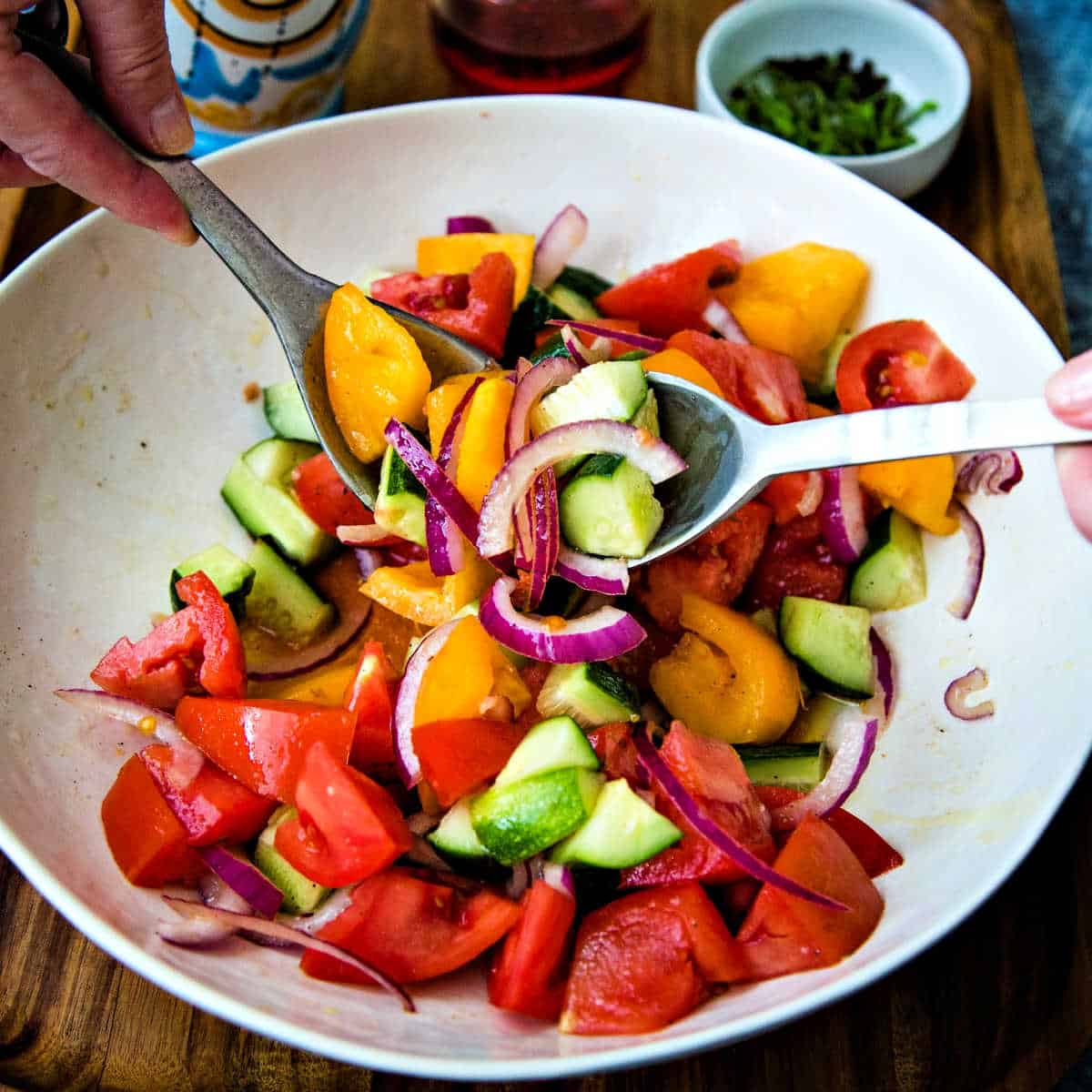 Frequently asked questions
What can you substitute for red wine vinegar?
This ingredient is usually a staple in my pantry, but of course, when I started preparing the Mediterranean cucumber tomato salad I unexpectedly ran out. What to do?!

Luckily, there's a simple fix to this dilemma — combine equal parts of white vinegar and red wine.

What's the best knife for slicing tomatoes?
Any sharp, serrated blade is best — the kind that looks like it has "teeth" instead of a smooth edge. The points easily pierce the outer skin so the knife can glide through the tender flesh without squishing it.

Can I make this Mediterranean cucumber tomato salad ahead of time?
Because the marinated vegetables will soften the longer they sit, I recommend preparing this just before serving. 

If you're in a pinch for time, you could prep the vegetables the night before and store them in the refrigerator until you're ready to put everything together. Keep them in separate airtight containers for best results.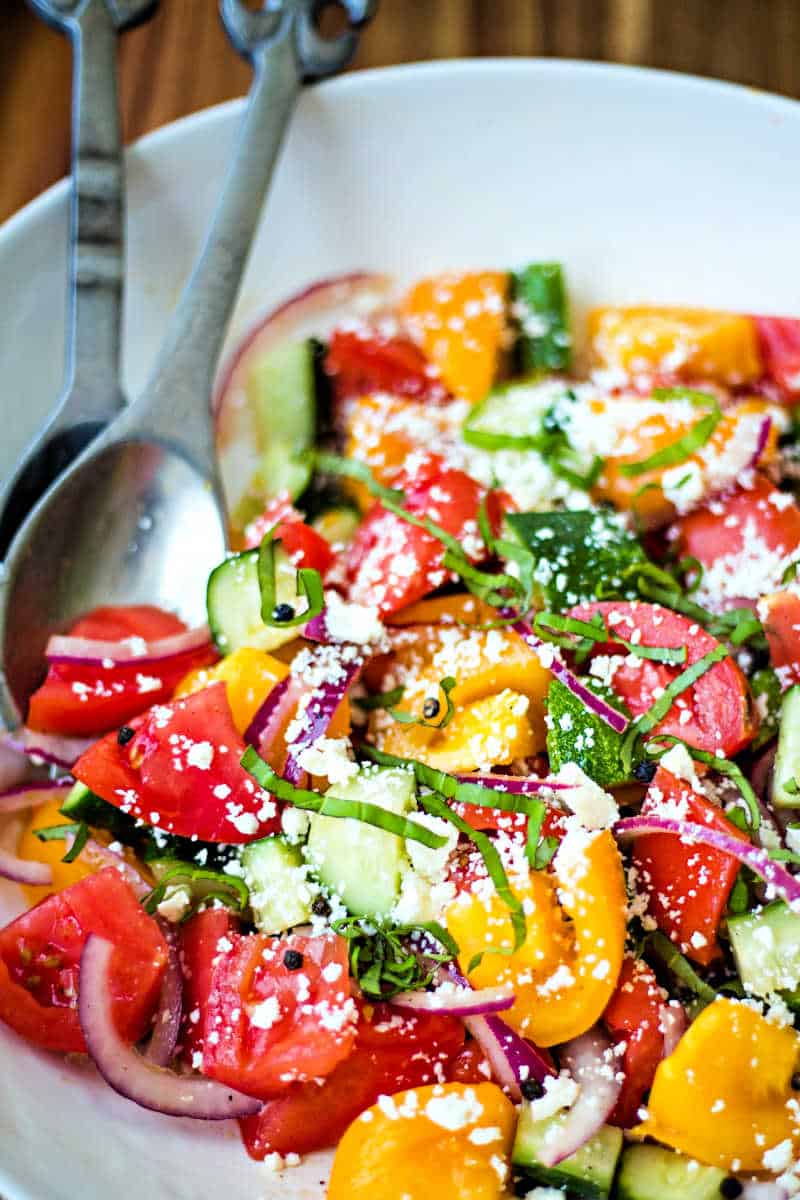 Please share!
Your shares are how this site grows, and I appreciate each one. Do you know someone who would enjoy this recipe? I'd love it if you would share it on Facebook or Pinterest!
First Published: September 2, 2015. Last Updated: May 14, 2021.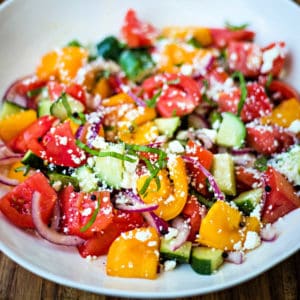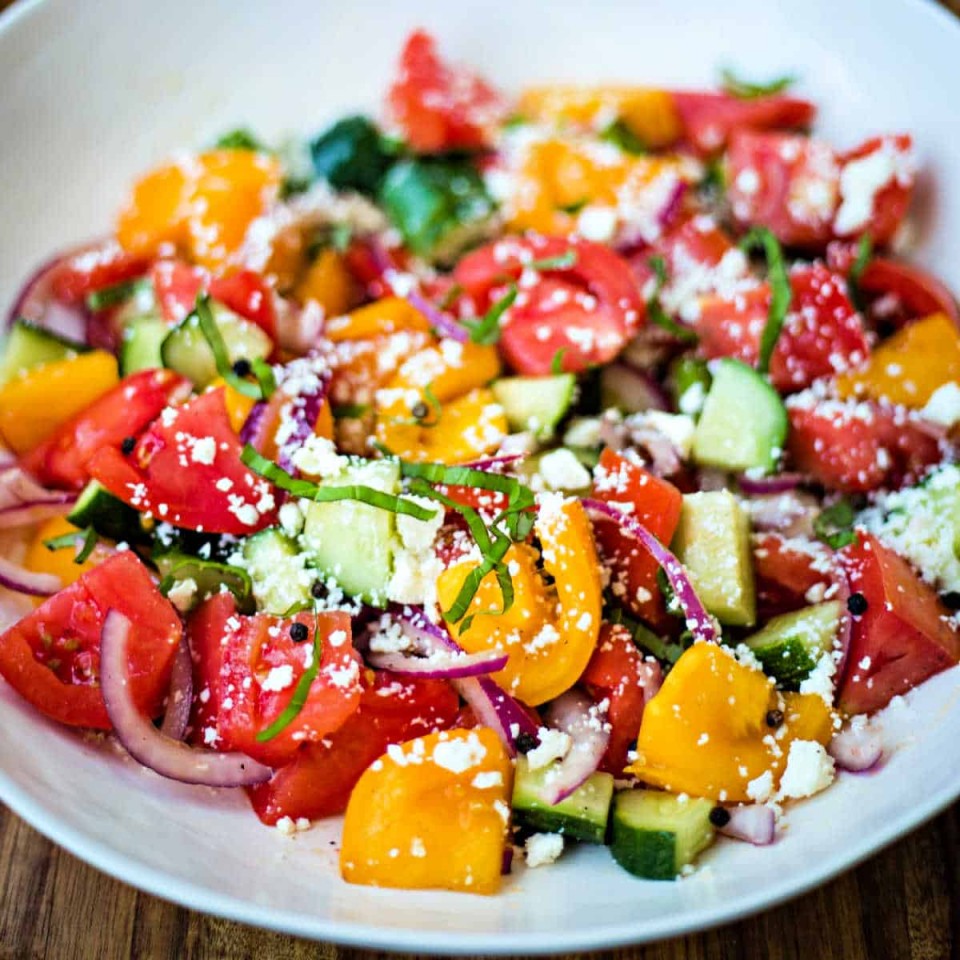 Cucumber Tomato Feta Salad
Allow Cucumber Tomato Feta Salad to marinate for a few minutes before serving, then be sure to soak up all the goodness in the bottom of the bowl with chunks crusty bread.
Ingredients
2

small

cucumbers

halved and sliced

4

medium

tomatoes

cut into wedges

1/4

medium

red onion

sliced thinly

1/4

cup

feta cheese crumbles

1

tablespoon

fresh basil

cut into chiffonade or minced

2

tablespoons

extra-virgin olive oil

2

tablespoons

red wine vinegar

kosher salt & freshly ground pepper to taste
Instructions
In a large shallow bowl, toss together the cucumbers, tomatoes, and red onion. Season with salt and

freshly ground black pepper

to taste.

Pour equal amounts of extra-virgin olive oil and red wine vinegar over top and toss gently again.

Sprinkle the salad with feta cheese and basil. Allow the salad to sit at room temperature for 10to 15 minutes, then serve with crusty bread.
Notes
An easy substitute for red wine vinegar is to combine equal amounts of white vinegar and red wine to create your own.
Nutrition
Serving:
4
Servings
Calories:
123
kcal
Carbohydrates:
9
g
Protein:
3
g
Fat:
9
g
Saturated Fat:
2
g
Polyunsaturated Fat:
6
g
Cholesterol:
8
mg
Sodium:
169
mg
Fiber:
2
g
Sugar:
5
g
Life Love and Good Food does not claim to be a registered dietician or nutritionist. Nutritional information shared on this site is only an estimate. We recommend running the ingredients through an online nutritional calculator if you need to verify any information.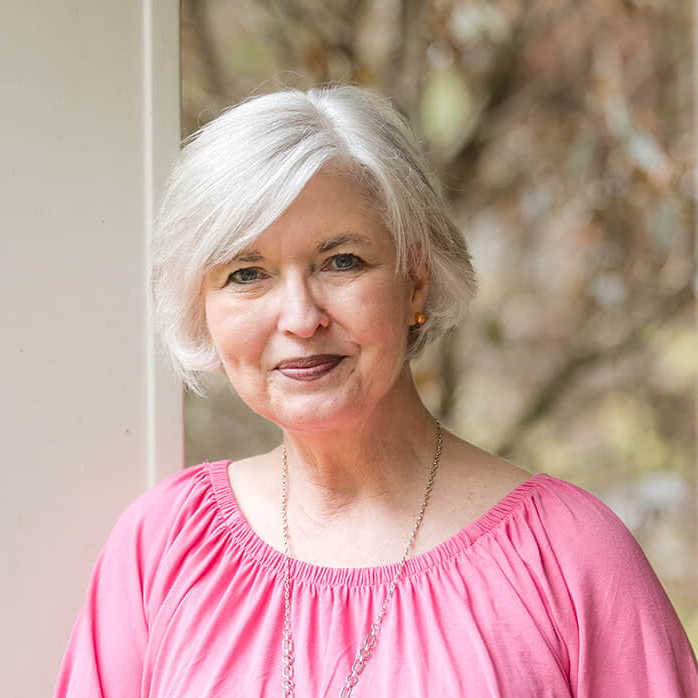 About Sheila Thigpen
Recipe Developer, Food Photographer, Food Writer
Sheila Thigpen is the publisher of Life, Love, and Good Food — a Southern food blog — and the author of Easy Chicken Cookbook and The 5-Ingredient Fresh and Easy Cookbook. After 20+ years in the publishing industry, she retired in 2018 to focus on her own creative endeavors full time. She and her husband live near the beautiful Smoky Mountains and have a precious little granddaughter who has stolen their hearts. As an influencer, Sheila has collaborated with brands like Creamette, Kroger, HERSHEY'S, Hamilton Beach, Garafalo Pasta, OXO, Smithfield, Valley Fig Growers, and more.