Getting back to the basics in the kitchen with Sweet Basil Roasted Chicken – moist, juicy, and the ultimate Sunday supper.
Here's one chicken that is worthy of a being the main event at your next Sunday supper without causing too much fuss for the cook. Sweet Basil Roasted Chicken starts with a basil rub that is made with simple blend of spices found in the pantry – basil, of course, along with paprika, and onion and garlic powders.
I was a little intimidated the first time I roasted a whole chicken, but after trying this recipe several years ago I learned that making roast chicken is actually one of the easiest home cooked meals to prepare as long as you have a little time.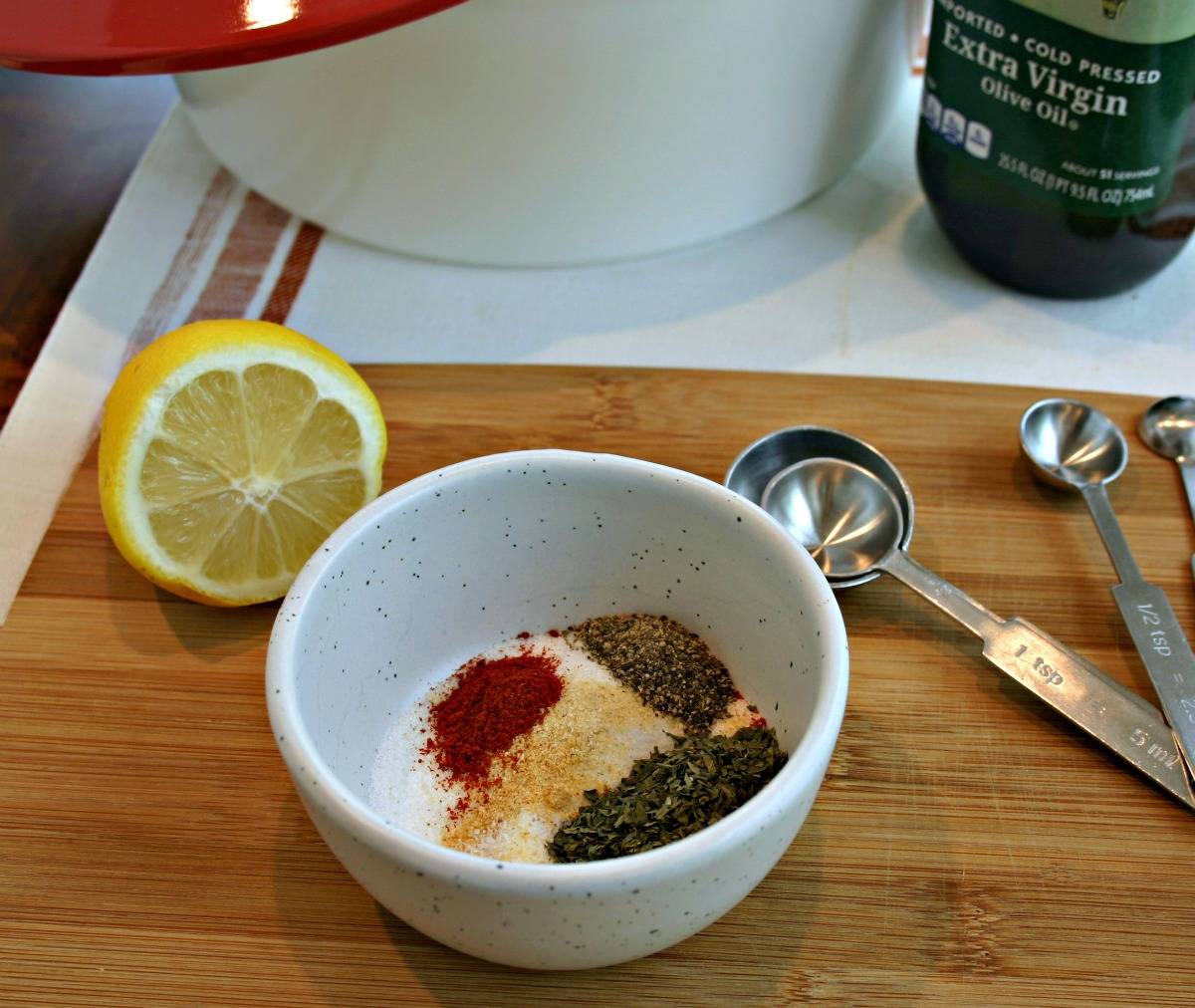 Do the prep work, start baking, and then take a Sunday nap until dinner is ready! Start with a 6-7 pound roasting hen. Remove all the parts from the cavity, rinse, and dry thoroughly. Coat the hen with a couple of tablespoons of olive oil then rub all over with the spice blend.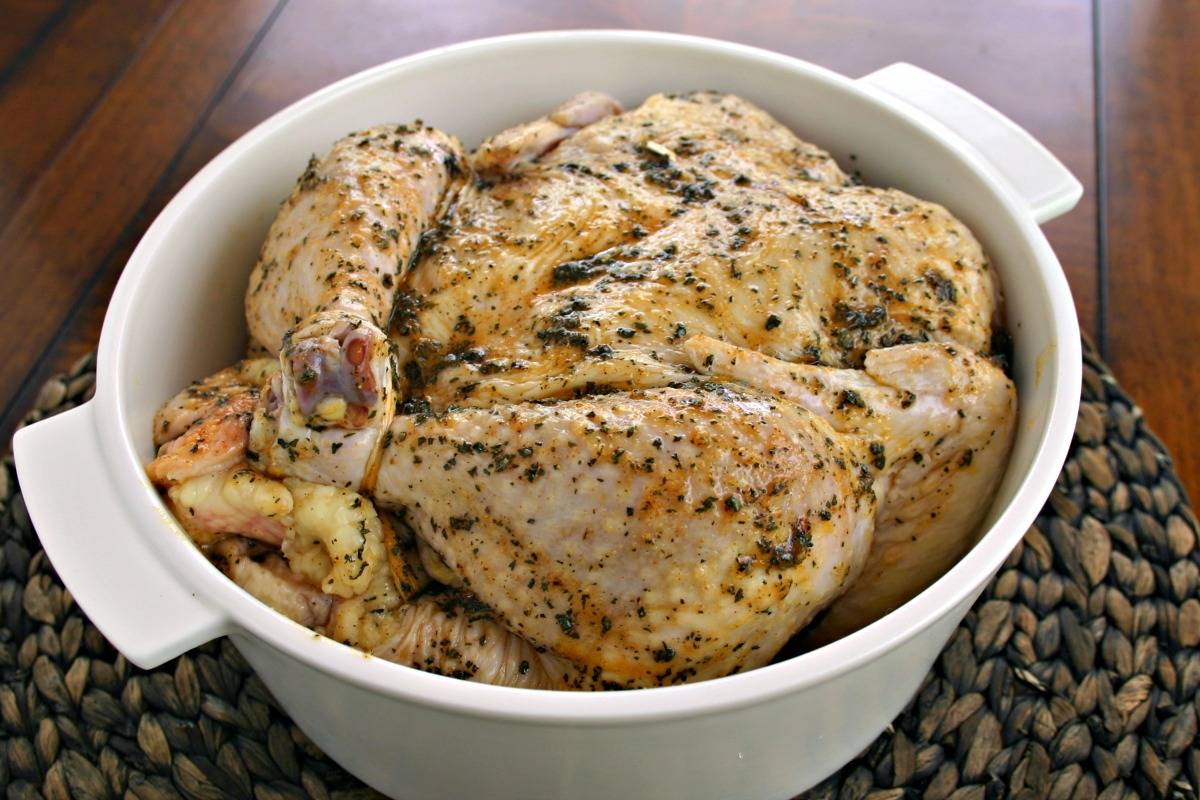 Place the hen in a dutch oven or roasting pan and bake uncovered for two hours. Always test for doneness by checking to make sure the juices run clear or until a thermometer inserted into the inner thigh reads 155 degrees.
Although this recipe for Sweet Basil Roasted Chicken is for conventional roasting in the oven, it can easily be adapted for a slow cooker, but to get a crispy golden skin, stick with roasting it in the oven. For the slow cooker, cook on high for 4-5 hours or on low for 8-10 hours until juices run clear.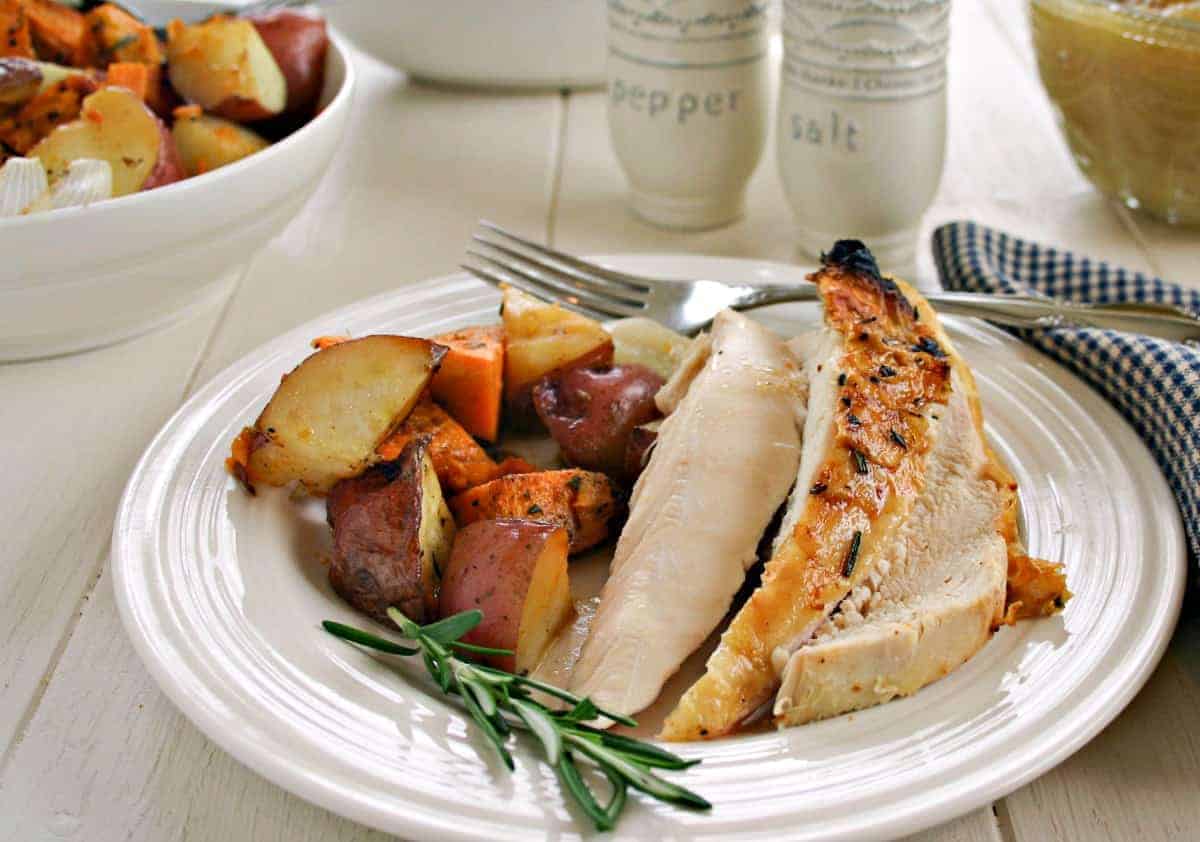 You can also roast vegetables with this chicken – toss in potatoes, carrots, and onion – for a complete no-fuss home-cooked meal your family will love. Enjoy!
sheilathigpen
Yields 6
Sweet Basil Roasted Chicken
10 minPrep Time
2 hrCook Time
2 hr, 10 Total Time
Ingredients
6-7 pound roasting chicken
1 Tablespoon salt
2 teaspoons sugar
1/4 teaspoon garlic powder
1/4 teaspoon onion powder
1/4 teaspoon paprika
1/2 teaspoon lemon juice
1/2 teaspoon pepper
1 Tablespoon dried basil
2 Tablespoons olive oil
Instructions
Remove all parts from the chicken cavity and rinse the chicken under cool water inside and out. Pat dry with paper towels and tie legs together with cooking string/twine. Place chicken in a roasting pan (you may place on a rack in the pan, but not entirely necessary).
Mix together spices, lemon juice, and olive oil to make the rub and apply liberally all over chicken; bake uncovered for 2 hours at 350 degrees.
Allow to cool slightly before carving or removing meat from the bone.
Notes
This recipe was originally clipped from packaging on a fresh hen. Sorry, no idea what poultry company to give credit!
7.6.2
14
http://lifeloveandgoodfood.com/sweet-basil-roasted-chicken/