This post may contain affiliate links. Please read my disclosure policy.
Air Fryer Sweet Potato Chips make a fresher and healthier snack than grabbing a bag of salty potato chips from your grocery store and best of all they're fun to make!
Crunchy and sweet with just a hint of salt, these air fried sweet potato chips make a delicious side for gourmet burgers and sandwiches, too.
Getting crispy chips from the air fryer is easy by following a few important tips which I'm happily sharing with you today.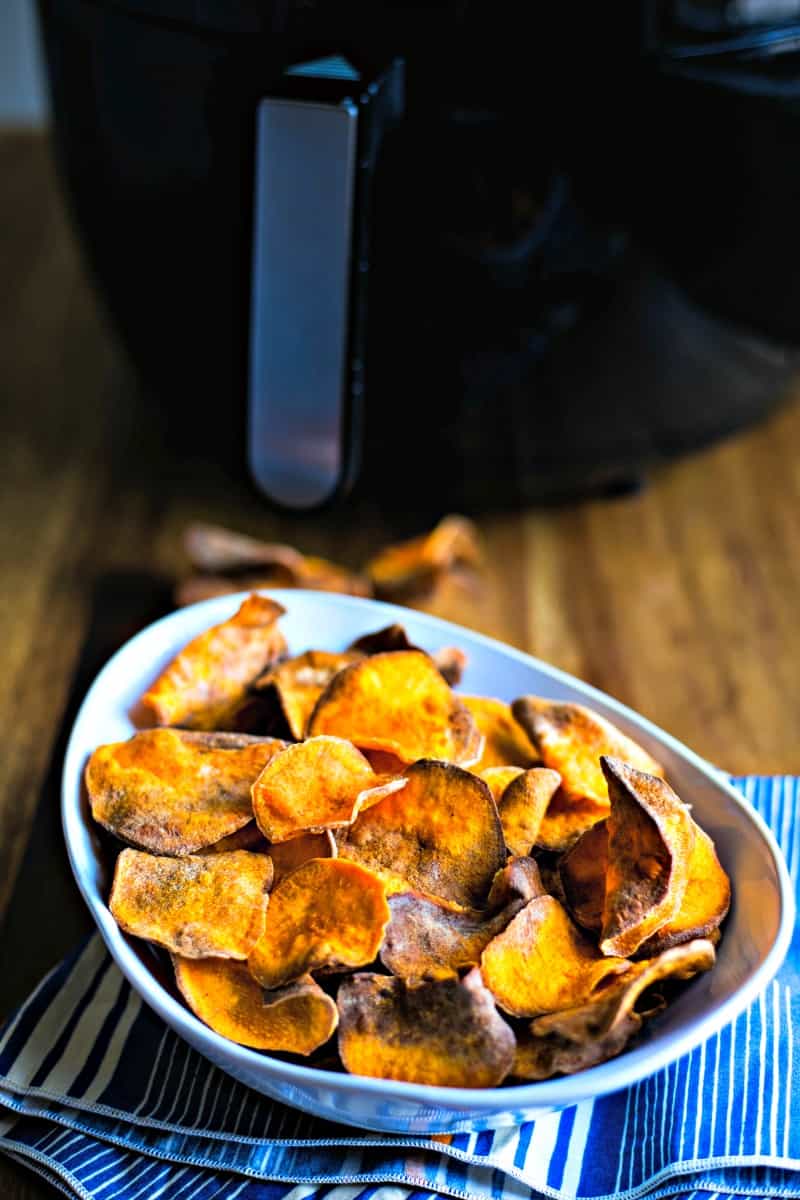 Air Fryer Sweet Potato Chips
Salty snacks can be an addiction for me, so I try to avoid the chip aisle in the grocery store. If I buy them, I'll eat them so it's best to leave the temptation on the grocer's shelf!
That being said, I occasionally end up with a bag of potato chips in my cart, but since I got my air fryer making my own chips for snacking is a real treat with less guilt since I know exactly what ingredients go into my sweet potato chips.
How to Cook Crispy Sweet Potato Chips in an Air Fryer
It took a bit of recipe testing before getting the cripsy results that I wanted from air frying sweet potato chips. Here are a few things that I learned:
Make sure the sweet potatoes are sliced thinly and evenly. Sweet potatoes are harder to slice than a regular Idaho potato, so it's important to use the right tools in order to get even slices. You want slices that are about 1/8-inch thick. It's hard to do that with a chef's knife, but a mandolin works well or I find this OXO Grate and Slice Set easy to use.
TIP: Always use the food holder to guard your fingers when using a mandolin to slice foods — the blades are super sharp!
Slices that are too thick will be chewy and not crispy.
Soaking sweet potato slices in ice water for 30 minutes will remove some of the starch and will also help keep them from sticking together when cooking.
Dry the sweet potatoes thoroughly by patting with paper towels. The drier the slices, the crispier they will become as they cook.
Don't overcrowd the air fryer basket. Place slices in a single layer for more even cooking.
Only toss as many sweet potato slices as will fit in your air fryer basket in a single layer with the oil and seasoning. If the slices sit in the oil waiting to cook, they will become soggy.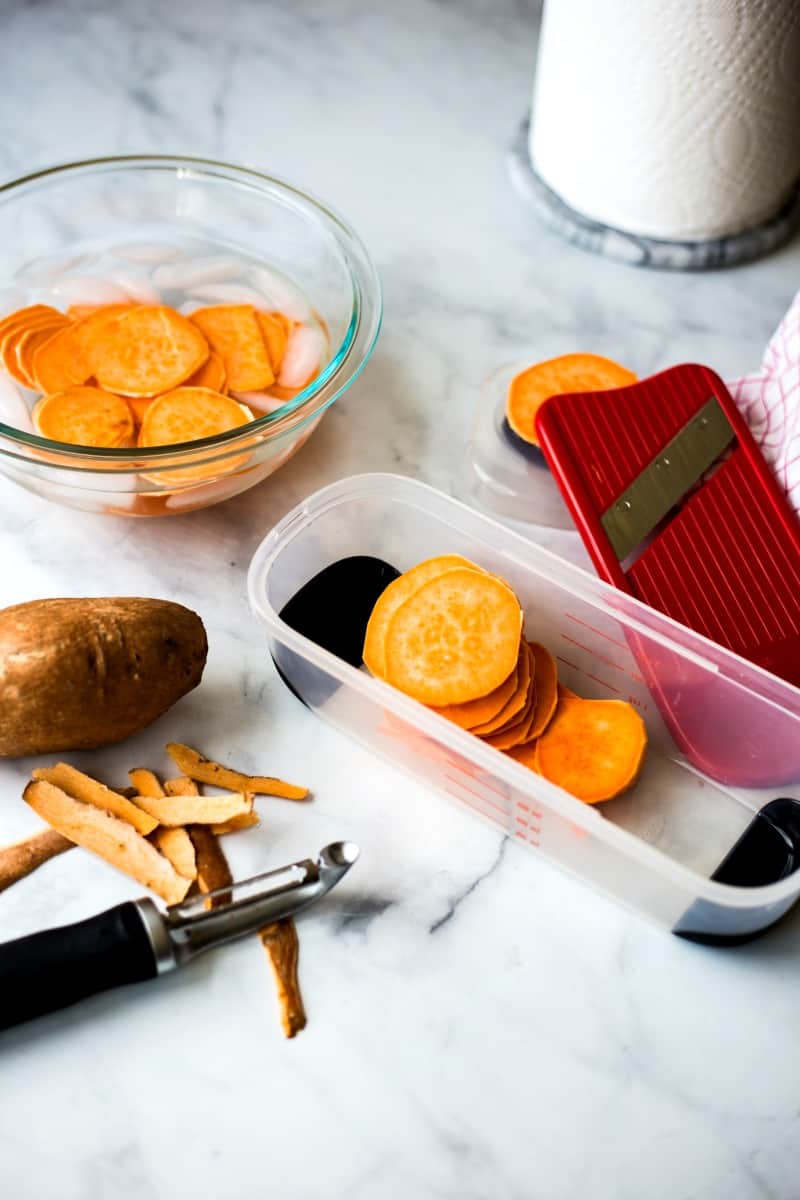 Air Fryer Cooking FAQs
What is an air fryer?
An air fryer works sort of like a convection oven in that it uses convection heating and a fan to circulate air around your food. Like a deep fryer, the air fryer is a counter top appliance with a basket for the food, only you cook without hot oil.
Is cooking with an air fryer healthy?
Any time you can reduce the amount of oil and fats you add to foods when cooking you'll have a more nutritious outcome. According to the Cleveland Clinic, most people reduce their calorie intake by 70 to 80 percent, on average, when using air fryers instead of deep frying.
Can you use cooking spray in an air fryer?
Cooking spray can cause a build up and damage the air fryer non-stick basket.
Do you use oil in an air fryer?
There's no need to use oil at all when cooking with an air fryer, however tossing some foods in a little amount of oil before air frying will add more flavor.
Do air fryers cook faster?
Typically, air fryers do cook faster, but if you're cooking for a large number of people overall it may take longer due to the air fryer basket capacity and cooking in batches.
Can you cook frozen foods in an air fryer?
Absolutely, but remember a lot of convenience frozen foods are fried beforehand so you won't gain the health benefits of cooking with less oil by cooking frozen fried foods in the air fryer.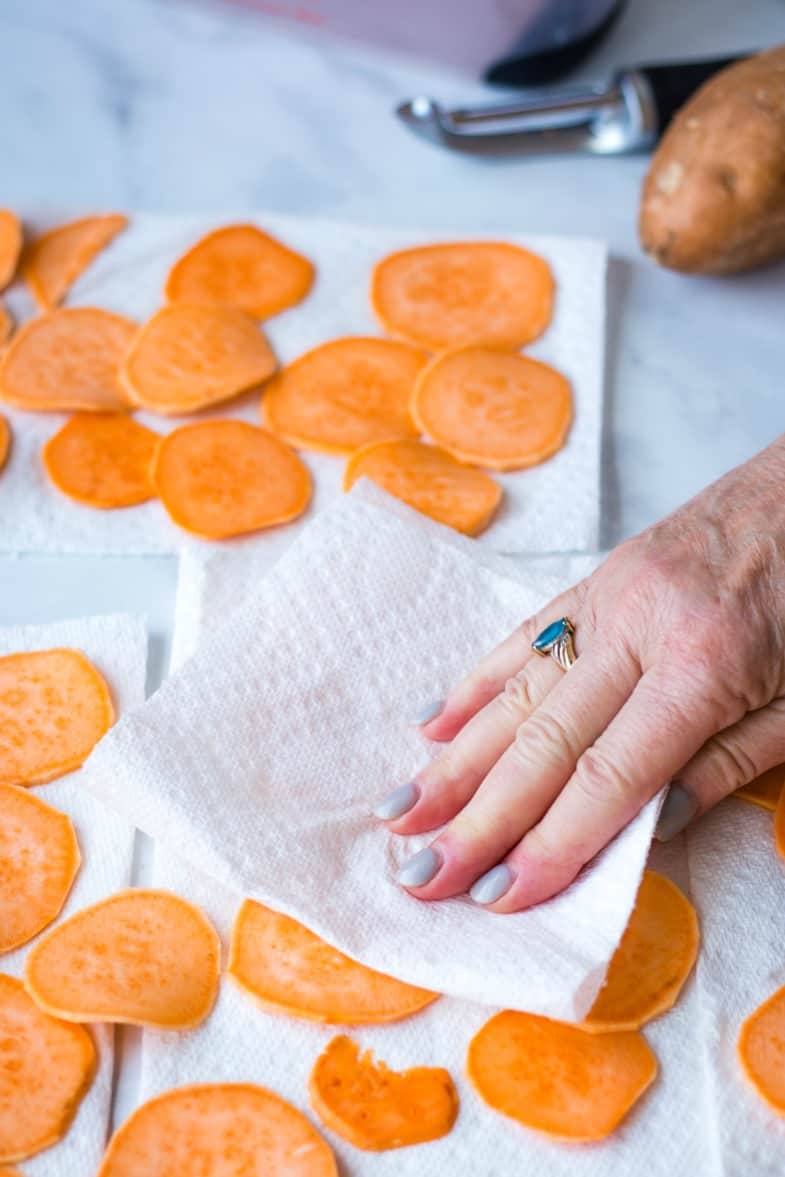 More Sweet Potato Recipes!
Versatility is the name of the game when it comes to sweet potatoes. Not only are they delicious sliced and cooked up as chips in the air fryer, they can be used for other delicious entrées and side dishes like these:
To make this recipe you may need…
I love my Chefman Air Fryer with the extra large basket which allows me to cook more at a time so that there are less batches to cook. It's easy to use and easy to clean up, too!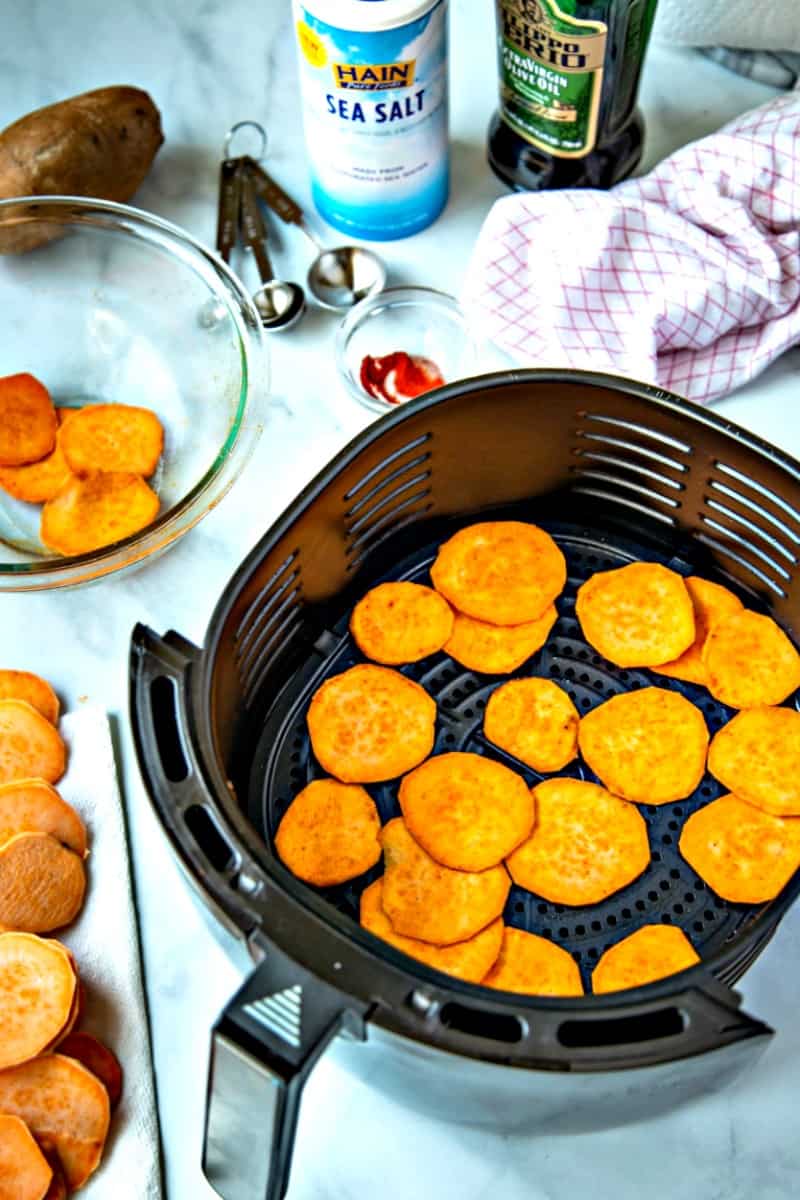 Air Fryer Sweet Potato Chips Recipe
When you make this sweet potato chips air fryer recipe in your appliance, you may want to experiment with the cooking temperature and times since there may be variances in different air fryer models.
I found that cooking at a lower temperature was better because at a higher temperature the chips tended to burn quickly at the end of cooking.
Cook the sweet potato chips for just a few minutes then shake the basket. Continue cooking, shaking and checking at short intervals until the chips are the way you like them.
Please share!
Your shares are how this site grows, and I appreciate each one. Do you know someone who would enjoy this recipe? I'd love it if you would share it on Facebook or Pinterest!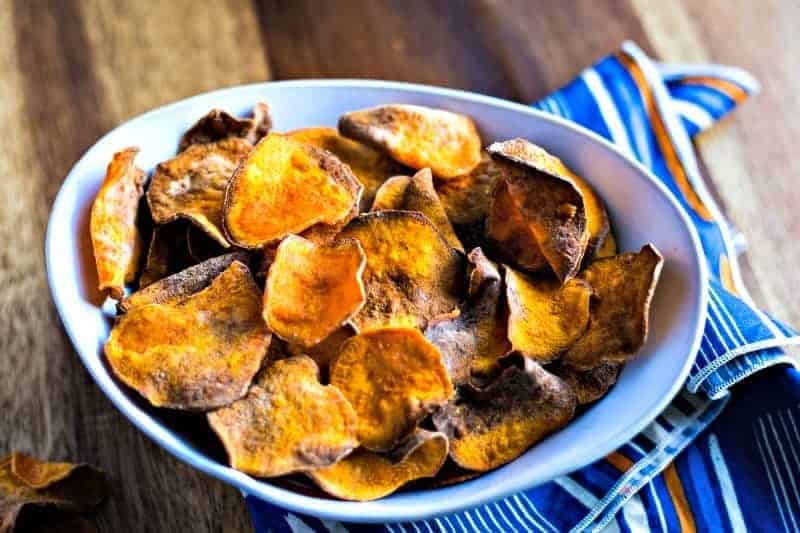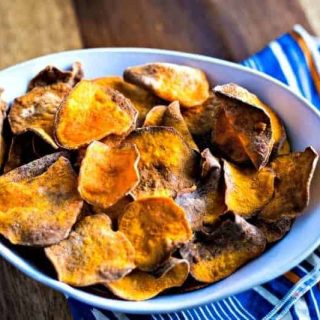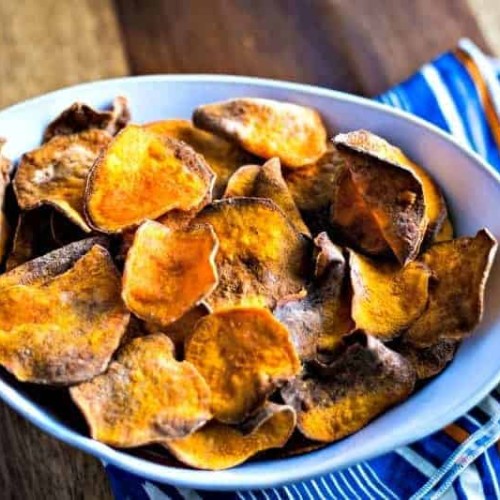 Air Fryer Sweet Potato Chips
Crunchy and sweet with just a hint of salt, these air fried sweet potato chips make a delicious snack as well as a side for gourmet burgers or sandwiches.
Ingredients
2

medium

sweet potatoes

1

tablespoon

extra-virgin olive oil

1/2

teaspoon

sea salt

1/4

teaspoon

smoked paprika
Instructions
Peel and thinly slice sweet potatoes (use a slicer or mandolin for thin, even slices).

Soak sweet potato slices in ice water for 15 – 30 minutes.

Drain slices and pat as dry as possible with paper towels.

Mix olive oil with salt and paprika. In a small bowl, toss a few sweet potato slices with a little of the oil mixture. Only coat as many slices as will fit in your air fryer basket.

Place slices in a single layer in the air fryer basket and cook at 300 degrees for 18 to 19 minutes, shaking the basket every 6 minutes. Watch carefully during the last cooking cycle and adjust cooking time as needed for your air fryer.

Remove chips to a serving bowl and repeat steps 4 and 5 for the remaining slices.
Notes
For best results, be sure the sweet potato slices are completely dry.
Do not toss with the olive oil mixture until just before cooking to avoid soggy chips.
Nutrition
Serving:
1
g
Calories:
54
kcal
Carbohydrates:
8
g
Protein:
1
g
Fat:
2
g
Polyunsaturated Fat:
2
g
Sodium:
190
mg
Fiber:
1
g
Sugar:
2
g
Life Love and Good Food does not claim to be a registered dietician or nutritionist. Nutritional information shared on this site is only an estimate. We recommend running the ingredients through an online nutritional calculator if you need to verify any information.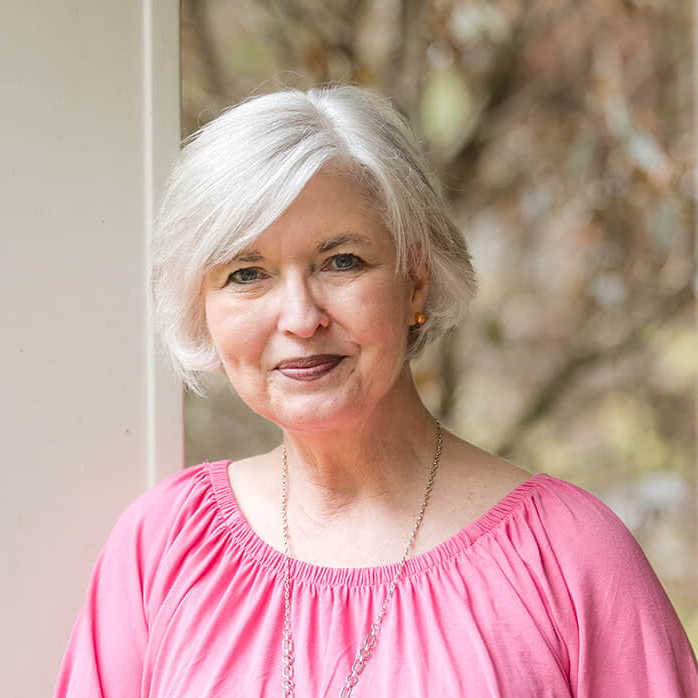 About Sheila Thigpen
Recipe Developer, Food Photographer, Food Writer
Sheila Thigpen is the publisher of Life, Love, and Good Food — a Southern food blog — and the author of Easy Chicken Cookbook and The 5-Ingredient Fresh and Easy Cookbook. After 20+ years in the publishing industry, she retired in 2018 to focus on her own creative endeavors full time. She and her husband live near the beautiful Smoky Mountains and have a precious little granddaughter who has stolen their hearts. As an influencer, Sheila has collaborated with brands like Creamette, Kroger, HERSHEY'S, Hamilton Beach, Garafalo Pasta, OXO, Smithfield, Valley Fig Growers, and more.