This post may contain affiliate links. Please read my disclosure policy.
Loaded Sweet Potato Skins feature a mouthwatering fusion of BBQ, Bacon, and Cheese in this crowd-pleasing, hearty appetizer! This versatile recipe is perfect for game nights, feeding the whole family, or enhancing your holiday meals!
The next time you have the chance to bring a sharable dish or host family and friends, put this easy and delicious recipe at the top of your list!
These BBQ and bacon sweet potato skins are inspired by a restaurant I once visited in Nashville. See the Behind the Recipe section above the recipe card for the full story!
I have plenty more recipes inspired by delicious restaurant dishes, like Copycat Cracker Barrel Homestyle Chicken Pot Pie, Better-than-Red-Lobster Cheddar Bay Biscuits, and fan-favorite Chick-fil-A Nuggets Recipe!
Why you'll love this loaded sweet potato recipe!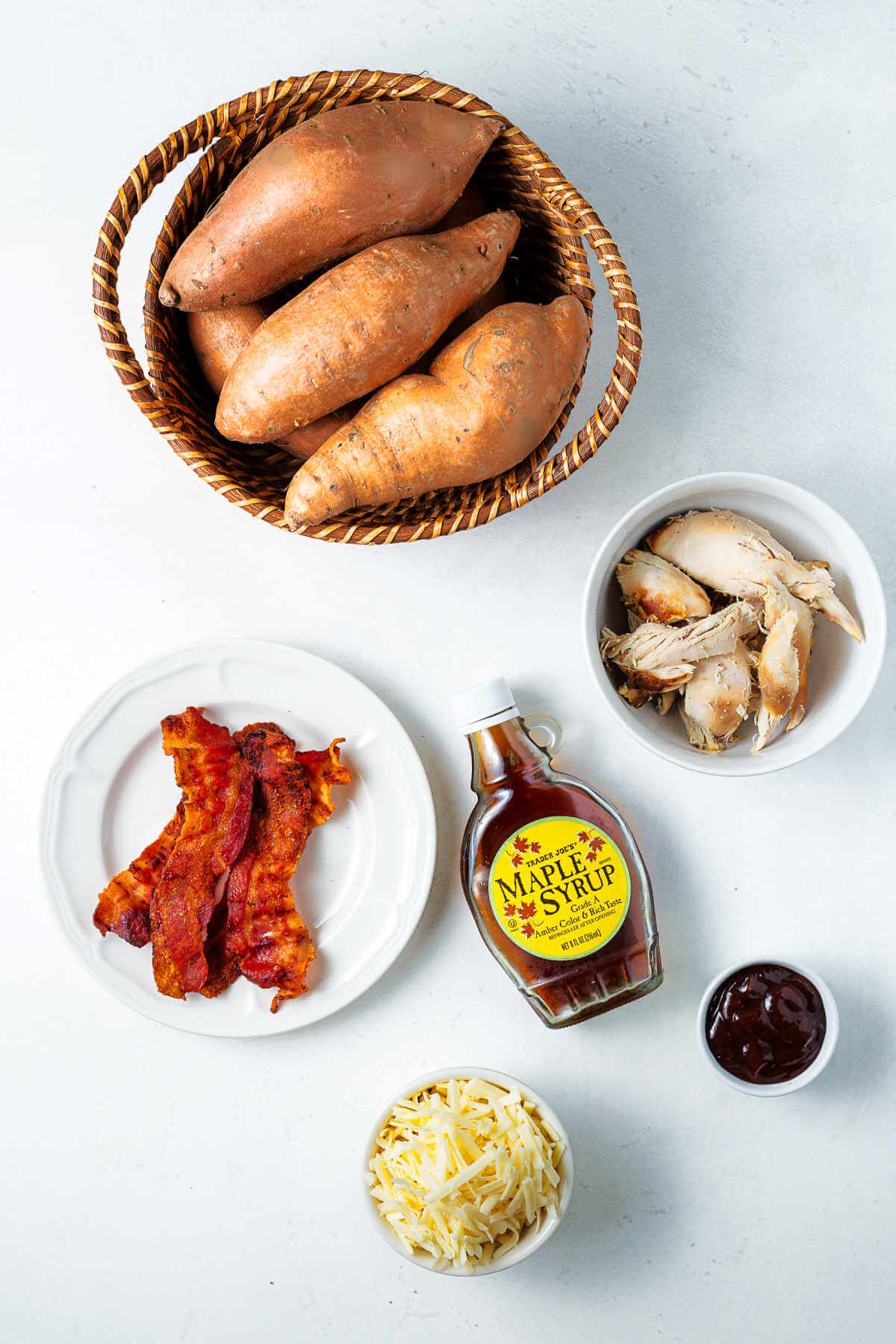 Ingredient notes
BBQ Sauce
Ketchup | Add your favorite ketchup to the mix as a classic staple to BBQ sauce.
Brown sugar | Sweeten the tangy barbecue sauce with rich brown sugar — light or dark will do.
Vinegar | Give the BBQ sauce that signature tanginess with white wine vinegar.
Worcestershire sauce | Bring savory notes with delicious Worcestershire sauce.
Seasoning | Sprinkle in paprika and cayenne pepper to complete the homemade BBQ sauce.
Sweet Potato Skins
Sweet potatoes | Use medium sweet potatoes for this recipe. Larger or smaller ones will also work but may increase or reduce the cooking time, depending on their size.
Syrup | A drizzle of sweet maple syrup on these potato skins puts the recipe over the top — it's absolutely delicious with BBQ meat and bacon bits!
Turkey or chicken | Use shredded or chopped smoked turkey or chicken. They can be filled with BBQ meat, but I chose smoked turkey inspired by a local restaurant.
BBQ sauce | Toss the meat with BBQ sauce, either homemade or bottled, and save a bit extra for drizzling at the end.
Cheese | I like shredded white cheddar cheese, but regular cheddar cheese or another pick will do the trick!
Bacon | Crumble fried crisp bacon for a delicious addition to the sweet potato skins.
Sour cream | Sour cream or any other dipping sauce is optional for serving.
How to make The Best Loaded Sweet Potato Skins
Make delicious and easy BBQ sweet potato skins with smoked chicken or turkey in no time at all! Just be sure to have a napkin in hand!
STEP 1 | Preheat and prep
First, preheat the oven to 450 degrees, measure, and whisk together the sauce ingredients in a medium bowl.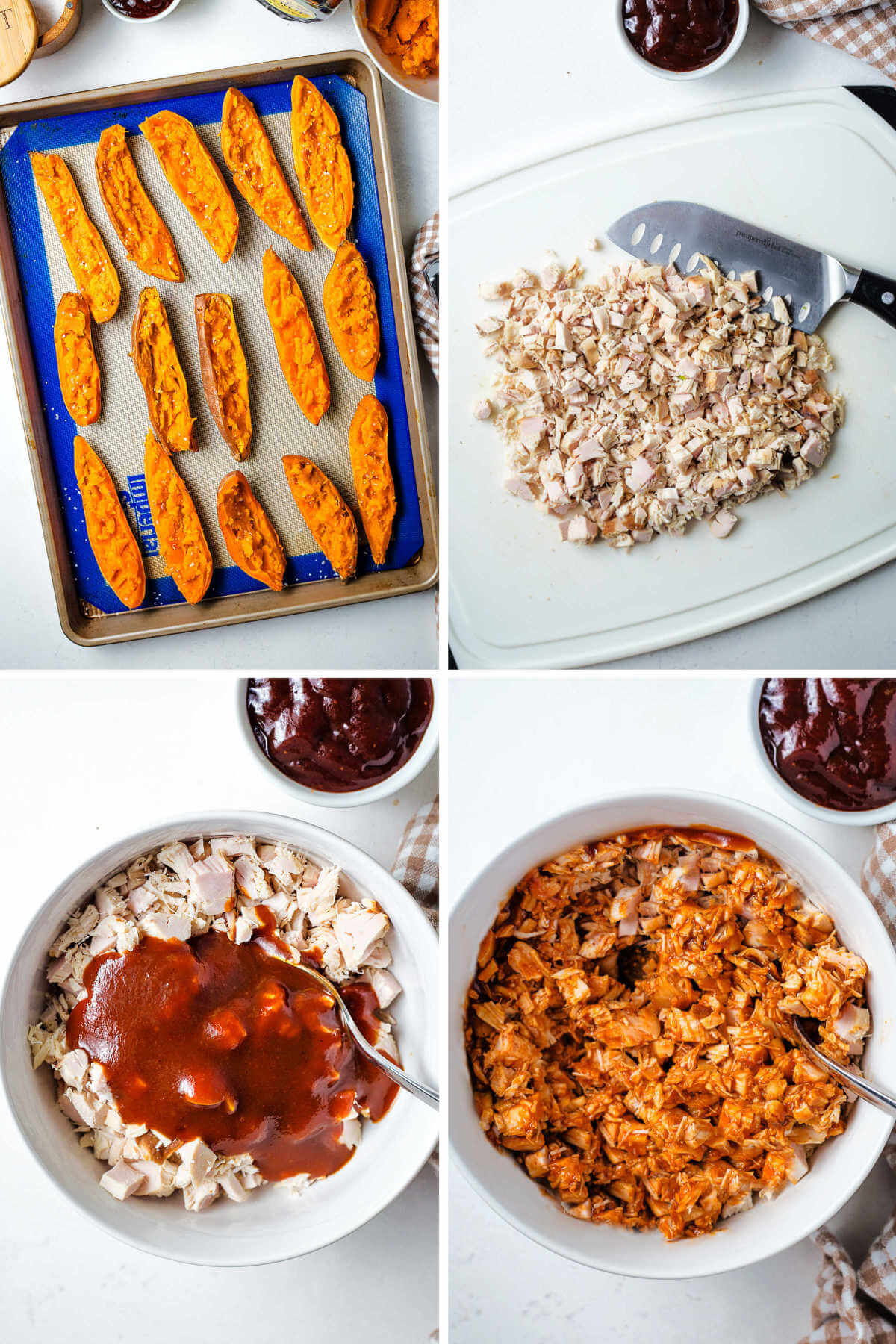 STEP 2 | Cook the sweet potatoes
Then, wash, gently scrub the sweet potatoes, and trim the ends to allow steam to escape. Do not prick the potatoes. Cook the potatoes in the microwave for 7 to 8 minutes or until tender.
Place the potato skins on a foil-lined baking sheet and gently prick or fluff the pulp in each sweet potato peel with a fork. Sprinkle a pinch of salt on each, then drizzle with 1/4 teaspoon of maple syrup.
STEP 3 | Chop the meat
Now, take the turkey or chicken and chop it into small pieces. Set that aside until ready to assemble. Combine the turkey or chicken with the barbecue sauce.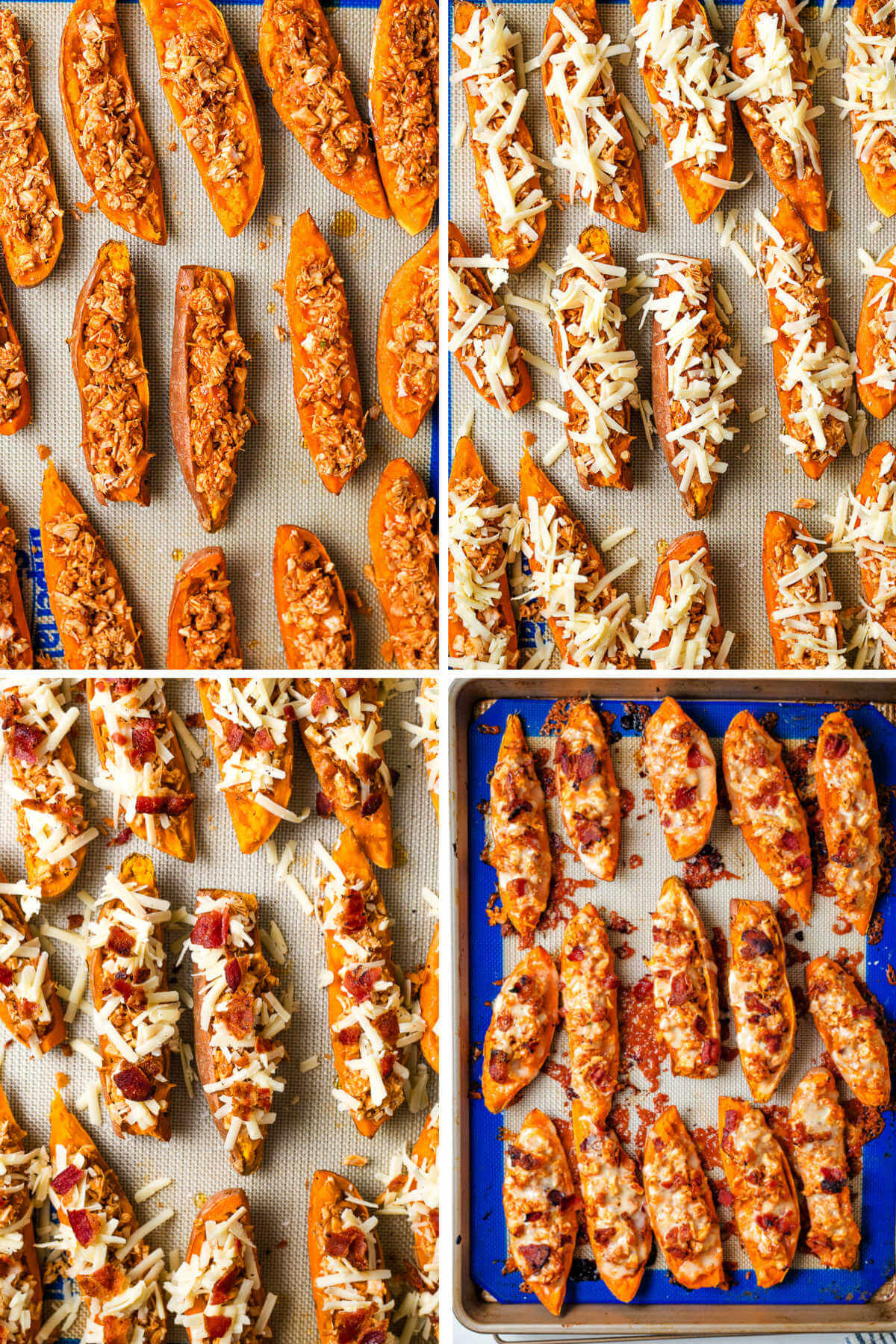 STEP 4 | Assemble the sweet potatoes
Evenly divide the meat on top of each potato skin. Top the meat layer by sprinkling with cheddar cheese and crumbled bacon all over.
STEP 5 | Bake and serve!
Slip the rimmed baking sheet onto the top oven rack and bake for 10-15 minutes or until cheese is melted and bubbly.
Remove the baking tray and serve the loaded potatoes right away! Don't forget to dip them into sour cream!
tips
Store any leftover homemade barbecue sauce in the refrigerator for later use. Use your favorite bottle of BBQ sauce, if preferred.
If desired, save the extra orange flesh for later use.
Depending on your preference, cover the entire potato skin with delicious toppings or keep them minimal.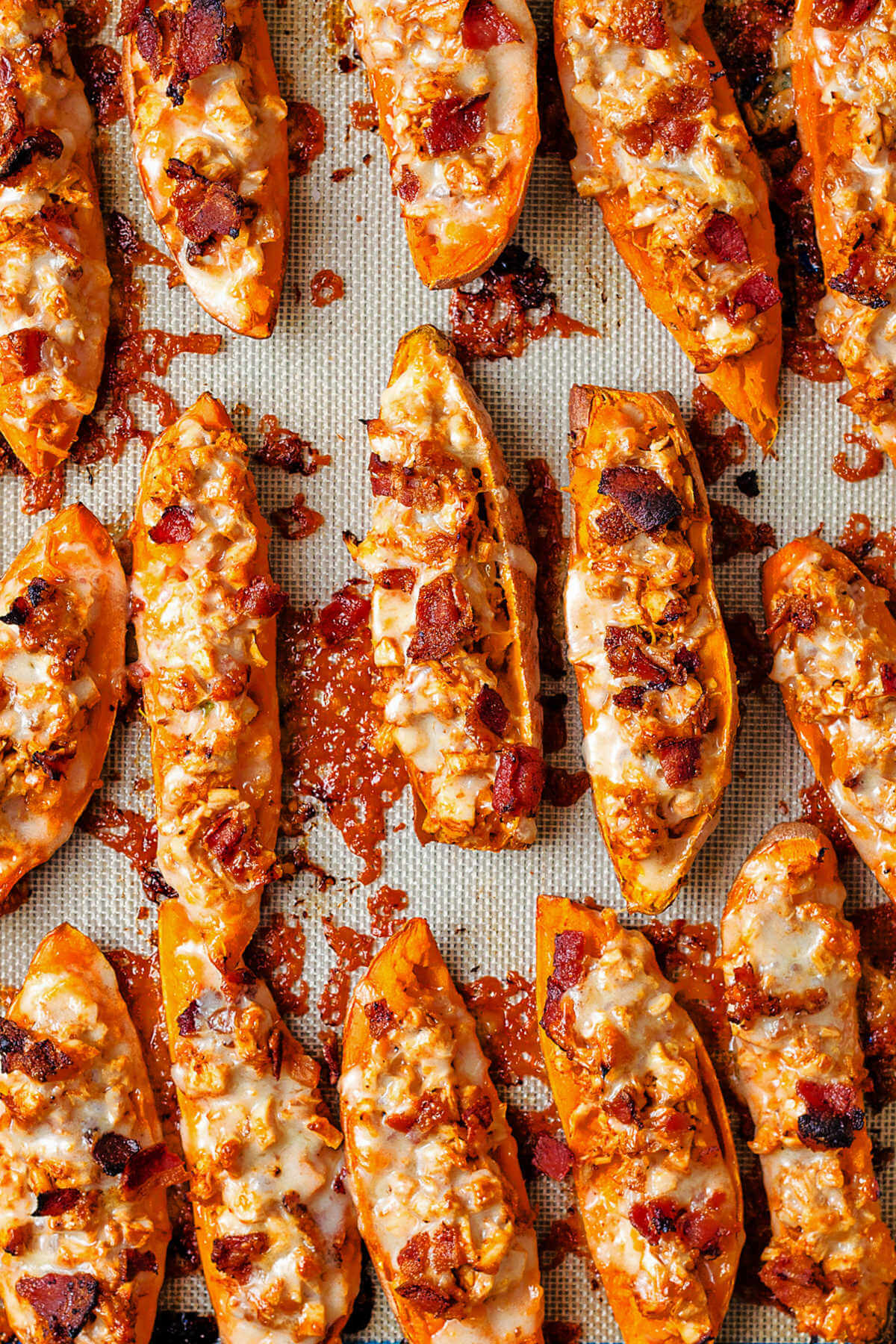 Variations and substitutions
Russet Potatoes. This roasted side dish or entre is just as tasty when made with russet potatoes instead.
Loaded Baked Sweet Potato. If preferred, try baking the sweet potatoes whole, slicing the middle, and stuffing the inside with the BBQ meat and other tasty toppings.
Load 'em Up! Add more of your favorite toppings, like black beans, bell pepper, sweet corn, kidney beans, garlic powder, sliced green onions, or a sprinkle of black pepper. If you're serving a crowd, consider putting all the optional toppings in small bowls to make a fun toppings bar!
If desired, make this recipe with purple sweet potatoes instead of standard ones.
Use plain Greek yogurt instead of sour cream for dipping if preferred.
Storage and reheating tips
Leftover potato skins may be stored in an airtight container in the refrigerator for about four days.
I don't suggest reheating them in the microwave, if avoidable, but they warm nicely in the oven or air fryer for a few minutes.
Frequently asked questions
Are sweet potatoes healthy?
Sweet potatoes are slightly healthier than any other white potato, especially regarding the sugars and carbs each contains. And sweet potatoes are surprisingly low on the glycemic index, as well as high in B6 and vitamin C.

Can you eat the skins on sweet potatoes?
Given the skin of the potato is the main component of this recipe, the answer is yes. But, if you're still skeptical, the skin of sweet potatoes actually has health benefits, too!
Can you freeze sweet potato skins?
Sure! First, let them cool completely, then place them on a baking sheet to freeze until solid all the way through. Remove the frozen potato skins and transfer them to a freezer-safe bag or container to keep for three months or less. When ready, let them thaw in the fridge overnight and reheat them before serving.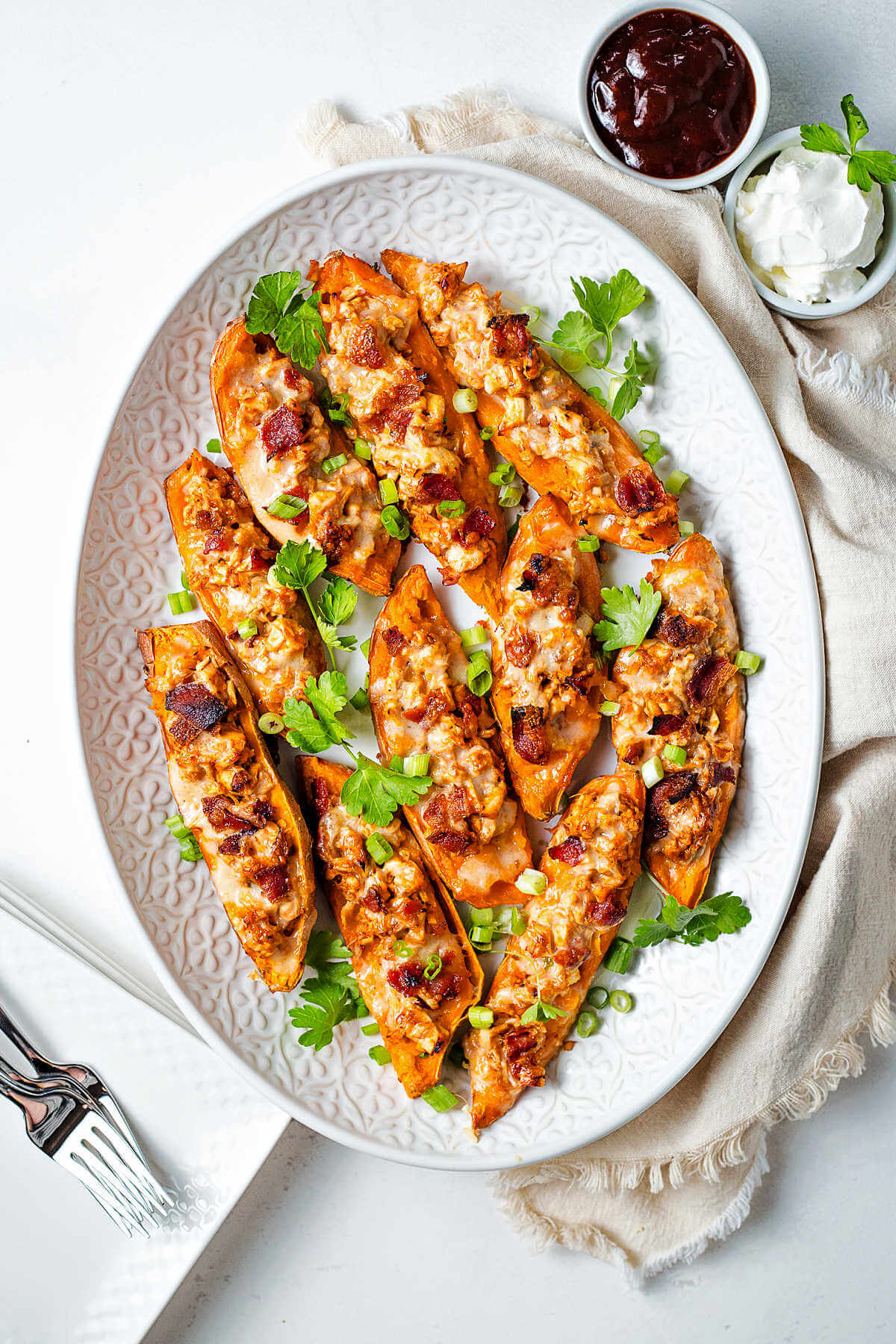 Serving suggestions
This potato skins recipe is a fantastic appetizer for sports fans or as a side dish for a weeknight dinner. I especially love to make this recipe the star of the show!
As a main dish, serve the recipe with Crunchy Oven-Fried Okra, Fried Green Tomatoes and Mustard Dipping Sauce, or a light and refreshing Wedge Salad with Crispy Fried Shallots.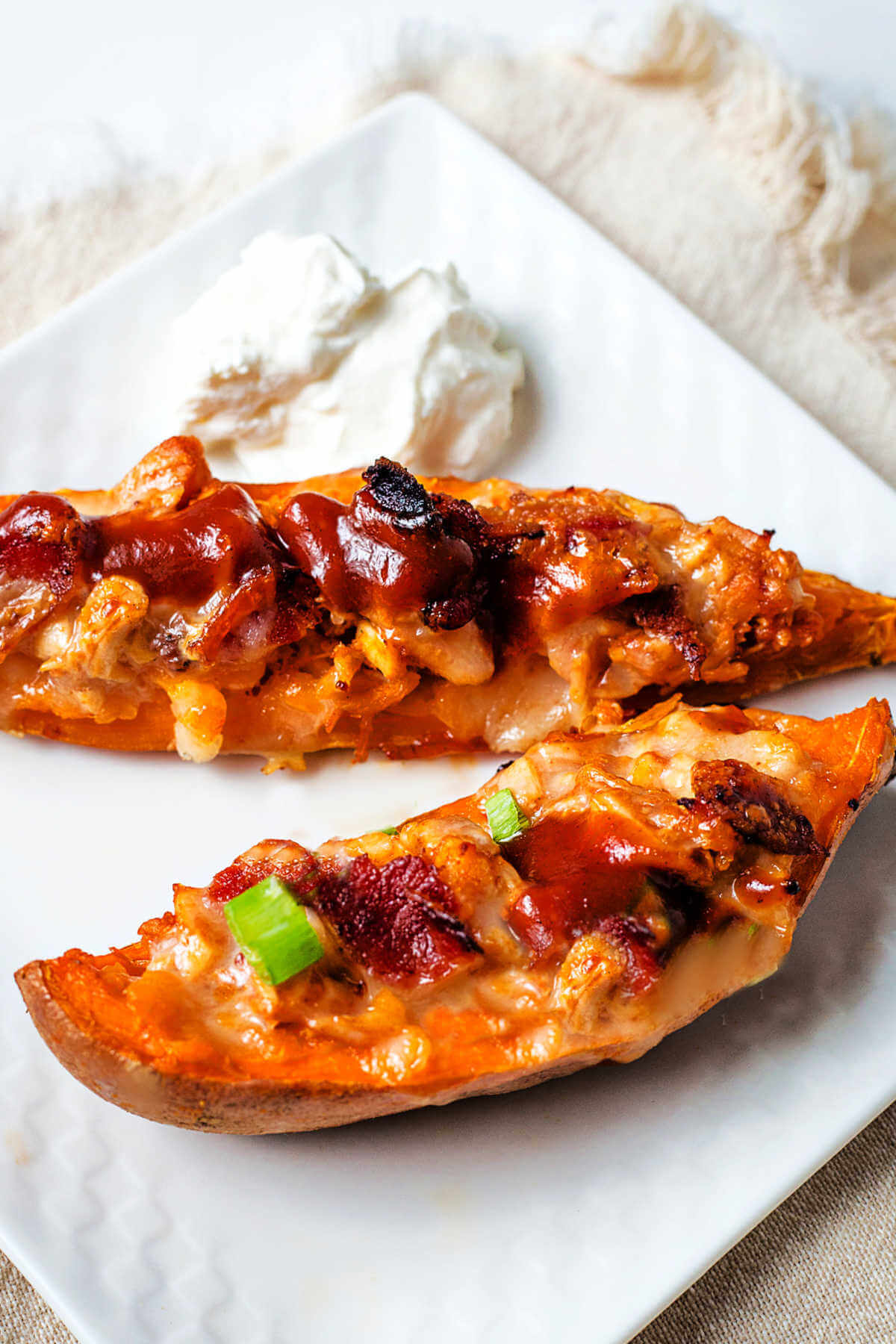 Behind the recipe: Crispy Sweet Potato Skins Recipe
A while back, we were visiting our girls in Nashville and enjoyed Saturday brunch at The Row, a 30-year-old establishment in the heart of Vanderbilt.
For some reason, I really wasn't in the mood for typical breakfast food, so their Sweet Potato Skins caught my eye. They were delicious! I enjoyed them so much that I decided to recreate them at home.
There are so many cool places in Nashville, and The Row is definitely one of them. Full of history, The Row is adorned with murals featuring some of Nashville's country music legends on the walls behind the cushy booths.
At brunch, we were surrounded by the story of songwriter Curly Putman, who is famous for writing Green, Green Grass of Home, D-I-V-O-R-C-E, and He Stopped Loving Her Today.
The Row also boasts that within their walls, the famous Brooks & Dunn met, and Earl Bud Lee sold the rights to Garth Brook's Friends in Low Places for a bar tab. How cool is that?!
Please share!
Your shares are how this site grows, and I appreciate each one. Do you know someone who would enjoy this recipe? I'd love it if you would share it on Facebook or Pinterest!
Like this recipe?
Don't forget to comment below the recipe and please give it a ⭐️⭐️⭐️⭐️⭐️ star rating!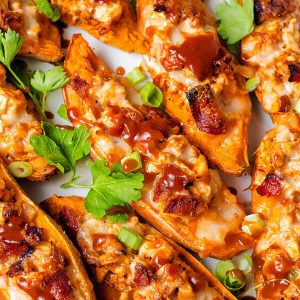 Sweet Potato Skins
Loaded Sweet Potato Skins with BBQ, Bacon, and Cheese is a hearty, versatile recipe perfect for feeding the whole family or contributing to holiday meals.
Ingredients
BBQ Sauce
3/4

cup

ketchup

2

tablespoons

brown sugar

1

tablespoon

white-wine vinegar

1

tablespoon

Worcestershire sauce

2

teaspoons

paprika

1/4

teaspoon

cayenne pepper
Sweet Potato Skins
3-4

large

sweet potatoes

3-4

teaspoons

maple syrup

pinch

of salt

1/4

lb.

smoked turkey or chicken

shredded or chopped

3

tablespoons

barbecue sauce

plus extra for drizzling

3

ounces

white cheddar cheese

shredded

3-4

slices

bacon

fried crisp and crumbled

Sour cream for serving

optional
Instructions
Preheat oven to 450 degrees.

Whisk

together ingredients for barbecue sauce (or use your favorite bottled sauce). Refrigerate any leftover sauce for other uses.

Wash and gently scrub sweet potatoes. Trim ends to allow steam to escape–do not prick.

Cook in microwave 7-8 minutes or until tender. Cool until able to handle easily.

Cut each potato into quarters. Gently scoop out potato pulp from each skin, leaving about one-half inch of potato pulp in each. (Save removed potato pulp for other uses.)

Place potato skins on a foil lined baking sheet. Gently prick or fluff the potato pulp in each skin with a fork. Sprinkle a pinch of salt on each, then drizzle each with 1/4 teaspoon of maple syrup.

Combine the turkey or chicken with barbecue sauce. Evenly divide meat on top of each potato skin. Sprinkle with cheese and bacon.

Bake for 10 minutes or until cheese is melted and bubbly.

Serve immediately with sour cream, if desired.
Notes
Store any leftover homemade barbecue sauce in the refrigerator for later use. Use your favorite bottle of BBQ sauce, if preferred. 
If desired, save the extra orange flesh for later use.
Depending on your preference, cover the entire potato skin with delicious toppings or keep them minimal.
Nutrition
Serving:
1
g
Calories:
537
kcal
Carbohydrates:
73
g
Protein:
23
g
Fat:
18
g
Saturated Fat:
7
g
Polyunsaturated Fat:
9
g
Cholesterol:
70
mg
Sodium:
1410
mg
Fiber:
7
g
Sugar:
37
g
Life Love and Good Food does not claim to be a registered dietician or nutritionist. Nutritional information shared on this site is only an estimate. We recommend running the ingredients through an online nutritional calculator if you need to verify any information.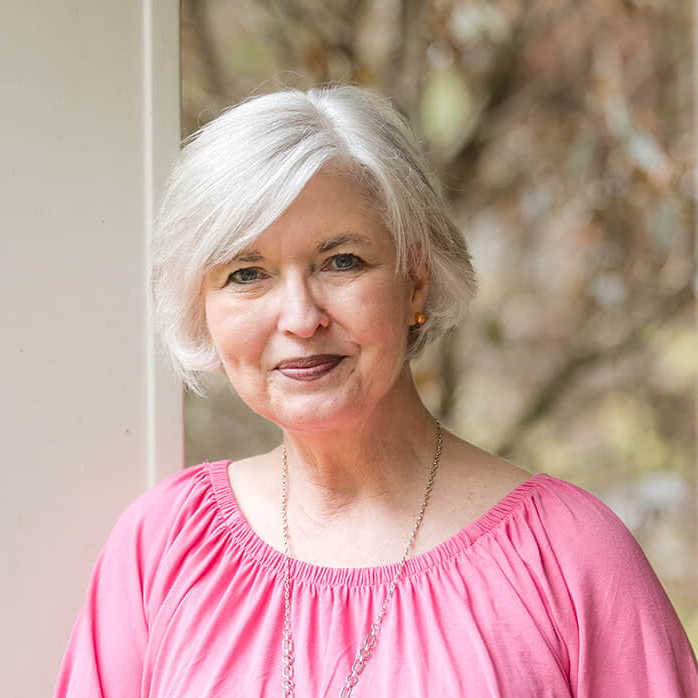 About Sheila Thigpen
Recipe Developer, Food Photographer, Food Writer
Sheila Thigpen is the publisher of Life, Love, and Good Food — a Southern food blog — and the author of Easy Chicken Cookbook and The 5-Ingredient Fresh and Easy Cookbook. After 20+ years in the publishing industry, she retired in 2018 to focus on her own creative endeavors full time. She and her husband live near the beautiful Smoky Mountains and have a precious little granddaughter who has stolen their hearts. As an influencer, Sheila has collaborated with brands like Creamette, Kroger, HERSHEY'S, Hamilton Beach, Garafalo Pasta, OXO, Smithfield, Valley Fig Growers, and more.