Make this delicious and Crunchy Oven-Fried Okra just one time and you may never go back to cooking fried okra on the stove! Plus, this "fried" okra recipe uses a fraction of the oil that you would need when pan frying which is an added health benefit!
The crunchy coating comes from a mix of Panko bread crumbs, corn meal, and parmesan cheese.
This has quickly become one of our favorite summer side dishes to make when okra is in season, but this it works equally well with frozen okra.
Just thaw before breading and cook as directed in the recipe notes below.
Crunchy Oven Fried Okra
What I think is one of the absolutely best summer foods? FRIED OKRA!
Lucky for you, today I'm sharing a recipe I recently discovered at Sing for Your Supper Blog for a healthier, Crunchy Oven-Fried Okra.
Thanks to my father-in-law and his garden, we feasted on this "farm-to-table" delicacy at supper the other night.
Just so you understand… this…just this…WAS our entire supper. Yep, just this beautiful bowl of okra. It was delicious!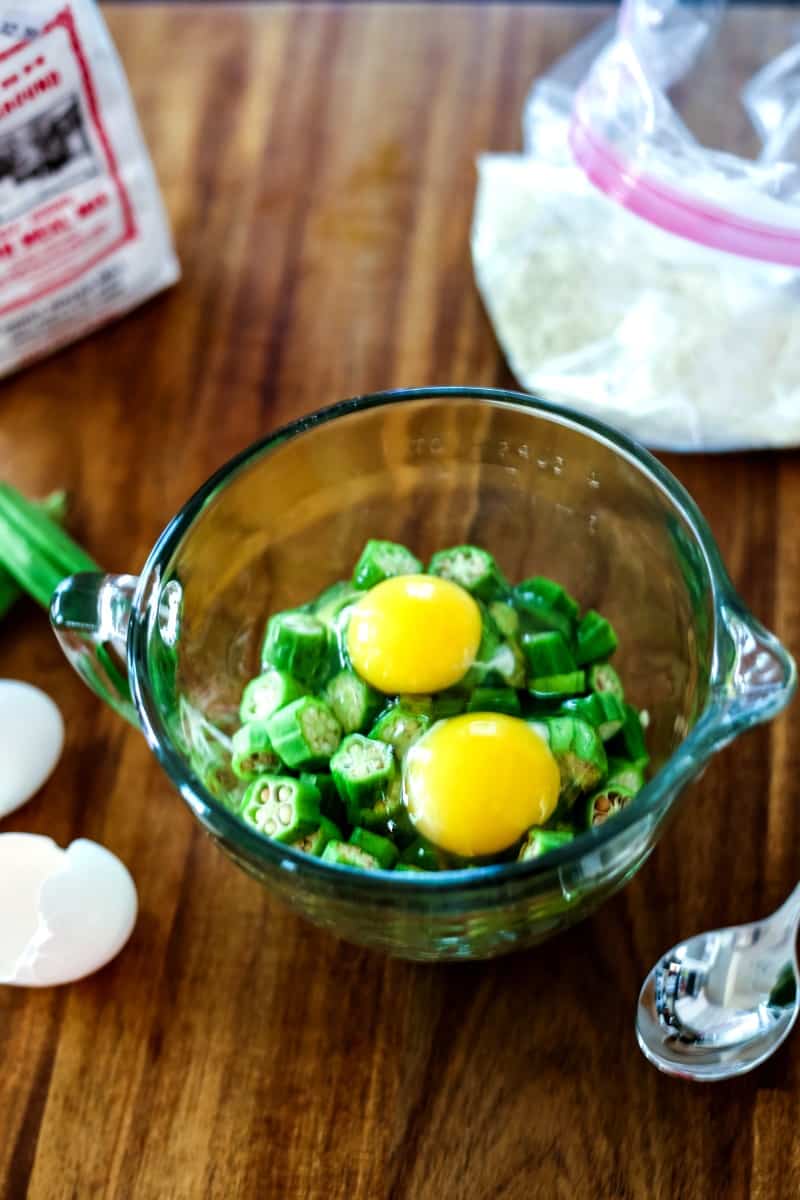 PRO TIP: I use my Pampered Chef small batter bowl ALL. the. time. It has a wide base for easy mixing and comes with a handy lid. Plus, the bowl and lid are both dishwasher, microwave, and freezer-safe.
Tips for making the BEST okra in the oven:
Toss sliced okra with raw eggs to coat all the pieces before breading
Use a resealable plastic bag to shake the okra with the breading (see the video below for a demo)
Putting the breaded okra in the refrigerator for a few minutes before adding to the pan will help keep the breading on the okra — more breading, more crunch!
Always preheat the baking sheet with oil before adding the okra.
How can you tell if fresh okra is good?
When choosing okra at the market, avoid any pods that have brown spots or that are shriveled. The larger okra pods can tend to be tough, so stick with small or medium size pods.
Fresh okra will have white seeds when you cut into the pods. Brown seeds indicate the okra is old and will probably be tough.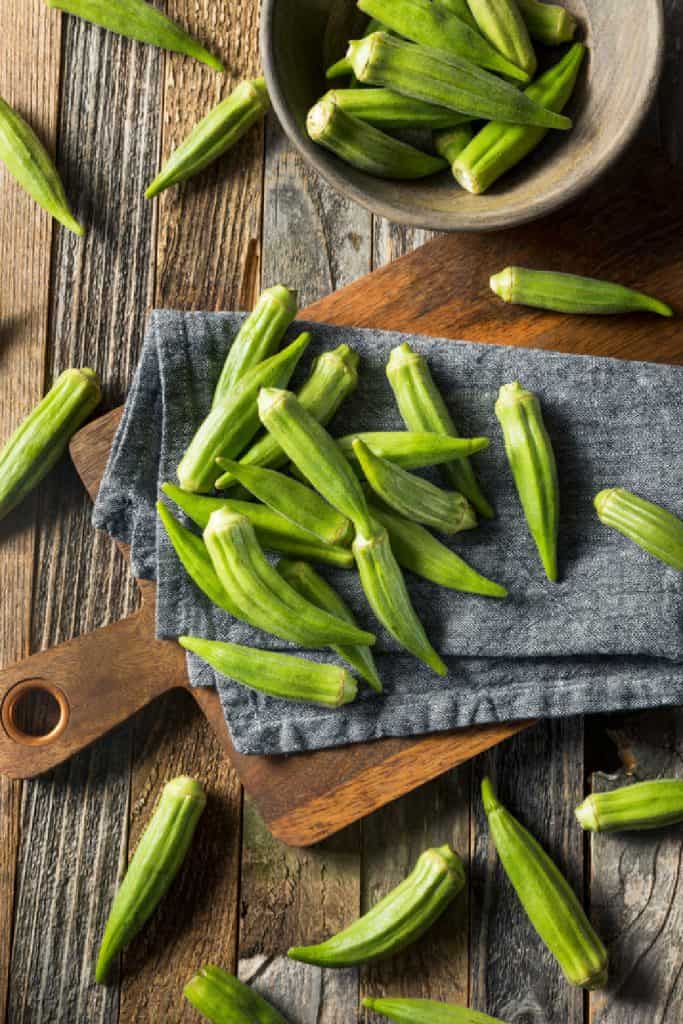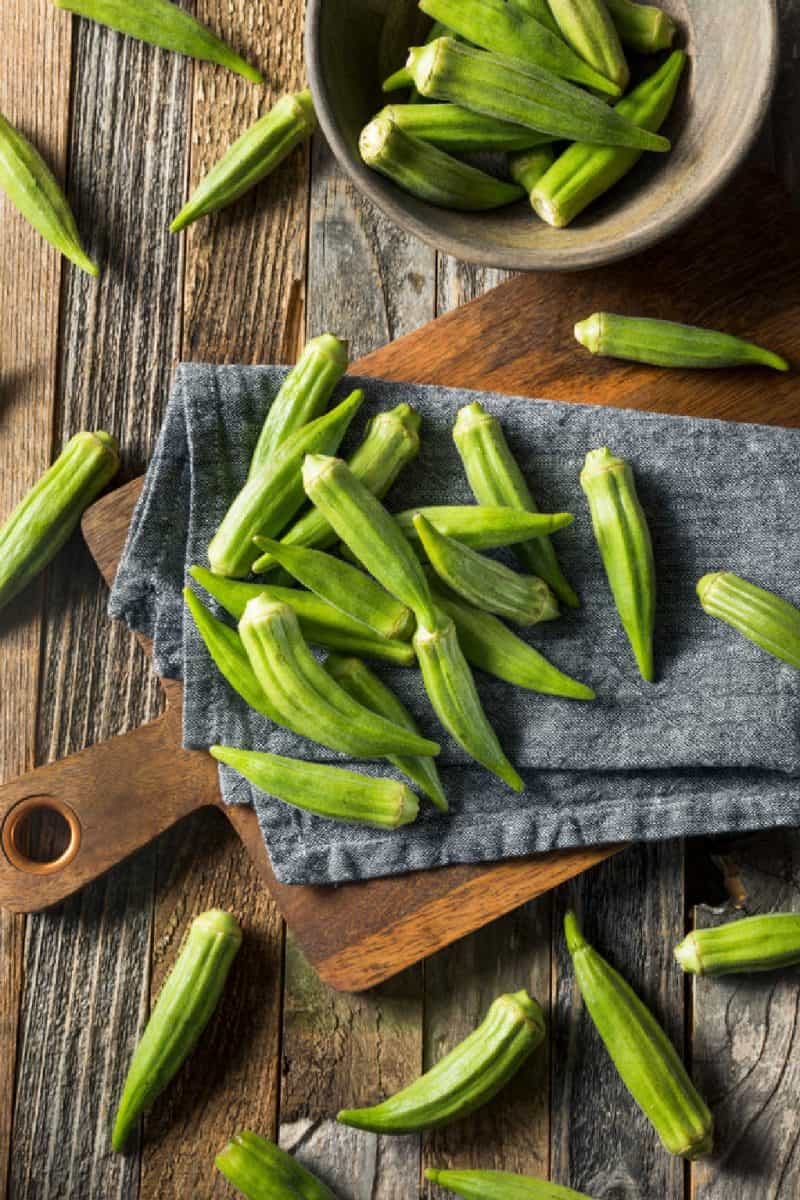 How do you reheat fried okra in the oven?
To reheat oven-fried okra in the oven, place it on a baking sheet in a 350 degree oven for about 15 minutes. To reheat pan-fried okra, follow the same method. Some oil may release from the warmed up okra, so be sure to drain it well on paper towels before serving.
"Someone gave us okra the other night and I fixed your recipe. Tom has said how good it was TWICE, so I am making it again tonight. It definitely deserves five stars!" — CAROL
More veggie side dish recipes
To make this recipe, you may need…
The following are affiliate links. We are a participant in the Amazon Services LLC Associates Program, an affiliate advertising program designed to provide a means for us to earn fees by linking to Amazon.com and affiliate sites.
My new favorite cookie sheet is the OXO Good Grips Non-Stick Half Sheet (with a bonus cooling rack). One thing I like about this baking sheet is the textured surface that allows the air to flow for more even baking.
It also is made with heavy-gauge aluminized steel which promotes even heat distribution.
TIP: The cooling rack can be used as an insert in the pan to cook bacon in the oven so that the fat drips into the pan.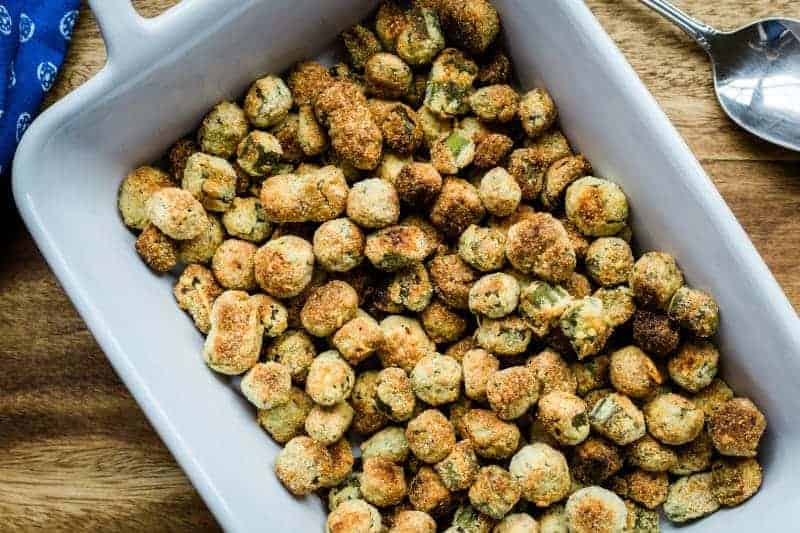 Let's cook!
An added benefit to this oven-fried okra recipe is that there's no greasy mess to clean up. Placing the okra under a broiler at the end of cooking and stirring frequently will result in extra golden brown crispiness!
Please share!
Your shares are how this site grows and I appreciate each one. Do you know someone who would enjoy this recipe? I'd love it if you would share it on Facebook or on your favorite Pinterest board!
Yield: 4 servings
Crunchy Oven-Fried Okra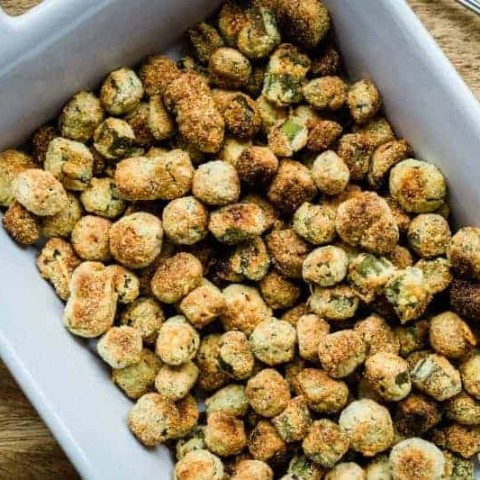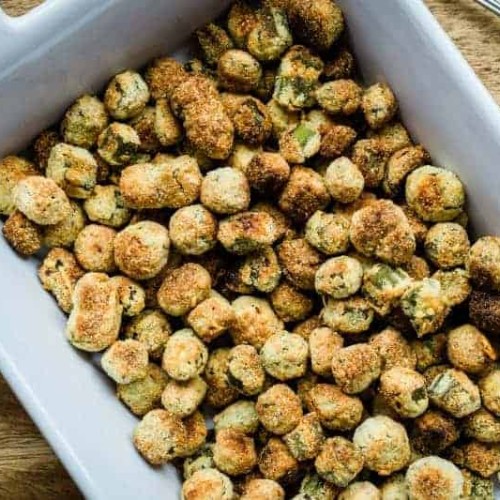 Crunchy Oven-Fried Okra — this recipe is a bit healthier and easier to prepare.
Ingredients
4 cups fresh-cut okra
4 tablespoons cornmeal
6 tablespoons Italian-style panko breadcrumbs
1/2 teaspoon salt
1/2 teaspoon pepper
1 tablespoon grated Parmesan cheese
2 eggs, beaten
3-4 tablespoons canola oil
Instructions
Preheat the oven to 425 degrees. Combine the cornmeal, panko, salt, pepper, and Parmesan cheese in a gallon-size ziplock bag.
In a separate bowl, gently toss the okra with the beaten eggs until evenly coated.
Pour oil onto a rimmed baking sheet (15x10x1) and place in the preheated oven for just a few minutes to warm up the oil--be careful to not let it start to smoke.
In the meantime, add the wet okra a little at a time to the bag and shake until coated. If needed, you may add additional cornmeal and panko breadcrumbs -- if the okra isn't coated as much as you like. Carefully add the okra to the hot baking sheet.
Bake for 15-20 minutes, or until tender, turning the okra halfway through baking. To get a nice golden brown, increase oven heat to broil and watch carefully, stirring as needed.
Notes
Recipe adapted from Sing for Your Supper Blog.
Recommended Products
As an Amazon Associate and member of other affiliate programs, I earn from qualifying purchases.
Nutrition Information:
Yield:
4
Serving Size:
1
Amount Per Serving:
Calories:

266
Total Fat:

18g
Saturated Fat:

2g
Trans Fat:

0g
Unsaturated Fat:

15g
Cholesterol:

94mg
Sodium:

412mg
Carbohydrates:

21g
Fiber:

5g
Sugar:

5g
Protein:

9g