Get ready for Fall with this Fresh Apple Walnut Cake with Cinnamon Glaze — it truly is the BEST and EASIEST fresh apple cake you'll ever bake!
I know, I know. Lots of cake recipes claim to be "the best" and maybe it's starting to feel a little bit cliché. But the truth of the matter is this simple old-fashioned sheet cake recipe has the perfect mix of sweet apples, toasty walnuts, and cinnamon spice to make a moist and delicious Fall dessert.
Baked in a 9×13-inch cake pan, this apple cake is perfect for transporting to Fall parties and tailgates. It makes a delicious coffee cake for brunch and is tasty served with a steaming cup of coffee.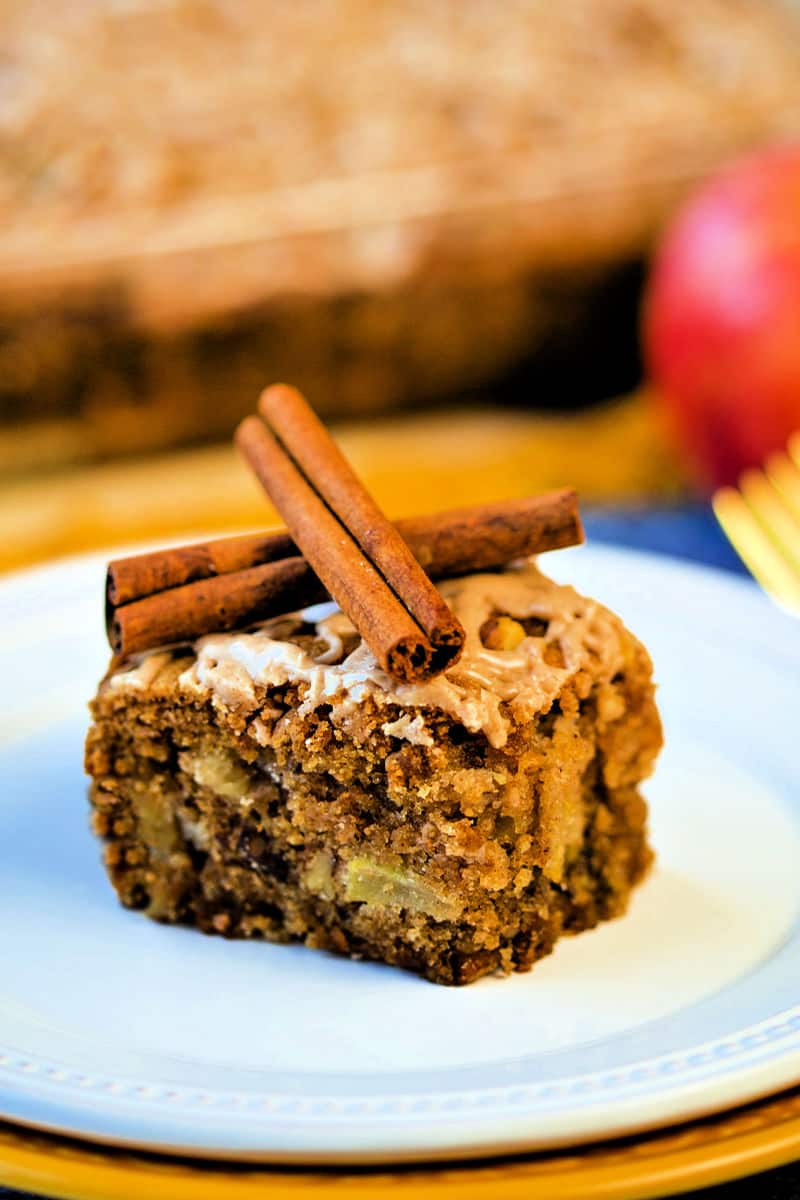 Fresh Apple Walnut Cake with Cinnamon Glaze
Last week it was my turn to bring a dessert to my small group Bible study, so I decided to make a Fresh Apple Walnut Cake (a recipe given to me by a co-worker over 20 years ago) and added a simple powdered sugar cinnamon glaze drizzled over the top. Obviously, this cake recipe has been around a while, but it was new to my sweet group of ladies and they loved it!
When you don't want to worry about a cake carrier or when you need a winning dessert to transport, a sheet cake is a good option. You can easily bake and serve the cake in the same pan. Now, most cake pans come with their own handy lids for storage, too.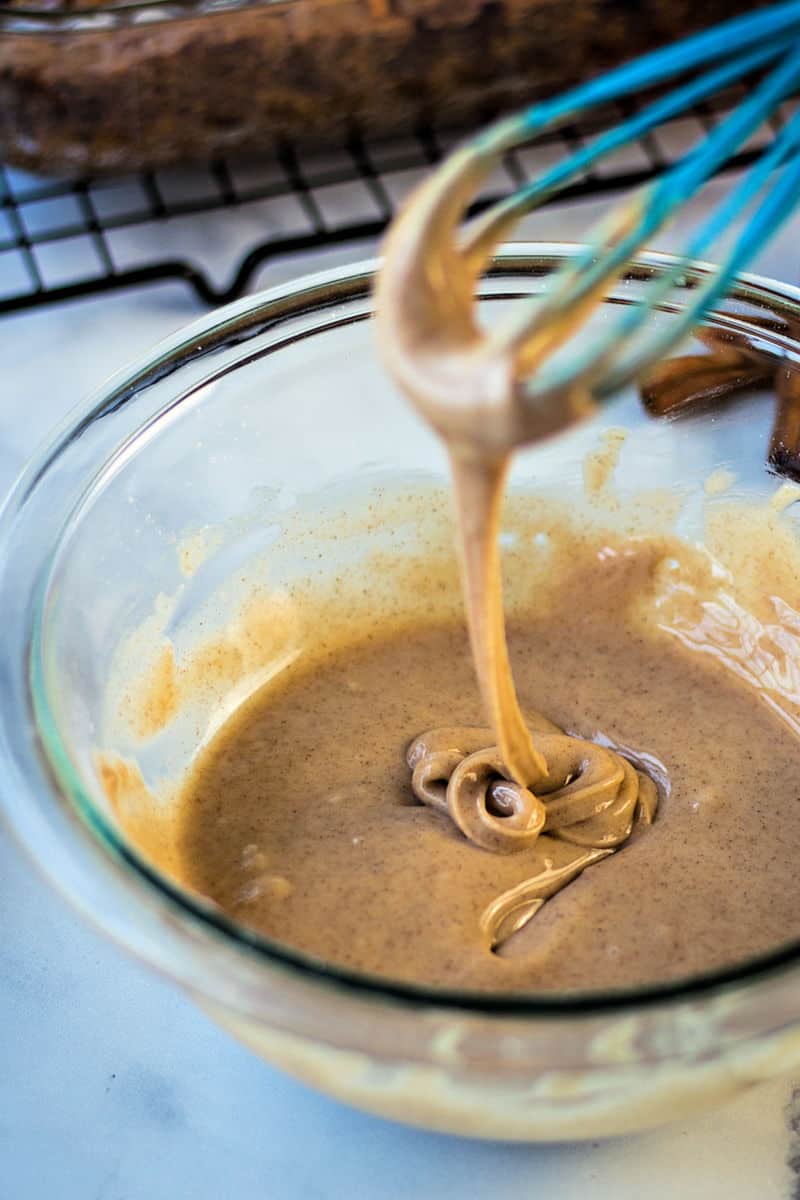 Add a Little Pizzazz! with a Simple Powdered Sugar Glaze
Any time you want to dress up a cake that you normally wouldn't frost like a pound cake, coffee cake, or snack cake, whisk up a simple powdered sugar glaze to drizzle over the top.
To make a glaze, whisk together confectioner's sugar with a few tablespoons of milk (or juice) and a splash of vanilla extract until you get the consistency desired. For the apple cake, I used milk and added ground cinnamon which compliments the apple flavor in the cake.
Try using lemon juice or orange juice when you need a glaze for a pound cake or sweet rolls.
Apple Cake FAQs
What are the best apples to use in a fresh apple cake?
Any type of apple will work in an apple cake, but I like to use a sweet, crisp apple like Gala or Fuji which will hold its shape during baking.
Does a fresh apple cake need to be refrigerated?
Since the apples are baked into today's cake recipe, it does not need to be refrigerated — although it is also tasty when chilled. If an apple cake has fresh fruit between the layers, or has a cream cheese or butter frosting, it should be refrigerated.
How do you keep an apple cake fresh?
Once the cake is completely cooled, tightly cover with plastic wrap. If your cake pan has a lid, a layer of plastic wrap is still helpful in keeping the cake fresh for longer.
How long does a fresh apple cake keep?
This cake will stay fresh for up to five days when properly covered.
Do I need to peel my apples for apple cake?
Of course apple peels are edible, but peel the apples for a better cake texture.
Does fresh apple cake freeze well?
Yes! To freeze this cake properly, wrap it tightly in two layers of plastic wrap BEFORE adding the glaze. Place the wrapped cake in a resealable freezer bag and freeze for up to three months. Drizzle glaze on top after the cake has thawed in the refrigerator overnight.
How do I know when my apple cake is done?
Test the cake doneness by inserting a toothpick into the middle of the cake. If it comes out clean, the cake is done. If a few crumbs or wetness remains, then continue baking a few more minutes.
What do you do if your cake is not cooked in the middle?
If the cake is beginning to pull away from the sides of the pan but the middle is still not completely cooked, cover the cake with aluminum foil and continue baking for another 10 minutes. This will prevent over cooking around the edges.
How do you get a cake to bake evenly?
After you put the batter into your cake pan, gently tap the pan on the counter to help remove any air bubbles for more even baking.
Why did my cake fall after taking it out of the oven?
Too much air in the batter will cause a cake to fall after it comes out of the oven. This is often caused by beating the cake too much after adding the dry ingredients. Instead, gently fold in the flour or mix on low speed.
Ingredients
Apples — Any type of apple will work with this cake, but I prefer to use crisp, sweet Gala apples.
Walnuts — Toast the walnuts for a few minutes to keep them crispy during baking. Pecans are a good substitute for this recipe.
All-purpose flour
Baking soda —To give rise to the cake
Salt — The flavor enhancer
Sugar — White granulated sugar
Vegetable or canola oil — Mix well with the sugar before adding the eggs.
Eggs — Eggs add stability in the batter
Ground cinnamon and nutmeg — To give the cake spice.
Vanilla extract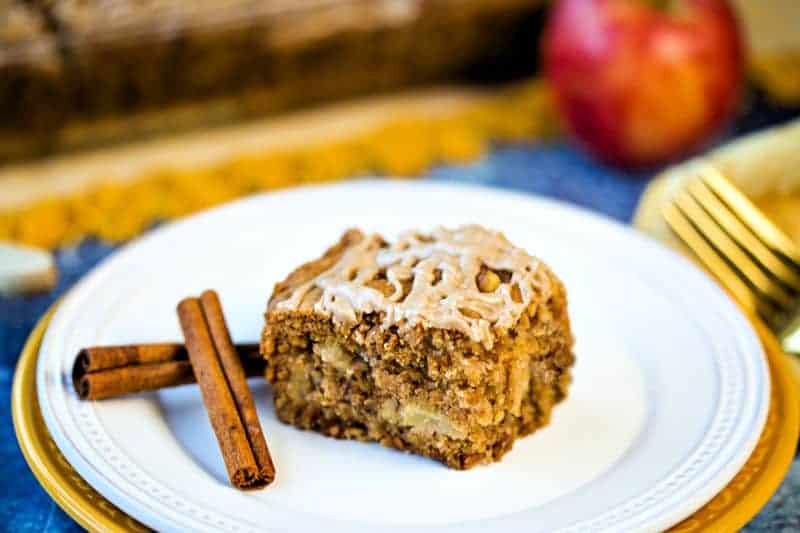 More cake recipes featuring fresh fruit
When you have the urge to bake, you can't go wrong with one of these delicious homemade cake recipes featuring fresh fruit!
To make this recipe you may need…
The following are affiliate links. We are a participant in the Amazon Services LLC Associates Program, an affiliate advertising program designed to provide a means for us to earn fees by linking to Amazon.com and affiliate sites.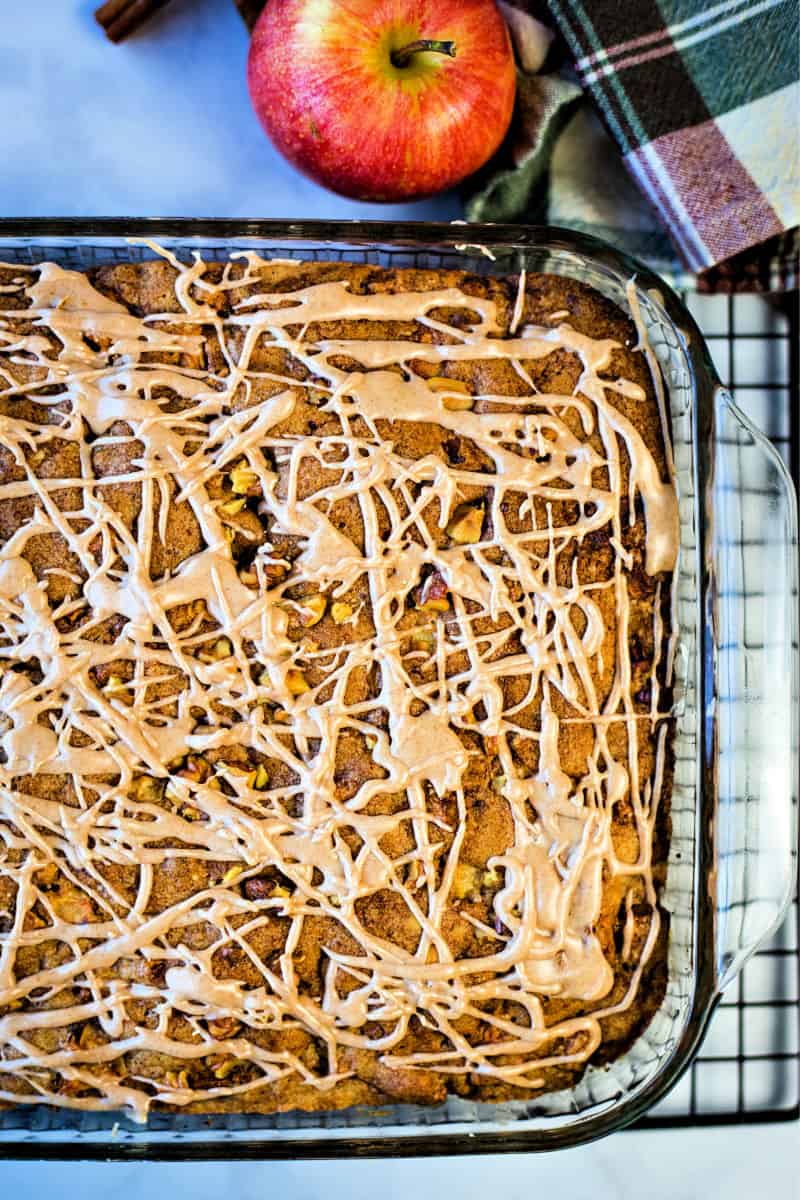 When you don't want to worry about a cake carrier or when you need a winning dessert to transport, a sheet cake is a good option. You can easily bake and serve the cake in the same pan. I baked this cake in my Pyrex glass baking dish which has a handy lid for storage. Over the years, this dish has found its way to many potlucks!
What else is new? Check out my Life, Love, and Good Food Store on Amazon! Thanks so much for being a part of our community!
Let's bake!
Some recipes call for grating apples before adding to the batter, but don't do that for this cake. Grating the apples will create too much moisture and they will not hold their shape when baking.
This cake can be baked in a regular or glass baking dish. For a metal cake pan, bake at 350 degrees for one hour. For a glass baking dish, bake at 325 degrees and add 10 minutes to the baking time for best results.
Please share!
Your shares are how this site grows and I appreciate each one. Do you know someone who would enjoy this recipe? I'd love it if you would share it on Facebook or on your favorite Pinterest board!
Yield: 20 servings
Fresh Apple Walnut Cake with Cinnamon Glaze
An extremely moist and delicious old-fashioned sheet cake recipe with fresh apples, toasty walnuts, and cinnamon spice.
Total Time
1 hour
20 minutes
Ingredients
4 or 5 medium apples, peeled and diced (3 cups)
2 cups sugar
1-1/2 cups canola oil
3 eggs, slightly beaten
1 teaspoon vanilla extract
3 cups all-purpose flour
1 teaspoon kosher salt
1 teaspoon baking soda
1-1/2 cups walnuts, chopped
1 teaspoon ground cinnamon
1 teaspoon ground nutmeg
Cinnamon Glaze
1 cup powdered sugar
1/2 teaspoon cinnamon
2 - 3 tablespoons milk
1/2 teaspoon vanilla extract
Instructions
Preheat oven to 350 degrees
Generously grease the bottom and sides of a 9x13-inch cake pan (or glass cake pan) with a tablespoon of butter.
Peel and dice 4 or 5 medium apples, discarding the cores and peels, to make 3 cups.
Whisk together sugar and oil in a large bowl. Add eggs and vanilla and whisk until well combined.
Add flour to the bowl and sprinkle with the salt, baking soda, cinnamon, and nutmeg. Using a wooden spoon, fold the dry ingredients into the wet ingredients until combined. DO NOT over mix.
Next, fold in the apples and walnuts. The batter will be stiff. Pour (or spread) the batter into the prepared pan. Bake for 1 hour or until a toothpick inserted in the middle comes out clean.
Cool cake in the pan on a wire rack for 30 minutes before drizzling with the glaze.
Cinnamon Glaze
In a small bowl, whisk powdered sugar with cinnamon. Add milk a tablespoon at a time until the desired consistency, whisking until smooth. Stir in vanilla extract and drizzle over warm cake.
Notes
To bake this cake in a 9x13-inch GLASS baking dish, reduce the oven temperature to 325 degrees and add 10 minutes to the baking time.
Any type of apple will work, but I like to use a sweet, crisp apple like Gala or Fuji which will hold its shape during baking.
Dice the apples into 1/4-inch pieces. DO NOT grate the apples to avoid the batter becoming too wet and the apples becoming mealy.
Store the cake tightly covered at room temperature for up to five days.
Recommended Products
As an Amazon Associate and member of other affiliate programs, I earn from qualifying purchases.
Nutrition Information:
Yield:
20
Serving Size:
1
Amount Per Serving:
Calories:

408
Total Fat:

23g
Saturated Fat:

2g
Trans Fat:

0g
Unsaturated Fat:

21g
Cholesterol:

28mg
Sodium:

182mg
Carbohydrates:

48g
Fiber:

2g
Sugar:

30g
Protein:

4g
ABOUT SHEILA
Sheila Thigpen, author of Easy Chicken Cookbook and The 5-Ingredient Fresh and Easy Cookbook, is a recipe developer, food photographer, and food writer. She spent 20+ years as a business manager in the publishing industry before she retired in 2018 to focus on her passions — cooking, photography, and writing. Living near the beautiful Smoky Mountains, Sheila and her husband have two adult daughters and two fine sons-in-law, are active in their church, love to travel, and have a precious little granddaughter who has stolen their hearts. Follow Sheila on YouTube, Pinterest, Instagram, Facebook, and Twitter!