This post may contain affiliate links. Please read my disclosure policy.
Nothing screams summer like blueberries, and this scrumptiously moist Blueberry Crumb Cake with crunchy streusel topping and tart lemon glaze certainly hits the spot!
The flavors of blueberry and lemon naturally combine for that irresistible blend of tart and sweetness. Baking them together creates the ultimate flavor palate. Oh my!
Who can resist gorgeous juicy berries in mouthwatering blueberry desserts — especially in this Blueberry Crumb Cake Recipe packed with fresh berries and sprinkled with a buttery streusel topping?!
Your next summer picnic at the family reunion will make heads turn as they fight for a piece of this beauty. So, if you like summer blueberries and you like cake, you'll love this easy recipe!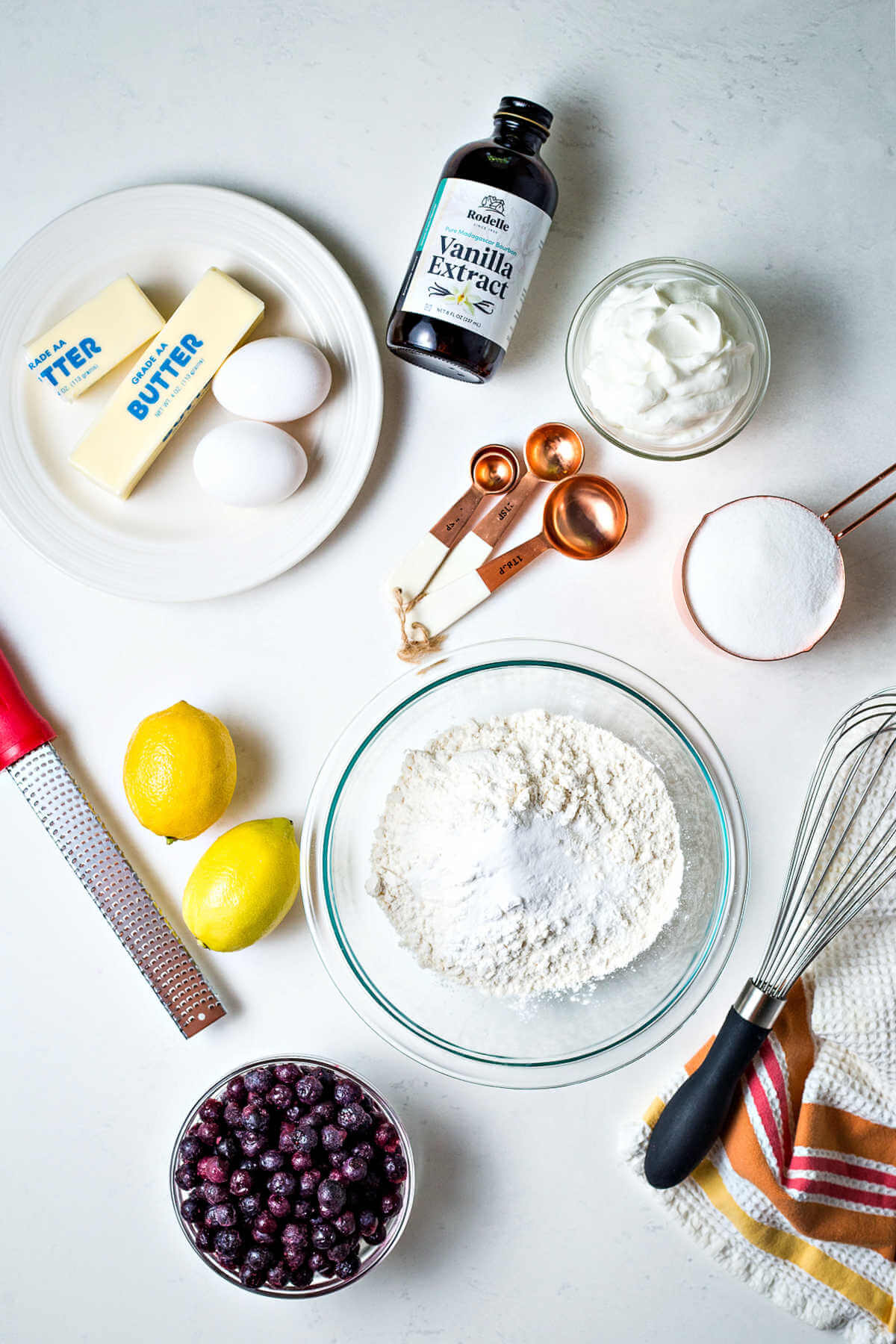 Key ingredients & substitutions for delicious Blueberry Coffee Cake
Cinnamon streusel
Flour — Use all-purpose flour or your go-to substitute like almond if you prefer.
Sugar — Regular white sugar provides a delicious sweetness to this blueberry crumb.
Butter — Use cold butter to help create the perfect crunch on top.
Blueberry cake
Blueberries — Fresh blueberries are always the best if possible, but frozen works well, too. Just thaw first and pat dry with something disposable like a paper towel. You can also add a smidge of flour to soak up the moisture before adding them to the batter which also keeps them from sinking to the bottom.
Flour — Again, use all-purpose flour or whatever alternative you normally use.
Baking powder — Make sure it's fresh. You don't want this tiny ingredient to spoil this yummy coffee cake.
Baking soda — The same applies here. Grab a new one if it's been sitting in the fridge for a while.
Butter — Salted or unsalted works. You know your taste buds best!
Sugar — All cooking roads lead to this sweet delight.
Eggs — Any size can be used: medium, large or extra-large.
Sour cream — Looking for a substitute? Use Greek yogurt, buttermilk (adjust the consistency by using less), or coconut milk with lemon juice. These are all great options.
Lemon zest — I love that power-punch smell of lemons when they roll across my trusty lemon zester!
Lemon glaze
Powdered sugar — Forgot to buy the powdered sugar? Substitute it with granulated sugar and cornstarch. For every cup of sugar, add 1 tablespoon of cornstarch.
Lemon juice — This adds the final zesty taste to this scrumptious crumb cake recipe.
How to make Blueberry Crumb Cake with lemon drizzle
This Blueberry Crumb Cake with Lemon Glaze recipe can be made with either fresh or frozen blueberries with the same amazing results.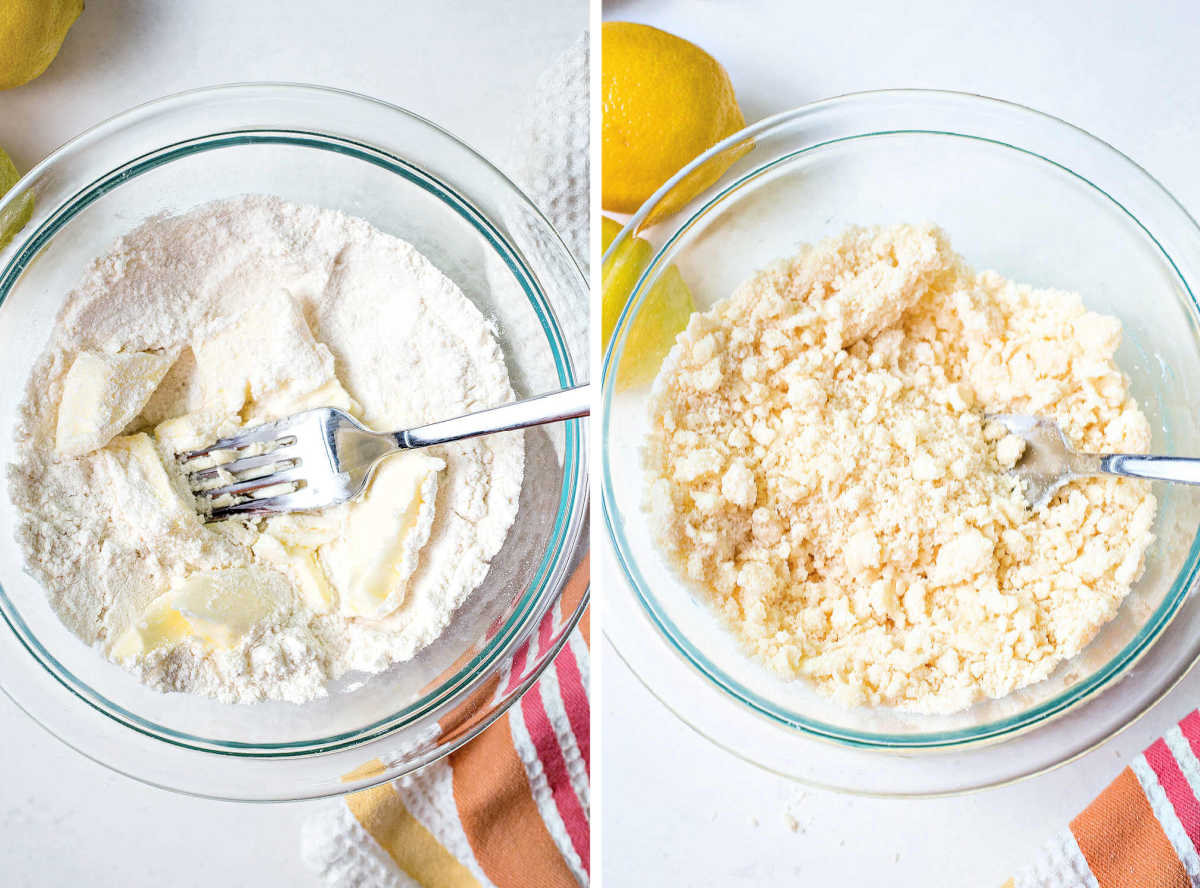 STEP 1 | Mixing the streusel
In a medium bowl, mix the flour and sugar together first. Then add cold cubed butter until it forms a crumbly mixture. Use your fingers and gently knead it together — or a fork works well too if you're not up to having messy fingers.
STEP 2 | Prepare the oven and pan
Be sure to preheat your oven and use cooking spray to lightly coat a glass baking dish.
STEP 3 | Ready the berries
Rinse the fresh or frozen berries first and drain in a colander or lay them on paper towels and gently dab until the moisture is absorbed.
STEP 4 | Prepare the dry ingredients
Measure and whisk the dry ingredients (flour, baking powder, baking soda, and salt) together in a medium-size bowl and set aside to add to the mixing bowl when ready.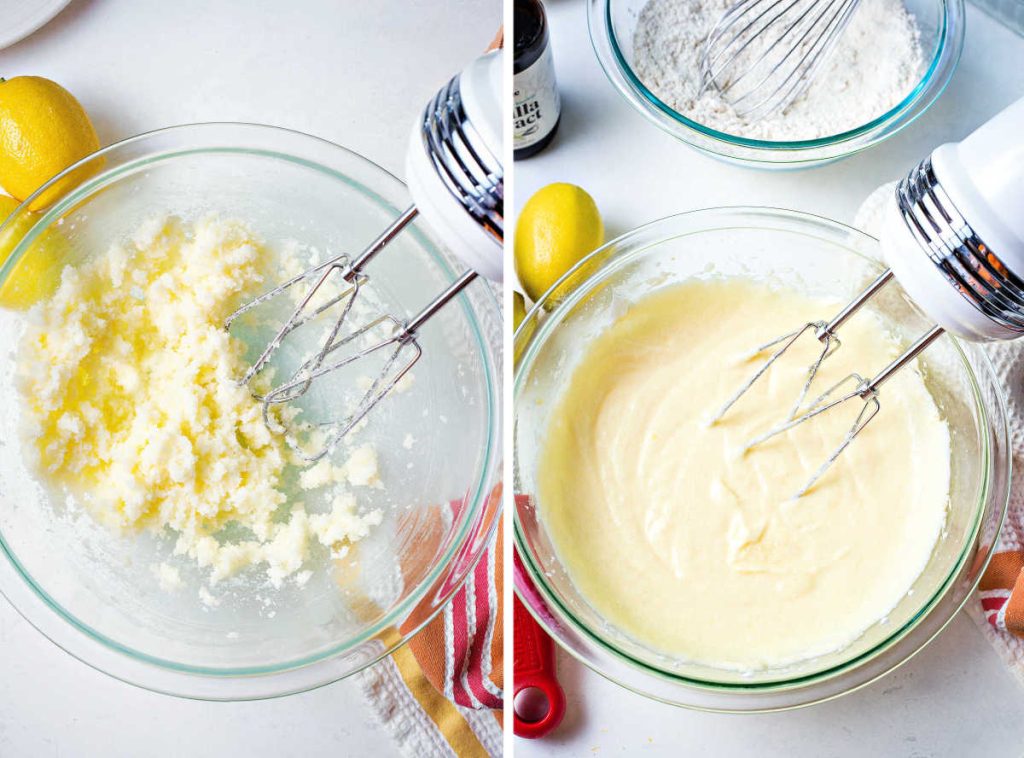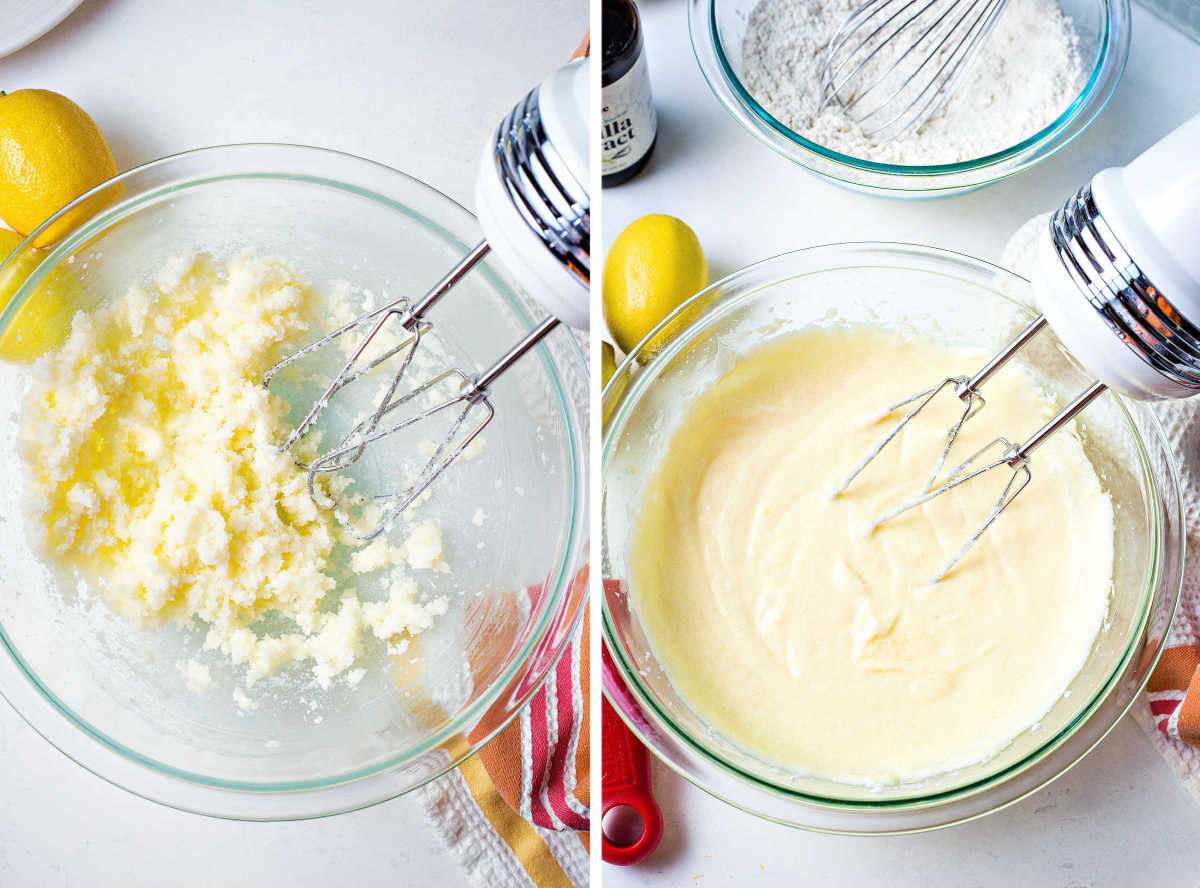 STEP 5 | Cream the butter
In a separate larger bowl or a stand mixer bowl, measure and add in the butter and sugar. Cream the butter and sugar until light and fluffy — then add the eggs one at a time.
Next, add the sour cream and vanilla. Remember not to overmix your batter or it will become tough!
tips
Vanilla extract. It's amazing the flavor this brings to a recipe! Pure vanilla extract will bring a bolder taste than imitation vanilla.
STEP 6 | Add in the dry mixture
Time to add the flour mixture and lemon zest into the batter. Once they form a nice smooth mixture, softly fold the blueberries in until they are evenly distributed. Be sure you do this step by hand so you do not end up bursting the delicate and juicy berries.
tips
Overmixing. It's important to avoid overmixing the batter after you add the dry ingredients so that the cake does not turn out tough. Follow the recipe directions and only mix until the dry ingredients are incorporated.
No dry cake. Make sure to follow the recipe correctly and double-check your oven temperature. Too much flour will be absorbed by wet ingredients and in turn, will make it dry.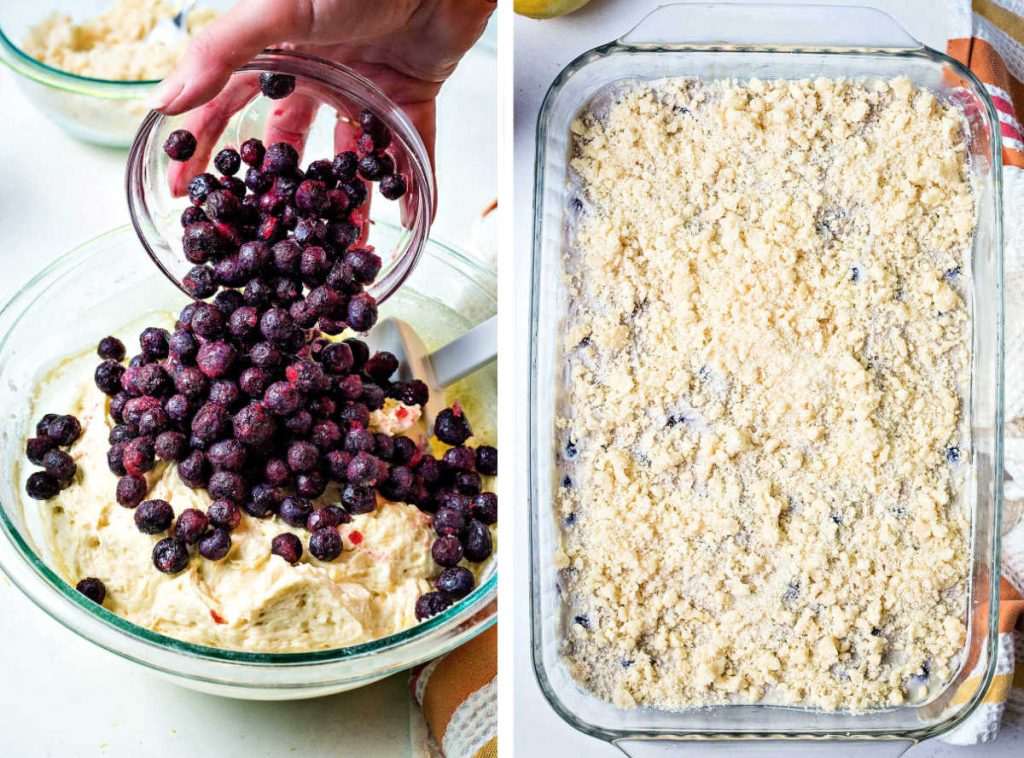 STEP 7 | Into the pan
In the prepared baking dish, use a spatula to spoon in the thick batter, making sure it's evenly spread to all four corners of the dish. Then get a fresh spoon to sprinkle the crumb topping all over the top of the batter.
tips
Freezing blueberries. Want to learn how to freeze blueberries? Check out these step-by-step instructions on my blog.
Dry blueberries, please. Don't forget to drain and dry your blueberries– very important! Otherwise, you'll have a purple batter. Oh, no!
Tip on folding. Folding blueberries into the batter simply means gently mixing the berries into the batter very tenderly so as not to crush the fruit.
STEP 8 | Bake, drizzle and serve
Now it is time to place the delicious cake batter with streusel topping in the oven to bake. Be ready for the kitchen to smell incredibly good!
Allow the full 35-40 minutes cook time — don't be tempted to open the oven door and peek or your cake might fall!
Let the warm cake cool for 15 minutes on a wire rack before adding the drizzle or it will just melt and absorb in.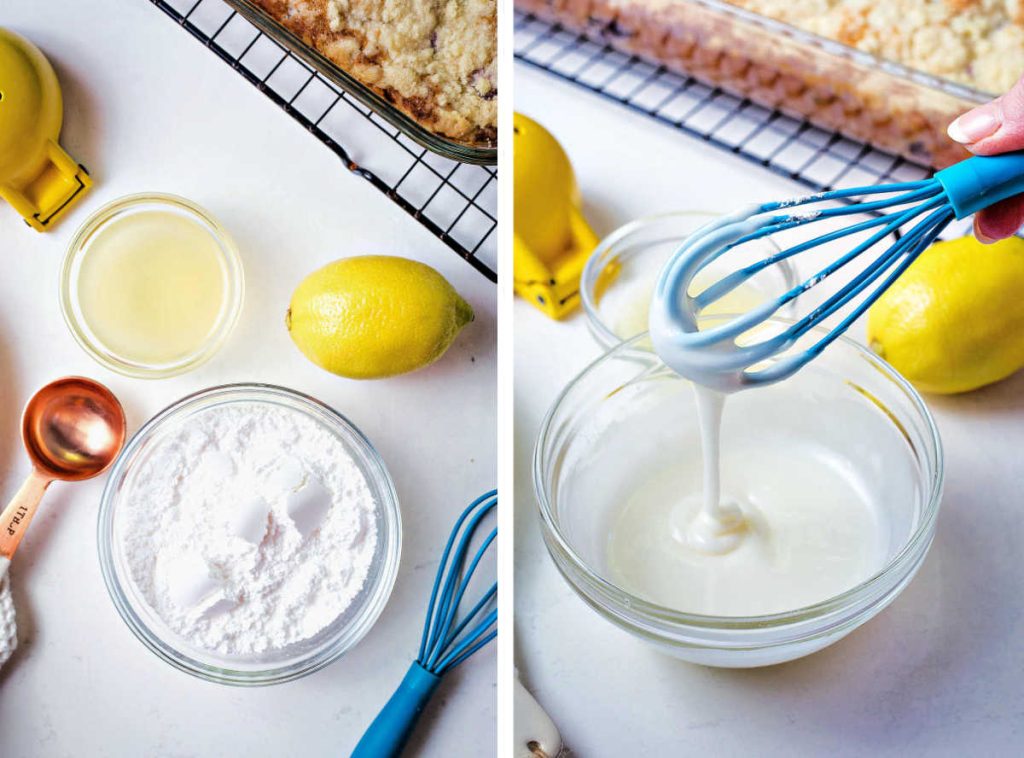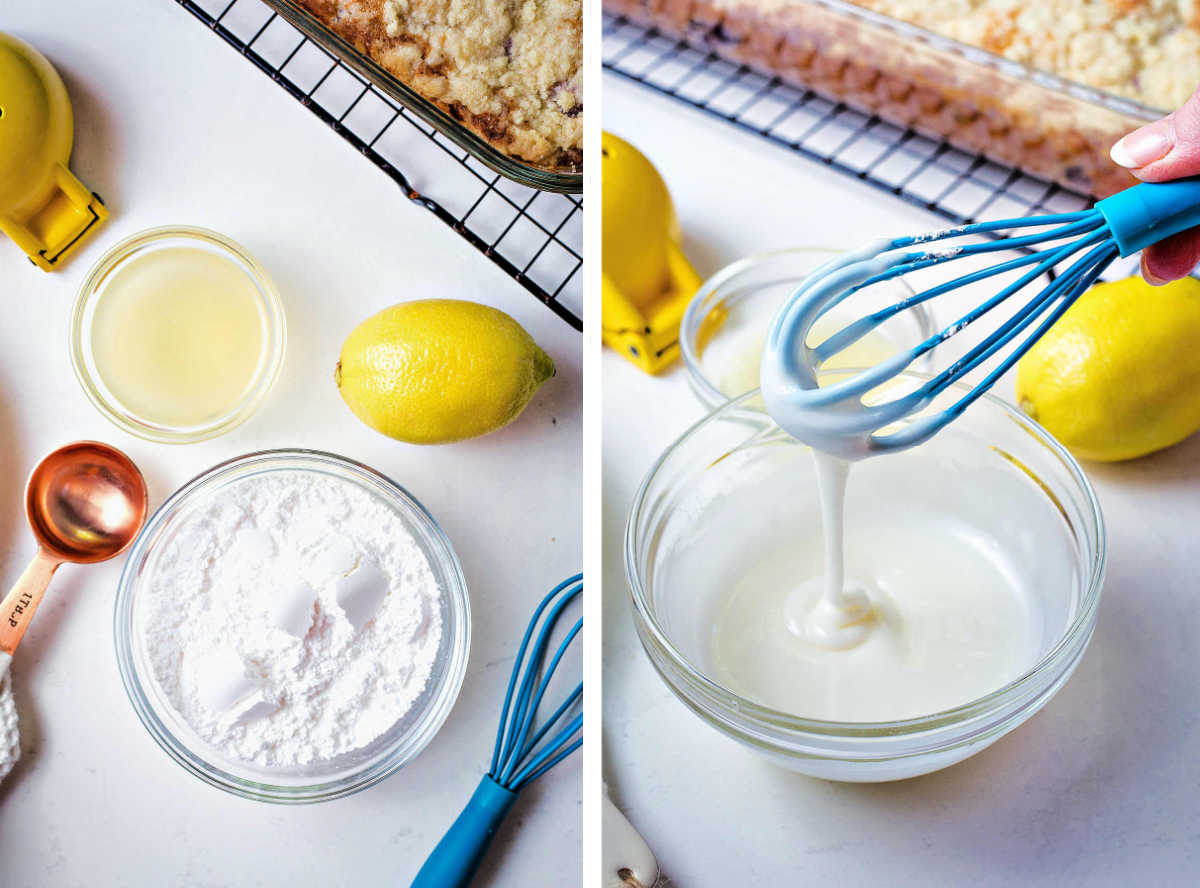 STEP 9 | Make the lemon glaze.
While your cake is cooling, in a small bowl add the powdered sugar and the lemon juice as directed, and stir the mixture until it is creamy and glossy! You can even take a taste to see if it needs anything! Good excuse, right?
Once that the cake is cool you can drizzle the glaze over this mouth-watering blueberry coffee cake and serve. Or, wait until the cake is being served and drizzle each plate with a nice design!
What makes this coffee cake so moist?
Naturally, adding fruit to a cake will create some moistness.
Sour cream in the batter, however, is primarily responsible for the wonderful moistness of this crumb cake.
Creaming the butter and sugar until the mixture is light and fluffy helps create a spongy, springy dough, instead of a chewier texture.
Frequently asked questions
How long will this coffee cake keep?
This sour cream coffee cake will last for about 3 days if kept at room temperature and in an airtight container.
Can I refrigerate it or freeze it, and if so, for how long?
Yes, you can refrigerate it for up to a week. If you need to keep it longer, then pop it in the freezer for up to 3 months.
Is this blueberry crumb better served hot or at room temperature?
The answer is strictly a taste preference. To me, there's nothing better than a warm crumb cake fresh out of the oven served with a scoop of ice cream!
Can I make this a gluten-free coffee cake?
Absolutely! Substitute with gluten-free flour and make sure the sour cream and vanilla extract you buy are gluten-free and you're good to go.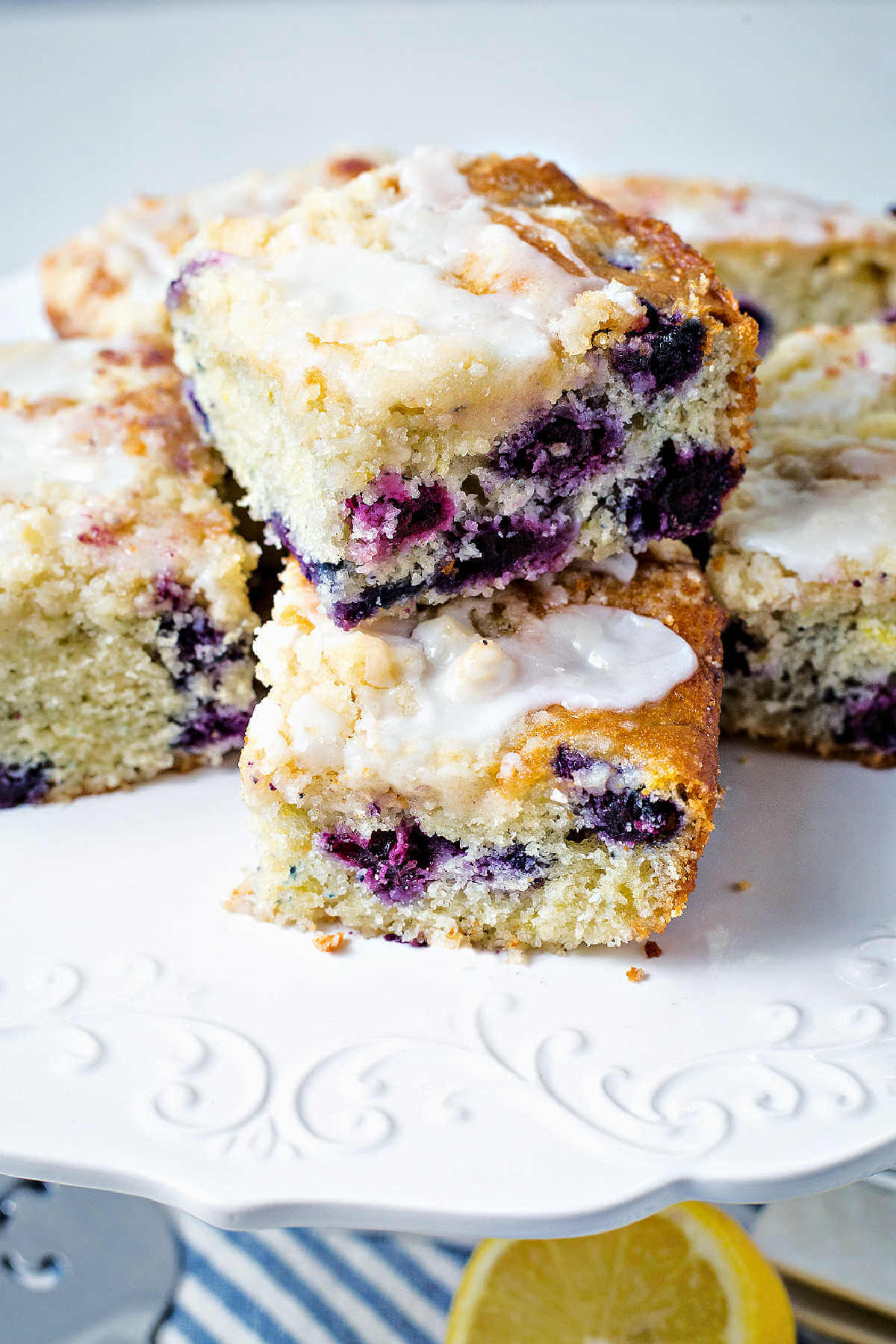 Serving suggestions
Coffee cakes are actually the perfect fit for any occasion: a just-because brunch with the girlfriends and this Raspberry Ricotta Cake; a quick grab-and-go breakfast with this Cranberry Orange Bread; a thank you to the kids' teachers like this Apple Walnut Cake; or to end an exhausting day curled up with a warm piece of Brown Sugar Pecan Coffee Cake and creamy ice cream.
This Blueberry Streusel Cake can be enjoyed in so many ways. Here are a few of my ideas:
More toppings?
Make this crumb cake recipe a dessert and go ahead and take it over the top!
A scoop of ice cream — The ultimate dessert topping! And if you're really crazy about that blueberry flavor, try this No-Churn Blueberry Ice Cream. Or if you love blueberries and strawberries, what would be better than Homemade Strawberry Ice Cream? Yum!
A dollop of whipped cream — Make homemade, spray it out of the can, or plop a spoonful from the container!
Smear the cream cheese — Warm a slice in the microwave and slather cream cheese on that baby! It will almost taste like a danish.
Behind the recipe: Blueberry Crumb Cake
It's a good thing that blueberry season is just around the corner because I've almost used up my freezer supply and I know I need to make one of these Blueberry Crumb Cakes again soon!
Lucky for us, my father-in-law has mature blueberry bushes and every summer he graciously shares the bounty with us. As a result, we enjoy blueberry compote on pancakes, blueberry streusel muffins, and blueberry pie bars all year long.
It is true — the lazy days of summer encourage these types of lip-smacking dessert recipes. So, the next time you're headed to a family gathering or kayaking down the river, or just chilling in the hammock in the backyard, bring out this scrumptious coffee cake and enjoy!
Please share!
Your shares are how this site grows, and I appreciate each one. Do you know someone who would enjoy this recipe? I'd love it if you would share it on Facebook or Pinterest!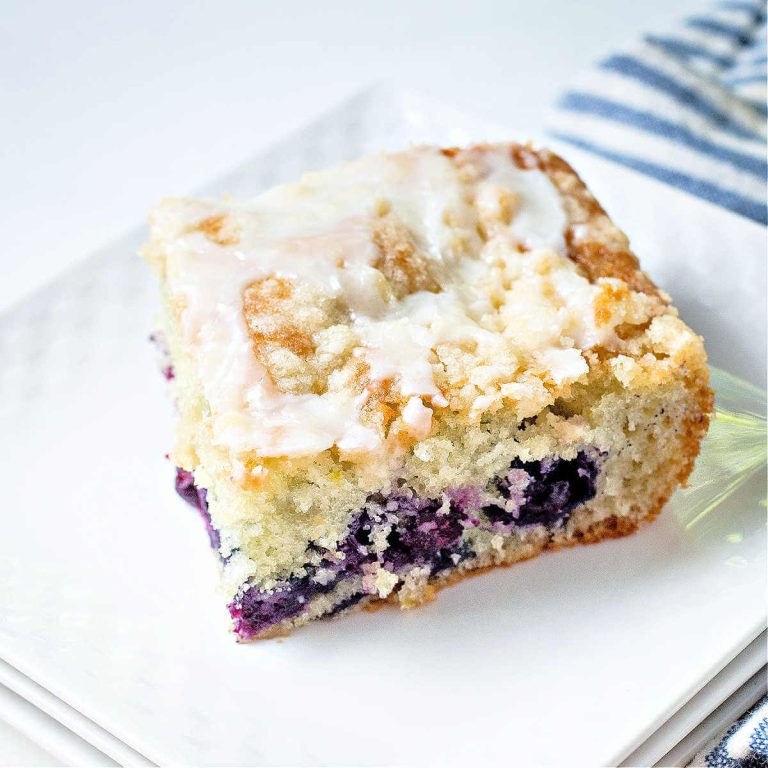 Blueberry Crumb Cake with Lemon Glaze
Nothing screams summer like blueberries, and this scrumptiously moist Blueberry Crumb Cake with crunchy streusel topping and tart lemon glaze certainly hits the spot!
Ingredients
Streusel
1/2

cup

all-purpose flour

1/3

cup

sugar

4

tablespoons

butter

softened
Cake
2

cups

all-purpose flour

1 1/2

teaspoon

baking powder

1/2

teaspoon

baking soda

1/2

teaspoon

salt

8

tablespoons

butter

softened

1

cup

sugar

2

large

eggs

1

cup

sour cream

1

teaspoon

vanilla extract

1

tablespoon

lemon zest

2

cups

blueberries

fresh or frozen , well drained
Lemon Glaze
1

cup

powdered sugar

2-3

tablespoons

lemon juice
Instructions
Streusel
In a medium size bowl, mix together the flour and sugar. Use a fork or your fingers to work in 4 tablespoons of softened butter until you have uniform crumbs. Set aside.
Cake
Preheat the oven to 350 degrees. Lightly coat a 9×13 glass baking dish with cooking spray. 

Rinse fresh berries and pat dry with paper towels, or drain frozen berries in a colander while making the cake batter. 

Whisk together the flour, baking powder, baking soda and salt in a medium size bowl.

In a separate larger bowl, or in the bowl of a stand mixer, cream the butter and sugar until light and fluffy, about 3 minutes. Add the eggs one at a time and mix well after each addition. Next, add the sour cream and vanilla, mixing until combined.

Add the lemon zest and flour mixture all at once to the batter. Mix on low speed just until all the four is incorporated. Gently fold in the blueberries.

Spoon the batter into the prepared baking dish and spread evenly to the edges of the pan with a spatula (the batter will be thick). Evenly sprinkle the streusel on top.

Bake for 35-40 minutes or until a toothpick inserted in the center comes out clean. Cool on a wire rack for 15 minutes.
Lemon Glaze
Add powdered sugar to a small bowl. Add lemon juice a tablespoon at a time, stirring until the desired consistency is reached. Drizzle glaze over the cooled cake and serve.
Notes
Whether using fresh or frozen, be sure the blueberries are well drained and dry. If the berries are too wet, the batter will turn purple!
It's important to avoid over mixing the batter after you add the dry ingredients so that the cake does not turn out tough. Follow the recipe directions and only mix until the dry ingredients are incorporated.
This cake batter is thick. Use a spatula to spread it evenly into the baking pan.
Pure vanilla extract will bring a bolder taste than imitation vanilla.
Nutrition
Serving:
1
g
Calories:
231
kcal
Carbohydrates:
34
g
Protein:
3
g
Fat:
10
g
Saturated Fat:
6
g
Polyunsaturated Fat:
3
g
Cholesterol:
44
mg
Sodium:
175
mg
Fiber:
1
g
Sugar:
21
g
Life Love and Good Food does not claim to be a registered dietician or nutritionist. Nutritional information shared on this site is only an estimate. We recommend running the ingredients through an online nutritional calculator if you need to verify any information.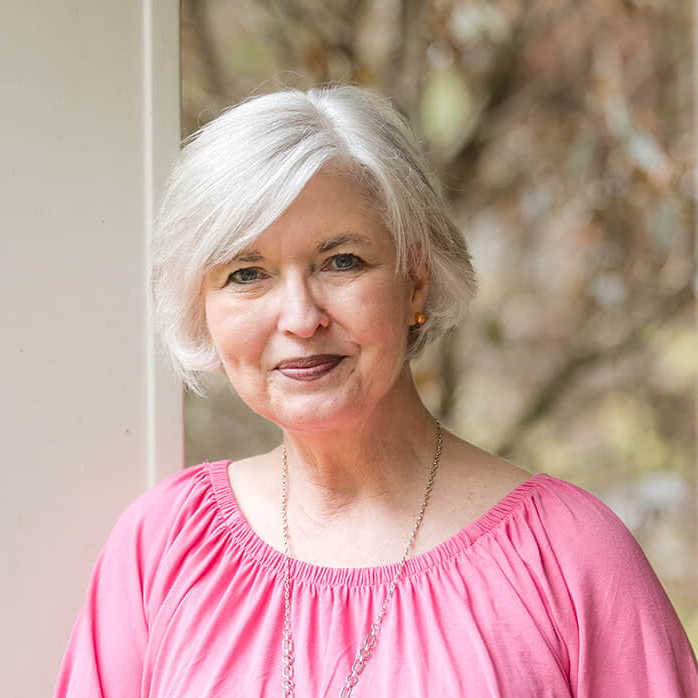 About Sheila Thigpen
Recipe Developer, Food Photographer, Food Writer
Sheila Thigpen is the publisher of Life, Love, and Good Food — a Southern food blog — and the author of Easy Chicken Cookbook and The 5-Ingredient Fresh and Easy Cookbook. After 20+ years in the publishing industry, she retired in 2018 to focus on her own creative endeavors full time. She and her husband live near the beautiful Smoky Mountains and have a precious little granddaughter who has stolen their hearts. As an influencer, Sheila has collaborated with brands like Creamette, Kroger, HERSHEY'S, Hamilton Beach, Garafalo Pasta, OXO, Smithfield, Valley Fig Growers, and more.