This post may contain affiliate links. Please read my disclosure policy.
We've been using this simple recipe for years! This pork chop marinade is super easy to make and uses basic ingredients that are always in my pantry. Whip it up in just a few minutes!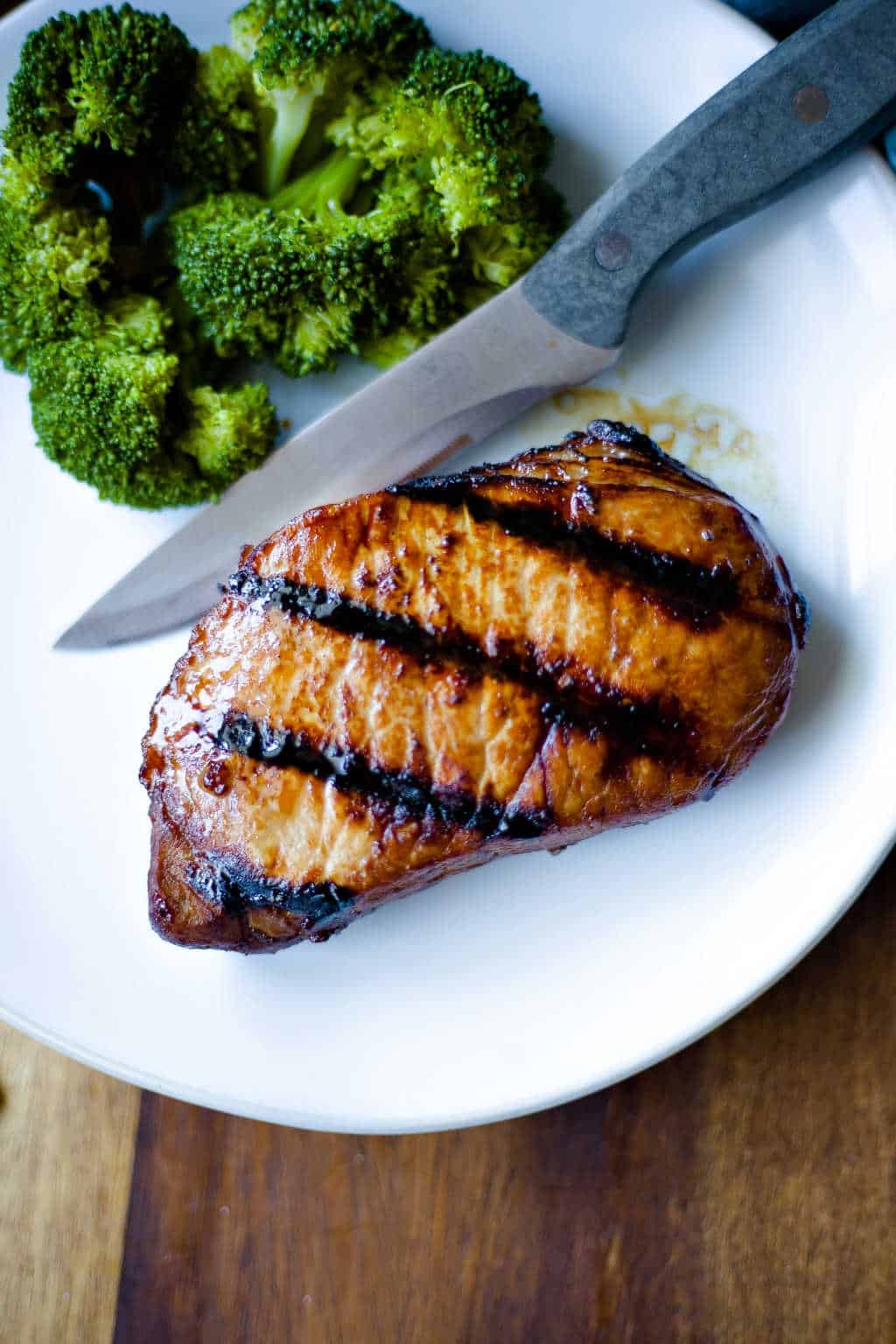 A little bit savory and a little bit sweet, this grilled pork chop marinade creates flavorful, moist, and tender bites every single time!
The secret ingredient is soy sauce which works as a brine to tenderize the pork. Honey creates a nice caramelization on the chops as they cook, and fresh lime juice helps break down the raw pork so all of the flavors can penetrate the meat.
Don't feel like firing up the grill? Try my Instant Pot recipe with apple gravy or this baked version with an orange mustard glaze. You can also skip the marinade and serve your grilled pork chops with peach salsa instead.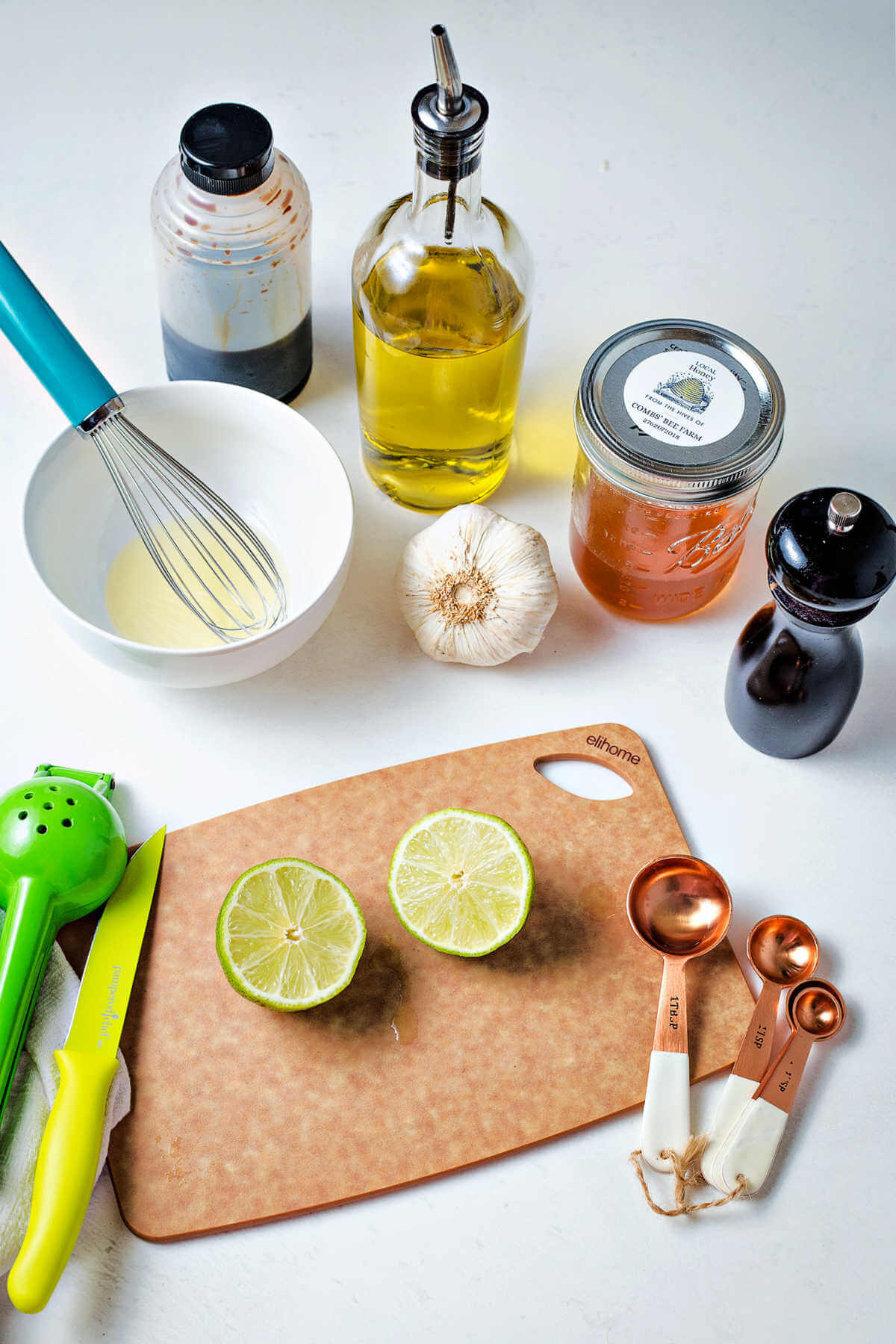 Key ingredients & substitutions for Pork Chop Marinade
Fresh lime juice — Lemon juice will also work in a pinch.
Olive oil — I like to use extra-virgin in this recipe, but regular is just fine.
Soy sauce — Substitute tamari or coconut aminos, especially as a gluten free alternative.
Honey — Use an equal amount of brown sugar if you prefer.
Garlic — Mince fresh cloves for a little zing!
tip
What makes this recipe so great is that even if you only have time to marinate the pork for an hour or two, they will still turn out absolutely delicious! My preference is to soak the chops for at least 4 to 8 hours, or better yet, overnight. Regardless, these marinated pork chops are always juicy!
How to make marinated pork chops?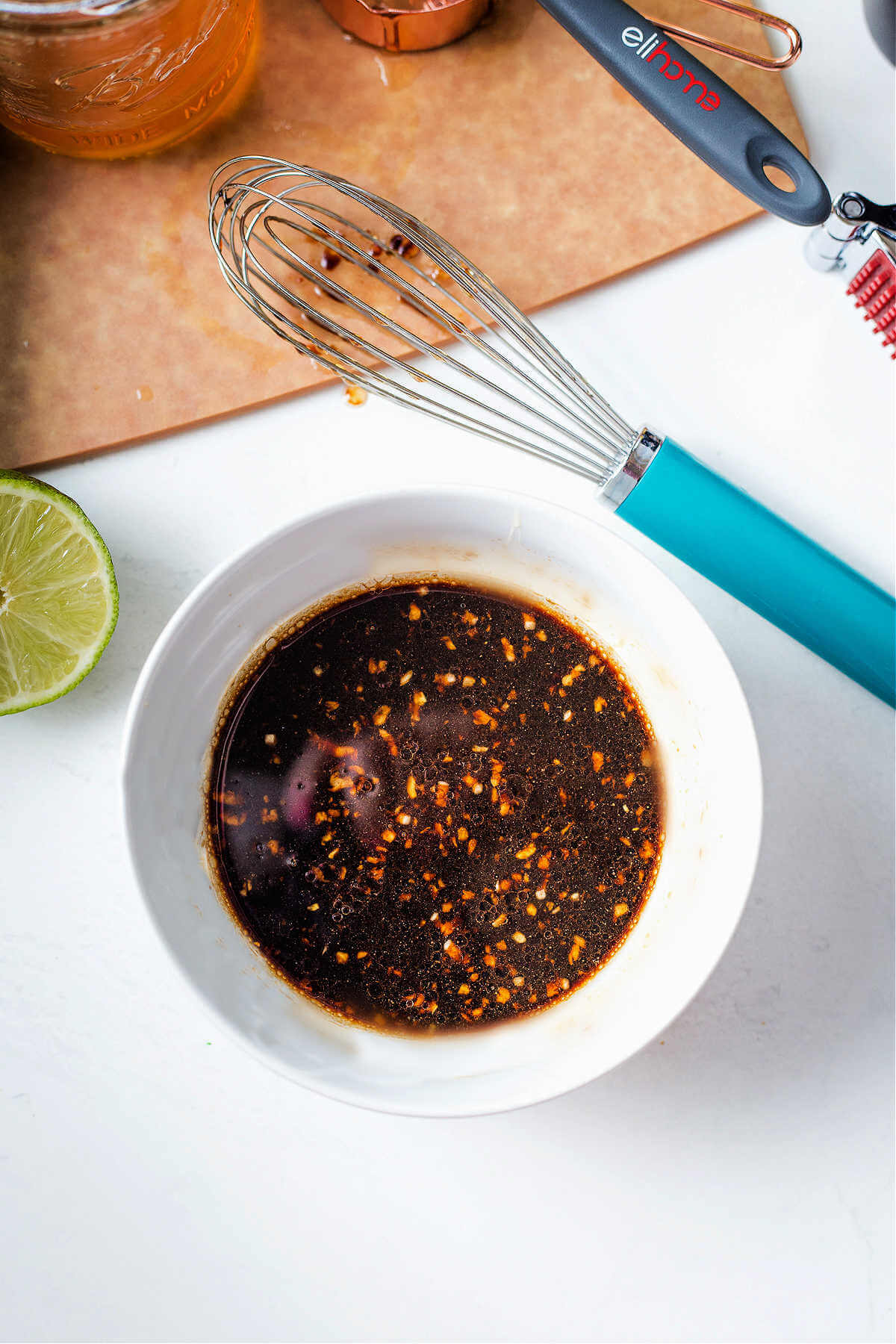 STEP 1 | Mix up the pork chop marinade
Whisk together olive oil, fresh lime juice, soy sauce, honey, minced garlic, and freshly ground pepper in a small bowl.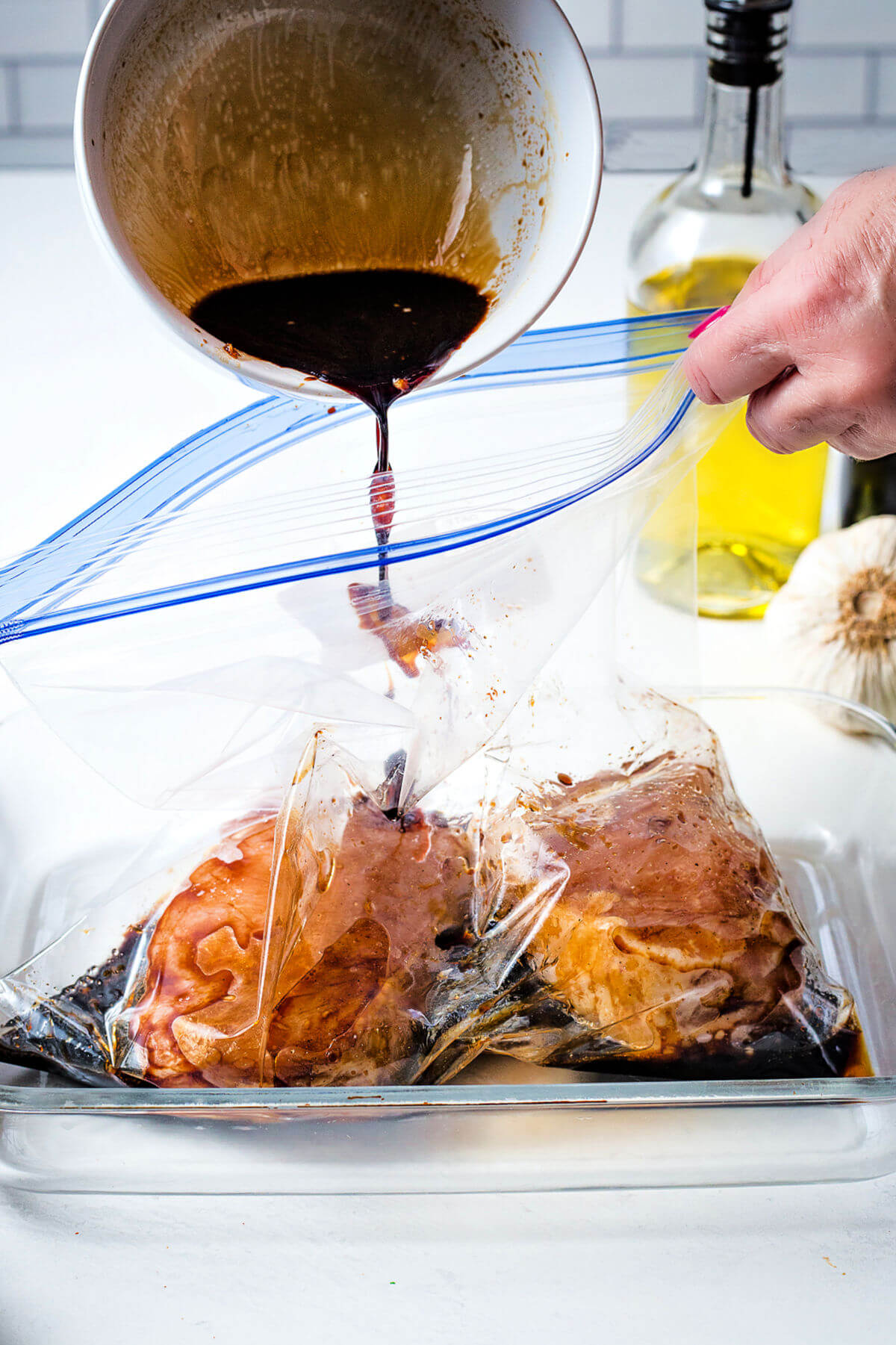 STEP 2 | Cover the meat
Place the boneless chops in a gallon-size ziplock bag, then pour the marinade over the top. Squeeze out some of the excess air before sealing and place the bag in the refrigerator for several hours, up to overnight.
tip
There are mixed opinions about piercing pork chops before placing them in the marinade. Some believe this releases the meat's natural juices, causing you to lose flavor. Others believe this gets the brine deep in the meat, yielding more tender results. I think: If you are cooking a thin chop, definitely do not pierce it before marinating. For thicker cuts — more than 1-inch thick — pierce the chops if you are marinating for less than 2 hours.
STEP 3 | Grill
Heat the grill to 400 degrees F and cook the meat over direct heat. One-inch pork chops should cook for a total of 8 to 12 minutes until the internal temperature reaches 140 degrees F. If the chops are thin, leave the grill lid open. Thicker chops will do better with the lid closed.
STEP 4 | Rest and serve
Once removed from the grill, the meat will continue cooking a bit. Tent with foil and allow them to rest for 3 to 5 minutes before serving to lock in the juices. The chops should reach a safe internal temp of 145 degrees F, but always test with an instant read thermometer to confirm.
tips
Pork chops can be marinated up to 24 hours. The longer you leave the chops in the marinade, the more tender the results. With the recipe below, I recommend you marinate for at least 8 hours.
The best part about this grilled pork chop marinade is that you can use it for baking or pan-searing too!
Frequently asked questions
What is the best way to tenderize pork chops?
Soaking them in a salty brine or marinade is the trick for tenderizing pork chops. My pork chop marinade recipe gets saltiness — as well as plenty of flavor — from the soy sauce.
How do you know when pork chops are done?
Pork chops are done when the juices run clear when pressed (not pierced) with a fork and the internal temperature reaches 145 degrees F.
Why are my grilled pork chops tough and dry?
Overcooking will dry out the meat, causing it to be tough and chewy.  To avoid overcooking, remove the chops from the grill when they reach an internal temp of 140 degrees F and tent them with aluminum foil for 5 minutes. Remember, meats will continue cooking even after you remove them from the heat.

Thinner marinated pork chops will especially cook quickly, so watch carefully. Grilling thinner chops over indirect heat is also a good idea.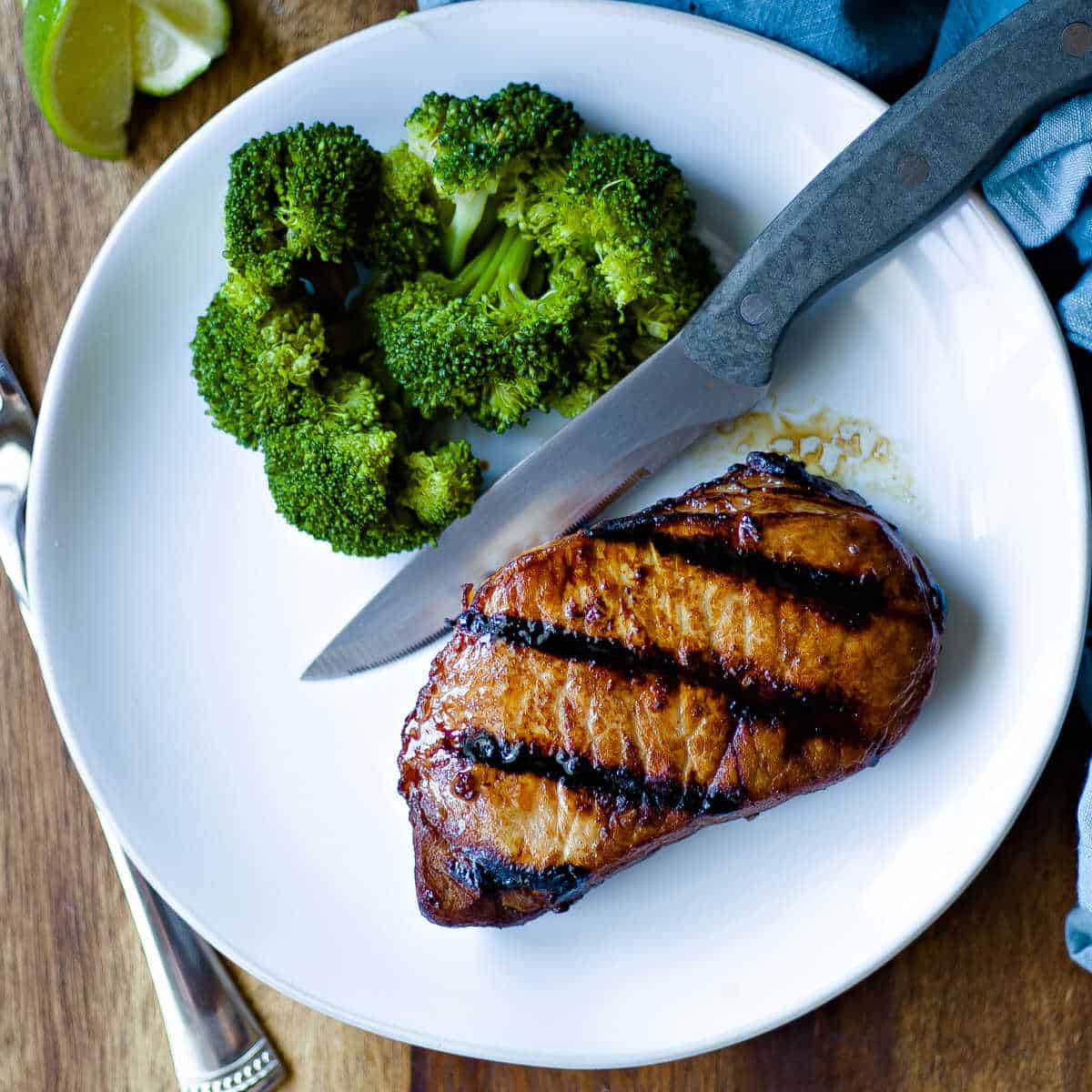 Serving suggestions
Keep things simple with a side of steamed broccoli or grilled corn on the cob. These marinated pork chops are also delicious with my tangy no mayo coleslaw and some homemade dinner rolls.
Pork chop marinade: behind the recipe
You can imagine just how old this recipe is when I tell you I scribbled it on a post-it note and filed it in my recipe box for safe keeping. Who still uses a recipe box?!
Truthfully, I think I first tried this grilled pork chop marinade after seeing it on a package of pork tenderloin, but it's been so long now that I can't really say. What I can tell you is that this recipe is tried and true — I can't even count how many times I've used it!
Please share!
Your shares are how this site grows, and I appreciate each one. Do you know someone who would enjoy this recipe? I'd love it if you would share it on Facebook or Pinterest!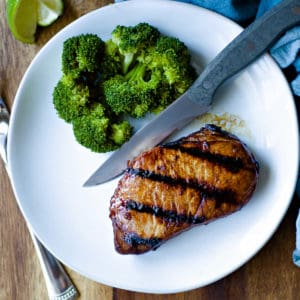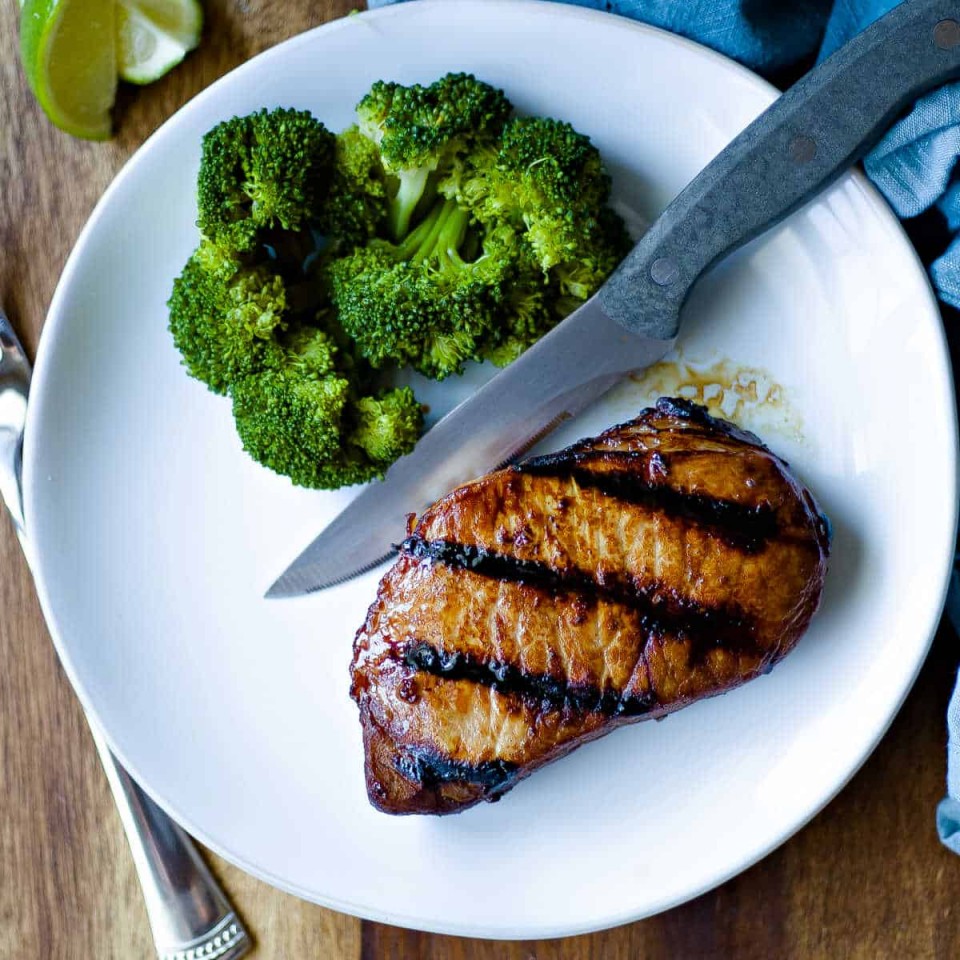 Best Pork Chop Marinade
A little bit savory and a little bit sweet, this grilled pork chop marinade creates flavorful, moist, and tender bites every single time!
Ingredients
4

1-inch

boneless pork loin chops
Marinade
2

tablespoons

fresh lime juice

2

tablespoons

extra-virgin olive oil

1/2

cup

soy sauce

1/4

cup

honey

2

cloves

garlic

minced

1/4

teaspoon

freshly ground black pepper
Instructions
Place the pork chops in a gallon-size ziplock bag.

In a small bowl,

whisk

together the marinade ingredients. Pour over the pork chops in the bag, seal, and refrigerate for 4 to 8 hours, or overnight.

Preheat the grill to 400 degrees. Grill the chops over direct heat for 8 to 12 minutes, flipping every 3 to 4 minutes, until the chops reach an internal temperature of 145 degrees.

Remove the chops from the grill and allow to rest for 3 minutes before serving to seal in the juices.
Notes
You may substitute brown sugar for the honey.
You may also substitute lemon juice for the lime juice.
Even if you can only have time to marinate the pork chops for an hour or two, they will still turn out absolutely delicious. My preference is to marinate pork chops for at least 4 to 8 hours, or better yet, overnight.
Nutrition
Serving:
1
g
Calories:
309
kcal
Carbohydrates:
20
g
Protein:
25
g
Fat:
14
g
Saturated Fat:
3
g
Polyunsaturated Fat:
10
g
Cholesterol:
68
mg
Sodium:
1791
mg
Sugar:
18
g
Life Love and Good Food does not claim to be a registered dietician or nutritionist. Nutritional information shared on this site is only an estimate. We recommend running the ingredients through an online nutritional calculator if you need to verify any information.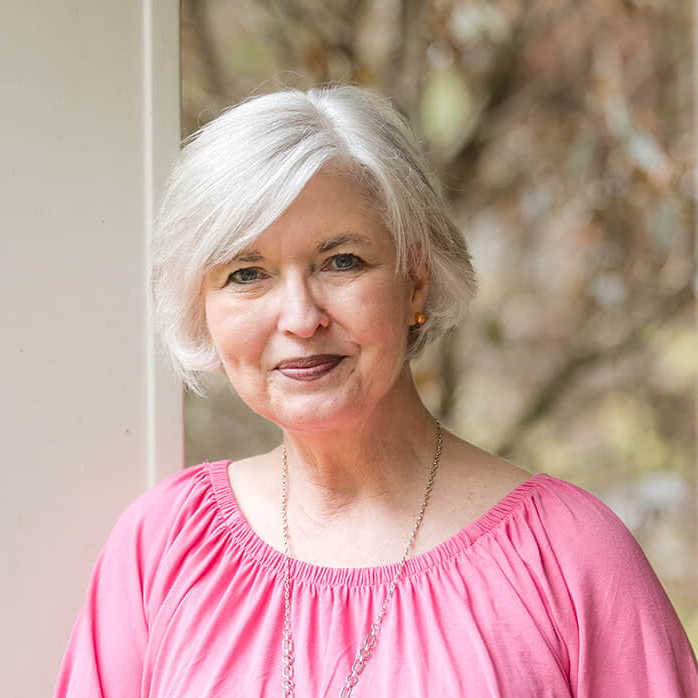 About Sheila Thigpen
Recipe Developer, Food Photographer, Food Writer
Sheila Thigpen is the publisher of Life, Love, and Good Food — a Southern food blog — and the author of Easy Chicken Cookbook and The 5-Ingredient Fresh and Easy Cookbook. After 20+ years in the publishing industry, she retired in 2018 to focus on her own creative endeavors full time. She and her husband live near the beautiful Smoky Mountains and have a precious little granddaughter who has stolen their hearts. As an influencer, Sheila has collaborated with brands like Creamette, Kroger, HERSHEY'S, Hamilton Beach, Garafalo Pasta, OXO, Smithfield, Valley Fig Growers, and more.