This post may contain affiliate links. Please read my disclosure policy.
Add a little excitement to the same old boring muffin recipes with a few simple mix-ins! Plus, the perfectly toasted tops are completely irresistible.
Banana coconut muffins are tender and fluffy with just the right amount of crunch. Whip up a batch today — they'll be ready in under an hour!
These muffins have a nice texture and are chock full of chocolate chips, pecans, and coconut. I sprinkled even more coconut and brown sugar over the batter before baking to create a toasted sweet topping.
While they certainly make for a tasty breakfast, you can enjoy coconut banana muffins as a healthy snack or dessert option as well.
Hosting a luncheon or bake sale fundraiser? I guarantee that these will be a hit!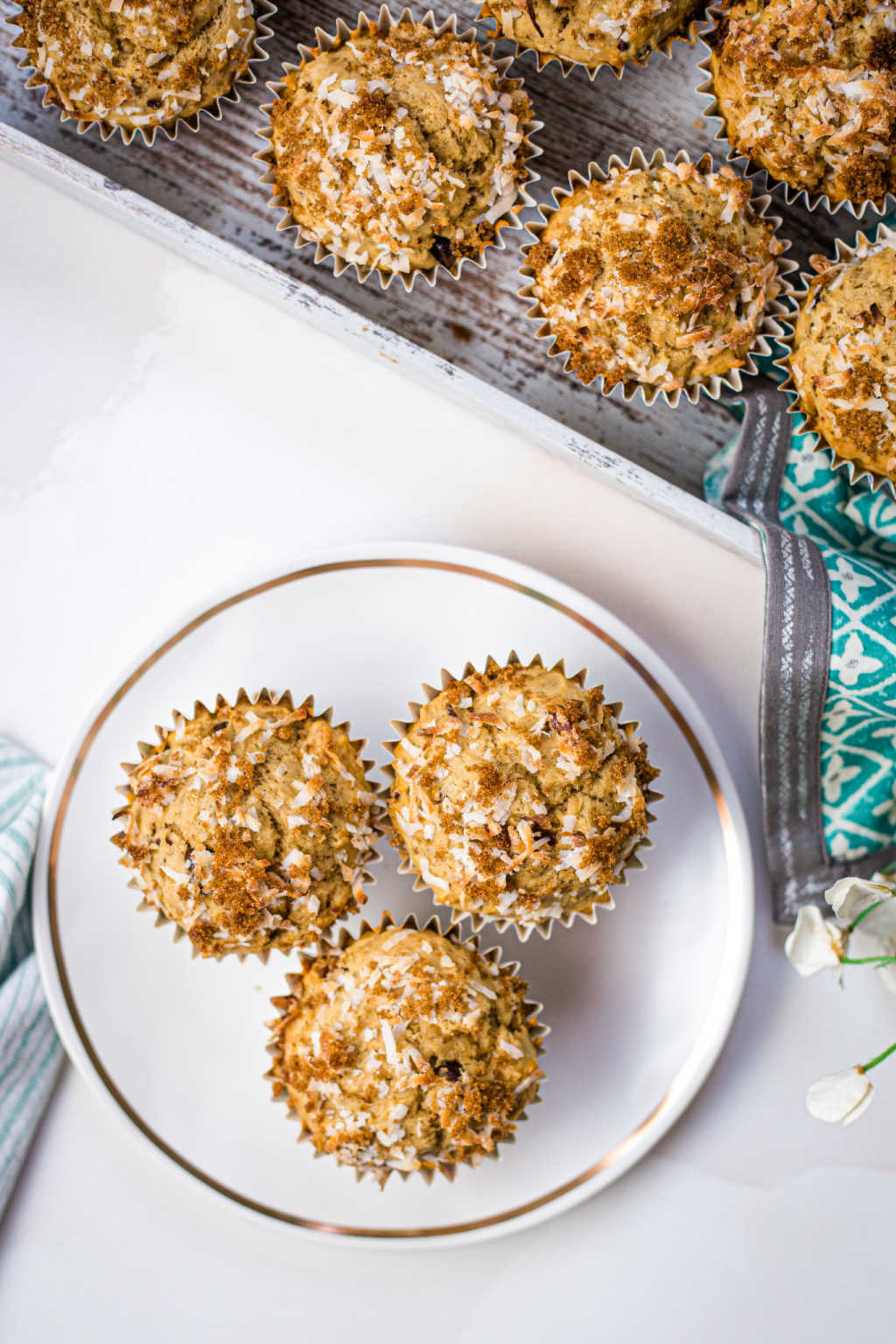 If you're looking for more flavor combinations, try one of my other muffin recipes featuring bananas. Swirl in a spoonful of cookie butter, make them chocolaty throughout, or keep it simple with a classic nut crunch!
Why you're going to love it!
Perfectly portable. For when you need breakfast on the go.
Lightly sweet. Just enough to satisfy your cravings.
Only one banana! Use up the last one lingering on the counter.
Inspiration for banana coconut muffins
I adapted a recipe I found at King Arthur Flour to fit the ingredients I had on hand, then cut it down to make a smaller batch for just the two of us.
However, you can easily double the recipe below to make enough to feed more people or freeze the extras for later.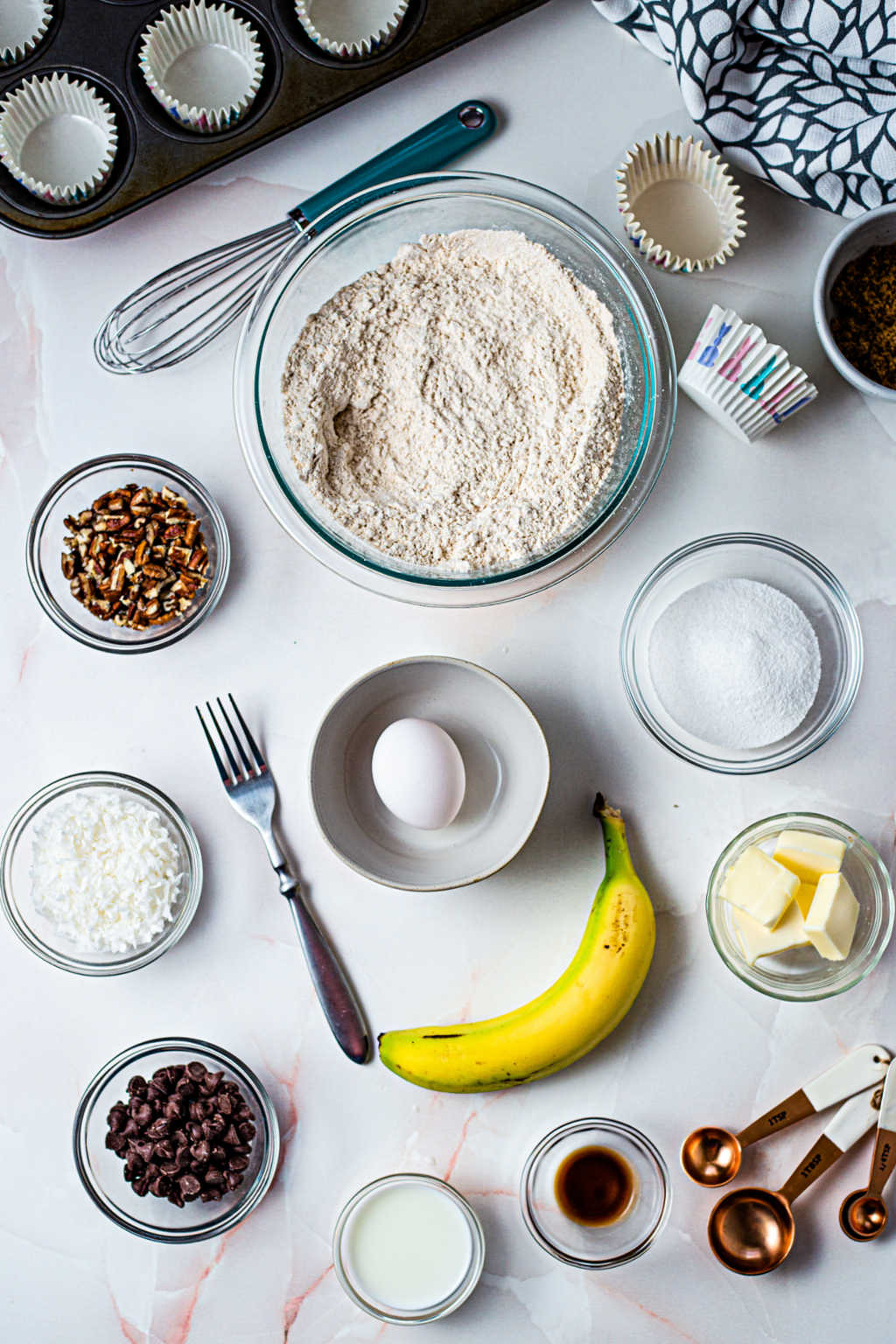 Key ingredients and substitutions
Banana — If yours are still a bit green, place them in a paper bag and fold down the top to ripen the bunch faster. Or, cook them on a lined baking sheet at 300 degrees until the peels turn black. Allow them to cool for several minutes before using.
Chocolate chips — Use your favorite, but I find that semisweet or dark morsels create a nice balance of flavor.
Shredded coconut — Either sweetened or unsweetened will work, but I find that sweetened tends to have a stronger flavor.
Pecans -— Substitute a different nut or leave them out altogether if you're allergic.
tip
Paper liners will keep your pans clean, but sometimes the muffins still stick to the paper. Prevent this by lightly spraying the liners with cooking spray before adding the batter.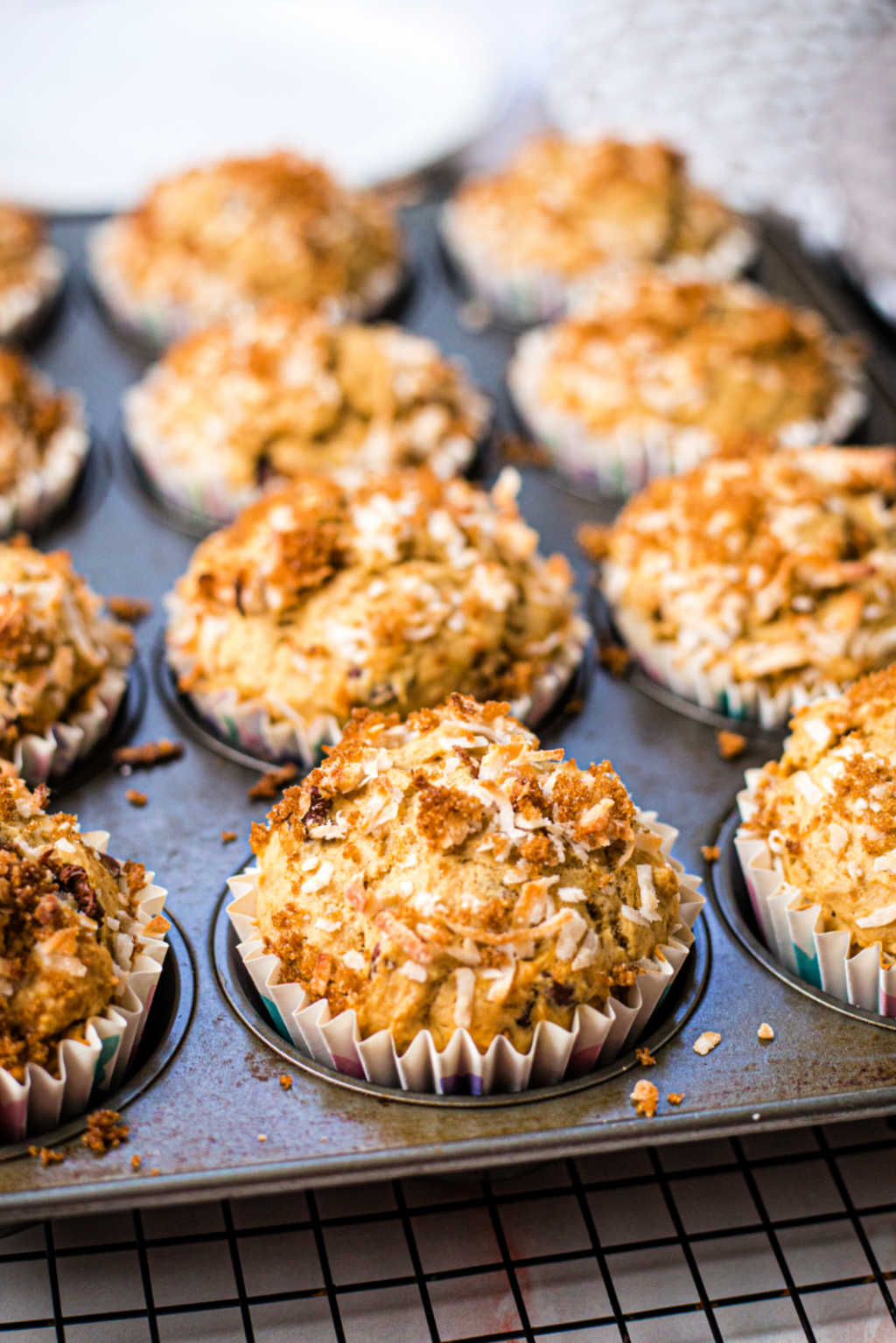 Special supplies needed
Muffin pan – These are sturdy, easy to clean, and last a long time.
Batter bowl – Large enough for mixing up a batch of your favorite pastries, and you can use the spout to pour directly into the paper liners.
Sturdy mixing spoon – Helps to incorporate mix-ins evenly throughout thicker batter without tiring out your wrists.
How to make coconut banana muffins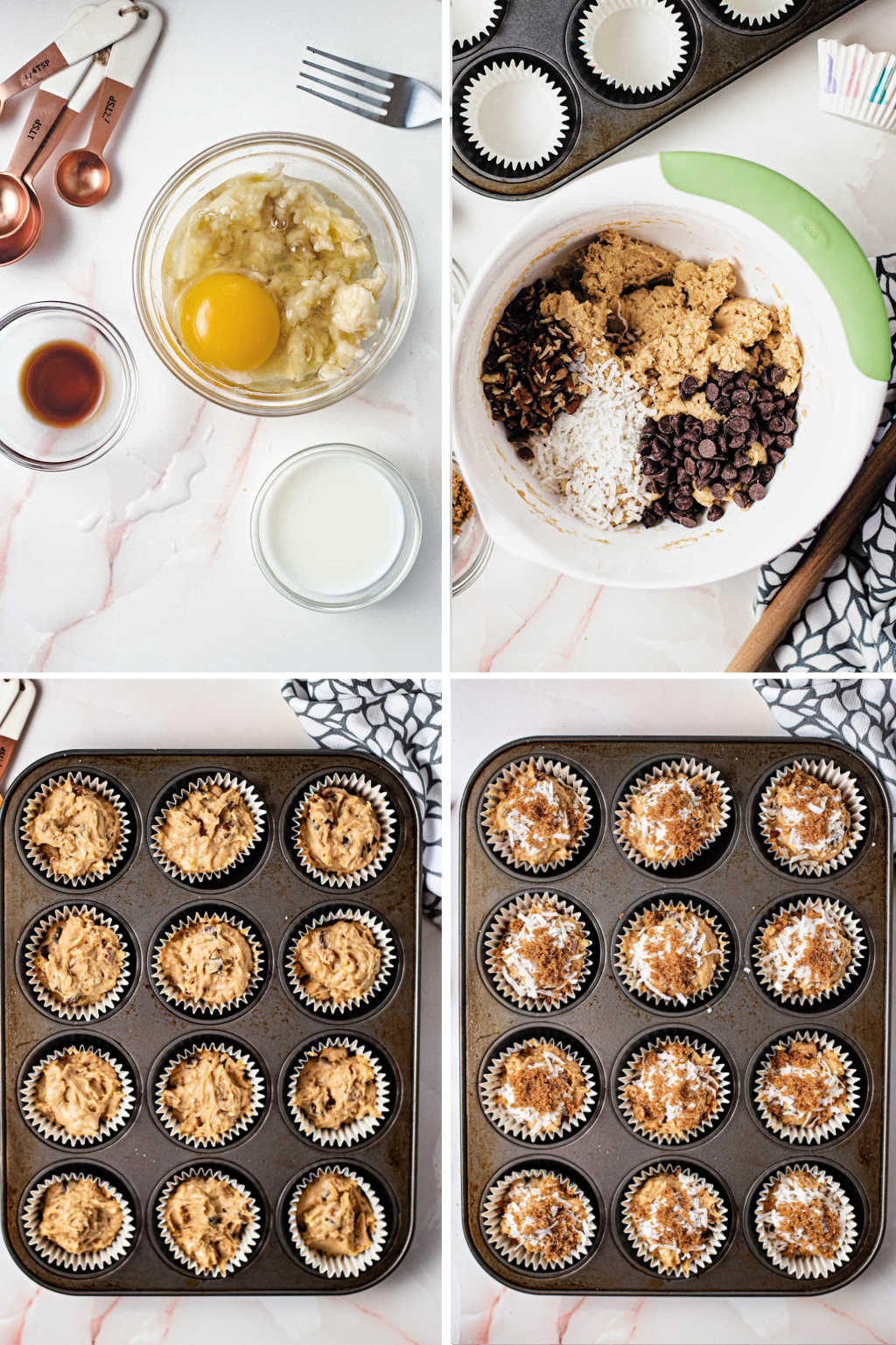 STEP 1 | Measure out the ingredients
Because the batter comes together quickly, it helps to have everything ready to go.
Soften the butter and mash the fruit so both are easier to blend.
STEP 2 | Mix it all together
Cream the butter and sugar until smooth, then fully incorporate the wet ingredients before adding the dry ones.
Avoid overmixing or your banana coconut muffins will come out dry and tough. Stop once the batter is smooth and there are no more streaks of flour.
STEP 3 | Spoon into pan
Divide the mixture evenly between each well.
It may seem like too much, but the fullness is what creates those gorgeous domed tops.
STEP 4 | Add the topping
Sprinkle the brown sugar on last to prevent the coconut from burning.
Then, bake for 20-25 minutes and cool on a wire rack.
tips
Soften butter quickly by filling a tall glass with boiling water. Dump the water back out, then stand the stick of butter straight up on the counter and place the warm glass over the top. Within a few minutes, it will be ready to use!
Using room temperature eggs and dairy will create a fluffier, more tender texture in any of your baked goods.
Once filled, get the pan into the oven as quickly as possible to achieve the best rise.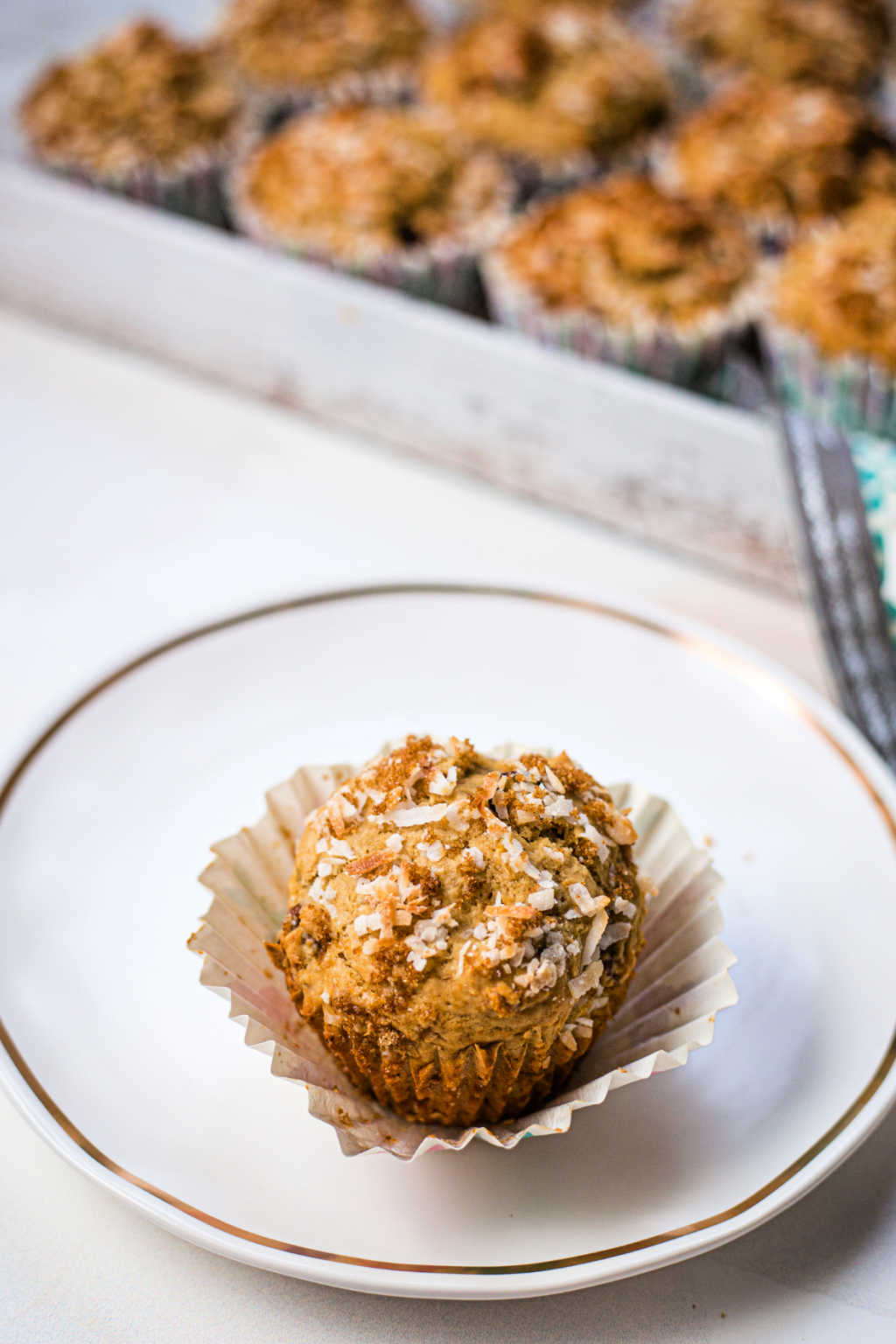 Frequently asked questions
How can I tell when coconut banana muffins are done?
The easiest method is by inserting a toothpick or tester into the center. If it comes out clean, they're ready to come out. If wetness remains, put them back in for another minute or two and test again.

You can also press lightly on the tops. They should feel firm but slightly springy when cooked through, but they need more time if your finger creates a dent in the center.

Can I turn this recipe into a loaf of bread instead?
In theory, yes, but you may need to make a few adjustments. The oven temperature would remain the same, but bake time will be closer to an hour.

To be safe, start with this recipe as your base and replace the walnuts with the mix-ins listed below to create something similar.

Why did my banana coconut muffins not rise?
First, check to be sure your baking soda and baking powder aren't expired — that's usually the culprit. Even though they are safe to use for several years, they will start to lose their potency over time. If the package has been open for longer than 6 months, you'll want to grab a new one.

Also, your oven temperature may need to be recalibrated. If everything appears correct, try baking for the first 5 minutes at a higher temperature, then lower it down to 350 degrees for the remainder of the time. 

Please share!
Your shares are how this site grows, and I appreciate each one. Do you know someone who would enjoy this recipe? I'd love it if you would share it on Facebook or Pinterest!
First Published: September 22, 2014. Last Updated: April 18, 2021.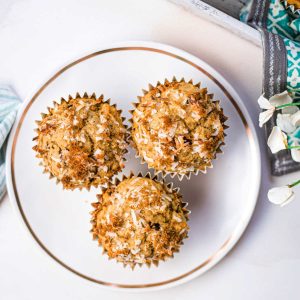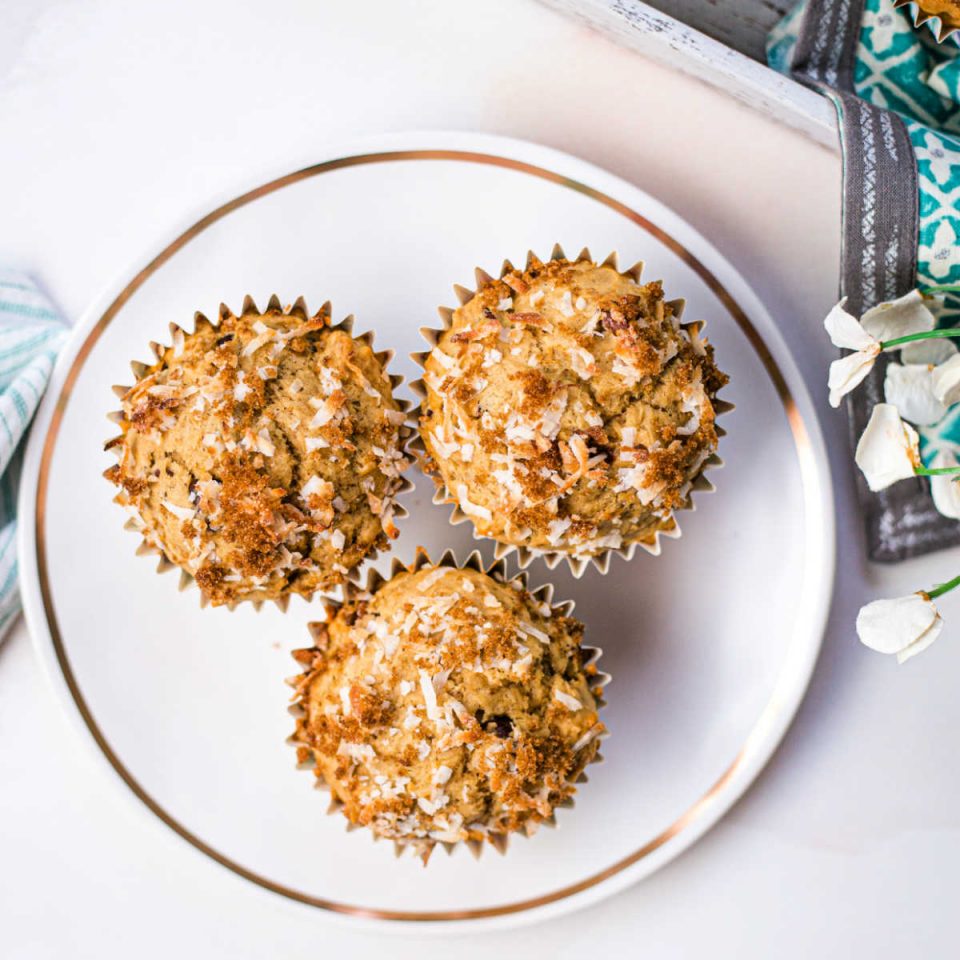 Chocolaty Banana Coconut Muffins
Banana coconut muffins are tender and fluffy with just the right amount of crunch. Whip up a batch today — they'll be ready in under an hour!
Ingredients
1/4

cup

butter

1/3

cup

sugar

1

medium

mashed banana

about 1/2 cup

1

large

egg

1/2

teaspoon

vanilla

2-1/2

tablespoons

milk

3/4

teaspoons

baking powder

1/4

teaspoon

baking soda

1/4

teaspoon

salt

1

cup

all-purpose flour

1

cup

whole wheat flour

1/3

cup

chocolate chips

1/3

cup

chopped pecans

1/3

cup

shredded coconut

additional coconut and brown sugar for topping muffins
Instructions
Preheat the oven to 350 degrees. Lightly grease 12 to 14 standard muffin cups.

In a medium-sized

mixing bowl

, beat together the butter and sugar till smooth.

Beat in the mashed banana, then the egg, flavorings, and milk.

Add the baking powder, baking soda, salt, and flours, stirring till smooth; if the mixture has a lot of lumps, beat at a higher speed until they've nearly disappeared.

Stir in the chocolate chips, pecans, and coconut.

Heap the thick batter into the prepared muffin cups, mounding them quite full. Sprinkle the top of each muffin with about 1 teaspoon coconut and 1/2 teaspoon brown sugar..

Bake the muffins for 20 to 25 minutes or until a wooden pick inserted in center of muffin top comes out clean..

Remove the muffins from the oven and transfer to a wire rack to cool completely.
Nutrition
Serving:
1
g
Calories:
267
kcal
Carbohydrates:
37
g
Protein:
4
g
Fat:
12
g
Saturated Fat:
6
g
Polyunsaturated Fat:
5
g
Cholesterol:
29
mg
Sodium:
198
mg
Fiber:
3
g
Sugar:
16
g
Life Love and Good Food does not claim to be a registered dietician or nutritionist. Nutritional information shared on this site is only an estimate. We recommend running the ingredients through an online nutritional calculator if you need to verify any information.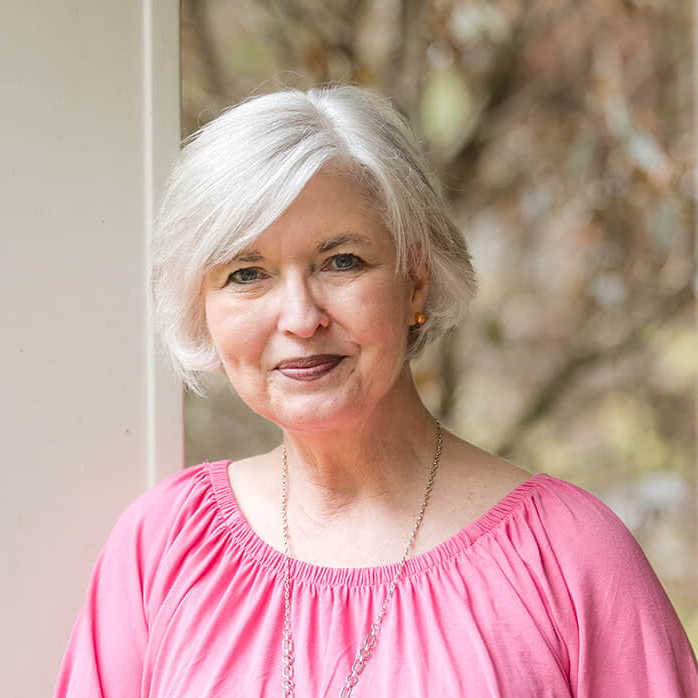 About Sheila Thigpen
Recipe Developer, Food Photographer, Food Writer
Sheila Thigpen is the publisher of Life, Love, and Good Food — a Southern food blog — and the author of Easy Chicken Cookbook and The 5-Ingredient Fresh and Easy Cookbook. After 20+ years in the publishing industry, she retired in 2018 to focus on her own creative endeavors full time. She and her husband live near the beautiful Smoky Mountains and have a precious little granddaughter who has stolen their hearts. As an influencer, Sheila has collaborated with brands like Creamette, Kroger, HERSHEY'S, Hamilton Beach, Garafalo Pasta, OXO, Smithfield, Valley Fig Growers, and more.