This post may contain affiliate links. Please read my disclosure policy.
It's Christmas week!! The house is decorated and the gifts are wrapped, but my goodness, there are still so many things to do to get ready! I swear, I'm not a procrastinator, but time has just gotten away from me this year — it's going to be a busy week indeed!
Isn't that the way it always seems? We're in a rush and forget to slow down and reflect on the real reason for the season — the birth of Jesus!
As you finish your preparations this week, I pray that you will find some peaceful moments to reflect and enjoy the most precious gift of all.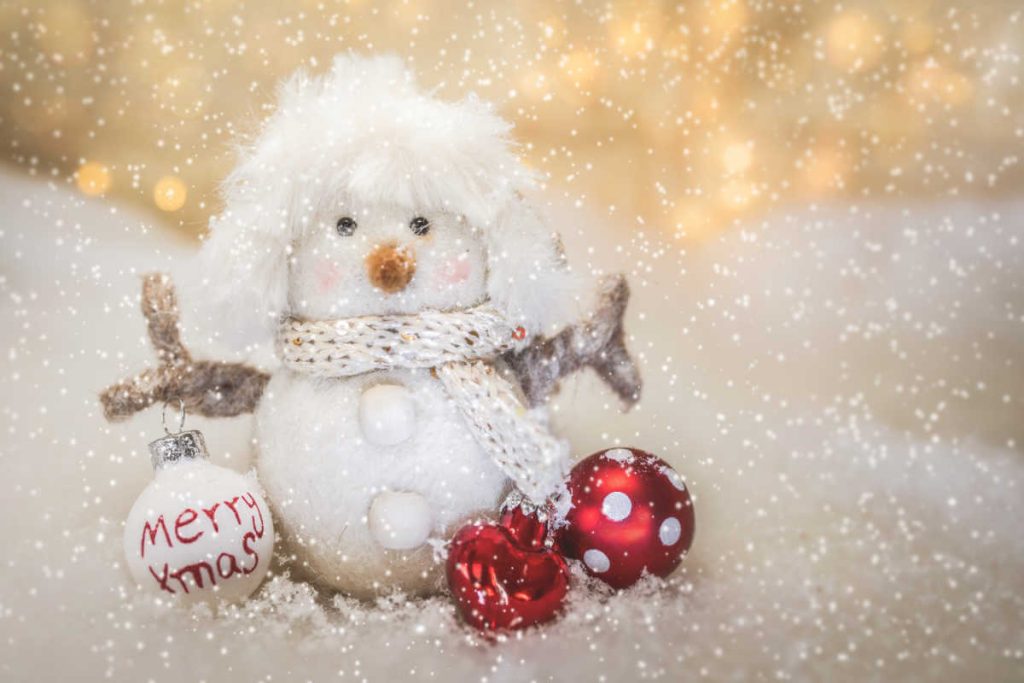 Christmas Eve soup supper
On Christmas Eve our family gathers in ugly Christmas sweaters at my Mom's place for a casual soup supper, gift exchange, and games. With our passel of nieces and nephews, it's pure chaotic fun!
We end the evening with a lively game of Left Right Center (we each bring $3 to use in lieu of the tokens) and one lucky person goes home with the jackpot!
If you're planning a similar meal with your crew, here's a delicious soup menu.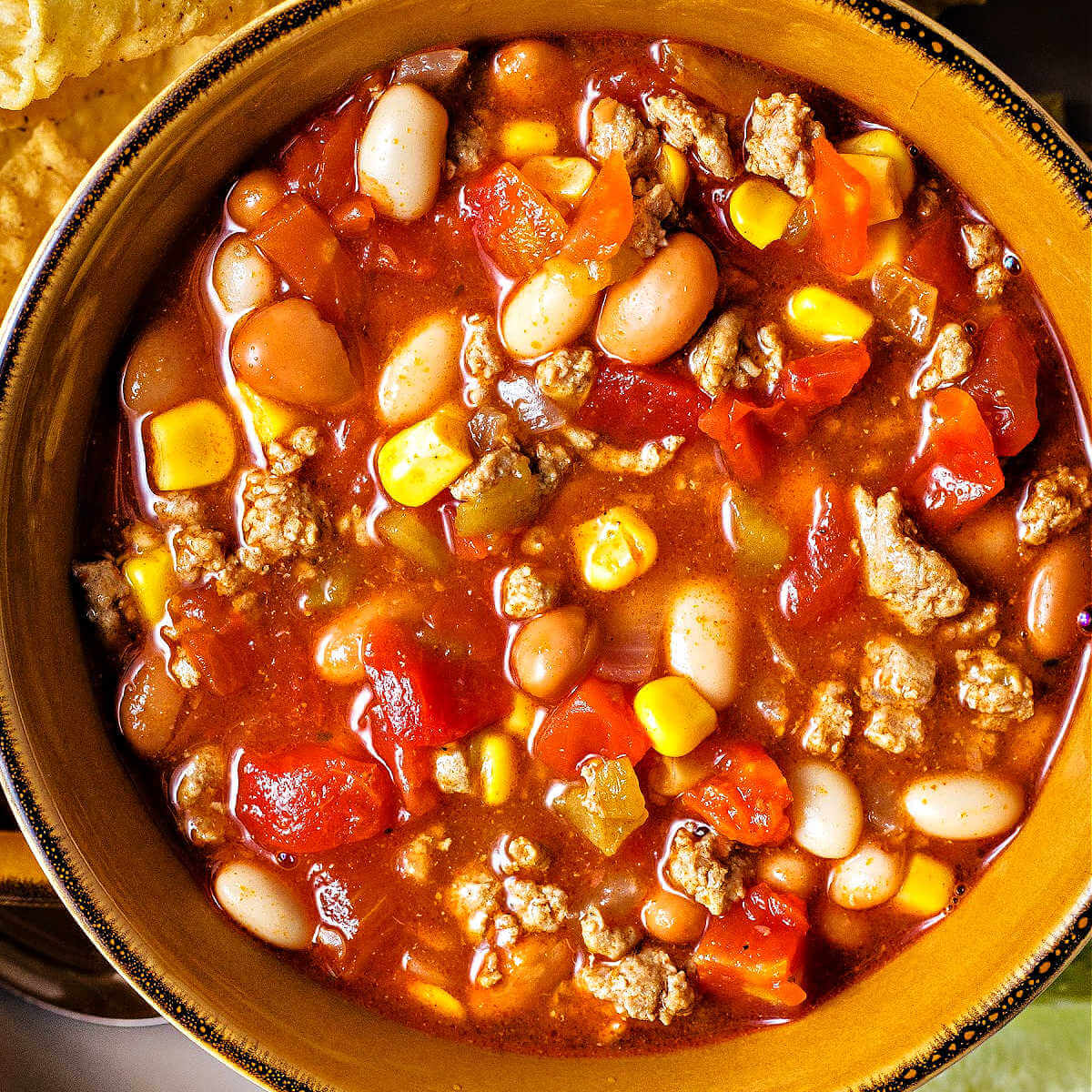 Easy Taco Soup
My taco soup recipe is one of those good ol' pantry recipes. Just sauté the onions and ground turkey, add some spices, and open a few cans — you're good to go!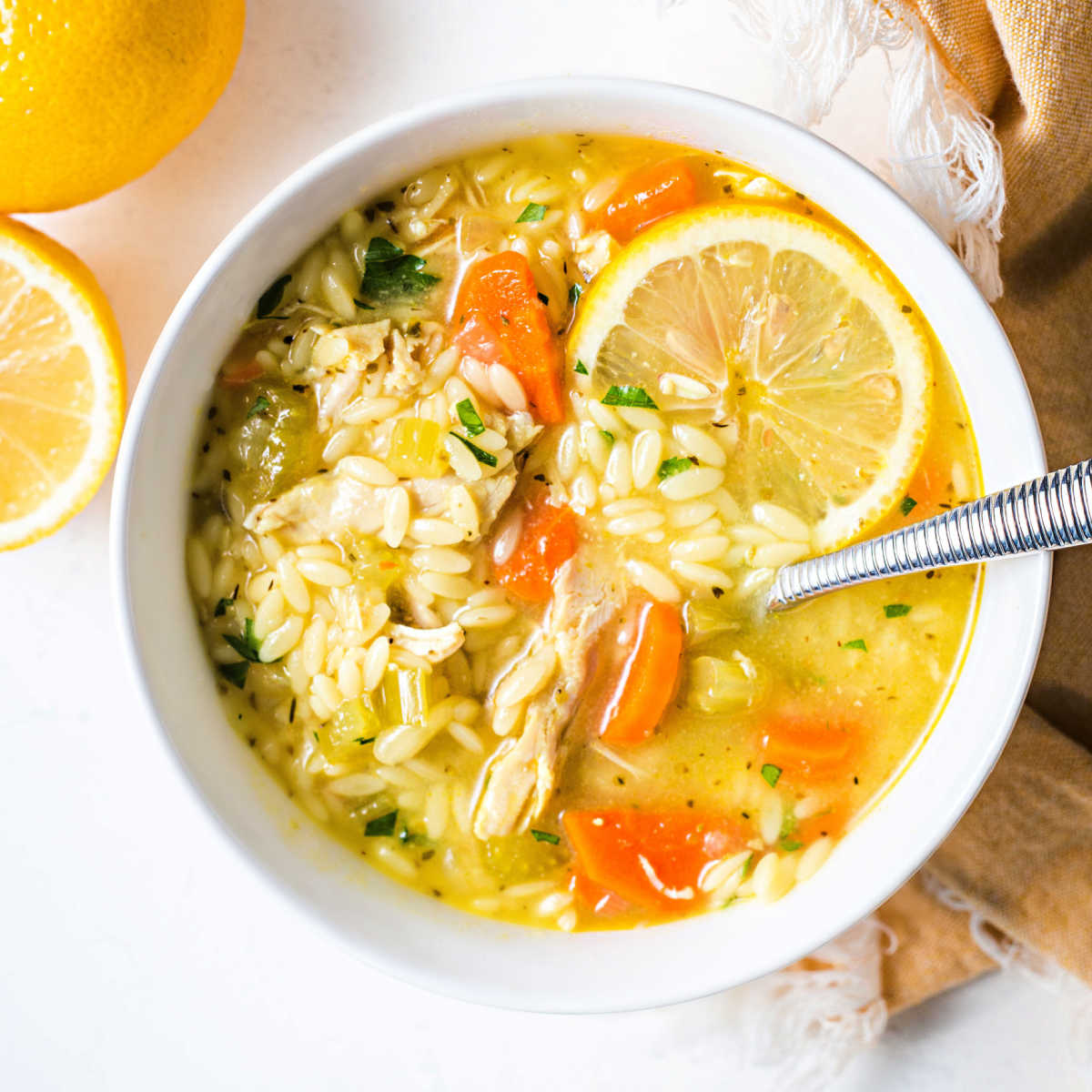 Lemon Chicken Orzo Soup
Tender chicken, vegetables, and orzo pasta cooked in a bright lemony broth is light, healthy, and absolutely delicious!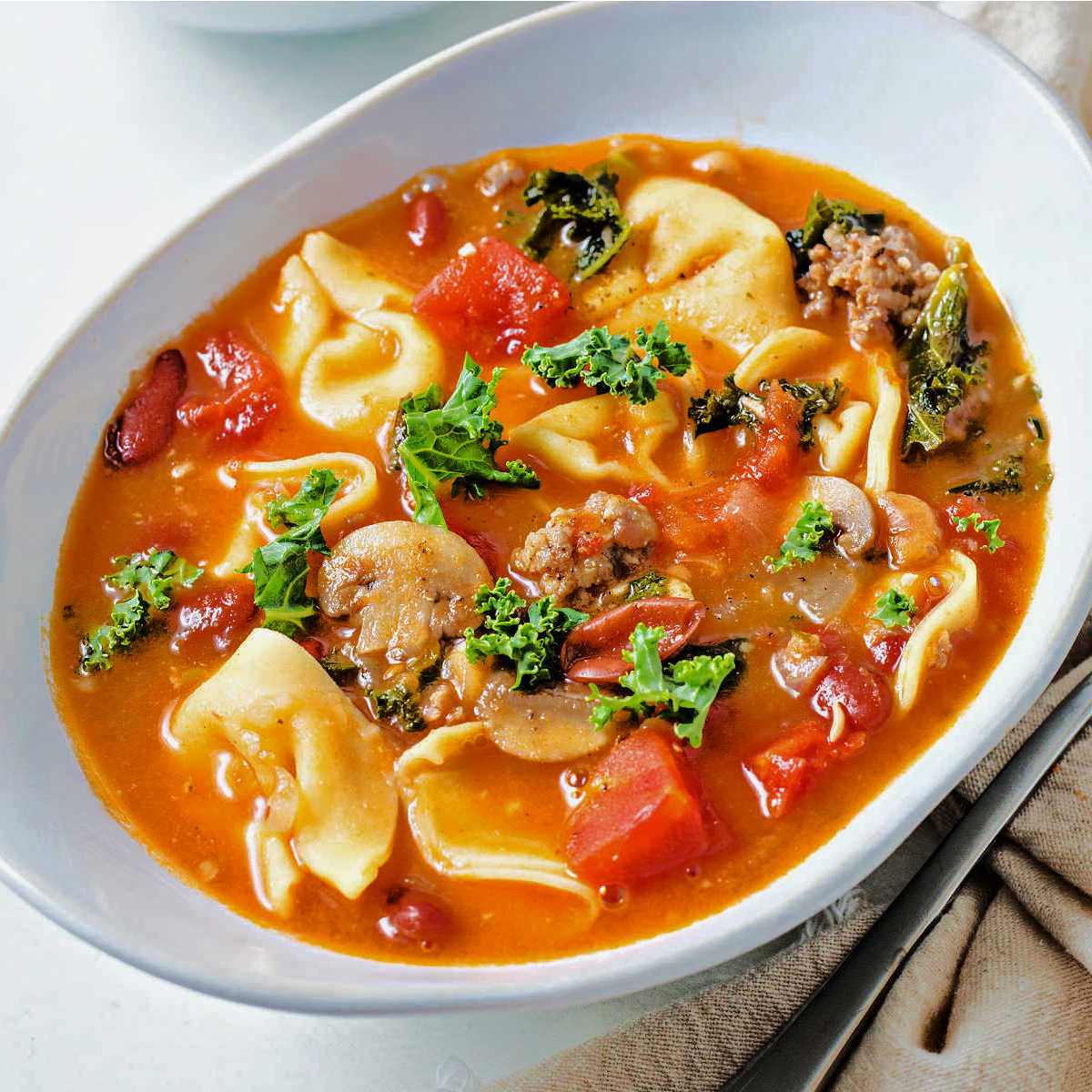 Sausage Tortellini Soup
Sausage tortellini soup is pure comfort food — even better than minestrone! Try this delicious blend of veggies, meat, beans, and cheesy pasta.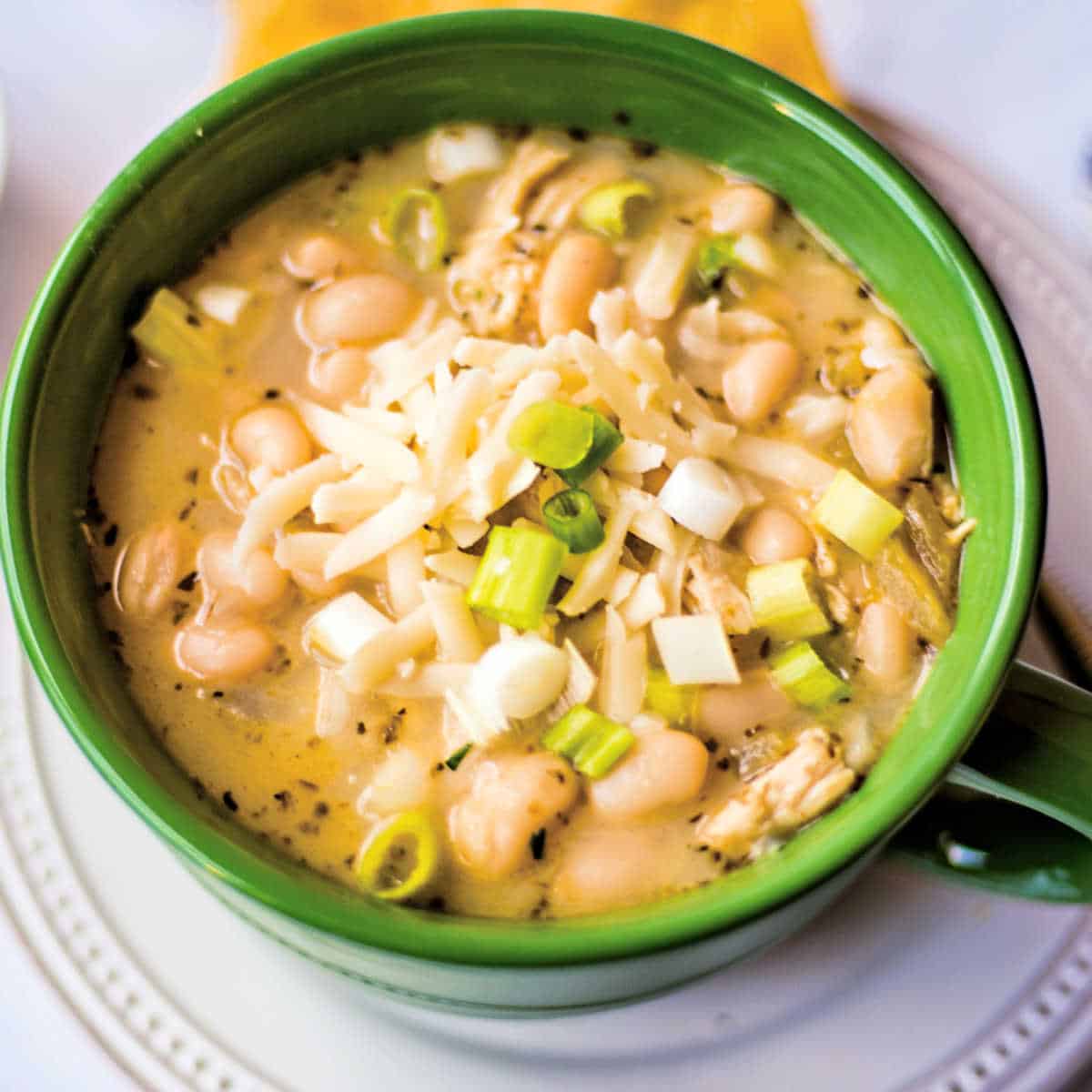 White Chicken Chili
This White Chicken Chili is a hearty creamy soup perfectly seasoned with just the right amount of spice from cumin, oregano, cayenne pepper, and green chilies.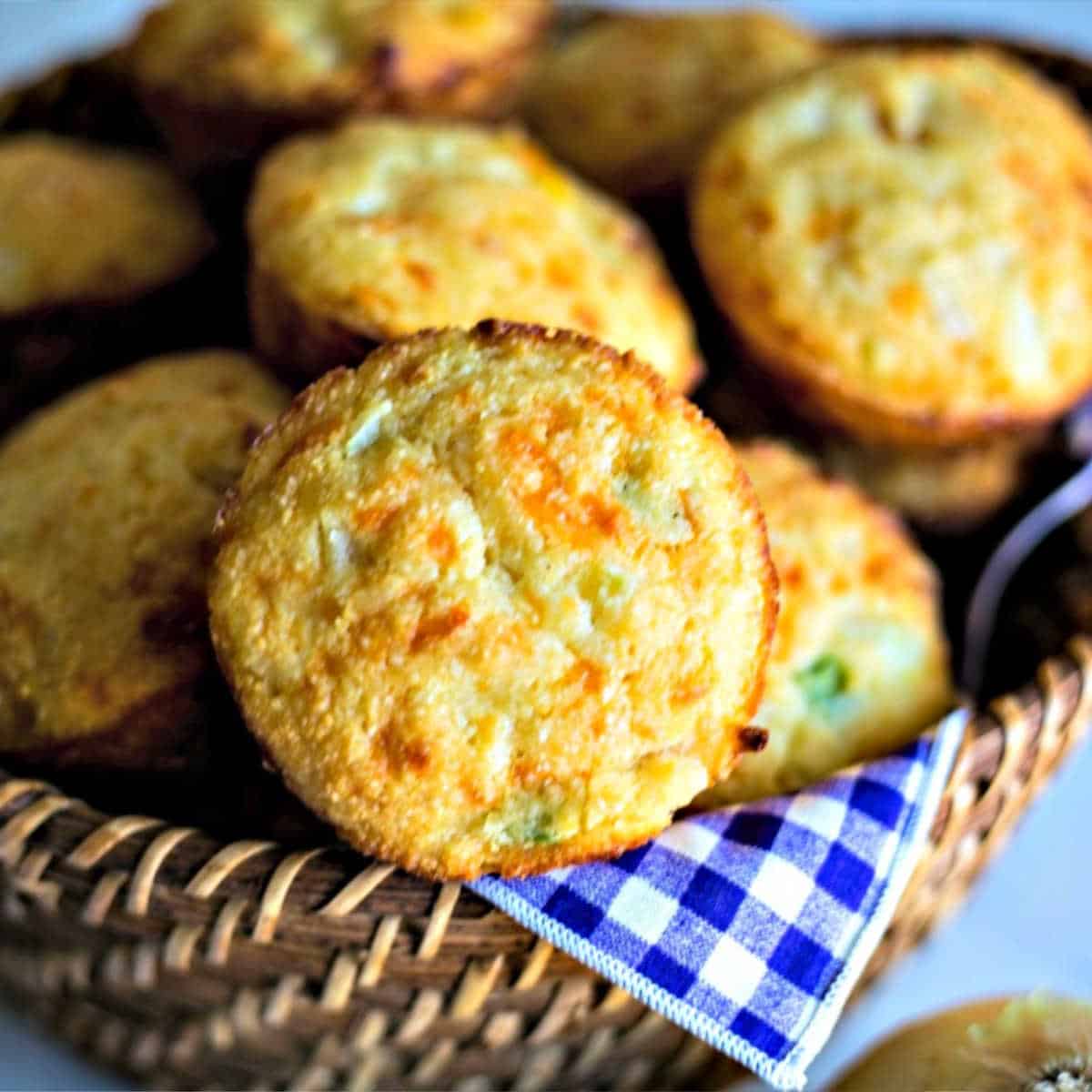 Mexican Corn Muffins
Moist and cheesy, this Mexican Cornbread Muffin recipe makes enough for a crowd! Plus, they go well with so many different soups!
Mamaw B's candy
One of my Mamaw B's holiday traditions was making candy and cookies to give to neighbors and friends. She was well-known in our little community for her sweet treats — and every time I make one of her recipes, I can't help but remember her sweet smile.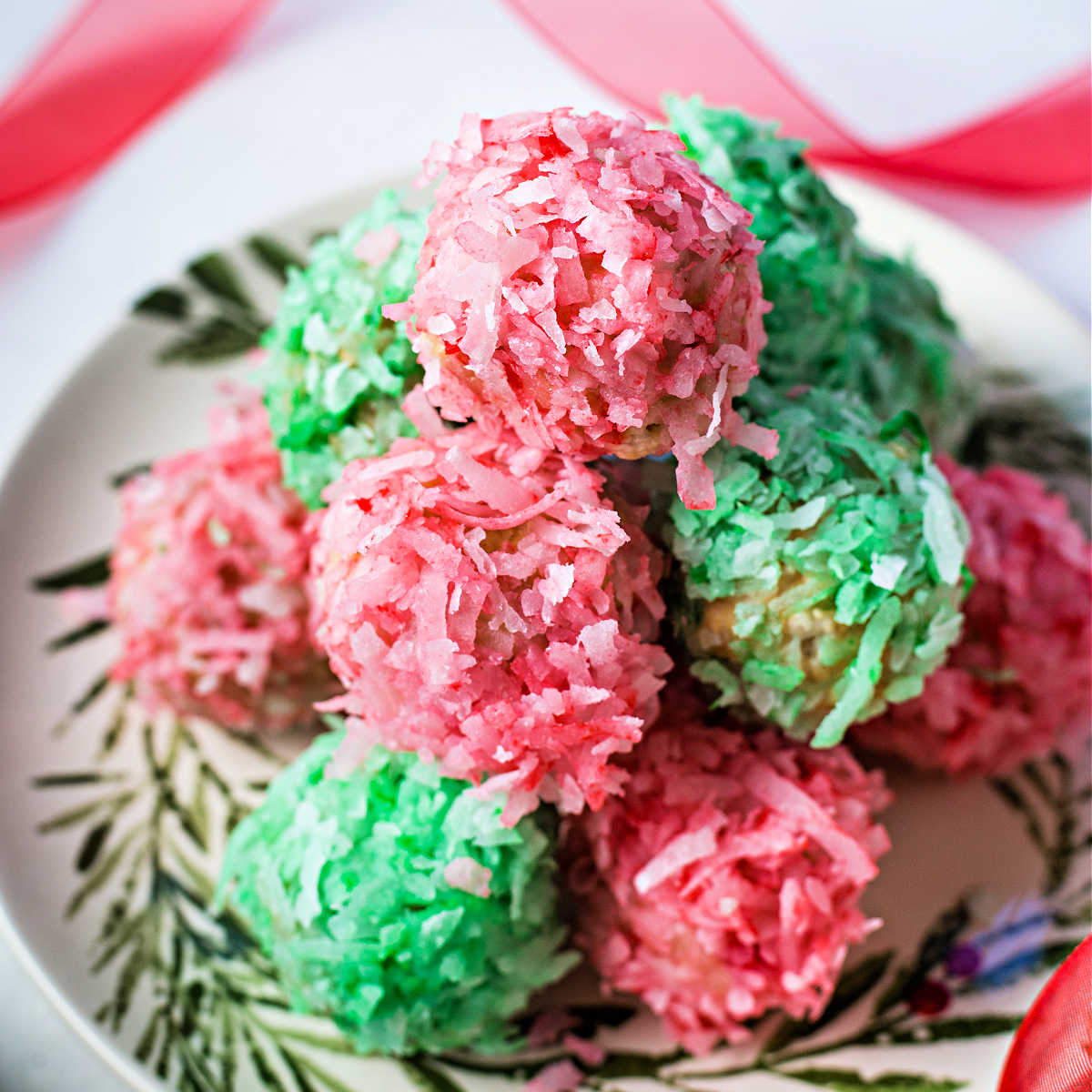 Coconut Balls
Coconut Balls are made with just four ingredients, don't require any baking, and make a yummy treat! Start a new holiday tradition and make them with the kids!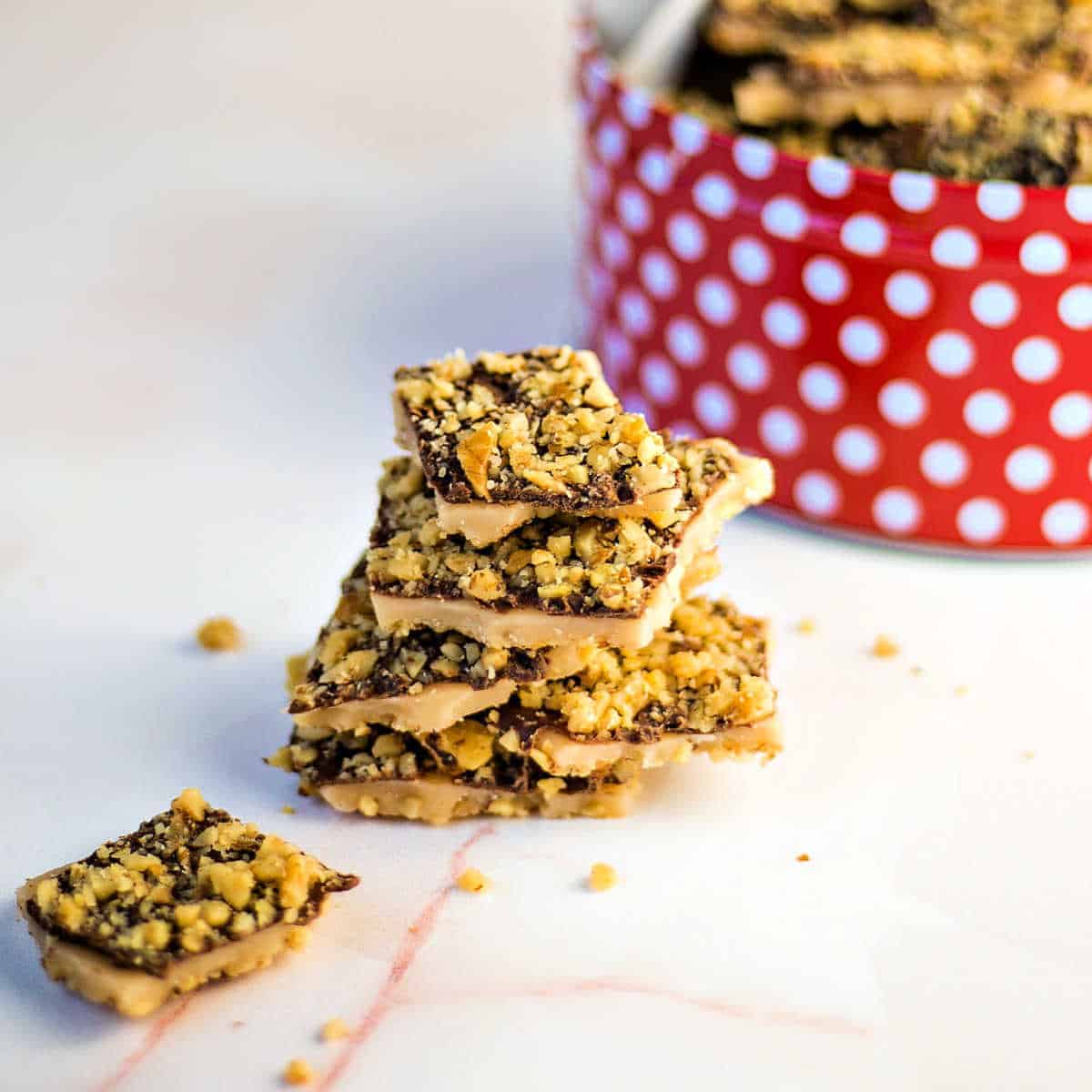 English Toffee
English Toffee is a buttery, chocolate confection laden with walnuts and broken into bite-size delectable pieces.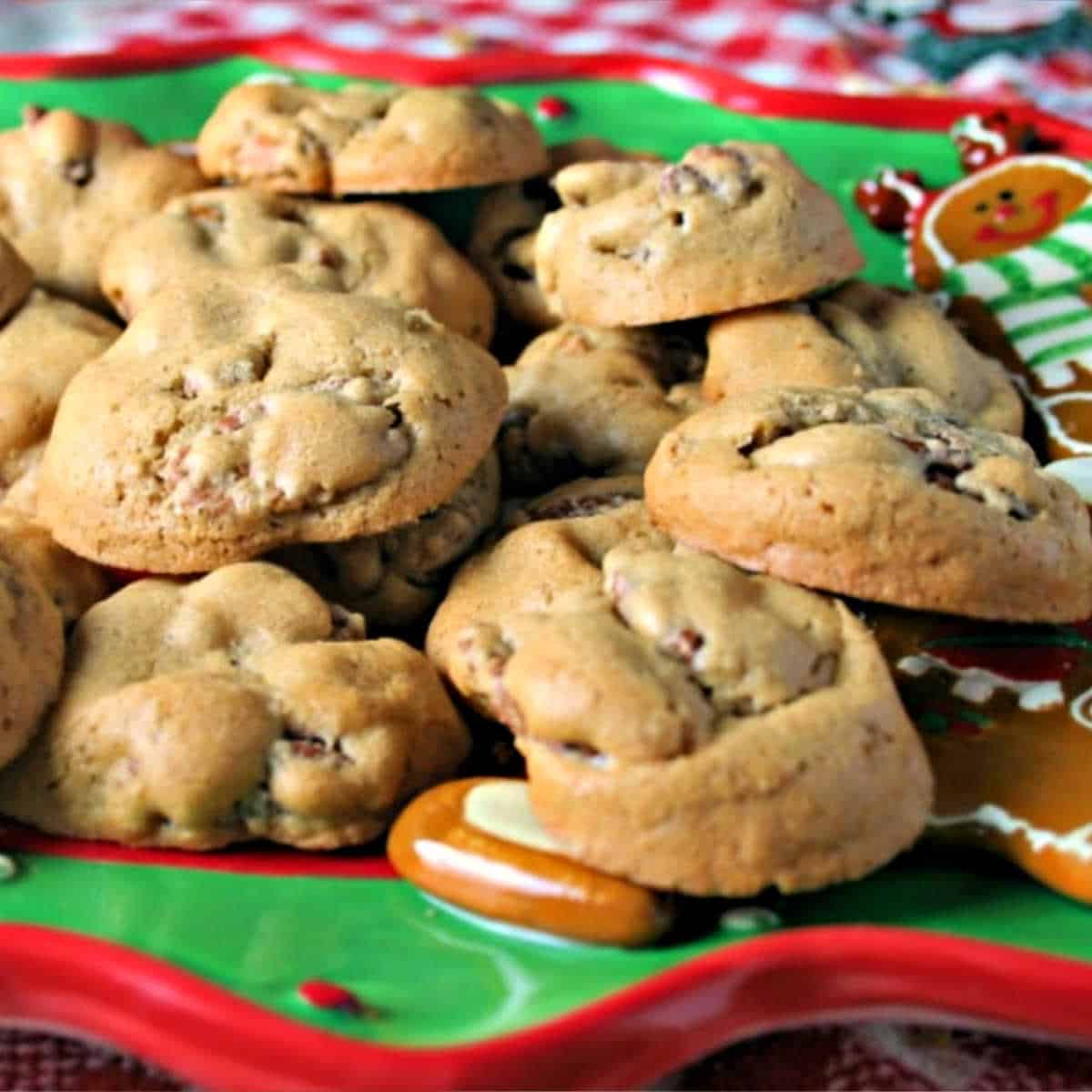 Pecan Candy Cookies
Chock full of pecans, brown sugar meringue bakes into a crispy-on-the-outside, chewy-on-the-inside billowy cookie that literally melts in your mouth
My gift to you — Free Christmas gift tag printable!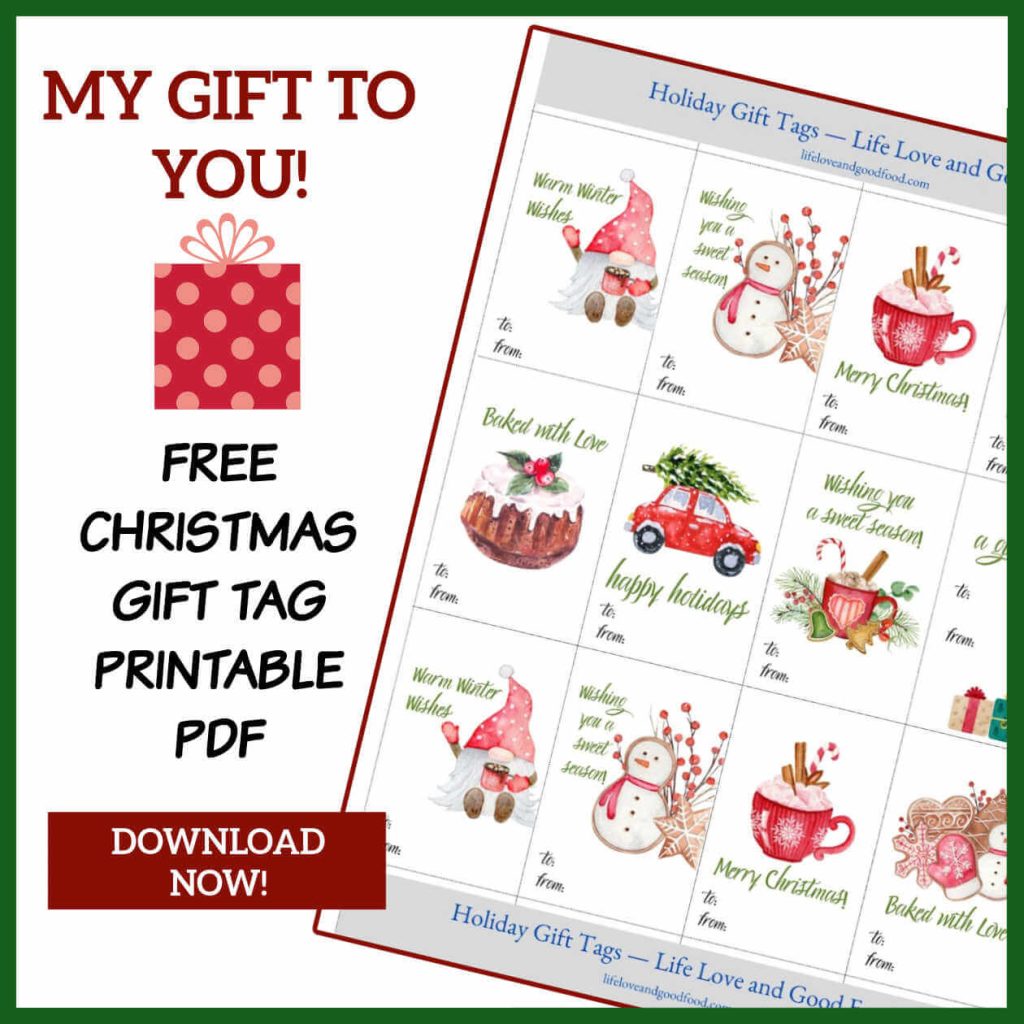 Cookies for Santa
We certainly can't forget Santa's milk and cookies! My cookie trays this year will feature these favorites — yum, yum! Better start baking now!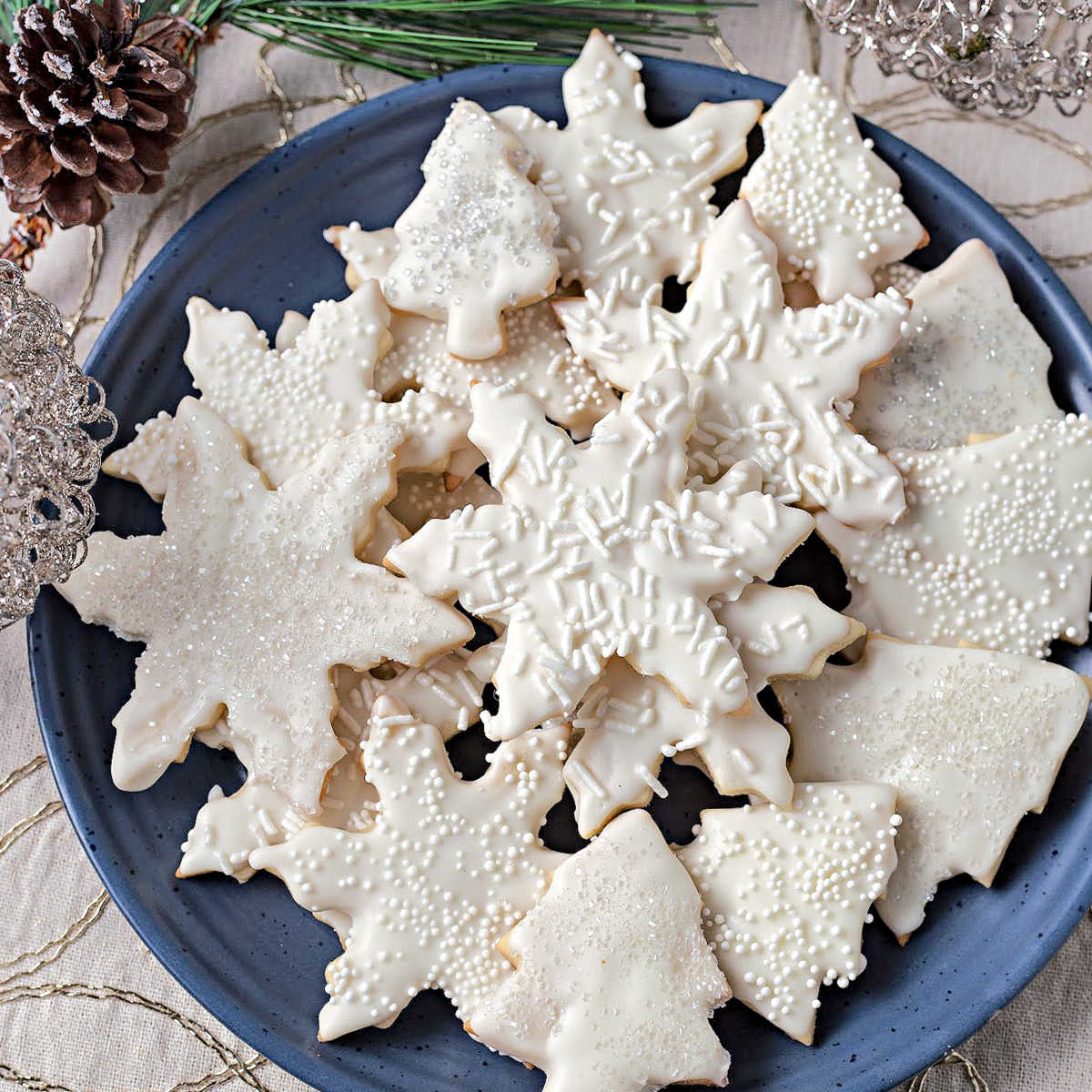 Vanilla Sugar Cookies
These vanilla cookies shimmer with white chocolate glaze and sugar crystals. Make them ahead of time to relieve some last-minute holiday stress!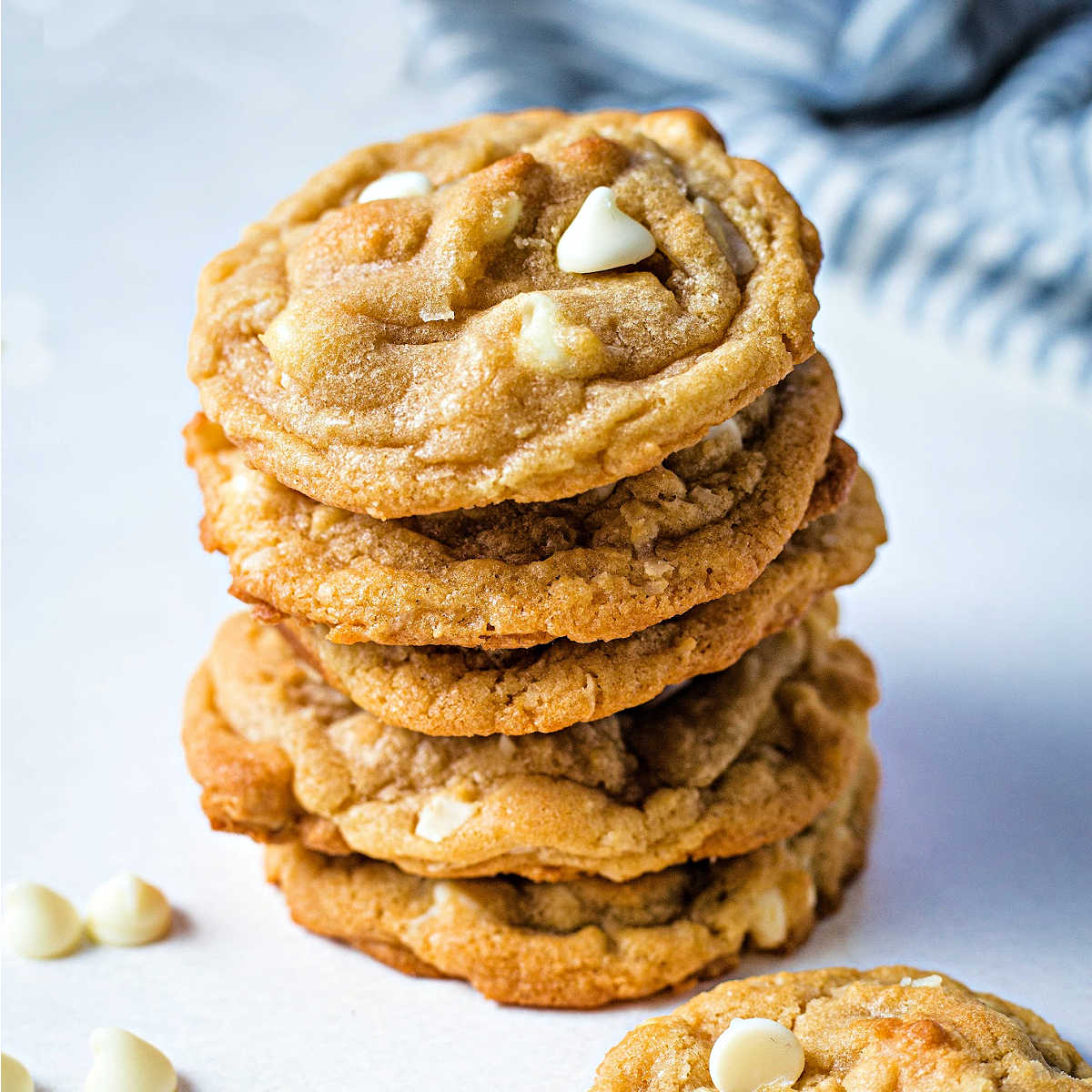 White Chocolate Macadamia Nut Cookies
These cookies are soft, chewy cookies perfectly sweetened with white chocolate chips and shredded coconut with bits of crunchy lightly salted macadamia nuts throughout.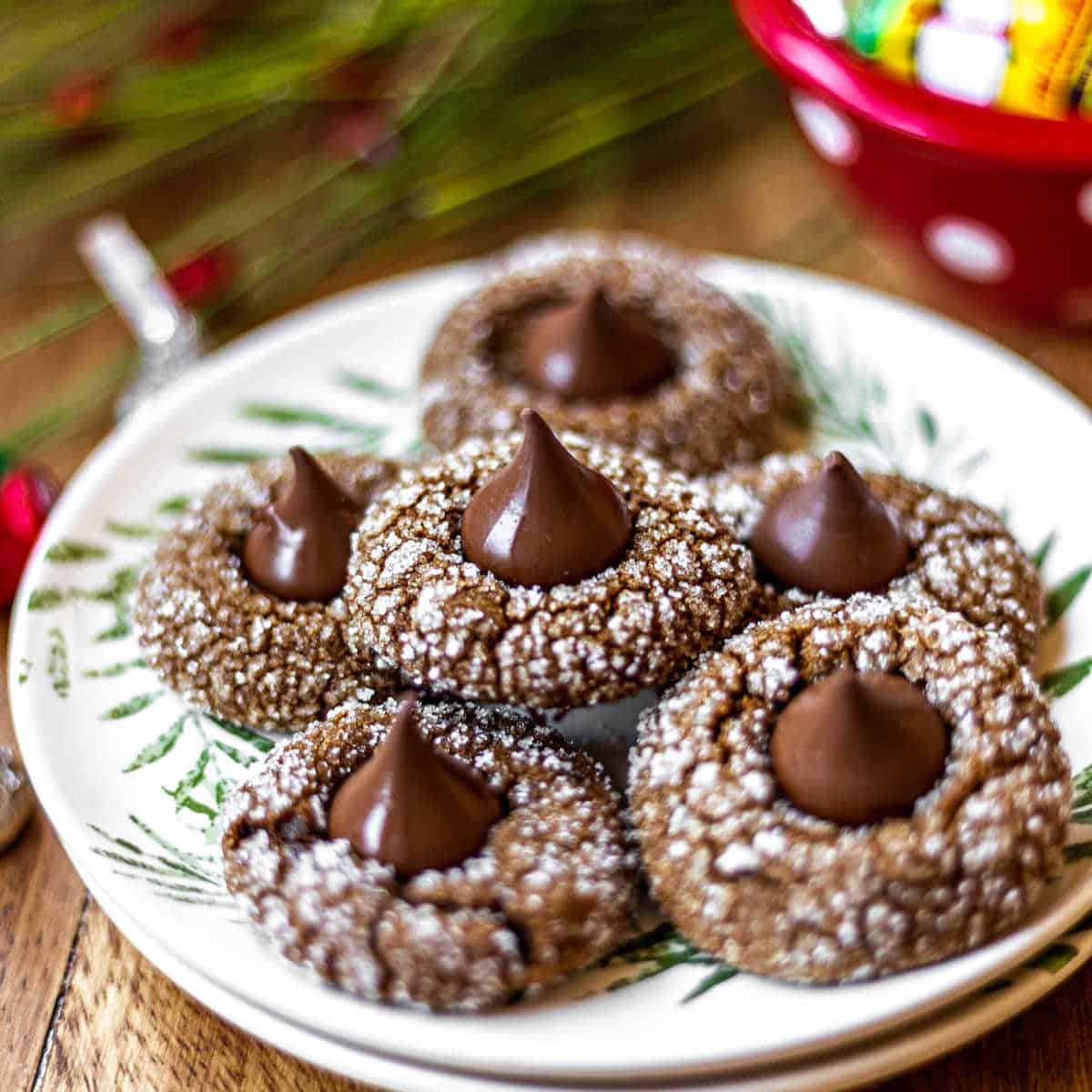 Gingerbread Kiss Cookies
Soft, chewy gingerbread KISSES cookies glistening with sugar and crowned with HERSHEY'S Milk Chocolate Holiday KISSES are not only delicious, they're fun to bake with the kids. Santa loves them, too!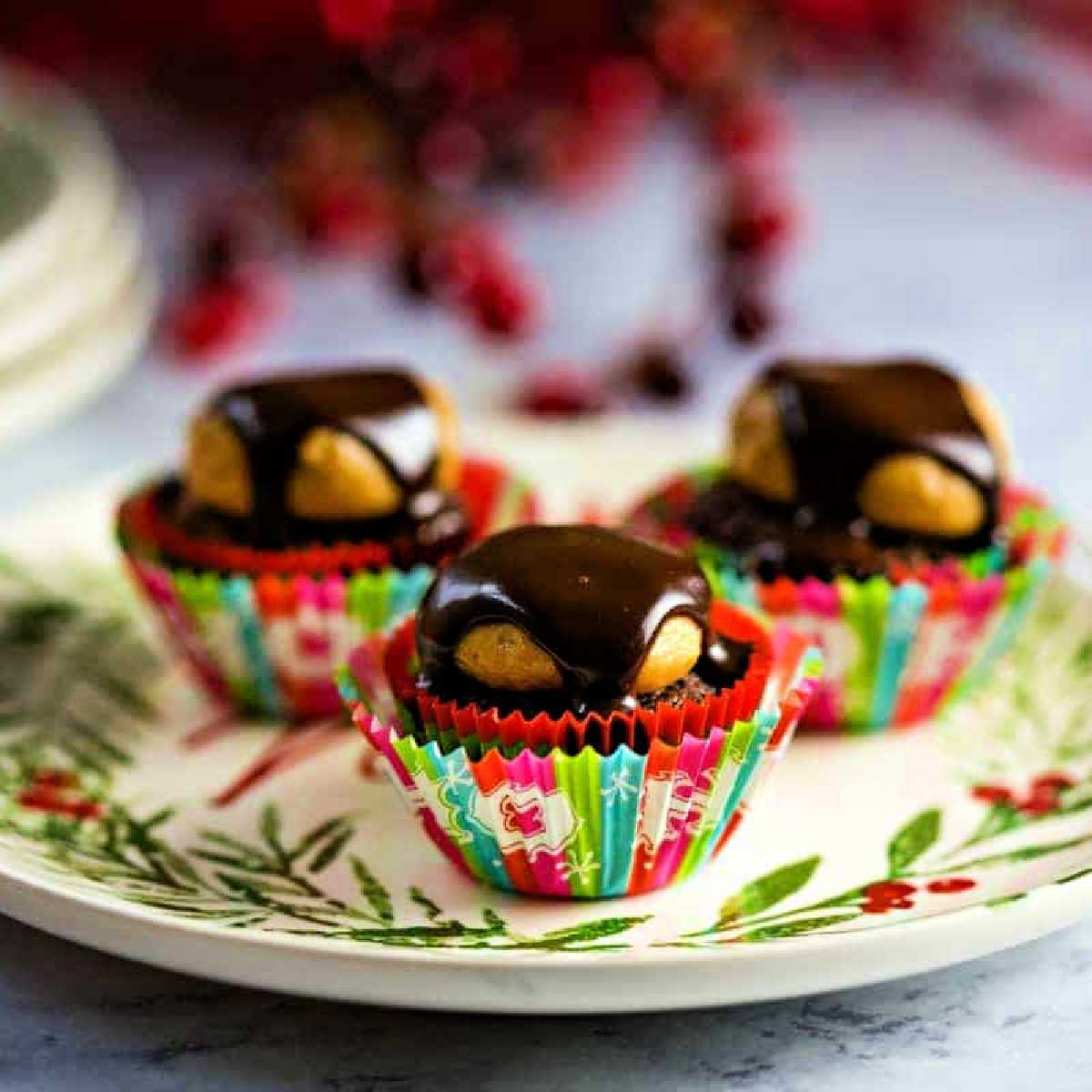 Buckeye Brownie Bites
Buckeye Brownie Bites — miniature brownies topped with peanut butter "buckeye" candy balls and drizzled with dark chocolate ganache — are a fun dessert for holiday parties — and Santa loves them, too!
You will find the babe wrapped in swaddling cloths…
I want to leave you today with a little inspiration from @AussieDave, an online digital pastor (who would have ever thought?!). Anyway, I follow his Instagram and love his thought provoking insight about swaddling cloths.
"According to some theologians, the shepherds knew exactly what swaddling cloths were, because Levitical law required the lambs that were born to be Passover sacrifices to be wrapped in linen strips as soon as they were born in order to keep them blemish-free. The idea was that the sacrificial lamb would be wrapped up to protect them from bruises.

As we know, Jesus would eventually be crucified on the Jewish Passover as the "Lamb of God".

It's interesting that the Hebrew word for "wrapped" in the Bible is "chathal" (חתל, pronounced "khaw-thal"), which means "to tie down" or "to wrap up". When Jesus was sacrificed as the Lamb of God, he was tied down, and then his body was once again wrapped up in cloths at his burial.

All this comes from the little detail of Jesus being wrapped in swaddling cloths!"
Thank you for being a faithful reader and supporter of Life Love and Good Food — it really means so much to me as a small business!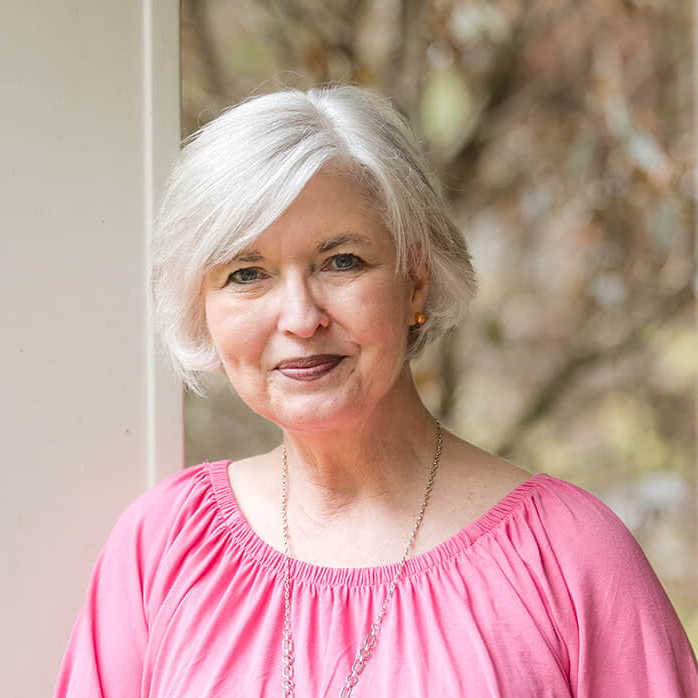 About Sheila Thigpen
Recipe Developer, Food Photographer, Food Writer
Sheila Thigpen is the publisher of Life, Love, and Good Food — a Southern food blog — and the author of Easy Chicken Cookbook and The 5-Ingredient Fresh and Easy Cookbook. After 20+ years in the publishing industry, she retired in 2018 to focus on her own creative endeavors full time. She and her husband live near the beautiful Smoky Mountains and have a precious little granddaughter who has stolen their hearts. As an influencer, Sheila has collaborated with brands like Creamette, Kroger, HERSHEY'S, Hamilton Beach, Garafalo Pasta, OXO, Smithfield, Valley Fig Growers, and more.