This post may contain affiliate links. Please read my disclosure policy.
If quick and easy is your language, then this over-the-top Cherry Dump Cake recipe is surely calling your name!
This Easy Cherry Crumble is the perfect combination of that crumbly and crispy nutty topping balanced with sweet pineapples and delicious red cherry pie filling. It's genuinely one of the easiest cherry dessert recipes you will ever make.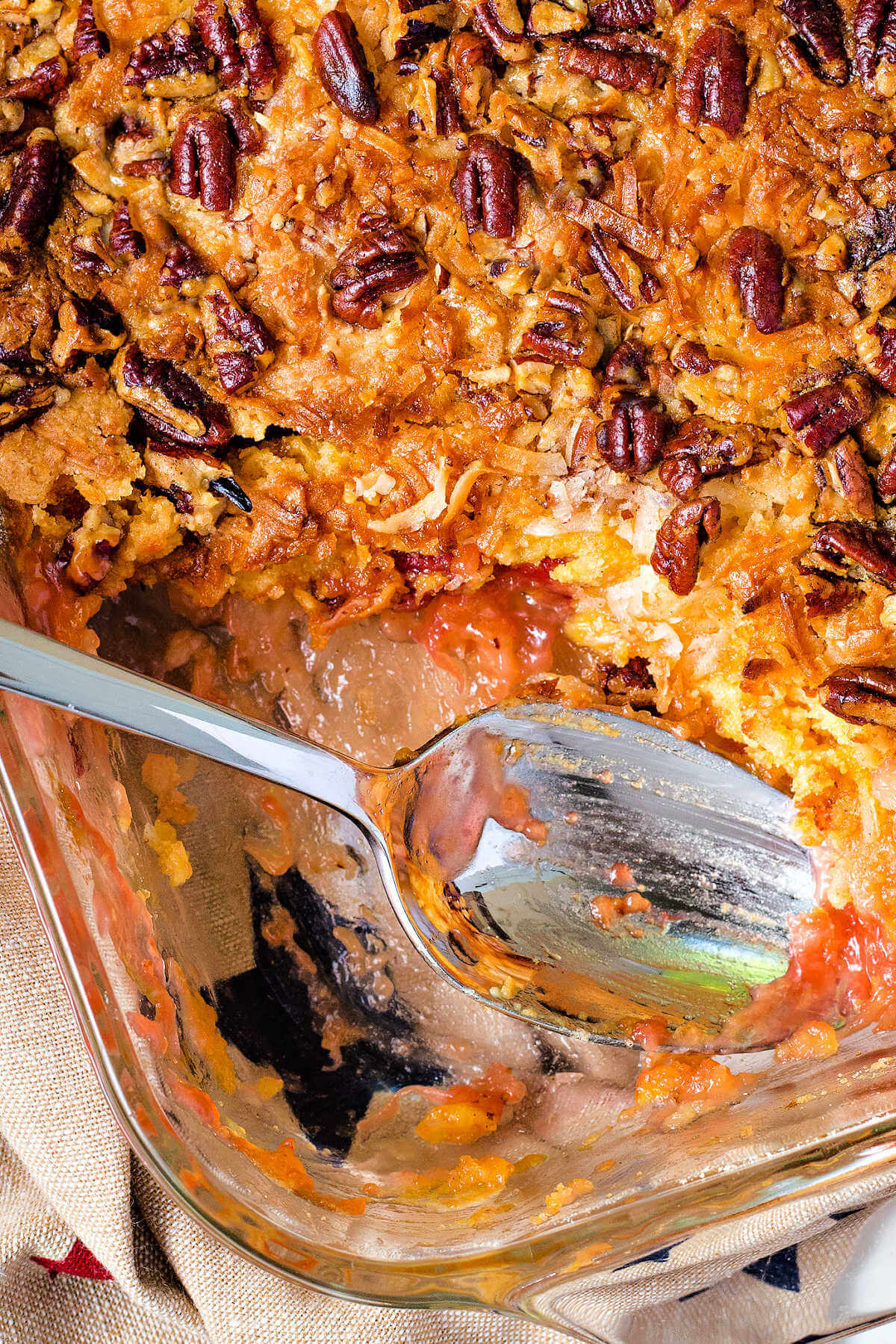 Good news! I know 100% you're going to fall madly in love with this fruity and crunchy dessert. And you'll love how quickly you can throw it together if you're in a hurry.
Dump cake means just that: dump it all in, and you're done!
As a matter of fact, my Chocolate Cherry Dump Cake in a Jar is very similar and just as easy. Why not make it an easy night all the way around and make this simple Chicken Broccoli Casserole?
You're a busy person, and I had you in mind when I created my Easy Chicken Cookbook. It is full of simple and easy recipes for snacks, appetizers, lunches, and dinners.
Now, back to this deliciously decadent Cherry Cake Recipe.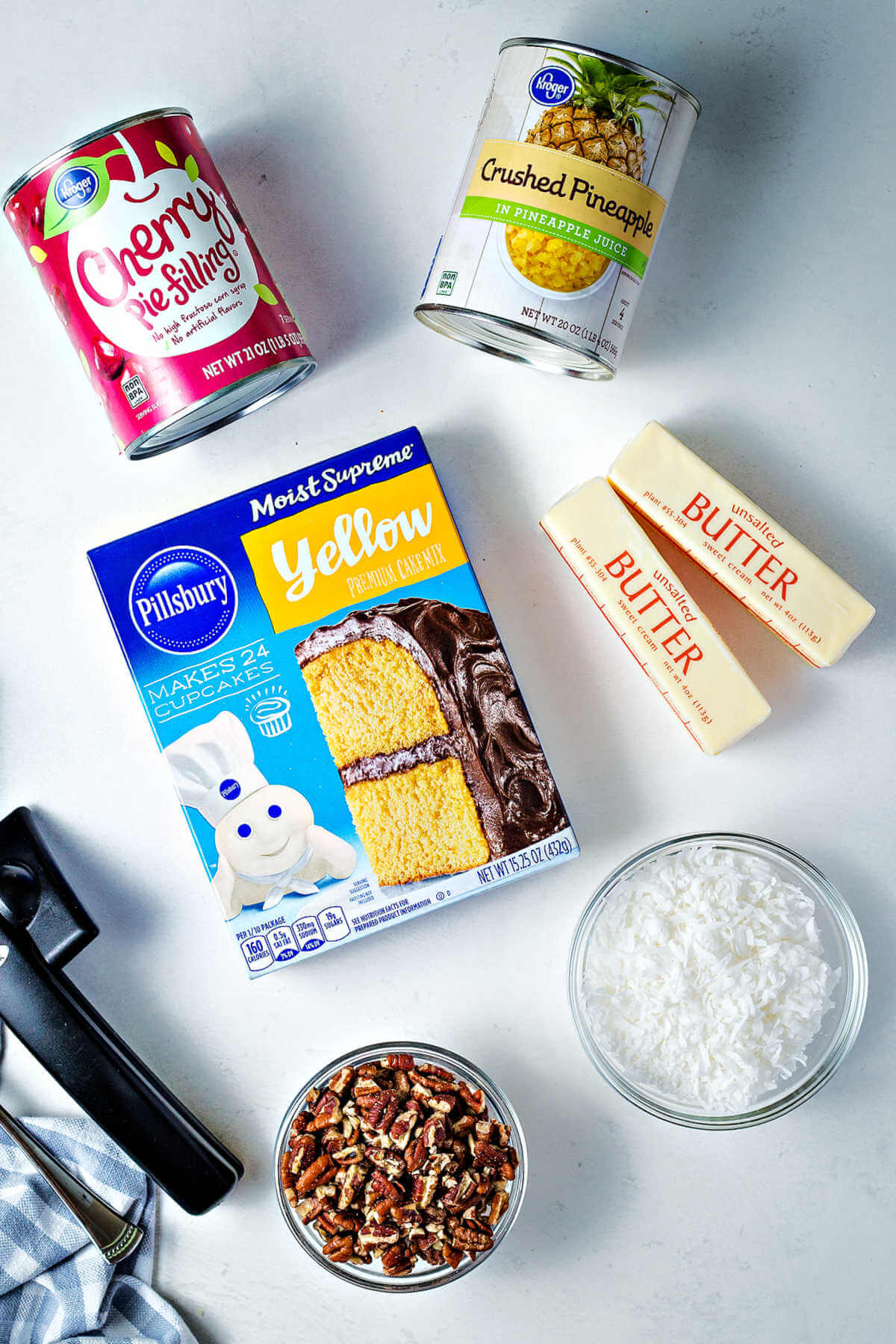 Key ingredients & substitutions for Cherry Pineapple Dump Cake
Pineapple — Make sure you pick up crushed pineapple, not the chunks.
Cherry pie filling — Any canned cherry pie filling is good. Are fresh carries in season? You can add some in if you would like! Just be sure to remove the pits.
Coconut — Sweetened shredded coconut is best for baking because it's moist and, of course, sweet.
Pecans — Other nuts like walnuts, almonds, or cashews can be interchangeable if you'd rather.
Cake mix — Your go-to boxed cake mix is all you need. I like Pillsbury Moist Supreme.
Butter — Butter is best, but if dietary needs call for it, use margarine but find a quality brand like Earth Balance.
How to make an Easy Cherry Dump Cake
STEP 1 | Preheat the oven
Always preheat your oven to ensure even baking. Set the oven to 350 degrees and lightly coat the bottom of a 9 x 13-inch baking dish with the nonstick cooking spray.
Now, you are ready to start the recipe for cherry dump cake.
STEP 2 | Start layering
The next layer is that gorgeous red cherry pie filling, so spoon the cherries on top of the pineapple.
Again, you want to cover the entire surface of the dish. It's looking good!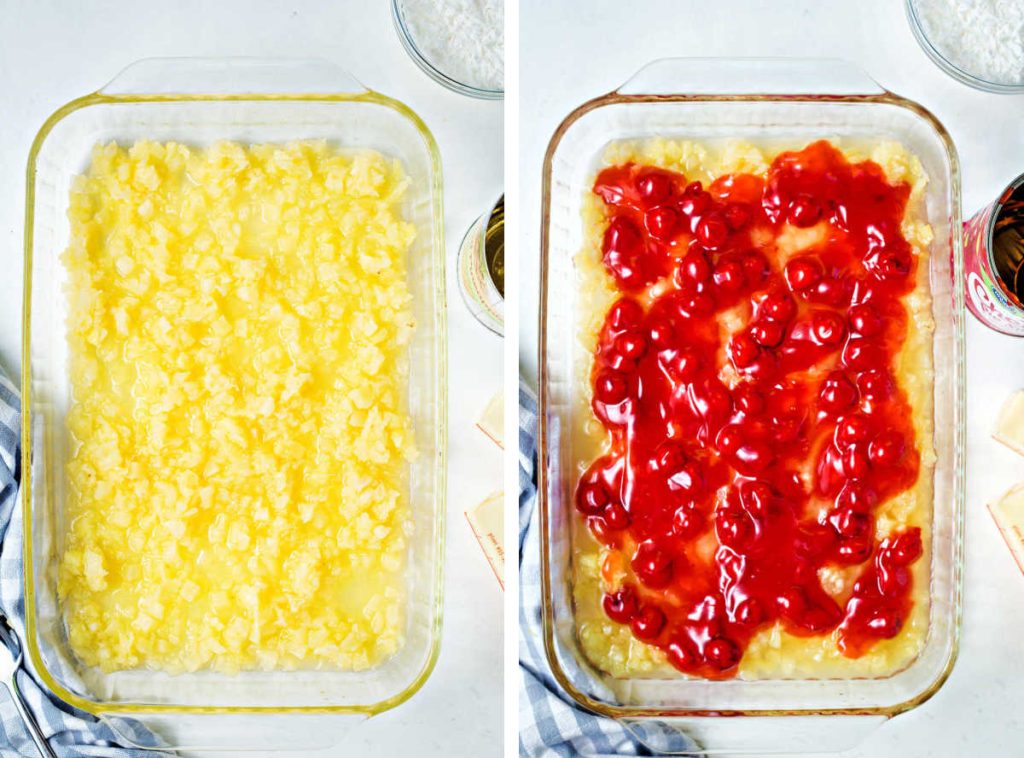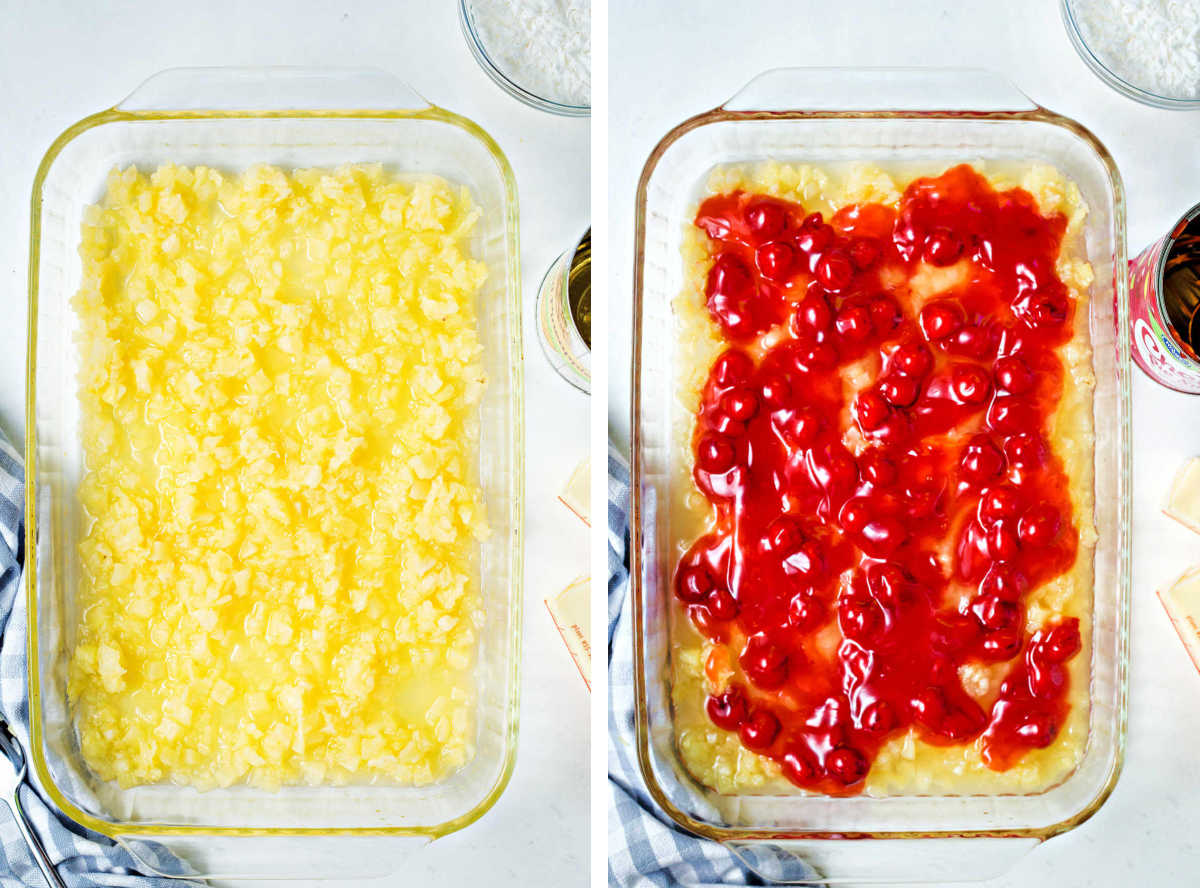 The dry box yellow cake mix goes next, and you want to do the same with this layer. Sprinkle it all the way to the edges of the baking dish and spread gently with your fingers.
Be sure all the liquid is covered for the best buttery pie crumble.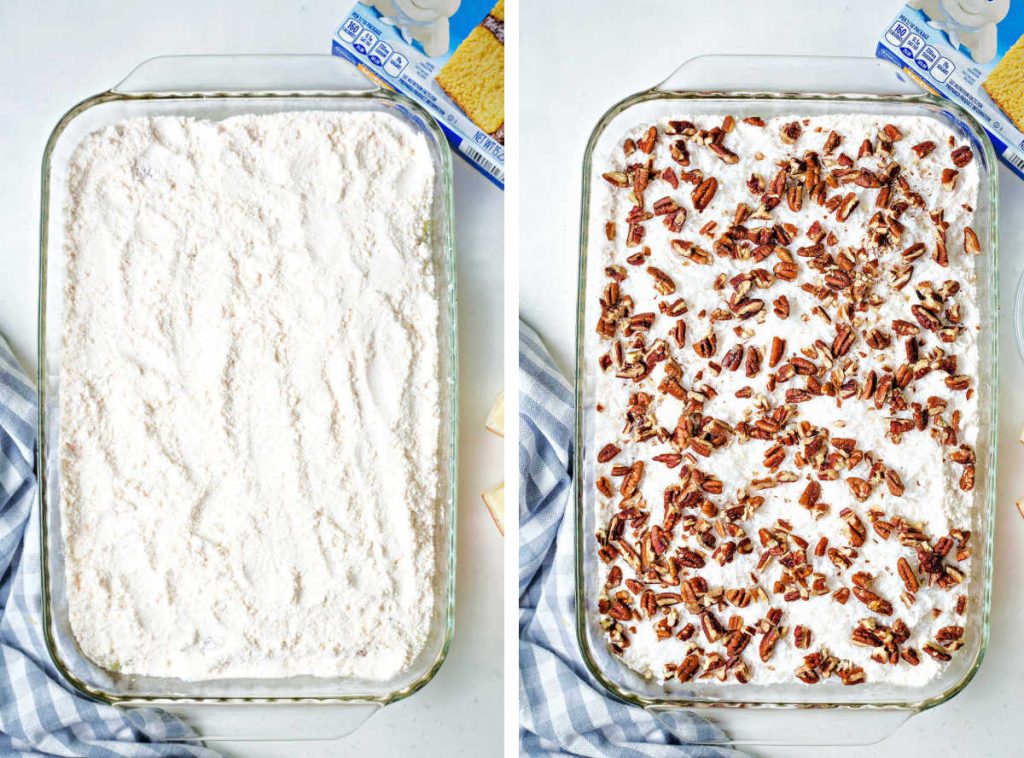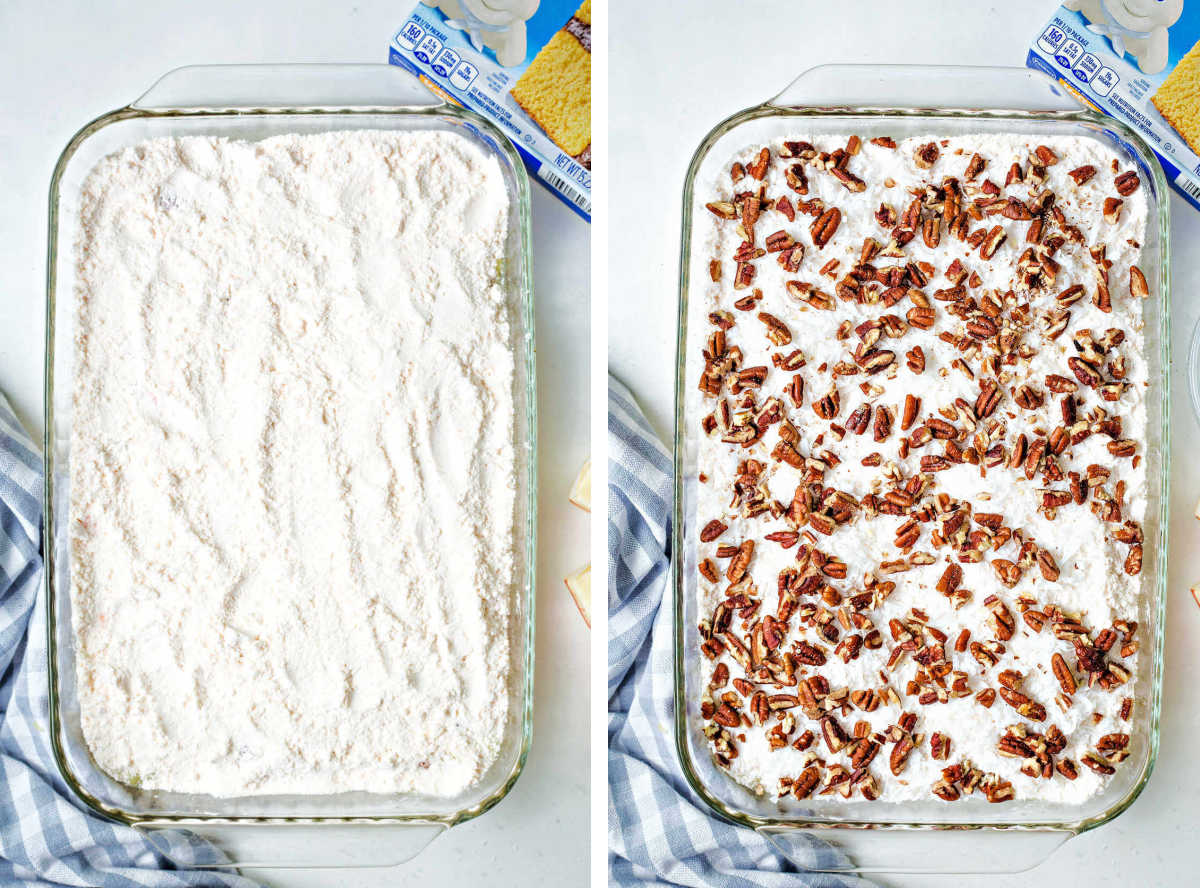 STEP 4 | Add the crunchy topping and butter
Next, sprinkle a layer of coconut and a layer of pecans over top. If you love extra coconut or pecans, go ahead and add a little more and make it nice and thick.
The final step is to cut the butter into pats and place all the pieces over the top. Be sure to slice the butter very thinly, so you have enough to cover the whole baking dish.
You want that melted butter evenly spread as it bakes so you get the crunchy good flavor of the cake crumbles.
tips
Fresh Fruit — While the recipe calls for a can of crushed pineapple and cherry pie filling, you can also use fresh fruit or frozen. Grab a bag from your grocer's freezer or a pint of fruit.
Variations — If pineapples or cherries don't work for you, then exchange them for your favorite fruit. Use diced peaches or blueberry pie filling or whatever your heart desires.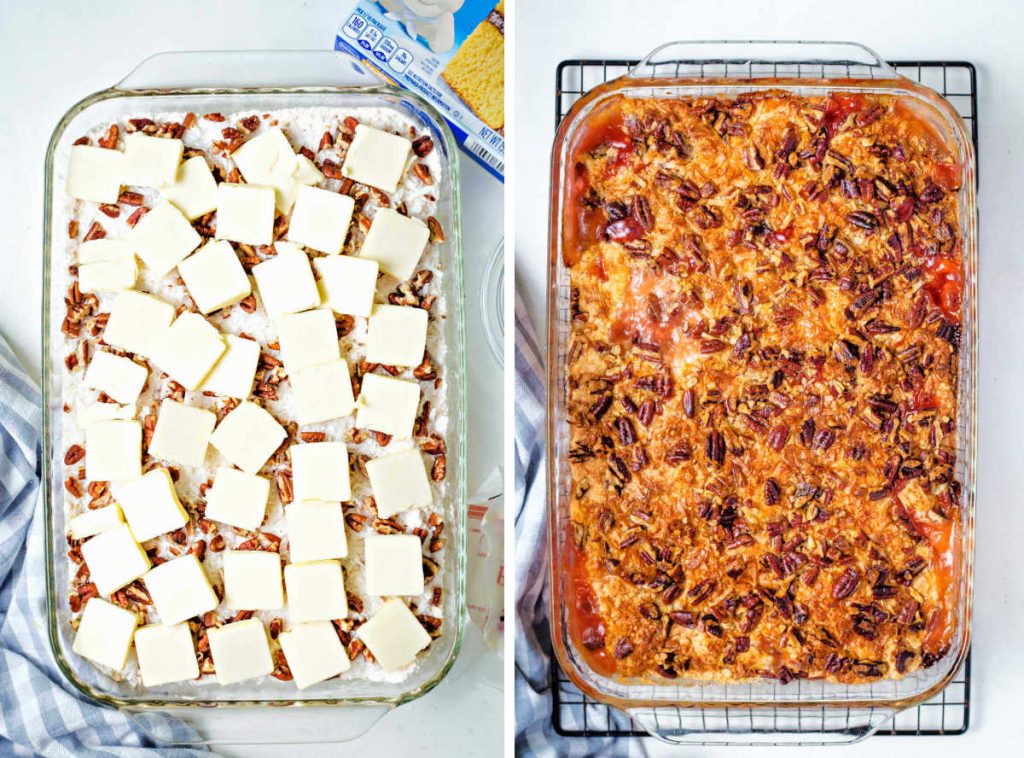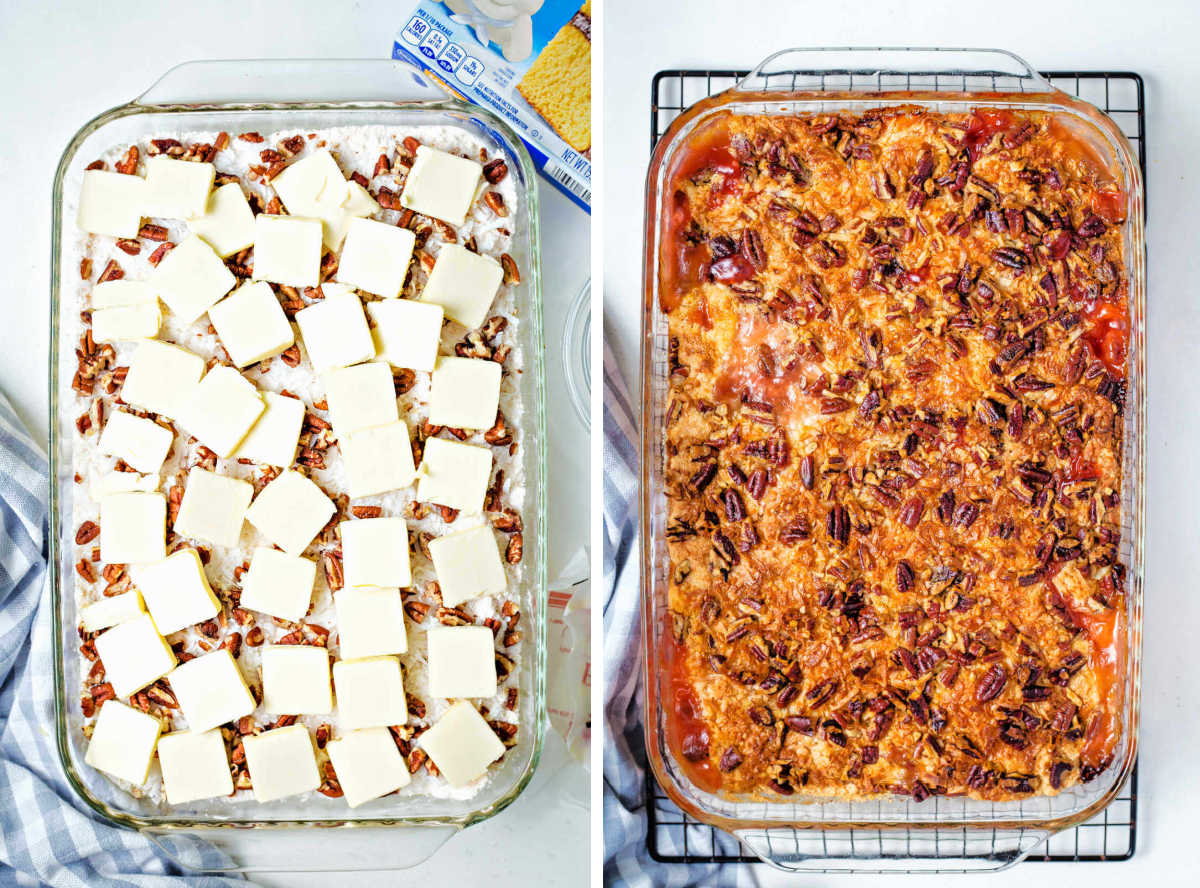 Just look at how golden brown the topping turns out!
STEP 5 | Bake and serve
Now you can place your easy cherry dump in the oven to bake as directed in the recipe card below.
When done with the baking cycle, the top should be a nice crispy golden brown, and the filling will be bubbly. I think I can smell it now!
It's delicious, served warm or at room temperature. And if you happen to have any leftovers, you can refrigerate them for up to 5 days.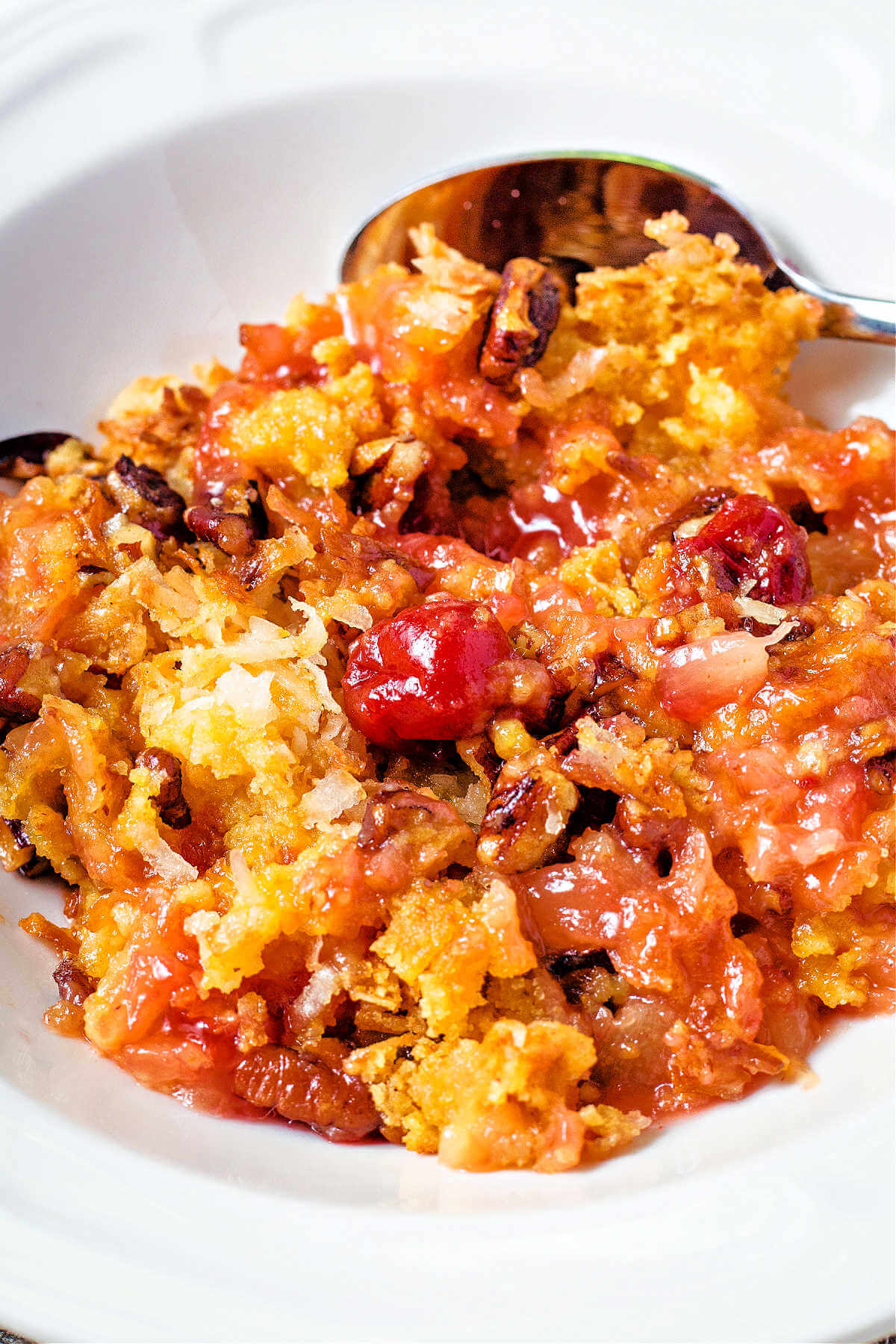 Frequently asked questions
Isn't a dump cake and a cobbler the same thing?
Actually, they are a bit different. As you find in the grocery store, a dump cake uses a cake mix, and a cobbler uses a biscuit or pie crust topping. They're very similar, though. Here's a lip-smacking recipe for my Peach Cherry Cobbler. 
Do I need to drain the pineapple before adding it to the baking dish?
No. You don't want to drain the juicy goodness. It will get absorbed by the cake mix and make it moist. 
My oven is cooks very hot. What can I do to keep the pecans from burning on top?
You have a few options. Try covering with foil after 20 to 25 minutes, or adjust the temperature of your oven a few degrees down. You can also move your baking dish down one level in the oven. This should help protect the pecans.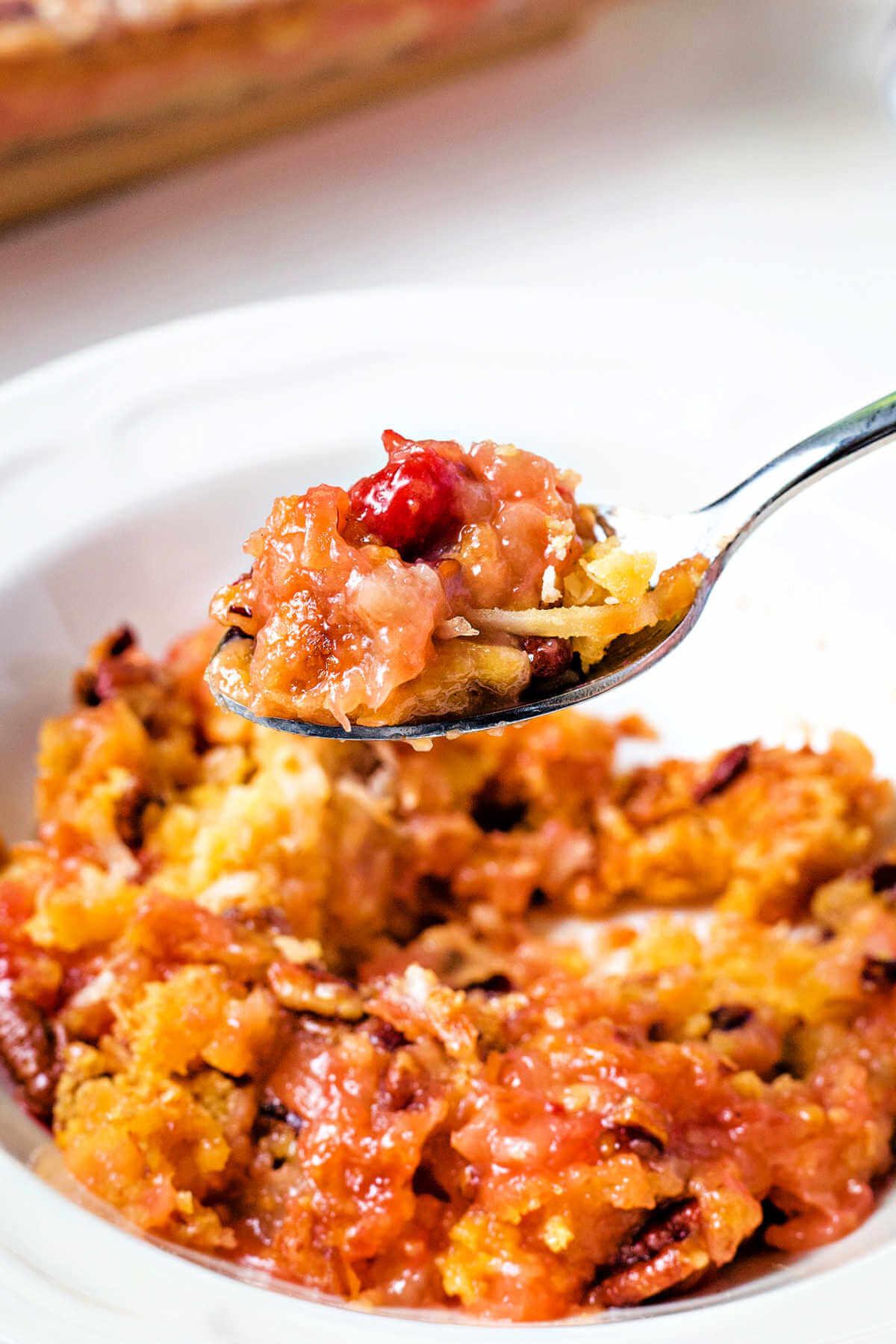 Serving suggestions
Plan a Saturday meal while the family is hanging out and make this crispy Fried Catfish and Summer Squash and Zucchini Casserole or Arroz Poblano (Corn and Poblano Rice).
Then, add the final touch and wow them with this piping hot and super easy cherry dump cake.
Toppings
You know, creamy ice cream is going on top of this baby — or whipped cream — or both!
Sprinkle another favorite nut, like pistachios or walnuts.
Drizzle a yummy chocolate syrup over your serving.
And you can't forget to crown it with a cherry on top.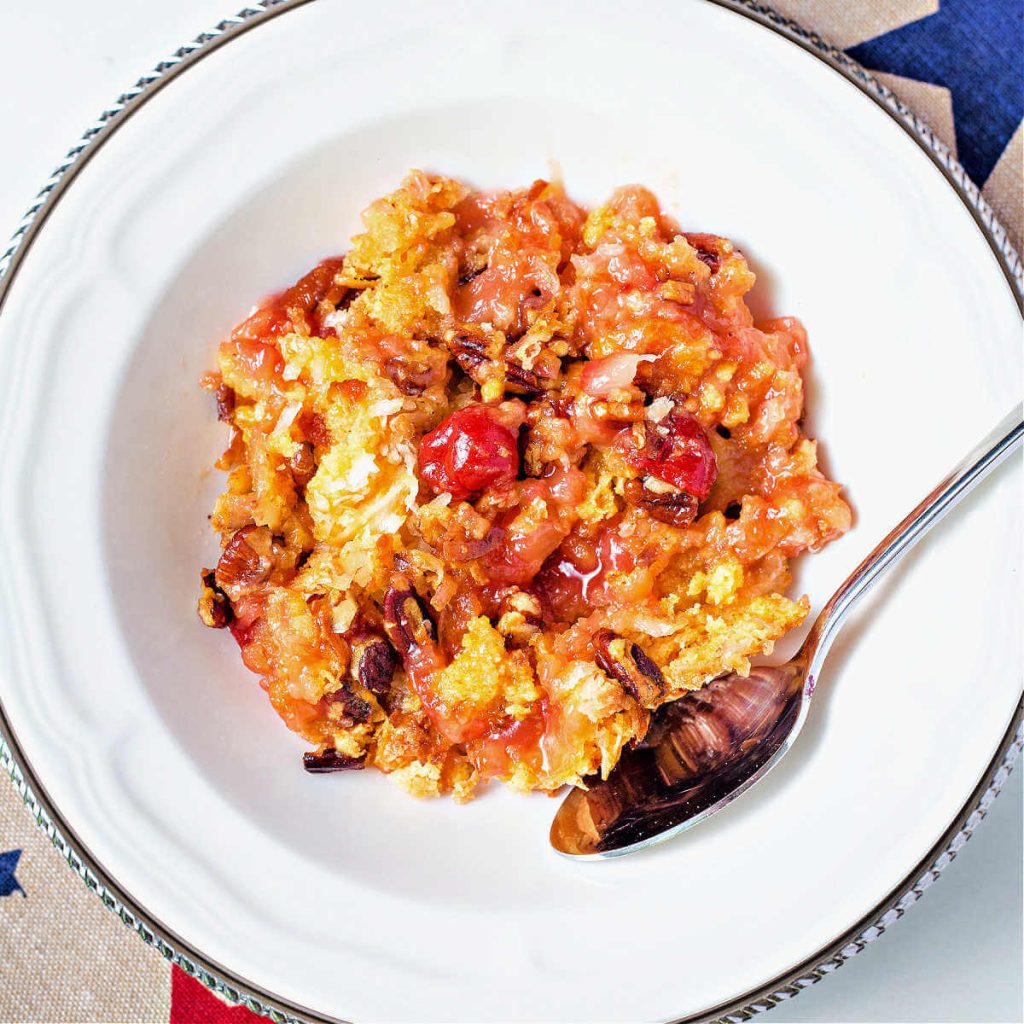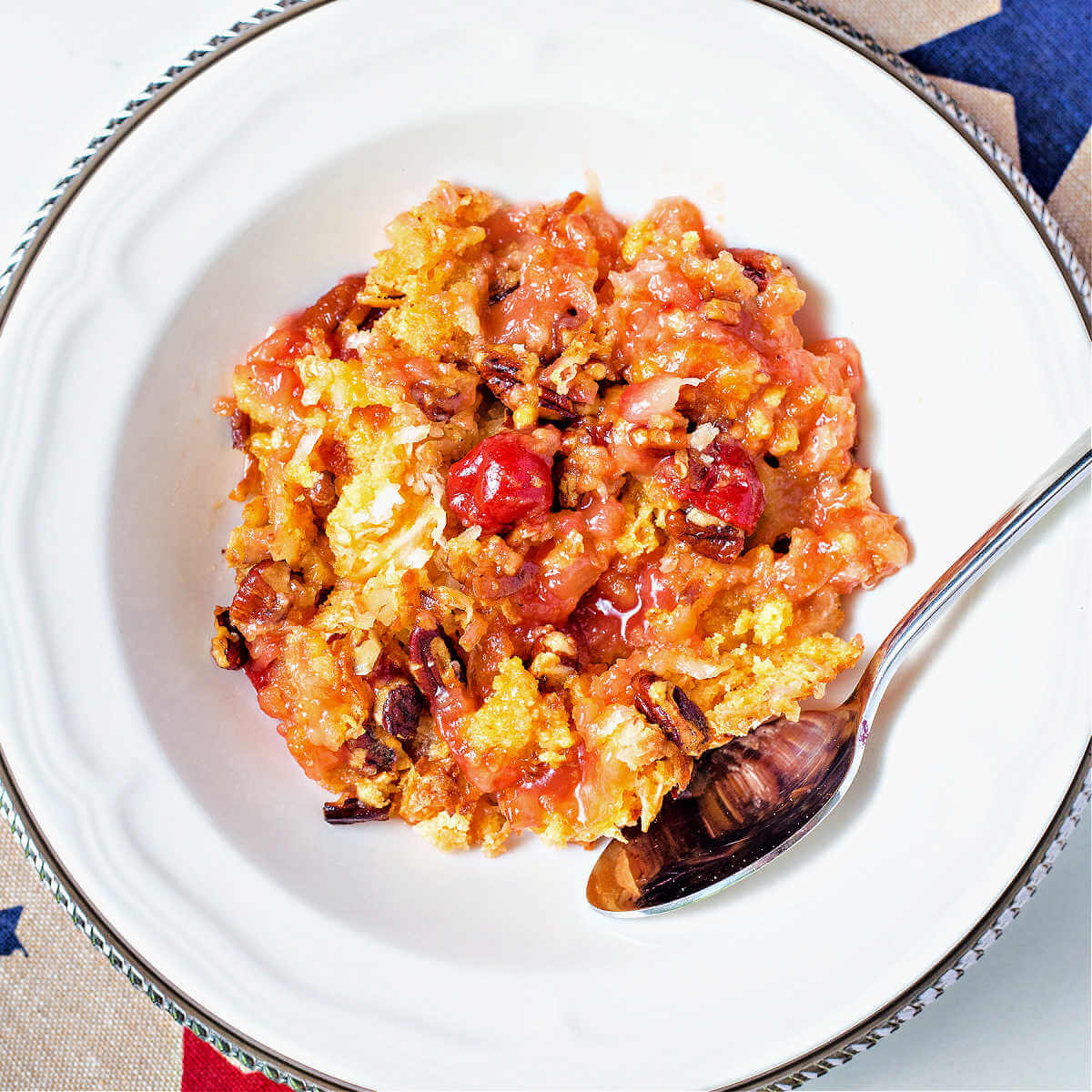 Behind the recipe: Cherry Dump Cake
We have to go back to the1960s to find the beginning of the humble dump cake. While some have said it originated in 1980 from Duncan Hines, some articles say otherwise.
The dump cake doesn't have a cut-and-dry history but more bits and pieces put together. Some say it was found on the back of a cake box, but the specific one can't be named.
Countless new discoveries happened during that period of the '60s — everything from the first man in space to car seatbelts. It was a simpler life, including lots of carefree playing outside and cookouts.
With the advances of our day and two-income families, we depend on simple and easy things as well — like the simple and easy recipe we've all come to know and love as the dump cake.
Please share!
Your shares are how this site grows, and I appreciate each one. Do you know someone who would enjoy this recipe? I'd love it if you would share it on Facebook or Pinterest!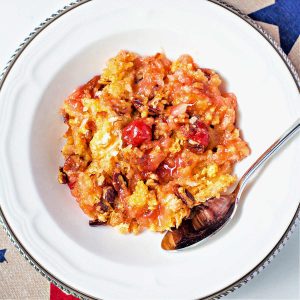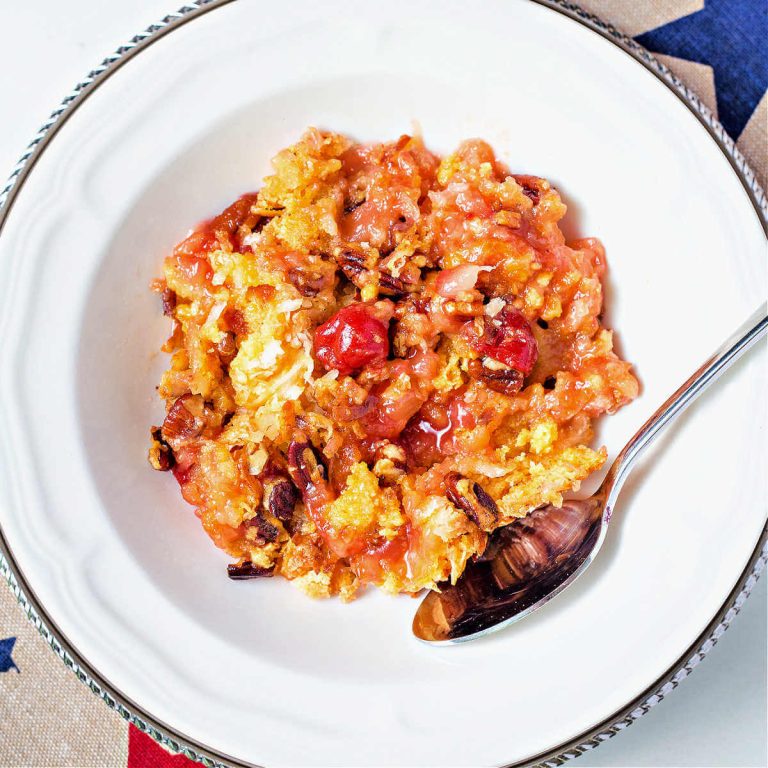 Cherry Dump Cake
This Easy Cherry Crumble is the perfect combination of that crumbly and crispy fresh fruit bite balanced with the sweetness of pineapples and delicious red cherry pie filling. It's genuinely one of the easiest dessert recipes you will ever make.
Ingredients
1

20-oz. can

crushed pineapple

1

21-oz. can

cherry pie filling

1

15.25- oz. box

yellow cake mix

1

cup

shredded coconut

1

cup

chopped pecans

16

tablespoons

unsalted butter

2 sticks
Instructions
Preheat the oven to 350 degrees. Lightly coat the bottom of a 9 x 13-inch baking dish with cooking spray.

Pour the crushed pineapple with the juices into the pan and spread out evenly.

Spoon the cherry pie filling on top of the pineapple, then dump the dry cake mix on top and gently spread to the edges of the baking dish with your fingers. Be sure all the liquid is covered.

Next, sprinkle a layer of coconut and a layer of pecans. Cut the butter into pats and place all over the top.

Bake for 45 to 55 minutes, until the top is golden brown and the filling is bubbling. Serve warm or at room temperature. Refrigerate leftovers for up to 5 days.
Nutrition
Calories:
290
kcal
Carbohydrates:
30
g
Protein:
2
g
Fat:
19
g
Saturated Fat:
10
g
Polyunsaturated Fat:
2
g
Monounsaturated Fat:
6
g
Trans Fat:
1
g
Cholesterol:
30
mg
Sodium:
252
mg
Potassium:
63
mg
Fiber:
1
g
Sugar:
17
g
Vitamin A:
353
IU
Vitamin C:
1
mg
Calcium:
77
mg
Iron:
1
mg
Life Love and Good Food does not claim to be a registered dietician or nutritionist. Nutritional information shared on this site is only an estimate. We recommend running the ingredients through an online nutritional calculator if you need to verify any information.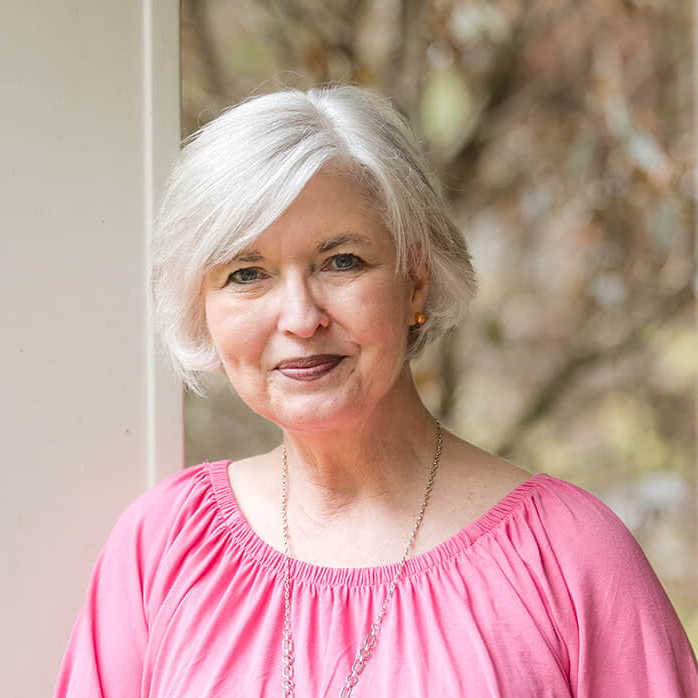 About Sheila Thigpen
Recipe Developer, Food Photographer, Food Writer
Sheila Thigpen is the publisher of Life, Love, and Good Food — a Southern food blog — and the author of Easy Chicken Cookbook and The 5-Ingredient Fresh and Easy Cookbook. After 20+ years in the publishing industry, she retired in 2018 to focus on her own creative endeavors full time. She and her husband live near the beautiful Smoky Mountains and have a precious little granddaughter who has stolen their hearts. As an influencer, Sheila has collaborated with brands like Creamette, Kroger, HERSHEY'S, Hamilton Beach, Garafalo Pasta, OXO, Smithfield, Valley Fig Growers, and more.