This post may contain affiliate links. Please read my disclosure policy.
Enjoy the crackling sound of the wok sizzling and radiating the tantalizing smell of my Pepper Steak Stir Fry. Better than take-out and fresher, too! Combinations of fresh ginger root, garlic, onion, and beautiful bell peppers make up the savory flavor of this fast and easy Steak Stir Fry.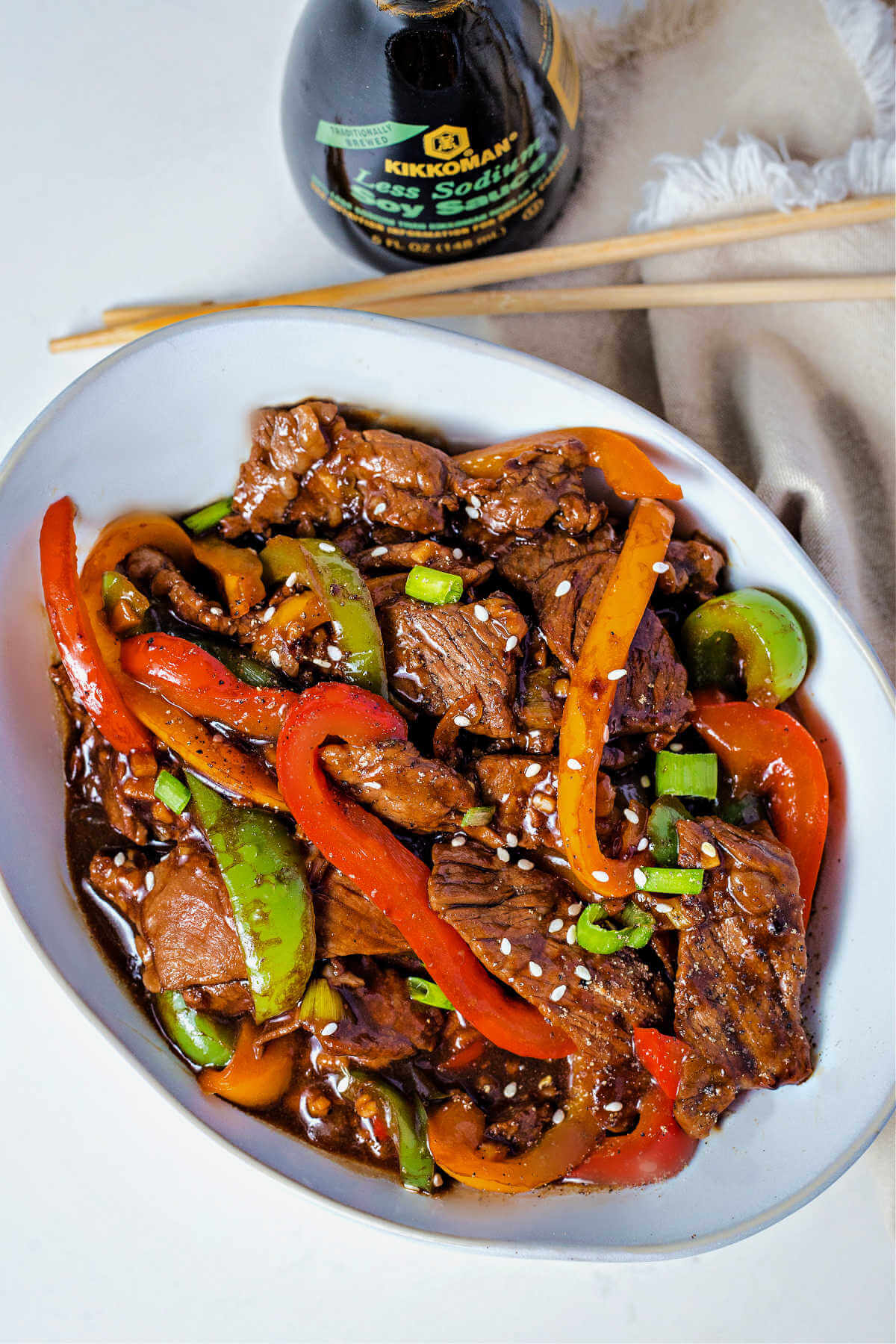 This delicious Chinese stir fry dish has delicious flavor and aroma and offers all those eye-popping colors that make you want to dig right in. 
Add the perfect little crunch with my Asian Slaw with Egg Roll Crackers or Asiago Potato Stacks, and dinner is done!! Oh, and another stir fry you'll want to try next is this Hibachi Chicken & Vegetables.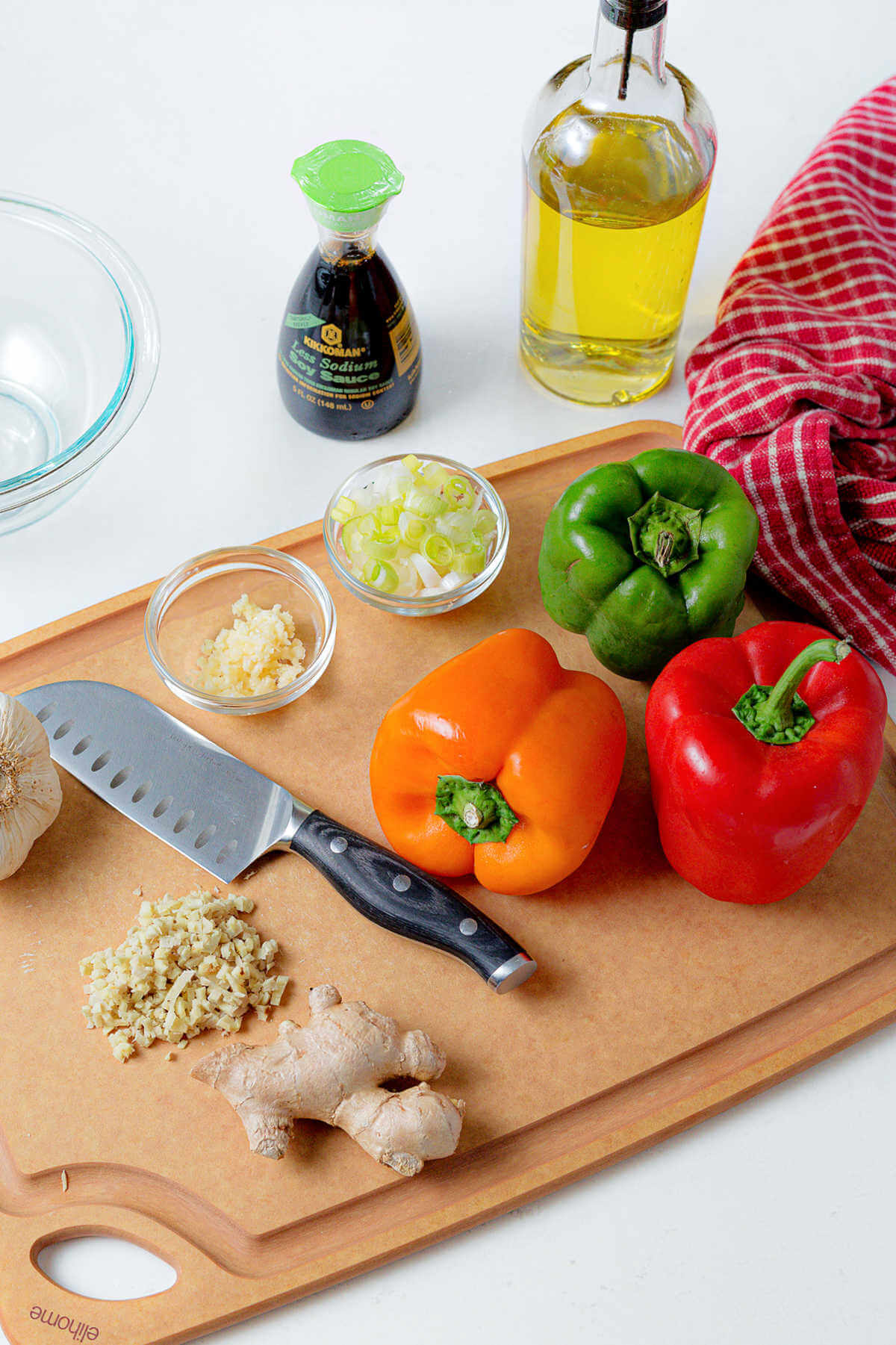 Key ingredients & substitutions for Pepper Steak Recipe
Marinade
Soy sauce — For gluten-free alternatives, use Tamari, which doesn't have wheat, or Worcestershire sauce if you're watching your salt intake.
Rice wine vinegar — Apple cider or white wine vinegar is a close match, and so is lemon juice or lime juice if you want something other than vinegar.
Cornstarch — Potato starch or arrowroot is good for gluten free; otherwise, you could use wheat flour and double the amount needed.
Water — H2O is what will carry that flavor through the meat.
Black pepper — Lots of subs to choose from here. Papaya seeds are great, or other peppercorns like green, white, pink, and capers.
Pepper Steak
Sirloin steak — Sirloin is perfect because it's lean and cooks quickly, and it's also easy to make it turn out tender. Other good choices are tri-tip, ribeye, or strip.
Olive oil — If you don't have extra virgin olive oil, substitute regular olive oil or canola oil.
Bell peppers — The instructions call for one of each color: green, red, and yellow, but feel free to use what you have on hand if you don't have all three.
Green onions — Try using chives or even shallots as an alternative.
Ginger — I'm going to say don't substitute fresh ginger if at all possible. Use ground ginger if you have to, but once you try it, you'll understand. (See Behind the Recipe.;)
Garlic — In a pinch, you can change it out with ⅛ tsp cumin for one garlic clove.
How to make Pepper Steak Stir-Fry Recipe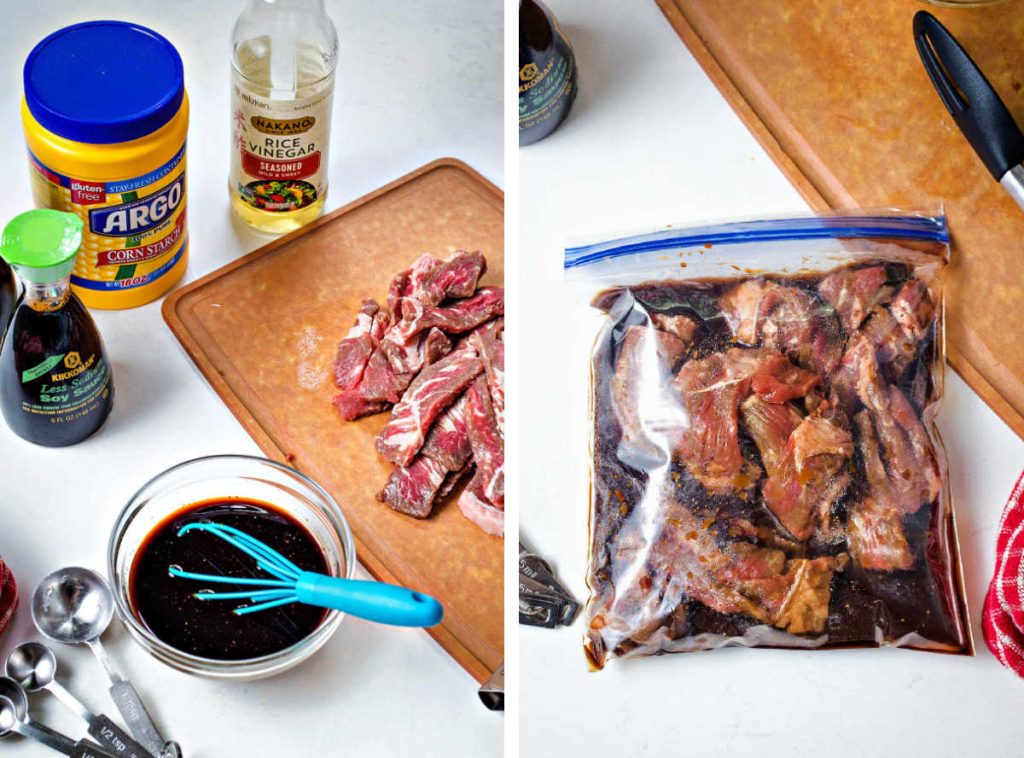 STEP 1 | Mix marinade ingredients
Using a gallon-size zippered bag, put in the sliced sirloin, and pour the marinade over the meat. Seal the bag and gently shake it until the meal is covered. Place it in the refrigerator to marinate.
Then you can get started on the rest of the dish.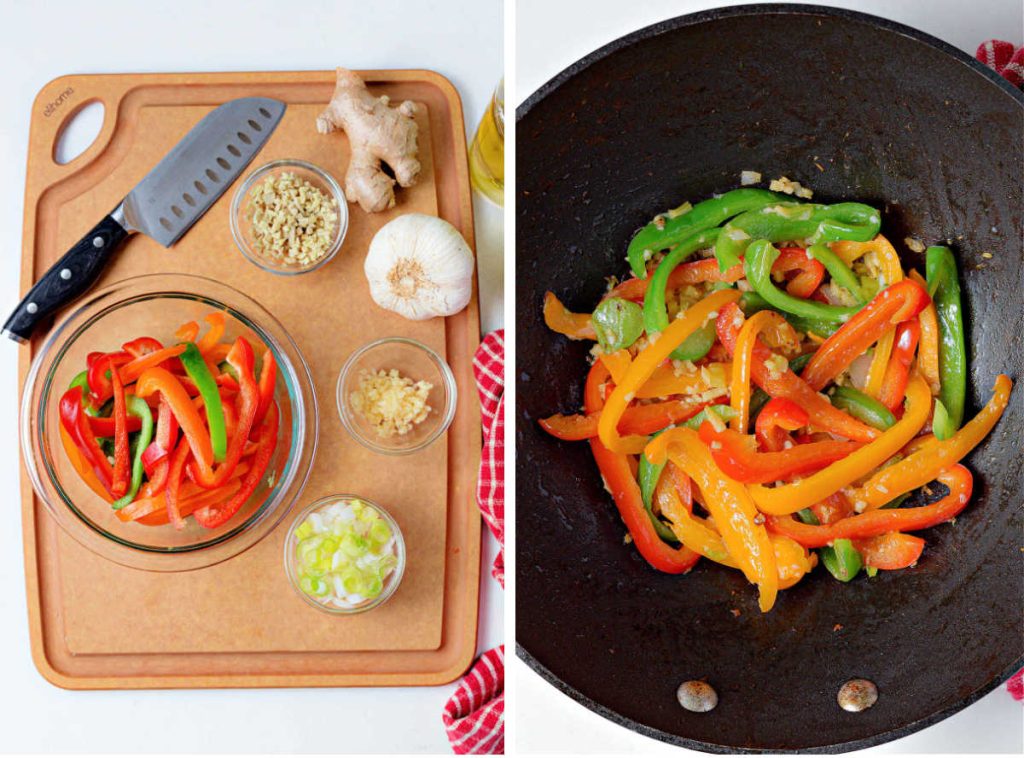 STEP 1 | Cook the stir-fry flavors
Begin the stir-fried veggies by heating 1 tablespoon of olive oil over medium to high heat in a large wok or skillet.
Saute the thinly sliced peppers, ginger, garlic, and the white part of the green onions until the flavors are well blended, and the peppers are nicely softened but not mushy. 
Then, remove the mixture from the heat and place it on a plate so it does not continue cooking in the hot pan.
tip
A super important tip is ensuring your wok or skillet is very hot. You want those flavors to blend together that create that tasty stir fry. 
STEP 2 | Brown the meat
Add the second tablespoon of olive oil to the wok or skillet, plus half the marinated steak. Don't add the marinade yet; only the steak right now. 
Stir fry it until it's golden brown, transfer that to the plate and continue with the remainder of the meat.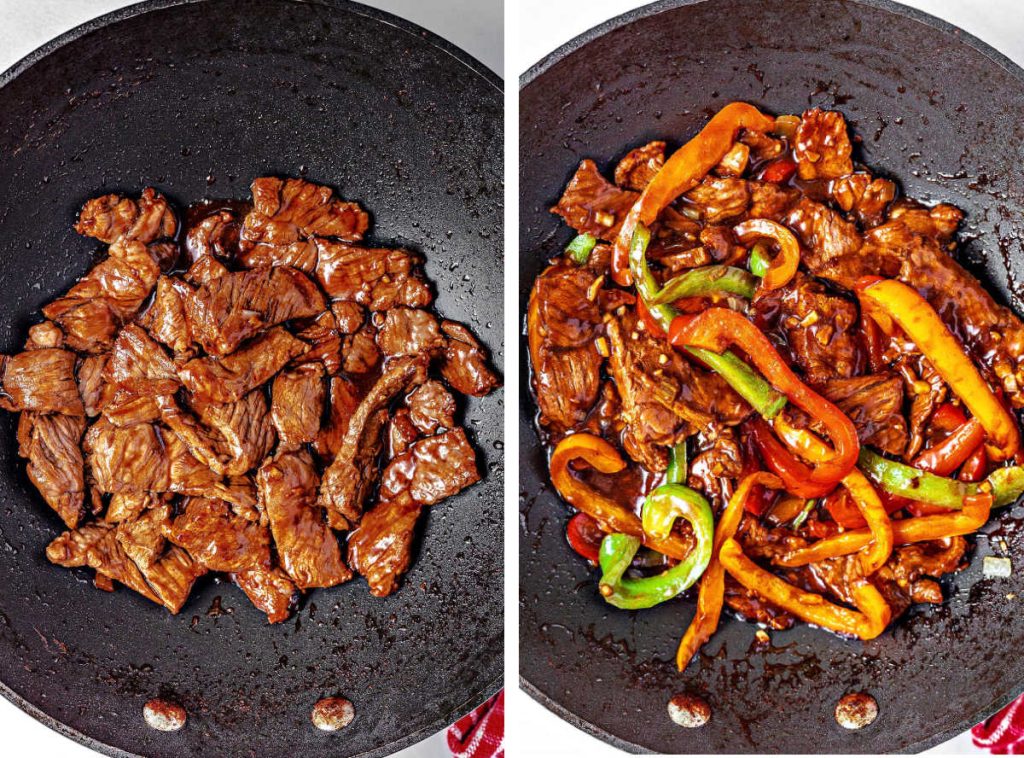 tips
Cut your steak pieces diagonally across the grain into thin strips to ensure they are tender and get the best brown in the pan.
Don't cheat by trying to fit all the steak into the wok at one time. You want it to fry, not simmer, which will happen with too much meat.
STEP 3 | Heat the marinade and combine
Now pour the reserved marinade into the wok and cook for about 1 minute until it thickens.
The big tip here is to stir it continuously to keep it from crusting or burning. Soy sauce can burn rather quickly if not watched over and stirred.
Add the cooked meat and veggies to the warm soy sauce mixture and stir and cook until it's heated thoroughly.
Finish it by topping it with the green onion tops and give it one more stir.
STEP 4 | Serve
You're all done and ready to plate the stir fry piping hot! Serve the gorgeous dinner over rice or quinoa for a delicious and healthy meal.
Top it off
Since stir fry combines so many flavors and foods, use anything to top it off that you think your taste buds will love.
Shred carrots for a touch of color to your dish. Water chestnuts or a favorite nut crushed and sprinkled on top are a nice touch!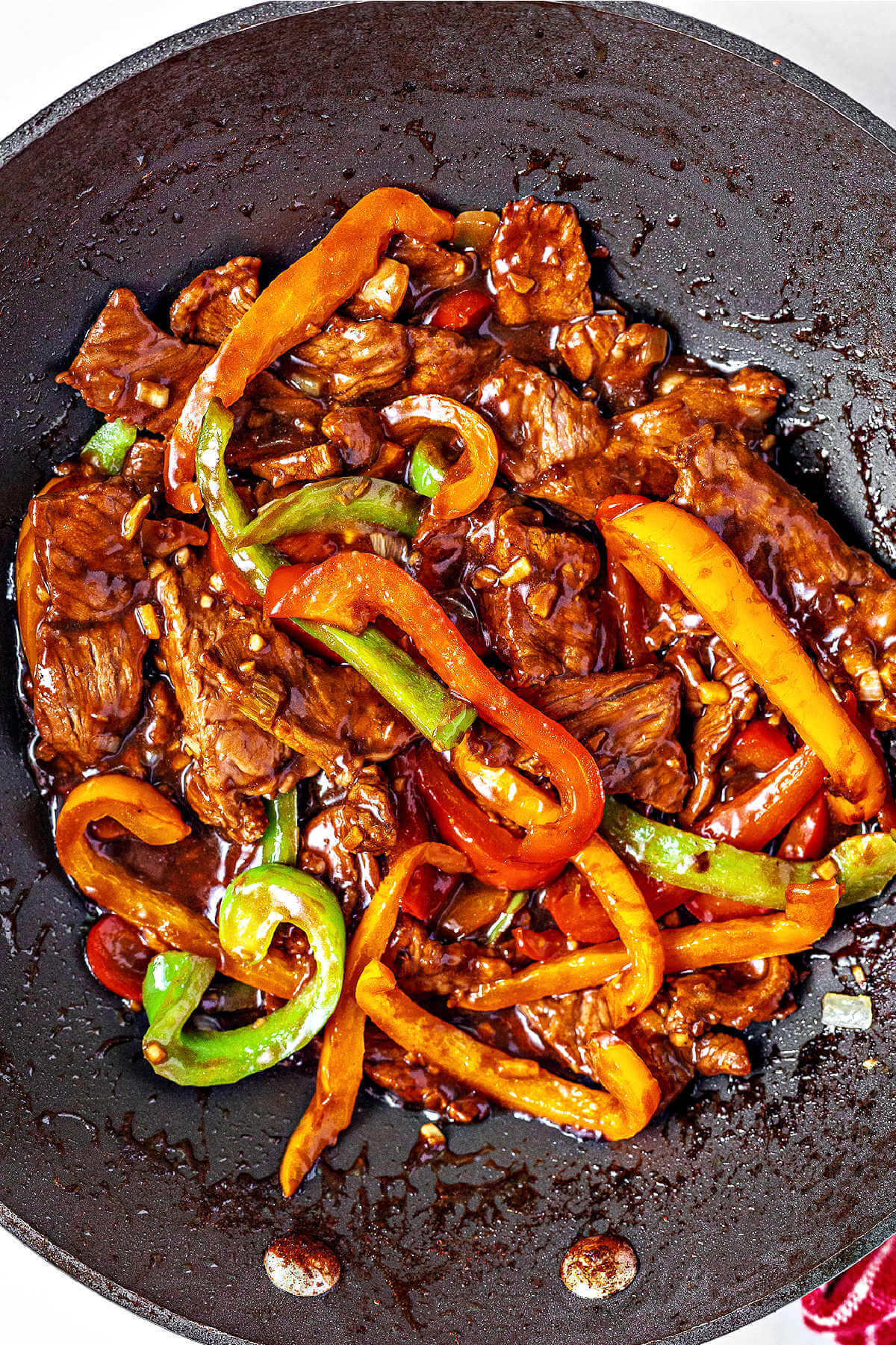 Frequently asked questions
How do I make sure the steak is tender?
The two ingredients of soy sauce and salt are meat tenderizers because they help retain moisture and make the meat flavorful. You can guarantee your meat will be tender with this recipe. 
Will frozen vegetables be okay to add to my stir fry?
Although frozen won't give you the same texture as fresh ones, you can still use them if you don't have fresh. 
You'll want to thaw them first, or it will cool the pan way down, and you don't want that happening. Soak them in hot water or microwave to thaw.
I like thicker sauces. How can I make the marinade thicker?
Combining cornstarch and water is a common way to thicken marinades, sauces, and gravies. The water needs to be cold and not hot, though. 
Mix it thoroughly, and then add the slurry to your dish.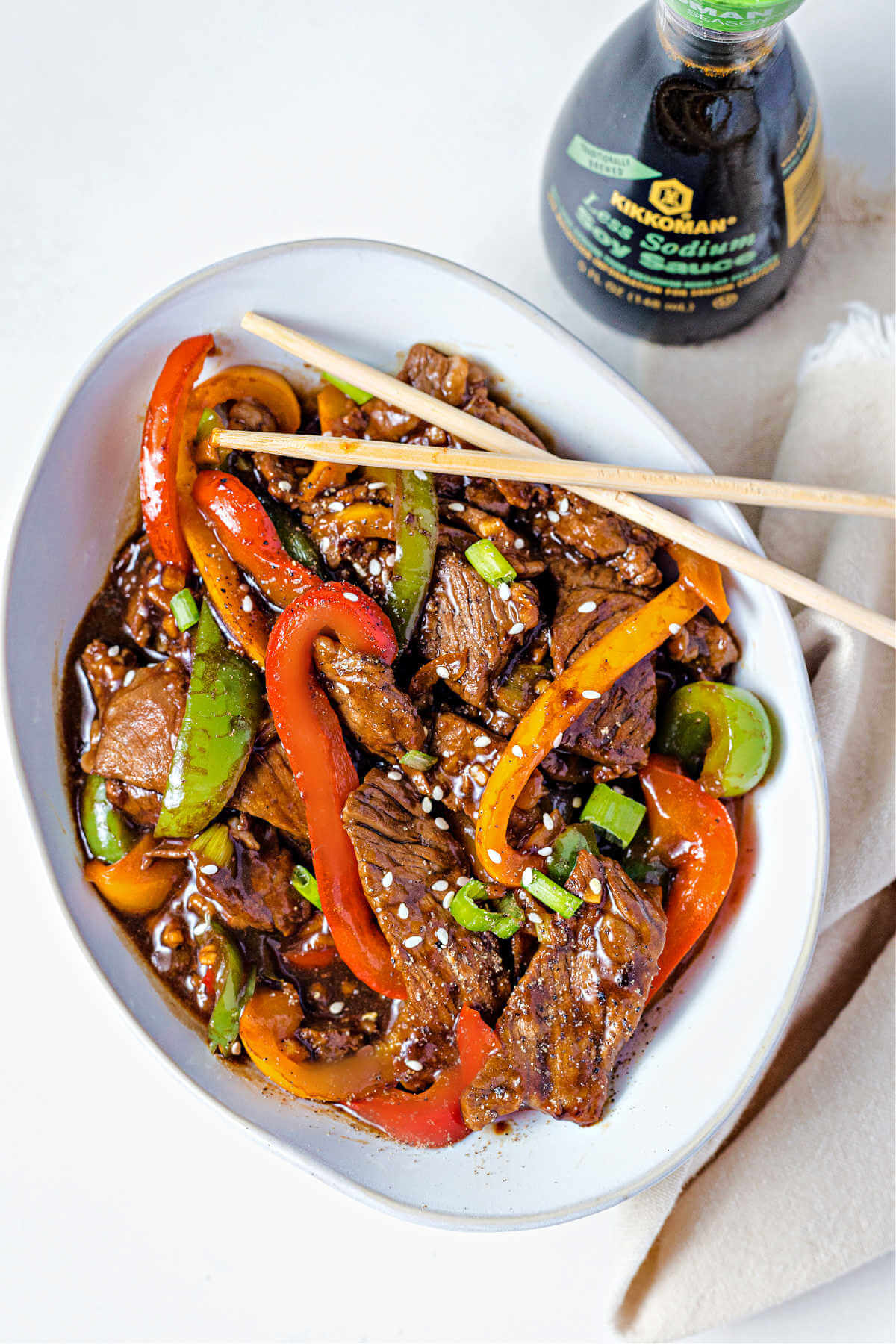 Serving suggestions
I think stir-fry is the easiest and best way to add more vegetables to your diet. Add it to a bowl of quinoa or my Chicken Fried Rice, and then add the "favorite of all favorites," Yum Yum Sauce. The Peppery Cheese Quick Bread balances it perfectly to soak up that goodness.
When you've finished cooking this delightful and inspiring recipe, your imagination will start snowballing with all the ideas to add motivation for other recipes that include healthy options. Here's one I'm sure you'll love too, Easy Sesame Salad with Chicken
More stir-fry recipes!
Generally speaking, stir fry recipes are a healthier dinner option and are a great way to incorporate more veggies into your meal. Here are a few of my favorites:
Behind the recipe: easy Pepper Steak Stir Fry
Have you ever wondered how certain foods are discovered — ginger root, for example?
One of the hikes John and I took along River Bluff Trail ended up being a nature's classroom for me. The trail is at Norris Dam State Park in Rocky Top, TN, and the wildflowers were in full bloom.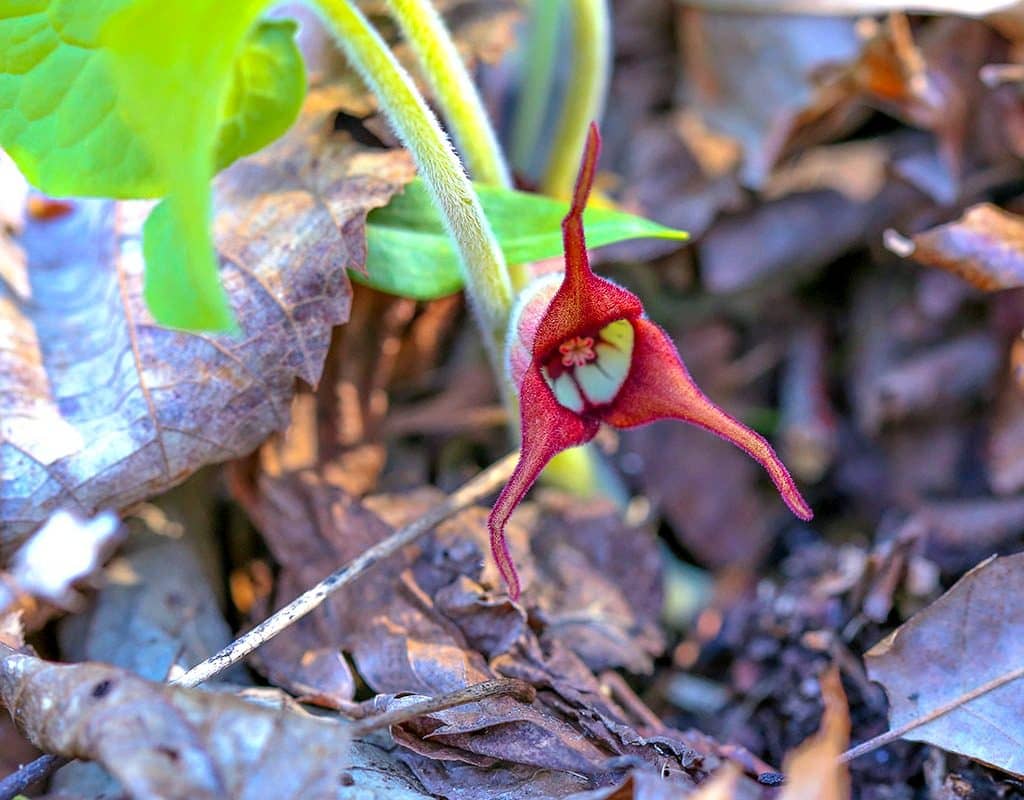 Thankfully I had taken my camera, and I was just clicking away as we walked along the trail. For the most part, I had no idea what I was taking pictures of until we ran into a few wildflower enthusiasts. They were kind enough to point out trout lilies, Dutchman's breeches, and GINGER ROOT! How cool was that?
Not to worry, though; I refrained from digging up my own ginger root and taking it home, haha!
It was such an extraordinary experience to see it growing in the wild, and I was left with even more of a deeper appreciation and excitement of all things nature and food!
Please share!
Your shares are how this site grows, and I appreciate each one. Do you know someone who would enjoy this recipe? I'd love it if you would share it on Facebook or Pinterest!
Pepper Steak Stir Fry
Combinations of fresh ginger, garlic, onion, and beautiful bell peppers make up the savory flavor of this easy Pepper Steak Stir Fry.
Ingredients
MARINADE INGREDIENTS:
1/4

cup

low-sodium soy sauce

1/3

cup

water

2

tablespoons

rice wine vinegar

1

tablespoon

corn starch

1/8

teaspoon

coarsely-ground black pepper

(or more/less to taste)
PEPPER STEAK INGREDIENTS:
1

lb.

sirloin steak

(cut diagonally across the grain into thin strips)

2

tablespoons

extra virgin olive oil

1/2

large

red bell pepper

(thinly sliced)

1/2

large

yellow bell pepper

(thinly sliced)

1/2

large

green bell pepper

(thinly sliced)

2

green onions

(sliced and divided)

2

tablespoons

fresh ginger

(minced)

2

garlic cloves

(minced)
Instructions
Marinade
In a small bowl,

whisk

together all the marinade ingredients. Pork over sliced sirloin in a large ziplock bag. Seal the bag and shake gently to coat all the meat. Refrigerate for at least 15 minutes.
Stir-Fry
Heat 1 tablespoon olive oil in a large wok or skillet over medium-high heat. Sauté the peppers and the white part of the green onions, ginger, and garlic for about 3 minutes. Remove to a plate.

Add the remaining tablespoon of olive oil to the wok and add half of the marinated steak, reserving the marinade. Stir fry 2 to 3 minutes until browned; transfer to the plate. Repeat with the remaining steak; and again transfer to the plate.

Pour the reserved marinade into the wok. Cook and stir until thickened, about 1 minute. Add the previously cooked ingredients and stir. Cook a couple of minutes until heated through. Add the green onion tops and give it one more stir.

Serve immediately over rice or quinoa.
Nutrition
Serving:
1
g
Calories:
373
kcal
Carbohydrates:
7
g
Protein:
33
g
Fat:
23
g
Saturated Fat:
7
g
Polyunsaturated Fat:
13
g
Cholesterol:
104
mg
Sodium:
641
mg
Fiber:
1
g
Sugar:
2
g
Life Love and Good Food does not claim to be a registered dietician or nutritionist. Nutritional information shared on this site is only an estimate. We recommend running the ingredients through an online nutritional calculator if you need to verify any information.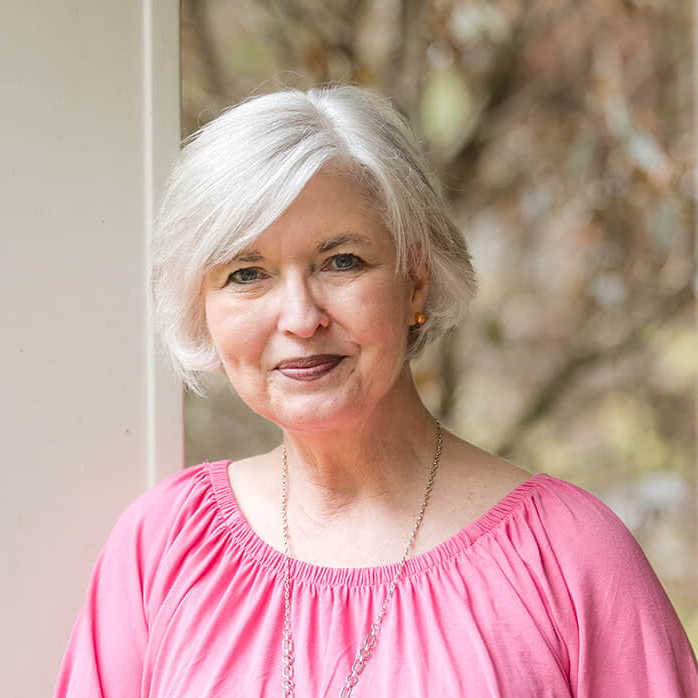 About Sheila Thigpen
Recipe Developer, Food Photographer, Food Writer
Sheila Thigpen is the publisher of Life, Love, and Good Food — a Southern food blog — and the author of Easy Chicken Cookbook and The 5-Ingredient Fresh and Easy Cookbook. After 20+ years in the publishing industry, she retired in 2018 to focus on her own creative endeavors full time. She and her husband live near the beautiful Smoky Mountains and have a precious little granddaughter who has stolen their hearts. As an influencer, Sheila has collaborated with brands like Creamette, Kroger, HERSHEY'S, Hamilton Beach, Garafalo Pasta, OXO, Smithfield, Valley Fig Growers, and more.