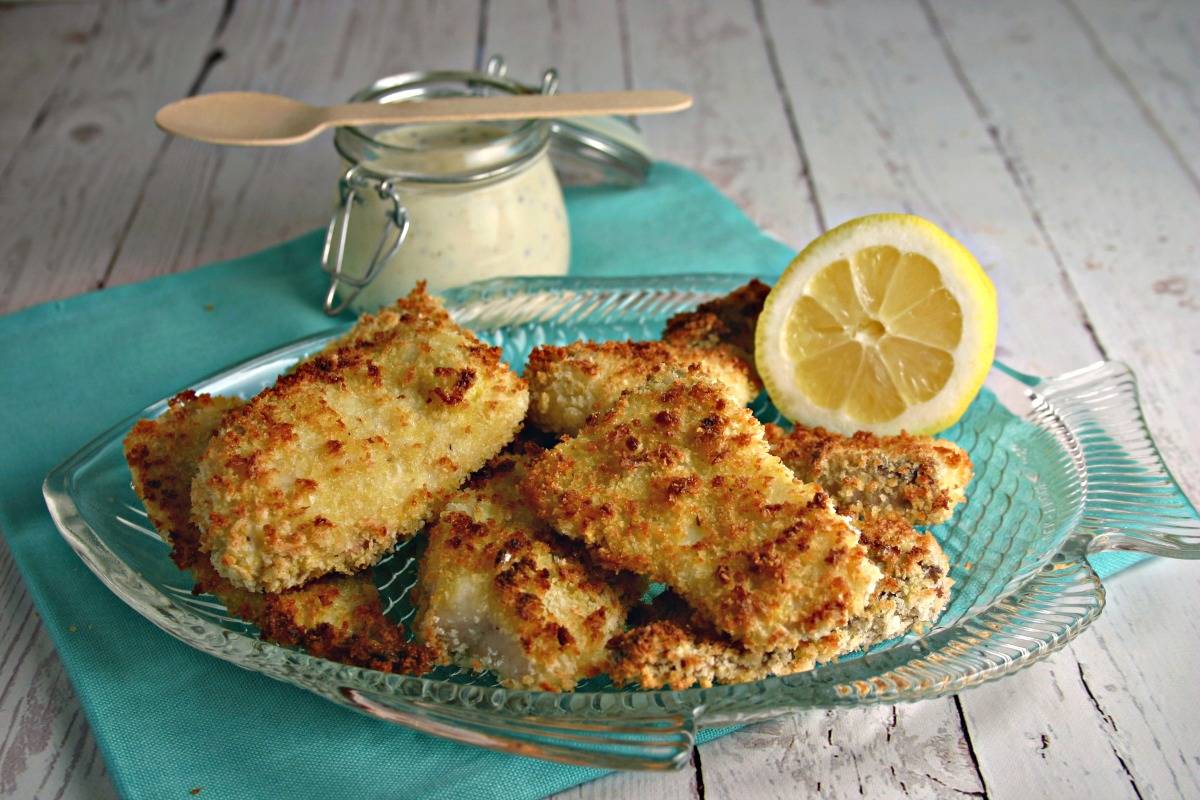 Getting a little help from my husband with dinner usually involves manning the grill or making Crispy Oven-Fried Fish Filets, which has become one of his tried and true recipes. The crispy coating comes from a one-two-three dredging process — dredge in flour, dip in a beaten egg wash, and then dredge in panko bread crumbs until completely coated. Drizzle the breaded fish with a little olive oil and bake — it comes out perfect every time!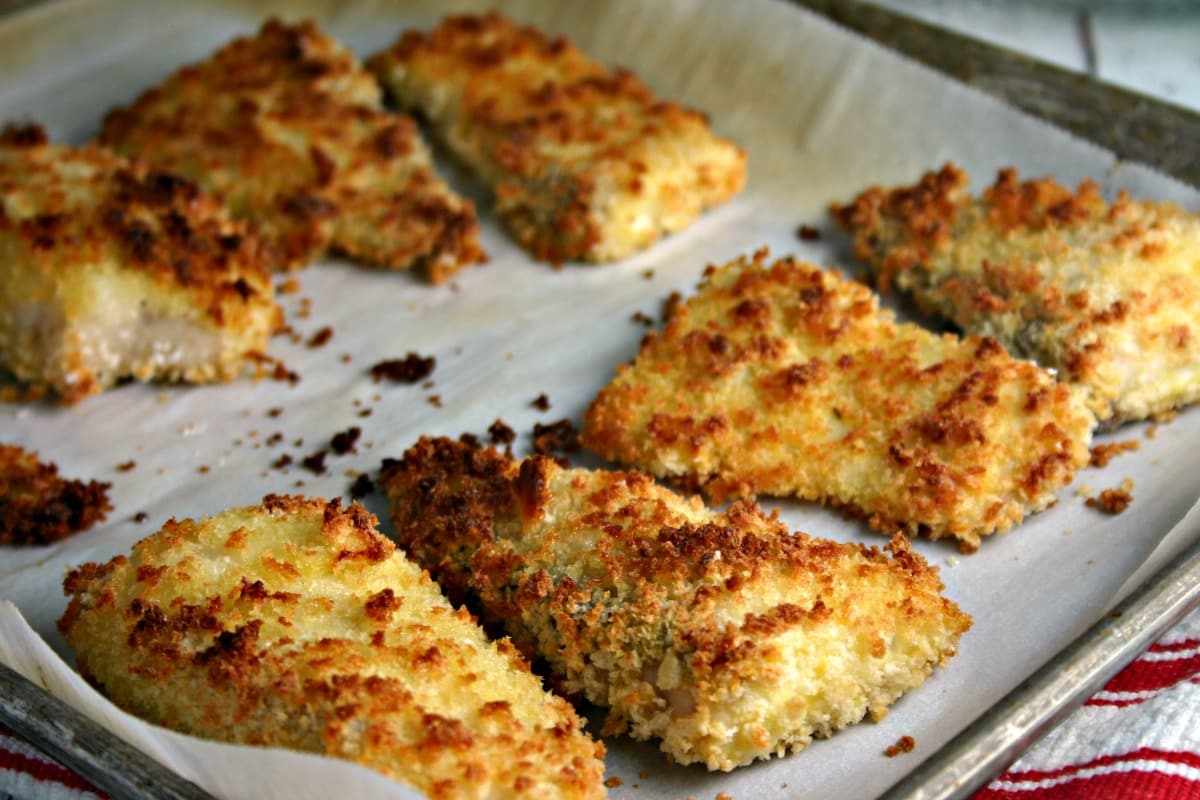 Baking the fish on a parchment-lined baking sheet cuts down on clean up later — I'm always looking for clean-up shortcuts! Normally, we use tilapia in this recipe because it doesn't have a strong "fishy" taste and because it is a nice firm fish. John likes to cut the filets into three or four smaller pieces instead of keeping them whole. I think that's because he gets more crispy breading that way!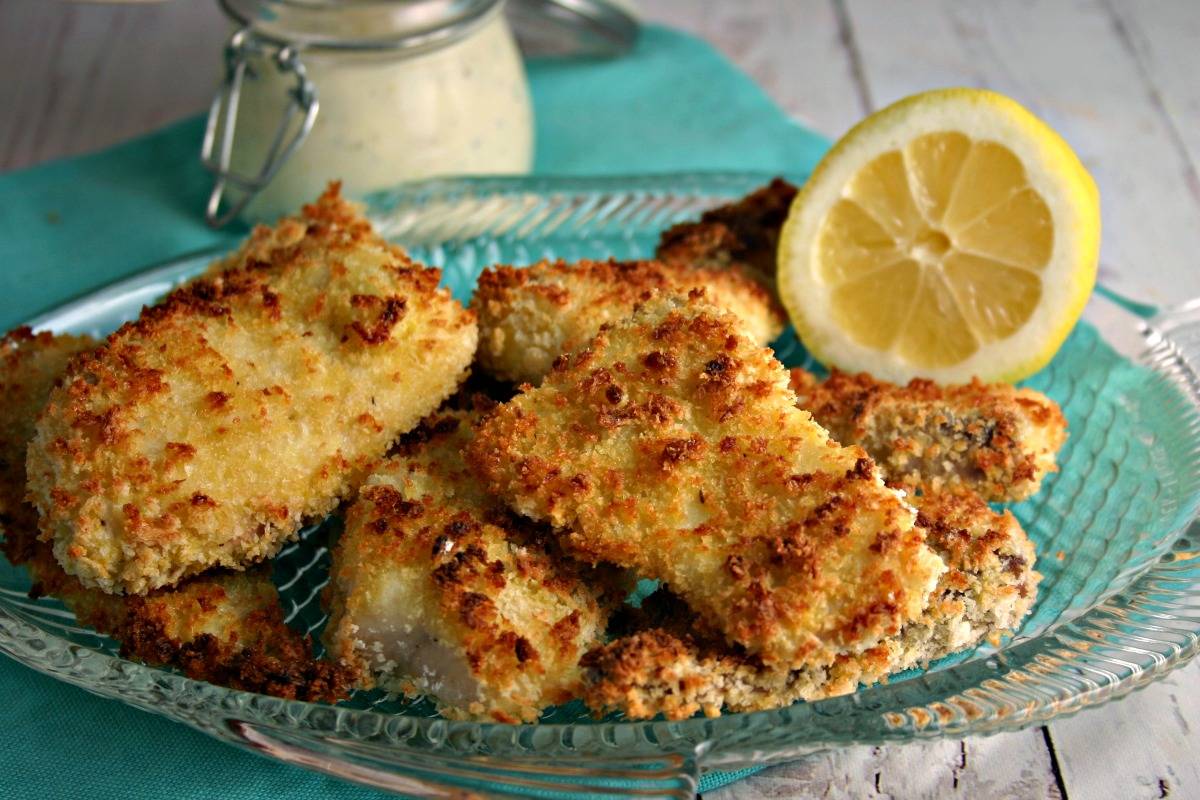 This healthier method for cooking fish gives you the crunch that comes from deep frying without the added calories. To serve, squeeze a fresh lemon on top or sprinkle with malt vinegar for "fish and chips" style. Our favorite way to serve this dish is with tartar sauce. I've started experimenting with making my own tartar sauce since with only two people in our house a jar in our fridge never gets used up before the expiration date. By making my own, I can make enough for just one meal and avoid the waste.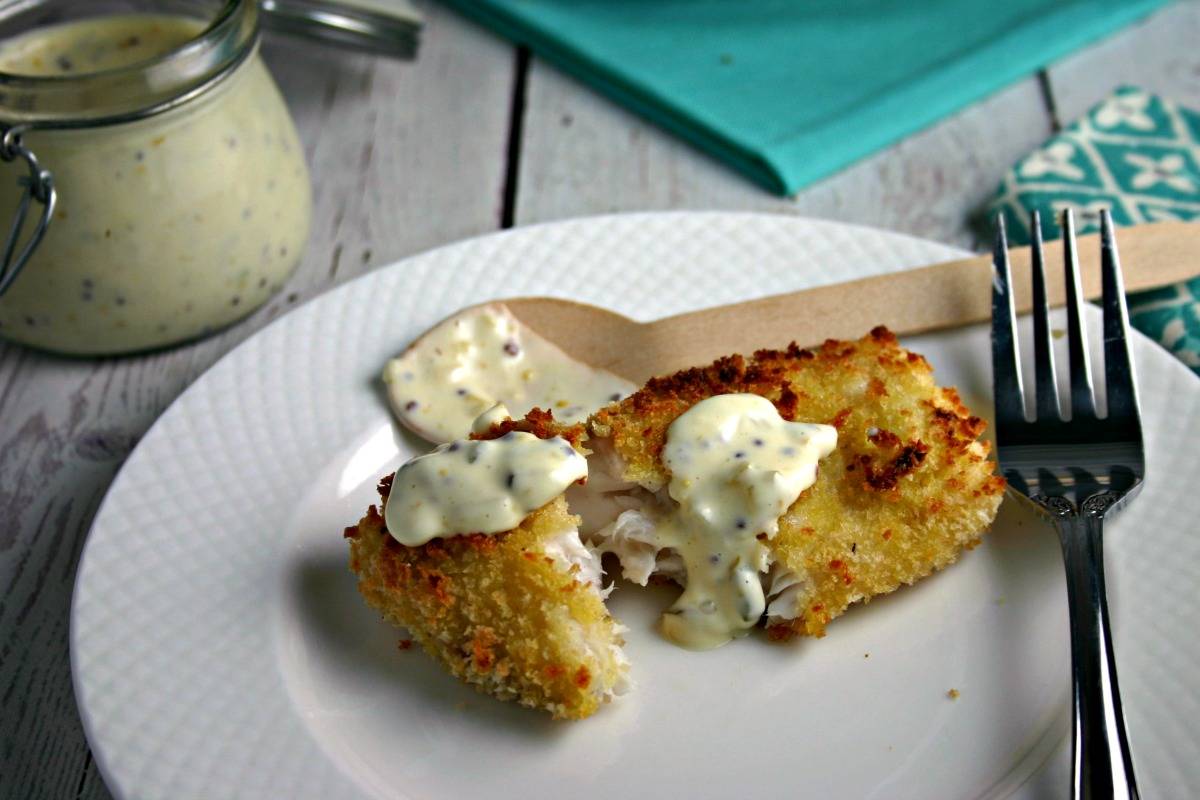 You've probably noticed that I've a fan of Trader Joe's whole grain Dijon mustard, so it shouldn't be a big surprise to learn that I sneaked a teaspoon of the stuff into my tartar sauce! I like to improvise when it comes to cooking, which basically means that I'm the queen of substituting ingredients to avoid making another trip to the grocery! Sometimes, like with this recipe, I discover a delicious combination. To the base of mayonnaise, I added a little sweet pickle relish, fresh lemon juice, a splash of hot sauce, and a teaspoon of the Dijon — simple and yummy!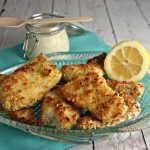 Crispy Oven-Fried Fish Filets
Ingredients
4

mild fish filets

like tilapia

2/3

cup

flour

1/2

teaspoon

salt

1/2

teaspoon

pepper

1-1/2

cup

panko bread crumbs

2

eggs

beaten

2

tablespoons

olive oil
Dijon Tartar Sauce
1/2

cup

mayonnaise

1/4

cup

sweet pickle relish

1

tablespoon

fresh lemon juice

1/4 - 1/2

teaspoon

hot sauce

1

teaspoon

whole grain Dijon mustard

Trader Joe's
Instructions
Preheat oven to 375 degrees. Line a baking sheet with parchment paper.

In a small bowl, combine all ingredients for the tartar sauce and refrigerate until ready to serve.

Cut filets into small pieces, if desired.

In a shallow dish, combine the flour, salt and pepper. In two more separate shallow dishes, place the beaten eggs and the panko bread crumbs.

To coat the fish, first dredge each piece in the flour mixture, then dip into the egg, and finally dredge in the panko, making sure the fish is coated on all sides. Place on the parchment lined baking sheet. Repeat this for each piece of fish.

Drizzle the tops of the breaded fish with the olive oil. Bake at 375 degrees for about 20 minutes, or until the fish flakes easily with a fork. If you desire a more golden brown crust, once done, increase the heat and place the fish under the broiler for a couple of minutes.