Ginger Molasses Cookies have been a Christmas baking tradition in our house for over twenty years. It just wouldn't seem like the holidays without baking up a batch.
Crispy on the outside and chewy on the inside, these shaped cookies spiced with ginger and cinnamon make a yummy treat that's not overly sweet.
Definitely a family favorite, Ginger Molasses Cookies are perfect for cookie swaps and gifting. They stay fresh for up to two weeks when sealed tightly. Early in December, our cookie jar gets filled up with ginger cookies.
I like to sneak a Ginger Molasses Cookie (or two) to enjoy with a cup of tea or hot cocoa as I wrap gifts—yummy holiday fun!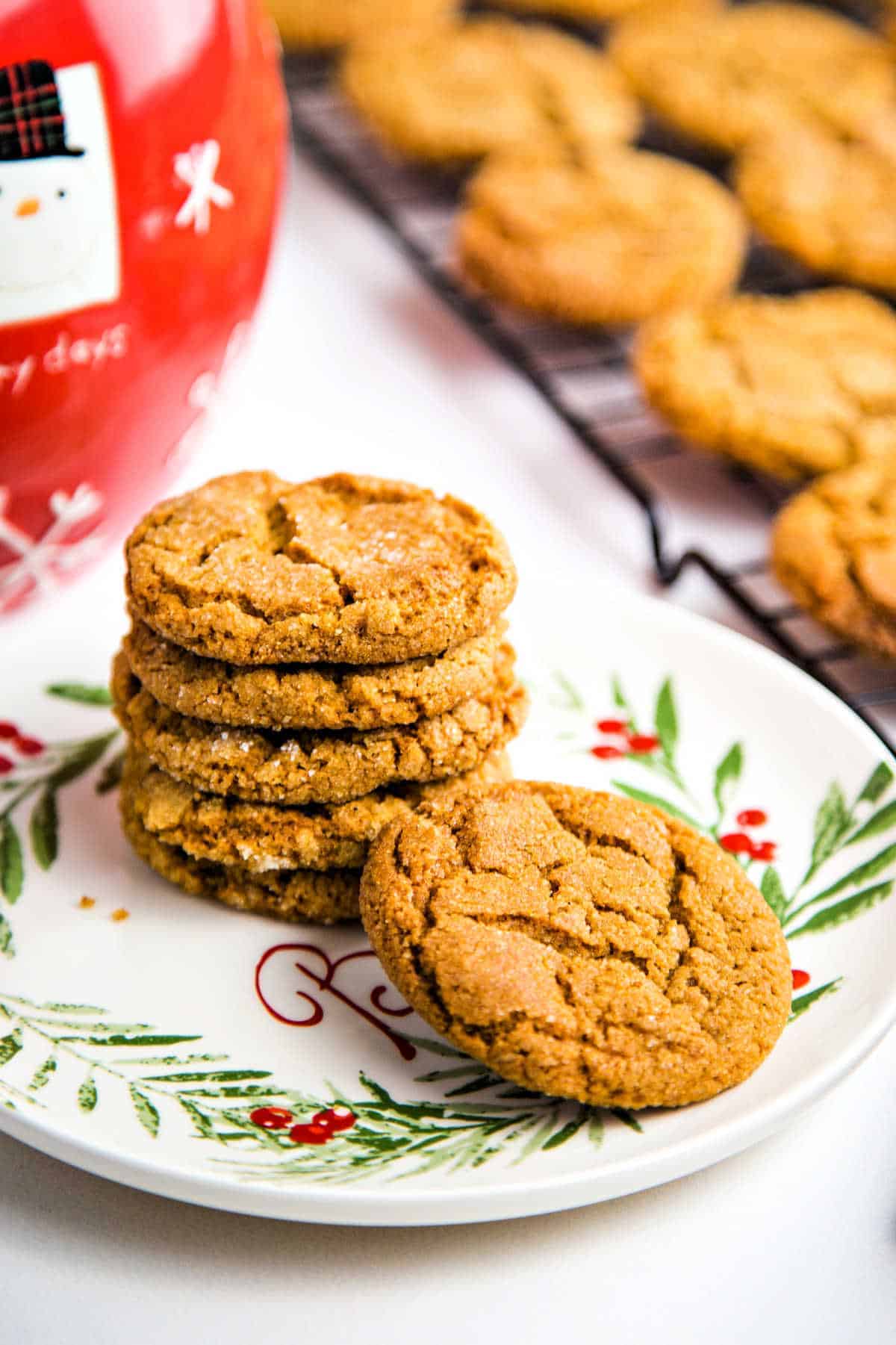 Ginger Molasses Cookies
I found the original recipe for ginger cookies in a Southern Living Christmas Cookies book way back in 1992.With two active little girls (ages two and four) at the time, I was looking for a cookie recipe that was simple to make with my young daughters.
This recipe looked just right. We stocked all the ingredients in our pantry and the dough didn't have to chill, which meant we could mix, roll, and bake the cookies in just one baking session.
Since then, making Ginger Molasses Cookies is one of my favorite family traditions. Over the years, the girls helped me make dough and roll it up into balls coated in sugar for baking.
As these cookies bake, the balls flatten and they end up with a crinkled texture that's slightly crisp on the outside while remaining chewy on the inside.
The aroma in the kitchen is like gingerbread baking—what could smell more like Christmas than that?! Also, be warned, these cookies are pretty irresistible hot out of the oven!
On a side note, we have a pretty funny video from one year that involved a mixing mishap. If I shared it with you the girls might not forgive me, but it might win a spot on that Funniest Home Videos show!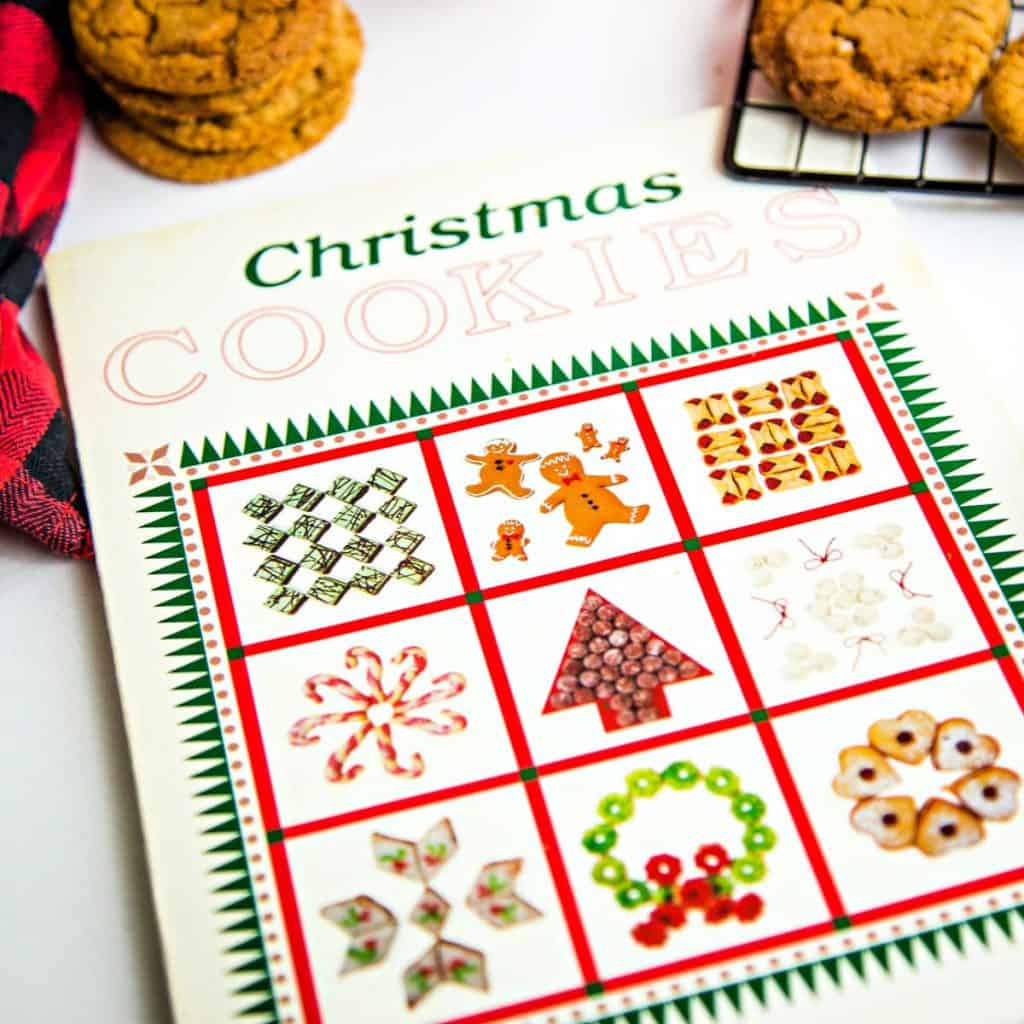 What kind of molasses do you use?
I prefer to use usulphured molasses like Grandma's brand. It has a good flavor, while blackstrap molasses can be overpowering.
What's the difference between Ginger Molasses Cookies, Gingerbread Cookies, and Ginger Snaps?
All three cookies contain ginger and molasses, but the key difference is the texture of the baked cookie:
Ginger Molasses Cookies are slightly crisp on the outside and remain chewy on the inside.
Ginger Snaps and Gingerbread Cookies are essentially the same except Ginger Snaps are baked longer to get a snappier and crisper texture.
Gingerbread Cookies are chewier than ginger snaps
'Tis the Sweetest Season!
Today's Ginger Molassses Cookies recipe is a part of a food blogger virtual cookie swap (The Sweetest Season) hosted by my friend Erin at TheSpeckledPalate. I participated last year with these Caramel Pecan Thumbprint Cookies.
If you're hosting a cookie swap, need a sweet treat to share at a holiday party, or just want homemade sweet treats for the holidays, here are some of my all-time favorite cookie recipes: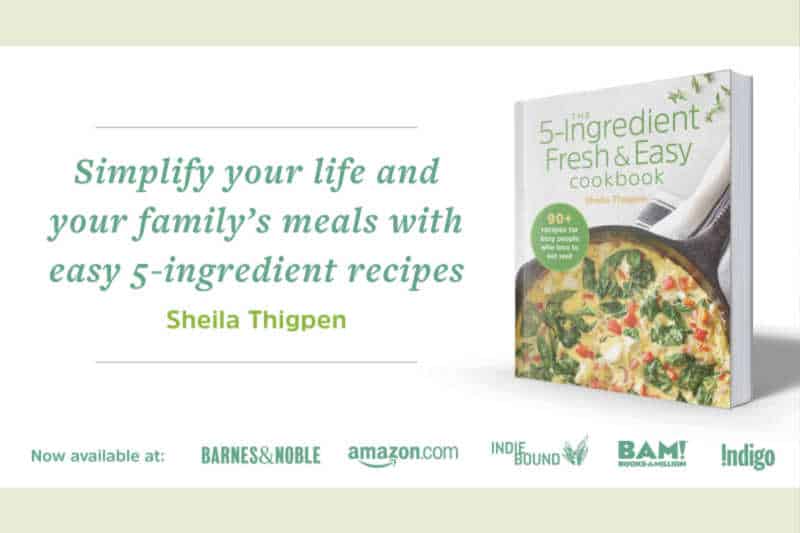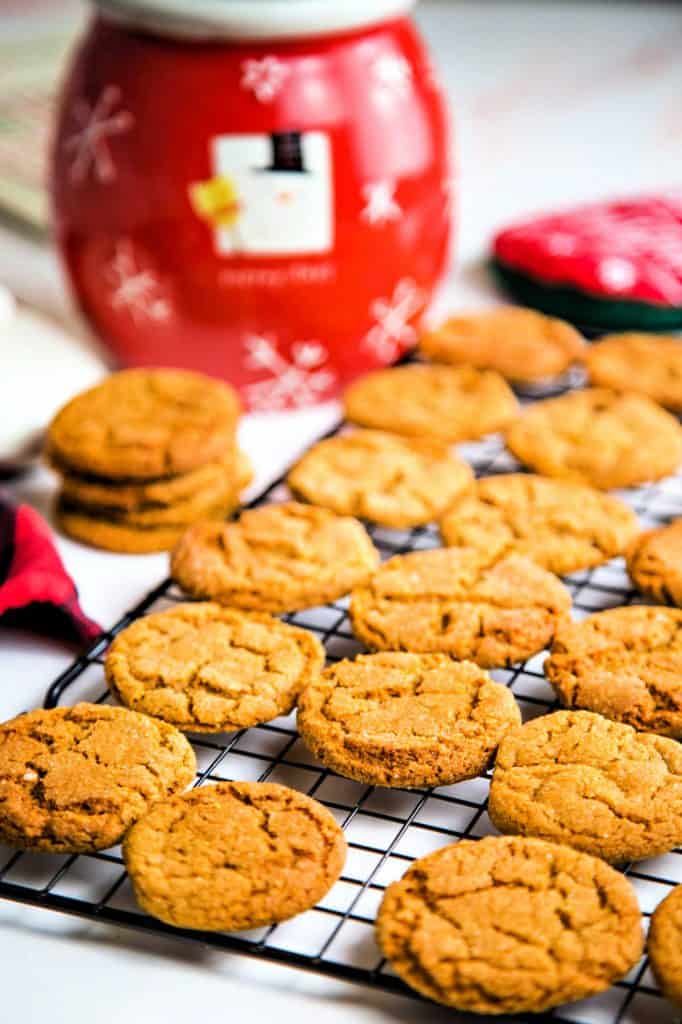 Ginger Molasses Cookies Recipe
This recipe makes about 4 dozen cookies when you roll the dough into 1-1/2 inch balls. This results in a chewy ginger cookie, not a crispy cookie like like ginger snaps.
If you like a smaller cookie, roll into 1-inch balls which will yield about 6 dozen.
Don't over bake the cookies as you want them to stay a little soft in the middle. Leave the cookies on the baking sheet for 5 minutes after you remove them from the oven. They will continue to firm up during this time.
Please share!
Your shares are how this site grows and I appreciate each one. Do you know someone who would enjoy this recipe? I'd love it if you would share it on Facebook or on your favorite Pinterest board!
This recipe was originally posted on December 2, 2013, and was updated on December 2, 2019.
Yield: 4 dozen
Ginger Molasses Cookies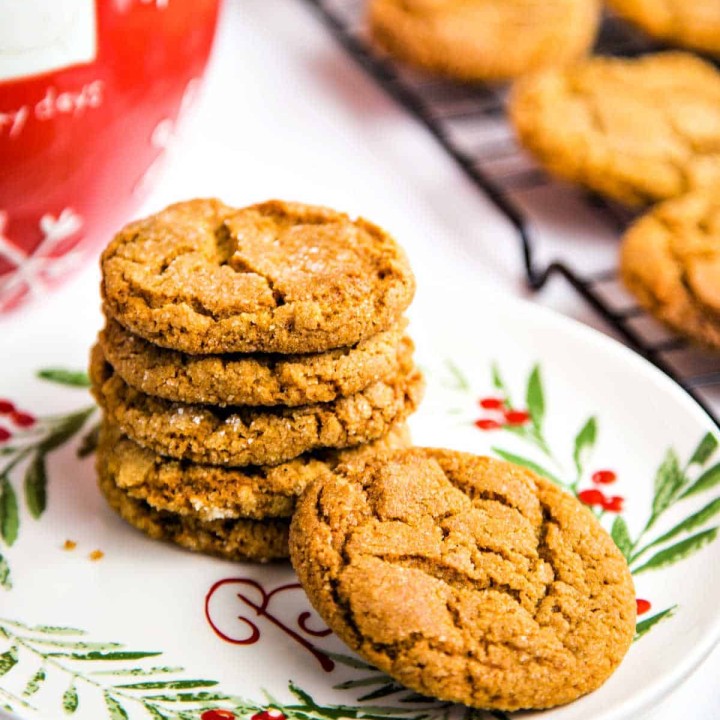 Crispy on the outside and chewy on the inside, these Ginger Molasses Cookies are spiced with ginger, cinnamon, and molasses for a tasty, homey treat that's not overly sweet.
Ingredients
3/4 cup vegetable shortening
1 cup sugar
1 egg
1/4 cup molasses
2 cups all-purpose flour
2 teaspoons baking soda
1/2 teaspoon salt
1 tablespoon ginger
1 teaspoon cinnamon
Additional sugar for rolling
Instructions
Preheat the oven to 350 degrees.
Using a handheld mixer or a stand mixer, cream the shortening. Gradually add the sugar, mixing until light and fluffy.
Add the egg and molasses and mix until well incorporated. Turn off the mixer.
In a large bowl, measure out the flour and whisk in the baking soda, salt, ginger, and cinnamon. Pour all at once into the creamed mixture. Turn the mixer on low and mix until the flour is incorporated.
Shape the dough into 1-1/2 inch balls and roll each ball in a bowl of sugar. Place the sugar coated dough balls about 2 inches apart on ungreased baking sheets.
Bake for 8 to 10 minutes. Cool on the baking sheets for 5 minutes before removing to wire racks to finish cooling.
Notes
Rinse your hands in cool water and don't dry them completely to make rolling the cookie dough easier. The water will help keep the dough from sticking to your hands. Repeat as necessary.
Don't over bake the cookies as you want them to stay a little soft in the middle. Leave the cookies on the baking sheet for 5 minutes after you remove them from the oven—they will continue to firm up during this time.
Store the cookies tightly sealed for up to two weeks.
Recommended Products
As an Amazon Associate and member of other affiliate programs, I earn from qualifying purchases.
Nutrition Information:
Yield:
48
Serving Size:
1 cookie
Amount Per Serving:
Calories:

71
Total Fat:

3g
Saturated Fat:

1g
Trans Fat:

0g
Unsaturated Fat:

2g
Cholesterol:

6mg
Sodium:

77mg
Carbohydrates:

10g
Fiber:

0g
Sugar:

6g
Protein:

1g
Did you make this recipe?
Please leave a comment on the blog or share a photo on Instagram
ABOUT SHEILA
Sheila Thigpen, author of Easy Chicken Cookbook and The 5-Ingredient Fresh and Easy Cookbook, is a recipe developer, food photographer, and food writer. She spent 20+ years as a business manager in the publishing industry before she retired in 2018 to focus on her passions — cooking, photography, and writing. Living near the beautiful Smoky Mountains, Sheila and her husband have two adult daughters and two fine sons-in-law, are active in their church, love to travel, and have a precious little granddaughter who has stolen their hearts. Follow Sheila on YouTube, Pinterest, Instagram, Facebook, and Twitter!