This post may contain affiliate links. Please read my disclosure policy.
No one ever needs to know this fresh baked focaccia starts with raw pizza dough from the grocery's deli!
With a beautiful golden crust and soft, billowy texture inside, serve olive focaccia warm from the oven as an appetizer with extra olive oil for dipping or alongside your favorite pasta or a bowl of soup!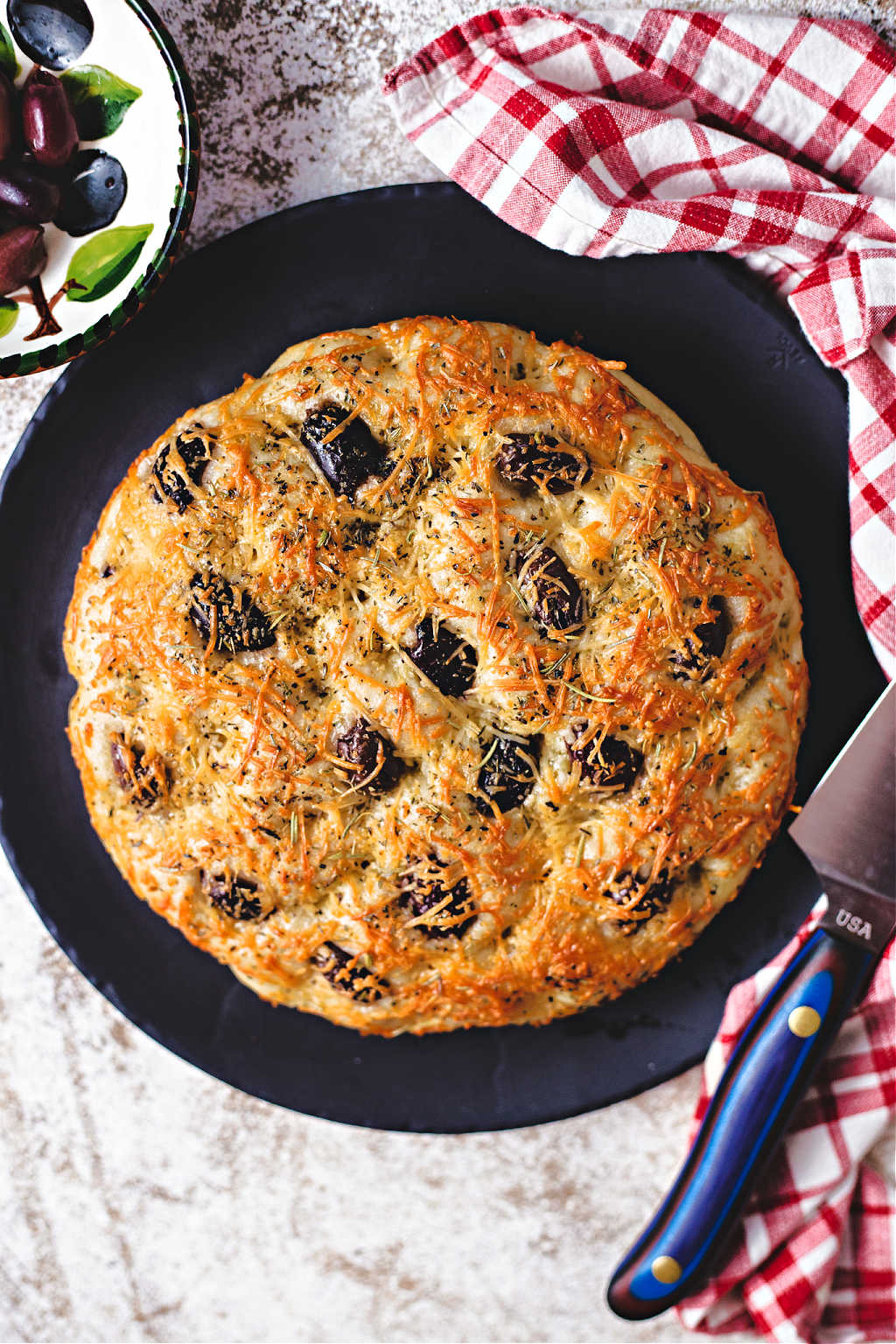 Baked with a generous coating of garlic-infused olive oil and studded with savory Kalamata olives, this bread looks amazing and tastes even better. Plus, it's super easy to prep and bake.
On the flip side, if you're into baking with dry yeast, you may wish to prepare this recipe using my homemade pizza dough made with bread flour instead.
Looking for more ways to use olives? Check out my healthy Greek coleslaw and my chopped kale salad. Or, you may enjoy a personal favorite, Mediterranean layer dip that features homemade white bean hummus, Kalamata olives, capers, and Feta cheese. So GOOD!
Why you're going to love it!
Bursting with flavor — Savory olives, spices, and cheese!
Easy recipe — Starts with store-bought pizza dough.
Versatile — Serve as an appetizer or as bread for your meal.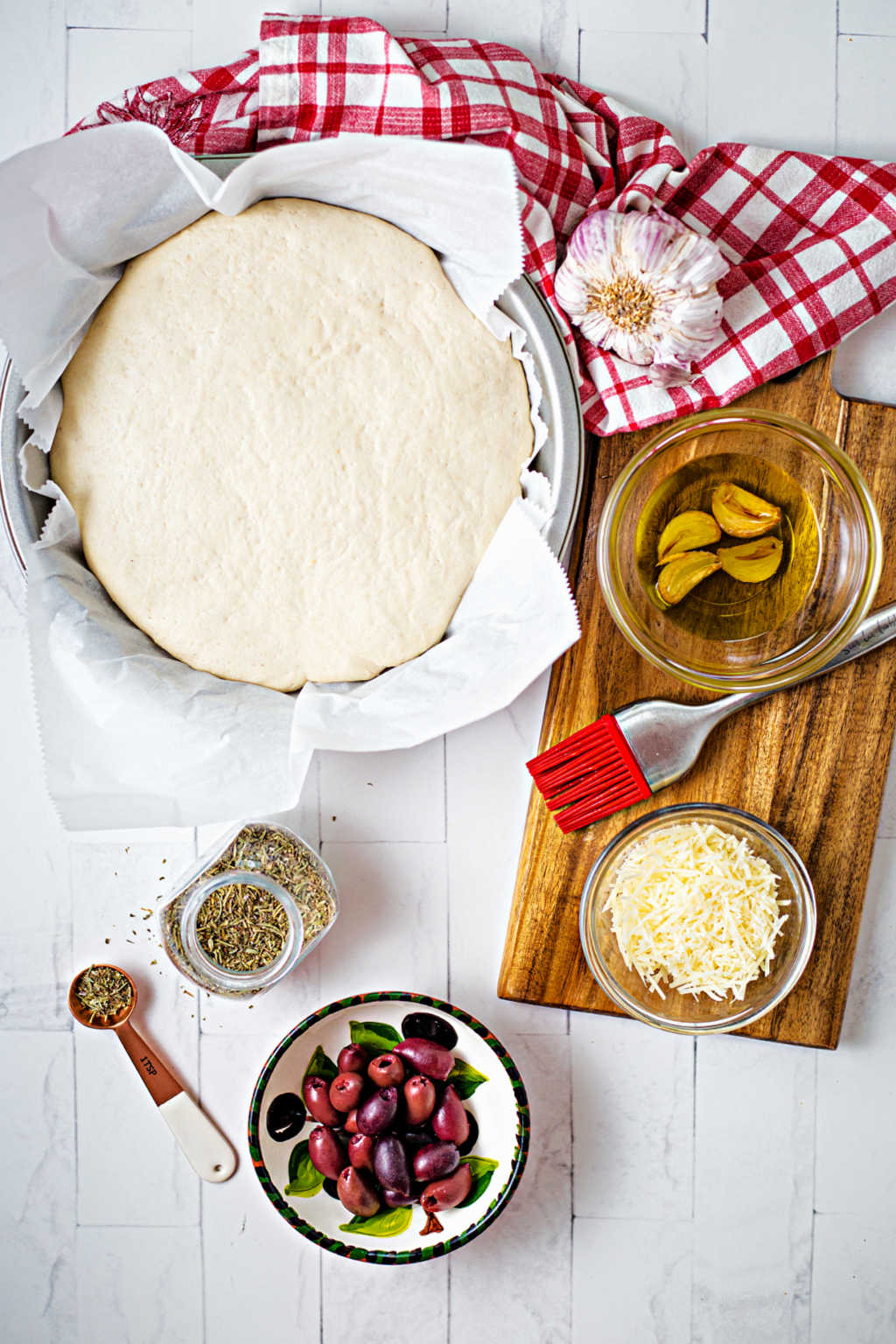 Key ingredients and substitutions
Pizza dough — Most grocery deli's or bread departments now offer fresh pizza dough. If there is an independent pizzeria in your area, you may check with them. In my area, a local place will sell a ball of raw dough and even dry yeast — you just have to ask.
Olives — This recipe can be made with any kind of pitted olives, but I prefer Kalamata olives for their intense flavor and meaty texture. Green or black olives will work, but the flavors will be different with each.
Extra virgin olive oil — Use a tablespoon of the oil to grease the pan, then simmer the rest for a few minutes with garlic cloves for a wonderful infused flavor.
Italian seasoning — A blend of dried spices is sprinkled on top, however you may use fresh rosemary instead.
tip
If you're planning to bake focaccia within an hour of bringing home the pizza dough, don't refrigerate it. Instead, allow it to come to room temperature before you remove it from the packaging. The pizza dough will be easier to spread into the pan.
How to make easy focaccia bread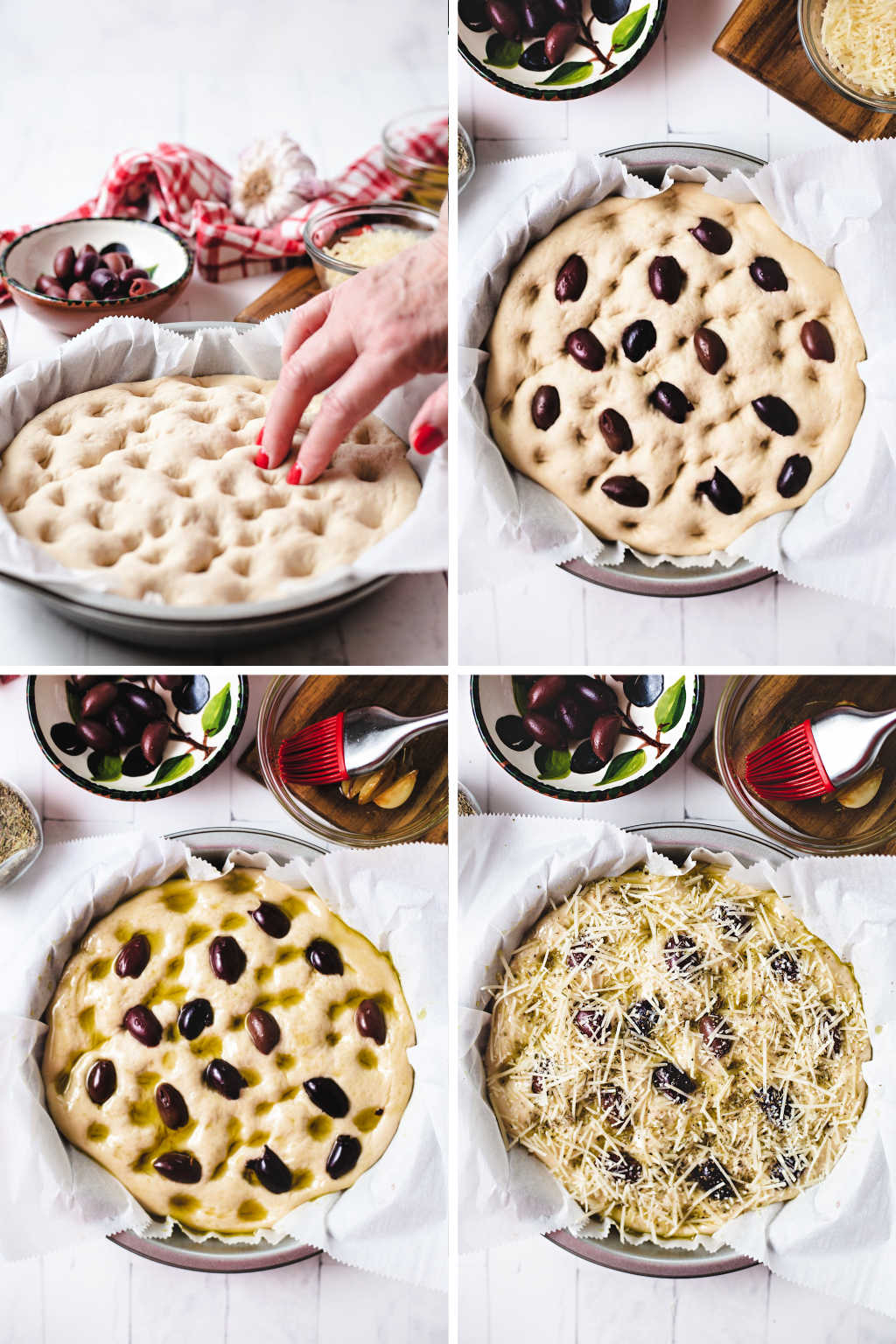 STEP 1 | Prep
You'll get the best results if you bake the focaccia in a non-stick cake pan — either a round or square pan will work.
Line the pan with a piece of parchment paper overlapping the sides. When the focaccia is ready, it will easily lift right out of the pan.
Sprinkle a tablespoon of cornmeal in the prepared pan for an interesting texture on the bottom of the crust.
Slice the olives in half and shred the Parmesan. If you are using fresh rosemary, remove the leaves from the stems. An herb stripper is very helpful for this task!
STEP 2 | Let the dough rest
With the store-bought dough you don't technically have to letting the dough rise, however you should let it rest in the pan for about a half hour so it is more pliable.
STEP 3 | Infuse the olive oil
While the dough rests, place the remaining olive oil in a small saucepan with halved garlic cloves over medium heat. Once it begins to simmer, remove from the heat and let cool until ready to use.
tip
If you plan to serve the bread as an appetizer, you may wish to infuse more olive oil to reserve as a dipping sauce.
STEP 4 | Press dimples and olives into the dough
So that the focaccia dough doesn't rise too quickly in the oven, gently press your fingers straight down into the dough to create dimples all over the top surface, but don't press all the way down to the bottom of the pan.
STEP 5 | Top with ingredients and bake
Press the olives into the dough cut side down and pour the infused olive oil all over the surface of the dough, allowing it to fill up the dimples.
Sprinkle with Italian seasoning, a few twists of freshly ground black pepper, and the Parmesan cheese.
When the focaccia comes out of the oven, you may also add a few pinches of flaky sea salt.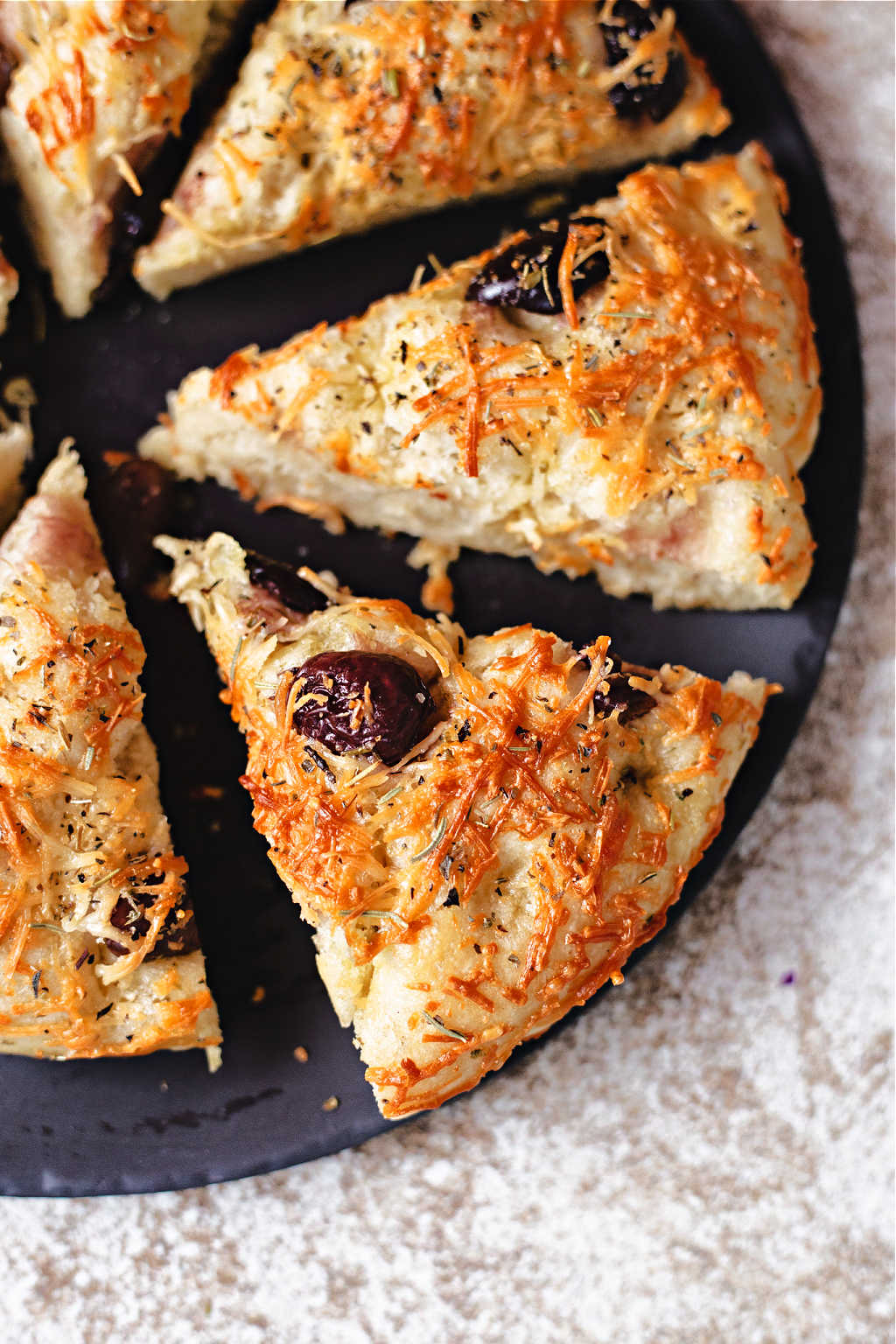 Frequently asked questions
Can you bake olive focaccia in a cast iron skillet?
Absolutely! If you do bake focaccia in a cast iron skillet, I suggest that you not use parchment paper in the bottom. Just oil and sprinkle with cornmeal, then continue with the recipe as directed.
Can I make this focaccia recipe without any olives?
If you don't care for olives, then by all means try this recipe without the olives. Bake it with just the herbs and Parmesan cheese or add thinly sliced tomatoes to the top before you pop it in the oven. Either way, you'll have delicious bread to serve with your meal!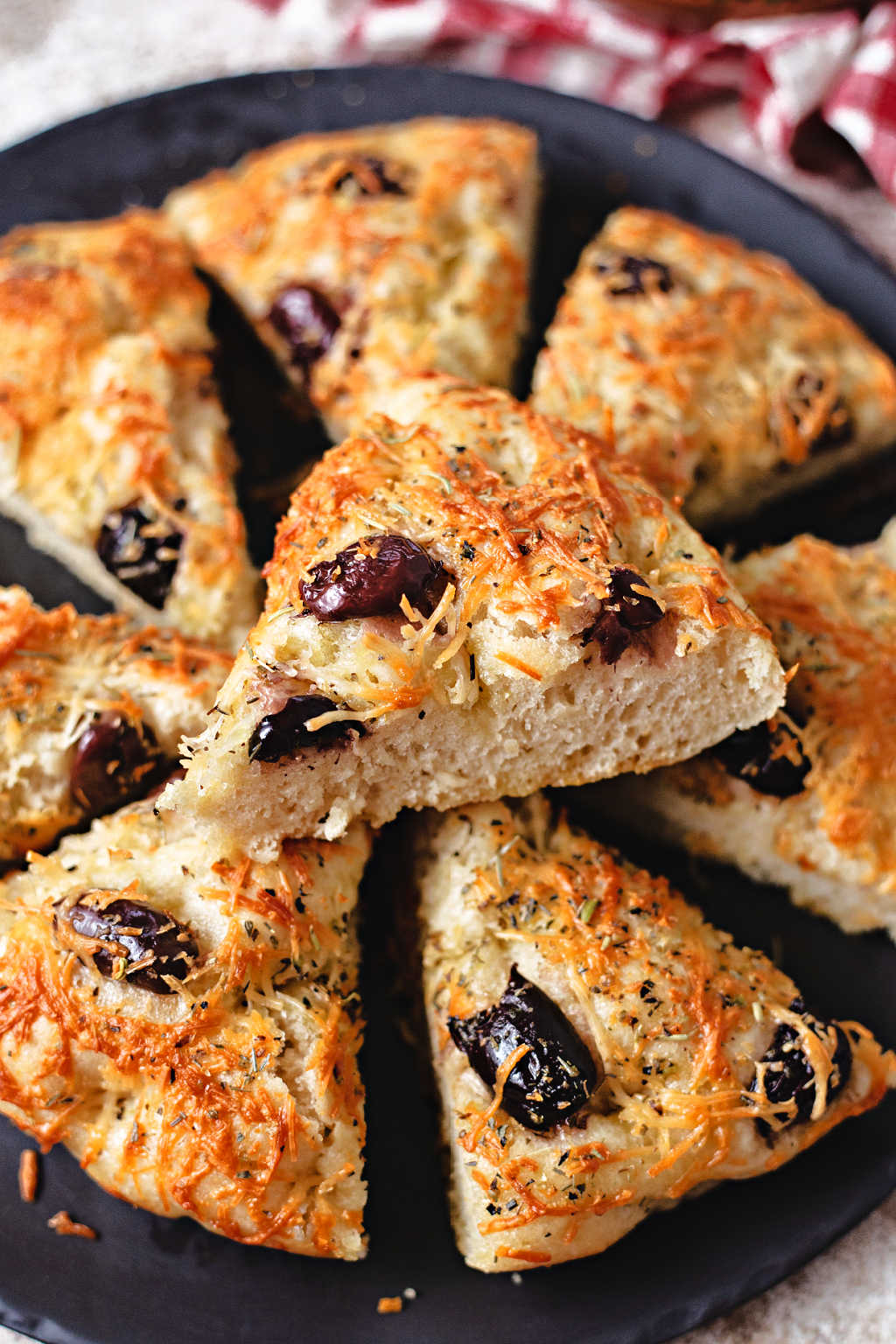 Olive Focaccia: behind the recipe
Until the last few years, my bread baking only consisted of making biscuits or cornbread — a true testament of my Southern roots! Although now I'm less intimidated by the idea of baking with yeast, I don't always have the extra time needed to bake bread totally from scratch.
One perk to today's focaccia bread recipe — which I first shared it over at The Weary Chef — is enjoying fresh baked bread in less time — no mixing, punching, or waiting for the dough to rise!
Please share!
Your shares are how this site grows, and I appreciate each one. Do you know someone who would enjoy this recipe? I'd love it if you would share it on Facebook or Pinterest!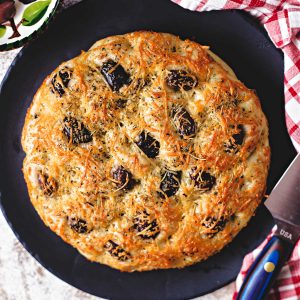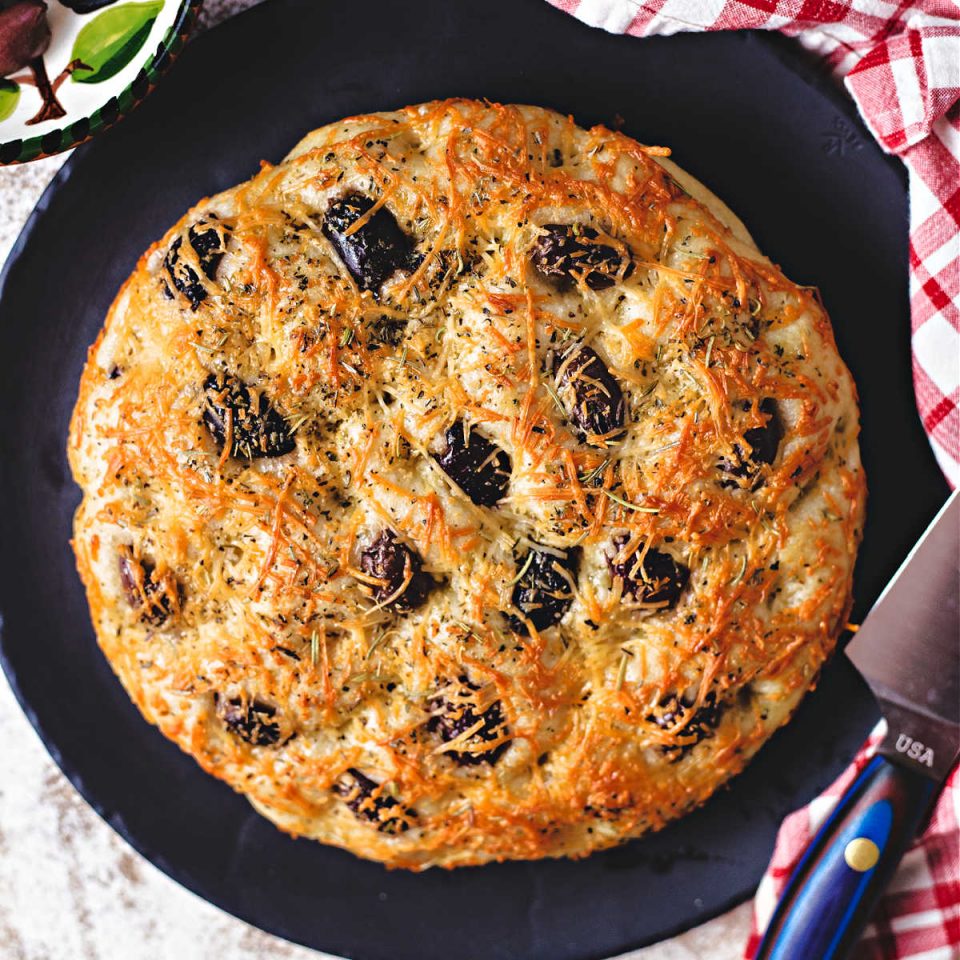 Greek Olive Focaccia Bread
With a beautiful golden crust and soft, billowy texture inside, serve olive focaccia warm from the oven with extra olive oil for dipping.
Ingredients
1

12-oz.

pizza dough (store-bought or homemade)

4

tablespoons

extra-virgin olive oil

divided

1

tablespoon

cornmeal

2

medium

garlic cloves

8 – 10

pitted Kalamata olives

sliced in half

1

teaspoon

Italian seasoning

1/4

cup

freshly grated Parmesan cheese
Instructions
Preheat the oven to 425 degrees.

In a round cake pan, brush a tablespoon of the olive oil over the bottom of the pan. Evenly sprinkle the cornmeal on top.

Place the fresh pizza dough in the prepared pan and gently press to the edges to cover the bottom of the pan. Cover the dough with plastic wrap and allow to rest for 30 minutes.

Meanwhile, in a small saucepan, heat the remaining olive oil and garlic cloves until the garlic becomes fragrant. Remove from heat and let marinate while the dough rests.

Remove the plastic wrap from the dough and gently dimple the dough with your fingers, making small holes in the top. Do not press all the way to the bottom of the pan!

Slice the olives in half and press the cut side into the top of the dough, spacing them out evenly. Sprinkle with Italian seasoning,

freshly ground black pepper

, and the Parmesan cheese.

Bake for 18 to 20 minutes or until the top is golden brown. Slice and serve immediately.
Notes
Serve with dipping oil, if desired.
Nutrition
Serving:
1
g
Calories:
377
kcal
Carbohydrates:
27
g
Protein:
8
g
Fat:
27
g
Saturated Fat:
9
g
Polyunsaturated Fat:
16
g
Cholesterol:
20
mg
Sodium:
626
mg
Fiber:
1
g
Life Love and Good Food does not claim to be a registered dietician or nutritionist. Nutritional information shared on this site is only an estimate. We recommend running the ingredients through an online nutritional calculator if you need to verify any information.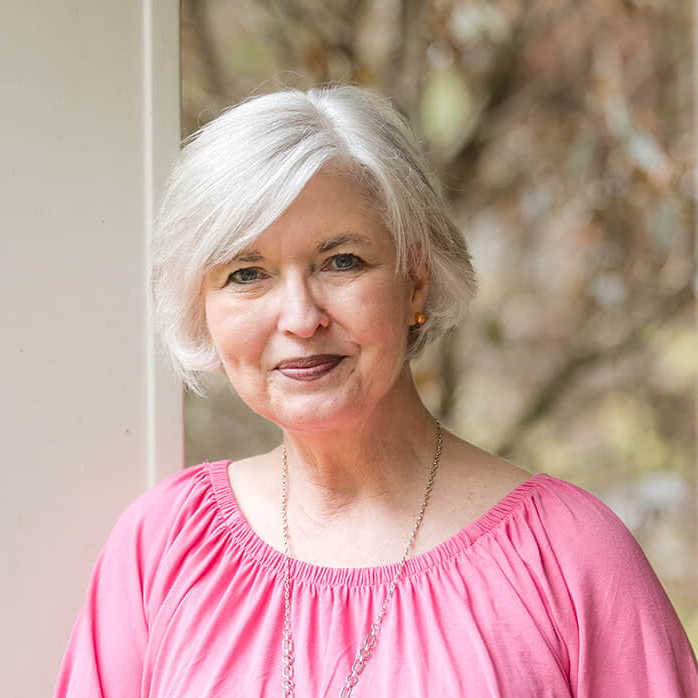 About Sheila Thigpen
Recipe Developer, Food Photographer, Food Writer
Sheila Thigpen is the publisher of Life, Love, and Good Food — a Southern food blog — and the author of Easy Chicken Cookbook and The 5-Ingredient Fresh and Easy Cookbook. After 20+ years in the publishing industry, she retired in 2018 to focus on her own creative endeavors full time. She and her husband live near the beautiful Smoky Mountains and have a precious little granddaughter who has stolen their hearts. As an influencer, Sheila has collaborated with brands like Creamette, Kroger, HERSHEY'S, Hamilton Beach, Garafalo Pasta, OXO, Smithfield, Valley Fig Growers, and more.