This post may contain affiliate links. Please read my disclosure policy.
The Insalata Della Casa is a refreshing chopped salad mix of iceberg and romaine lettuce, cool cucumber, juicy grape tomatoes, bold parmesan cheese, and savory bacon bits, all tossed with a homemade creamy Parmesan Ranch dressing!
One of my very favorite house salads is this brilliant Insalata Della Casa Recipe served at Bravo's Italian Restaurant. I was thrilled when I found a copycat recipe a few years ago!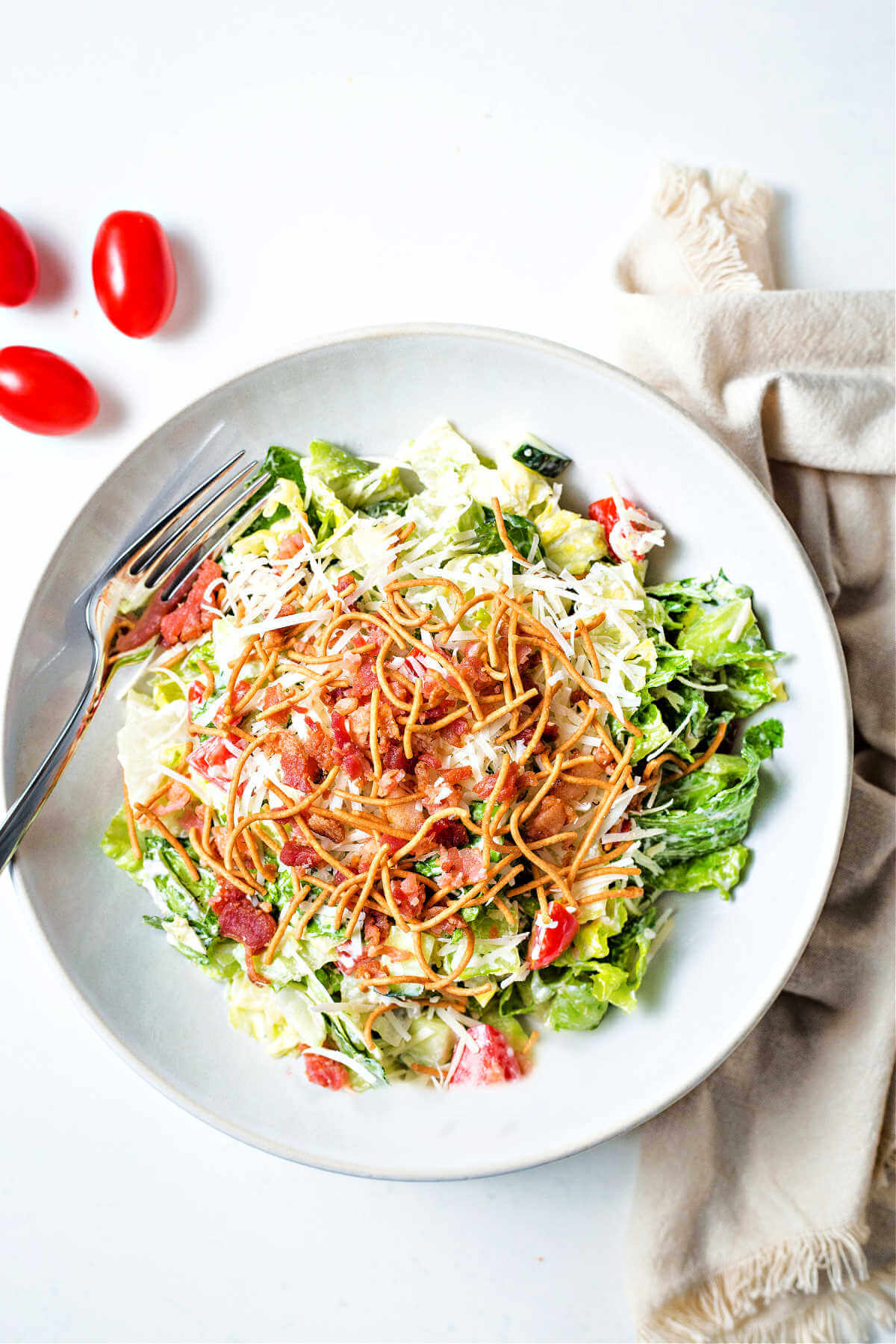 The secret ingredient? Chinese rice noodles! These thin and crispy noodles add just the right amount of crunch.
Bravo's salad has fried wonton strips, but I think these little noodles are a perfect substitute — right out of the can and no frying required!
The creamy homemade Parmesan Ranch dressing is one of the best I've tried. In a pinch, I will use a bottled Ranch dressing, but homemade is always better. You won't regret putting in the extra time, trust me!
For a classic Italian dinner, serve this yummy chopped salad with my Saucy Spaghetti and Meatballs — it doesn't get much more traditional than a creamy Italian salad and savory spaghetti.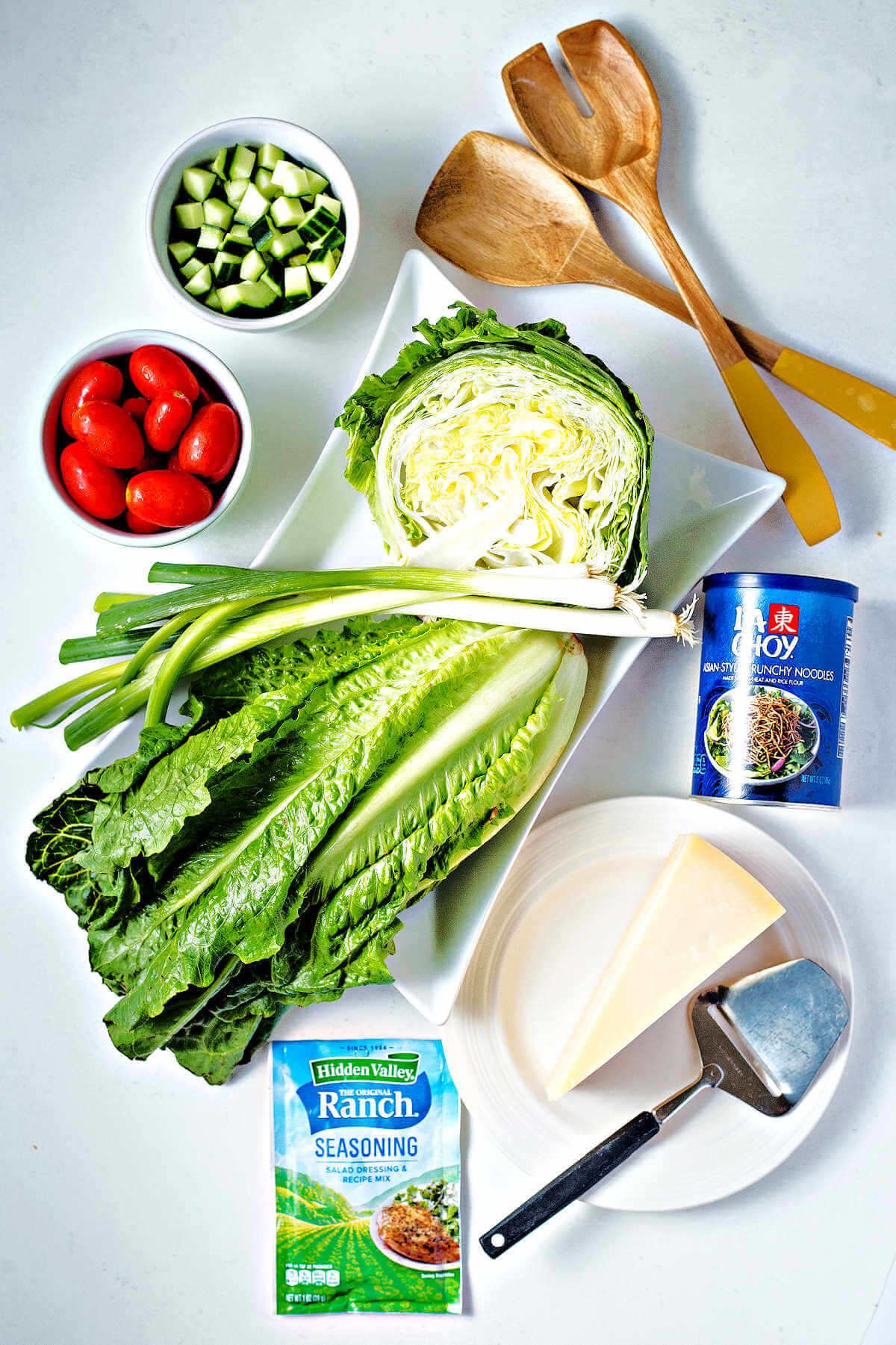 Key ingredients & substitutions for Insalata Della Casa Chopped Salad
Homemade Parmesan Ranch Dressing
Mayonnaise — The subtle lemony tang of mayonnaise is just what this homemade ranch needs to create a creamy base. Make the dish a bit healthier by opting for the light version.
Sour Cream — Fluffy sour cream is another way to make this dressing dreamy, though you can use Greek yogurt or light sour cream in its place.
Buttermilk — Acidic buttermilk thins the salad dressing to produce a delicate coating when tossed with the lettuce. You can use milk instead; however, you will lack the tang buttermilk brings to the recipe.
Ranch Salad Dressing Mix — A store-bought ranch dressing mix has all the seasonings you need to turn this homemade dressing into the real deal. You can also make your own dressing mix with parsley, dill, onion powder, chives, and a few more ingredients.
Red Wine Vinegar — Thin this creamy goodness out with the punchy and robust flavor of red wine vinegar. Good substitutions include white vinegar or rice vinegar.
Green Onions — Green onions lend themselves well to a chopped salad with a mild and herby taste. You can attain a similar effect with fresh chives.
Parmesan Cheese — Of course, sharp parmesan cheese is a must. If you have to swap it for any other option, try another cheese with rich flavor, like asiago.
Dried Chives — Further adding to the garden-herb flavors of this homemade ranch, dried chives are subtle. You may use fresh chives. Just be sure to reduce the amount.
Black Pepper — Top it all off with a pinch of black pepper. Kick up the heat with a dash of cayenne. If you prefer more peppery notes, use peppercorns instead.
Chopped Salad
Lettuce — The Insalata Della Casa recipe calls for a mix of iceberg and romaine lettuce, but any kind of lettuce you enjoy will work just as well.
Cucumber — Pick out a medium cucumber with no soft spots and a beautiful dark green skin. If you notice any yellow blotches, the cucumber is probably too ripe for the fresh, crunchy texture you are looking for.
Grape Tomatoes — Juicy grape tomatoes give this unique dish a pop of color. Rich and sweet grape tomatoes work best for this Italian salad, but they can be swapped for cherry tomatoes if you prefer.
Bacon Bits — Make your job easier by getting some high-quality bacon bits from the store. Or you can always fry up some sizzling bacon for a more authentic taste.
Parmesan Cheese — To really bring out the Italian roots of this salad, choose an Italian-made parmesan cheese. Take a shortcut by picking pre-shredded cheese or grate a wedge for a fresher flavor.
Fried Rice Noodles — The secret ingredient is crunchy fried rice noodles! YUM!
How to make Italian chopped salad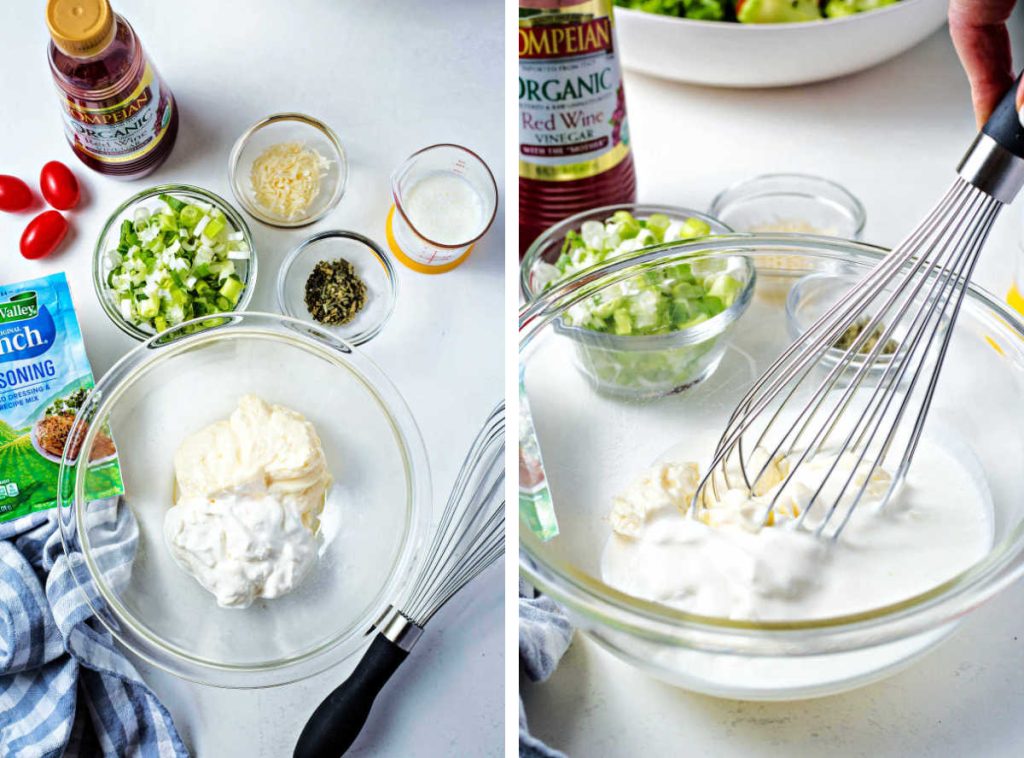 STEP 1 | Start with the dressing
Wash and chop your green onions into small pieces. Combine the correct amounts of mayo, sour cream, buttermilk, and red wine vinegar in a mixing bowl or dressing bottle. Whisk just until all the liquid ingredients are combined.
Add in the Ranch dressing packet and the remainder of the ingredients. Then, place the container in the refrigerator overnight. As it sits, the flavors will infuse the dressing, so each bite is as creamy good as the next.
tip
This creamy parmesan ranch dressing can be made right before serving the salad. However, allowing it to sit in the refrigerator for a night or two gives the flavors time to meld together, making a big difference in the final product.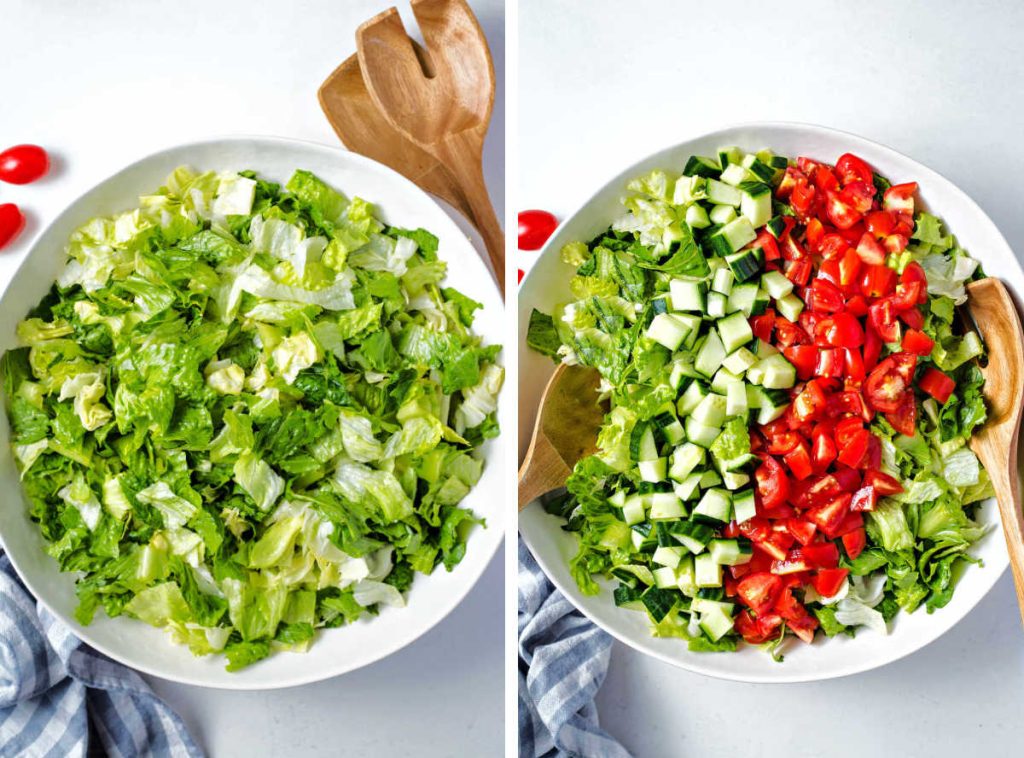 STEP 2 | Chop the veggies
The next day, start creating this classic Italian house salad by chopping up the lettuce, cucumber, and tomato. I recommend cutting the veggies into small pieces to attain the chopped salad texture, so the ingredients all mix well.
However, the flavors will turn out just as delicious if you prefer your veggies in larger chunks.
Place these key ingredients in the refrigerator to chill before you are ready to toss the salad together. Just look at those Italian colors and crisp veggies!
STEP 3 | Assemble and serve
When you are ready to plate this refreshing copycat salad, combine all the ingredients, including your veggies, parmesan cheese, bacon bits, and homemade ranch dressing. Lightly toss them until they are mixed well and the dressing is distributed throughout.
Grab some salad plates or bowls from your cabinet and tower the Insalata Della Casa in the center. Finally, top it all off with additional parmesan cheese, more bacon bits, and crunchy rice noodles.
tips
Place your salad bowls or plates into the refrigerator for a few hours to chill, as well. The cool serving dish will bring an extra elegant feel to your experience and keep the salad cold.
The best ratio for your iceberg and romaine lettuce mix is 60:40.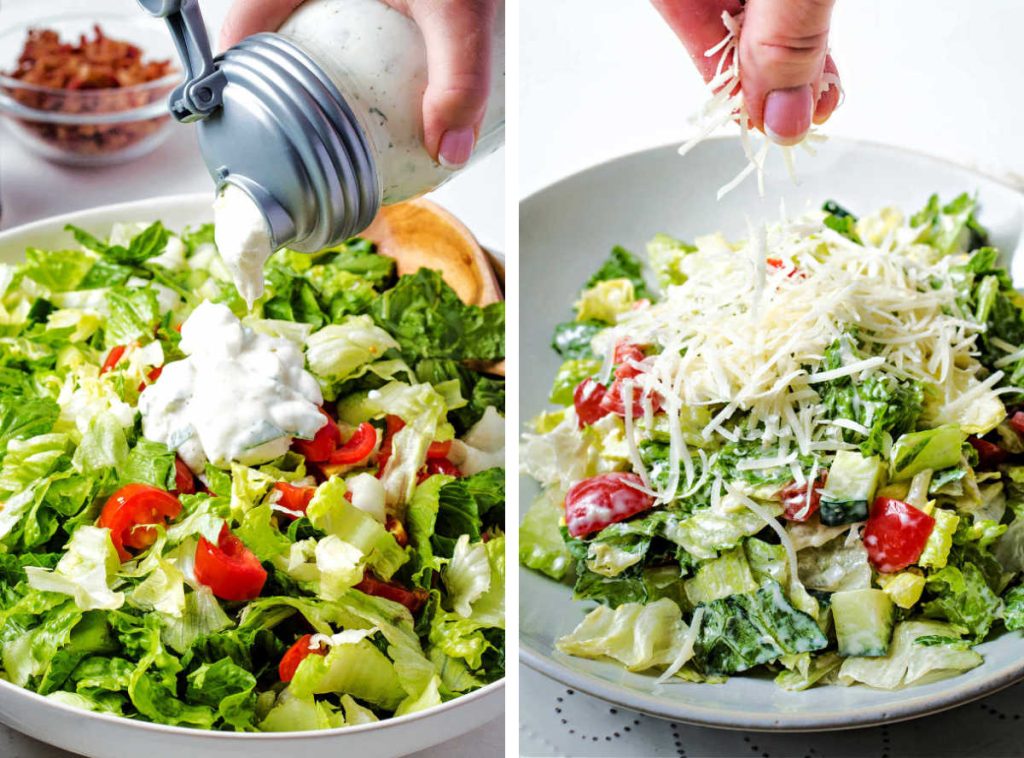 Another reason why I absolutely adore this recipe is because of its versatility. It's a beautiful and classic side salad for a formal dinner party with coworkers, neighbors, and friends.
But it's also the perfect mid-day meal for a busy mom or active student, especially because most ingredients can be prepared ahead of time.
You can even pack the salad into a sealed container separate from the dressing and toss the two into a cooler for your next summer picnic lunch!
Frequently asked questions
Is this Italian chopped salad served best as a side dish or main entree?
What makes this house salad especially great is how it can be both a side dish and an entire meal on its own. Keep it as it is for a refreshing and crunchy side salad. Or add protein, like grilled or blackened chicken or shrimp — YUM.
Are there other salad toppings that work well with this recipe?
Absolutely! Salads are perfect for making minor adjustments here and there and adding what really tickles your taste buds. If you prefer, swap the crispy rice noodles for extra crunchy Italian-seasoned croutons. You can also add some chopped red onions, shredded carrots, and olives.
How do you make homemade buttermilk?
Buttermilk isn't the most common ingredient to have stored in the fridge at all times. Luckily, if you forget to add it to your shopping list, there is a simple way to create buttermilk from scratch using what you have on hand. 

To make 1 cup of buttermilk, you can either mix regular milk with white vinegar or lemon juice. For both vinegar and lemon juice, you just need 1 tablespoon of either and enough milk to measure 1 cup in total. Stir the ingredients and allow the mixture to sit for about 5 minutes.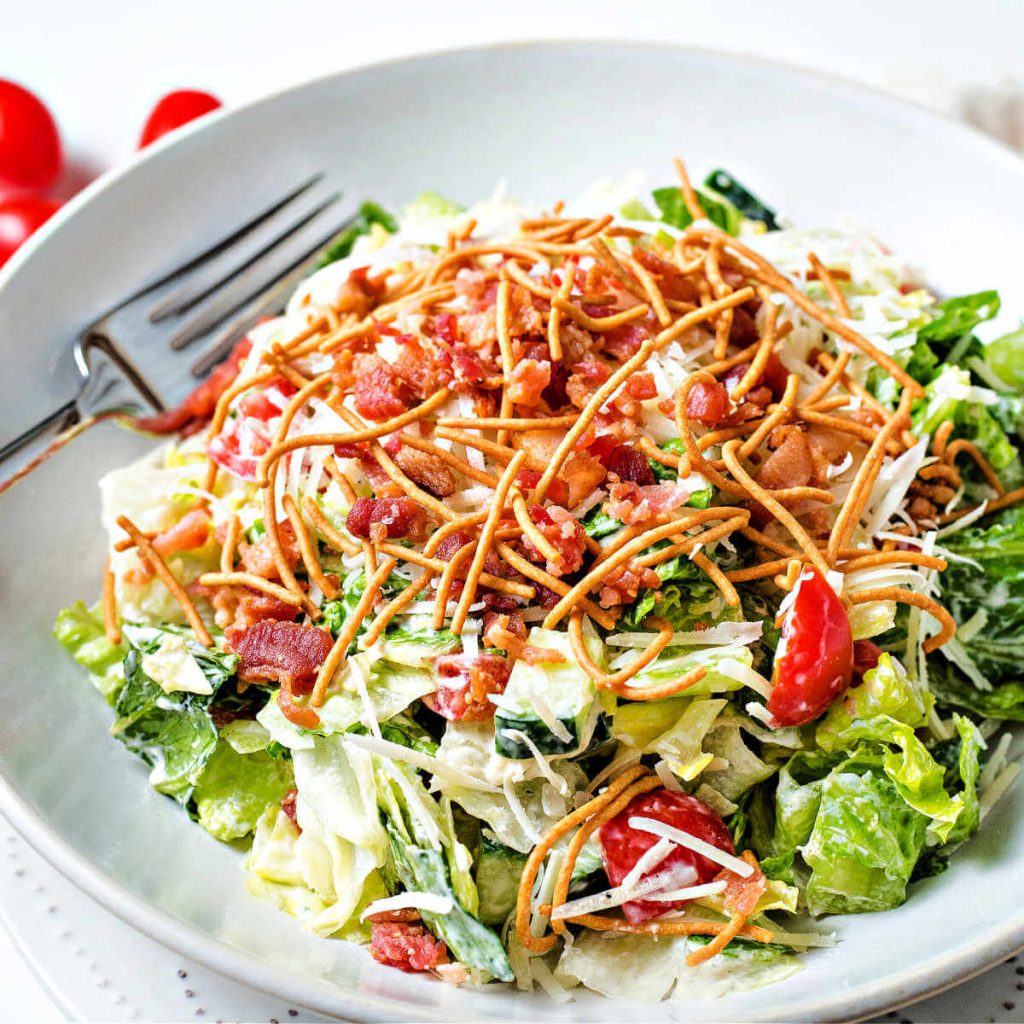 Serving suggestions
Truly, this Bravo's Chopped Salad is an excellent side to serve with many different soups, like a comforting Sausage Tortellini Soup, or another irresistible copycat recipe, the Olive Garden Zuppa Toscana Soup.
This salad also pairs well with Nikki's Pasta e Fagioli Soup recipe — it's a perfect soup and salad combo for a quick summer lunch.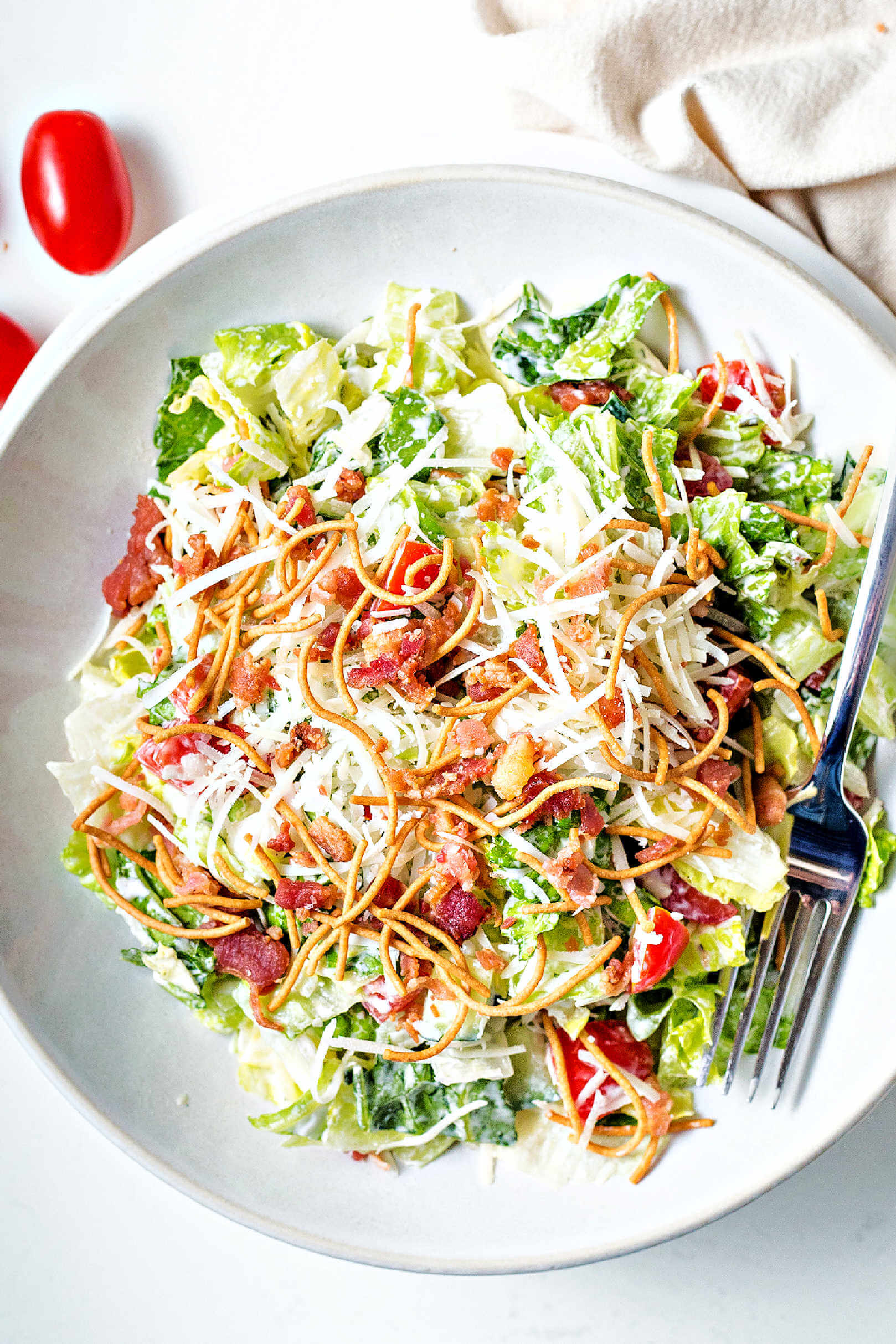 Behind the recipe: Copycat Bravo's chopped salad
The chopped salad became a raving trend — almost by mistake. There were probably chopped-up salads preceding the one famous salad that gained popularity.
However, the story credits a hit 1950s Italian Restaurant in Beverly Hills, La Scala. Here, Jean Leon served many of his celebrity friends, including Marilyn Monroe and Natalie Wood.
The chopped salad was born when guests complained about the gourmet salad being far too messy to enjoy in their evening gowns and tuxedos. The staff decided to try chopping up the fresh ingredients to cater to the wants and needs of their valued customers.
Suddenly, the chopped salad was craved by celebrities and repeat guests of all kinds! This new take on their already-adored gourmet salad made it, so every bite held a perfect blend of all their favorite ingredients. Thus, the chopped salad trend spread like wildfire and is still a hit today!
Please share!
Your shares are how this site grows, and I appreciate each one. Do you know someone who would enjoy this recipe? I'd love it if you would share it on Facebook or Pinterest!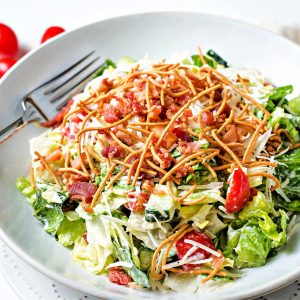 Insalata Della Casa
Bravo's signature copycat recipe with a creamy homemade Parmesan Ranch dressing with tangy buttermilk.
Ingredients
Dressing Ingredients
3/4

cup

light mayonnaise

1/4

cup

light sour cream

1/3

cup

buttermilk

2 1/4

teaspoon

red wine vinegar

1

oz.

packet ranch salad dressing mix

3

green onions

diced

1

tablespoon

grated Parmesan cheese

1

teaspoon

dried chives

1/4

teaspoon

black pepper
Salad Ingredients
1/2

head

iceberg lettuce

diced

1

heart of romaine

diced

1

medium

cucumber

seeded and diced

1

8-oz.. pkg.

grape tomatoes

diced

Bacon bits

Parmesan cheese blend

1

can

fried rice noodles
Instructions
In a medium bowl, whisk together the mayonnaise, sour cream, buttermilk, and red wine vinegar until smooth.

Sprinkle the ranch dressing mix on top and whisk until combined. Stir in the diced green onions, Parmesan cheese, chives, and pepper. Cover and refrigerate overnight.

Just before serving, in a large bowl toss together the iceberg, romaine, cucumber, tomato, and 1 tablespoon Parmesan cheese. Pour all of the dressing on top and gently toss until all the ingredients are coated.

To serve, tower the mixture on the center of cold salad plates. Top each salad with additional Parmesan cheese, bacon bits, and rice noodles.
Notes
Original recipe found on Tastebook.com
Nutrition
Serving:
1
g
Calories:
149
kcal
Carbohydrates:
15
g
Protein:
4
g
Fat:
9
g
Saturated Fat:
2
g
Polyunsaturated Fat:
6
g
Cholesterol:
9
mg
Sodium:
298
mg
Fiber:
3
g
Sugar:
4
g
Life Love and Good Food does not claim to be a registered dietician or nutritionist. Nutritional information shared on this site is only an estimate. We recommend running the ingredients through an online nutritional calculator if you need to verify any information.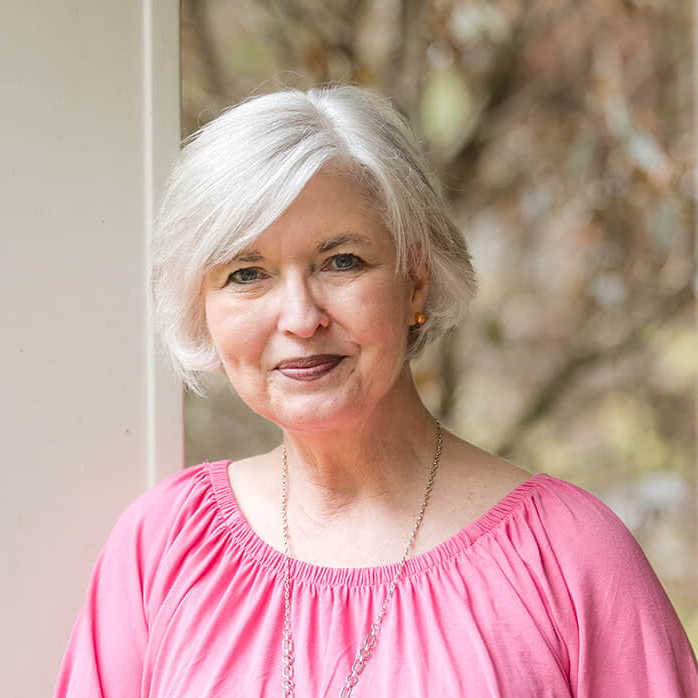 About Sheila Thigpen
Recipe Developer, Food Photographer, Food Writer
Sheila Thigpen is the publisher of Life, Love, and Good Food — a Southern food blog — and the author of Easy Chicken Cookbook and The 5-Ingredient Fresh and Easy Cookbook. After 20+ years in the publishing industry, she retired in 2018 to focus on her own creative endeavors full time. She and her husband live near the beautiful Smoky Mountains and have a precious little granddaughter who has stolen their hearts. As an influencer, Sheila has collaborated with brands like Creamette, Kroger, HERSHEY'S, Hamilton Beach, Garafalo Pasta, OXO, Smithfield, Valley Fig Growers, and more.