This post may contain affiliate links. Please read my disclosure policy.
Weekend mornings call for a little indulgence, and that's precisely what these Lemon Ricotta Pancakes deliver — every bite is airy, creamy, and just heavenly, with a kick of citrus! Ricotta cheese and fresh lemon zest combine for a melt-in-your-mouth delicious breakfast treat!
The texture of Lemon Poppy Seed Ricotta Pancakes is exceptionally light and fluffy, literally melting as it touches your tongue!
I adapted the original Four Seasons Hotel recipe by adding poppy seeds to the batter, which worked well in this dish, bringing a nutty flavor and a bit of crunch.
These decadent lemon pancakes also have a delightful burst of lemon flavor, which nicely pairs with the creamy and sweet notes. This pancake recipe is definitely brunch worthy!
Better yet, you can enjoy a stack of lemon poppy seed ricotta pancakes for dessert with a scoop of vanilla bean ice cream melting on the warm pancake fresh from the griddle — what better way to celebrate National Pancake Week? YUM!
Looking for more delicious pancake recipes? I've got you covered with incredible pancake recipes for every day of the week!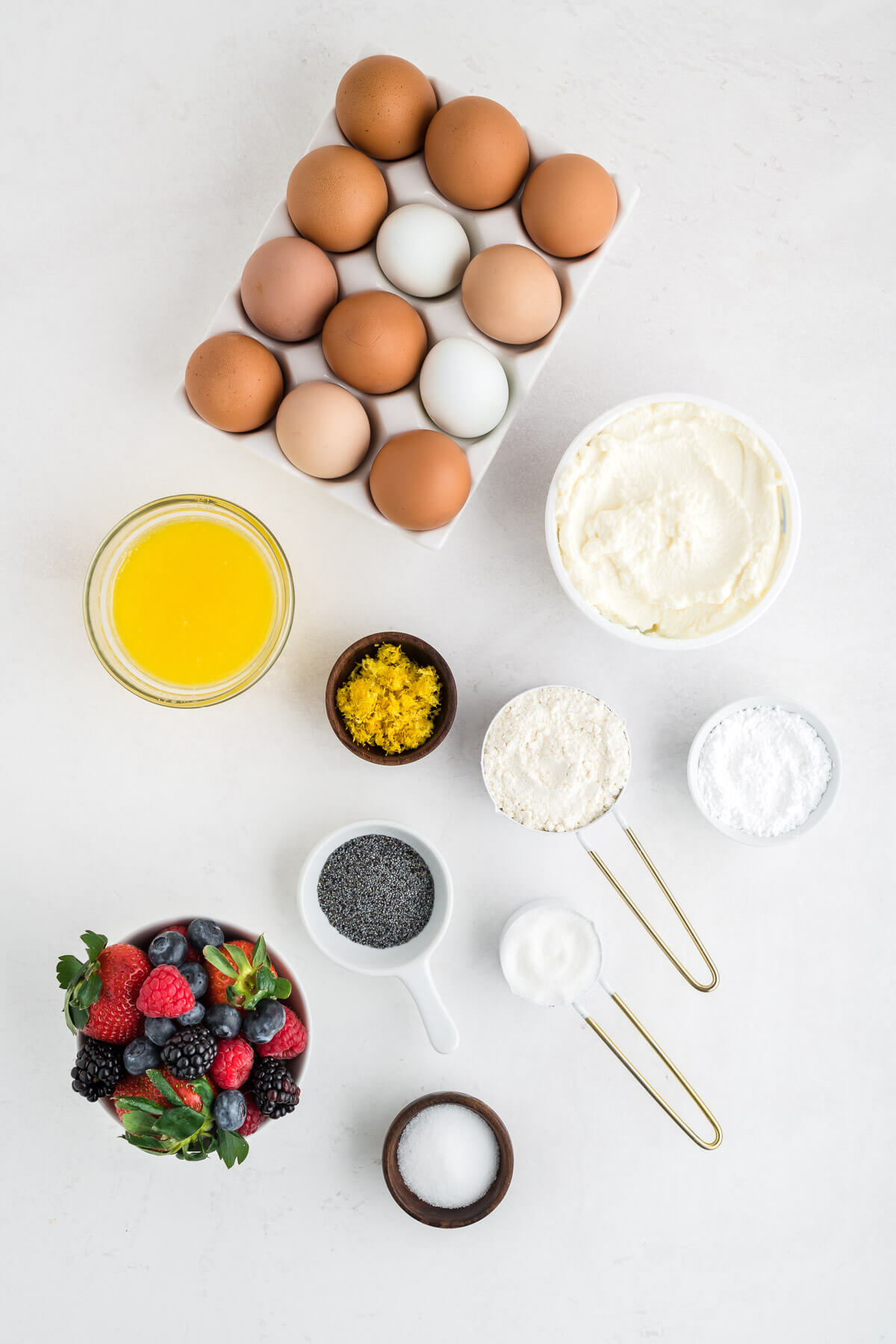 Key ingredients & substitutions for Lemon Ricotta Poppy Seed Pancakes
Eggs | Separate the egg whites and yolks of six large eggs. The whipped whites will add a fluffy texture to the pancakes, while the yolks lend a rich taste.
Ricotta cheese | The secret to these divine pancakes is the ricotta cheese added to the batter. It makes the pancakes creamy with that melt-in-your-mouth texture!
Butter | Add cooled melted butter to the pancake batter for tasty buttery bites.
Flour | Use all-purpose flour to bring structure and a bland base to hold all the incredible flavors. Avoid using other variations of flour, if possible. All-purpose flour is best for achieving a fluffy and cakey texture.
Poppy seeds | Give your gourmet pancakes a rich nutty flavor and a subtle crunch by incorporating poppy seeds in the batter.
Sugar | Of course, you'll need granulated sugar to bring sweetness to this lemony pancake recipe.
Salt | Just a pinch of salt will help to enhance the primary flavors in your pancakes by contrasting the sugary, creamy, and citrus notes.
Lemon zest | All you need is some freshly grated lemon zest to make these pancakes come to life with a refreshing citrus flavor! Add fresh lemon juice or curd for a more robust lemon taste.
Garnish | If desired, top your warm pancakes with sweet powdered sugar and fresh berries. And don't forget about the classic maple syrup!
How to make Tasty Lemon Ricotta Pancakes
Make not-so-ordinary breakfast pancakes with poppy seeds, lemon, and — the secret ingredient — creamy ricotta cheese. Let's dive right into this delicious and EASY breakfast recipe!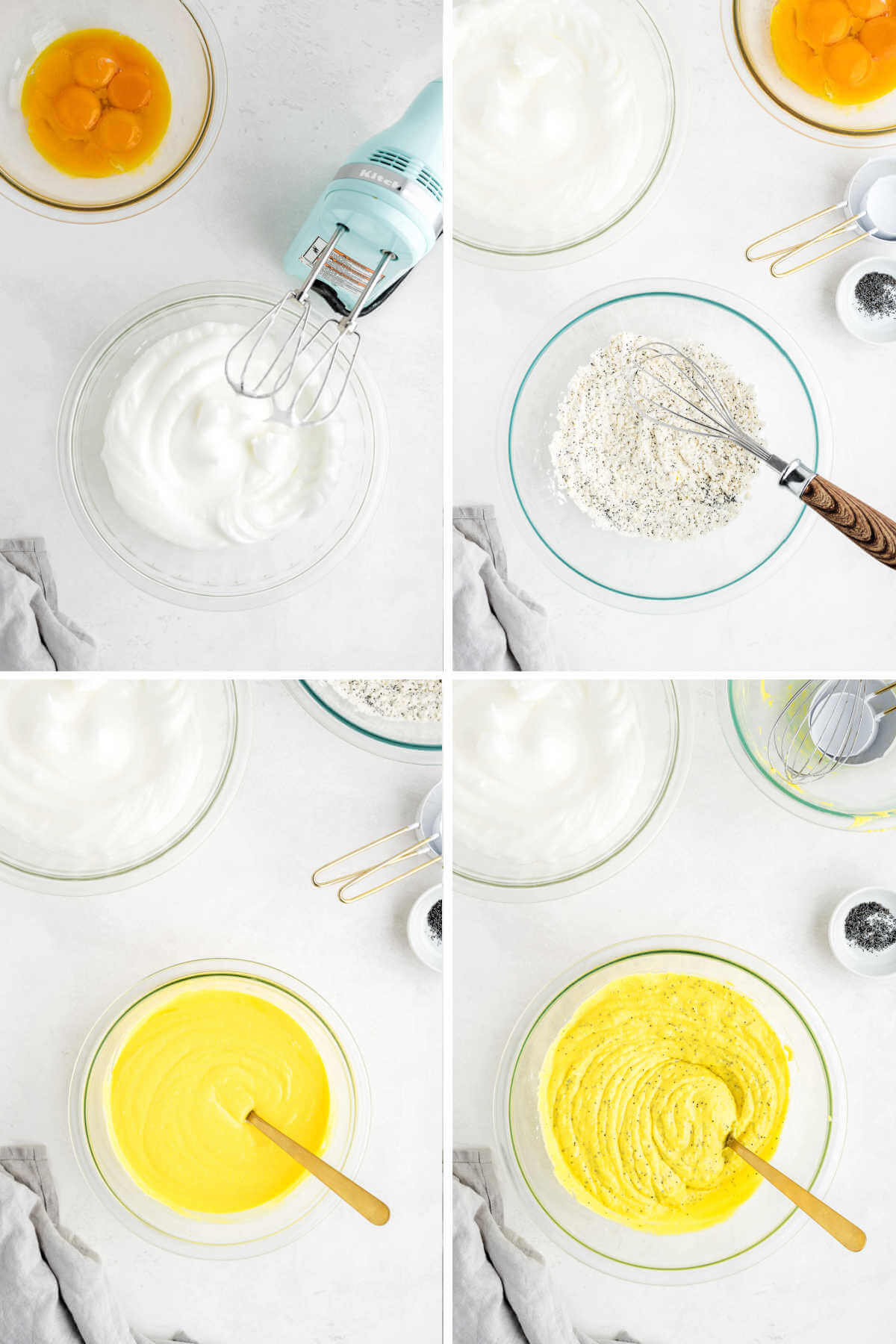 STEP 1 | Beat the egg whites
Begin this delicious breakfast recipe by first separating the egg whites from the yellow yolks. Next, whip the egg whites until they form firm peaks and set them aside for later.
STEP 2 | Combine the wet and dry ingredients
Then, set out a large mixing bowl and add all the dry ingredients — all-purpose flour, a pinch of poppy seeds, sweet sugar, and a dash of salt. Whisk the ingredients together.
Next, freshly grate the tangy lemon zest from a ripe lemon and add it to the mix, stirring to combine.
Now, set out a separate mixing bowl to combine the wet ingredients, including the egg yolks you separated from the whites, the creamy ricotta cheese, and melted butter.
Be sure the melted butter has had a few minutes to cool before mixing it with the other ingredients. Then, slowly add the dry ingredients to the bowl with the combined wet ingredients.
tips
With most batters, the pancake begins to bubble, indicating that the first side has cooked to a nice, golden brown. Then, you would safely flip the pancake to cook on the other side. However, with these unique pancakes, the batter does not bubble. So, you'll need to gently lift a corner to check if the first side is done before flipping.
For perfectly round pancakes, scoop the batter on the griddle, creating one decent-sized circle. Then, gently use the ladle to spread the batter to your desired size.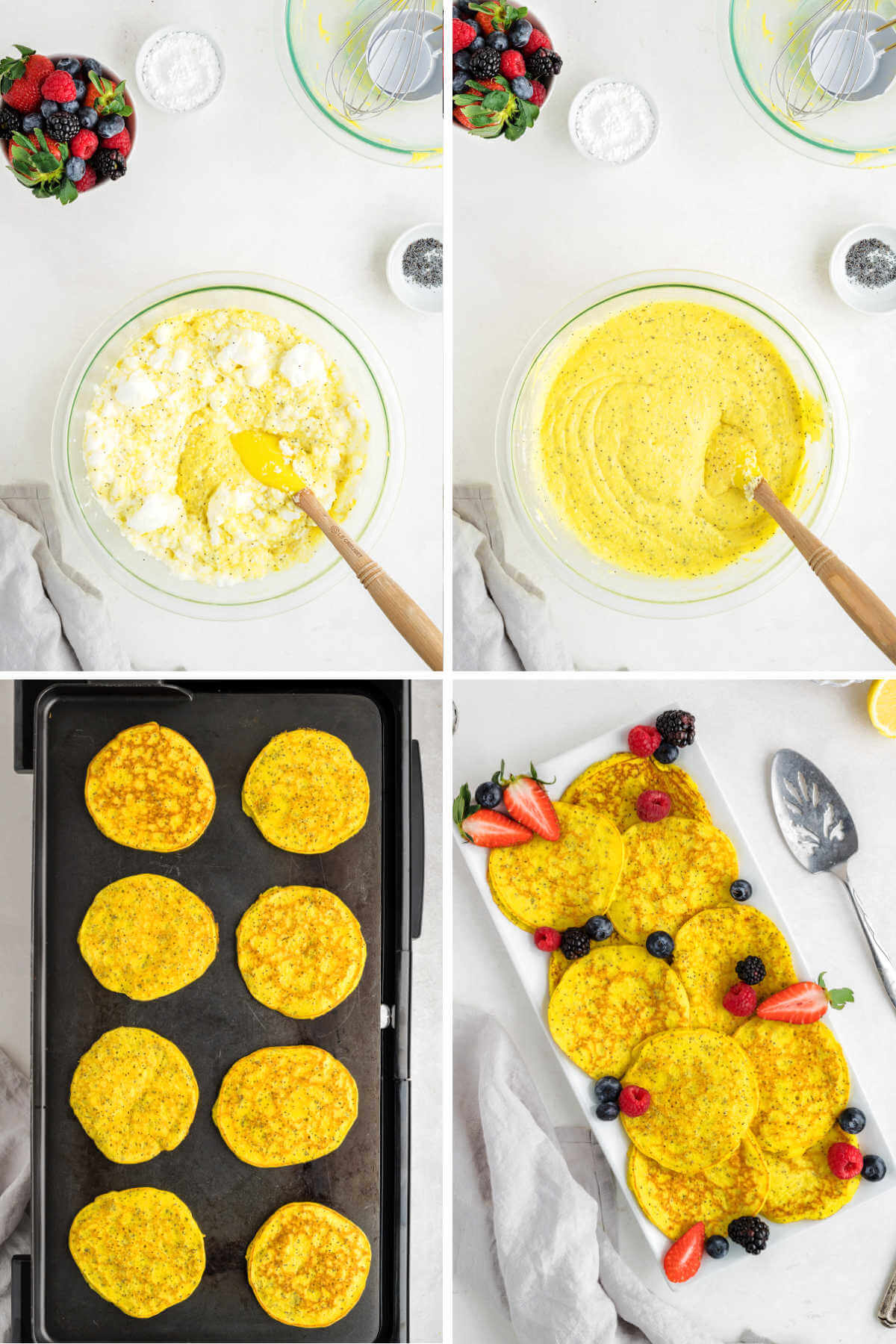 STEP 2 | Add the whipped egg whites
Next, grab the bowl of whipped egg whites you set aside earlier. Carefully pour them into the pancake batter and fold them to combine all the ingredients thoroughly. Do not over mix the pancake batter so they come out nice and fluffy!
STEP 4 | Cook the pancakes
Set your griddle to medium heat and add some butter to prepare the surface. If necessary, use a skillet on the stovetop instead. Ladle the delicious batter onto the griddle, gently spreading it to your desired size.
Keep in mind that smaller pancakes will cook faster, while larger ones will take a little longer.
When the pancake is golden brown on both sides, remove it to a plate and continue this step until all the batter is used and you have several tasty ricotta pancakes!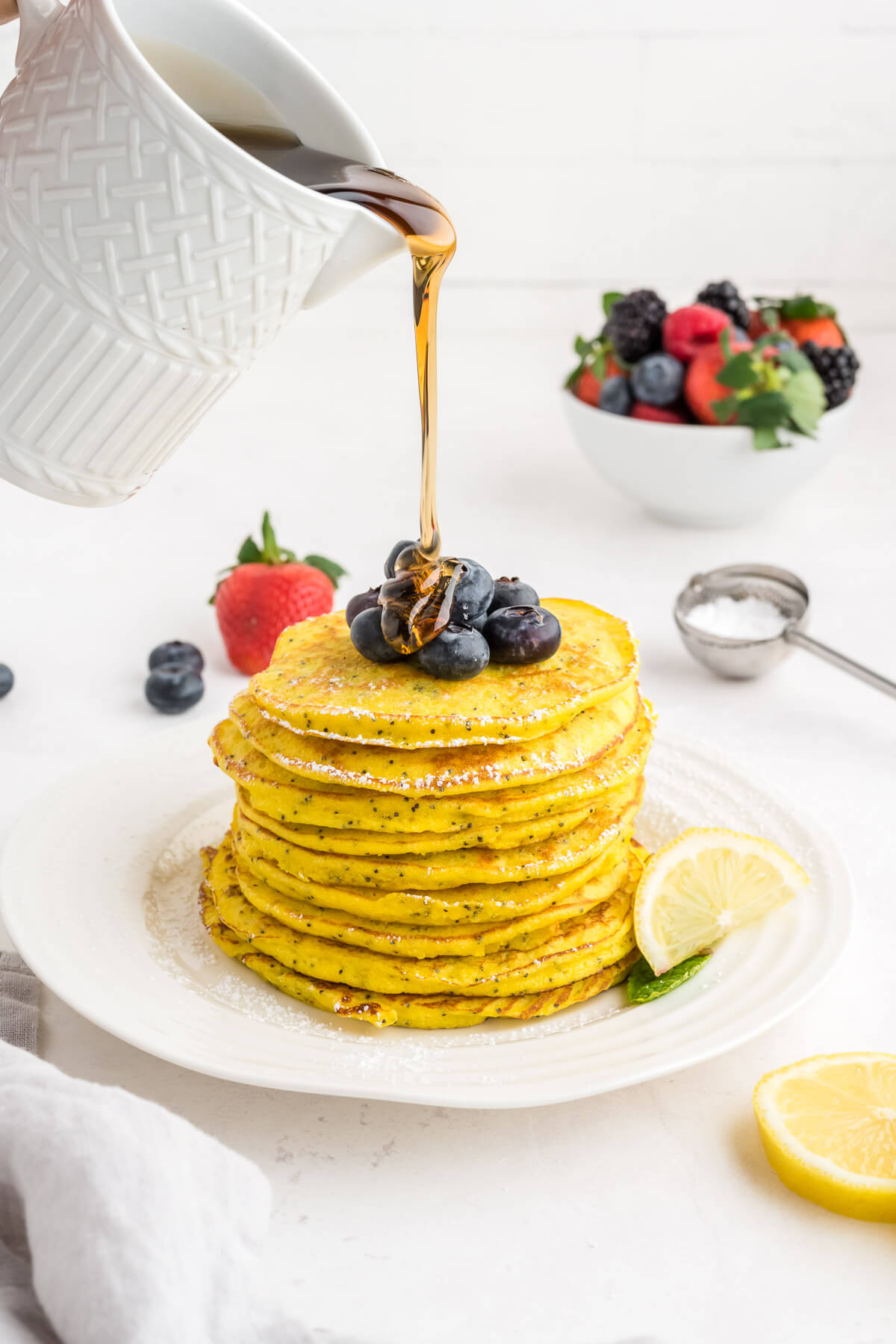 STEP 5 | Garnish and serve!
Finally, grab your favorite maple syrup from the pantry and cut some fresh berries to serve with your lemony pancakes. Sprinkle them with powdered sugar for an extra kick of sweetness, grab a fork, and enjoy!
So, what's so special about these pancakes? Ricotta cheese in sweet breakfast pancake batter? Not everyone will find this combination so appetizing when simply seeing it on paper.
If this is the case for you, my advice is not to knock it before you try it! Ricotta in pancake batter is a game-changer and absolutely delicious!
With ricotta cheese as the main ingredient in the pancake batter, its consistency is obviously a bit different than regular pancake batter and these pancakes cook up a bit differently, too.
But the best part is how the ricotta cheese affects the pancake's texture and taste. When you use ricotta in the mix, a rich and creamy depth is added to the ordinary pancake batter and the texture of the pancakes is fluffier than ever before. It's like biting into a sweet lemony cloud!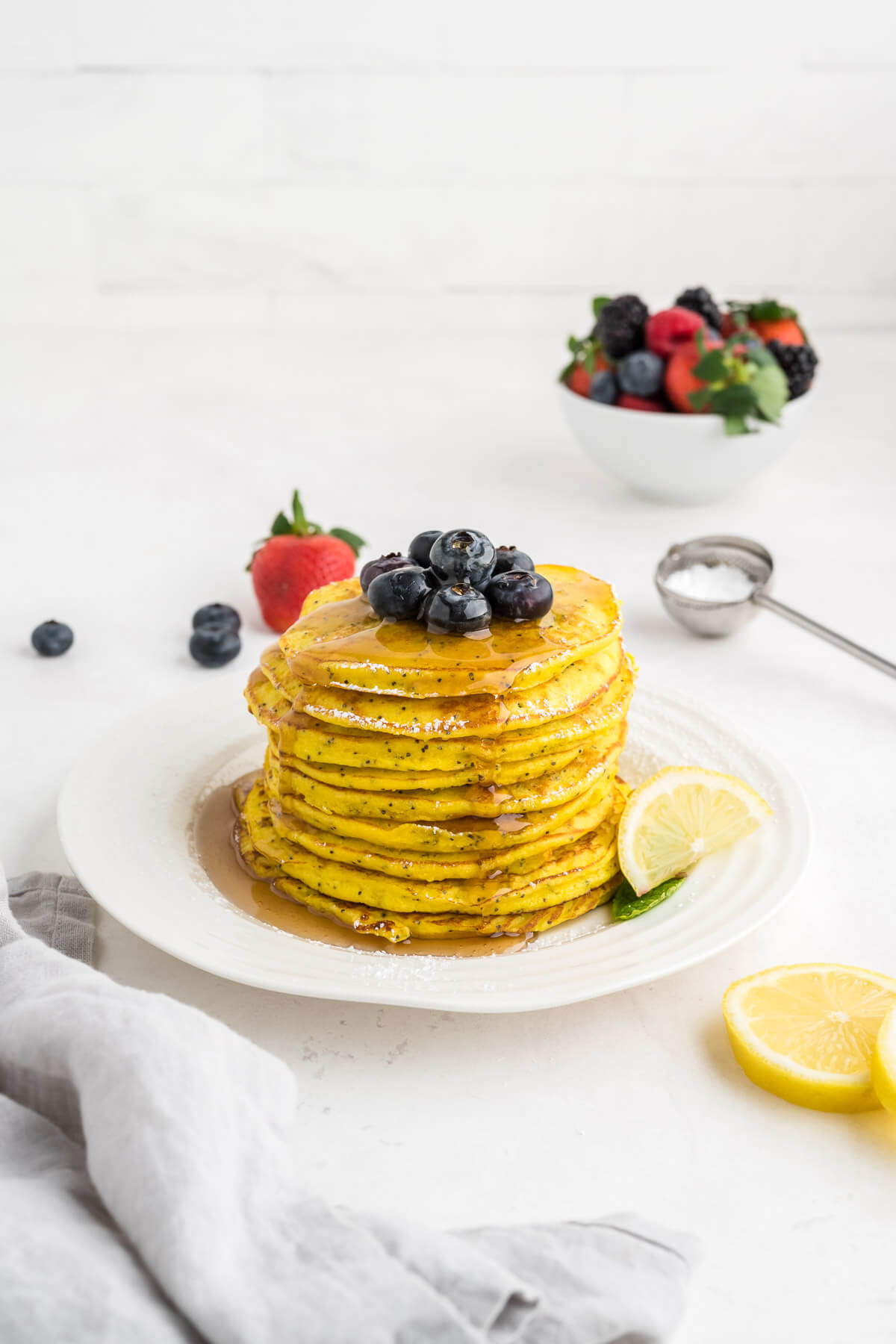 Frequently asked questions
Do you need a griddle to make pancakes?
While making pancakes without a griddle is possible, this convenient appliance makes your pancakes even better! Plus, you can make several at a time, as opposed to using a much smaller skillet on the stovetop. Using a griddle allows you to make more and feed a larger crowd without making your breakfast guests wait for each pancake to be made one or two at a time.

I've had this non-stick electric griddle for more than 20 years and love using it for cooking pancakes, frying bacon, and even making turkey melt sandwiches. It's portable, too, which is a plus for us since we've been known to pack it up for family "camping" weekends!

Do ricotta pancakes taste cheesy?
The ricotta cheese in this recipe will not produce cheesy-tasting pancakes. However, I see why people may assume this. After all, it is cheese.

Adding ricotta to pancake batter — and many other desserts or dishes — brings richness and depth to the recipe's flavors. There's just something about this key ingredient that takes your homemade pancakes to the next level with its creaminess and fluffy texture.

Suppose you omit the ricotta cheese in this lemon poppy seed pancake recipe. In that case, you should expect the taste and texture to fall short of the pancakes made with ricotta. Take a chance, and you'll see how delicious the ricotta cheese makes these pancakes taste!

How do you make lemon ricotta pancakes fluffy?
While ricotta cheese contributes to the fluffy texture in this recipe, there are other things you can do to ensure you get the lightest and softest bites. As directed, whip the egg whites to bring a light and airy texture to the pancakes, and gently fold them into the batter for the most efficient use.

Still, having some trouble achieving fluffy pancakes? No problem! Try adding a pinch of baking powder or just a little more all-purpose flour next time you make this recipe.

National Pancake Week
Typically, I think of pancakes as a weekend brunch food, but during National Pancake Week I'm excited to try a different pancake recipe every day — and may even dine on pancakes for dinner!
Even better, you can even serve your freshly-made pancakes as DESSERT! Just top with chocolate syrup or caramel sauce and a scoop of my homemade Blueberry, Strawberry, or Peach Ice Cream recipes!
SUNDAY — Make the most of today's fluffy Lemon Ricotta Pancakes by topping them with whipped cream or powdered sugar, hot maple syrup, blueberry syrup, and fresh berries, like juicy raspberries, sweet blueberries, sliced strawberries, or blackberries.
MONDAY — Blueberry Coconut Oatmeal Pancakes made with "homemade" oatmeal flour are just 124 calories for two pancakes, so there's no guilt when indulging in this tasty breakfast.
TUESDAY — Enjoy a stack of these Bacon Pancakes with Maple Syrup — yes, BACON! — with a steaming mug of coffee or a cool glass of milk.
WEDNESDAY — Raspberry Oatmeal Pancakes made with Greek yogurt, oats, and fresh raspberries are hearty, fluffy, and delicious!
THURSDAY — If you love peaches, you'll adore my buttermilk pancakes with bits of juicy peach in every bite!
Why let the celebration end there? IHOP celebrates its National Pancake Day yearly by offering a free short stack of Buttermilk Pancakes to dine-in guests all day long!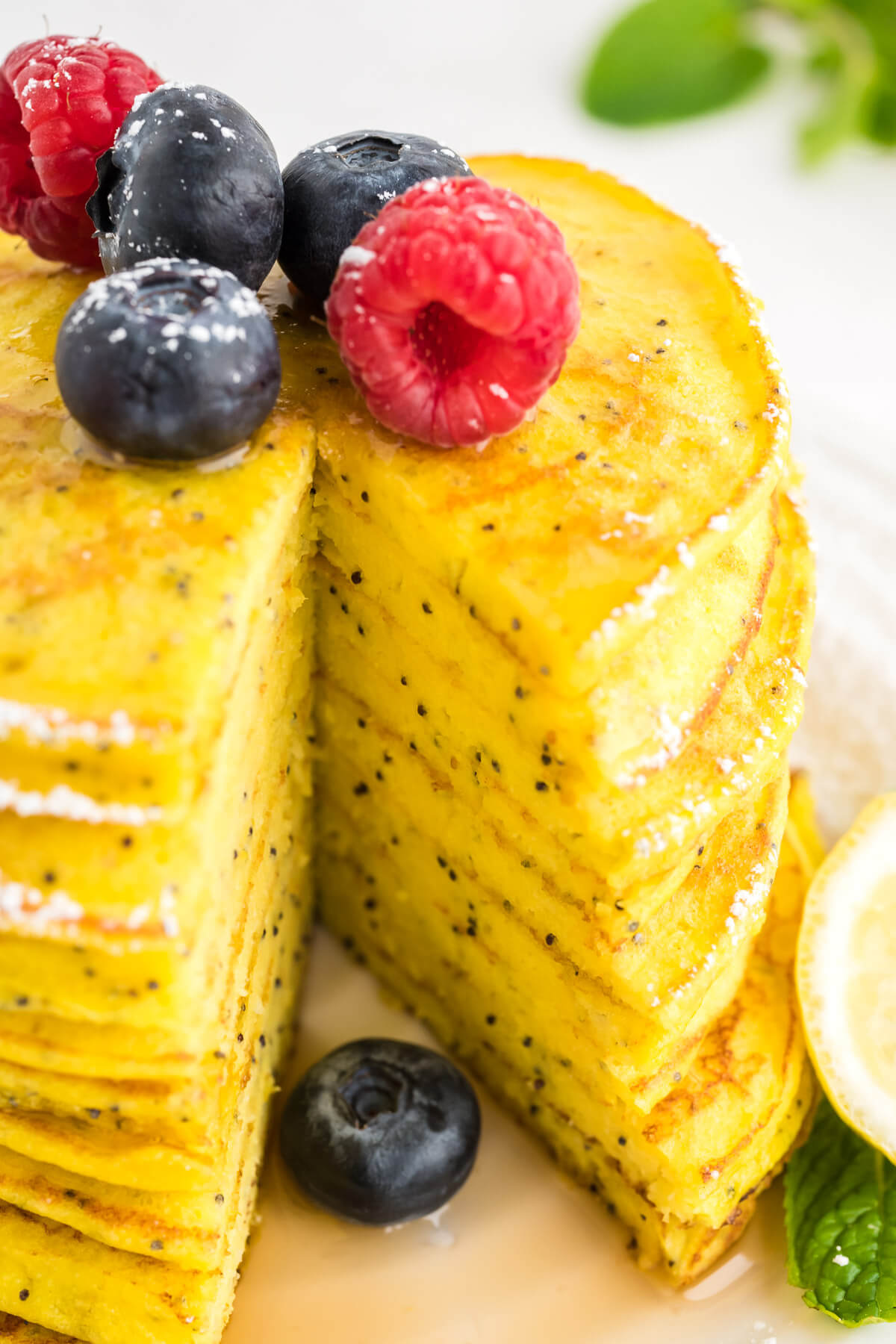 Behind the recipe: Lemon Poppy Seeds Ricotta Pancakes
The original lemon ricotta pancake recipe came from the chef of the luxurious Four Seasons Hotel in New York. It was a regular feature of the brunch menu at that hotel for years.
It didn't take long for guests to fall in love with this unique and oh-so-heavenly ricotta pancakes recipe. After some trial and error, home chefs discovered how to make lemon ricotta pancakes in the comfort of their own kitchen!
Of course, the experience at your small breakfast table is far from what the Four Seasons Hotel offers. However, a change in atmosphere is sometimes a good thing. It's a nice switch-up to enjoy your favorite restaurant dishes curled up in a cozy blanket at home.
Please share!
Your shares are how this site grows, and I appreciate each one. Do you know someone who would enjoy this recipe? I'd love it if you would share it on Facebook or Pinterest!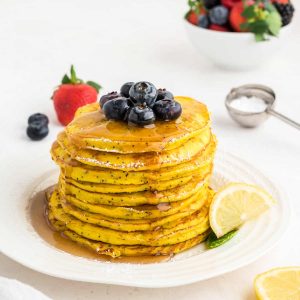 Lemon Ricotta Pancakes with Poppy Seeds
Weekend mornings sometimes call for a little indulgence and that's exactly what Lemon Ricotta Pancakes are – delicious indulgence in every bite! And, why wouldn't they be? 
Ingredients
6

large

eggs

1 1/2

cups

ricotta cheese

1/2

cup

melted butter

cooled

1/2

cup

all-purpose flour

1

tablespoon

poppy seeds

1/4

cup

sugar

1/2

teaspoons

salt

2

tablespoons

grated lemon zest

butter

for griddle

powdered sugar

for garnish

fresh berries
Instructions
First, separate the egg whites from the yolks. Whip the egg whites until they form firm peaks; set aside.

In a

large bowl

,

whisk

together the dry ingredients – flour, poppy seeds, sugar, salt, and lemon zest. In a separate bowl, combine the wet ingredients – egg yolks, ricotta cheese, and melted butter – then slowly add to the dry ingredients.

Fold the egg whites gently into the batter, until just combined.

Heat griddle to medium and lightly butter. Ladle batter onto griddle, gently spreading to desired size. Cook pancakes until they are golden brown on both sides.

Serve with maple syrup and fresh berries and garnish with powdered sugar, if desired.
Notes
Original recipe adapted from the Four Seasons Hotel, New York
With most batters, once the pancake begins to "bubble" it indicates that the first side has cooked to a nice, golden brown and that you can safely flip the pancake to cook on the other side.
With these pancakes, however, the batter does not bubble, so you'll need to gently lift a corner to check the doneness of the first side.
Another tip for cooking these pancakes is to ladle the batter on the griddle and then spread it gently to the size pancake you desire.
Nutrition
Serving:
4
servings
Calories:
704
kcal
Carbohydrates:
64
g
Protein:
22
g
Fat:
41
g
Saturated Fat:
23
g
Polyunsaturated Fat:
14
g
Trans Fat:
1
g
Cholesterol:
376
mg
Sodium:
669
mg
Fiber:
2
g
Sugar:
45
g
Life Love and Good Food does not claim to be a registered dietician or nutritionist. Nutritional information shared on this site is only an estimate. We recommend running the ingredients through an online nutritional calculator if you need to verify any information.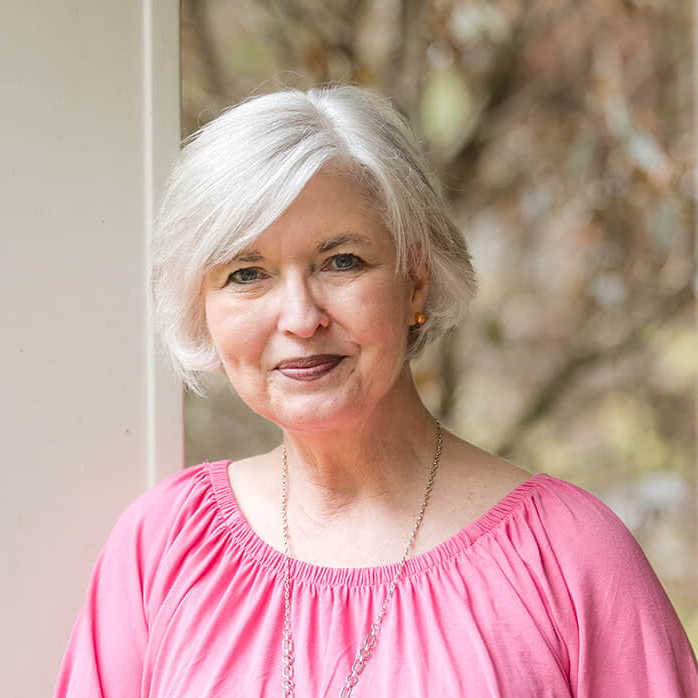 About Sheila Thigpen
Recipe Developer, Food Photographer, Food Writer
Sheila Thigpen is the publisher of Life, Love, and Good Food — a Southern food blog — and the author of Easy Chicken Cookbook and The 5-Ingredient Fresh and Easy Cookbook. After 20+ years in the publishing industry, she retired in 2018 to focus on her own creative endeavors full time. She and her husband live near the beautiful Smoky Mountains and have a precious little granddaughter who has stolen their hearts. As an influencer, Sheila has collaborated with brands like Creamette, Kroger, HERSHEY'S, Hamilton Beach, Garafalo Pasta, OXO, Smithfield, Valley Fig Growers, and more.
I've had this non-stick electric griddle for more than 20 years and love using it for cooking pancakes, frying bacon, and even making turkey melt sandwiches. It's portable, too, which is a plus for us since we've been known to pack it up for family "camping" weekends, too.