This post may contain affiliate links. Please read my disclosure policy.
Disclosure: This is a sponsored post, but as always my opinions are 100% my own.
Yes, now you CAN make your own brick-oven pizza like this Salami Pizza with Garlic Dijon Aioli and Balsamic Drizzle at home!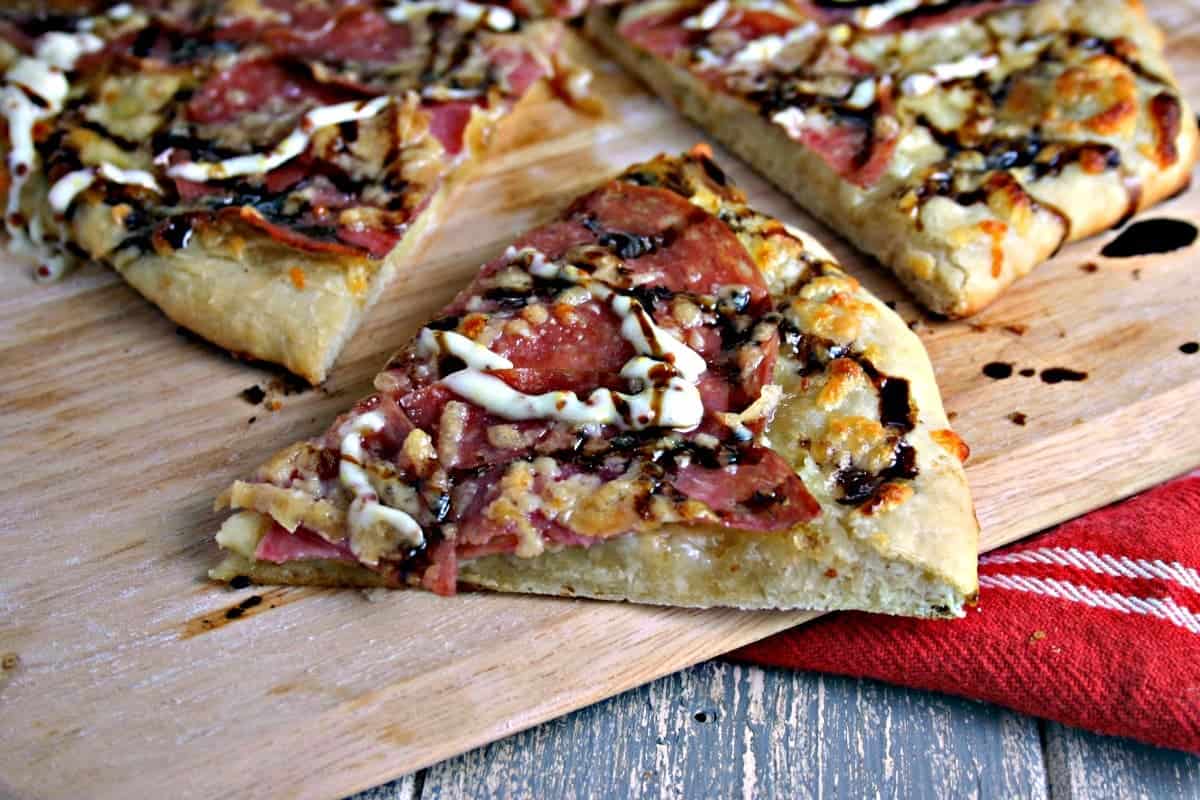 Father's Day is in just a few short weeks and I have the PERFECT gift suggestion for any grill-lovin' and pizza-lovin' Dad out there, a Bakerstone Pizza Oven Box. We've attempted grilled pizza in the past with very mixed results, but let me tell you that this pizza oven box is really the trick for brick-oven pizza at home without the brick-oven! Salami Pizza with Garlic Dijon Aioli (with an added balsamic drizzle for good measure!) is my re-creation of my favorite Hard Knox Pizza, the Le Boxeur.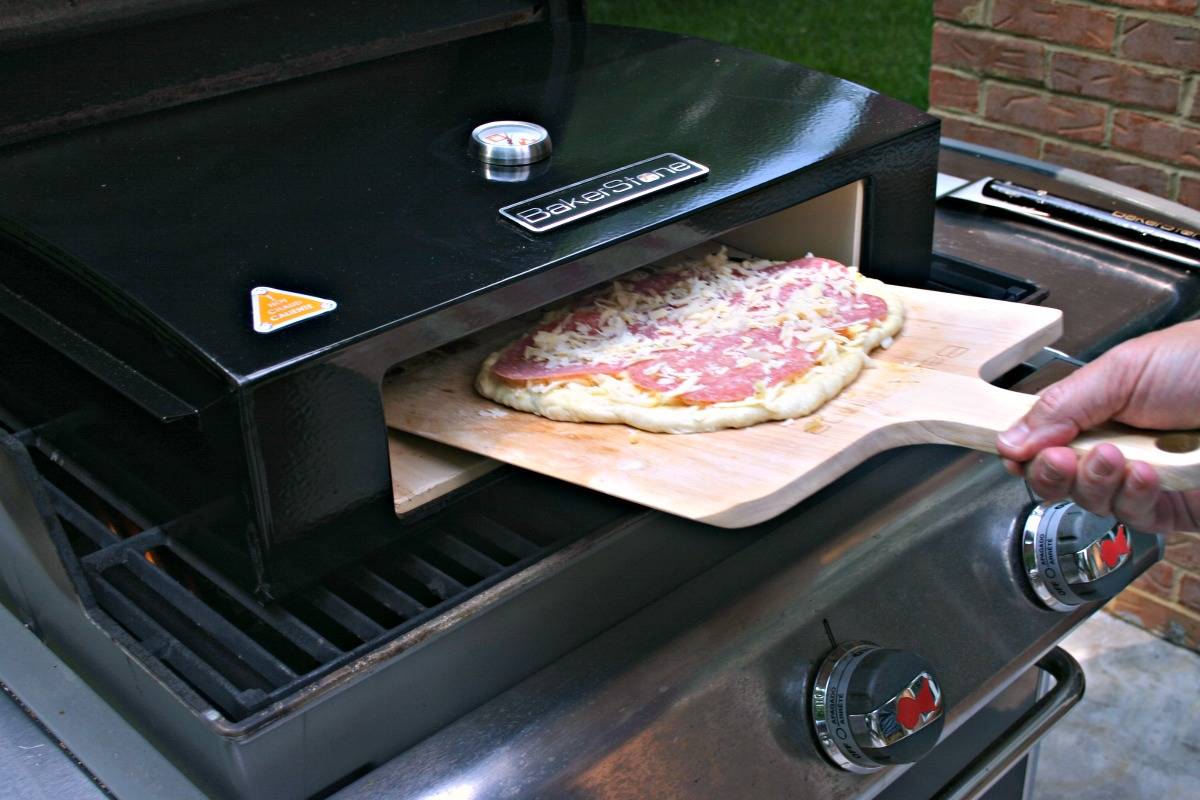 I saw the Bakerstone Pizza Oven Box demonstrated at the National Restaurant Association Show last week in Chicago and instantly fell in love! My guy loves to grill and once the weather turns nice, it's not uncommon for us to fire up the grill three to four times a week. He's already fallen in love with this new grill toy! Once the pizza oven box preheats, simply launch the pizza and watch the magic start to happen.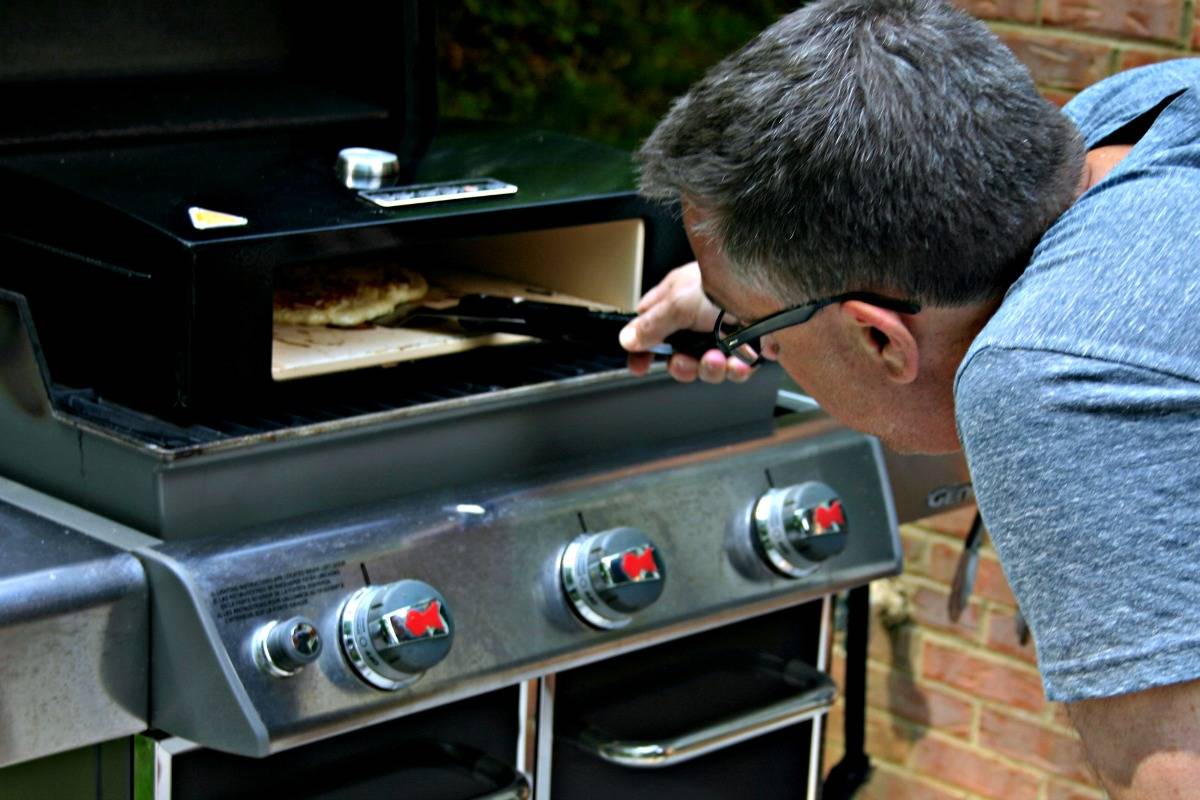 I used my favorite homemade pizza dough and was really pleased with the results in the pizza oven box. The stone is extremely hot, so the crust bakes quickly and bubbles around the edges, just like a brick-oven pizza. The Le Boxeur traditionally has a white sauce as the base, but for our pizza I opted to simply brush the dough with olive oil and minced garlic, skipping the sauce, and then added the smoked mozzarella and Genoa salami. For this pizza, the smoked mozzarella really makes a difference, so don't be tempted to substitute!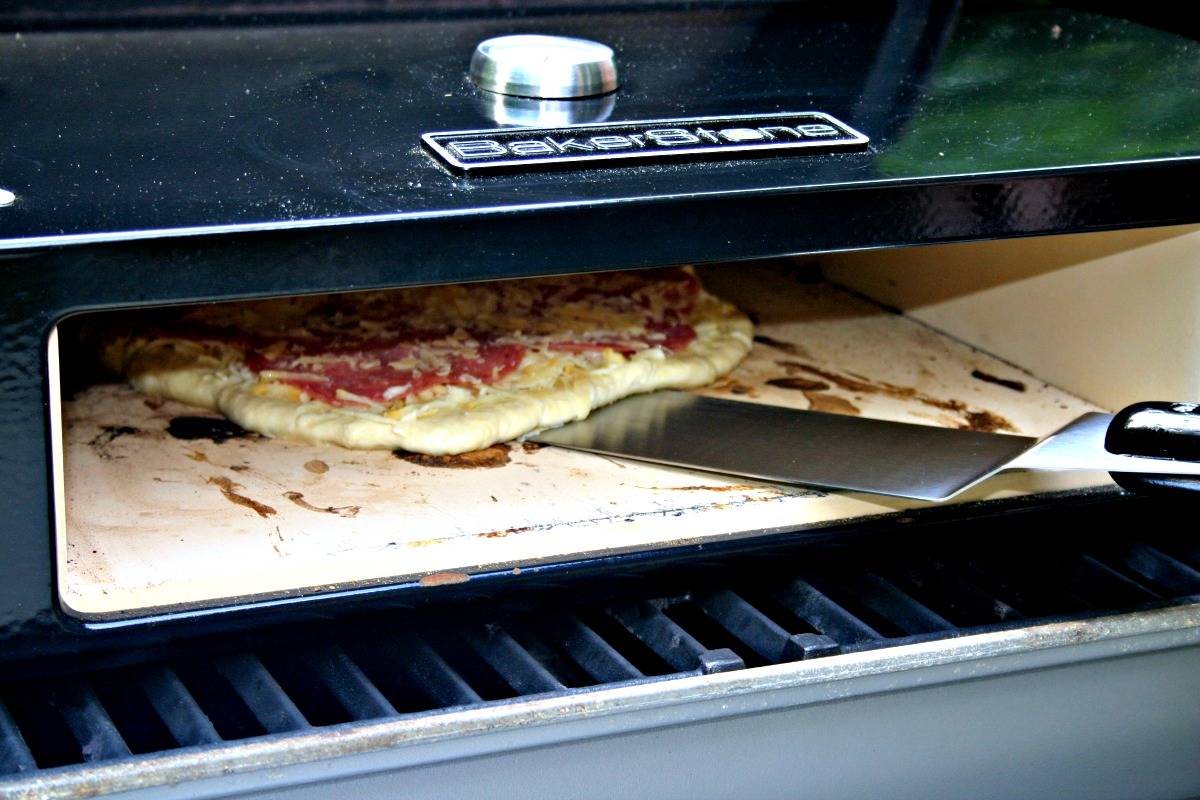 Like other baking stones, with continued use the pizza oven box will eventually turn much darker, almost black, and you can see that our box is beginning to show signs of darkening. My favorite pizza dough recipe makes enough for three 12-inch pies, so if you are serving a large group and want to make multiple pizzas, just prep them all and then they are ready to launch once the first pizza is done. Remember, it only takes about 4-5 minutes per pie in the pizza oven box, so it's perfect for an outdoor gourmet pizza party.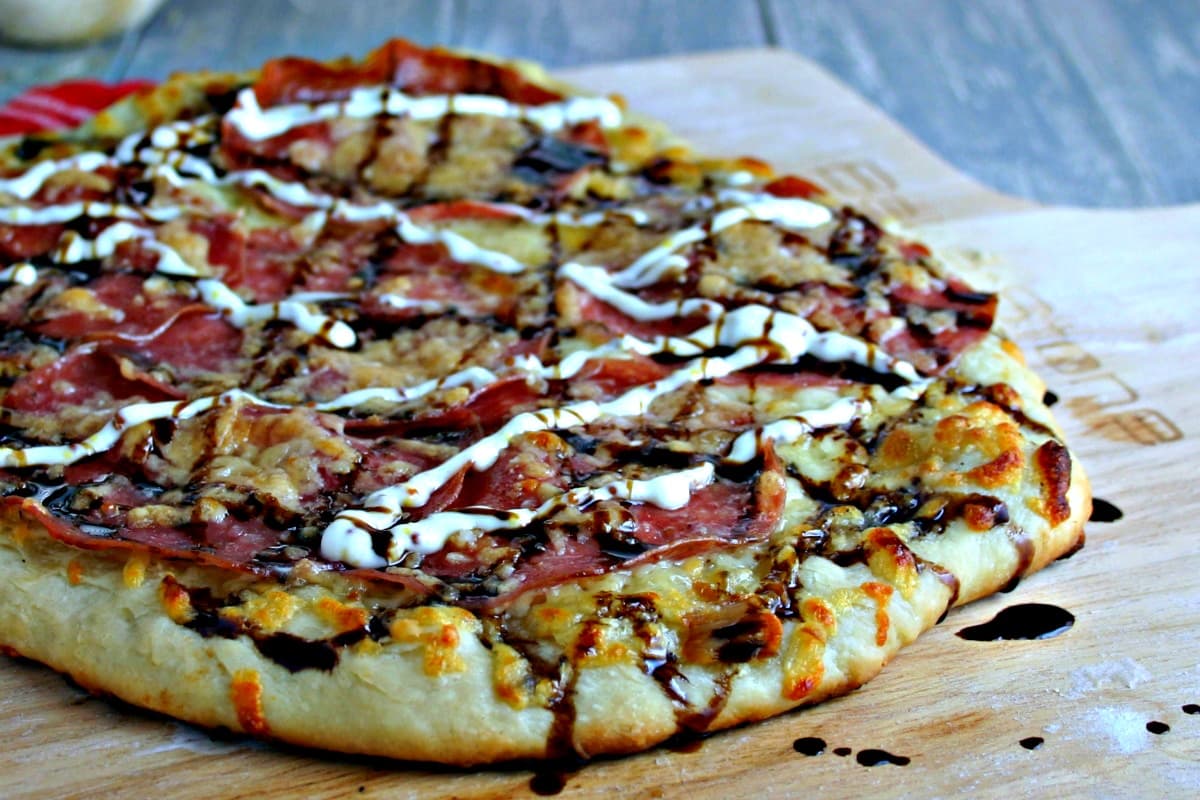 A drizzle of Garlic Dijon Aioli (recipe below) and a good balsamic vinegar, along with the smoked mozzarella, make this a truly delicious at-home gourmet pizza. I make my aioli with a Whole Grain Dijon Mustard that I get at Trader Joe's. Besides on this pizza, the aioli is also delicious on grilled fish or roasted veggies.
Let me just say that I see lots of pizza making in our future this summer. Enjoy!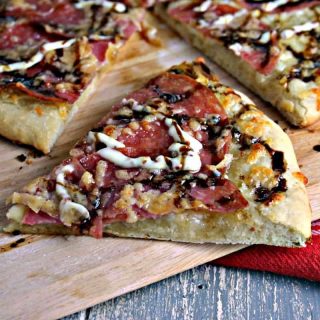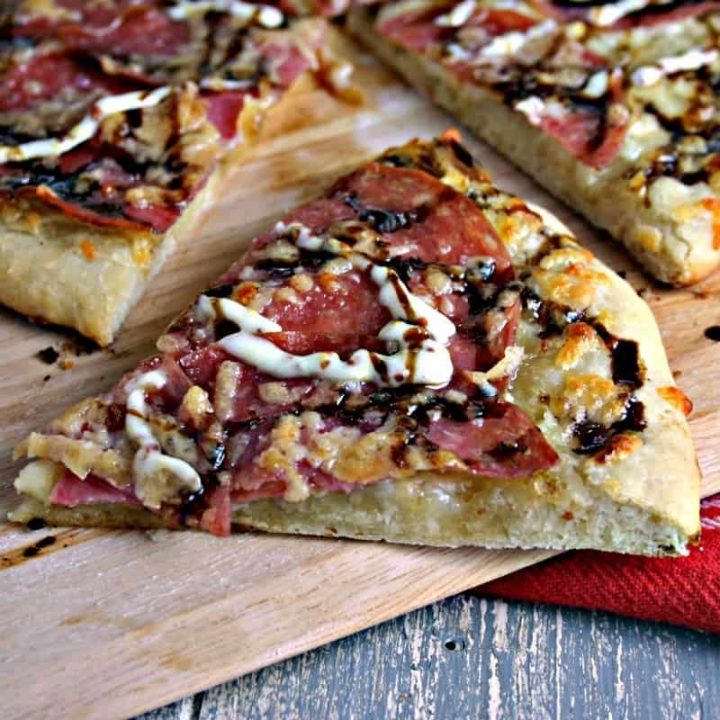 Salami Pizza with Garlic Dijon Aioli
Yes, now you CAN make your own brick-oven pizza like this Salami Pizza with Garlic Dijon Aioli and Balsamic Drizzle at home!
Ingredients
fresh pizza dough

refrigerated from the deli or homemade

4

ounces

Genoa salami slices

4

ounces

smoked mozzarella cheese

shredded (about 1 cup)

1/4

cup

freshly shredded Parmesan cheese

1

clove

garlic

minced

1

tablespoon

olive oil

1

tablespoon

balsamic vinegar

for drizzling

1

tablespoon

garlic Dijon aioli

for drizzling
Garlic Dijon Aioli
1/2

cup

mayonnaise

1

tablespoon

whole grain Dijon mustard

1

teaspoon

fresh lemon juice

1

clove

garlic

minced

pinch

salt
Instructions
Garlic Dijon Aioli
Mix together all ingredients until smooth. Refrigerate until ready to use. For easier drizzling, store in a squeeze bottle.
Pizza
Preheat grill and Bakerstone Pizza Oven on high for about 20 minutes until temperature gauge reaches the flame icon.

Roll or stretch prepared pizza dough to desired size on a piece of parchment paper. Sprinkle 2 tablespoons of flour onto a wooden pizza peel and spread to lightly cover surface. Transfer pizza dough to the pizza peel.

Mix 1 tablespoon olive oil and 1 minced garlic clove together and spread over top of prepared pizza dough. Top with the smoked mozzarella cheese, then layer with salami slices. Sprinkle top with the freshly grated Parmesan cheese.

Bake in the Bakerstone Pizza Oven for about one minute, then gently turn the pizza a quarter turn using a metal pizza peel. Continue doing this every 45 seconds until pizza is bubbly and desired amount of doneness, about 4 minutes.

Remove pizza and immediately drizzle with a tablespoon each of garlic Dijon aioli and balsamic vinegar. Slice and serve.
Notes
You may bake pizza in a 500 degree oven on a baking stone, but for best results use the Bakerstone Pizza Oven.
Nutrition
Serving:
1
slice
Calories:
248
kcal
Carbohydrates:
3
g
Protein:
8
g
Fat:
23
g
Saturated Fat:
6
g
Polyunsaturated Fat:
16
g
Cholesterol:
32
mg
Sodium:
586
mg
Sugar:
1
g