This post may contain affiliate links. Please read my disclosure policy.
Create an intense and irresistible flavor with only a handful of spices from your pantry. Add a little olive oil and you're all set!
Smoked chicken thighs are coated in a homemade spice rub and cooked to perfection. Throw these together when it's too hot to use the oven.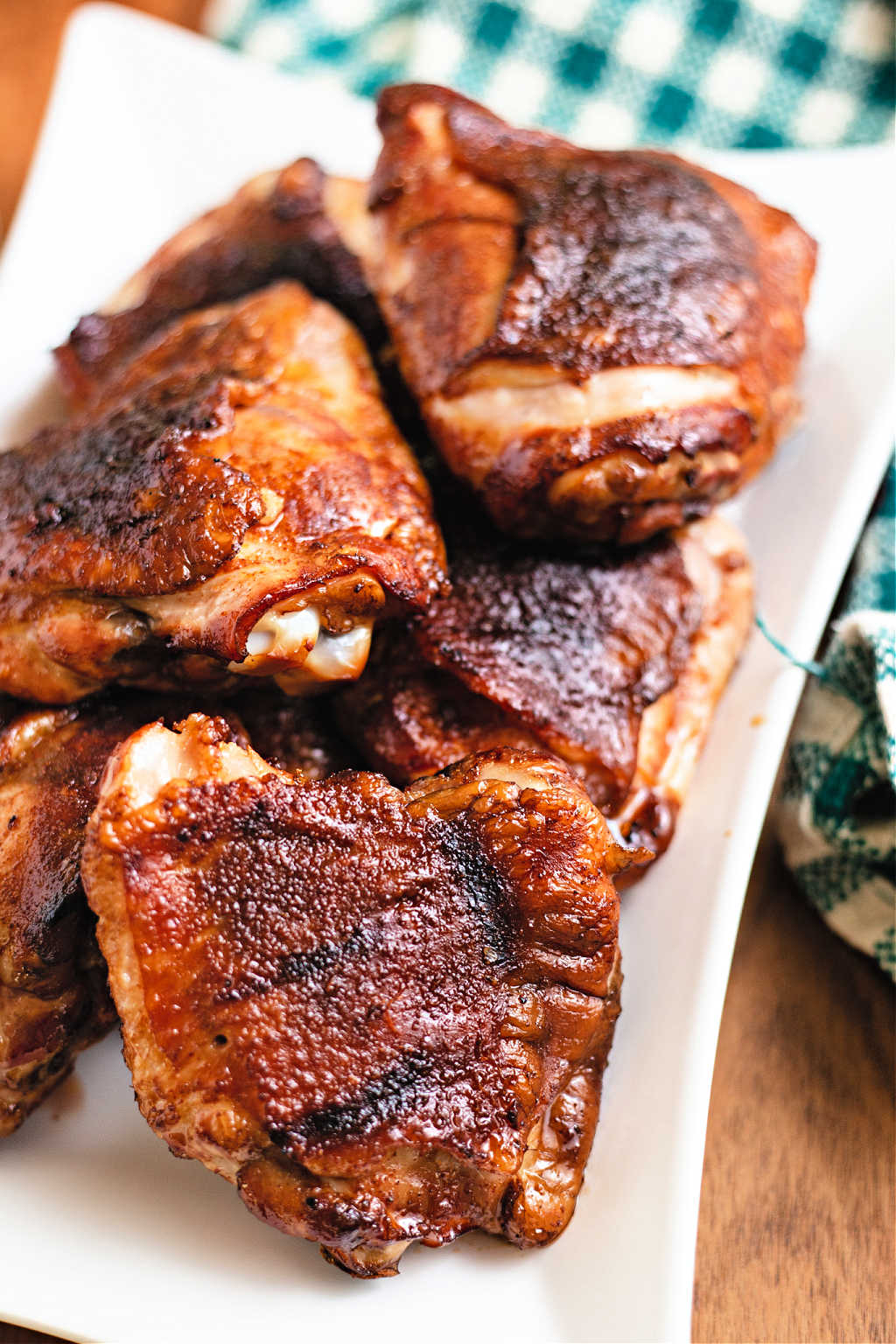 It's easy to create a tasty meal with very little effort, which is just what you need when the day gets away from you.
This smoked chicken thighs recipe couldn't be any simpler, yet the flavor is still deliciously intense. You could even brush on a little homemade BBQ sauce at the end to make them extra sticky and sweet.
Feeding a crowd? Simply double the recipe or try a big batch of crispy wings with a variety of dipping sauces. I even have a mouthwatering brisket recipe if you're craving red meat instead.
Key ingredients and substitutions
Poultry — You'll want to use bone-in, skin-on thighs for the best results. The bone helps keep the meat nice and juicy, while the skin adds a layer of protection from the heat. Plus, you can crisp it up at the end for something extra to nibble on. If you prefer white meat, bone-in, skin-on breasts will work as well, though you will need to increase the cooking time.
Spice Rub — I like to keep the ingredients simple so I can mix and match side dishes with ease. Feel free to get creative if you would like. Brown sugar, smoked paprika, and cayenne are popular additions for smoked chicken thighs.
Olive Oil — There's some disagreement on whether or not oil should be used for smoking, but I prefer it for a couple of reasons. Not only does it help keep the skin nice and moist, but it helps the rub adhere better to the surface so it doesn't flake off in the smoker.
Special supplies needed
Smoker — We have an electric version, but you can make this smoked chicken thighs recipe with whichever kind you have.
Meat Thermometer — Use one with a wired probe that's designed for smoking. It allows you to monitor the process without opening the door, and the large digital display is easy to read.
Smoked chicken thighs recipe instructions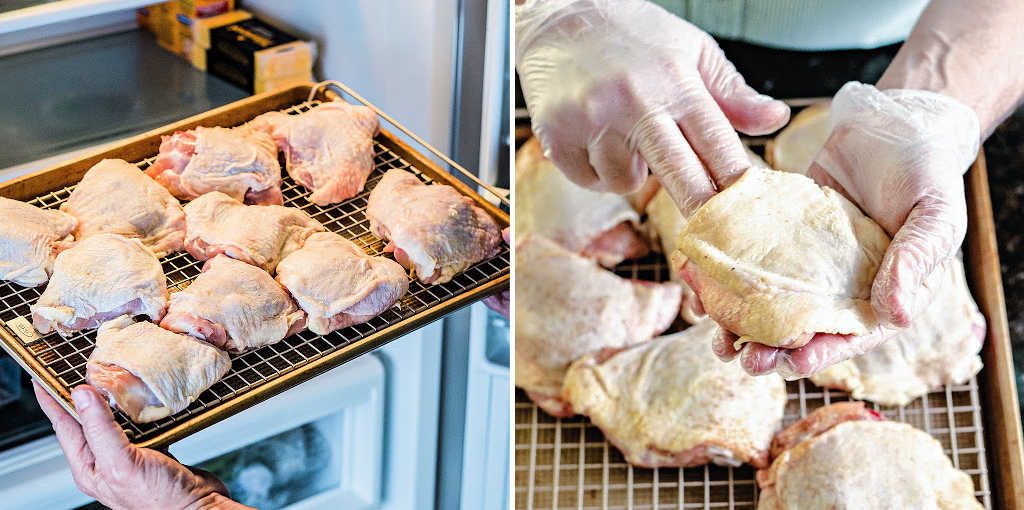 STEP 1 | Prep the meat
Pat the thighs dry with a paper towel and trim off skin or fat that hangs over the side.
Set the pieces on a wire rack inside a baking sheet and chill for at least 2 hours.
Then, run your fingers between the meat and skin to separate the two without removing it completely.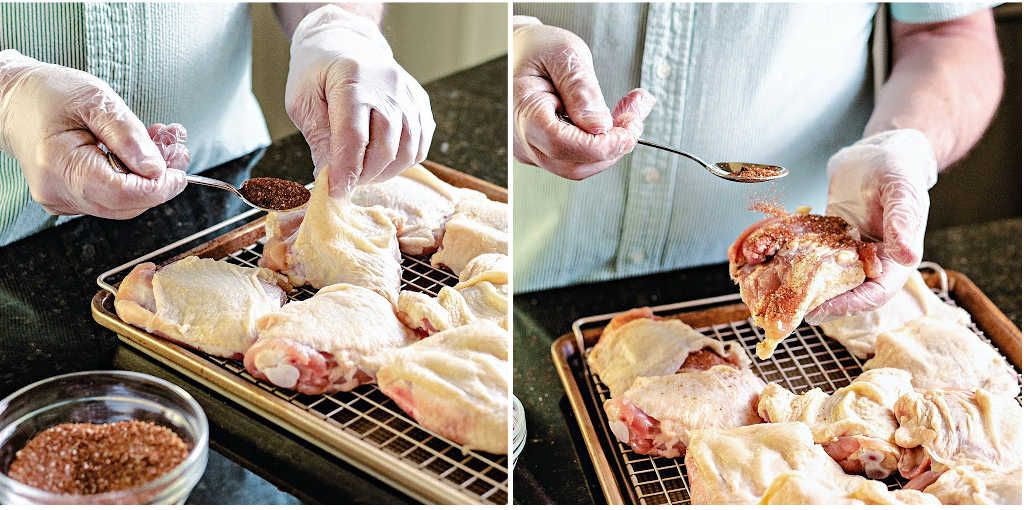 STEP 2 | Apply the rub
Add a spoonful of the spice blend beneath the skin and massage it with your fingers to even it out.
Sprinkle another spoonful over all sides and press gently to help it adhere to the surface.
tip
I like to wear food prep gloves for this process to keep my hands clean and to avoid excess hand washing.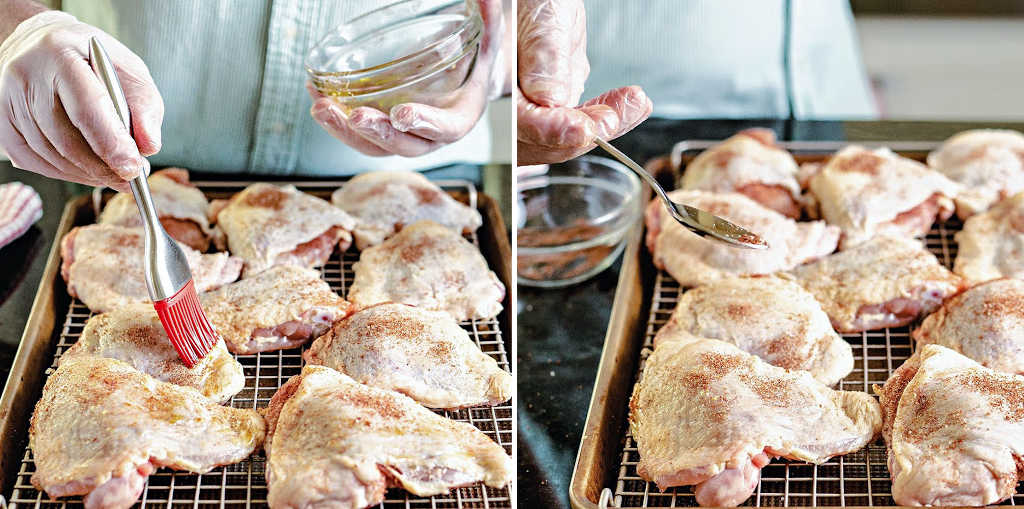 STEP 3 | Brush with oil
Use a basting brush to add a thin layer of olive oil just to the skins.
Sprinkle a little more rub over the oil for extra flavor.
STEP 4 | Cook
Smoke at 225 degrees until cooked through. No need for a pan — you can place the thighs directly on the racks.
The meat is done when a digital meat thermometer reads 165 degrees. Insert into a thick piece but avoid touching the probe to bone, or you will get an inaccurate reading.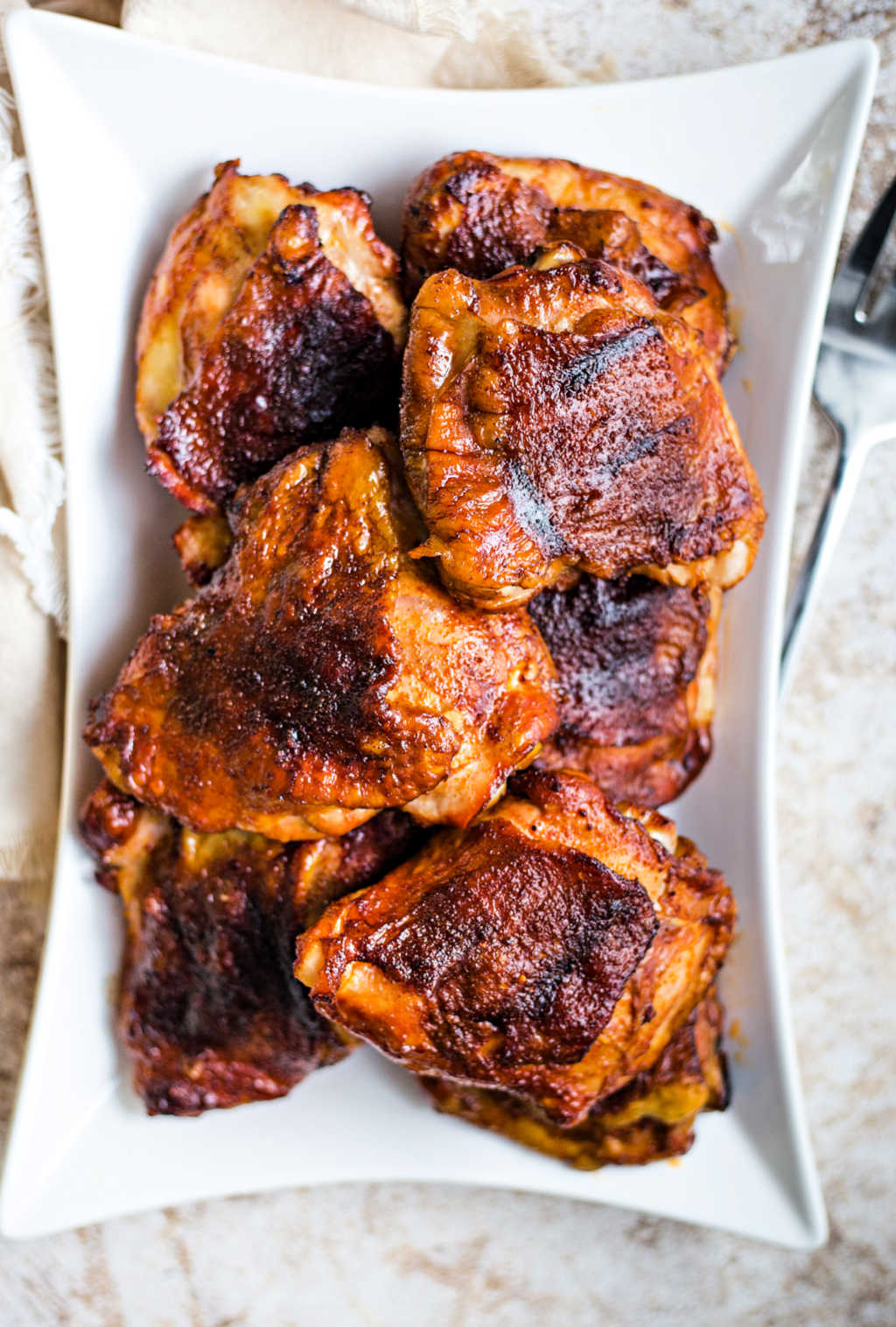 Serving suggestions
Because the spices used for this smoked chicken thighs recipe are simple and versatile, you can whip up whatever side dishes sound appetizing.
You can't go wrong with a scoop of mac and cheese or potato salad. Even peppery grilled okra or charred brussels sprouts with aioli would taste delicious.
Is it simply too hot to even move? Throw together some tossed greens with your favorite dressing and call it good!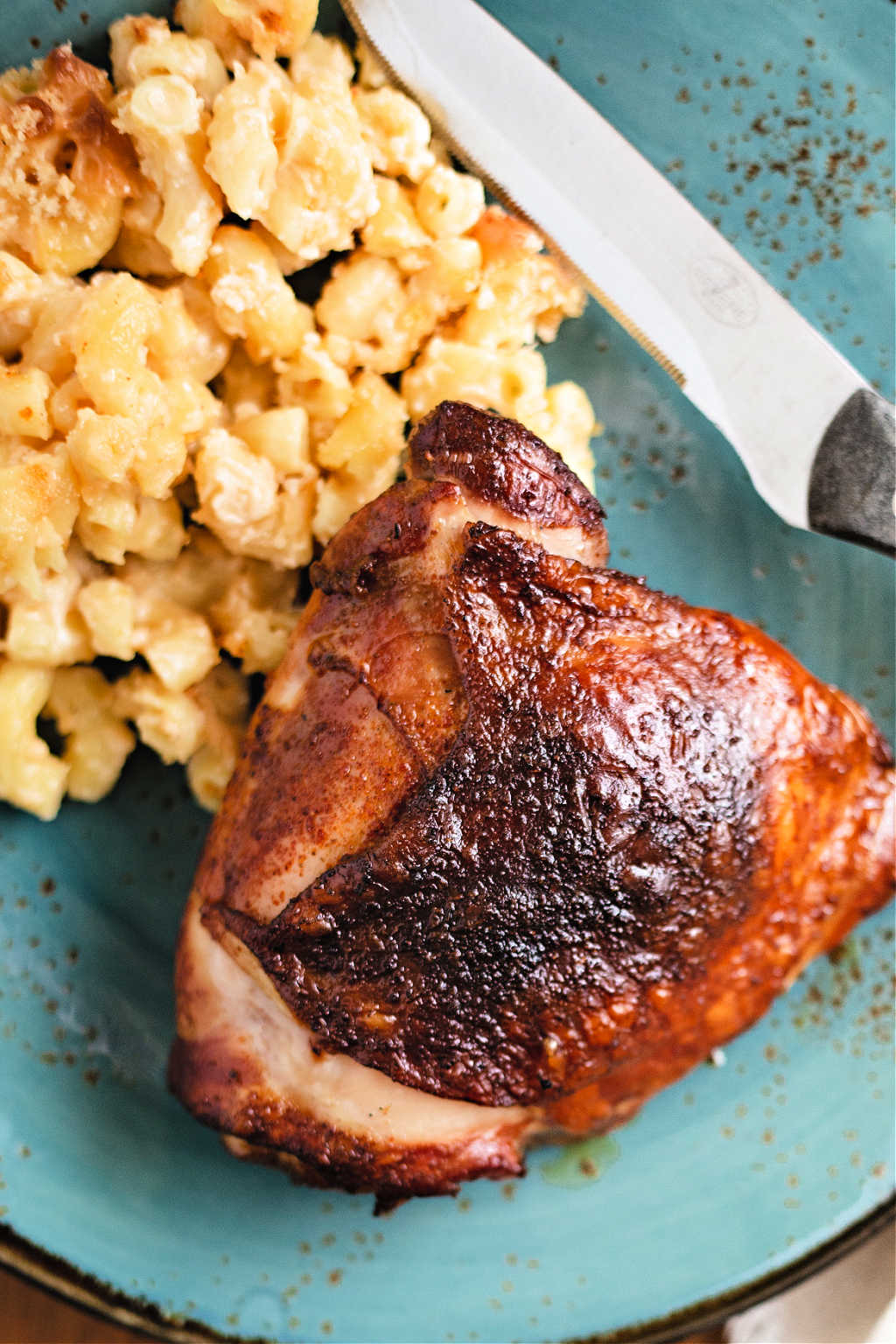 Frequently asked questions
How do you make smoked chicken skin crispy?
Fire up the grill real quick and place the chicken skin side down on the grates for a few minutes.
If you don't mind turning on the oven, you could pop them under the broiler for 2-3 minutes as well.
What type of wood is best for smoked chicken thighs?
Apple wood is a popular choice because it adds a subtle, sweet flavor. Maple, cherry, or hickory chips are commonly used as well, and you can often find a blend of two or three varieties.

However, I would avoid mesquite for this recipe. It creates a very strong, smoky flavor that is too intense for poultry. That's best reserved for dark meat like brisket, wild game, or barbacoa.
Can I make this smoked chicken thighs recipe ahead of time?
If you'll be serving guests, I would recommend serving it fresh so it's hot and juicy. It is delicious as leftovers, though, and sometimes I like to make a big batch to use throughout the week.

You can enjoy the pieces as is or cut the meat off the bone to use on salads or in pasta dishes.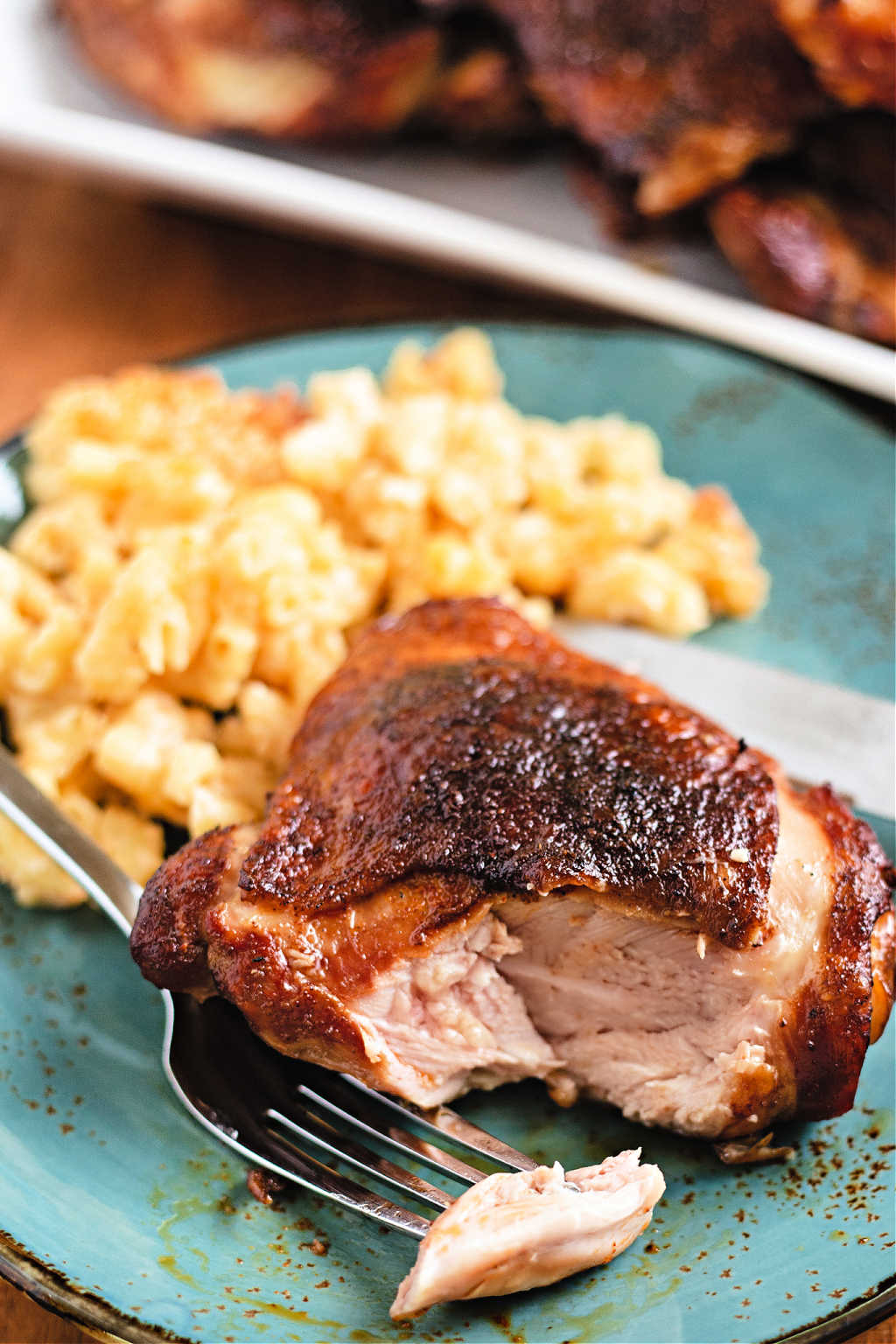 Smoked Chicken Thighs: behind the recipe
As things start to heat up, it's just too hot to be in the kitchen at dinnertime. I definitely like to do a lot more outdoor cooking during the summer so the heat stays outside!
Thankfully, this smoked chicken recipe only takes a few minutes to prepare and then the smoker does the rest. It only takes a couple of hours to cook as well, so you won't need to remember to start it first thing in the morning.
Please share!
Your shares are how this site grows and I appreciate each one. Do you know someone who would enjoy this recipe? I'd love it if you would share it on Facebook or on your favorite Pinterest board!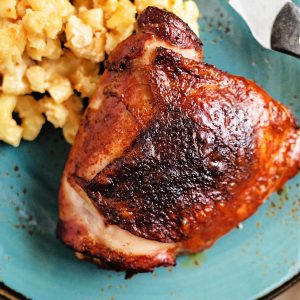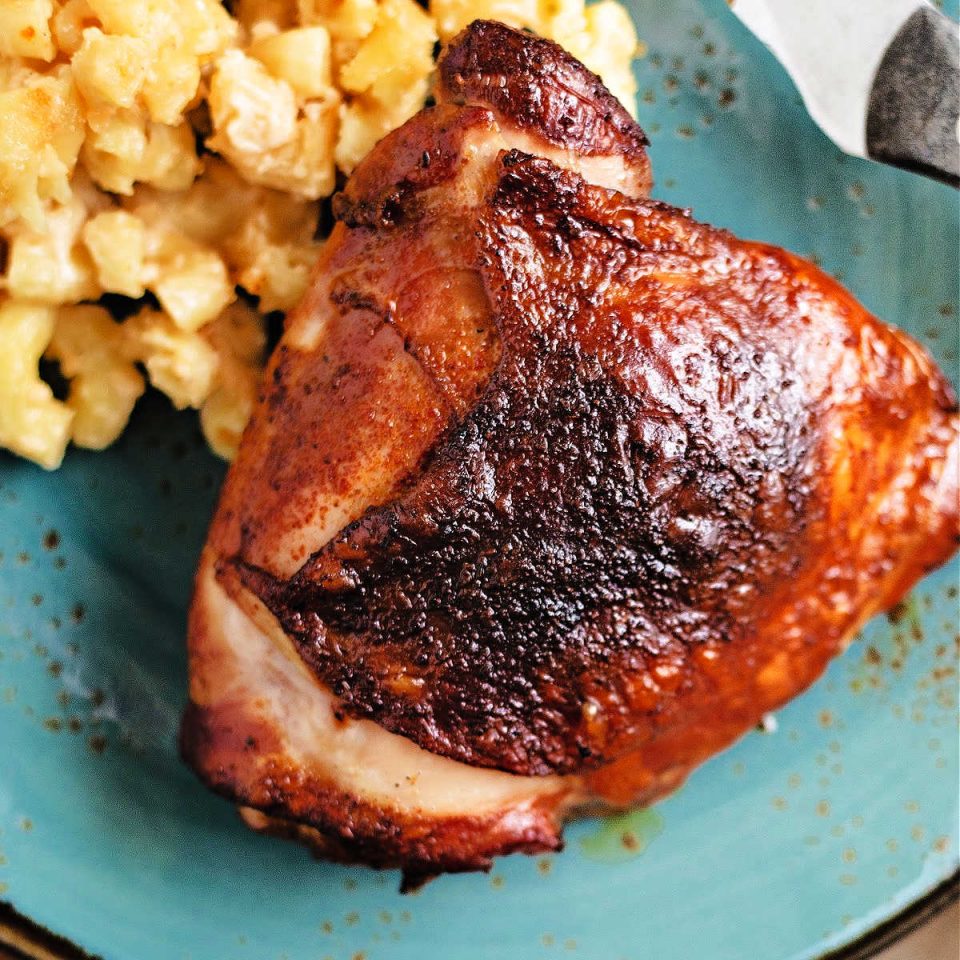 Smoked Chicken Thighs
Create an intense and irresistible flavor with only a handful of spices from your pantry. Add a little olive oil and you're all set!
Ingredients
6 -8

bone-in, skin-on chicken thighs

2

teaspoons

granulated onion

2

teaspoons

granulated garlic

1/2

tablespoon

kosher salt

1

teaspoon

chili powder

1

teaspoons

freshly ground black pepper

olive oil
Instructions
Pat the chicken dry with paper towels. Use kitchen shears to remove any excess fat or skin and place on a wire rack inside a baking sheet. Place the chicken uncovered in the refrigerator for at least 2 hours, or overnight.

In a small bowl, combine the granulated onion and garlic, salt, chili powder, and black pepper.

Use your fingers to carefully loosen the skin from the flesh of the chicken, careful not to completely remove. Sprinkle a teaspoon of rub under the skin and massage to distribute.

Apply rub to the outside of the chicken on all sides, reserving a small amount. Brush the skins with olive oil, then sprinkle lightly with more rub.

Preheat the smoker to 225 degrees. Add wood chips to the hopper.

Place the chicken in the smoker directly on the racks. Close the door and cook for 1 1/2- 2 hours, until the internal temperature of the chicken registers 165 degrees.

To get crispy skin, place the chicken skin side down on a hot grill for 4 to 5 minutes before serving.
Nutrition
Serving:
1
g
Calories:
75
kcal
Carbohydrates:
2
g
Protein:
5
g
Fat:
5
g
Saturated Fat:
1
g
Polyunsaturated Fat:
4
g
Cholesterol:
28
mg
Sodium:
366
mg
Life Love and Good Food does not claim to be a registered dietician or nutritionist. Nutritional information shared on this site is only an estimate. We recommend running the ingredients through an online nutritional calculator if you need to verify any information.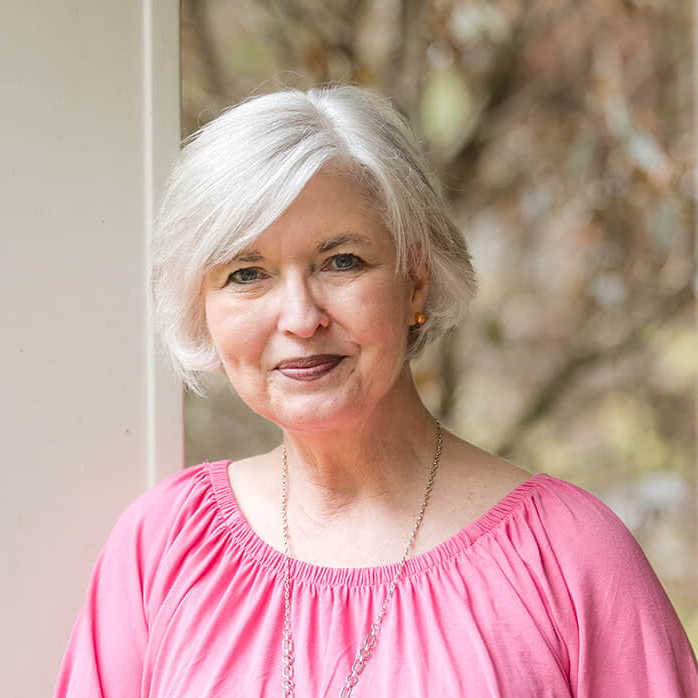 About Sheila Thigpen
Recipe Developer, Food Photographer, Food Writer
Sheila Thigpen is the publisher of Life, Love, and Good Food — a Southern food blog — and the author of Easy Chicken Cookbook and The 5-Ingredient Fresh and Easy Cookbook. After 20+ years in the publishing industry, she retired in 2018 to focus on her own creative endeavors full time. She and her husband live near the beautiful Smoky Mountains and have a precious little granddaughter who has stolen their hearts. As an influencer, Sheila has collaborated with brands like Creamette, Kroger, HERSHEY'S, Hamilton Beach, Garafalo Pasta, OXO, Smithfield, Valley Fig Growers, and more.