This post may contain affiliate links. Please read my disclosure policy.
Make this Easy No-Cook Strawberry Freezer Jam using half of the amount of sugar than other strawberry jam recipes but with all the incredible fresh strawberry flavor! That means you can enjoy sweet jam with fewer calories made in under 20 minutes.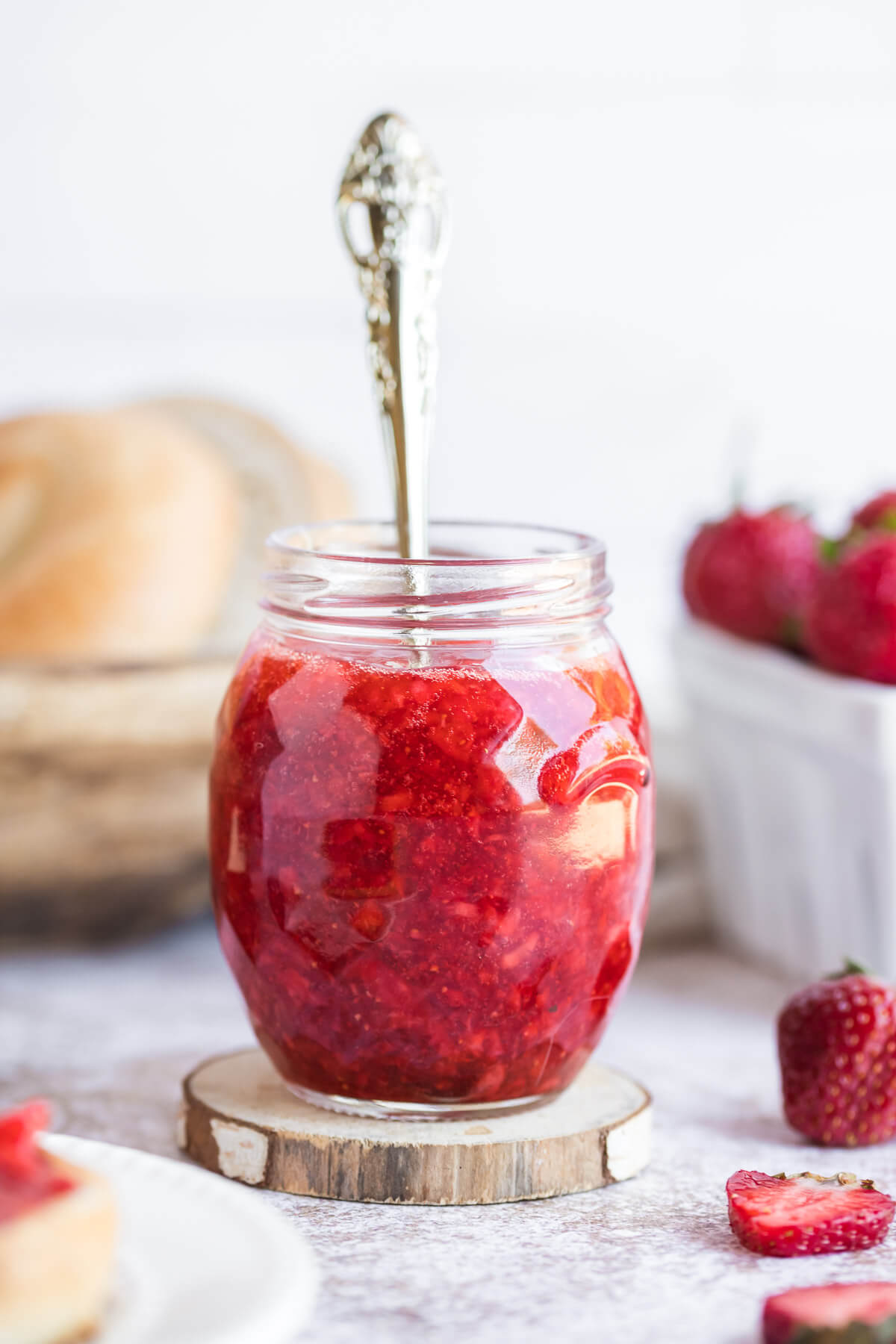 Just mash the strawberries, combine the sugar and pectin, then give it a good stir — Voila! You have a delicious jar of freezer jam for biscuits, toast, crackers, or even a scoop of vanilla ice cream
This sweet jam is stored in half-pint jars or plastic freezer containers with tight-fitting lids. It's a great recipe to gift to loved ones for Easter, Mother's Day, Father's Day, or any other special occasion. Just print out an adorable label and tie a red or pink ribbon around the jar!
Can't get enough of these sweet and juicy berries? Well, I have some recipes for you! Check out my Strawberry Salad, Grilled Chicken Breast with Strawberry Salsa, or these Gluten-Free Strawberry Muffins.
If you enjoy making this jam recipe, try my Homemade Blueberry Jam or this Hot Cherry Pepper Jelly!
Why Freezer Jam?
Traditional jam recipes are made using stovetops and hot water baths. During the process, the bacteria is killed, allowing the glass jars of jam to last much longer at room temperature, like in the pantry.
In contrast, freezer jam is the best way to make jam with only a few simple steps. However, it must be stored in the freezer or refrigerator.
Whichever method you choose, you'll make some delicious jam from fresh berries!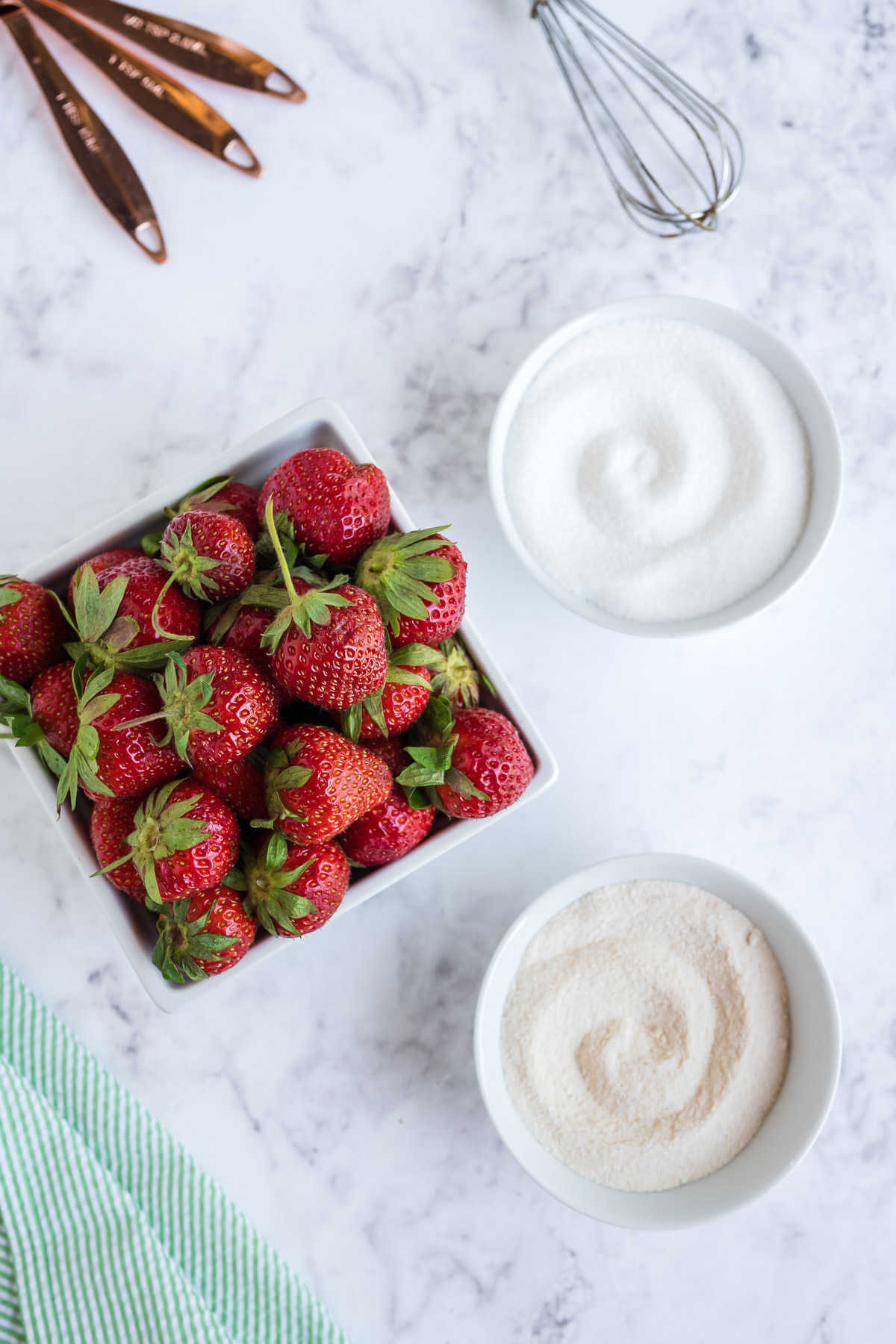 Key ingredients & substitutions for Low Sugar Strawberry Freezer Jam
Strawberries | Use fresh and clean strawberries with the stems removed for this simple recipe. Getting some freshly picked berries is even better, but store-bought works too. I would avoid using frozen fruit to prevent the jam from being runny. If preferred, replace the strawberries with another berry, like raspberries, making raspberry freezer jam!
Sugar | This is a low-sugar recipe. However, add more sugar if this factor doesn't matter to you. Regular recipes call for about four cups rather than two.
Fruit pectin | Pectin is required for specific jam recipes where the fruit doesn't naturally contain enough pectin to create a gel-like texture. Because this recipe calls for less sugar, it may be wise to use one of the low-sugar pectins that will react better to the lower sugar levels. Otherwise, you can add citric acid to the recipe to boost the pectin.
Equipment needed
How to make Strawberry Freezer Jam with Instant Pectin
If this is your first time making freezer jam, you're in for a real treat! This recipe is super simple and fun to make.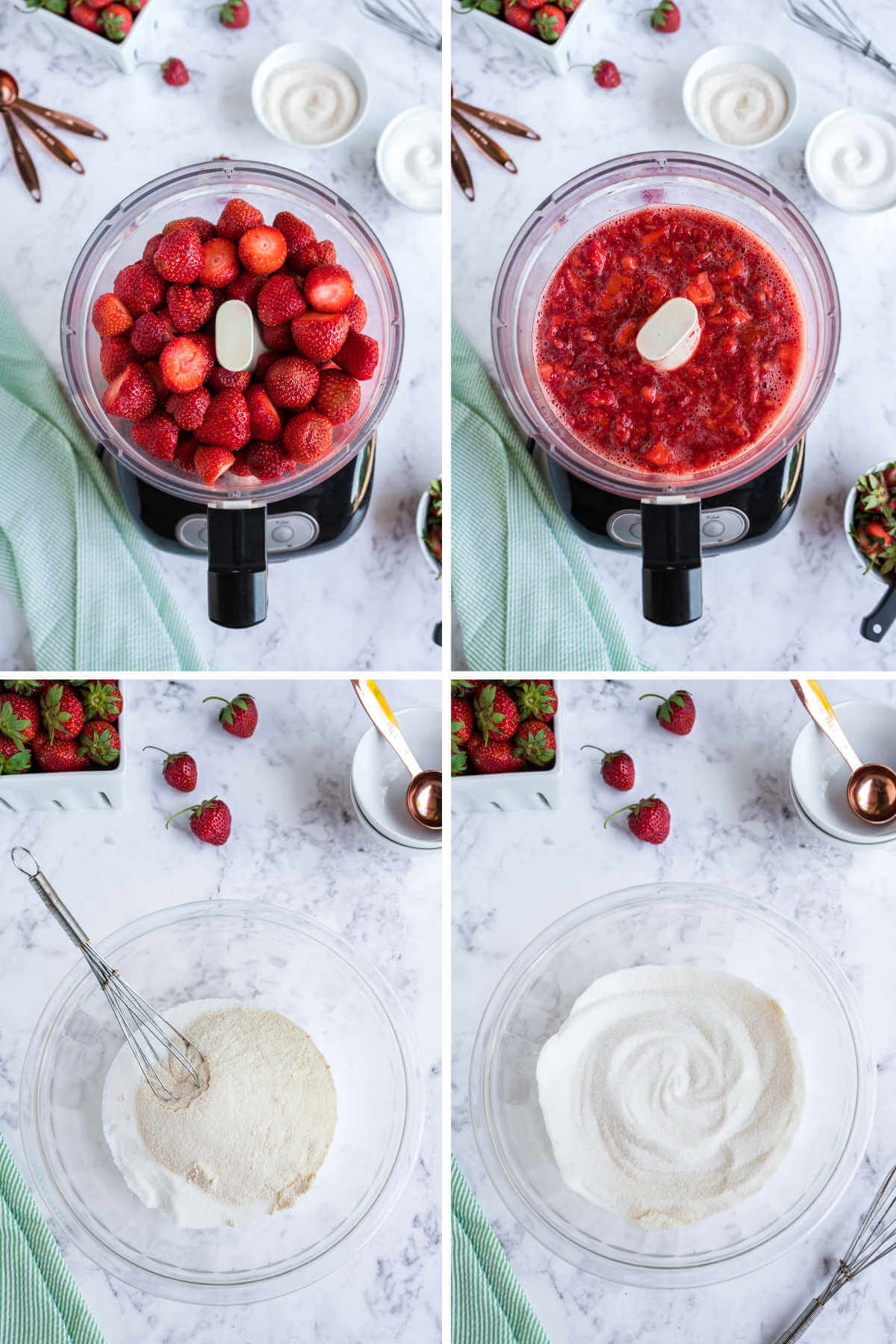 STEP 1 | Mash the berries
Start this jam recipe by mashing the strawberries until little to no pieces of fruit remain. I use a food processor to make this as easy as possible, pulsing just a few times.
When mashed, the whole 2 quarts of fresh strawberries should produce about 5 cups.
STEP 2 | Combine the sugar and pectin
In a large bowl, add the two cups of sugar and pectin. Then, whisk them together.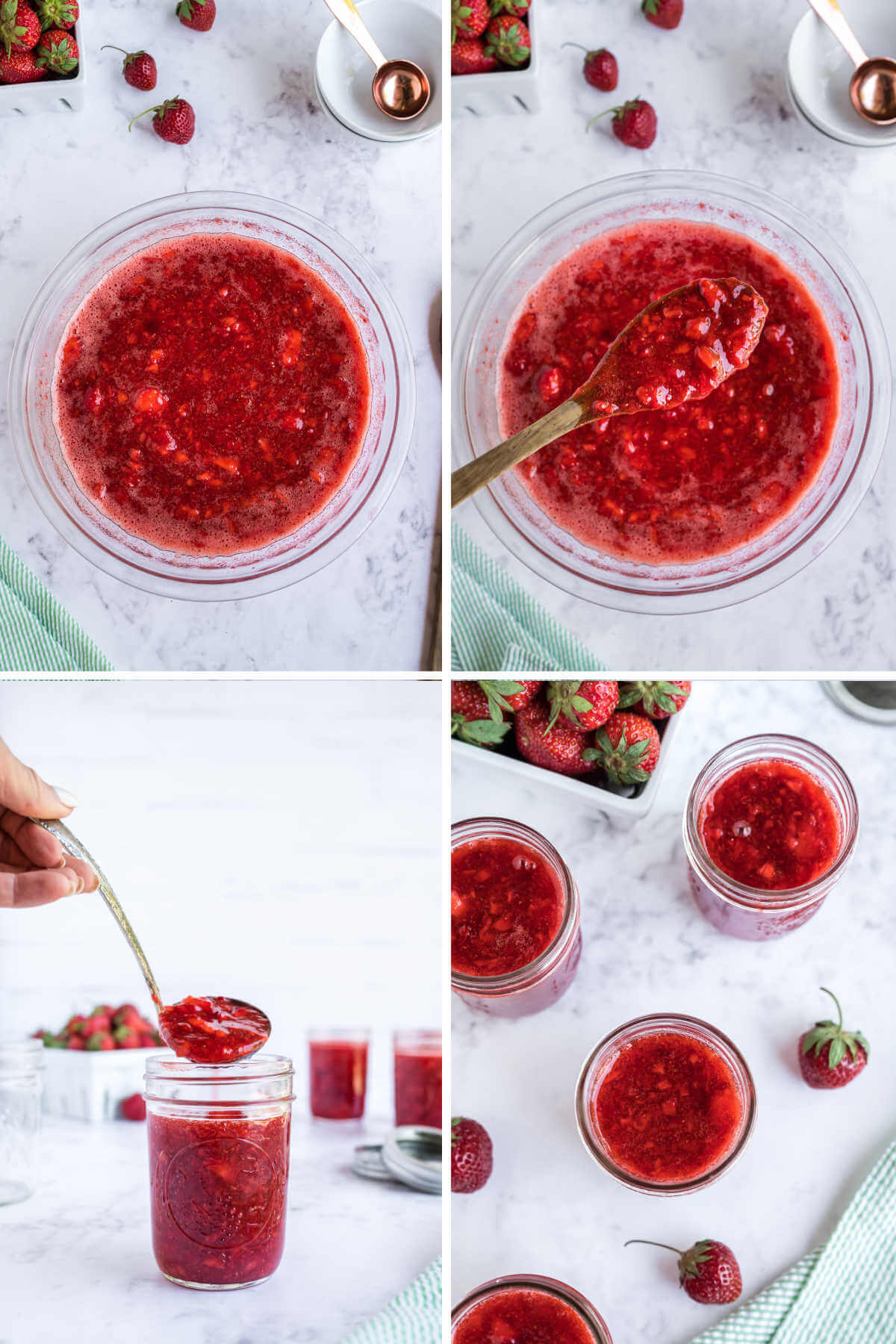 STEP 3 | Stir the ingredients together
Next, add 5 cups of the crushed berries and stir, stir, stir for three whole minutes! Remember to continuously scrape the bottom and sides to incorporate all the ingredients.
STEP 4 | Store and serve!
Finally, ladle the strawberry mixture into freezer-safe containers. Move them to a level spot in your freezer and store them for up to a year!
When ready to serve, remove the freezer jars and place them in the refrigerator to thaw overnight. Enjoy your homemade strawberry freezer jam on a buttery biscuit the following day!
tips
Before you crush strawberries, always remove the stems. You can cut them off with a paring knife or invest in a handy strawberry huller.
If you don't have a food processor, you can use a potato masher to gently press down on the berries. A food chopper will also do the trick. Pampered chef makes a great one that most people use for breaking up ground meat, but I've found it to work on berries, bananas, and several other things.
Your low-sugar freezer jam will keep for around a year in the freezer and up to a couple of weeks in the fridge.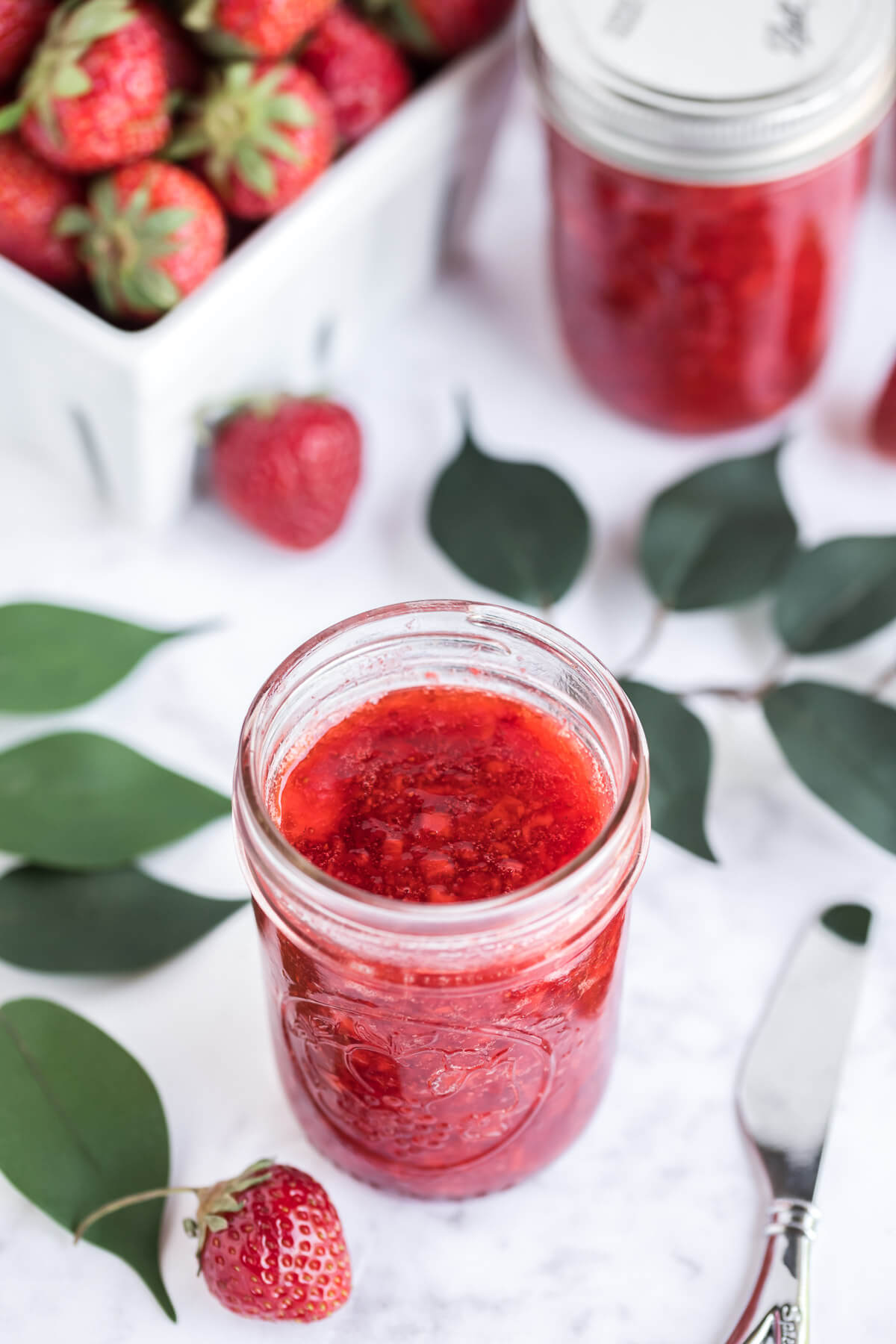 Frequently asked questions
How do you make homemade jam thicker?
Because this is a low-sugar jam recipe, the consistency is less gel-like than other jams. If you want to thicken the jam, you can do a couple of things. The easiest method is to add up to 2 more cups of sugar. 

However, you may not want to add more sugar to your low-sugar jam. Instead, consider adding some cornstarch. This is a common thickening agent for jams, soups, sauces, and more. It may also help to add one more tablespoon of pectin.

What's the difference between jelly, jam, and preserves?
If you can't tell the difference between these three very similar foods, you're certainly not alone. They are often confused with one another. However, some elements make jam different from jelly and jelly different from preserves. Like in this recipe, Jam is made with mashed-up fruit, while jelly is typically made with fruit juice. And preserves are similar to jams, except for some large pieces incorporated into the mashed fruit.

What can I use instead of sugar in a jam?
If this low-sugar recipe doesn't put your mind at ease, you may wonder if you can make jam without any sugar at all. The sugar is required to react with the pectin. So, you cannot leave it out entirely. If you're up for the challenge, try experimenting with honey, cane sugar, agave, or stevia instead of granulated sugar.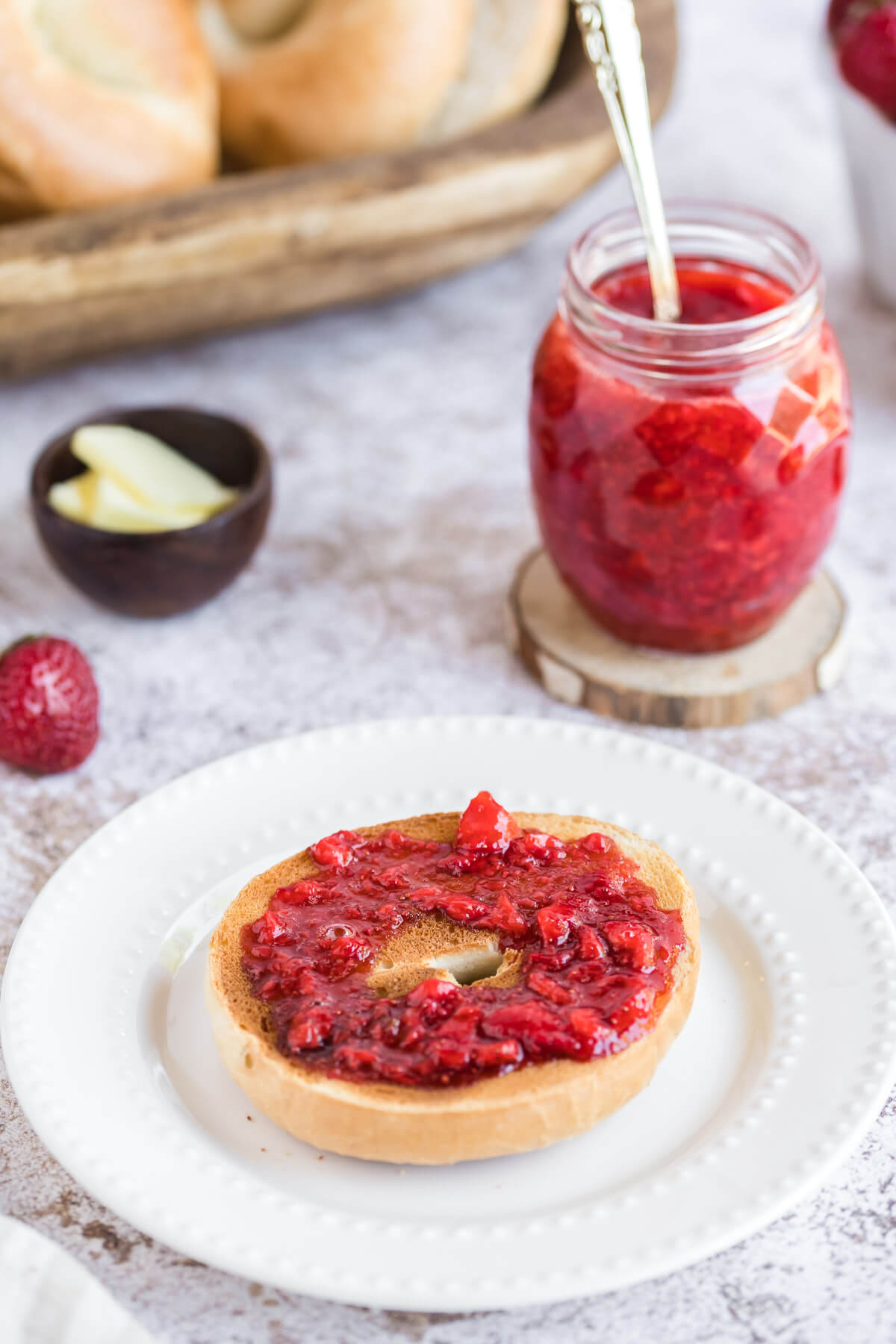 SHOP THIS POST

Serving suggestions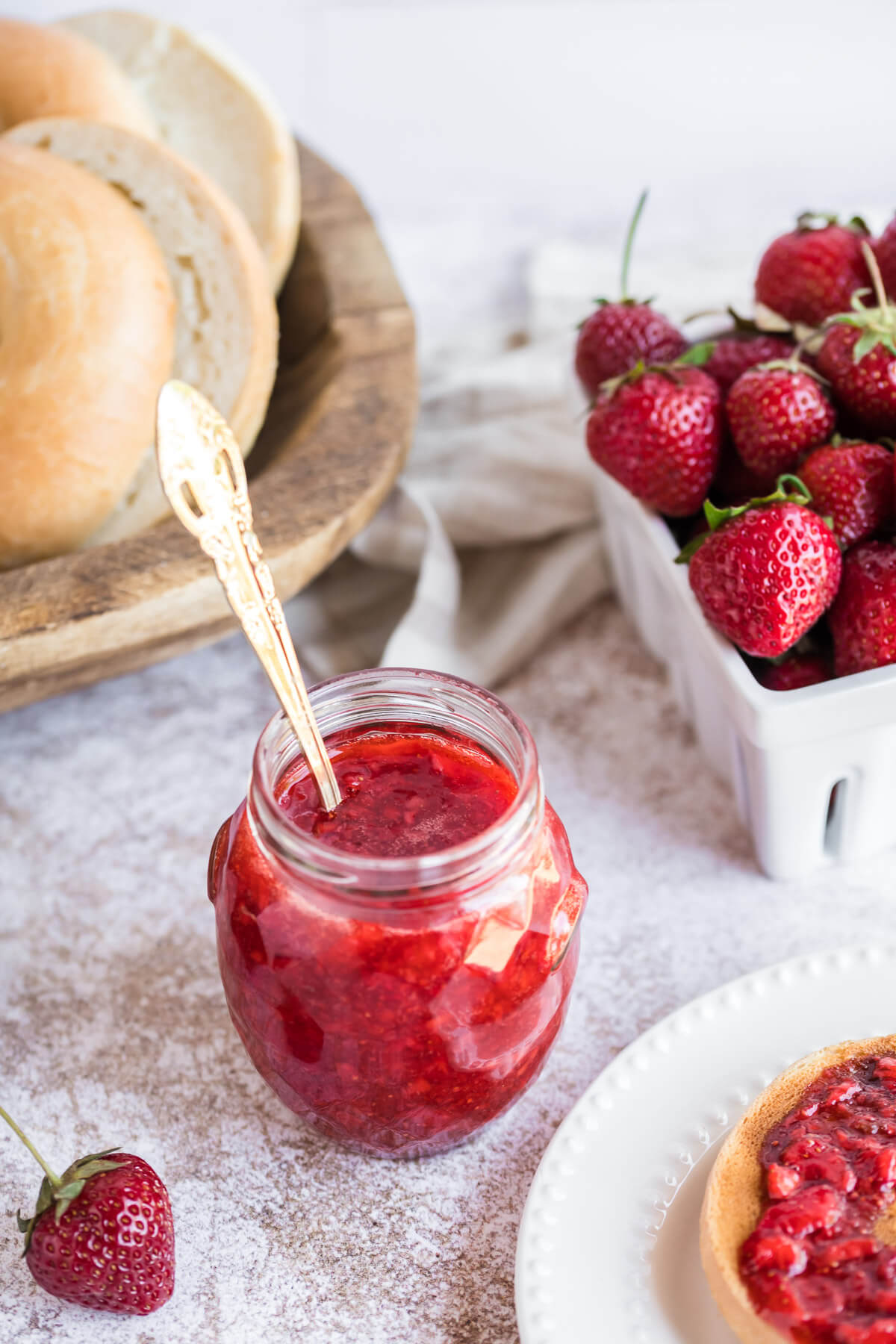 Behind the recipe: Homemade Strawberry Jam
Jams, jellies, and preserves are enjoyed by folks all around the globe. And they have been for a long time—Since before the 4th century, in fact!
While researchers can't determine a 100% accurate origin, place, and time, it is believed that jam was first made in the Middle East using honey. Incredibly, it is one of the recipes found in the oldest cookbook historians know of!
Essentially, it was a way to preserve fruit by heating, mixing with honey, cooling, and storing. Jams and jellies were then made with sugar when it became widely available.
Please share!
Your shares are how this site grows, and I appreciate each one. Do you know someone who would enjoy this recipe? I'd love it if you would share it on Facebook or Pinterest!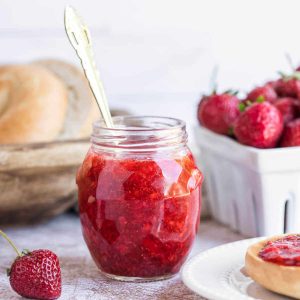 Easy No-Cook Strawberry Freezer Jam (Low Sugar)
Make this Easy No-Cook Strawberry Freezer Jam using half of the amount of sugar than other strawberry jam recipes but with all the incredible fresh strawberry flavor!
Equipment
Food processor

Ladle 

5 Half pint jars (or other freezablecontainers)
Ingredients
2

qts.

fresh strawberries

cleaned with stems removed

2

cups

sugar

6

tablespoons

fruit pectin
Instructions
 Mash the berries (I pulse a few times in a food processor).

Whisk together sugar and pectin.

Add 5 cups crushed berries (the whole 2 quarts should yield 5 cups)  and stir stir stir for 3 whole minutes. Make sure you are scraping the bottom.

Ladle into containers and freeze.
Notes
If you don't have a food processor, you can use a potato masher to gently press down on the berries, or, use a food chopper. Pampered chef makes a great one that most people use for breaking up ground meat, but I've found it to work on berries, bananas, and a number of other things.
You can either cut the stems off using a paring knife or invest in a strawberry huller.
This is a lower-sugar version. Because of that, the jam is a little less gel-like. If you prefer a thicker consistency, you can add more sugar, up to 4 cups.
Fresh-picked strawberries are ideal, but store-bought works too.
Nutrition
Calories:
61
kcal
Carbohydrates:
16
g
Protein:
0.3
g
Fat:
0.2
g
Saturated Fat:
0.01
g
Polyunsaturated Fat:
0.1
g
Monounsaturated Fat:
0.02
g
Sodium:
5
mg
Potassium:
73
mg
Fiber:
1
g
Sugar:
12
g
Vitamin A:
6
IU
Vitamin C:
28
mg
Calcium:
8
mg
Iron:
0.3
mg
Life Love and Good Food does not claim to be a registered dietician or nutritionist. Nutritional information shared on this site is only an estimate. We recommend running the ingredients through an online nutritional calculator if you need to verify any information.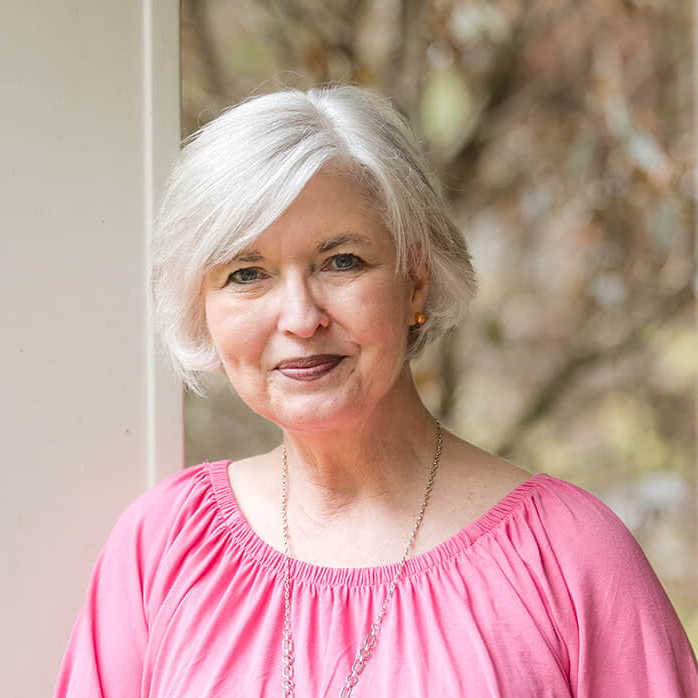 About Sheila Thigpen
Recipe Developer, Food Photographer, Food Writer
Sheila Thigpen is the publisher of Life, Love, and Good Food — a Southern food blog — and the author of Easy Chicken Cookbook and The 5-Ingredient Fresh and Easy Cookbook. After 20+ years in the publishing industry, she retired in 2018 to focus on her own creative endeavors full time. She and her husband live near the beautiful Smoky Mountains and have a precious little granddaughter who has stolen their hearts. As an influencer, Sheila has collaborated with brands like Creamette, Kroger, HERSHEY'S, Hamilton Beach, Garafalo Pasta, OXO, Smithfield, Valley Fig Growers, and more.