This post may contain affiliate links. Please read my disclosure policy.
Not only is it easy and quick, but this salmon rice bowl is healthy and delicious. It's a healthy dinner the whole family will love!
Salmon is nutrient-rich, boasting omega-3 fatty acids, which help burn fat and reduce your body's production of triglycerides. That means incorporating salmon into your diet may reduce your risk of cardiovascular disease.
And that's only the beginning of the endless list of health benefits of eating this super nutritious fish! So, no need to stress about dinner! Just follow the instructions, and you'll have a healthy, delicious, and filling meal everyone will enjoy.
I kept this recipe simple to help with busy weeknights. Feel free to add personal touches to fit your preferences and lifestyle.
For instance, include more fresh veggies for flavor and nutrients, like red cabbage, brussels sprouts, sugar snap peas, bok choy, or avocado.
What our readers have to say…
"Absolutely delicious! The teriyaki sauce is excellent, and the dish is easy to prepare and so healthy. It is a definite keeper." — Anne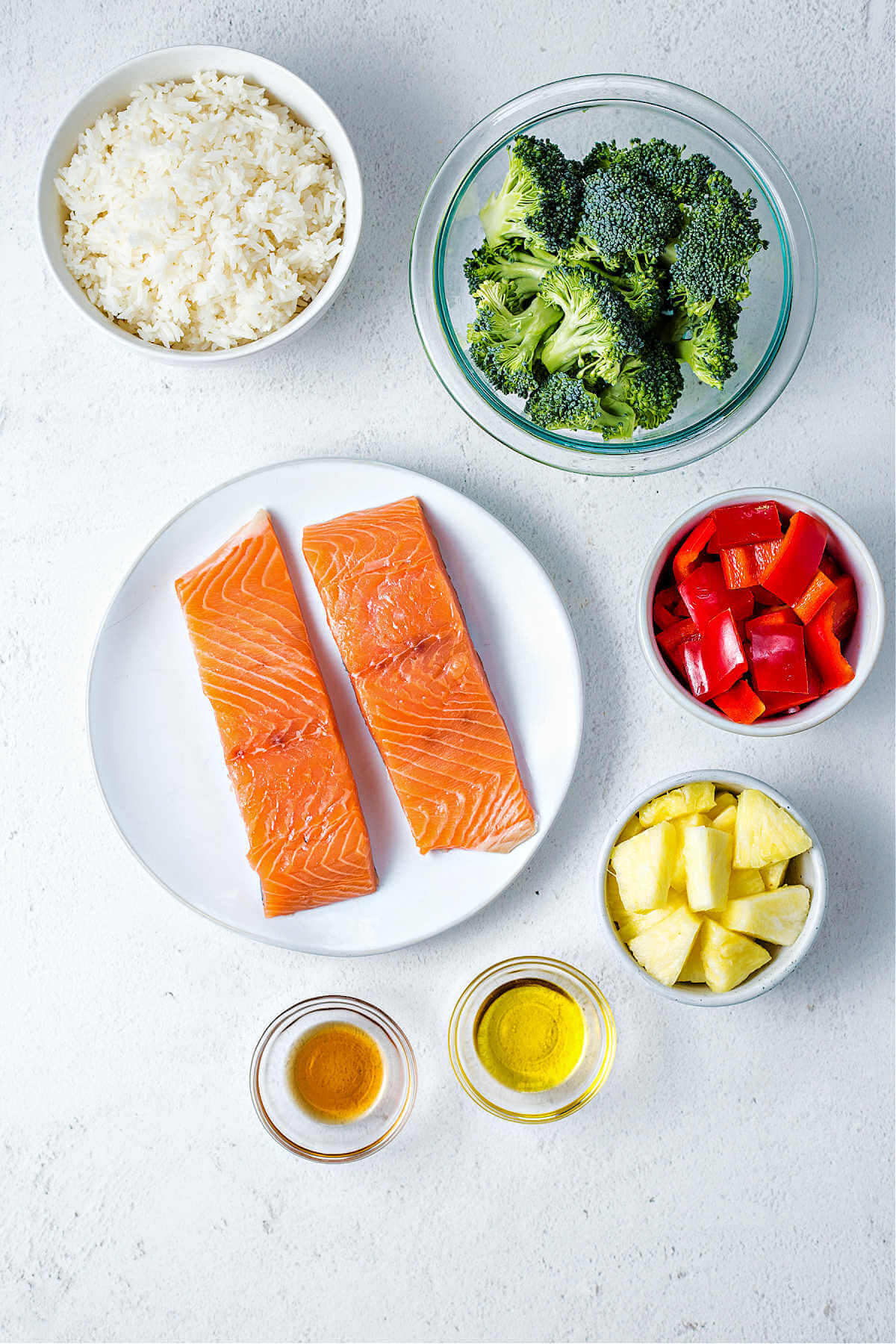 Key ingredients & substitutions for Salmon Teriyaki Bowls
Vegetables | Baked broccoli florets and chopped bell peppers are the perfect vegetables to accompany this sweet and savory fish filet. An orange or red bell pepper will do.
Oil | To roast the veggies, you'll need a little sesame oil and extra-virgin olive oil.
Salt and pepper | Season the salmon with kosher salt and freshly ground black pepper. That's all they need when you're brushing the filets with your delicious homemade sauce!
Pineapple | Cubes of pineapple bring a tangy sweetness to the recipe, pairing well with the sugary notes of teriyaki. Use canned pineapple to make your job easier, or grab a whole pineapple from the store. A good halfway point between the two options is to buy the fresh pineapple already cut into chunks.
Salmon | Of course, you'll need a couple of fresh salmon fillets. The better the quality, the more tasty your meal will be! Next time, switch things up by making this recipe with chicken breasts, which are also delicious with the teriyaki glaze.
Jasmine rice | All these ingredients will sit on top of a bowl of jasmine rice. If you want to turn this recipe into a super healthy meal, cauliflower rice or quinoa are good alternatives. A side of brown rice, white rice, wild rice, and even sushi rice will also do the trick.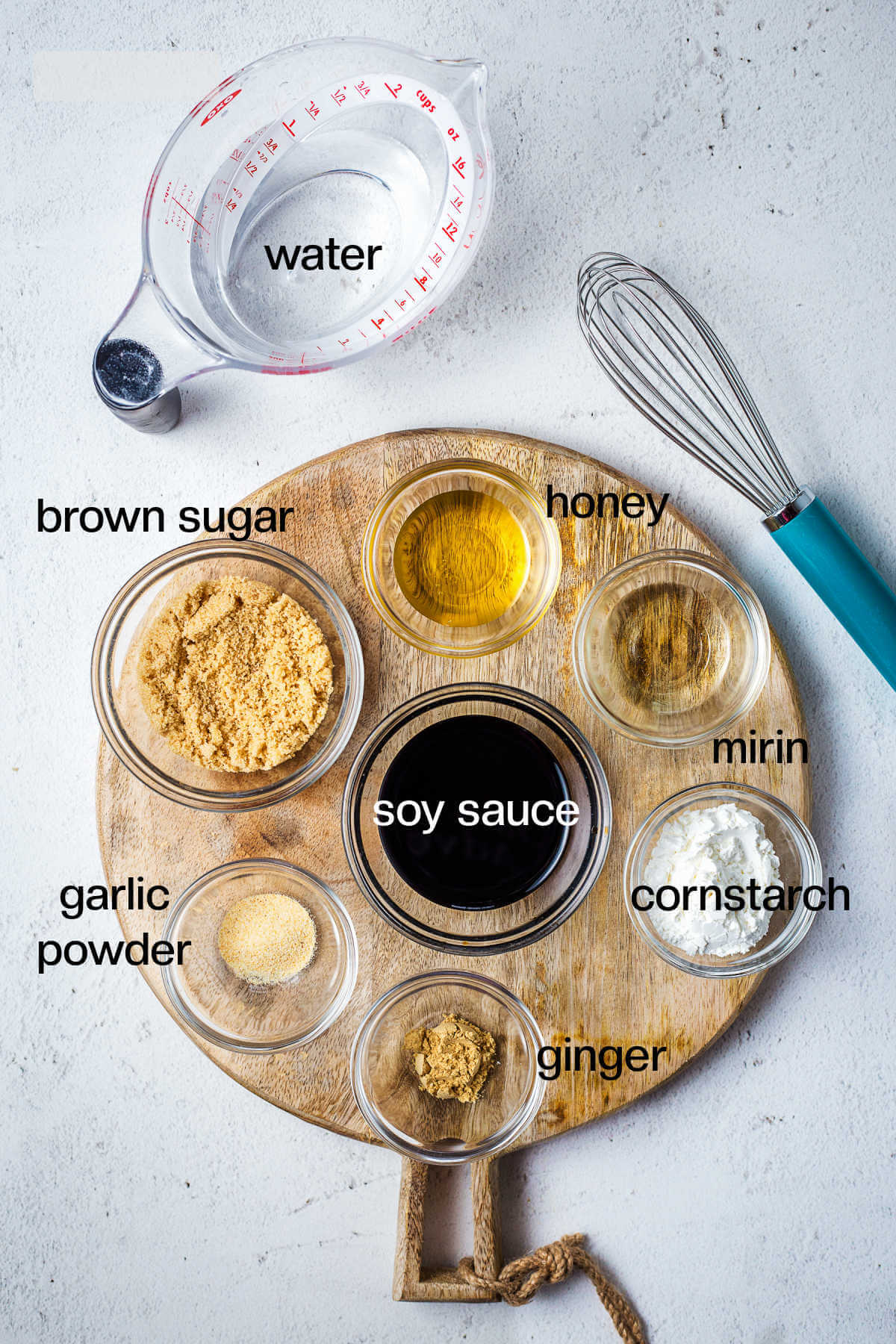 Homemade Teriyaki Sauce
Water | You'll pour one cup of water into the pan with the other sauce ingredients. But you'll also need another quarter cup of cold water to make the slurry that thickens the sauce for the teriyaki glazed salmon.
Soy sauce | Besides the cup of water, soy sauce is the main base ingredient for this recipe.
Brown sugar | Sprinkle in some light brown sugar to create the sweeter notes of teriyaki sauce.
Garlic and ginger | Boost the sauce's flavor with garlic powder and ground ginger. It's even better when you use fresh ginger and garlic cloves!
Cornstarch | Cornstarch and the cold water make a slurry to thicken the homemade sauce.
Mirin | Mirin is a rice wine that is optional for this recipe. If you want a similar effect but have trouble finding mirin at the grocery store, substitute it with rice vinegar and one teaspoon of sugar.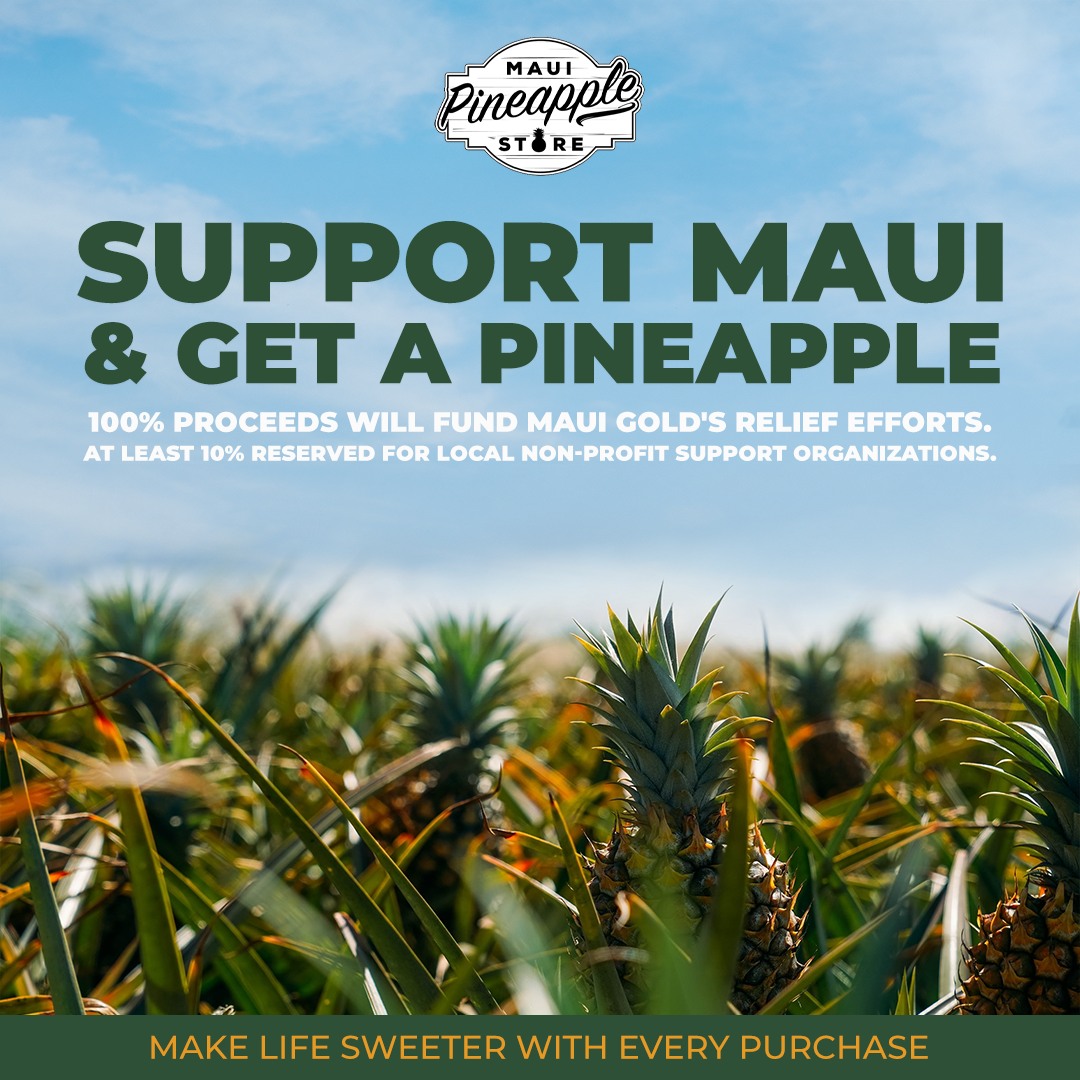 How to make Teriyaki Salmon Rice Bowls
Make a tender salmon bowl with an effortless yet tasty honey teriyaki glaze in just a few simple steps!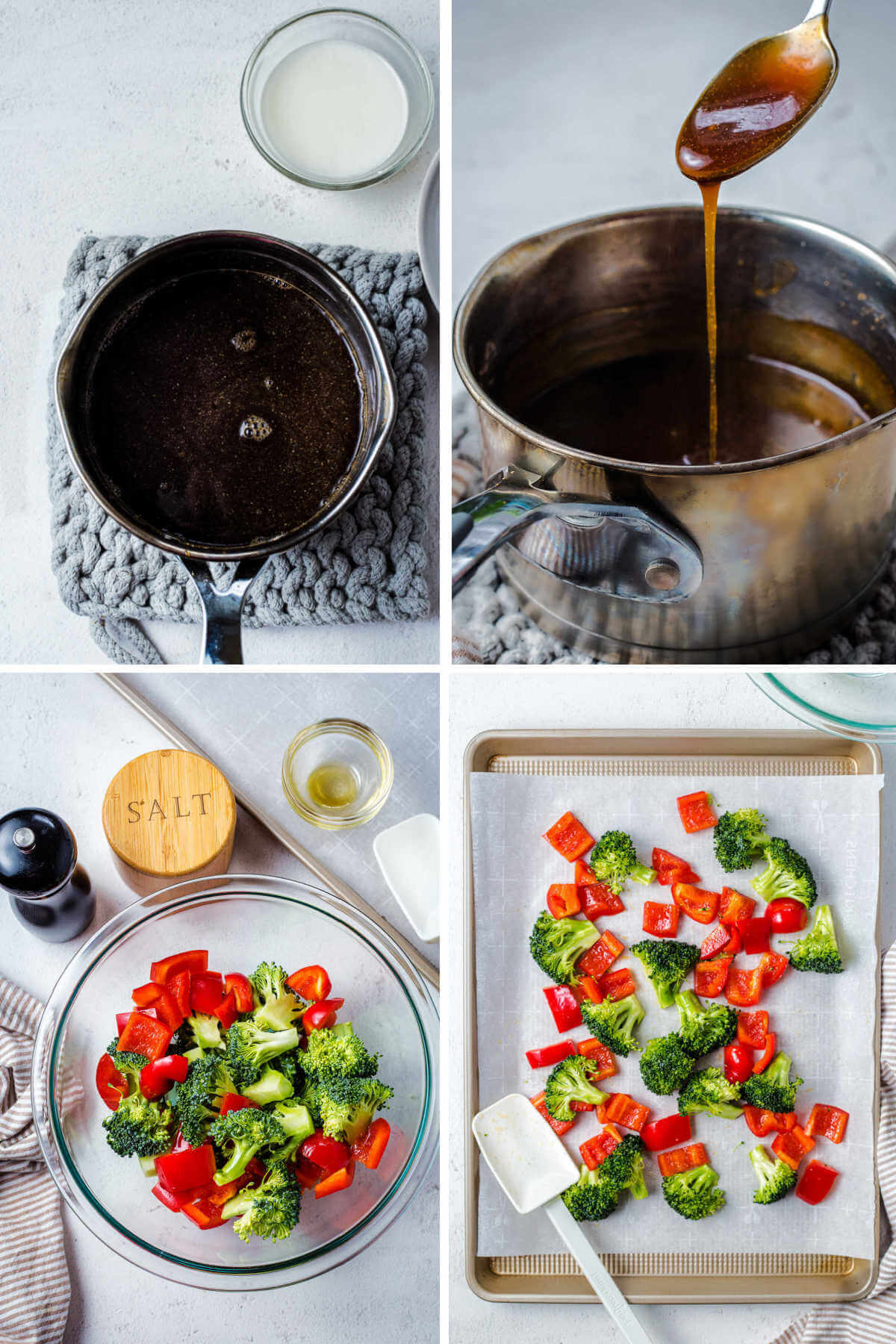 STEP 1 | Preheat and prep the sauce
Start this healthy weeknight recipe by preheating the oven to 400 degrees F and preparing the teriyaki sauce.
Keep the sauce warm until you're ready to add to the rest of the fresh ingredients. Then, line a large, rimmed baking sheet with parchment paper or aluminum foil.
STEP 2 | Bake the veggies
Next, place the broccoli florets and chopped bell pepper on the sheet pan and drizzle them with olive and sesame oil.
Follow with a sprinkle of salt and pepper, gently tossing the veggies to coat with the oil and seasonings. Bake for just five short minutes.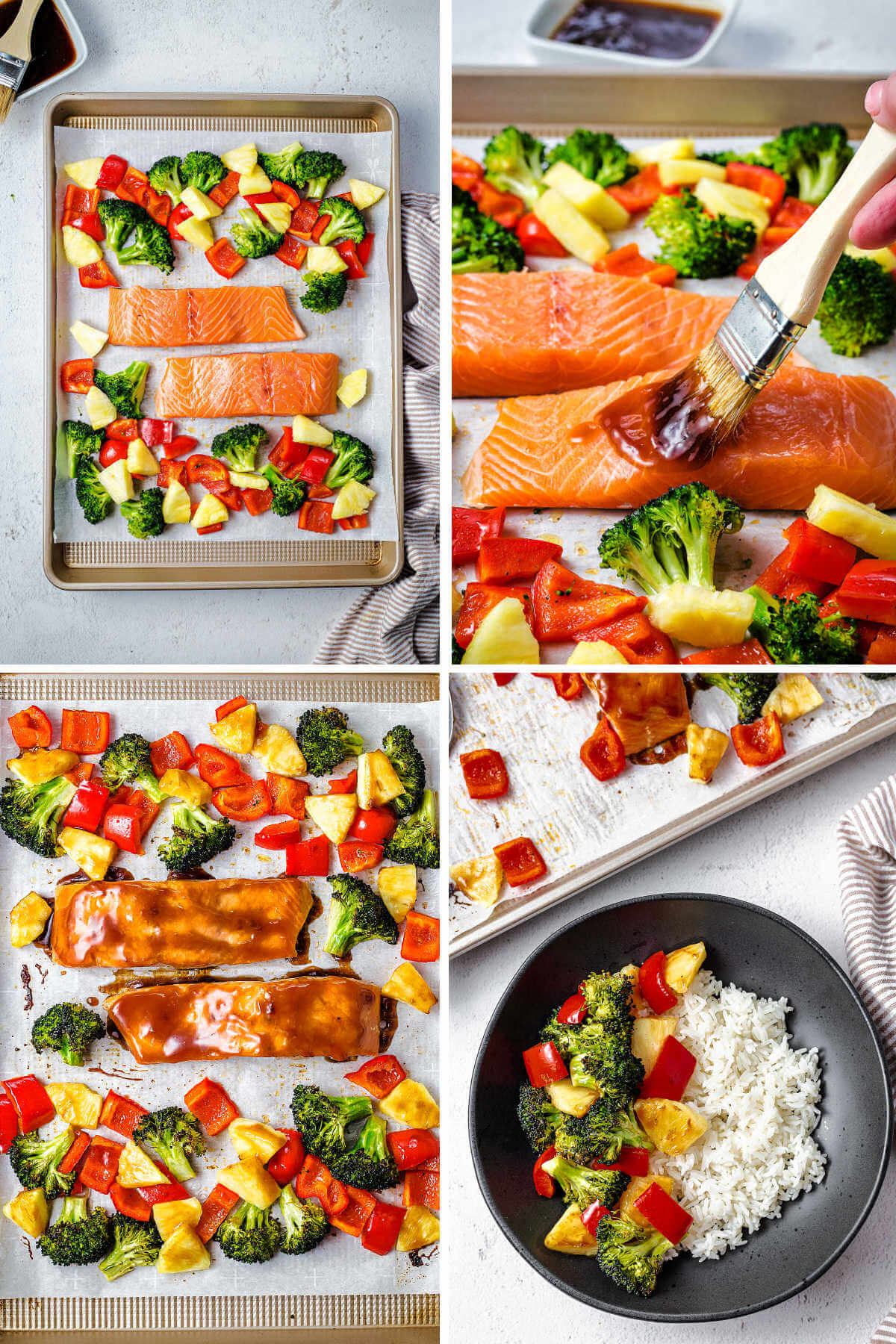 STEP 3 | Add the pineapple
After five minutes, remove the vegetables from the oven and add the pineapple chunks. Next, push the vegetables and fruit to the sides of the pan, making room to set the salmon in the middle.
STEP 4 | Bake the salmon
Then, move the salmon onto the baking sheet with the skin side down. Baste the fillets with homemade teriyaki sauce and reserve the remaining for later.
Next, return the baking sheet to the oven and cook for about 12-14 minutes or until the salmon is cooked through.
tips
For a little extra crunch and flavor, toast a tablespoon of sesame seeds in a dry skillet over medium heat for around 5 minutes, stirring occasionally.
Consider grabbing pre-cut veggies and fruit from the store to make this recipe even easier.
Pre-cooked microwavable rice is a quick base for these healthy and tasty bowls.
Try making the sauce in the instant pot! That way, you can keep it warm easily and conveniently.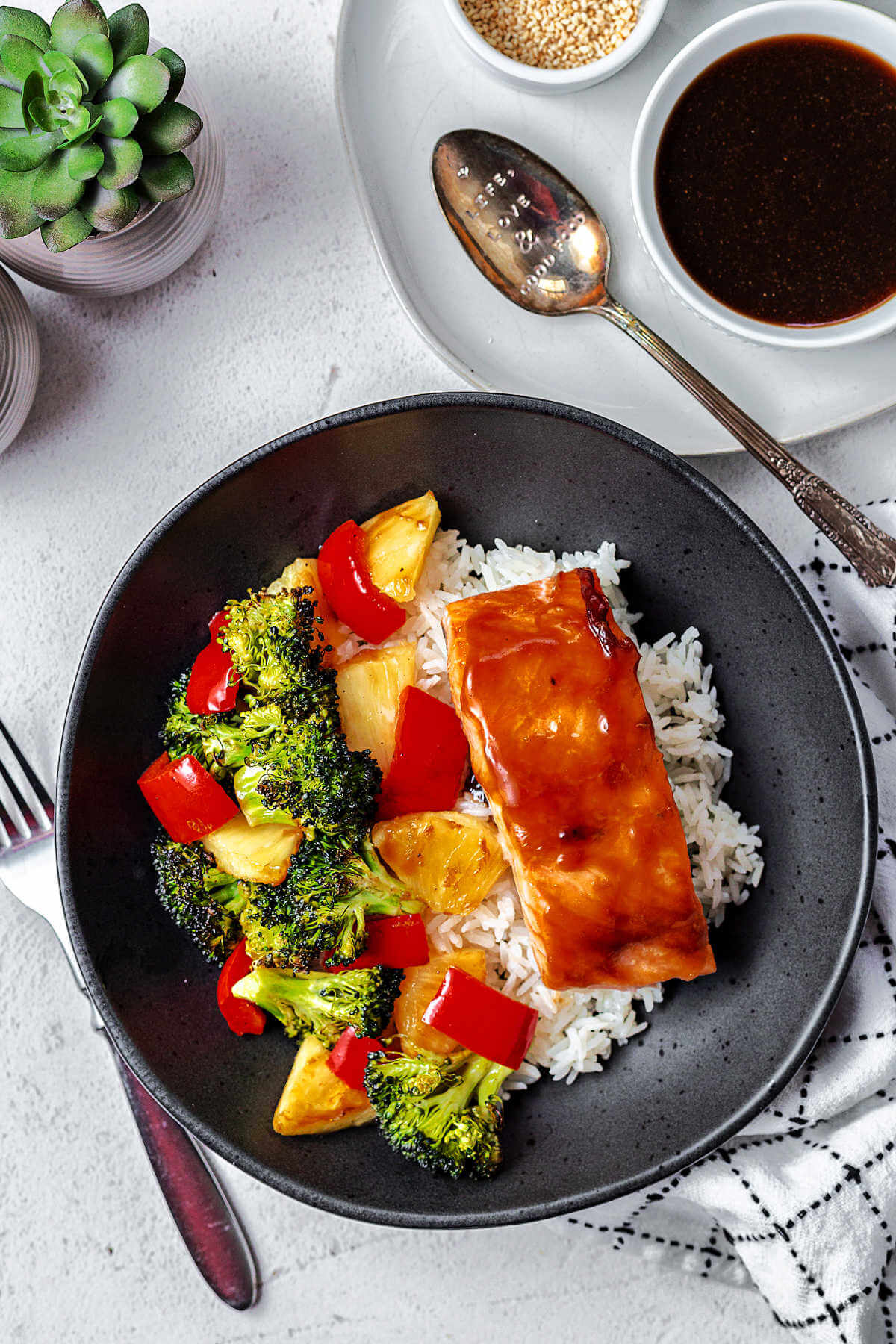 STEP 5 | Assemble the bowls
Now, it's time to throw together these delicious rice bowls! Splitting the portion, add a layer of white rice to the bottom of two bowls. Then, evenly divide the roasted vegetables and sprinkle them on top.
STEP 6 | Remove the skin and add the salmon
Next, remove the skin of the salmon if desired. The best way to do this is by sliding a flat spatula beneath the flesh to loosen and lift it away.
Don't be surprised if the salmon fillet falls apart. Flaked salmon bites are just as tasty as whole filets! Finally, add the salmon to each bowl.
STEP 7 | Garnish and Serve
If preferred, spruce up your salmon fillets with fresh toppings, like sliced green onions, a sprinkle of sesame seeds, and the remaining honey teriyaki sauce.
All that's left to do is set the dinner table and dig into this delicious weeknight meal with a loved one. Enjoy!
How to make Homemade Teriyaki Sauce
STEP 1 | Mix the ingredients
Make this easy sauce by first setting a small saucepan over medium heat. Add a cup of water, salty soy sauce, sweet brown sugar, garlic powder, ground ginger, rich honey, and the optional ingredient, mirin.
Cook until the mixture begins to simmer, continuously stirring.
STEP 2 | Thicken the sauce and store for later
Next, mix the cornstarch and cold water in a small bowl, creating a slurry that will thicken the sauce. Stir the slurry into the sauce and continue cooking for another 3 to 4 minutes until the sauce appears nice and thick.
Then, keep the homemade teriyaki warm until it's time to brush over the salmon and pour over the rice bowls as a final touch! EASY!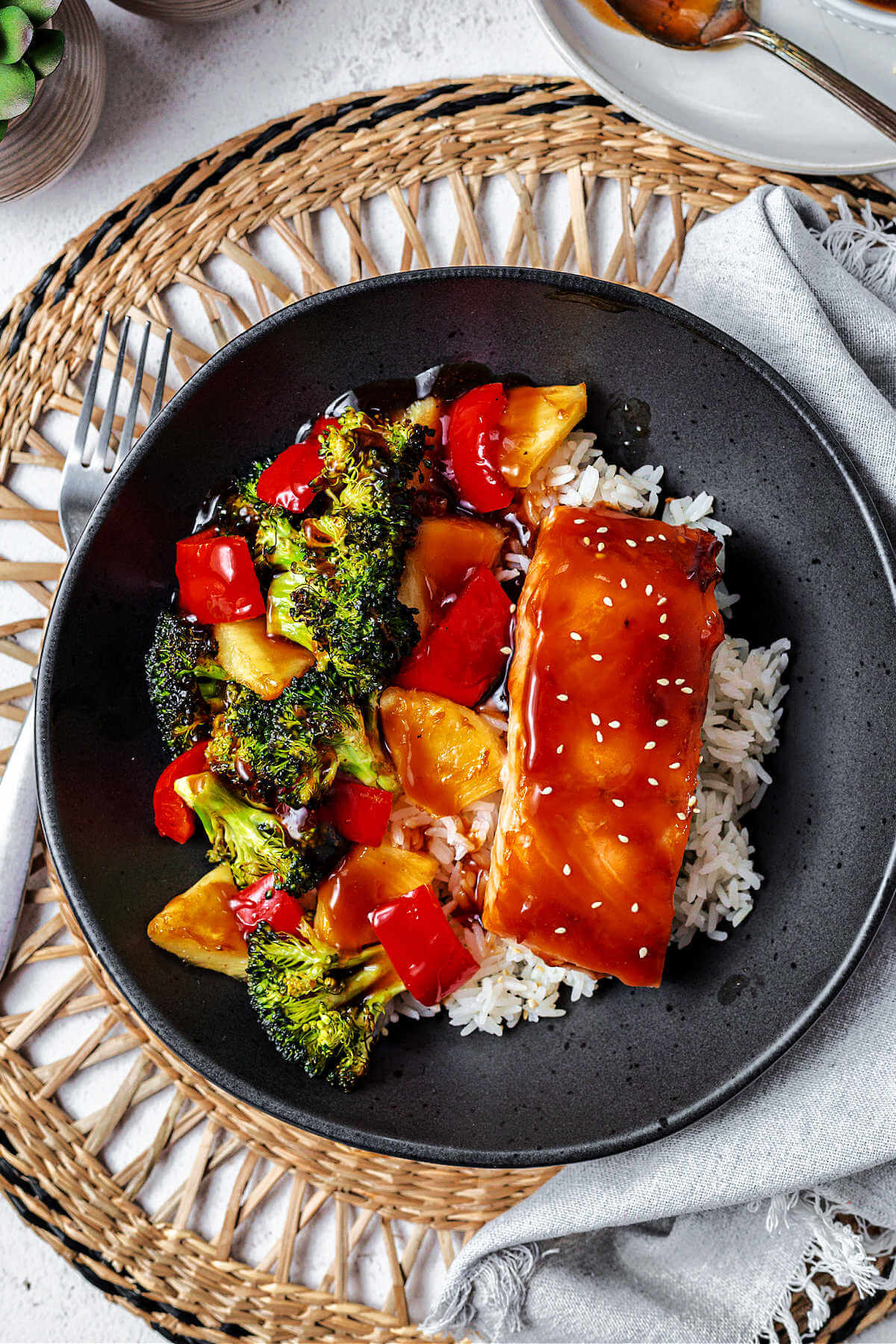 Frequently asked questions
Are mirin and rice vinegar the same thing?
No– They are similar and often used interchangeably in recipes. It's no wonder people get confused or assume they are two different names for the same rice product. Mirin is a rice wine, and rice vinegar is, of course, vinegar.
The most significant difference is the sweeter notes of mirin and the additional steps in producing rice vinegar to remove the alcohol. It's also beneficial to know that "rice wine vinegar" is just another term for rice vinegar.

Can you make salmon ahead of time?
This rice bowl recipe is perfect for meal prep! Store the salmon rice bowl in an airtight container and leave the extra teriyaki on the side to add just before serving. 
Double the recipe and store lunch portions in individual containers. That way, you can quickly grab your to-go lunch before leaving for work!

Do you have to remove salmon skin before eating?
Although most people remove it, salmon skin is safe to eat when baked, grilled, or fried with the filet. So, feel free to leave the skin attached if preferred. When it's done right, salmon skin can be crispy and delicious!

Can you cook salmon in an air fryer?
Absolutely! If desired, preheat the air fryer to 390 degrees and slice the seasoned salmon into bite-size pieces. Next, set the bites into the air fryer basket and cook for about seven minutes.
Using a thermometer is the best way to check if the salmon is fully cooked. When it reads 125 degrees, the salmon bites are good to go!

Serving suggestions
To best enjoy this teriyaki salmon bowl recipe, consider serving it with a refreshing side salad. This light Citrus Grilled Shrimp Salad with orange and lime juice and my crisp Wedge Salad with fried shallots are great options! Try either salad with my creamy Avocado Caesar Dressing.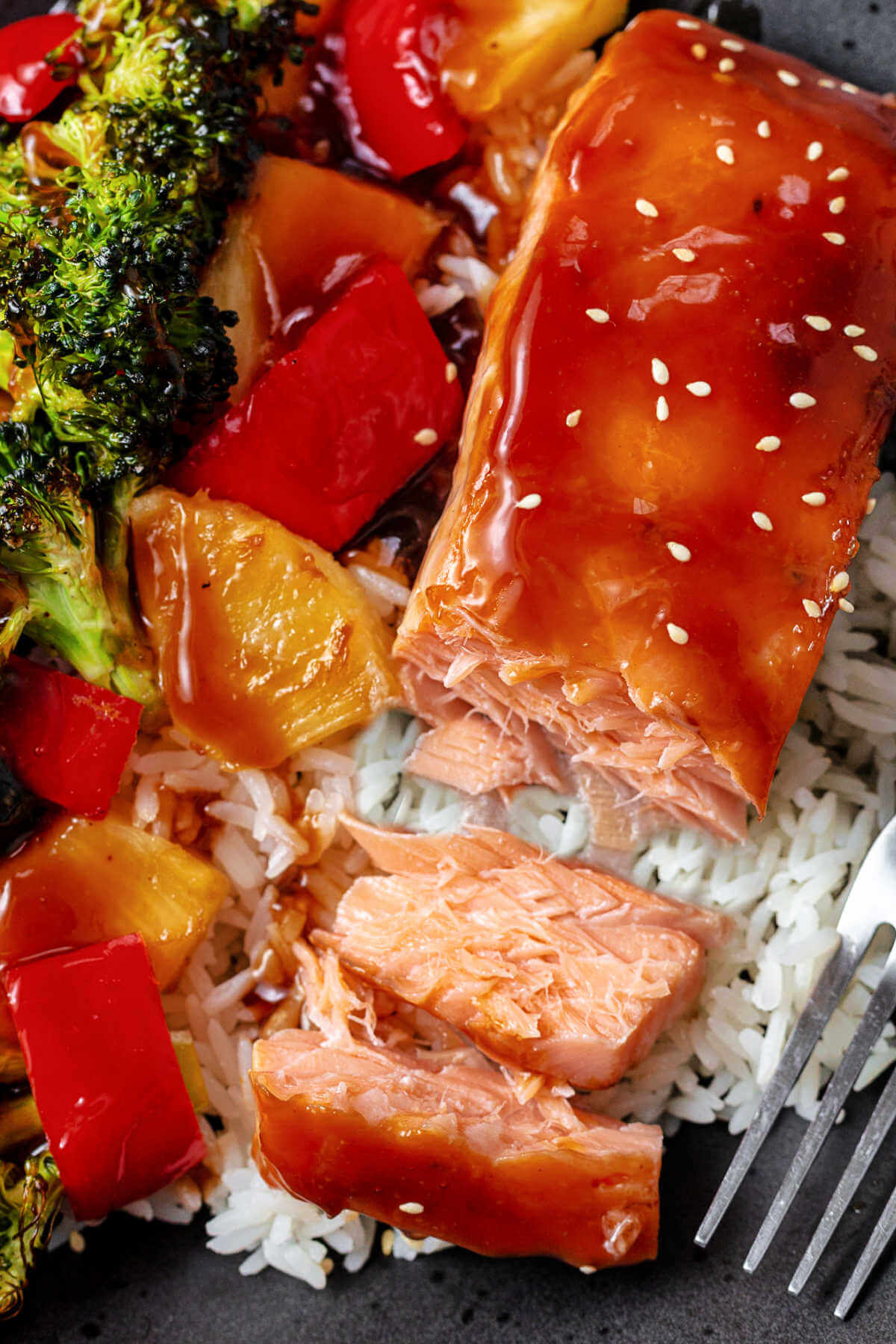 Behind the recipe: Recipe Name
One of the most popular choices of fish is salmon– Even for seafood fanatics! And it's no mystery why. Salmon is perfectly tender with a mild fishy flavor. However, the best part may be the incredible health benefits of eating salmon.
This pink-colored fish is one of the most nutritious foods in the world! Salmon contains essential vitamins, like B12 and B6, an impressive amount of healthy omega-3 fatty acids, and plenty of potassium.
There are so many perks to routinely consuming salmon, including improving heart health, regulating blood pressure, aiding with weight management, contributing to bone health, and even supporting mental health!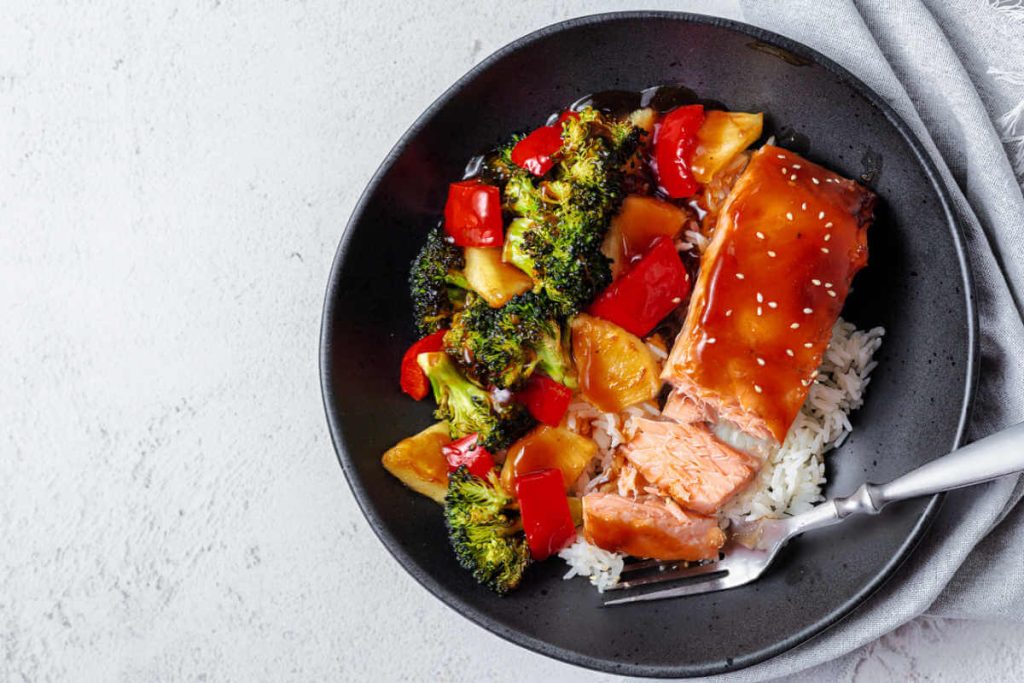 Please share!
Your shares are how this site grows, and I appreciate each one. Do you know someone who would enjoy this recipe? I'd love it if you would share it on Facebook or Pinterest!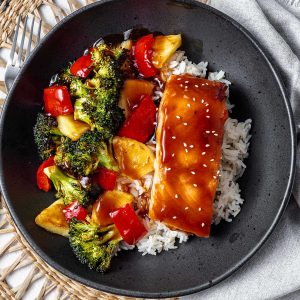 Salmon Bowls with Homemade Teriyaki Sauce
This colorful Salmon and Rice Bowl with Homemade Teriyaki Sauce is ready in under 30 minutes and chock full of roasted broccoli, chopped bell peppers, and fresh pineapple.
Ingredients
2

cups

broccoli florets

1

large

red or orange bell pepper

cut into thick chunks

2

tablespoons

extra-virgin olive oil

1

tablespoon

sesame oil

1/2

teaspoon

kosher salt

1/4

teaspoon

freshly ground black pepper

1

cup

cubed fresh pineapple

2

6-oz.

salmon fillets

2

cups

cooked jasmine rice
Homemade Teriyaki Sauce
1

cup

water

1/4

cup

soy sauce

1/4

cup

light brown sugar

1/2

teaspoon

garlic powder

1/2

teaspoon

ground ginger

1

tablespoon

honey

1

tablespoon

mirin

optional

2

tablespoons

cornstarch

1/4

cup

cold water
Instructions
Preheat the oven to 400 degrees F. Prepare the teriyaki sauce and keep it warm. Then, line a large, rimmed baking sheet with parchment paper.

Place the broccoli florets and bell pepper on the baking sheet. Drizzle the vegetables with the olive oil and sesame oil, then sprinkle with the salt and pepper, tossing gently to coat. Bake for 5
minutes.

Remove the vegetables from the oven. Add the pineapple chunks, then push everything to the sides of the pan, making room for the salmon in the middle.

Place the salmon skin-side down on the baking sheet and baste with teriyaki sauce, reserving the rest for later. Return the baking sheet to the oven to cook for 12 to 15 minutes, or until the salmon is cooked through.

To assemble the bowls, add a layer of rice in the bottom, then evenly divide the roasted vegetables on top.

Remove the skin from the salmon by sliding a flat spatula just beneath the flesh to loosen and lift it away, then add a fillet (or flaked salmon pieces) to each bowl.

Serve the bowls with the remaining teriyaki sauce and garnish with sesame seeds or sliced green onions, if desired.
Homemade Teriyaki Sauce
Add 1 cup water, soy sauce, brown sugar, garlic, ginger, honey, and mirin if using, to a small saucepan over medium heat. Cook and stir until the mixture begins to simmer.

In a small bowl, mix together the cornstarch and cold water to make a slurry. Stir the slurry into the sauce and cook for another 3 to 4 minutes, until the sauce begins to thicken. Keep warm until ready to use.
Notes
Toast a tablespoon of sesame seeds in a dry skillet over medium heat for about 5 minutes, stirring occasionally, to add a sprinkle of flavor and crunch on top of these bowls.
You may substitute canned pineapple in place of fresh pineapple.
Substitute rice vinegar + 1 teaspoon of sugar for the mirin, or you may leave it out entirely.
Nutrition
Serving:
1
g
Calories:
688
kcal
Carbohydrates:
115
g
Protein:
12
g
Fat:
22
g
Saturated Fat:
3
g
Polyunsaturated Fat:
5
g
Monounsaturated Fat:
13
g
Cholesterol:
1
mg
Sodium:
2318
mg
Potassium:
734
mg
Fiber:
6
g
Sugar:
51
g
Vitamin A:
3184
IU
Vitamin C:
226
mg
Calcium:
111
mg
Iron:
3
mg
Life Love and Good Food does not claim to be a registered dietician or nutritionist. Nutritional information shared on this site is only an estimate. We recommend running the ingredients through an online nutritional calculator if you need to verify any information.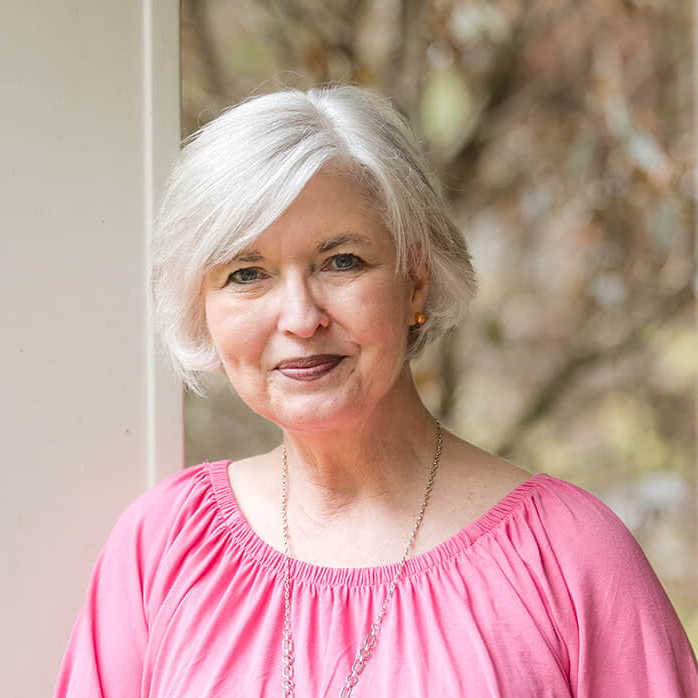 About Sheila Thigpen
Recipe Developer, Food Photographer, Food Writer
Sheila Thigpen is the publisher of Life, Love, and Good Food — a Southern food blog — and the author of Easy Chicken Cookbook and The 5-Ingredient Fresh and Easy Cookbook. After 20+ years in the publishing industry, she retired in 2018 to focus on her own creative endeavors full time. She and her husband live near the beautiful Smoky Mountains and have a precious little granddaughter who has stolen their hearts. As an influencer, Sheila has collaborated with brands like Creamette, Kroger, HERSHEY'S, Hamilton Beach, Garafalo Pasta, OXO, Smithfield, Valley Fig Growers, and more.