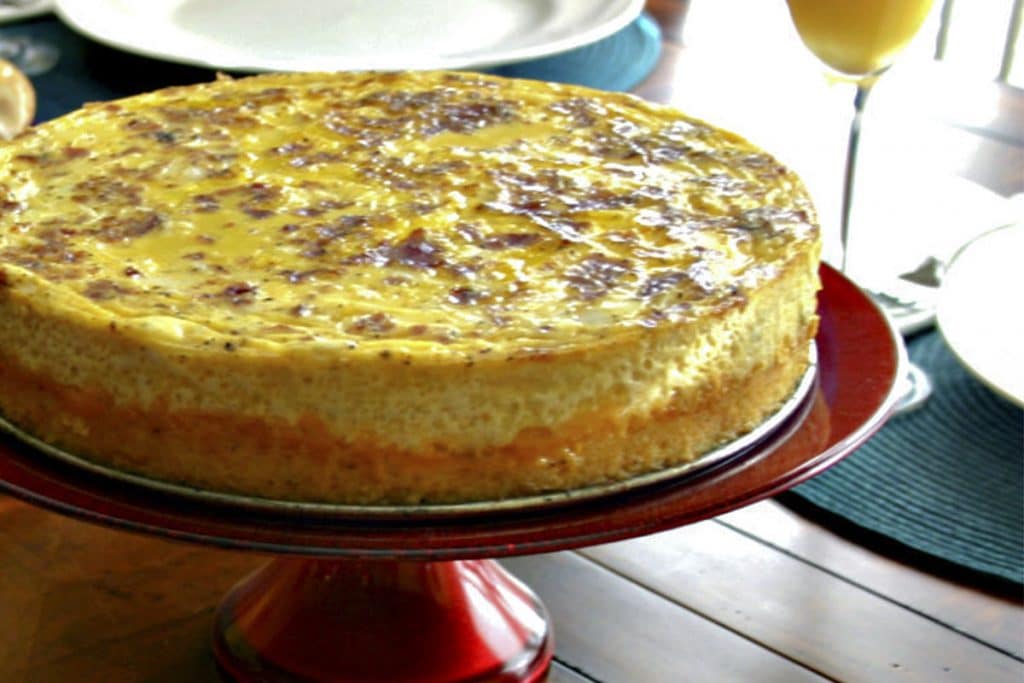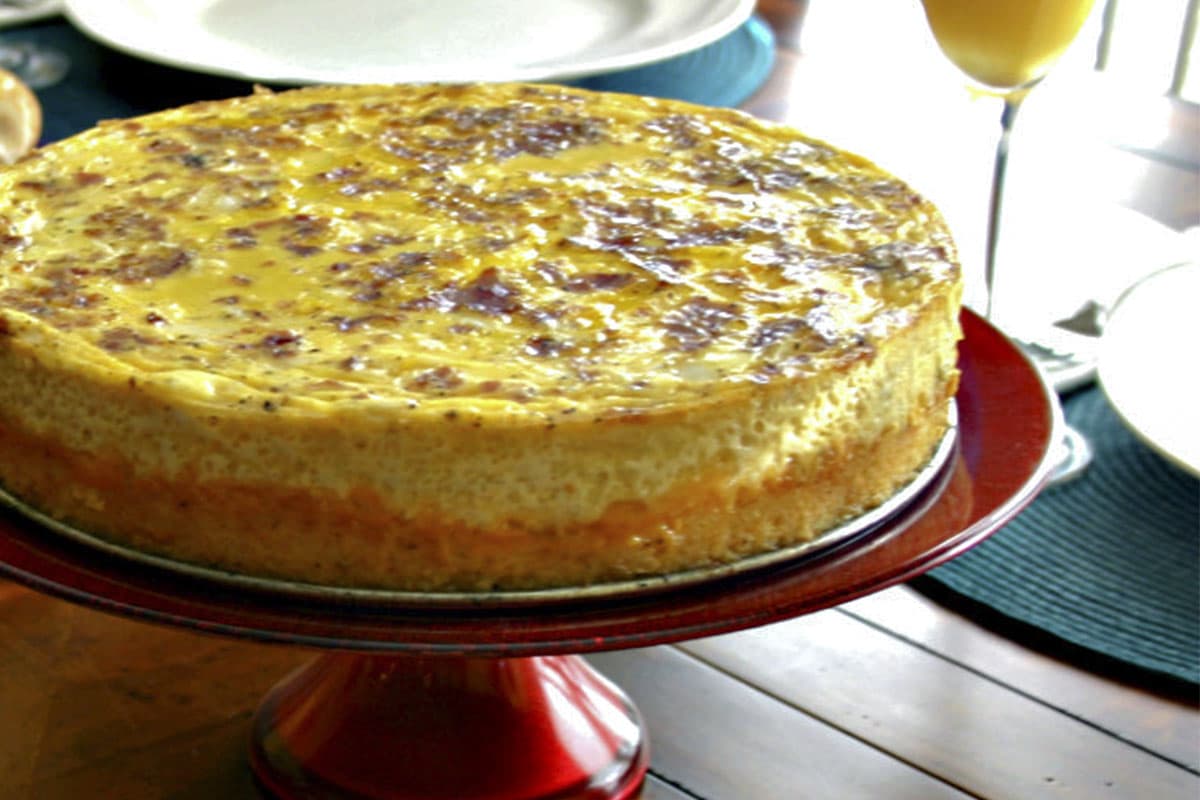 Disclosure: This is a sponsored post, but as always my opinions are 100% my own.
Bacon. Cheddar. Grits. Quiche. Oh. My. Word! I have been saving this recipe to share with you ever since I agreed to participate in the Hot Breakfast Month blogging project, and finally this week we're featuring weekend breakfast or brunch recipes! I promise this quiche is literally the most delicious egg dish I've ever prepared or tasted. Baked in a springform pan, the crust is made of creamy cheese grits with an additional layer of cheddar cheese. The grits and cheese are topped with a melt-in-your mouth bacon-egg "mousse". I'm not sure that "mousse" is exactly the right term here, but this quiche has a light-texture and is so creamy rich that my family gave this brunch recipe FIVE stars!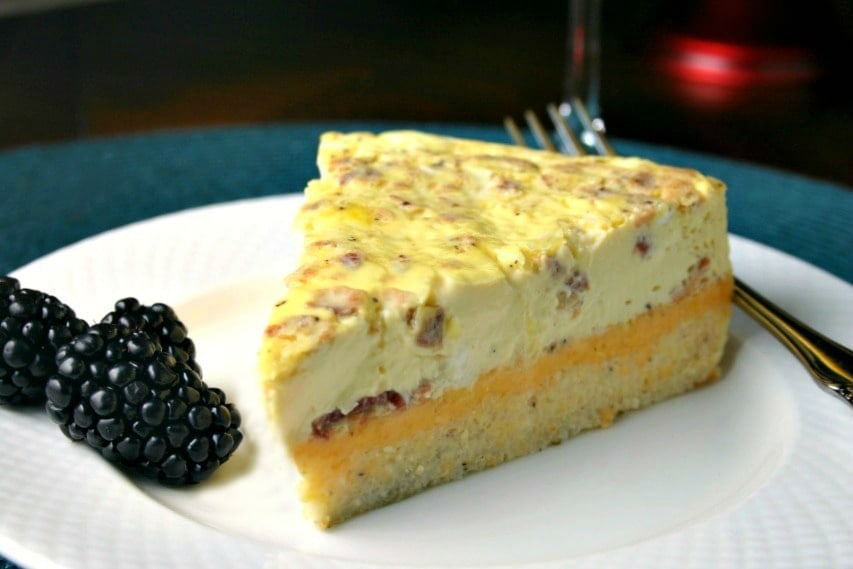 Every month when my Southern Living magazine arrives, I pour over the pages looking for ideas and new recipes to try. This recipe was in the December 2014 issue and I immediately knew that it would be perfect for a weekend brunch or special occasion breakfast. I served the quiche for Christmas morning breakfast with fresh fruit and cranberry orange muffins and it is very likely to become an annual tradition!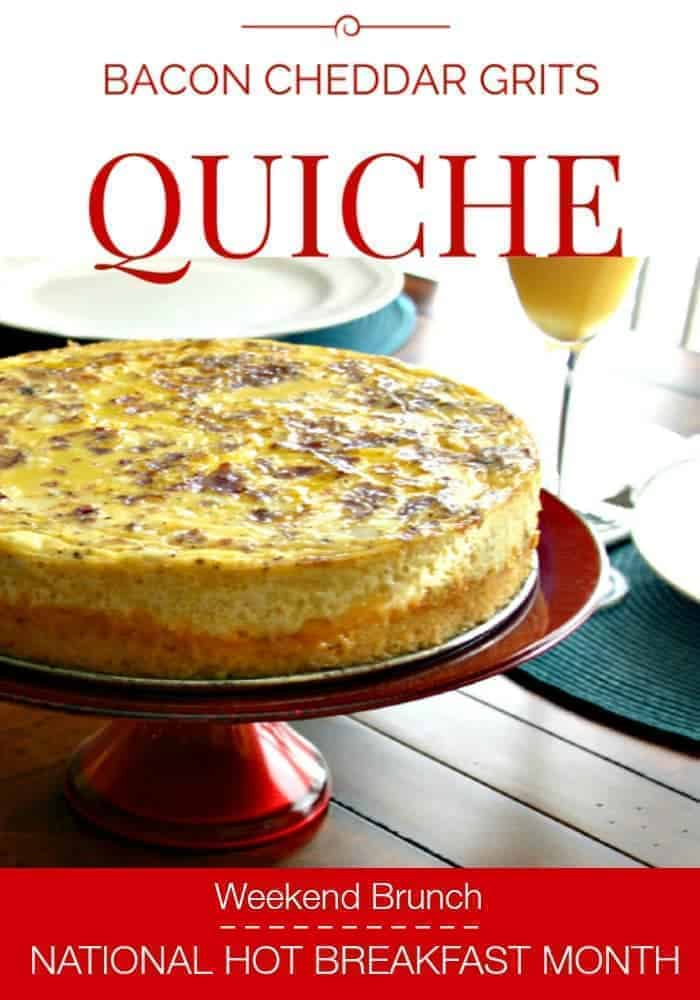 Now, just one disclaimer about this recipe. It is not difficult, but it does take some planning, time, and effort. Read the recipe directions through completely so that you know how much time you'll need. There is a lot of "down" time, so you can plan to multi-task when you're preparing this breakfast entree. I recommend preparing the grits crust the night before (you'll need 2 hours to cook the grits and bake the crust) and preparing the quiche mixture the next morning (it will bake for 1 hour and 15 minutes). Serve this to your family or weekend guests and I guarantee they will thank you profusely and will praise your hospitality!

Yield: 10 servings
Bacon Cheddar Grits Quiche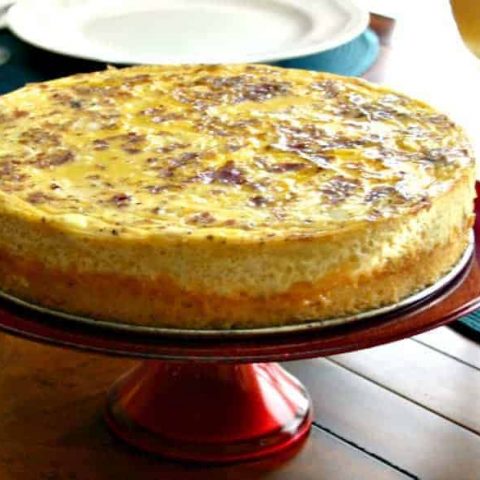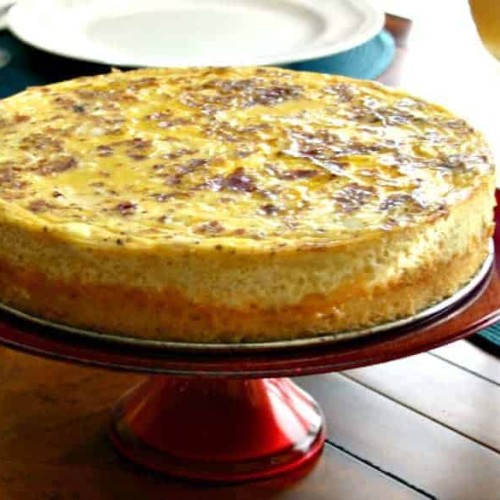 Bacon Cheddar Grits Quiche - creamy cheese grits crust (plus another layer of cheese) topped with a melt-in-your mouth bacon-egg "mousse".
Prep Time
1 hour
15 minutes
Cook Time
1 hour
15 minutes
Total Time
2 hours
50 minutes
Ingredients
6 thick bacon slices
2 1/4 cups milk
2 tablespoons butter
1/2 cup uncooked stone-ground grits
1-1/2 teaspoons salt, divided
1 teaspoon pepper, divided
2-1/2 cups shredded sharp Cheddar cheese, divided
6 large eggs
2-1/2 cups half-and-half
1 cup heavy cream
1/3 cup sliced green onions
Instructions
Preheat oven to 350 degrees. Cook bacon until crisp, drain and crumble reserving 2 tablespoons bacon drippings. Save bacon for topping later.
Add reserved bacon drippings, milk, and butter in a medium saucepan and bring to a boil over medium heat. Gradually whisk in grits, 1 teaspoon salt, and 1/2 teaspoon pepper. Cook and whisk constantly until very thick, about 15 minutes. Remove from heat and let stand 10 minutes. Stir in 1 cup cheese and let stand another 10 minutes.
Stir in 1 egg and spread in a 9-inch springform pan coated with cooking spray.
Bake at 350 degrees for 25 minutes or until set and browned. Sprinkle remaining 1 1/2 cups cheese over warm grits, spreading to edges. Let stand 15 minutes. (Continue cooking or cool and refrigerate overnight after this step.)
Reduce oven temperature to 325 degrees (or preheat oven to 325 degrees in the morning). Combine half-and-half, cream, onions, and remaining 5 eggs, 1/2 teaspoon salt, and 1/2 teaspoon pepper. Pour over grits and sprinkle with crumbled bacon. Place pan on a foil-lined baking sheet.
Bake for 1 hour and 15 minutes or until lightly browned and just set. Let quiche stand 20 minutes. Run a sharp knife around edges of quiche, then remove sides of pan. Serve immediately.
Notes
Southern Living magazine, December 2014
READ THE ENTIRE RECIPE BEFORE YOU BEGIN IN ORDER TO PLAN YOUR TIME. Start to finish, this quiche takes about 3 hours, but it is well worth the effort! Save time in the morning by preparing the grits crust ahead of time (steps 1-4). Cool and refrigerate overnight. In the morning, prepare the quiche filling and bake (steps 5-6).
Recommended Products
As an Amazon Associate and member of other affiliate programs, I earn from qualifying purchases.
Nutrition Information:
Yield:
10
Serving Size:
1
Amount Per Serving:
Calories:

528
Total Fat:

43g
Saturated Fat:

25g
Trans Fat:

1g
Unsaturated Fat:

15g
Cholesterol:

233mg
Sodium:

932mg
Carbohydrates:

11g
Fiber:

0g
Sugar:

4g
Protein:

25g
The following companies generously sponsored various #hotforbreakfast month projects. I may not have used all of them in my recipes, but this project is in no small part thanks to them and their incredible contributions: Bee Raw, Bob's Red Mill, Made in Nature, Maple Valley Syrup Cooperative, Now Foods, Pacific Foods, & Woodstock.