Fresh Cherry Cake with fresh mint infused into the batter and topped with creamy cherry buttercream frosting is a deliciously impressive Summertime cherry dessert.
This semi-homemade three-layer cherry cake starts with a white cake mix and a package of cherry gelatin. Adding sweet red cherries and mint leaves give the cake a flavor boost and freshness that really sets it apart.
Rich and moist, pretty and pink, this Fresh Cherry Cake with Fresh Mint is a real show-stopper dessert!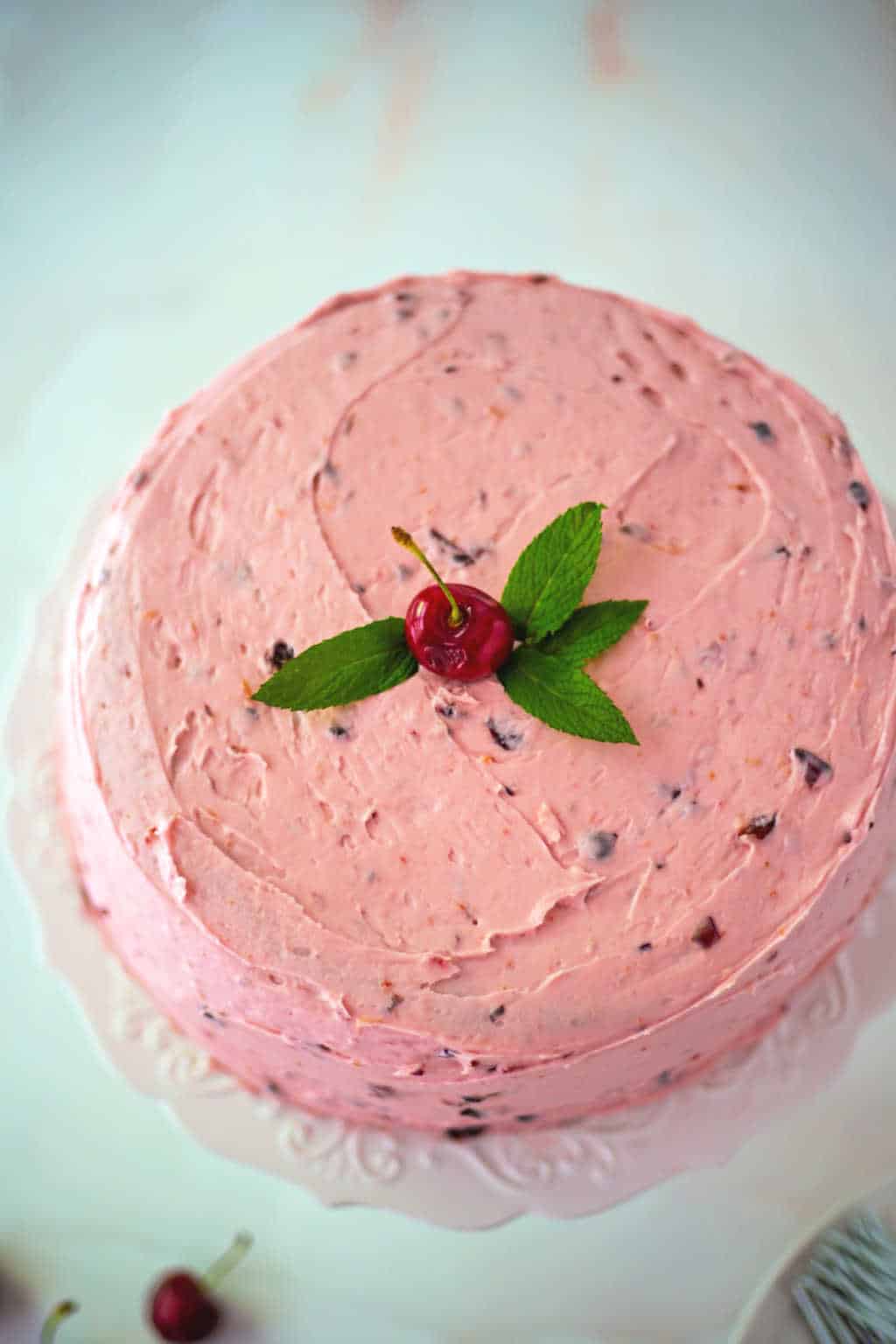 Fresh Cherry Cake
You are witnessing a momentous occasion here at Life, Love, and Good Food with the first layer cake recipe to make an appearance. EVER.
Usually, I'm a bundt cake or sheet cake kind of gal because they're quicker and easier, but sometimes you need to stretch yourself a little. Know what I mean?
Well… I stretched a little. This cake is not completely from scratch, but there's no shame in making a semi-homemade dessert. The cake batter starts with a box of white cake mix. A girl needs all the help she can get, right?
The frosting, though, is completely homemade and is sooo rich and creamy and chock full of fresh cherry bits — YUM!
For this cake, I smoothed it out all over then garnished the top with a stemmed cherry and mint leaves. I'm by no means an expert cake decorator, so I was a little proud how this simple garnish looked like a pretty blossom!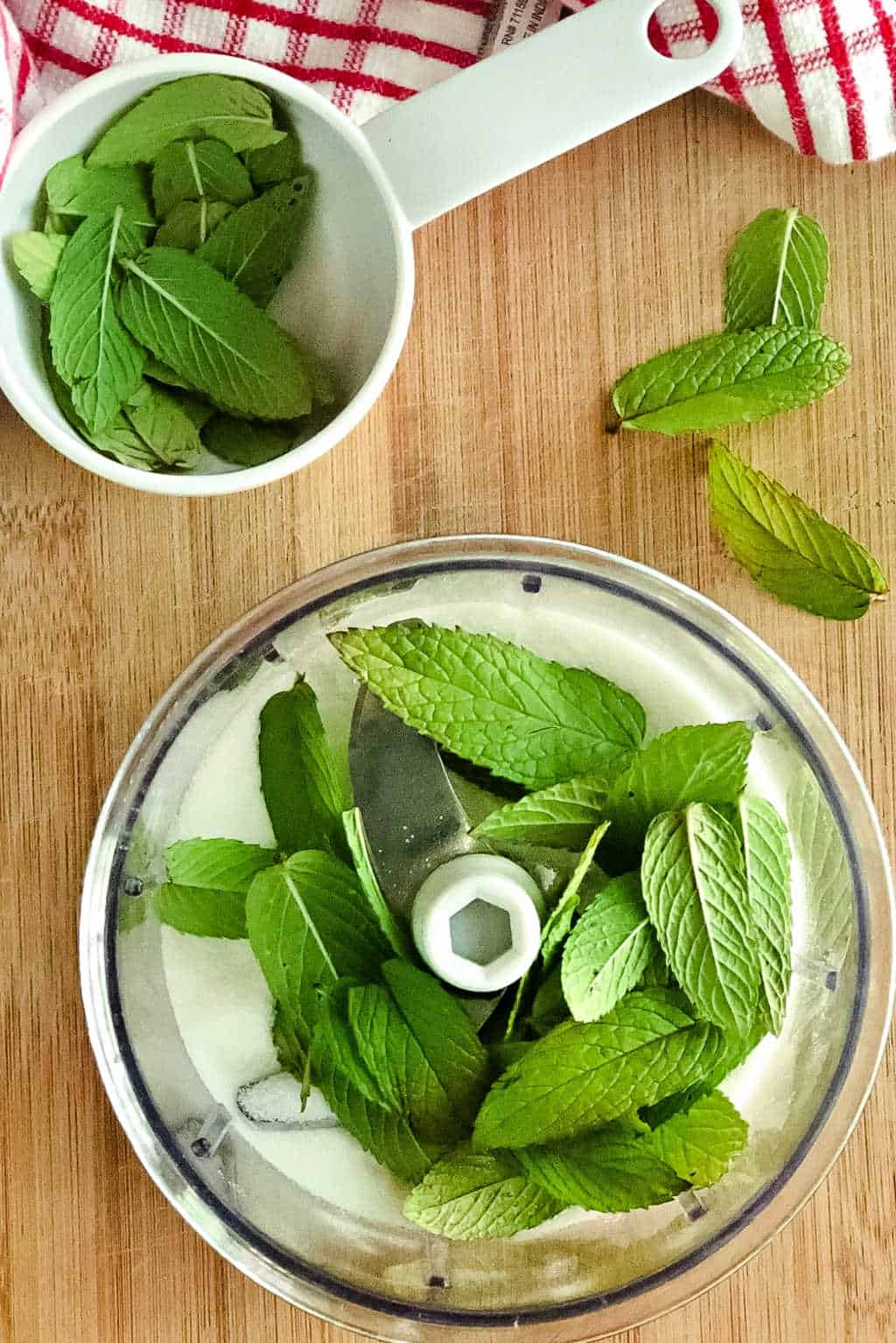 Baking with fresh mint
This year we planted three different mint varieties in our back yard, so I've been looking for ways to incorporate fresh mint in drinks and desserts. My friend Kathie is an expert gardener and has all kinds of tips for using fresh mint in desserts over at Homespun Seasonal Living.
For my cake recipe, I decided to infuse the mint flavor into the sugar before adding it to the cake batter.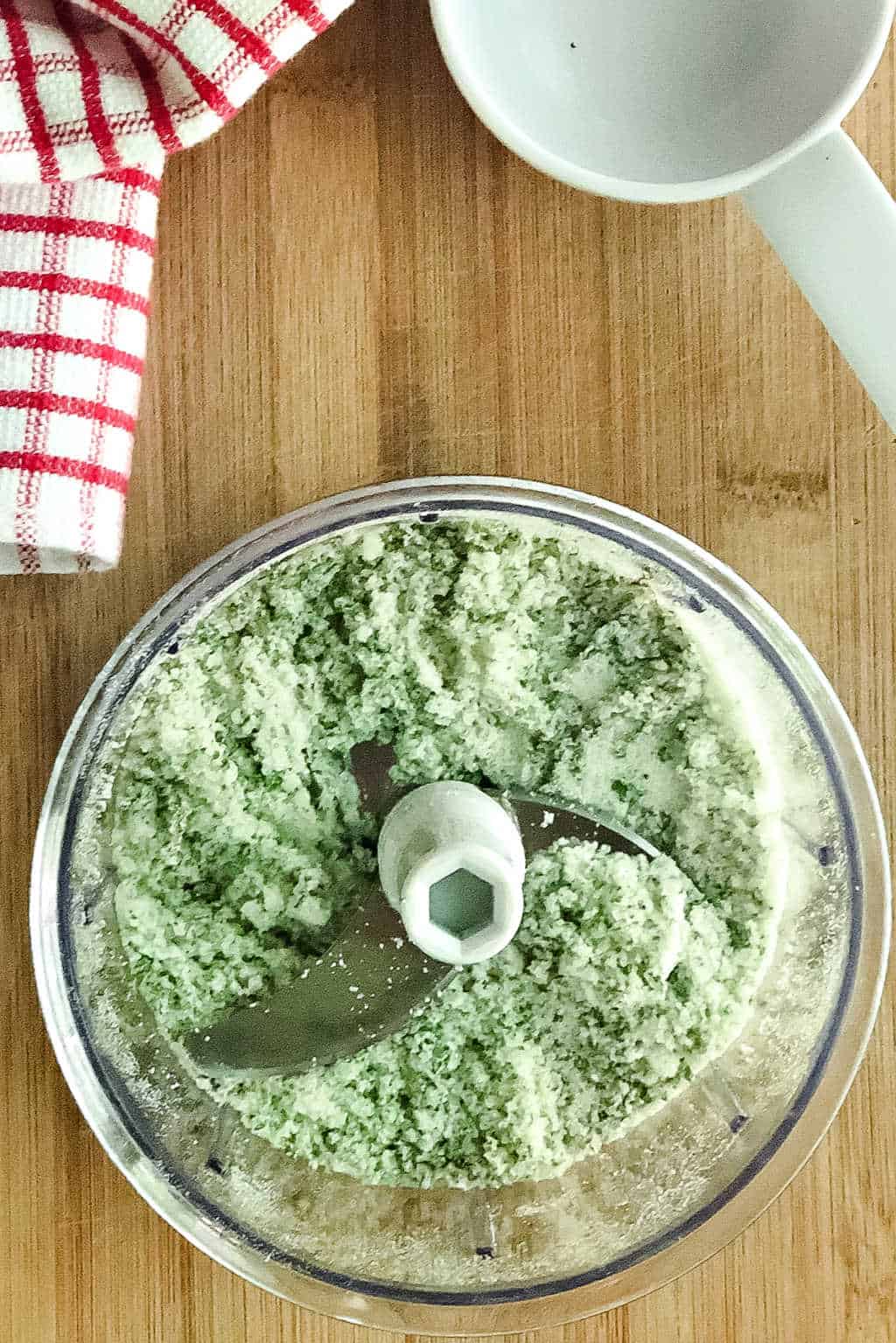 Infuse the sugar with mint
Use a food chopper or small food processor to pulverize the fresh mint leaves in sugar. Add the sugar and mint to the bowl of the food processor, then process until the mint is finely chopped. Let the sugar-mint mixture set for a few minutes for more intense flavor.
It's important to make sure no stems or chunks remain before you add the mixture to the cake batter so the cake texture is even and you don't end up with any strands.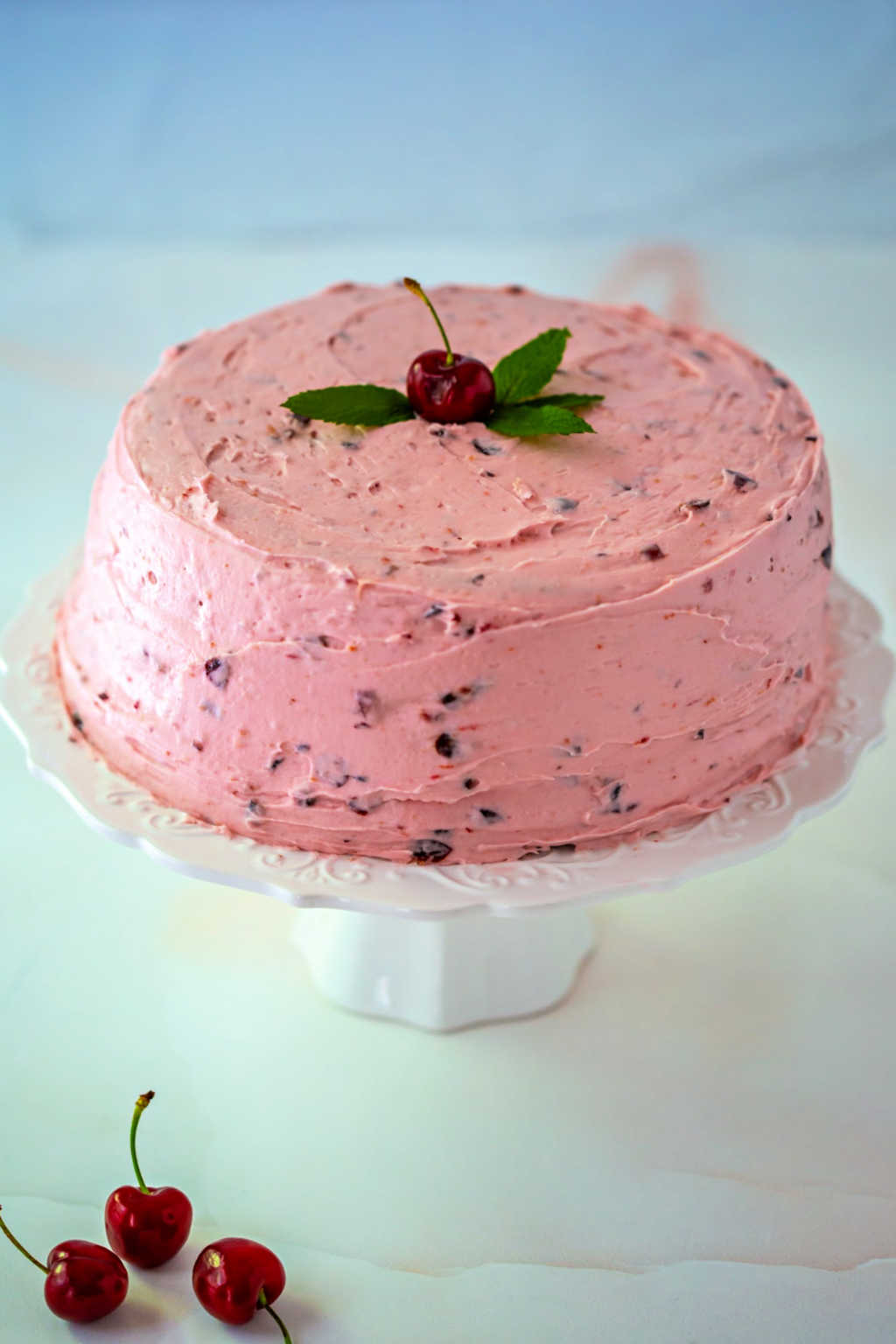 Cherry buttercream frosting
The frosting on this cake is out of this world! Regular buttercream frosting is made by creaming room temperature butter with sifted confectioner's sugar and a flavor extract until it's smooth and fluffy.
To make CHERRY buttercream, simply add finely chopped pitted fresh cherries. So easy! Not only do the cherries flavor the frosting, they create an all-natural beautiful pink color.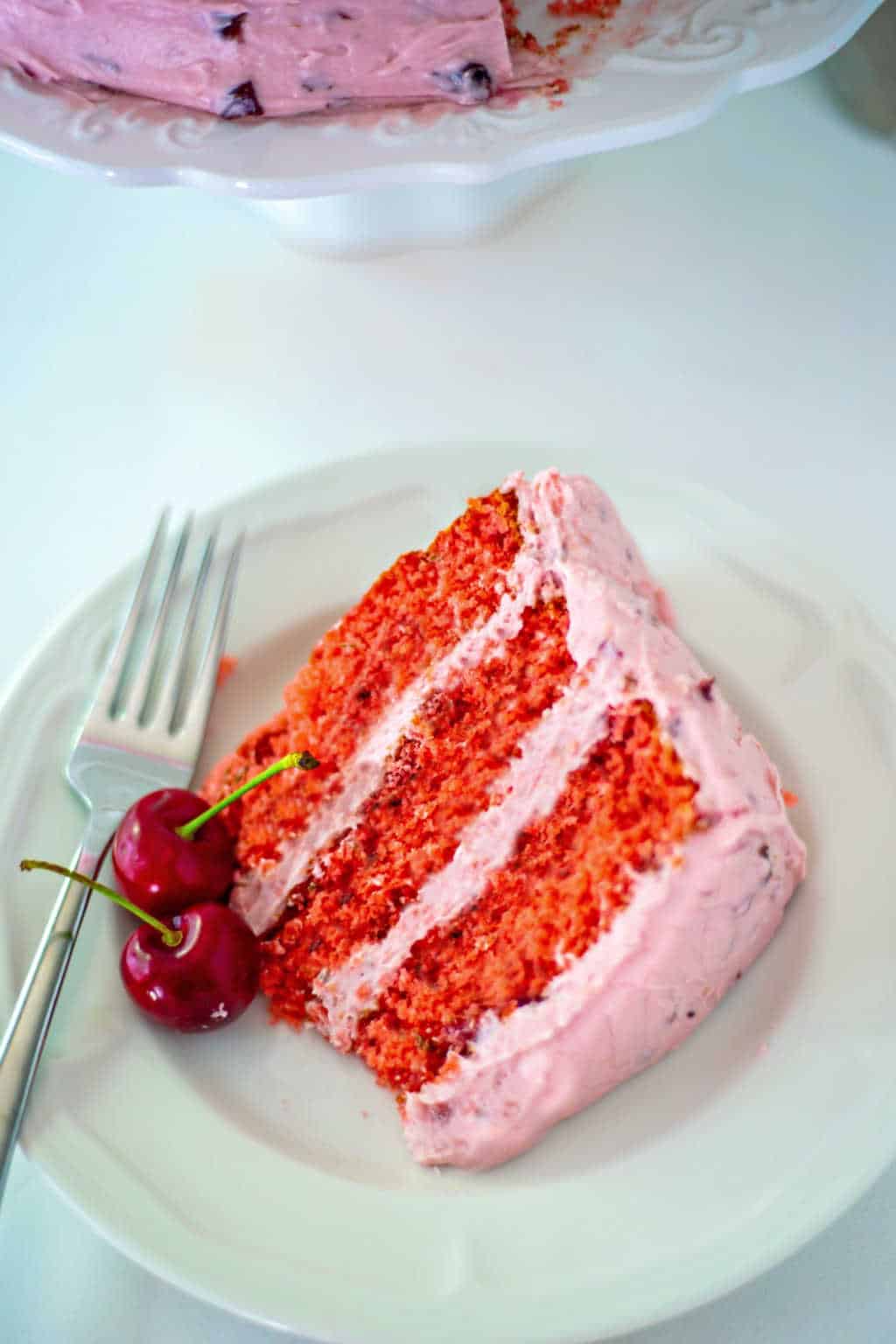 Tips for frosting a layer cake
Start with completely cool cake layers. Warm cake layers can be fragile and create a frosting disaster! If time permits, wrap cooled cake layers in plastic wrap and refrigerate a few hours before frosting.
Use an offset spatula. The long, narrow metal blade is perfect for spreading frosting because it gives you the best angle and smooths frosting perfectly.
Anchor the cake. To make sure the cake doesn't slide as you add frosting and layers, put a small dab of frosting on the cake plate or pedestal. Then place the first cake layer on top of the dab of frosting, bottom side down.
Use parchment paper to catch the drips. Gently place strips of parchment paper between the edge of the first cake layer and the plate, then carefully remove them after you've finished frosting the cake.
Work from the middle out. Add frosting on the center of the cake layer, then gently spread it to edges with an offset spatula.
Frost the top before the sides. Dollop frosting in center of the cake and spread it out to edges. Smooth any overlapping excess onto the sides.
Smooth it out. For the sides, scoop icing onto the offset spatula blade, then gently smear it onto side of cake, carefully turning the plate or pedestal as you work. Use the offset spatula to smooth any bumps around the edges.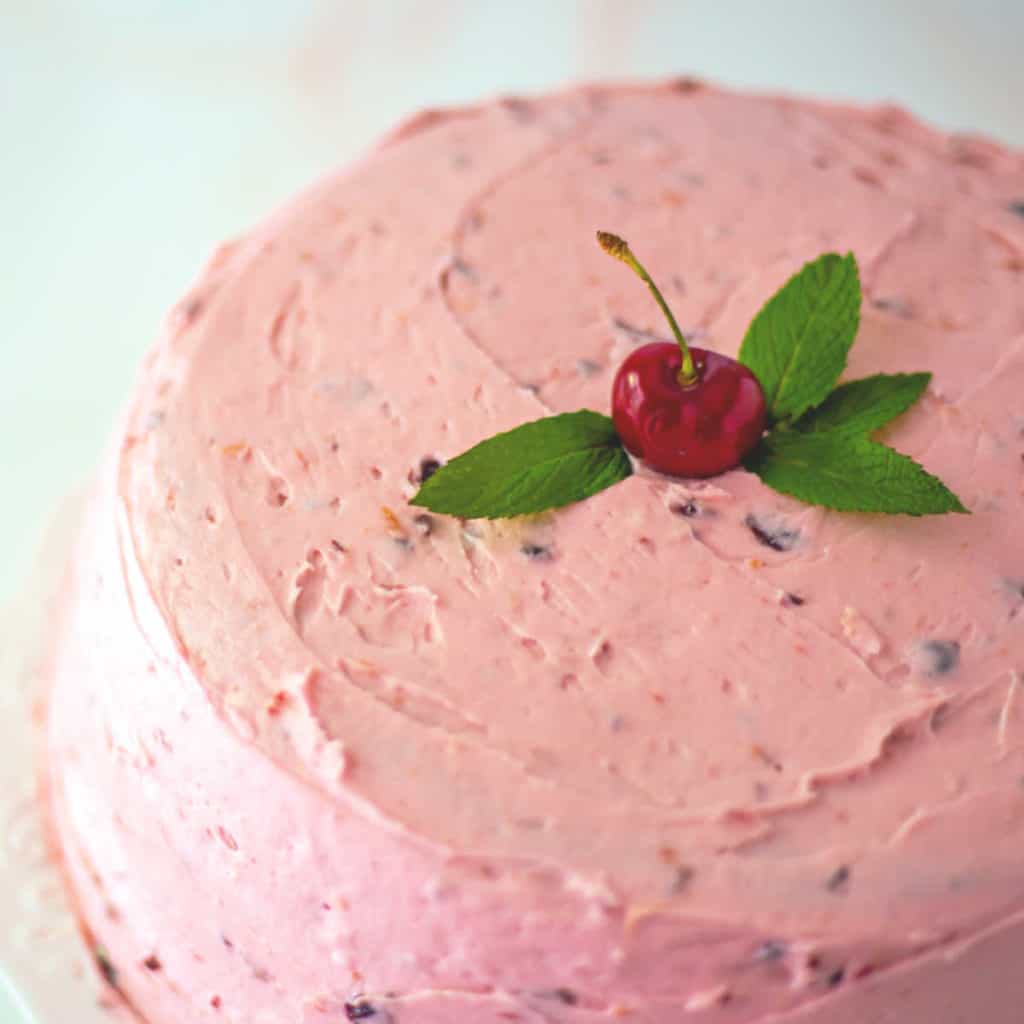 Related recipes
You may also enjoy these other cakes that use fresh fruit:
Let's bake!
One handy baking tip my grandmother taught me was cutting wax paper circles to fit the bottom of her greased cake pans.
Now, I grease and flour my cake pans, then cut a piece of parchment paper to fit in the bottom and my cakes never stick!
Please share!
Your shares are how this site grows and I appreciate each one. Do you know someone who would enjoy this recipe? I'd love it if you would share it on Facebook or on your favorite Pinterest board!
Yield: 12 - 16 servings
Fresh Cherry Cake with Fresh Mint
Fresh Cherry Cake with fresh mint infused into the batter and topped with creamy cherry buttercream frosting is a deliciously impressive Summertime cherry dessert.
Total Time
1 hour
53 minutes
Ingredients
1/2 cup granulated sugar
1/2 cup fresh mint leaves and stems
1 15.25 oz. box white cake mix
1 3-oz. pkg. cherry gelatin
4 large eggs
1/2 cup fresh cherries, pitted and finely chopped
1/2 cup milk
1/2 cup vegetable oil
1/3 cup all-purpose flour
Cherry Buttercream Frosting
1 cup unsalted butter, room temperature
1 32-oz. pkg. confectioner's sugar, sifted
1 cup fresh cherries, pitted and finely chopped
Instructions
Preheat the oven to 350 degrees. Grease and flour 3 9-inch cake pans.
In the bowl of a mini food processor, combine the mint and sugar. Process until the mint is finely chopped. Set aside.
In a large bowl, add the white cake mix, cherry gelatin, eggs, milk, vegetable oil, flour, and mint-sugar mixture. Using an electric mixer, mix on LOW speed until combined, about one minute.
Fold in the cherries, then increase the mixer speed to MEDIUM and continue beating for 2 minutes.
Evenly pour the batter into the prepared pans and bake for 23 minutes or until a pick inserted in the center comes out clean.
Remove the cakes from the oven and cool in the pans on a wire racks for 10 minutes. Remove the layers from the pans and continue cooling on a wire rack for 1 hour. Frost immediately, or wrap the layers in plastic wrap and chill for 2 hours or overnight before frosting.
Cherry Buttercream Frosting
Cream the butter until light and fluffy. Gradually add the confectioner's sugar and continue mixing on low speed until combined.
Add the cherries and increase the mixer speed to medium. Beat until the frosting is the desired consistency, creamy and fluffy.
Dollop frosting onto the center of the first cake layer and smooth to the edges using an offset spatula. Add the second layer and repeat.
Top with the last cake layer. Dollop more frosting on top, smoothing to the edges, then spread frosting on the sides until completely covered. Serve immediately or refrigerate.
Notes
Store cake covered in the refrigerator for up to a week.
Nutrition Information:
Yield:
12
Serving Size:
1
Amount Per Serving:
Calories:

624
Total Fat:

27g
Saturated Fat:

11g
Trans Fat:

0g
Unsaturated Fat:

15g
Cholesterol:

104mg
Sodium:

54mg
Carbohydrates:

95g
Fiber:

1g
Sugar:

88g
Protein:

4g
ABOUT SHEILA
Sheila Thigpen, author of Easy Chicken Cookbook and The 5-Ingredient Fresh and Easy Cookbook, is a recipe developer, food photographer, and food writer. She spent 20+ years as a business manager in the publishing industry before she retired in 2018 to focus on her passions — cooking, photography, and writing. Living near the beautiful Smoky Mountains, Sheila and her husband have two adult daughters and two fine sons-in-law, are active in their church, love to travel, and have a precious little granddaughter who has stolen their hearts. Follow Sheila on YouTube, Pinterest, Instagram, Facebook, and Twitter!