This post may contain affiliate links. Please read my disclosure policy.
Make this casual summer dessert with fresh cherries for the most delicious and creamy baked fruit custard you'll ever taste!
This simple French classic, Cherry Clafoutis (pronounced klah-foo-tee), is traditionally made with black cherries, but any sweet cherry will do. Pitted cherries are baked in a rich flan-like batter until the sugary crisp top is golden and the custard is set — ooh-la-la!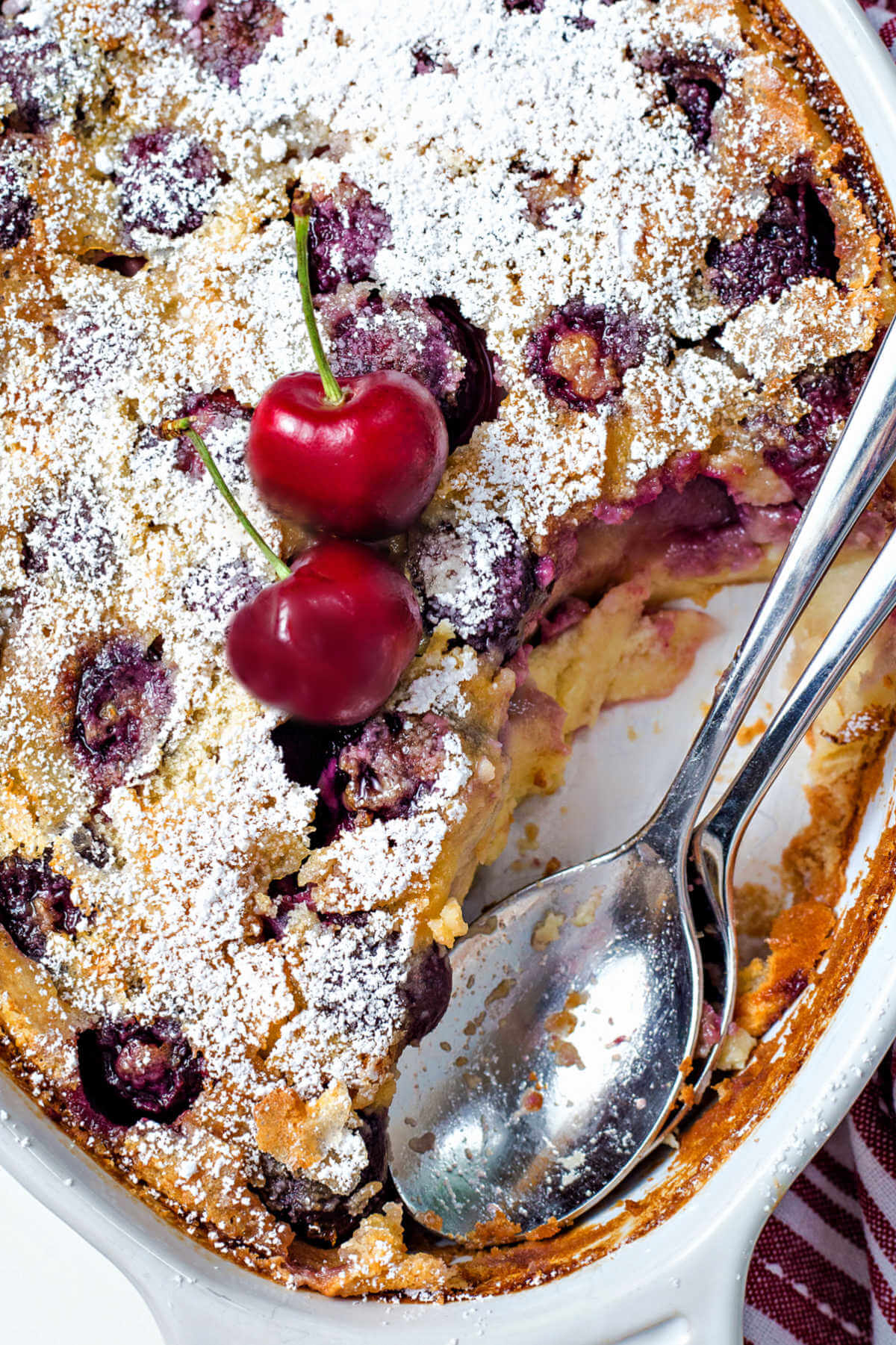 Cherry season (June and July in my area) means I'll be taking advantage of an abundance of fresh cherries I picked up at the market and baking all kinds of yummy cherry desserts!
Armed with a beautiful sack of fresh Bing cherries, I always face the dilemma: Should I bake a pie or cobbler, or perhaps chocolate cherry quick bread?
So many wonderful choices, but this time I settled on the classic and simple French dessert, Cherry Clafoutis, and it was superb!
Except for the fresh cherries, the other ingredient for this recipe are always available in my pantry, so grab some fresh cherries and go make clafoutis!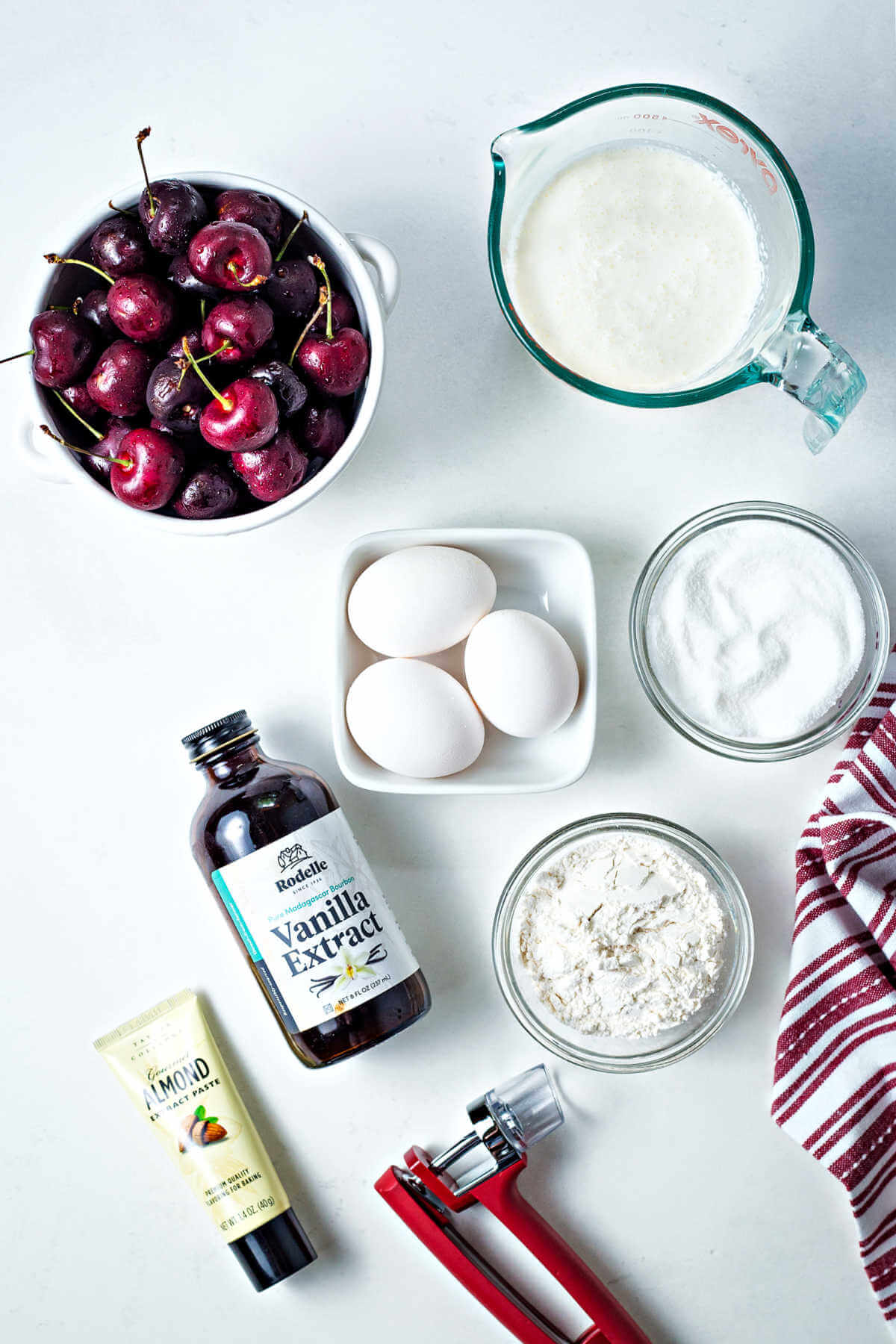 Key ingredients & substitutions for Cherry Clafoutis Recipe
Fresh cherries — I use sweet cherries (dark Bing cherries) because they are plentiful in my area. Rainier cherries would also be delicious, I think, but they are a little pricey. In a pinch, use frozen cherries.
Eggs — Eggs make the custard smooth and rich, so be sure they are large. I haven't experimented with egg substitutes in this recipe, but I imagine they should work.
All-purpose flour — This is the thickening agent for the custard and unlike most baking, you won't need a leaving agent (baking powder, etc.).
Granulated sugar — Sugar is used in the custard batter and for the top crispy layer.
Milk and heavy cream — For the richest results, use a mix of 3 parts whole milk and 1 part heavy cream, or use all milk.
Extracts — I like a mix of both vanilla extract and almond extract, but if you only have vanilla on hand, use that. Almond flavor is a delicious complement to cherries, though!
Powdered sugar — Use a couple of tablespoons — or more if you like a heavy dusting — to sprinkle on the warm clafoutis.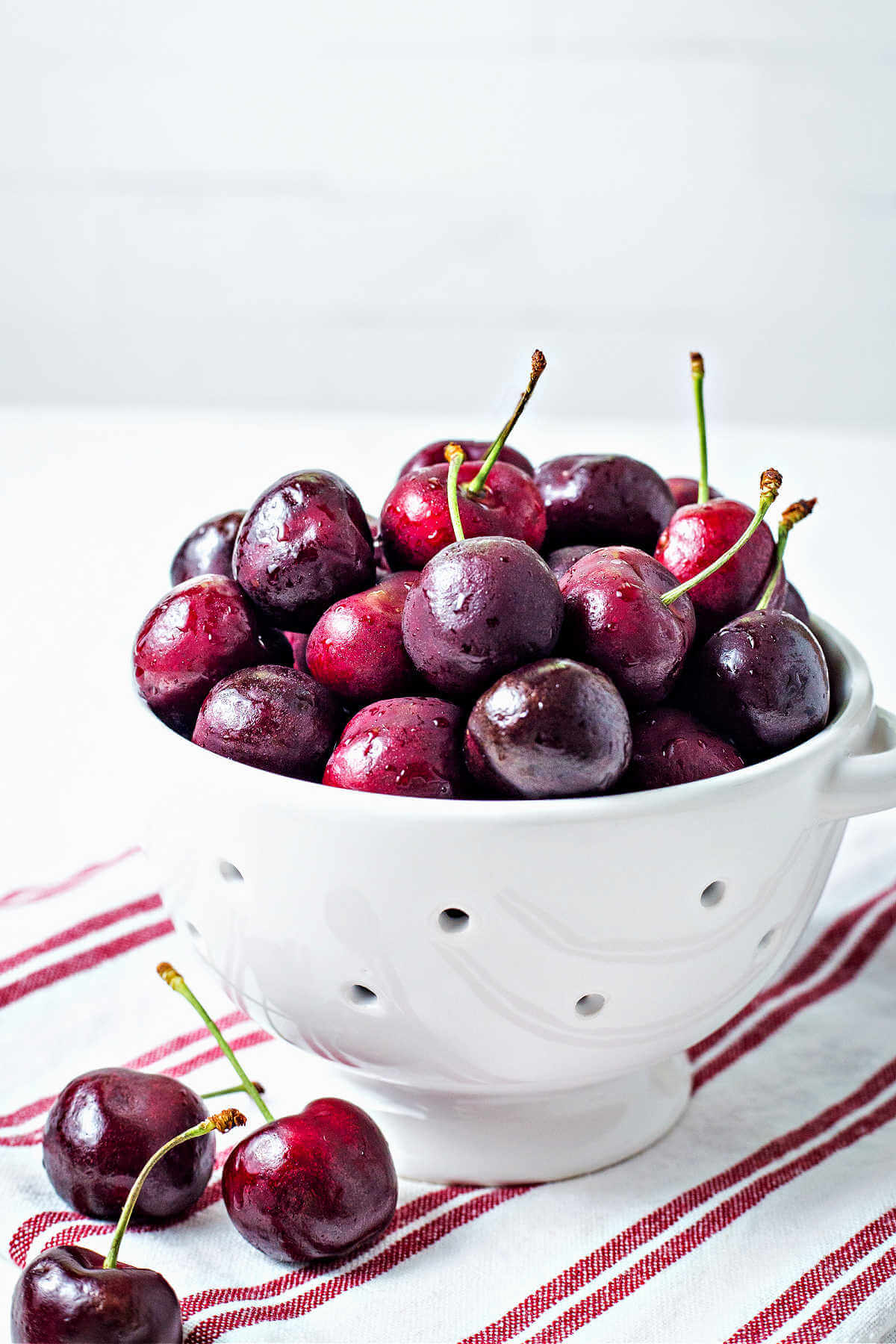 How to make Cherry Clafoutis
The most prep time for this recipe is pitting the cherries, but even that is quick and easy when you use a nifty cherry pitter — it's one of my favorite kitchen gadgets!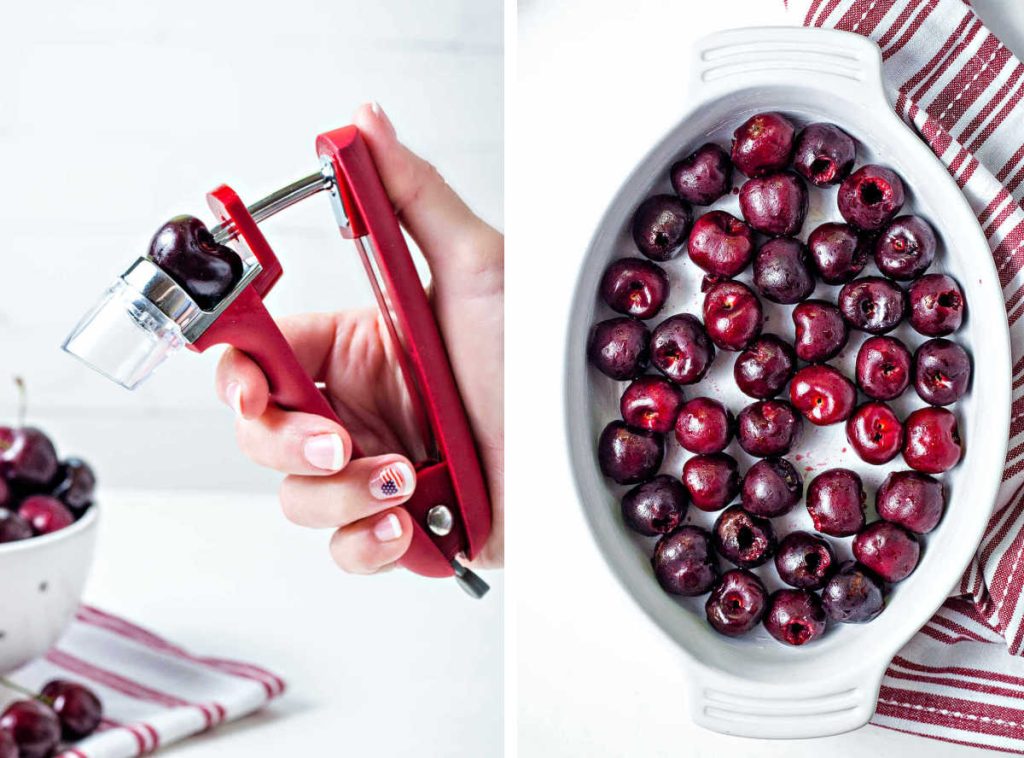 STEP 1 | Pit the cherries
Place the cherries in a colander and rinse under cool running water. Remove the stems, then place each cherry in the pitter and align the stem side up. Squeeze the pitter and the stone will shoot through the end.
As you pit each cherry, place it in a well-buttered baking dish until you have a single layer that completely covers the bottom.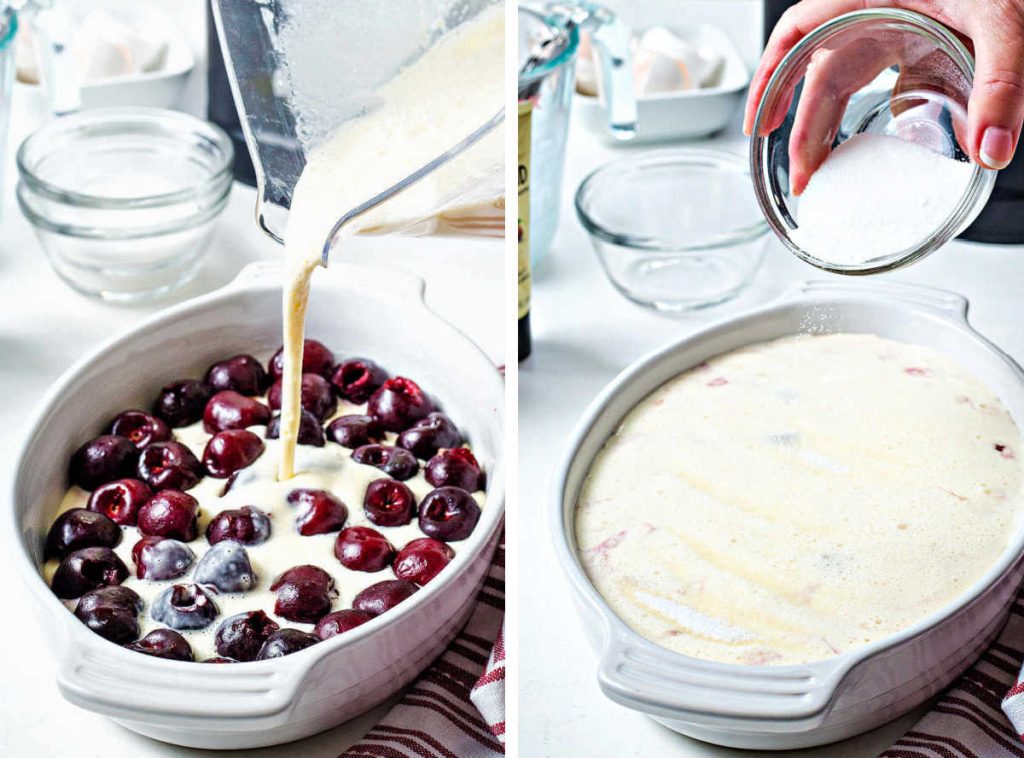 STEP 2 | Blend the batter
Next, prepare the batter by literally dumping all the ingredients into the bowl of a blender! I like to first blend together the eggs and sugar, and then add the remaining ingredients — but you can just dump and blend if you like.
Then, add the flour, milk, and flavorings — both vanilla and almond extracts — and process the batter a few seconds until it smooth.
Pour the batter over the cherries in the baking dish. Truly, there's nothing hard about making this cherry clafoutis recipe!
STEP 3 | Sprinkle more sugar
You can always leave this step off, but I love the thin caramelized, sugary crisp top you get by sprinkling a couple tablespoons of granulated sugar over the batter before you pop it into the oven.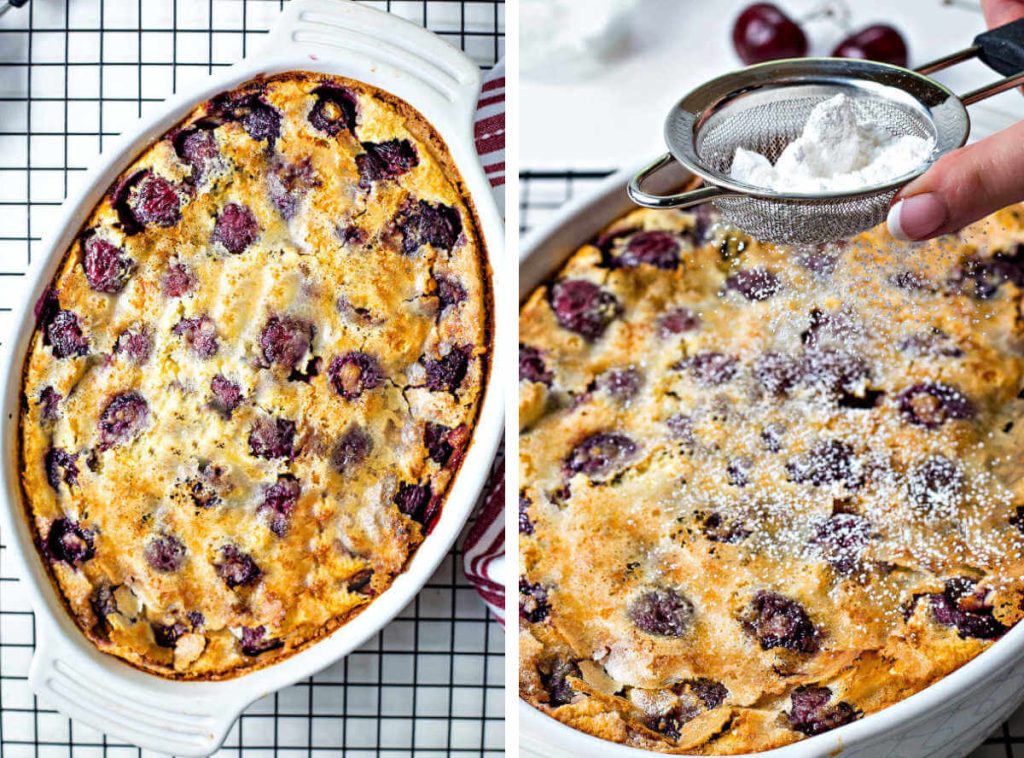 STEP 4 | Bake
Bake the clafoutis in the preheated 375-degree oven until the custard is set, about 30 to 35 minutes. The tip of a knife should come out mostly clean when inserted in the center and the top should not look wet.
A very slight jiggle is okay — the custard will be creamier if it is not over baked! Also, around the edges, the top may crack a bit, but that's just fine, too.
STEP 5 | Cool and garnish
Transfer the baking dish from the oven to a wire rack and let cool for 10 minutes or so. The last step is crowning the dessert with powdered sugar — a small fine mesh strainer is perfect for dusting powdered sugar on top!
Now, this delicious cherry clafoutis is all ready to enjoy! Cherry clafoutis can be served warm, at room temperature, or even chilled and eaten the next day. Bon Appétit!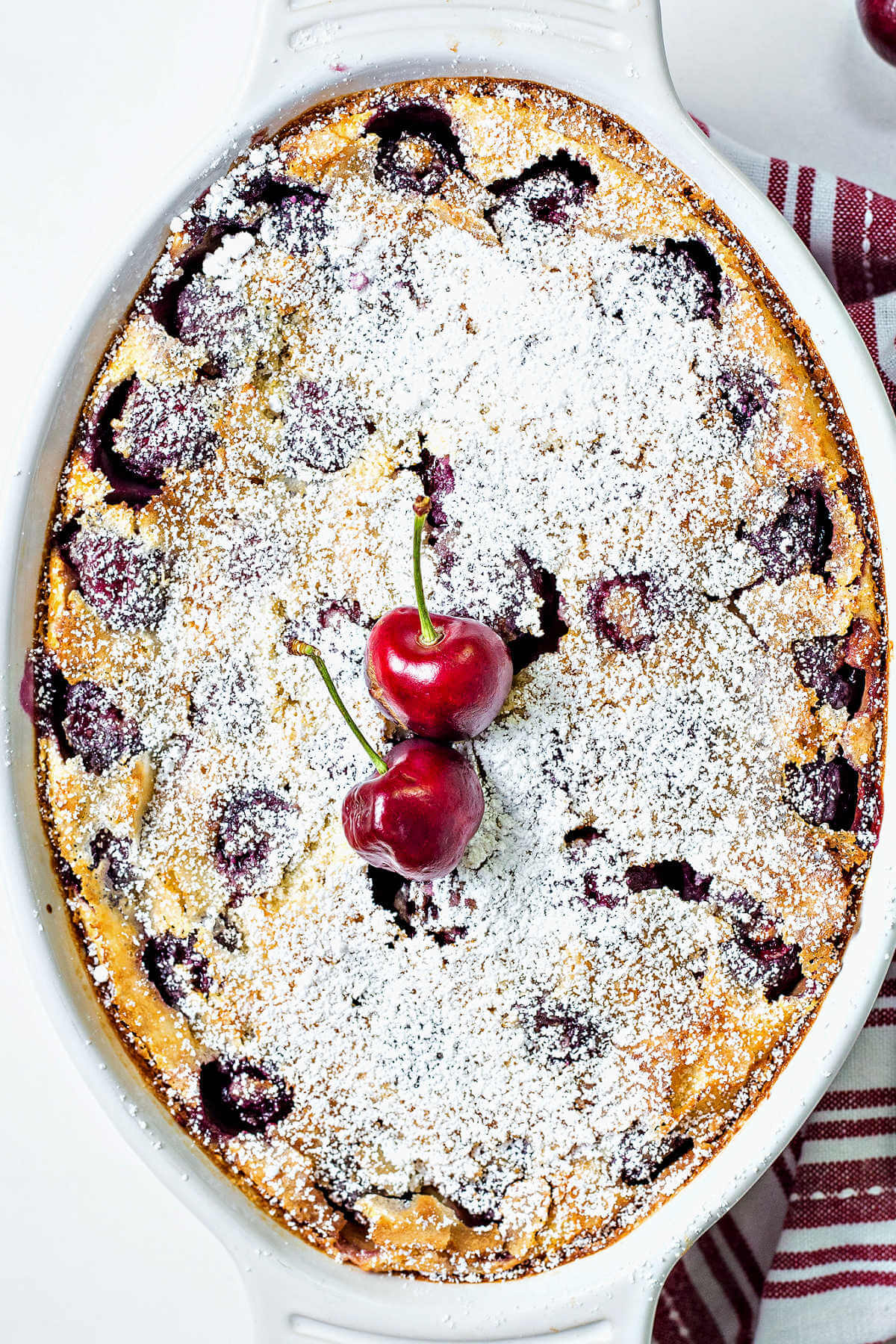 Frequently asked questions
Can I use other fruits to make clafoutis?
Well, yes and no. When you substitute other fruit for the cherries in clafoutis, it actually becomes Flaugnarde, a baked fruit flan. Whole cherries in the clafoutis don't release a lot of juices during cooking (which would alter the texture of the dish).

So, when other fruits are used in this same recipe — like plums, peaches, pears, apricots, or even berries — it becomes an equally delicious Flaugnarde.
Can you use frozen cherries in clafoutis?
Frozen cherries can most definitely be substituted, and there's no need to thaw them first. Just add them to the buttered pan and bake as directed.
Isn't traditional clafoutis baked with cherries and their pits?
This is indeed true, and some say that baking the cherry pits adds more depth of flavor, but unknowingly biting into a pit could result in a broken tooth. I say leave them out — this dessert is still delicious.
Serving suggestions
A dollop of freshly whipped cream or vanilla ice cream is always a nice touch alongside warm Cherry Clafoutis. You may even want to pit a few extra cherries to garnish each serving.
And, if you like mini desserts this recipe can also be prepared in individual ramekins, just decrease the baking time by 10 minutes or so.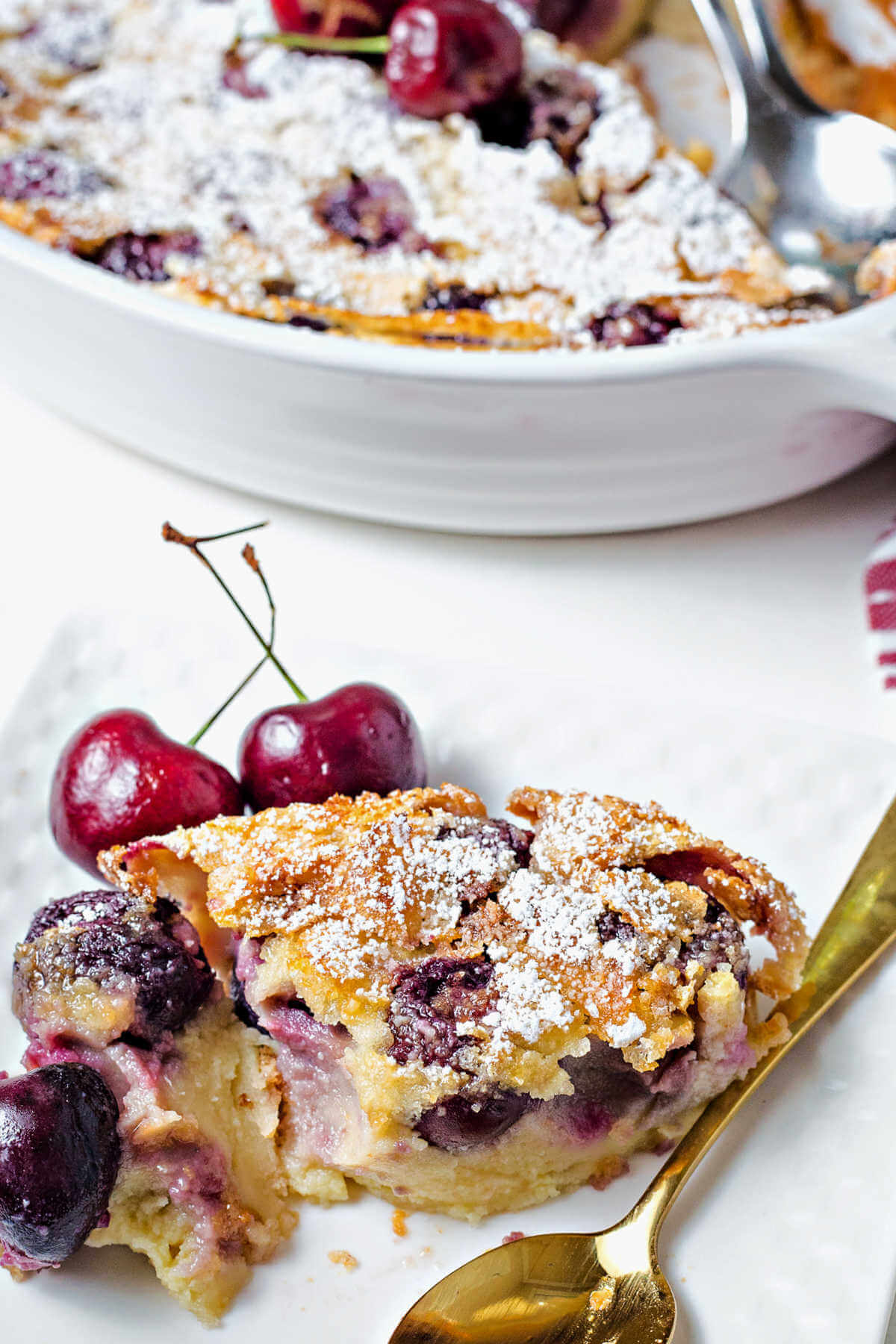 Behind the recipe: French Cherry Clafoutis
Cherry Clafoutis originated from the Limousin region of France a couple of centuries ago. The name comes from the verb, clafir, meaning to fill. Cherries are arranged in a buttered dish that is then filled with a batter of eggs, milk, sugar, and flour.
In some versions, a thin layer of the batter is poured into the dish and baked until firm before adding the cherries and remaining batter on top.
Traditionally, the clafoutis was baked with the cherry pits for the release of an almond-y flavor. I prefer adding almond extract for no broken teeth!
Fun Fact: Clafoutis de Cerezas was introduced to American cooks in Julia Child's Mastering the Art of French Cooking in 1970.
Other French-inspired desserts:
Please share!
Your shares are how this site grows, and I appreciate each one. Do you know someone who would enjoy this recipe? I'd love it if you would share it on Facebook or Pinterest!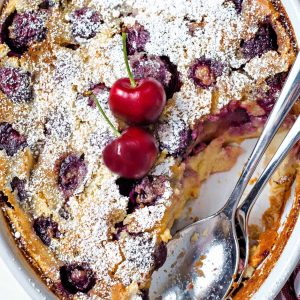 Cherry Clafoutis
Pitted cherries are baked in a rich flan-like batter until the sugary crisp top is golden and the custard is set — ooh-la-la!
Ingredients
1

teaspoon

butter

3

cups

fresh sweet cherries

stemmed and pitted

3

large

eggs

at room temperature

1/2

cup

all-purpose flour

2

teaspoons

vanilla extract

1/2

teaspoon

almond extract

1/2

cup

sugar

+ 3 tablespoons

1

cup

milk

1/4

cup

heavy cream

2

tablespoons

powdered sugar
Instructions
Preheat the oven to 375 degrees. Liberally coat the bottom and sides of a 9 x 11-inch casserole dish with the softened butter.

Stem and pit the cherries, then place them in a single layer in the baking dish.

Combine remaining ingredients, except for the extra 3 tablespoons sugar, in a blender until smooth.

Divide the batter evenly between the ramekins, then sprinkle each with 1/2 tablespoon sugar.

Bake until the custard is set, about 35 minutes.

Cool for 10 minutes on a wire rack, then dust the top with sifted powdered sugar. Serve warm, at room temperature, or chilled.
Notes
If you like mini desserts this recipe can also be prepared in individual ramekins, just decrease the baking time by 10 minutes or so.
Don't own a cherry pitter? There are several methods out there for pitting cherries, but this method using an empty wine bottle and a sturdy chopstick seems to be the best option.
Nutrition
Serving:
6
servings
Calories:
257
kcal
Carbohydrates:
46
g
Protein:
7
g
Fat:
6
g
Saturated Fat:
3
g
Polyunsaturated Fat:
2
g
Cholesterol:
102
mg
Sodium:
79
mg
Fiber:
2
g
Sugar:
33
g
Life Love and Good Food does not claim to be a registered dietician or nutritionist. Nutritional information shared on this site is only an estimate. We recommend running the ingredients through an online nutritional calculator if you need to verify any information.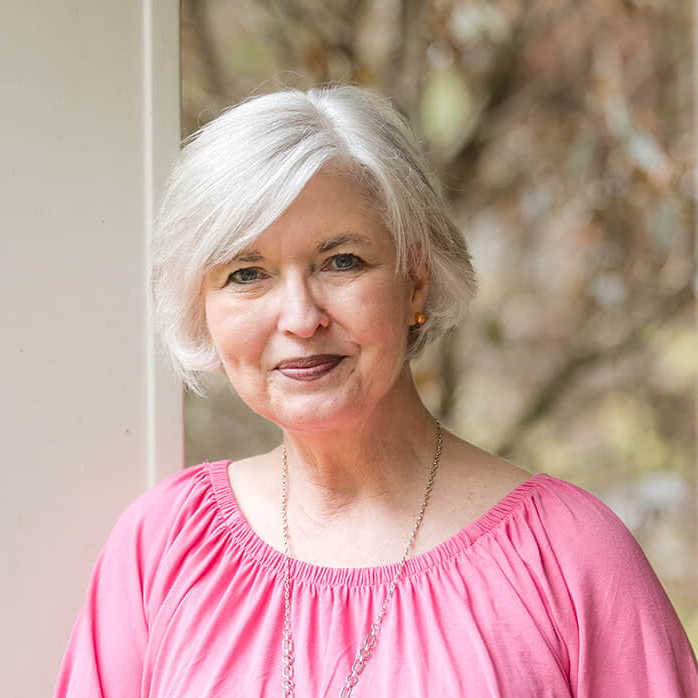 About Sheila Thigpen
Recipe Developer, Food Photographer, Food Writer
Sheila Thigpen is the publisher of Life, Love, and Good Food — a Southern food blog — and the author of Easy Chicken Cookbook and The 5-Ingredient Fresh and Easy Cookbook. After 20+ years in the publishing industry, she retired in 2018 to focus on her own creative endeavors full time. She and her husband live near the beautiful Smoky Mountains and have a precious little granddaughter who has stolen their hearts. As an influencer, Sheila has collaborated with brands like Creamette, Kroger, HERSHEY'S, Hamilton Beach, Garafalo Pasta, OXO, Smithfield, Valley Fig Growers, and more.