If you're lucky enough to have an abundance of fresh blueberries, freezing them is a great way to ensure you have a stash of berries for your favorite recipes throughout the year.
Once you see how easy it is to freeze fresh blueberries (they won't end up in a frozen clump!), you'll be rushing out to the farmer's market or blueberry farmer to grab an extra pint or two.
This easy method, also known as dry freezing, works for fresh strawberries, blackberries, and raspberries, too.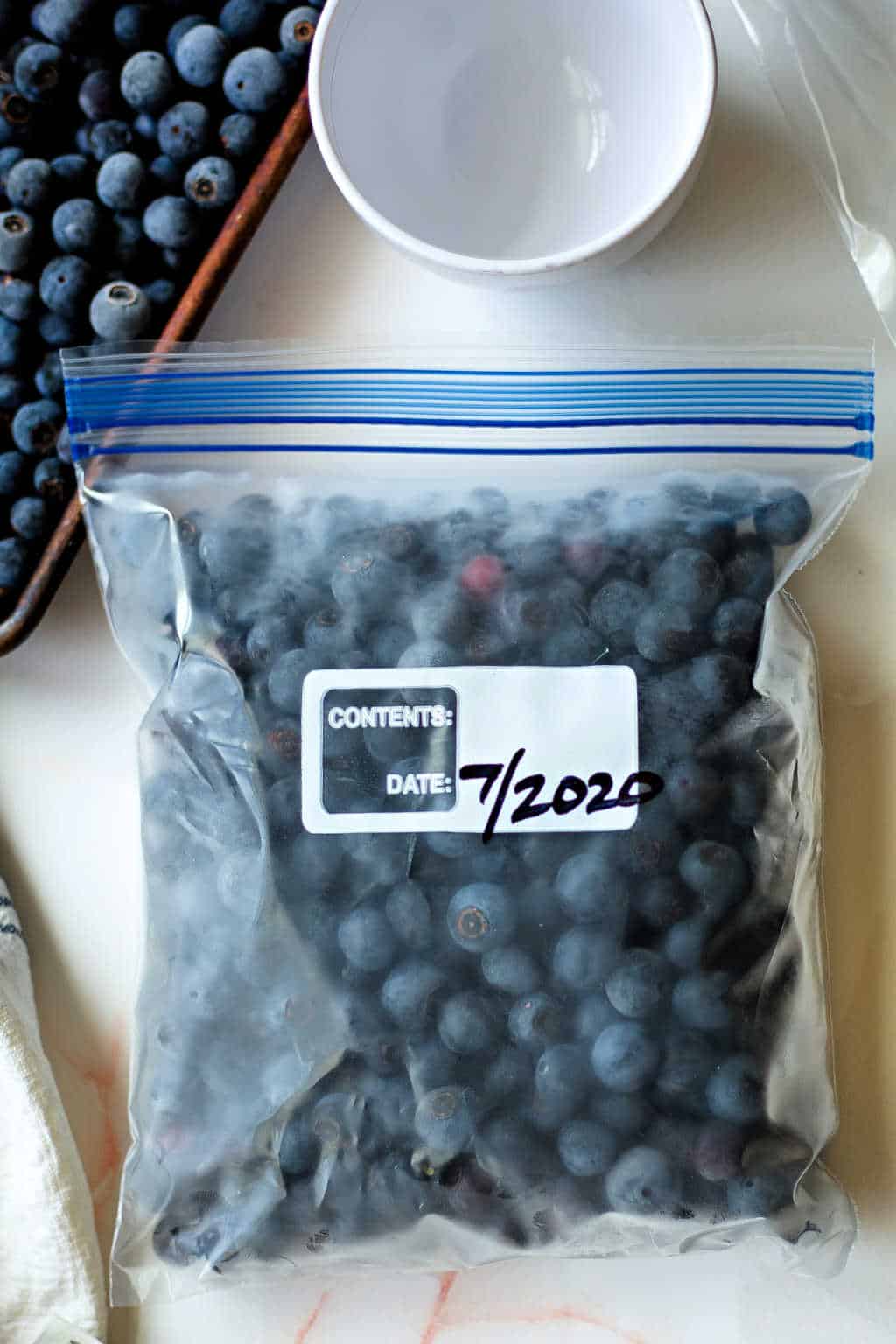 How to freeze blueberries
From early June to mid-August, we help my father-in-law harvest blueberries from his ginormous bushes which yield a gazillion gallons! I'm not kidding about that… we've been enjoying blueberry cobblers and ice cream and blueberry jam with our breakfast biscuits. It's all so, so good!
Cecil (father-in-law) shares a lot of his fresh blueberries with the neighbors, and the rest my mother-in-law freezes to enjoy all year long. Every morning ALL YEAR LONG Cecil puts a handful of frozen blueberries on top his breakfast cereal and gets a boost of antioxidants, too.
My mother-in-law was just opening the last bag of frozen blueberries the week we started picking, so you get the idea—there were bags and bags in her freezer and they all tasted as good as fresh!
I don't put as many blueberries away as my MIL, but I do like to have plenty so that I can bake up a batch of blueberry muffins or make a blueberry strata during the cooler Fall and Winter months.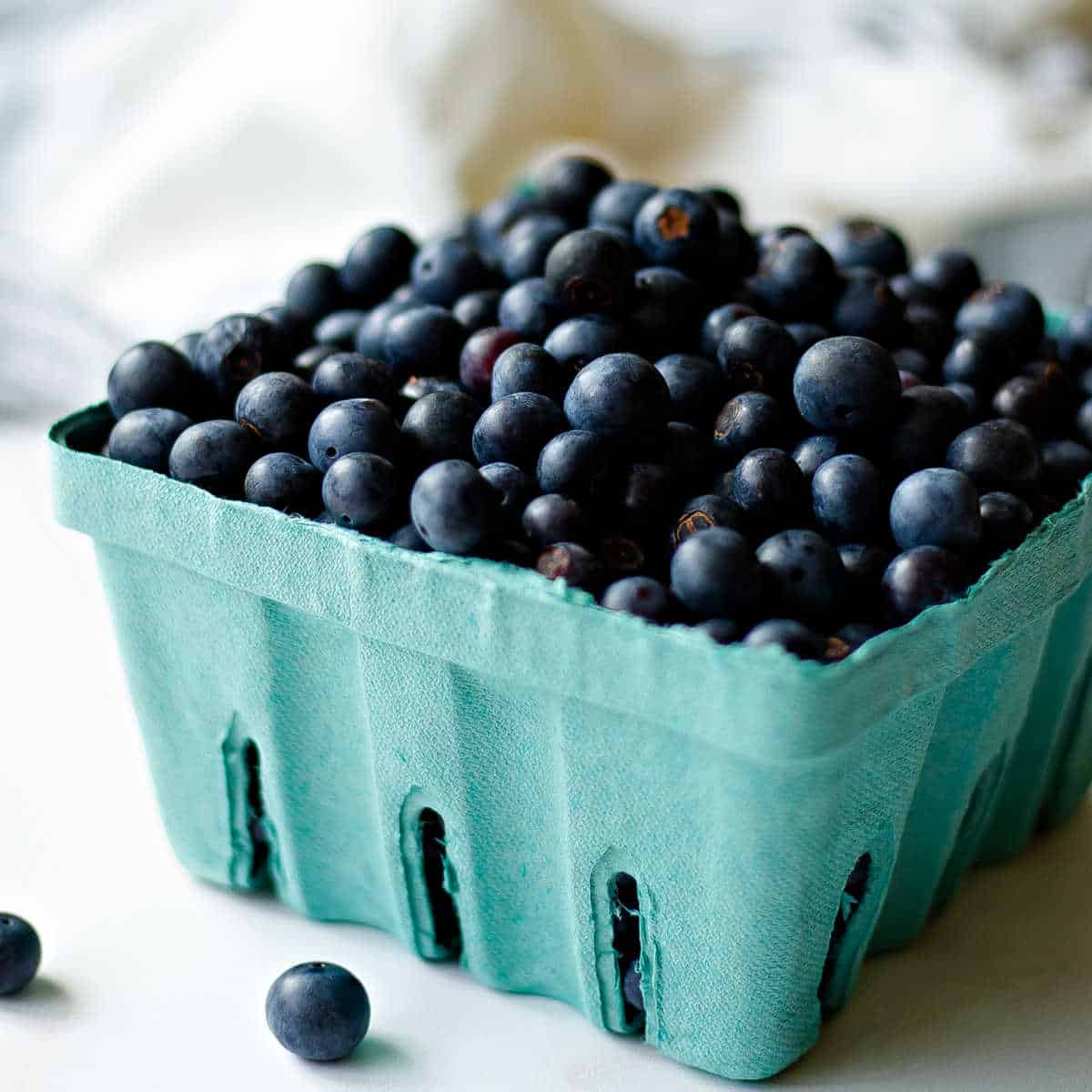 Instructions
This method can be used for blueberries, strawberries, blackberries, or raspberries. When freezing blackberries and raspberries, be aware that those berries are more fragile, so handle gently. With strawberries, remove the stems and hull or core the strawberries with a sharp paring knife.
STEP 1: Gently rinse fresh-picked blueberries under cool running water to remove any debris and stems. Drain well in a colander.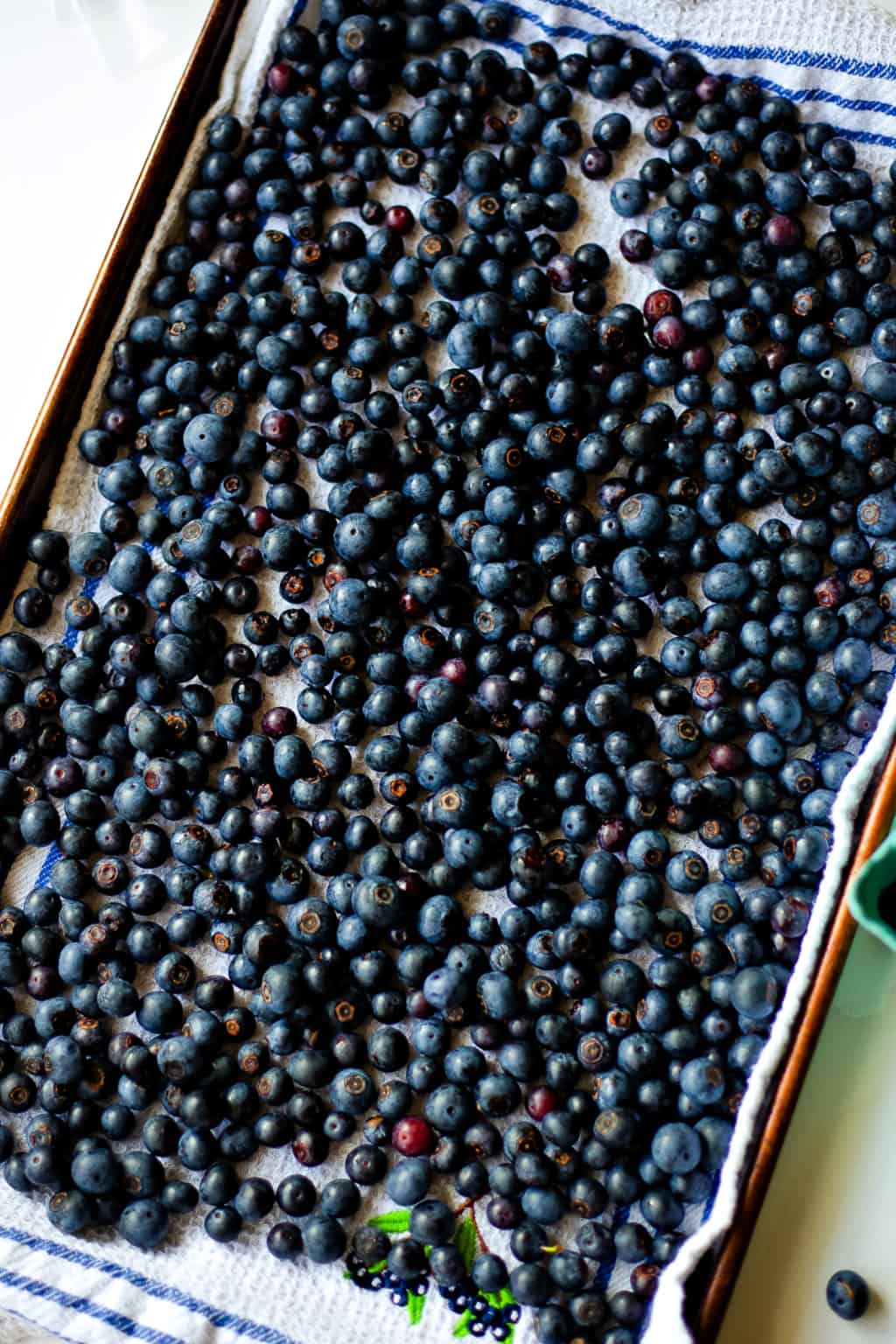 STEP 2: Line a baking sheet with a kitchen towel , then spread the drained blueberries out into a single layer. It's very important that the berries COMPLETELY air dry. Otherwise, you'll end up with a frozen clump.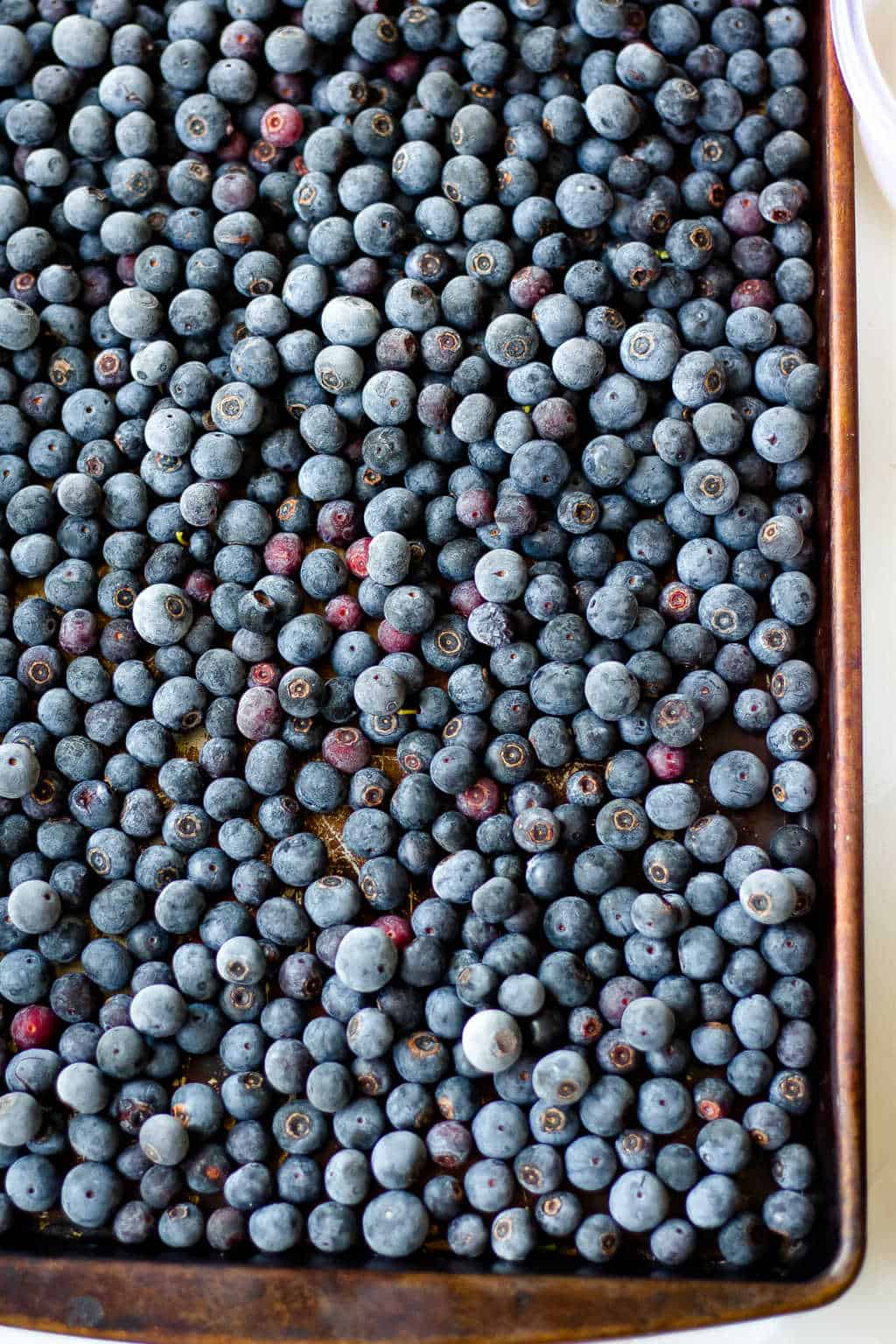 STEP 3: Line another baking sheet with parchment paper. Once the berries have air dried, put them on the parchment paper and place the baking sheet in the freezer (uncovered) for at least 2 hours. You can let them go longer, but don't leave them in the freezer uncovered for more than 24 hours or they will get freezer burn!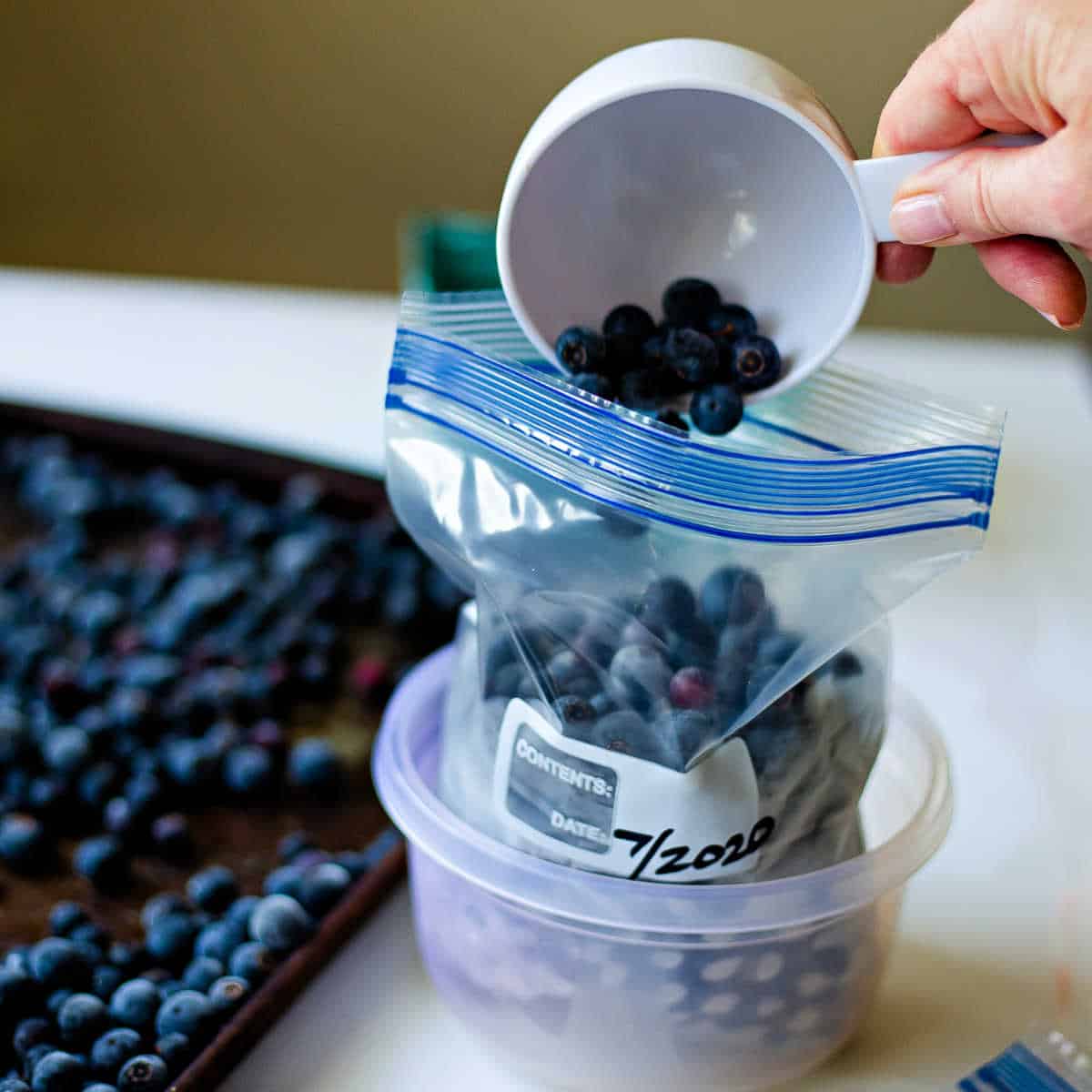 STEP 4: Transfer the frozen blueberries to resealable freezer bags. I personally like the ones that have double-zippers. Make sure to label the bags at least with the date, then seal and return to the freezer. You're ready to enjoy blueberries months from now!
How to thaw frozen blueberries
Dry freezing blueberries means you don't have to thaw a whole bag if you only need a cup or two for a recipe. There are two ways you can thaw blueberries:
Place a cup of blueberries in a bowl of cold water for 5 minutes. Drain and eat!
Thaw blueberries overnight in a bowl in the refrigerator. This way there will be extra juices in the bottom of the bowl, so be sure to drain the berries before adding to recipes.
How long can you keep blueberries in the freezer?
Blueberries will last up to a year in the freezer.
Do you have to wash blueberries before freezing?
I prefer to wash the berries before freezing so that they are ready to eat from the freezer. It's important, however, to make sure they are completely dry before storing in the freezer.
How do you freeze blueberries without getting mushy?
Dry freezing, or flash freezing, will ensure that the blueberries don't get crushed in the bag or become mushy from being frozen and stuck together.
Favorite blueberry recipes
These recipes can be enjoyed all year long with all those frozen blueberries you have stocked in the freezer!
Yield: 4 quarts
How to Dry Freeze Blueberries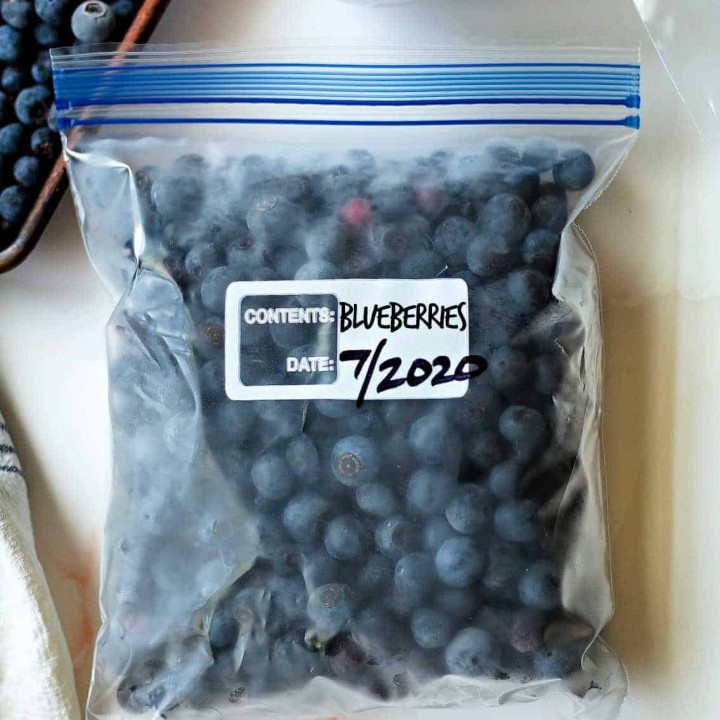 Every 1 1/2 pounds of blueberries will yield a quart.
Total Time
4 hours
10 minutes
Materials
Parchment paper
Resealable freezer bags (like Ziplock)
Sharpie marker
Tools
Colander
Rimmed baking sheet
Kitchen towel
Instructions
Place fresh-picked blueberries in a colander and rinse under cool water; drain.
Line a baking sheet with a kitchen towel and spread the blueberries into a single layer to COMPLETELY air dry. This may take a couple of hours.
Empty the blueberries onto a parchment-lined rimmed baking sheet. Place the baking sheet in the freezer for 2 hours.
Transfer the frozen blueberries to resealable freezer bags (labeled with the contents and date). Seal and freeze.
Store frozen for up to a year.
Notes
Every 1 1/2 pounds of blueberries will yield 1 quart.

Two ways to thaw frozen blueberries:
Place a cup of blueberries in a bowl of cold water for 5 minutes. Drain and eat!
Thaw overnight in a bowl in the refrigerator; drain off the juices before adding to a recipe.
Recommended Products
As an Amazon Associate and member of other affiliate programs, I earn from qualifying purchases.
ABOUT SHEILA
Sheila Thigpen, author of Easy Chicken Cookbook and The 5-Ingredient Fresh and Easy Cookbook, is a recipe developer, food photographer, and food writer. She spent 20+ years as a business manager in the publishing industry before she retired in 2018 to focus on her passions — cooking, photography, and writing. Living near the beautiful Smoky Mountains, Sheila and her husband have two adult daughters and two fine sons-in-law, are active in their church, love to travel, and have a precious little granddaughter who has stolen their hearts. Follow Sheila on YouTube, Pinterest, Instagram, Facebook, and Twitter!
Your shares are how this site grows and I appreciate each one. I'd love it if you would share this post on Facebook or on your favorite Pinterest board!