Mongolian Glazed Steak is perfectly grilled with a light, crispy coating and basted with a tangy Asian-style barbecue glaze made with fresh ginger, garlic, and maple syrup. Delicious and tender, the flavor of these sirloin steaks is so unexpected and so phenomenal.
Traditional Mongolian barbecue is prepared on a hot, flat stone similar to a hibachi-style surface to quickly sear the beef which is very thinly sliced and served with a tangy barbecue sauce.
That same delicious flavor can be achieved on the grill by following the unique technique in today's steak glaze recipe.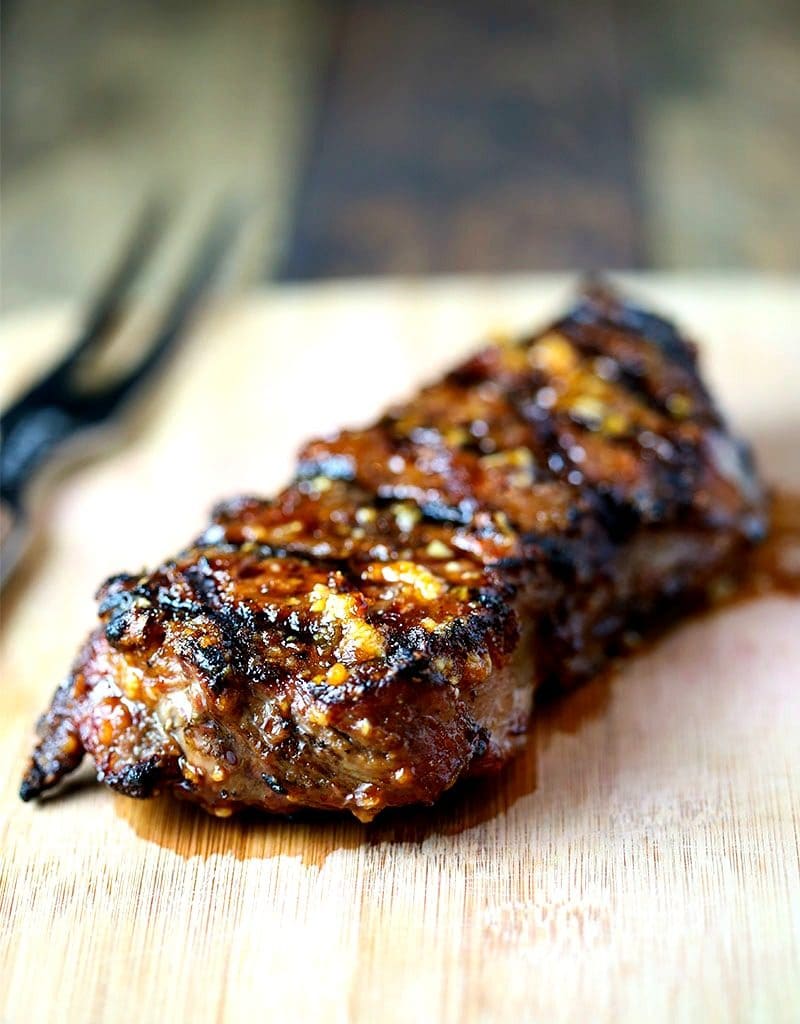 Mongolian Glazed Grilled Steak
Let me tell you, I was surprised at how tender this glazed steak turned out without putting it in a marinade.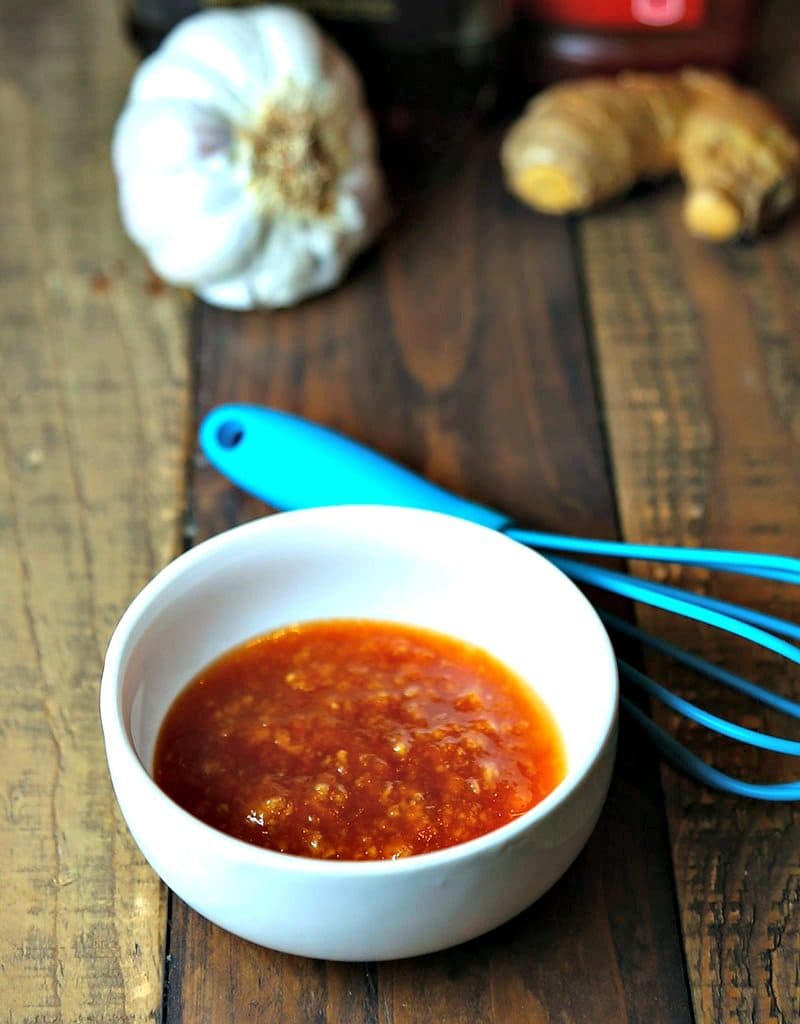 How to make a glaze for steak
Glazing the steaks happens during the last couple of minutes on the hot grill by basting them with a simple barbecue sauce.
To make the sauce, add freshly grated ginger, minced garlic, maple syrup, and ketchup to a small bowl and whisk until combined. You'll use this sauce to brush onto the steaks as they finish cooking.
PRO TIP: Instead of a peeler or small knife, use the side of a spoon to easily peel the skins off fresh ginger root, then use a chef's knife to slice and chop it into small pieces or grate it with a microplane zester. [As a Pampered Chef consultant, I earn from qualifying purchases.]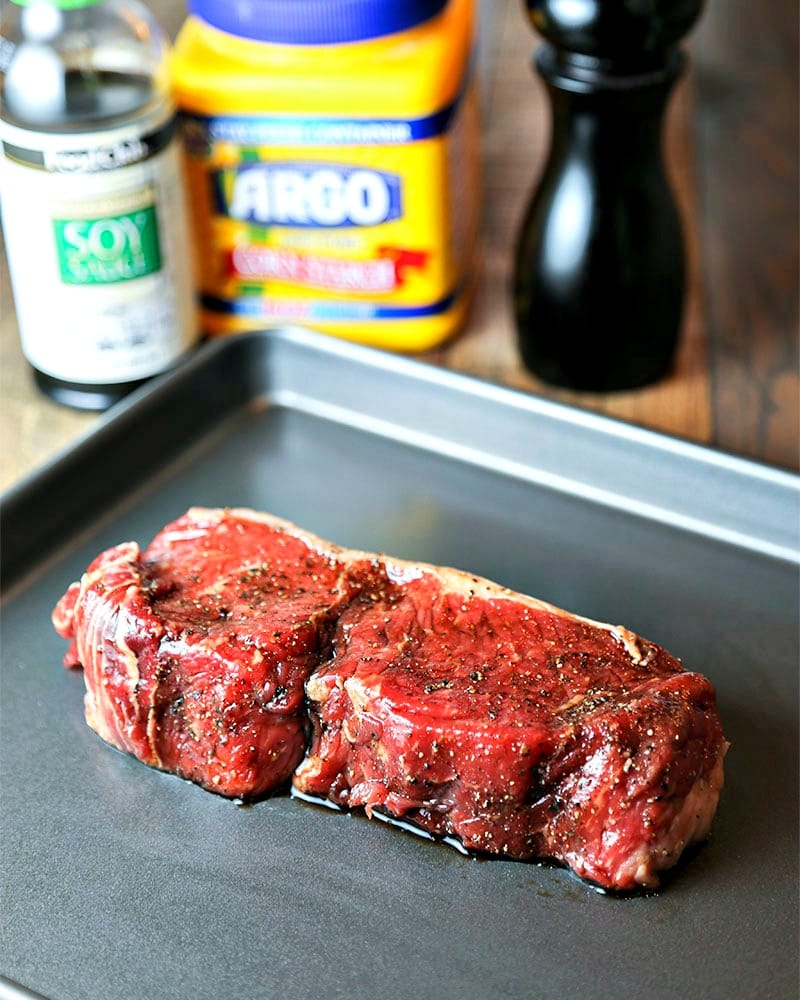 Prepping the steaks
The real secret for grilling Mongolian steaks is in the prep work.
Gently massage a tablespoon of low-sodium soy sauce onto all surfaces of the steak, then season with freshly ground pepper. There's no need to add salt as you'll get the saltiness from the soy sauce.
Transfer the steaks to a DRY baking sheet or platter.
Now, for the real trick—dust the steaks with CORNSTARCH and lightly brush with a little canola oil!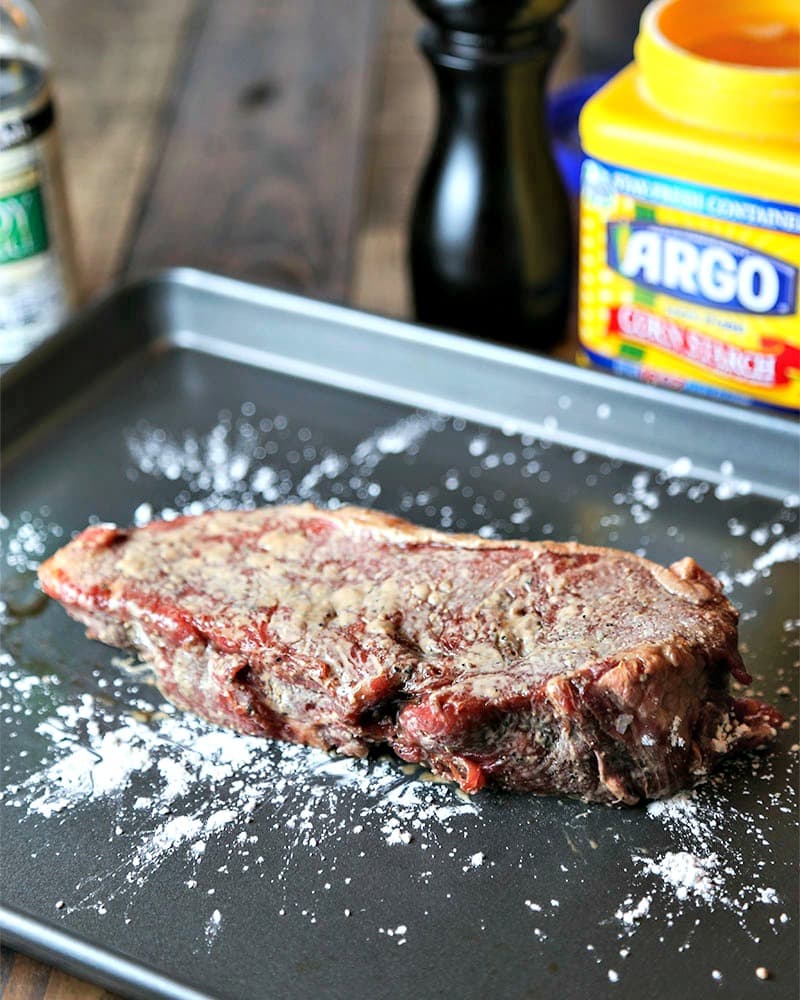 What does cornstarch do to meat?
Dusting the steaks with cornstarch provides a light coating that protects the meat when it hits the intense heat of the grill. As the steak cooks, the cornstarch layer creates a thin and crispy crust.
Can I use flour instead of cornstarch?
I wouldn't recommend using flour as a substitute for cornstarch in this recipe as it may result in a starchy flavor on the meat.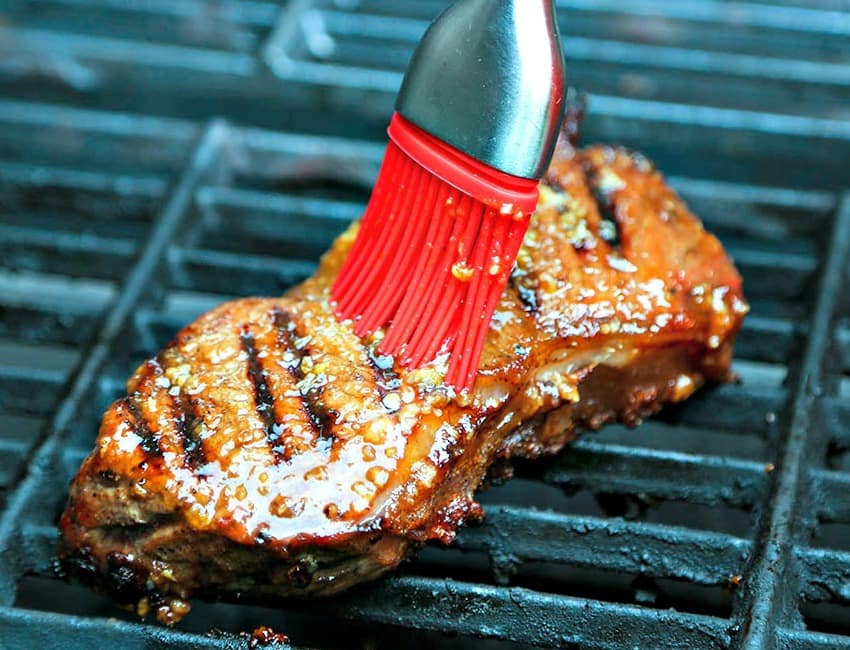 Grilling glazed beef
Place the prepared steaks on a preheated grill and cook for for 3 to 4 minutes.
Flip and cook on the other side another 3 to four minutes. This will give you a medium temperature, so adjust the cooking time to your steak temperature preference.
Brush each steak with the barbecue glaze and cook another minute on each side or until the glaze begins to caramelize.
Touch test for steaks
You can gently press tongs into the cooked steak to determine its doneness with this touch test guide. To be totally accurate, use a quick read digital thermometer.
RARE: 120°F – cool, bright red center and soft to the touch
MEDIUM RARE: 130°F – warm, red center and beginning to firm up with red juices
MEDIUM: 145-155°F – slightly pink center, completely firm with brown juices
WELL DONE: 155-160°F – very little or no pink, firm to the touch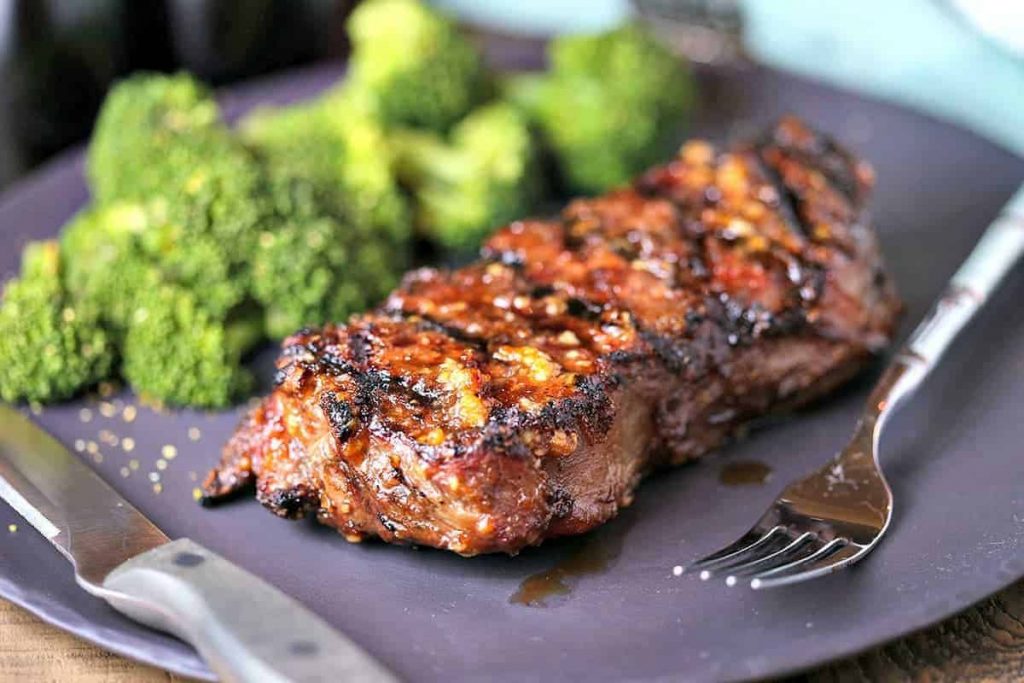 Related recipes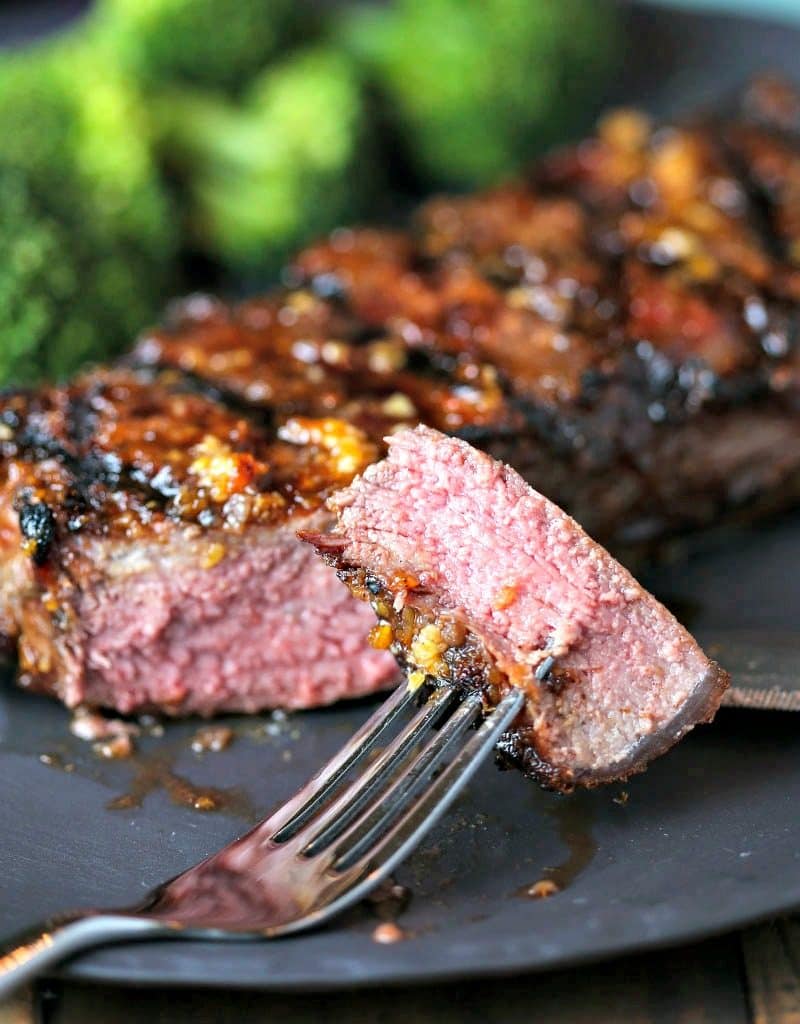 Let's grill a glazed steak!
Even though the aroma is heavenly, don't give in to the temptation to immediately cut into your steak when you take it off the grill.
Place the steak on a platter tented with aluminum foil to rest for about five minutes after you take it off the grill to seal in the juices. Do this and you'll enjoy a juicier, tastier steak every time!
Please share!
Your shares are how this site grows and I appreciate each one. Do you know someone who would enjoy this recipe? I'd love it if you would share it on Facebook or on your favorite Pinterest board!
First Published: June 2, 2017. Last Updated: October 05, 2020.
Yield: 4 servings
Mongolian Glazed Grilled Steaks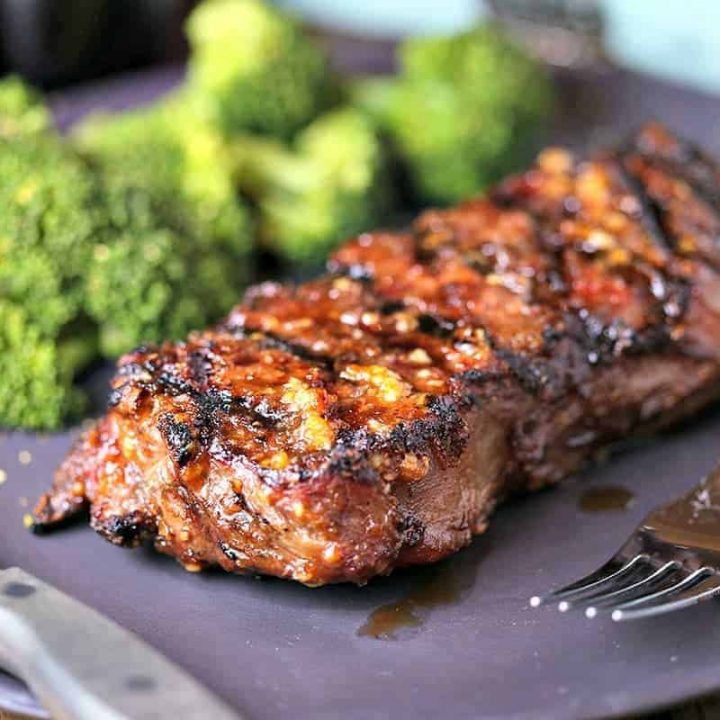 Mongolian Glazed Grilled Steak has a thin, crispy coating and a tangy barbecue glaze.
Ingredients
Steaks
4 8-oz. sirloin steaks
1/2 cup low-sodium soy sauce
1/4 cup cornstarch
2 tablespoons canola oil
Freshly ground black pepper
Glaze
1 tablespoon canola oil
1 tablespoon fresh ginger, grated
3 cloves garlic, , minced
1/4 cup maple syrup
1 tablespoon ketchup
Instructions
Glaze
In a small bowl whisk together the canola oil, ginger, garlic, maple syrup, and ketchup. Set aside.
Steaks
Preheat the grill to medium high heat.
Pat steaks dry and pour 1 tablespoon soy sauce over each steak. Massage the soy sauce into all sides of the steaks, then season with black pepper.
Places the steaks onto a clean baking sheet. Evenly sprinkle the cornstarch on all sides, shaking off any excess. Lightly brush with the canola oil.
Grill the steaks 3 to 4 minutes on each side (for medium), then brush the steaks with the glaze and cook for one minute until the glaze is caramelized.
Flip the steaks and brush the other side with the glaze, cooking another minute to let the glaze caramelize on the other side.
Remove from the heat and let rest for 5 minutes before serving.
Recommended Products
As a Pampered Chef consultant, I earn from qualifying purchases.
Nutrition Information:
Yield:
4
Serving Size:
1
Amount Per Serving:
Calories:

753
Total Fat:

43g
Saturated Fat:

13g
Trans Fat:

0g
Unsaturated Fat:

24g
Cholesterol:

209mg
Sodium:

1314mg
Carbohydrates:

25g
Fiber:

1g
Sugar:

13g
Protein:

64g