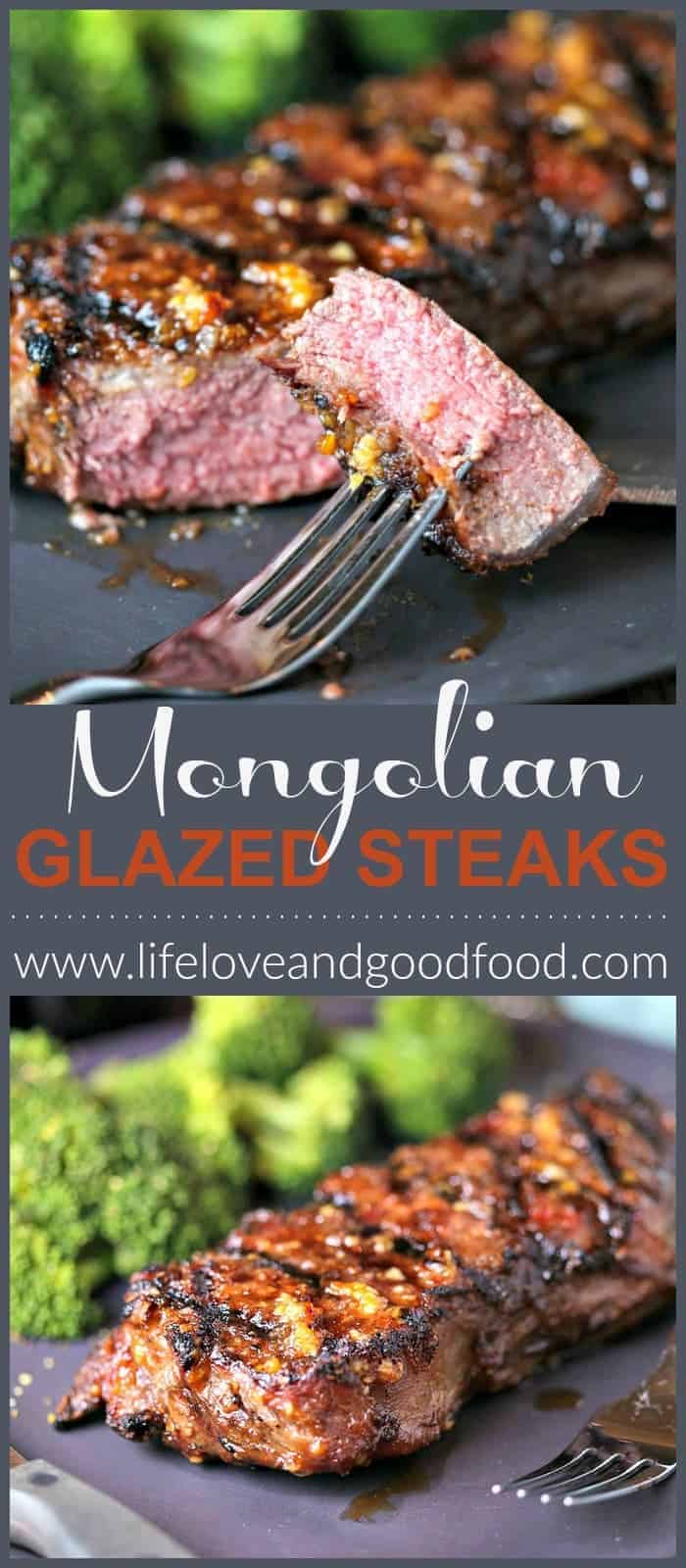 Mongolian Glazed Grilled Steak has a thin, crispy coating and a tangy barbecue glaze.
Traditional Mongolian barbecue is prepared on hot, flat stone, similar to a hibachi-style surface, by quickly searing very thinly sliced meat with a tangy Asian barbecue sauce. That same flavor can be achieved in this Mongolian Glazed Grilled Steak by using a unique technique. The steak has a light, crispy coating and a tangy barbecue glaze. It's so unexpected and so phenomenal!
Start by preparing the glaze. Whisk together freshly grated ginger root, garlic, maple syrup, and just a tablespoon of ketchup.
The real secret is how to prep the steaks before putting them on the grill. Massage a tablespoon of low-sodium soy sauce onto all surfaces of the steak, then season with freshly ground pepper. There's no need to add salt as you'll get the saltiness from the soy sauce. Once this is done, transfer the steaks to a dry baking sheet or platter.
Now, for the real trick…dust the steaks with CORNSTARCH and lightly brush with a little canola oil! This will create a thin crust when it is cooked on the grill.
Grill the steaks for three to four minutes and then flip and repeat on the other side. This will give you a medium temperature, so adjust the cooking time to your steak temperature preference. Brush each steak with the glaze and cook another minute on each side or until the glaze begins to caramelize.
Even though the aroma is heavenly, don't give in to the temptation to immediately cut into your steak. Let it rest for about five minutes before serving to preserve the juices. This way you will enjoy a juicier, tastier steak!
I was surprised at how tender this steak was without having to marinate it prior to cooking. What are your favorite Summer grilling recipes?
Yield: 4 servings
Mongolian Glazed Grilled Steaks
Mongolian Glazed Grilled Steak has a thin, crispy coating and a tangy barbecue glaze.
Ingredients
Steaks
4 8-oz. sirloin steaks
1/2 cup low-sodium soy sauce
1/4 cup cornstarch
2 tablespoons canola oil
Freshly ground black pepper
Glaze
1 tablespoon canola oil
1 tablespoon fresh ginger, grated
3 cloves garlic, , minced
1/4 cup maple syrup
1 tablespoon ketchup
Instructions
Glaze
In a small bowl whisk together canola oil, ginger, garlic, maple syrup, and ketchup. Set aside.
Steaks
Preheat grill to medium high heat.
Pat steaks dry and pour 1 tablespoon soy sauce over each steak. Massage sauce into all sides of the steaks; season with black pepper.
Places steaks onto a clean baking sheet or platter. Evenly sprinkle the cornstarch on all sides, shaking off any excess. Lightly brush with the canola oil.
Grill steaks 3 to 4 minutes on each side for medium. Brush steaks with the glaze on both sides, flip and cook until glaze is caramelized (about another minute per side). Remove from heat and let rest for 5 minutes before serving.
Recommended Products
As an Amazon Associate and member of other affiliate programs, I earn from qualifying purchases.
Nutrition Information:
Yield:
4
Serving Size:
1
Amount Per Serving:
Calories:

753
Total Fat:

43g
Saturated Fat:

13g
Trans Fat:

0g
Unsaturated Fat:

24g
Cholesterol:

209mg
Sodium:

1314mg
Carbohydrates:

25g
Fiber:

1g
Sugar:

13g
Protein:

64g