No fancy marinades required for this Perfect Pan-Seared New York Strip. Seasoned with sea salt and cracked black pepper, these steaks get a nice char in a hot cast iron skillet.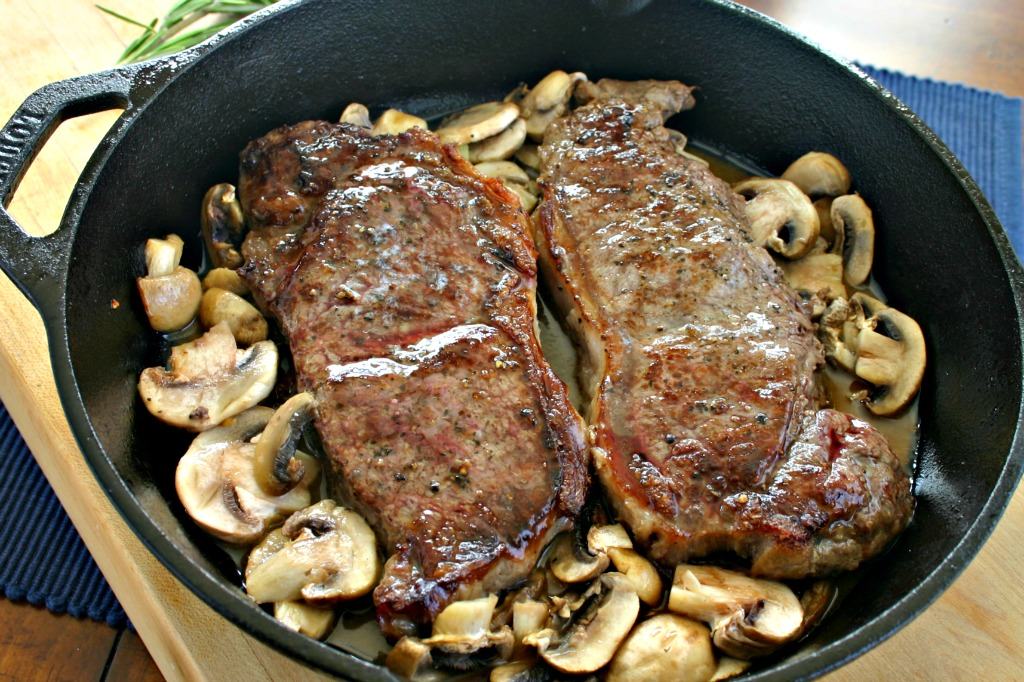 Remember that I mentioned before that my guy is the meat-and-potatoes type? There's nothing he enjoys more than manning the grill and we certainly do our fair share of grilling whenever the weather cooperates.
Lately, it's just been too cold to fire up the grill on the patio, but we've found a simple technique that allows us to enjoy a nice, juicy steak in the middle of Winter with this Perfect Pan-Seared New York Strip Steak. Literally, all you need is a couple of steaks seasoned with sea salt and cracked black pepper, a touch of olive oil, and a hot cast iron skillet. Pretty simple, right?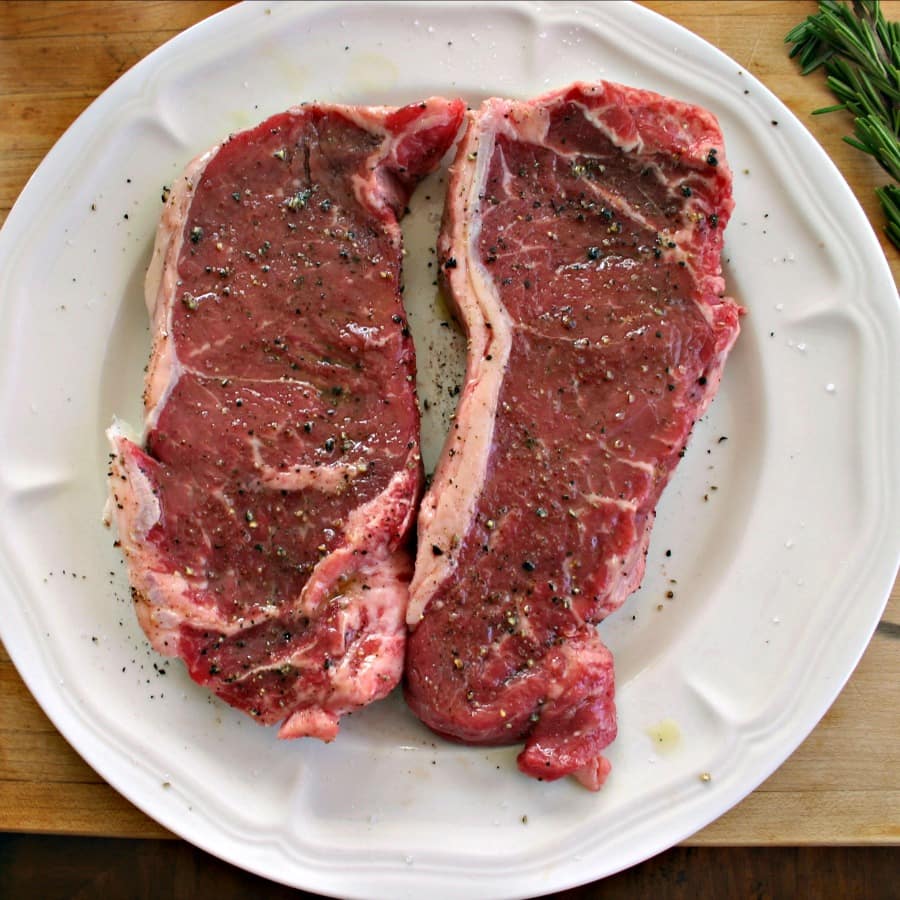 Start off with steaks that are at least an inch thick, preferably more like an inch and a half or thicker. There's no need to marinate the steaks, but you do need to allow them to come to room temperature before you start cooking, about 30-45 minutes.
Just before cooking, season the steaks with sea salt and cracked black pepper, rubbing it in on both sides, and then baste with a small amount of olive oil. Once the cast iron skillet is hot (not smoking), you're ready to cook and in minutes you have a delicious steak dinner! (See the recipe below for the detailed step-by-step directions.)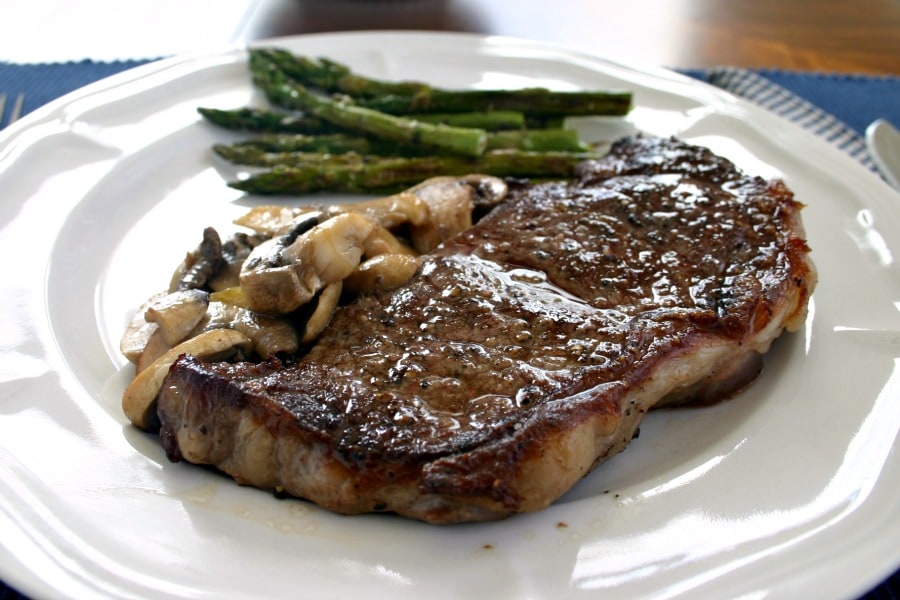 Because we like sautéed mushrooms with our steaks, I add a cup of sliced mushrooms with a little extra butter to the skillet at the end of cooking. Steam or roast asparagus while the steaks cook and you have a complete dinner worthy of a date night at home. Doesn't that all look delicious?
Enjoy your weekend, friends!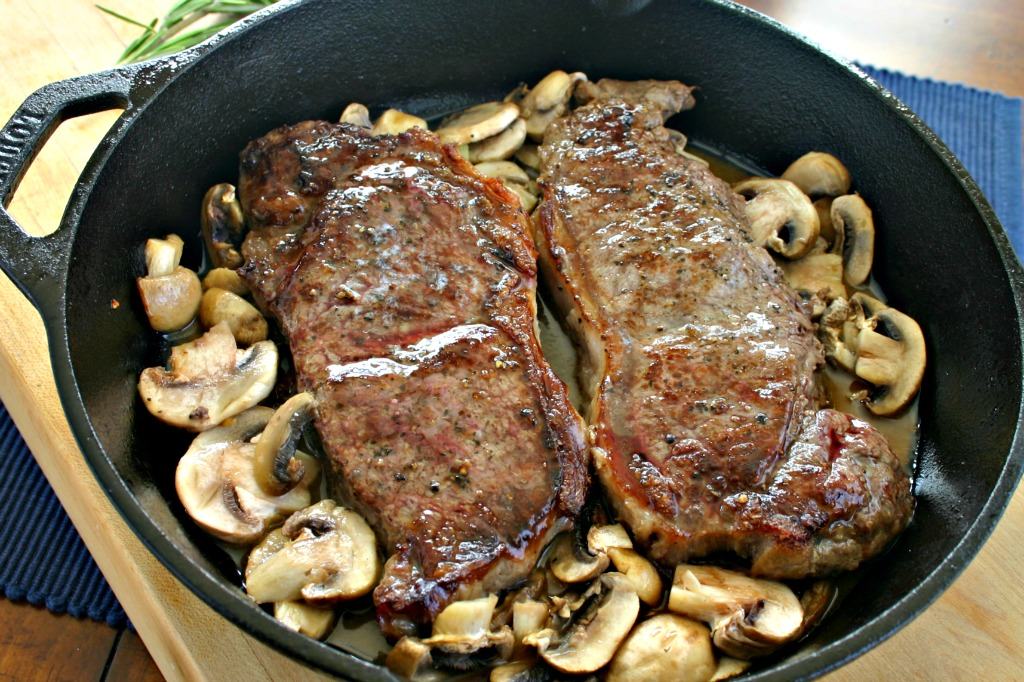 Ingredients
2 1-inch to 1-1/2-inch thick cuts New York Steak, fat trimmed
2 teaspoons olive oil
Sea salt
Cracked black pepper
1 clove garlic, sliced
1 cup sliced mushrooms
2 tablespoons butter, unsalted
Instructions
Remove the steaks from the refrigerator and bring to room temperature, about 30-45 minutes..
Preheat oven to 400 degrees.
Heat a cast iron skillet over medium high heat until it is hot, but not smoking.
While the skillet is heating up, season both sides of the steaks with sea salt and pepper. Drizzle olive oil on steaks and gently rub in the spices.
Place steaks into the hot skillet and cook for 2-3 minutes, without turning to allow a nice sear. Turn the steaks with tongs and cook for another 2-3 minutes.
Remove from heat, and if desired, add mushrooms, garlic, and butter to the skillet and immediately place in the preheated oven.
Roast in the oven for another 4-7 minutes, or until the desired temperature is reached.*
Remove from oven and tent with foil, allowing the steaks to rest for 2-3 minutes before serving.
Remove the steak(s) from the pan, cover loosely with foil, and rest for 2 minutes.
Notes
7.6.2
235
http://lifeloveandgoodfood.com/perfect-pan-seared-new-york-strip/