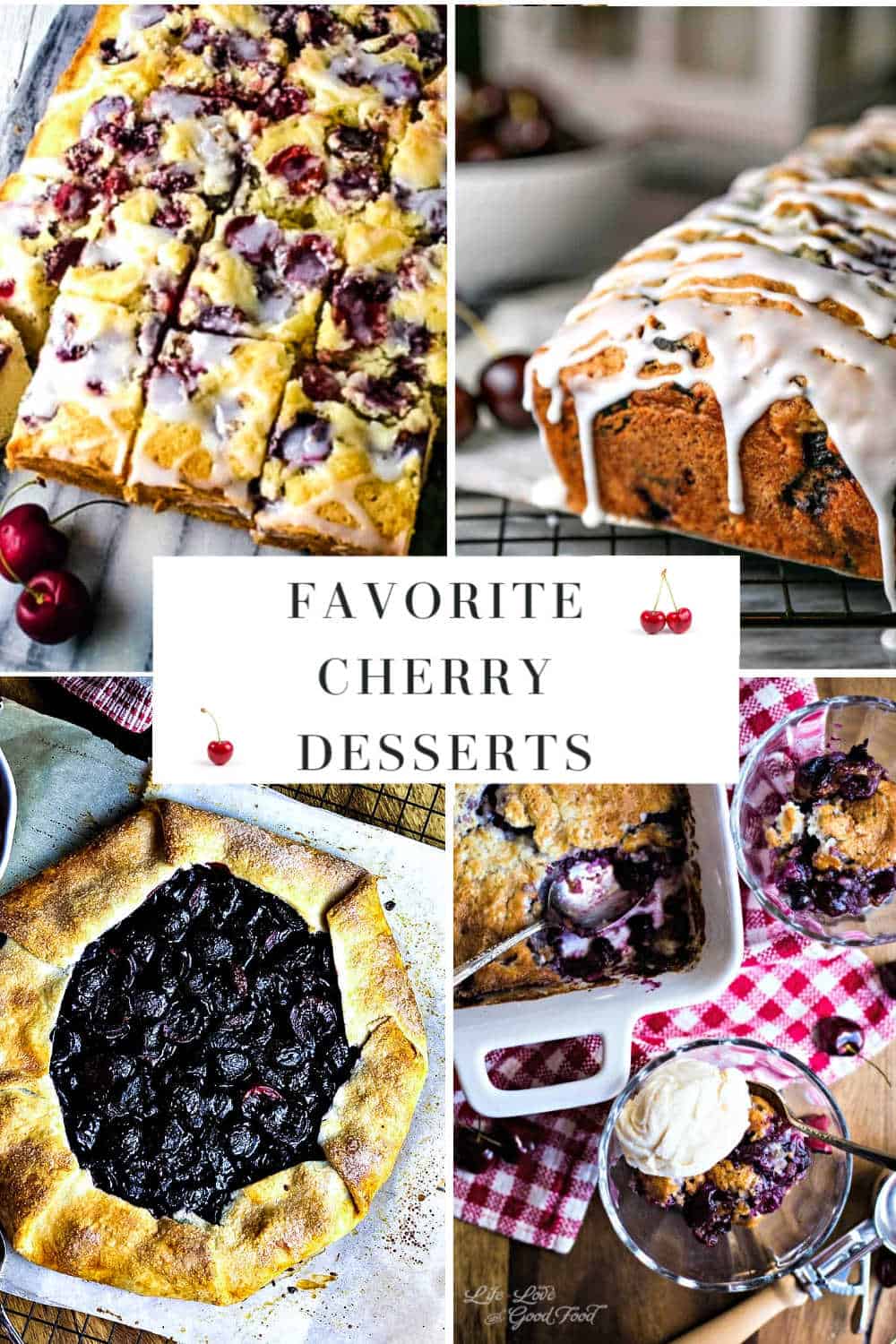 When the cherry blossoms burst in Spring, it's time to start getting excited about all the delicious Cherry Desserts to be made with fresh cherries come Summer! From fruit pies and cobblers to quick breads and cookies, sweet or tart, cherries make the best sweet Summer treats.
This collection of easy cherry dessert recipes feature fresh, frozen, canned, or dried cherries so you can enjoy baking with cherries ALL year long. From biscotti to smoothies, or even jams and jellies, the possibilities are endless.
My whole family loves cherry cobbler served warm with a scoop of ice cream, and I love that it's so easy to make! Try any of the cherry desserts in my collection and I'd venture to guess your family will love 'em, too!
Did you know cherries are considered a super fruit and have many health benefits, even in desserts?
Cherry dessert recipes
1. Not only is Fresh Cherry Cobbler soooo yummy good, it's one of the EASIEST summer desserts you will ever make! With a buttery crust and a sweet filling of fresh Bing cherries, this yummy cobbler is best served warm with a scoop of vanilla ice cream.
2. Bake fresh cherry filling on top of this easy 5-minute pie dough and you've got yourself a delicious Summer dessert that any novice baker can master with this recipe for Rustic Cherry Tart.
3. Cherry Chocolate Chunk Bread is so deliciously decadent, no one will ever guess just how simple and easy it is to make! Dark chocolate and cherries just naturally work well together in this bread.
4. Cherry Cake with Buttermilk Powdered Sugar Glaze made with fresh cherries and topped with a sweet glaze that makes it either a perfect dessert or brunch coffee cake.
5. Make this Cherry-Berry Cobbler in a cast iron skillet right on your grill! Serve it warm and bubbling with ice cream or a pat of butter melting on top.
6. Could anything be any YUMMIER at a summer cookout than a warm Cherry Pot Pie with a scoop of ice cream to top it off? I think not!
7. My Cherry Biscotti recipe is a vanilla biscotti cookie studded with dried cherries that has hints of both orange and almond flavors. Light, crispy, and delicious!
8. A pretty fluted pastry shell, delicate sour cherries, and a splash of orange liqueur combine to create this delicious Sour Cherry Tart.
9. Decadent and rich, but not too sweet, this fudgy Chocolate Cherry Loaf Cake is loaded with dark, sweet cherries and topped with a delicious mocha glaze.
10. Made with fresh peaches and sweet Bing cherries, Peach Cherry Cobbler with Sweet Biscuit Topping is the perfect homemade Summer dessert. Best served warm with a scoop of vanilla ice cream.
11. Fresh sweet red cherries, red bell pepper, and jalapeño peppers in Hot Cherry Pepper Jelly makes it deliciously sweet and spicy hot. Serve it on toast or scones, use it to make easy cream cheese appetizers, or even as a cheese board accompaniment.
12. This semi-homemade Fresh Cherry Cake with Fresh Mint starts with a white cake mix and a package of cherry gelatin. Adding sweet red cherries and mint leaves give the cake a flavor boost and freshness that really sets it apart.
13. Bite-Size Cherry Tarts with a homemade cookie crust and sweet cherry pie filling are simply irresistible!
ABOUT SHEILA
Sheila Thigpen, author of
Easy Chicken Cookbook
and
The 5-Ingredient Fresh and Easy Cookbook
, is a recipe developer, food photographer, and food writer. She spent 20+ years as a business manager in the publishing industry before she retired in 2018 to focus on her passions — cooking, photography, and writing. Living near the beautiful Smoky Mountains, Sheila and her husband have two adult daughters and two fine sons-in-law, are active in their church, love to travel, and have a precious little granddaughter who has stolen their hearts.
Follow Sheila on
YouTube
,
Pinterest
,
Instagram
,
Facebook
, and
Twitter
!