Each Christmas my mom and grandmother made tons of old-fashioned chocolate and peanut butter fudge to give as gifts to just about everyone – neighbors, teachers, our minister – even the mailman.
I'm a known chocoholic, but I must confess that I can do with just a single piece of fudge during the entire Christmas season. For me, fudge is just too sugary sweet.
Peppermint Bark, well now, that's an entirely different story. The dark and white chocolate combination is just enough sweet and the peppermint adds just enough crunch. This is an easy candy recipe and one that I've already made twice in the past week! Chocolate and Peppermint…yes, please!
Tips: Use a good quality chocolate for the best results. I used Ghiradelli White Chocolate and Ghiradelli 60% Cacao Bittersweet Dark Chocolate. Follow the directions and when adding the white chocolate layer, carefully spoon small amounts all over the dark chocolate layer and gently smooth with a spatula to avoid melting the dark chocolate layer. If that does happen, don't worry because it still will taste just as good!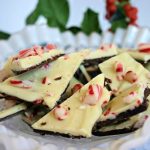 Peppermint Bark
Ingredients
8

oz.

dark chocolate

8

oz.

white chocolate

2

teaspoon

vegetable oil

divided

1/2

teaspoon

peppermint extract

divided

crushed candy canes or peppermint candies

powder removed
Instructions
In a small to medium sized bowl add dark chocolate and 1 teaspoon vegetable oil. Melt in the microwave in 30 second intervals at 50% power. Stir well after each 30 seconds. When fully melted, add 1/4 teaspoon peppermint extract. Stir well.

Pour chocolate onto a parchment or wax paper lined cookie sheet. Smooth layer and sprinkle with crushed candies. Chill for at least 30 minutes or until chocolate has set.

Repeat process with white chocolate. Chill until fully hardened. Break or cut into pieces.

Store in fridge.