This post may contain affiliate links. Please read my disclosure policy.
This creamy delicious salad vinaigrette is sweet and tangy with just enough nutty flavor. Poppy Seed Dressing poured over a leafy green salad is simply irresistible!
And with the cost at the supermarket going one direction these days, making your own homemade salad dressings like this one makes sense —and cents —all the way around. (Cue the cheering.)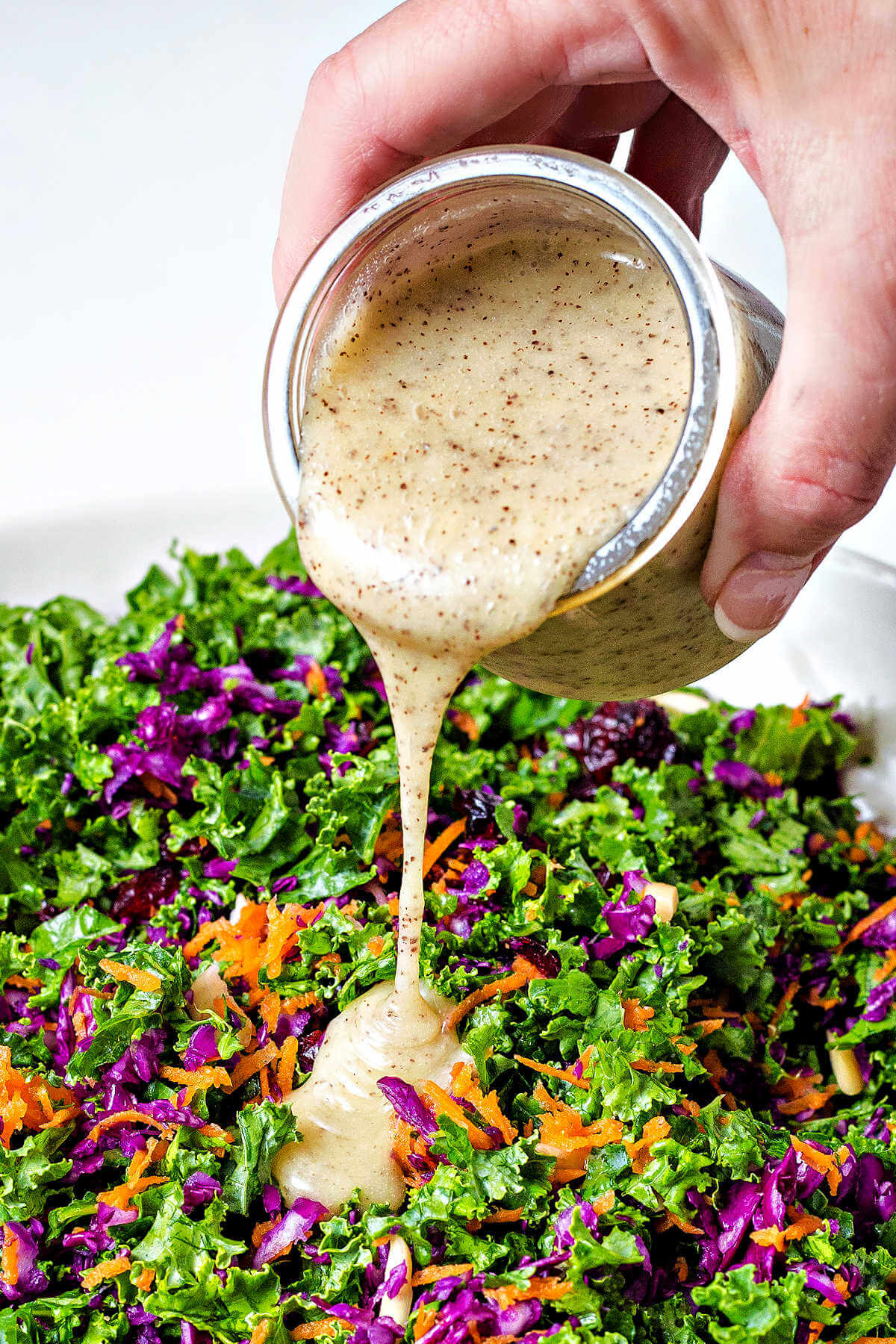 It's 100% fresh, so easy and quick to whip up a batch of my Poppy Seed Dressing — or even double the recipe when there are more mouths to feed.
Toss it in with this delicious Kale Salad or my favorite summer Strawberry Salad. Or, throw in some spinach with it to create a strawberry spinach salad.
Since you're making salad dressings from home, include this Homemade Greek Salad Dressing and you'll be a connoisseur before you know it. 😉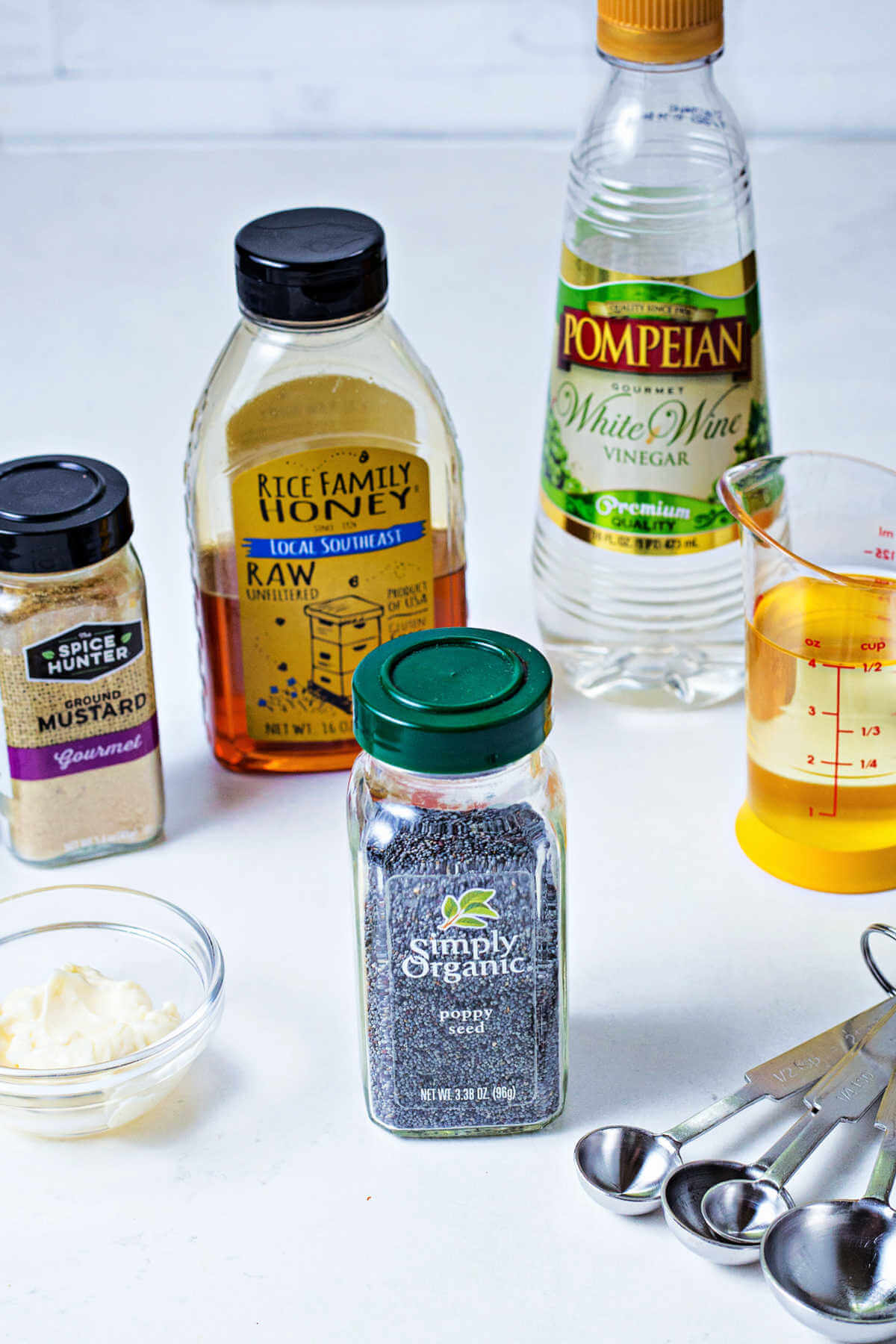 Key ingredients & substitutions for Homemade Poppy Seed Dressing
Poppy seeds — Poppy seeds are so pretty in any recipe! But, if you must, use chia or sesame seeds.
Honey — If it's available, always buy local honey. However, use maple syrup, agave, or molasses to substitute honey.
White wine vinegar — Vinegar gives the tang and keeps the leafy greens so fresh. Substitute red wine vinegar or apple cider vinegar if you don't have it on hand.
Mayonnaise — Mayo is the best way to creamy good dressing — is the base of most cream salad dressings. Sour cream or Greek yogurt are good alternatives.
Dry mustard — Dijon mustard is the best to use in place of dried mustard (aka ground mustard), but you can use any yellow mustard.
Onion powder — Jarred minced onion can sub here. Just use ½ tablespoon for the ½ teaspoon powder.
Light olive oil/canola oil — You want a nice light flavor so the other ingredients really shine! Grapeseed oil or vegetable will work also.
How to make this Poppy Seed Salad Dressing Recipe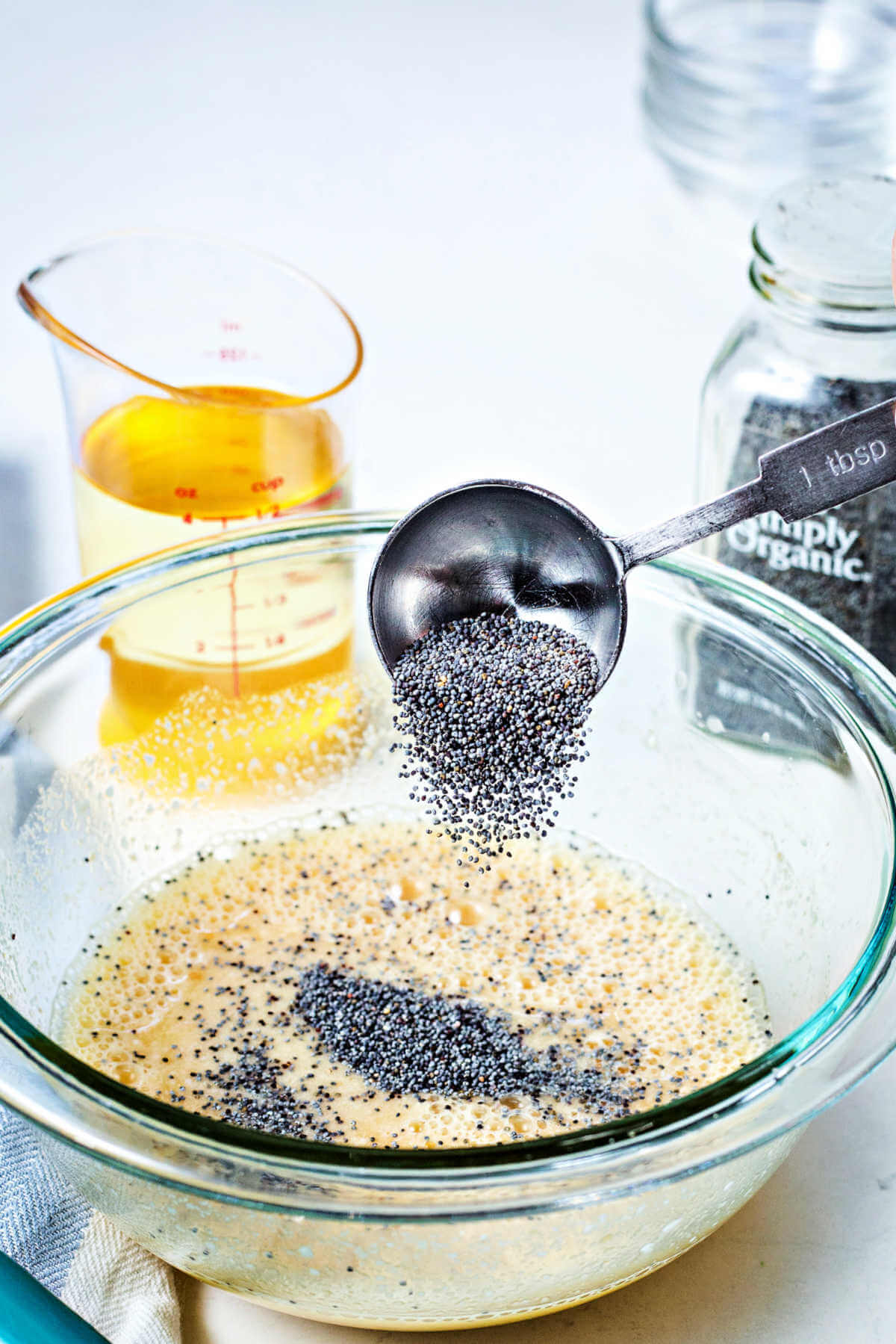 STEP 1 | Mix ingredients
Use a medium bowl to whisk together the honey, vinegar, mayonnaise, dry mustard, onion powder, and salt.
Whisking brings all the textures and flavors together nicely. Then, after it becomes a creamy smooth texture, stir in those gorgeous poppy seeds.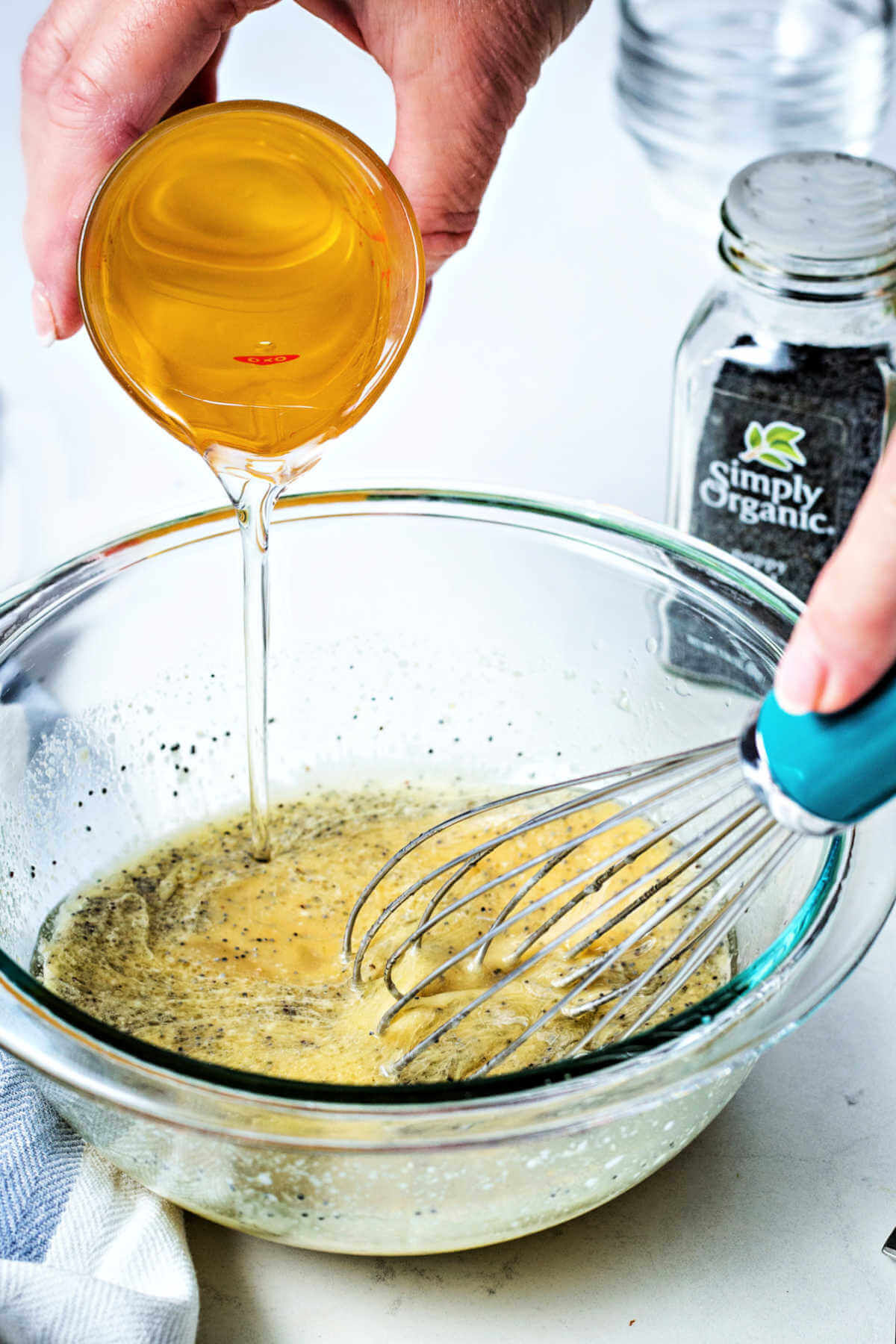 STEP 2 | Whisk the dressing
Slowly pour the oil into the bowl in a steady stream while whisking constantly. Continue to do so until the dressing is emulsified and the oil becomes completely incorporated.
STEP 3 | Serve or chill
Of course, you can serve this beautiful dressing in a nice glass jar immediately or chill the dressing until you're ready to serve.
I can't wait for you to try this creamy rich dressing on your fresh green summer salads. If you didn't notice, it has no added sugar which is a "sweet" benefit.
tips
Store in the refrigerator for up to 5 days. Just make sure you shake well before using.
You can also use a blender bowl. Add the ingredients to the bowl and process for a few seconds until it's emulsified.
What does emulsified mean?
Not to sound too scientific and nerdy, but emulsification happens when you take two substances – like oil and vinegar — that don't usually mix — and combine them until they become one liquid.
The process involved includes either whisking forcefully or via a blender or food processor. It breaks one of them down (like the oil) into tiny minute particles, creating this "suspension" into the other liquid.
Since oil and vinegar or water can't be mixed and dissolved into each other, this process creates a way for them to form into one liquid and cling to all your fresh veggies.
So, there you have your science lesson for the week — you're never too old to learn!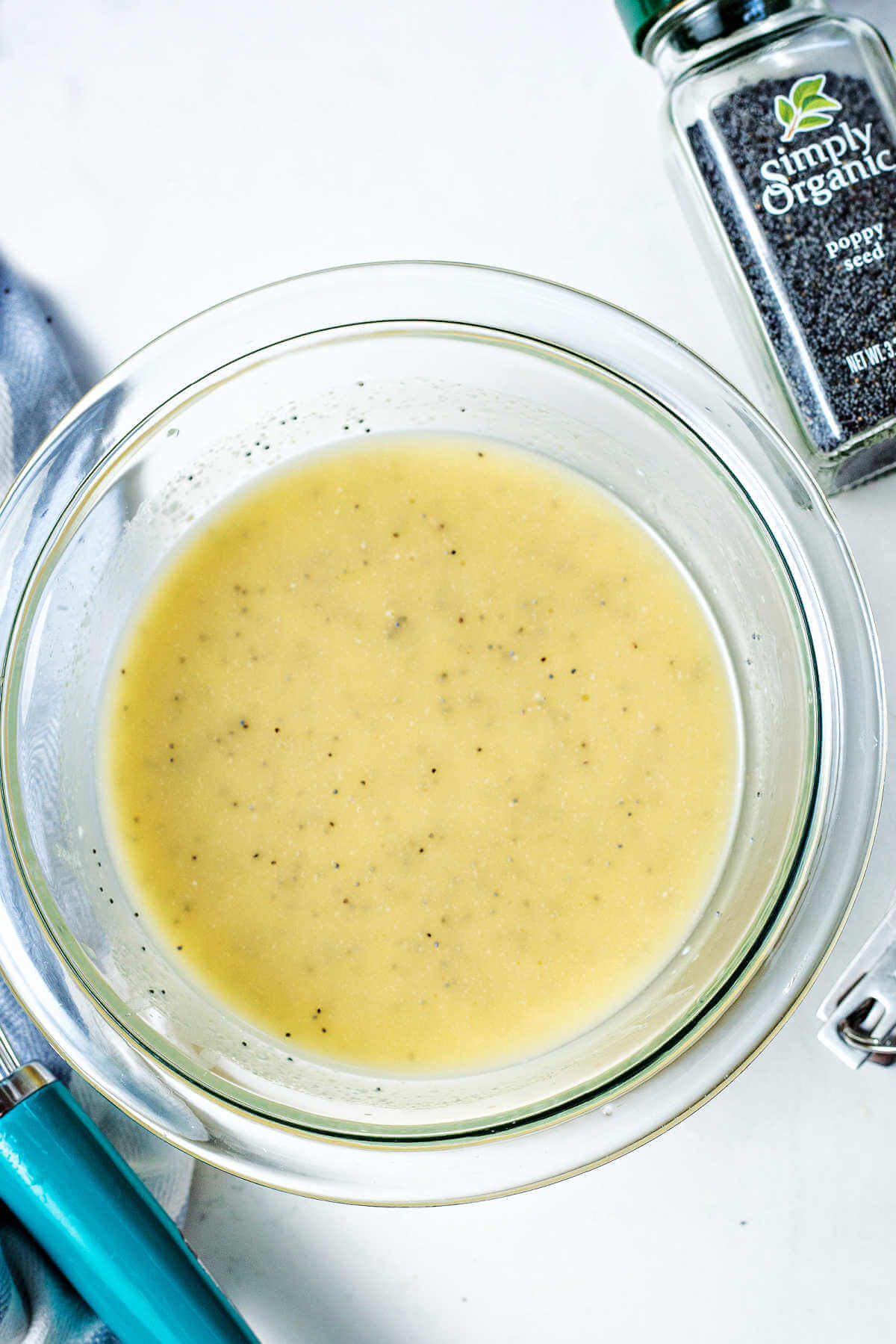 Frequently asked questions
How long can poppy seeds last?
Poppy seeds store for a very long time. If you keep them stored in an airtight container, they can last for a few years — even up to 3 or 4 years — so don't worry about them going bad. 
Are poppy seeds keto-friendly?
As a matter of fact, they are keto-friendly. They're also good for anxiety and sleep and are high in fiber. 
Why do people always say buy local honey?
A few reasons, actually. Local, raw honey isn't filtered or heated to high temps (which causes honey to lose its natural flavors. ), so the honey's many health benefits are protected.

Honey is also good for allergies that are unique to your geographical location. Buying local honey ensures that those allergens are part of that same honey to combat it. And honey, in general, has lots of uses and benefits. It's better for blood sugar levels than regular sugar and is rich in antioxidants. Many antidotes for a cough include honey, which is also used for wound and burn treatments. 

That was a long answer, but the bottom line is that you always want to keep honey, specifically local honey, in your cupboard.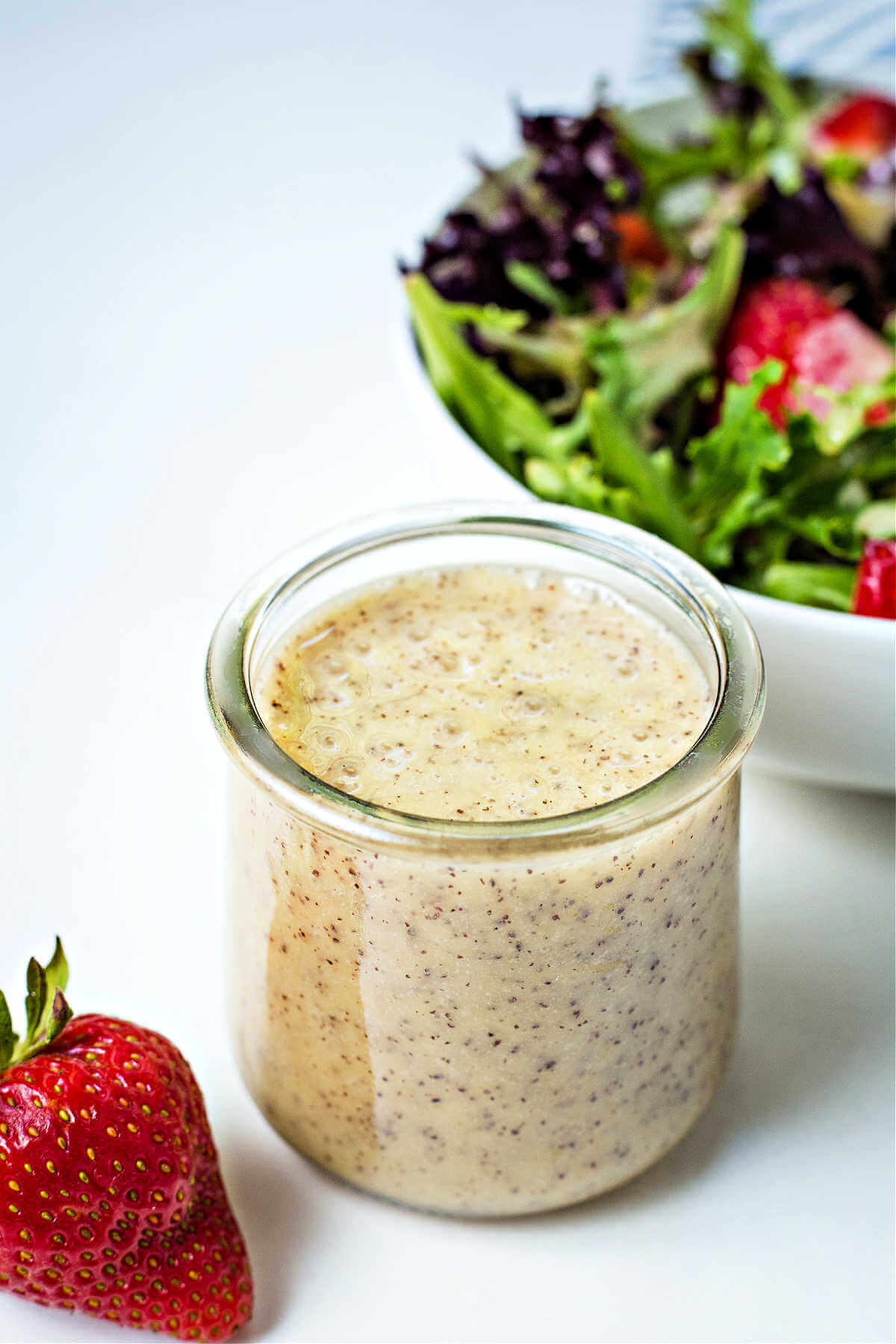 Serving suggestions
I mentioned a few salads initially, but dressings make for great marinades. Try marinating your chicken in the dressing for 30 minutes before cooking.
Create a colorful fruit salad with your favorite fruits and drizzle on top for a beautiful and tasty treat.
Use it as a dip on a charcuterie board at your next social gathering with friends.
Anything that adds a nice crunch is a perfect addition with this poppy seed salad dressing. Sprinkle sliced almonds, chopped pecans, or maybe some freshly fried and crispy bacon on top of any salad. YUM!
More poppy seed recipes
Here are a few of my favorite poppy seed recipes you will most definitely want to try: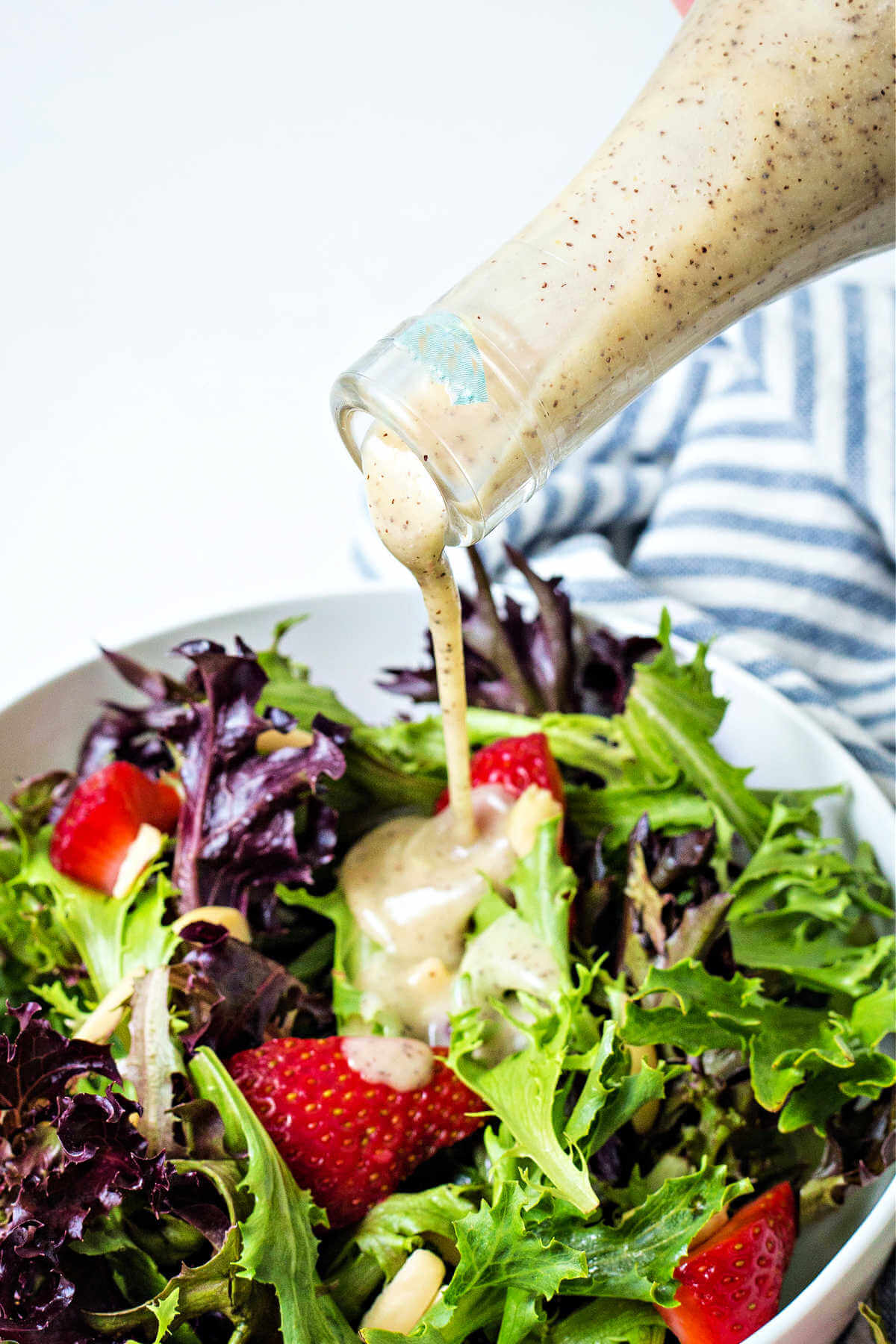 Behind the recipe
This isn't exactly about the recipe, but I recently ran across this cute little book on Amazon called The Poppy Seed Cakes. It caught my attention because I love all things poppy seeds.
Although it's a children's book, I may just have to give it a read. I thought some of you may enjoy it too.
I've included the description they posted and a link to purchase if you're so inclined, just for fun.
"Auntie Katusha has just come from the Old Country, bringing poppy seeds to make cakes for a mischievous four-year-old boy named Andrewshek. A little neighbor, Erminka, who wears red boots which are too big for her, joins Andrewshek for a series of adventures with talking animals, including a greedy goose who steals the cakes; a naughty white goat who hides on the roof; and a kitten, a dog and two chickens who are determined to gatecrash the children's tea party. There is art on every page featuring cheeky animals, gooseberry tarts, colorful shawls, Russian dolls, and cheerful Auntie Katusha in her kerchiefed and aproned splendor."
The Poppy Seed Cakes by Margery Clark.
Please share!
Your shares are how this site grows, and I appreciate each one. Do you know someone who would enjoy this recipe? I'd love it if you would share it on Facebook or Pinterest!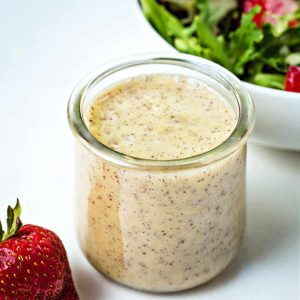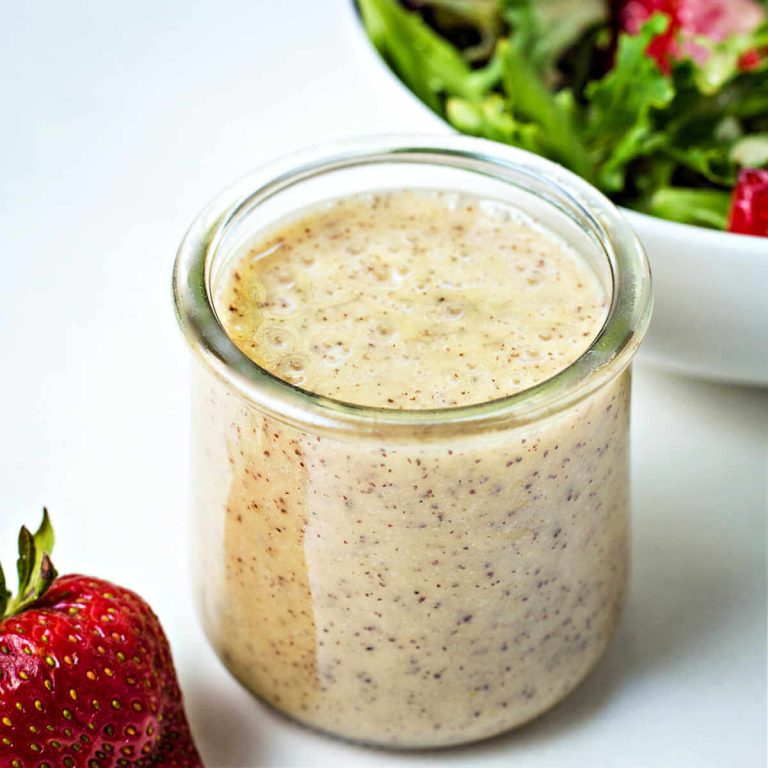 Poppy Seed Dressing
This creamy delicious salad vinaigrette is sweet and tangy with just enough nutty flavor. Poppy Seed Dressing poured over a leafy green salad is simply irresistible!
Ingredients
1/4

cup

honey

1/4

cup

white wine vinegar

1 1/2

tablespoons

mayonnaise

1

teaspoon

dry mustard

1/2

teaspoon

onion powder

1/4

teaspoon

kosher salt

1

tablespoon

poppy seeds

1/2

cup

light olive oil

or canola oil
Instructions
In a medium size bowl, whisk together the honey, vinegar, mayonnaise, dry mustard, onion powder, and salt until smooth. Stir in the poppy seeds.

Using the whisk constantly, pour the oil in a slow, steady stream into the bowl of dressing. Continue whisking until the dressing is emulsified, and the oil is completely incorporated.

Use immediately or chill until ready to serve.
Notes
Nutrition facts based on a 2 tablespoon serving.
Store in the refrigerator for up to 5 days. Shake well before using.
You may also add all the ingredients to the bowl of a blender and process a few seconds until emulsified.
Nutrition
Calories:
178
kcal
Carbohydrates:
9
g
Protein:
0.3
g
Fat:
16
g
Saturated Fat:
2
g
Polyunsaturated Fat:
3
g
Monounsaturated Fat:
10
g
Trans Fat:
0.01
g
Cholesterol:
1
mg
Sodium:
91
mg
Potassium:
20
mg
Fiber:
0.3
g
Sugar:
9
g
Vitamin A:
2
IU
Vitamin C:
0.1
mg
Calcium:
19
mg
Iron:
0.3
mg
Life Love and Good Food does not claim to be a registered dietician or nutritionist. Nutritional information shared on this site is only an estimate. We recommend running the ingredients through an online nutritional calculator if you need to verify any information.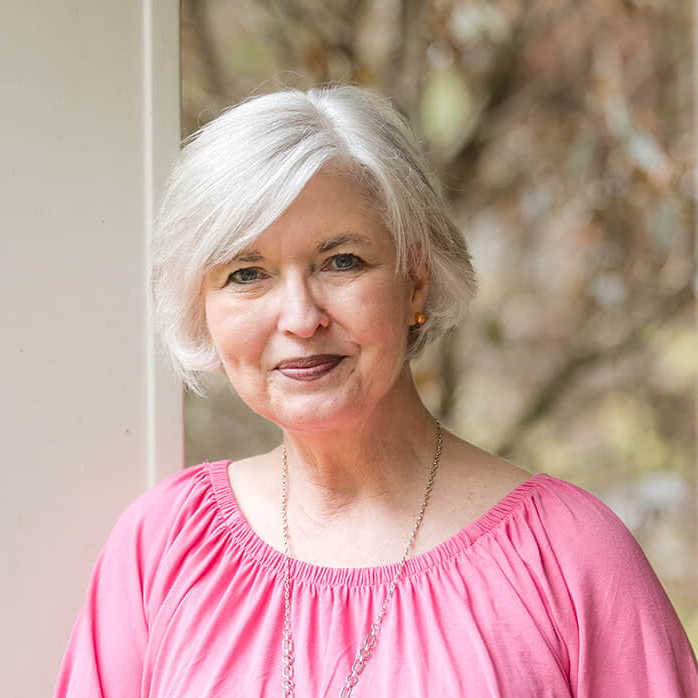 About Sheila Thigpen
Recipe Developer, Food Photographer, Food Writer
Sheila Thigpen is the publisher of Life, Love, and Good Food — a Southern food blog — and the author of Easy Chicken Cookbook and The 5-Ingredient Fresh and Easy Cookbook. After 20+ years in the publishing industry, she retired in 2018 to focus on her own creative endeavors full time. She and her husband live near the beautiful Smoky Mountains and have a precious little granddaughter who has stolen their hearts. As an influencer, Sheila has collaborated with brands like Creamette, Kroger, HERSHEY'S, Hamilton Beach, Garafalo Pasta, OXO, Smithfield, Valley Fig Growers, and more.